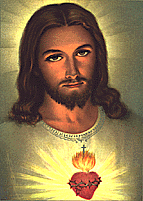 You Are Surrounded by Angels

May 25, 1994 After Communion at All Saints Church 7:l0a.m.
R. You are God, Father, Son and Holy Spirit. I bow before You.
Jesus: You, My child, have received the one, true God. Every knee should bend and be in reverence. If you could behold the sight of what surrounds you at My presence! Angels are surrounding you. Praise you, for God is with you, Father, Son and Holy Spirit. Mary, My mother, is with you. Are you ever so honored to behold the Son of God within your breast? Praise Him, the holiest in the heights. God comes to you and is truly within you! If you could behold beyond this veil, you would radiate such light and power. You, My child, are so unaware of Me within your breast. You do not see. You are blind. I am God. I am within you. Bow to Me, My child, when you come. You should scarcely be able to walk. I am God and you behold Me! Praise Me. Worship Me. Angels surround you.
I am God. Do you even know? Such indifference to Me, such love poured out to you. I am God! You are so caught up in your silly things and you run, with God still in your bodies, for what things?
If the veil were lifted, you would see My might. You would fall to the floor and praise Me. You are so blind. How do I tell you, little ones?
Behold, the Son of God enters you in such a great gift of love! God is within you. Where God is, so is the Father and Holy Spirit, for we are one. Oh, harken to Me, pray to know what you do not know, pray to the Holy Spirit. Pray to your Father, pray to Mary. I am Jesus and I come to you with such love! I am the one, true God!
R. We are trying to fix God into our world. He is the Almighty God. He is first. He has all the power. The reverence for God has gone out of our religion.
Jesus: Bow down before the altar. Kiss the floor. Worship Me. I am God. Behind the tabernacle doors I am still God. People do not comprehend that God Is truly present! What is more important than God being with you and waiting for you in church? Oh, My children, you are blind. Your world is a passing thing. I am God and I am in your midst this day the same as the day I walked on Calvary! You are so blind.
Open your hearts. Pray for the gifts of the Holy Spirit to know these truths. You need God, My little ones. You need the one, triune God, Father Son, Holy Spirit! Pray to Us, ask your mother to guide you, to help you to love Me as she loves Me. She loves God with the purest Heart. Love Jesus through Mary's sinless Heart. Love God through the Immaculate Heart of Mary.
R. How can I, such a sinner, love God? But, to be joined to Mary's Heart, I can love with her sinless Heart. She loves God and her Heart is immaculate. I want a holy heart. I must join with Mary's Heart. It is all pure!
I have a sinful heart. How do I love God as He should be loved? Go through Mary's pure Heart!
We do not even know how we offend the Lord. He is as He is. He is the Almighty God. He deserves such reverence and honor and praise. The world has turned godless. He is the one, true God. The problem is with the world.
Jesus: I am the Almighty God. I ardently love you. My greatest gift to you is Myself. I give you Myself in the Eucharist. This is far greater than any supernatural symbol. I am Jesus Christ, the risen Lord, and I come to you in the Blessed Sacrament. The power is in the Eucharist. I am truly present there. I am God and I am in your midst. I am treated with such unimportance. You don't even know how you offend Me. You are judging My importance by this godless society. The world is being dominated by Satan. Come to Me in the Eucharist. The power is in the Eucharist!
You see the sun spin and you cry, "Oh, God, God." He is in the Eucharist, the risen Lord. "Oh, God, My God." Think of your joy to behold something supernatural. You fall to your knees in awe. God is here!
R. So much power in the Eucharist. I couldn't touch it, it is under the veil.
(I asked Jesus to come to me through the sinless Heart of Mary. I felt the Father above, the Holy Spirit, in union with Jesus, through the Immaculate Heart of Mary.)
Mary speaks:
You, my child, are being taught. You grow in your relationship with God. My way is to lead you to my Son. You will continue to grow in your closeness with God. Your life is your journey to be united with Him more and more. Do not feel anxious for not knowing all at once. You grow each minute of each day in your knowledge and love of God. Do not be anxious about your growth. Be open to what He sends you this moment. Place your heart in His hands and be united to Him. Let go.
Praise God and be at peace. Your heart will grow when you are at peace. You are learning the truths about God. You are growing each day in your love of Him. I am your mother. Thank you for responding to my call.
---
---
Copyright © 1994 Shepherds of Christ.
Rights for non-commercial reproduction granted:
May be copied in its entirety, but neither re-typed nor edited.
Revised: August 1998
URL: http://www.Shepherds-of-Christ.org
---