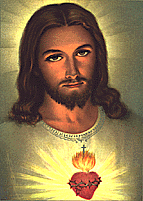 I Come Into Your Heart

April 8, 1994
R. How can I be focused on myself when the Son of God is within my breast? This is His aching when I receive God, Who has come to me in such love, and then I focus on all my incidental problems. He wants our love, our longing, our joy to behold the Son of God in our hearts and we focus on such incidentals and worries!
Jesus: Oh, how could you do this to Me when the Son of God enters your breast and comes into your heart and you ignore Me or worry for such nonsense? Be with Me, be in love with Me. Let yourself go of the cares of the world and focus on Me alone, out of such love to come and dwell in your breast.
I am the Son of God and I am in your breast this very day because I love you. How it wounds Me when you ignore Me and look the other way and focus on your incidental worldly cares. Oh, be with Me, please. I come with such love. God enters your breast and I am with you, inside of your heart. Put away all the cares of this world and just be with your Lover.
I am the Sacred Heart of Jesus and I love you so much, My child.
---
---
Copyright © 1994 Shepherds of Christ.
Rights for non-commercial reproduction granted:
May be copied in its entirety, but neither re-typed nor edited.
Revised: August 1998
URL: http://www.Shepherds-of-Christ.org
---