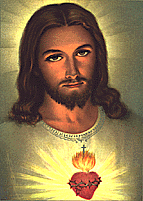 These Messages Are Mine

June 17, 1994 11:16p.m.
My child, do not worry, fret or fume. I am handling My messages. They are Mine. They will see as never before that I am God and I am truly speaking to you here. I want My Will obeyed. I will see to the publishing of these messages. I cried bloody tears because of My sorrow to be ignored.
I am God. I am speaking. Time in short. Souls will be lost because they do not know the love of God. I am God. All that matters is that My beloved ones get to heaven. Some of My people, My children, will lose their souls. This is the mighty medicine: I want My letters to circulate. I want My letters published. Why has My letter for Falmouth been held up? There are many souls that will suffer because of these delays. Nothing will draw a soul to heaven except My love. I am writing personal love letters to all My children. I want My messages published. I am your Jesus. I cry blood to see My children lose their souls. Do you know how this world is hurting?
Do you know how many will be condemned to eternal hell? Do you realize what this world is doing to children? Little children will never even know of My love. Their parents are teaching them sick lessons. I want My letters of love for each soul published. I love every soul. I am so wounded. I bled for their souls. They will go to eternal damnation. Nothing here is of any account unless it draws you toward heaven. This world is so sick.
You hold the mighty medicine. They need this medicine to turn their hearts to Me. Please circulate My letters. Please, please. Some of My beloved ones will burn forever. It is so sad, the sin in this world. It is so sad, this world full of decay. I give you My personal love letters for My beloved ones and you hold them up for fear. I love My beloved children. Nothing matters here unless it promotes My love and love for each other.
My letters talk about My on-fire love for each soul. Please, I am Jesus Christ, the Son of God. I am talking to you all and beg you to listen to Me this day. Souls are at stake. Some of My children will never know My love. I profess My love here. Please. I love you so much. It is love for which you live, love of God, love of one another. Nothing else matters. This world is sick. They need these messages. I tell you all you need to know. Read My messages. I am God. I am speaking here. I beg you. I love you. This is an urgent plea to take Me seriously. Jesus.
---
---
Copyright © 1994 Shepherds of Christ.
Rights for non-commercial reproduction granted:
May be copied in its entirety, but neither re-typed nor edited.
Revised: August 1998
URL: http://www.Shepherds-of-Christ.org
---