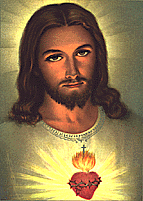 My Mother Calls You Today

June 23, 1994 At the Holy Hill, Conyers 4:40p.m.
My precious one, put yourself in My presence and be with Me. This is My Holy Hill. You will experience such graces when you come and pray with Me here.
I am Jesus, your precious Savior. I have come to fulfill all the Scriptures. You are in an age of Satan. He has overtaken many men's hearts. They do not even know they are disconnected from My life. I am so sorry for their souls. this day, please commit yourself totally to talking and sending messages to turn men's hearts to My precious love!
I am the Savior of the world! My mother is calling. She is calling you to this place and to this call to turn men's minds to the intimate love of Me. I am Jesus, Son of God. I am the Savior of the world. I come not to destroy the law and the prophets, but to fulfill it. I ask you to spread your letters. They are My letters of love, hand-delivered to each soul. I ask you to do this with all your heart, to love Me more than you love yourself. I am your Jesus. I am the Savior of the world. It was in My death souls were saved. I paid the price for their salvation by My very own blood, shed for love of them.
All will enter My kingdom who follow My commands. Cast out Satan. He wants to trip you up and make you lose your soul. I am your Savior. I am the Savior of the world. Your ransom is My blood. Come to Me for your life. I give to you abundantly and you will be saved. You will inherit the kingdom of My Father. You will see the face of God and you will live. Come to Me, My beloved ones. I shed My very own blood for you. I love you.
---
---
Copyright © 1994 Shepherds of Christ.
Rights for non-commercial reproduction granted:
May be copied in its entirety, but neither re-typed nor edited.
Revised: August 1998
URL: http://www.Shepherds-of-Christ.org
---