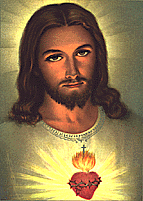 I Give You All You Need

April 13, 1994
I am the Good Shepherd. I know Mine and they follow Me. Come, My little lambs, follow My ways. I am truly your Savior. When you are hungry, I give you to eat. When you need for anything, I know your needs. I ponder the way of your heart. Surrender your lives to Me, little, scared ones. Have no fear. I am God and I give you all you need. I am God. I am mighty. Why do you fear when I, God, watch out for you?
You wander, you wane in and out, and I am truly here. You get full of self, you think you need to find a way for yourself. You need to remain rooted in love and give of yourself. I will care for your needs. You do not have to fight a beaten path for what is important. I yield to you exactly what you need in all My gentleness and love! You only need to stay fixed in Me and trust in Me for all things. Anger is a force that tells you you need to take control. You need to have your way. I tell you to remain selfless, to surrender, to let go. Holding on is draining. "I will keep track of this little thing I have with you and that thing with you." Such a waste of your energy and your valuable time when I could have loved! You choose selfishness, caring for yourself. When does it end? Do you get enough to feed the starved self? Only the love of God feeds your hungry soul!
Only love of God, love of your neighbor, gives you peace. Do you want peace or power? Do you ever have enough power? Do you want to promote yourself or be free? You are already so very special. You were created by God and you are so perfect, so beautiful, so precious. You are the only soul like you and I love you dearly as you are. You are My prized loved one. Oh, how I love you! You are the perfect creation of My Father, My little, beloved one. I love you so. The Father loves you, the Holy Spirit loves you, the Blessed Mother loves you. You are My precious one. You are perfect and I love you as you are. I loved you to My death.
Do not let your heart be busy feeling bowed down and anxious. Come to Me and be filled by My ardent love. I love you intensely at this moment. I am Jesus, the Son of God. You are My beloved ones. To My death I loved each one of you. Do not be angered at your brother. Love him as I love you. Light up the darkness with the love of God in your heart.
I am Jesus and I love you.
---
---
Copyright © 1994 Shepherds of Christ.
Rights for non-commercial reproduction granted:
May be copied in its entirety, but neither re-typed nor edited.
Revised: August 1998
URL: http://www.Shepherds-of-Christ.org
---