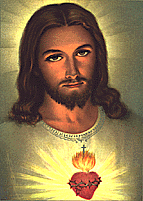 Strive for Peace Within

April 28, 1994 7:00a.m.
I am your precious Jesus. I want to deliver a message for the world. I want you to concentrate on peace. Do you have peace in your own heart? How can you show peace to this world if you do not hold peace within yourself.
Strive for interior peace. You, of yourself, cannot do this. You need My help to see you through. You must ask for help to carry out My task. The interior peace will flow to your brothers in all you do. Strive to be at peace inside. If you live for love of Me, you will find this peace.
Remain selfless. Do not promote yourself in anything. You are living to spread My love. Do not ever fight or argue. Live in silence. I will take care of you. Turn all cares over to Me. I am your Savior and I love you.
Live in peace. I give you peace. I am Jesus, peace is up to you. You must strive for this peace within. I love you.
I could find no other seat but in front of the bus. Jesus said:
I provided the seat. Now you read the message.
R. I read the tabernacle message, kept praying, hoping I wouldn't have to ask to read it, but He said:
Do it for love of Me. If you do not speak, no one will hear. I provided the seat. You read the message.
---
---
Copyright © 1994 Shepherds of Christ.
Rights for non-commercial reproduction granted:
May be copied in its entirety, but neither re-typed nor edited.
Revised: August 1998
URL: http://www.Shepherds-of-Christ.org
---