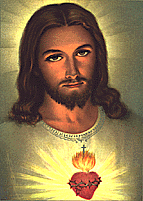 I Have Risen To Give New Life

April 3, 1994 Easter Sunday
R. Jesus told me on Easter morning to go to a church I had never attended. Jesus was not in the church. They had a table for the altar. The tabernacle was in the corner. There was no sanctuary light. I asked a sister if Jesus was there. She took some hosts out of the freezer in a refrigerator. They were in a baggie. She put them in a bowl in the tabernacle. There was still no light. They had a policeman to direct traffic. People walked in front of the tabernacle in the corner and paid no heed to Jesus. The chairs had their backs to the tabernacle.
Who is this, our Savior, Jesus, the Son of God? God is here, mightier than any king. He is God! Who even pays Him homage? He told me to kiss the floor. I left and cried. This, my people, is the Son of God. They are hurting. They are coming to be fed. I have personal letters from Jesus declaring His love for them. Oh, Jesus, I want to spread your love! I love You so!
Jesus, I am so sorry for all the neglect and indifference. Please send us holy priests to spread Your love. Help me to circulate Your love letters. On this Easter, I vow to do all You lead me to do to spread the ardent on-fire love of Jesus. Use me, fashion me. I want to tell the world how You are in our midst this very day and how You love each of us so much.
Lip service: "the love of God"?? He loved us to His death and resurrection. New life for this world! Jesus, Jesus, I consecrate my life to You and Your most Sacred Heart.
Jesus: My little sweet one, no matter what you do, love for Me. Do not get bowed down, but shed My light to this dark world. Love, My sweet one. Do not argue. Do not defend yourself. Come and be in My Presence. I love you. I guard you. I watch over you. You are My beloved.
This, child, is the Easter message for you and all My beloved ones. Share this with all: "I have risen to give new life. Give My life to all those around you. Love My beloved ones for Me."
R. Alleluia. And He came and gave us strength to do the work He calls us to do, to love a dark world, one that is hurting.
I am the Way. I am the Truth. I am the Life. Alleluia.
---
---
Copyright © 1994 Shepherds of Christ.
Rights for non-commercial reproduction granted:
May be copied in its entirety, but neither re-typed nor edited.
Revised: August 1998
URL: http://www.Shepherds-of-Christ.org
---