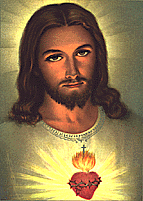 Obey Me to the Letter

May 6, 1994 4:00a.m.
My child, obey Me to the letter (the others will know they disobeyed Me). I am God. I am speaking to you. You have no hate or anger or anxiousness for any man.
I am Jesus Christ, the Son of God. I need you to do this work. You write as I dictate. You will not know what is My plan. I am God and I can change all things. I do not change a man's free will. I tell each one to obey. If he does not, then he will be held accountable.
You did as you were told. In no way does My letter conflict with My mother's messages. A decision was made to ignore My words. This displeases Me greatly! I want obedience. You did exactly as I told you and I continue to expect obedience from you. I will enkindle this. You do not fret or fume. Your job is to deliver a message.
I am Jesus and I am giving you personal love letters for My beloved children. I do not hold one letter better than another. I am Jesus. I have spoken. I have been disobeyed.
You continue to do exactly as I tell you. If they laugh or give you a hard time, you continue to obey Me exactly as I tell you. I am God and I have spoken. My ways I make clear to you. I am offended by this decision. You show no ill will. I am God and I will tend to all else. You only obey Me. Write these messages and give them to Father S____. These are messages from the Son of God. They are to be heeded. If you do not obey Me, then you are choosing on your own to disobey. One message is not better than another. My message did not conflict with My mother's messages. It was a decision that this letter of Mine should not be put out. I stated specifically that I wanted it out.
My children are hurting and they need these messages. I write so tenderly of My love! These messages will save souls. My mother's purpose is to draw men's hearts to Me. I wanted My message given out at the farm. You must obey Me. You must continue to obey Me. Souls will suffer for not hearing the message. I want them to know of My love. You continue to do exactly as I command you to do. I ask, you can choose to obey or not obey.
I am talking here. I want to be obeyed. I want My letters to reach My beloved ones!
---
---
Copyright © 1994 Shepherds of Christ.
Rights for non-commercial reproduction granted:
May be copied in its entirety, but neither re-typed nor edited.
Revised: August 1998
URL: http://www.Shepherds-of-Christ.org
---