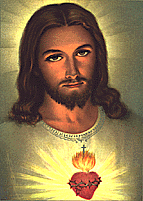 A Face of Peace Reflects A Heart of Love

May 8, 1994
How is your face, dear one? Are you anxious inside? Then your face is a reflection of your inner being. In all you do, pray to let go, pray to love. A heart that is full of love has a face that is full of peace.
Why fret and fume when I am tending to you personally? I walk by your side, sweet one. Let go and let Me do what you need done. Quit worrying. You spend your life wasting precious valuable time. Oh, sweet one, let go, let go. Please shine to the world. Let your face be the light in the dark world. Spend time alone with Me in silence. Do not think. Let My peace fill your soul. Let Me operate in your heart.
Your face, your tone of voice, your body movements, reflect the person within. If you are pulled tight inside, you will give a tight person to this world. Concentrate on showing peace in your being. Peace I leave with you, My peace I give to you, not as the world gives you peace, but real peace that warms a troubled soul.
I am your beloved Jesus. I pour My love into your heart. Come in silence and experience My peace. Let go, child. Peace be to you. I love you!
---
---
Copyright © 1994 Shepherds of Christ.
Rights for non-commercial reproduction granted:
May be copied in its entirety, but neither re-typed nor edited.
Revised: August 1998
URL: http://www.Shepherds-of-Christ.org
---