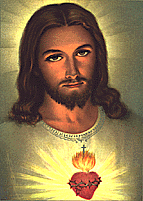 Help Me, Lord, to Do As I Ought

May 16, 1994
You, My child, are guarded by My hand when you learn to let go and do as I ask. You must realize I am forever with you and you do not need to worry. Trust in Me, trust in Me, trust in Me! I am Jesus Christ. I am the Son of God. Do not worry or fume or fret. Be ever attentive to My presence with you. Let go, sweet one, and let Me get close to you.
Satan is tormenting you. Pray for trust and give it all up. I love you with such love. Do not worry ever. I am by your side in your darkest hours. Trust, child. You are so far from trusting Me!
R. When people are hurting, say you are sorry. It is not as if you made them hurt, but it helps them to know someone is sorry. They are suffering, they need your compassion and love. I wondered why Jesus kept telling me to say I was sorry when they were mad. They need to know you are sorry that they are suffering, that they are feeling hurt. To say you are sorry will help their hurting hearts. It is in love and compassion that we should respond to one another. To say we are sorry is to suffer with our beloved brothers.
Jesus: Be loving in all things. Choose love. Do not seek yourself. Come and let Me heal your aching heart and be loving to My hurting ones. I love them so. Show them compassion and care. Do not be hard on your brother when he wrongs you. See the suffering heart inside of him and love him. Love is the answer! Be compassionate to one another. This is how you put on Christ. Be Me to your hurting brothers. They need you to love Me. If you love Me, you will love one another. All works out when you love God and love each other. You do not love and then you wonder why the problem. The problem is your lack of love for one another. Give love to each other. I cannot say this enough. It is in loving that your heart will find peace. Surrender to love. It is healing. I am the Way, the Truth and the Life. My ways I make known to you in the recesses of your heart. Hear My gentle voice as I tell you to love. Forgive your brothers and love them.
Alleluia. This is the key to your life. Life you will have when you love each other.
---
---
Copyright © 1994 Shepherds of Christ.
Rights for non-commercial reproduction granted:
May be copied in its entirety, but neither re-typed nor edited.
Revised: August 1998
URL: http://www.Shepherds-of-Christ.org
---