Prayer for Grace for our Country
Dear Father united to Jesus in the Holy Sacrifice of the Mass, the Sacrifice of Calvary sacramentally made present, celebrated around the world, in the Holy Spirit. We offer up all we do united to the Mass. We unite in one mind and one heart as members of the mystical body of Christ, with Christ our head in the pure and holy Hearts of Jesus and Mary, through the powerful intercession of Mary with all the angels and saints and souls in purgatory, and we beg for the saving grace, for our country, the United States. Please help us. We further pray for unity to always do the will of God in love. We spread the Blood of Jesus on the leaders and people of the United States and cast the devil into hell. We consecrate our country to the Sacred Heart and Immaculate Heart and all our dioceses, and beg for an outpouring of the Holy Spirit. God help us. We pray for our families, the priests, the Church and the world. In the Name of Jesus please hear us, we pray. We pray for our president and leaders. We pray that we are united as one nation under God to work together in love as God wants.
January 13, 2019
R. I have been studying St. Augustine a little –
At one time he stole pears and he hated pears,
he did it for the joy of stealing and getting
away with it. He enjoyed the evil – he was operating
from his wounded human nature –
There are tendencies toward the deadly sins,
even though we have been baptized –
Our human nature is wounded.
God created the world in order and symmetry
to praise Him. God is the Creator. He created
the world from nothing.
God said "Let there be light" and
command / response – there was light –
"Call" and "response". He called the light
"day" and the darkness "night".
He called the dry land, the earth and
the waters, the sea
God is the Creator –
God the master over creation –
He created plants and fruit – ability
for rain and snow
He created the sun and the moon
He created birds and fish and the
ability for them to "be fruitful and to
multiply"
God created animals and plant and
fruit eaters.
Genesis 1: 26-27
God said, 'Let us make man in our own image, in the likeness of ourselves, and let them be masters of the fish of the sea, the birds of heaven, the cattle, all the wild animals and all the creatures that creep along the ground.'

God created man in the image of himself,
in the image of God he created him,
male and female he created them.
R. God created man the apex of creation –
We are to be good stewards to God –
God is the Creator – we are the
creatures –
God made male and female creatures.
The Trinity is 3 Persons in one God –
Man is to have relationship – communion
with God and others –
God created man to have children in
relationship with one another –
to increase and multiply.
The 7th day of Creation God rested –
This day is to be holy –
A day of worship to God –
This Day tells us to stop –
God is the Master!!
God created a beautiful, loving, peaceful,
orderly and good world without sin,
without evil, without violence –
The world was made in love –
The creatures made in love –
Now the world God created had health and order,
peace, the absence of disease and
war, division, hatred, violence.
God gave us a free will to obey or
disobey Him – Obedience to God's will
brings order and good –
Disobedience to God will bring
disorder and evil.
God brings life!
In God is life!
God breathes life!
God gave to man a Garden to live in
to prosper, to grow and
produce –
Adam and Eve are not to touch
the tree of good and evil.
Work to Adam and Eve was a gift –
the Land was in the beautiful
Garden of Paradise –
There is harmony – perfect harmony
and love –
Adam and Eve were not to eat of the tree
of good and evil –
They are not to seek independence
from God –
Original sin is moral independence.
Sin is offending God and
disobeying God's Divine Will.
We are dependent on God –
God is the Master –
When we obey His will we are
living as we should.
Original sin is disrespect for one's
dependency on God –

Isaiah 5: 20
Woe to those who call what is bad, good,
and what is good, bad,
who substitute darkness for light
and light for darkness,
who substitute bitter for sweet
and sweet for bitter.
R. Woe to those who decide what is right
and wrong without God.
Men and women are called to a life
of marriage –
giving of one-self to the other in love –
ONE-BODY, ONE FLESH!
Animals are male and female likewise.
Women are to help men and men
help each other to gain eternal
salvation.
God gave marriage a big
emphasis –
creation of children is to come from
men and women living in marriage.
Shame comes from the deadly sins –
pride, greed, envy, wrath, lust, gluttony, and sloth.
The devil makes good look evil and
evil look good.
Death came because of Adam and Eve's
disobedience.
God's world was harmonious and
ordered –
Death entered the world as a
consequence of sin –
Adam and Eve sinned in pride and jealousy
and envy of God's knowledge –
Because of the fall man's ability to
see good and evil becomes
distorted –
Even after baptism which
takes away original sin
we have a tendency toward
evil because of our
wounded human nature.
Adam and Eve determined they could decide
what was good and evil
independent of God –
The sinner places themselves above
God and operates against
God's law – telling themselves
they can decide independently
what they can do.
God gives us His laws to govern
our freedom –
We can obey or disobey God's Laws,
God's will –
We have a free will –
Isaiah 5: 20
Woe to those who call what is bad, good,
and what is good, bad,
who substitute darkness for light
and light for darkness,
who substitute bitter for sweet
and sweet for bitter.

R. Adam and Eve disobeyed God's command and
were thrown out of the
Garden of Paradise –
Innocence is lost.
Shame comes in.
Sin is seeking independence of God –
Sin entered the world and harmony
is distorted!
Thus man has tendencies toward
the deadly sins –
pride, greed, envy, wrath,
lust, gluttony, and sloth.
Man has a distorted image of things –
Man can be full of fear
because he sees things
distortedly and run from
his call from God –
We are accountable to God for our
disobedience to His laws –
for our sin –
We offend God when we sin
and our relationship
becomes fractured –
We need to tell God we are sorry
and ask for forgiveness –
have a firm purpose of
amendment and tell God
we intend to stop sinning – ask for
His forgiveness and mercy!!
Blame enters the world –
Lies enter the world to cover up one's
evil and disobedience to God –
Loss of personal responsibility –
There is competition between those
over us, as one under decides
independence and does what
they want –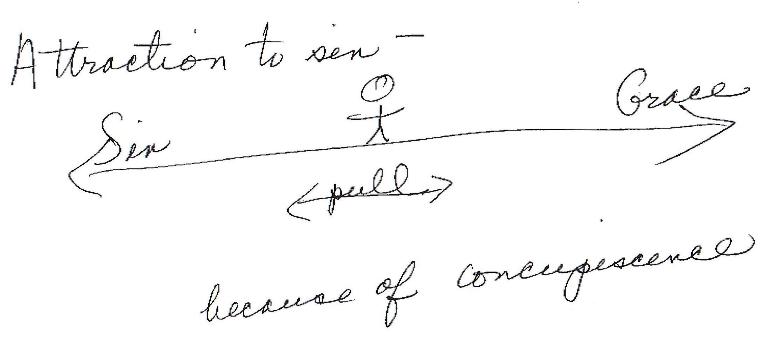 R. Grace moves us to God –
We pray for grace –
We pray for the grace we need most –
Concupiscence moves us to sin –
because we have a wounded
human nature –
Sin is Rebellion against God
Jesus and Mary are the New Adam and New Eve.
Original sin wounds human nature.
Sin is stopping the order God wants with us.
Men and women become in conflict
with one another because
of Adam and Eve.


R. We must toil because of Adam's sin –
Life becomes hard work –
Works honors God –
God gives us gifts and we use
them for His honor and glory –
Gratitude
In the sin of Adam and Eve that
intimacy with God
is harmed –
Romans 5: 12-14
Well then; it was through one man that sin came into the world, and through sin death, and thus death has spread through the whole human race because everyone has sinned. Sin already existed in the world before there was any law, even though sin is not reckoned when there is no law. Nonetheless death reigned over all from Adam to Moses, even over those whose sin was not the breaking of a commandment, as Adam's was. He prefigured the One who was to come . . .
R. We need to be saved because of
the fall of Adam and Eve.
Song: A Song from Jesus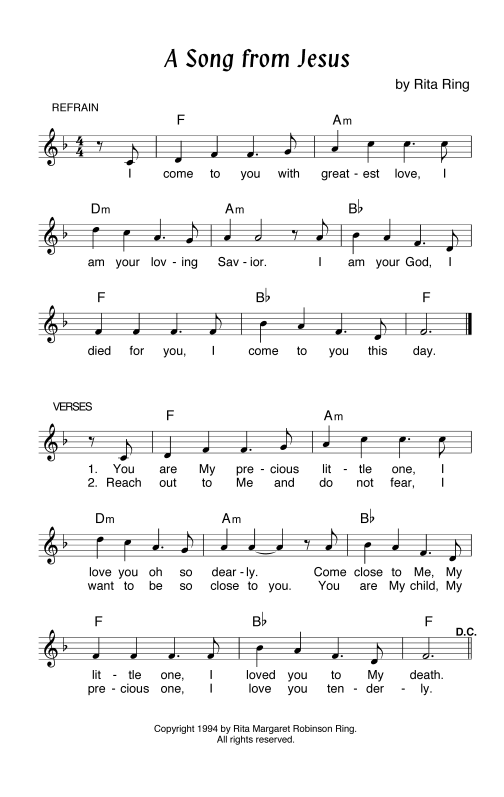 R. Because of original sin –
(Adam and Eve looked at each other imperfectly)
we see each other distortedly
we see God distortedly
we see ourselves distortedly
There is disorder in elements
Lose of harmony in animals and
humans
Because of original sin people can
think they are independent of God
and they may say
"I'll pick what I like about faith,
but I will reject what
I don't like"
Even some teachers in Catholic
schools teaching religion
may not be Catholic.
We have a free will –
Love must be free.
It is a gift from the heart –
God commands us to love Him
and love others.

Matthew 22: 36-40

'Master, which is the greatest commandment of the Law?' Jesus said to him, 'You must love the Lord your God with all your heart, with all your soul, and with all your mind. This is the greatest and the first commandment. The second resembles it: You must love your neighbour as yourself. On these two commandments hang the whole Law, and the Prophets too.'
R. There is tension between husband
and wife because of
original sin –
Adam and Eve's sin was
self-centered.
Seeking dominance in relationships
especially between men and women,
those under authority trying
to win over authority –
BECAUSE of ORIGINAL SIN
Tension between men and women
no longer other centered as it should be
Parent - child etc. – tension
To have greater perfection
we must die to self-will –
Seek Virtue
Vision of God for men
At Mass – Beginning of Mass
Sorrow for sins – prepare
to be holy offering in
the Mass
Unity with others
one-mind, one heart
living faith, hope & love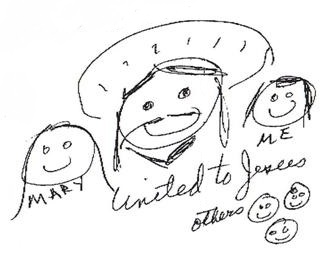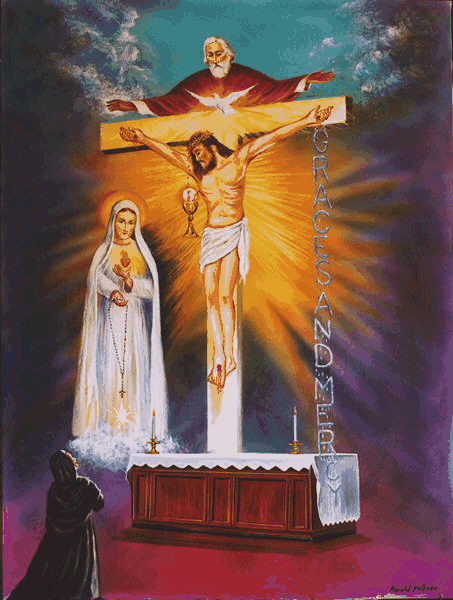 R. Put on Mind of Christ at Mass
(1) Thanksgiving
(2) Reparation
(3) Love
(4) Satisfaction for Sin
Interior Disposition
PUTTING ON THE MIND of CHRIST
Demons hate God
Demons hate creatures
Demons hate each other
Demons hate us –
Demons are envious of us –
Demons want to SPOIL God's work
want to drag us to hell
John 8: 44
You are from your father, the devil,
and you prefer to do
what your father wants.
He was a murderer from the start;
he was never grounded in the truth;
there is no truth in him at all.
When he lies
he is speaking true to his nature,
because he is a liar, and the father of lies.
R. Christ said of satan
"He was a murderer from
the beginning"
Solomon had wisdom –
he did bad things –
The demons are SMART
have wonderful intellects!
The demons test man –
watch man –
Satan is a pro – he has been working
for centuries –
EVIL SPIRITS are wicked!
God permits devils to test us –
to see if we are loyal –
To one much is given –
much will be expected!
Satan works in men's minds –
imagination and memory –
(1) Satan gives suggestions (we have freedom to
listen or not)
(2) Then man acts (according to God's wishes
or according to satan)
(3) Habits (if man does repeated evil
actions they become habits)
(4) Slavery to evil
The devil knows our weaknesses, memories,
anger, jealousy, envy, pride –
The devil can watch our actions and can
work on these pleasures!
The devil suggests things –
tempts us –
We don't have to give in!
The devil can't win, if we don't
let him.
1 Peter 5: 8-9
Keep sober and alert, because your enemy the devil is on the prowl like a roaring lion, looking for someone to devour. Stand up to him, strong in faith and in the knowledge that it is the same kind of suffering that the community of your brothers throughout the world is undergoing.
R. Mary is the New Eve –
Jesus the New Adam
Servants and Handmaids of Jesus –
Interior Disposition at Mass –
put on the mind of Christ
A Prayer before the Holy Sacrifice of the Mass
Let me be a holy sacrifice and unite with God in the sacrament of His greatest love.

I want to be one in Him in this act of love, where He gives Himself to me and I give myself as a sacrifice to Him. Let me be a holy sacrifice as I become one with Him in this my act of greatest love to Him.

Let me unite with Him more, that I may more deeply love Him. May I help make reparation to His adorable Heart and the heart of His Mother, Mary. With greatest love, I offer myself to You and pray that You will accept my sacrifice of greatest love. I give myself to You and unite in Your gift of Yourself to me. Come and possess my soul.

Cleanse me, strengthen me, heal me. Dear Holy Spirit act in the heart of Mary to make me more and more like Jesus.

Father, I offer this my sacrifice, myself united to Jesus in the Holy Spirit to You. Help me to love God more deeply in this act of my greatest love.

Give me the grace to grow in my knowledge, love and service of You and for this to be my greatest participation in the Mass. Give me the greatest graces to love You so deeply in this Mass, You who are so worthy of my love.

-Mass Book, December 27, 1995
Given
October 29, 2016
R. Please spread blessed holy water
(You can also mix Jesus and Mary water
with your blessed Holy Water if you have it.)
in your yard, around your house,
in the state you live in.
And ask God to bless your state
Ask God to bless the United States
Pray all prayers through the intercession of
Our Lady of CLEAR – WATER.
Ask the Lady of CLEAR - WATER
to help with the blessed water.
Mary has appeared to me for 22 years,
in Ohio and Florida.