Prayer for Grace for our Country
Dear Father united to Jesus in the Holy Sacrifice of the Mass, the Sacrifice of Calvary sacramentally made present, celebrated around the world, in the Holy Spirit. We offer up all we do united to the Mass. We unite in one mind and one heart as members of the mystical body of Christ, with Christ our head in the pure and holy Hearts of Jesus and Mary, through the powerful intercession of Mary with all the angels and saints and souls in purgatory, and we beg for the saving grace, for our country, the United States. Please help us. We further pray for unity to always do the will of God in love. We spread the Blood of Jesus on the leaders and people of the United States and cast the devil into hell. We consecrate our country to the Sacred Heart and Immaculate Heart and all our dioceses, and beg for an outpouring of the Holy Spirit. God help us. We pray for our families, the priests, the Church and the world. In the Name of Jesus please hear us, we pray. We pray for our president and leaders. We pray that we are united as one nation under God to work together in love as God wants.
January 21, 2019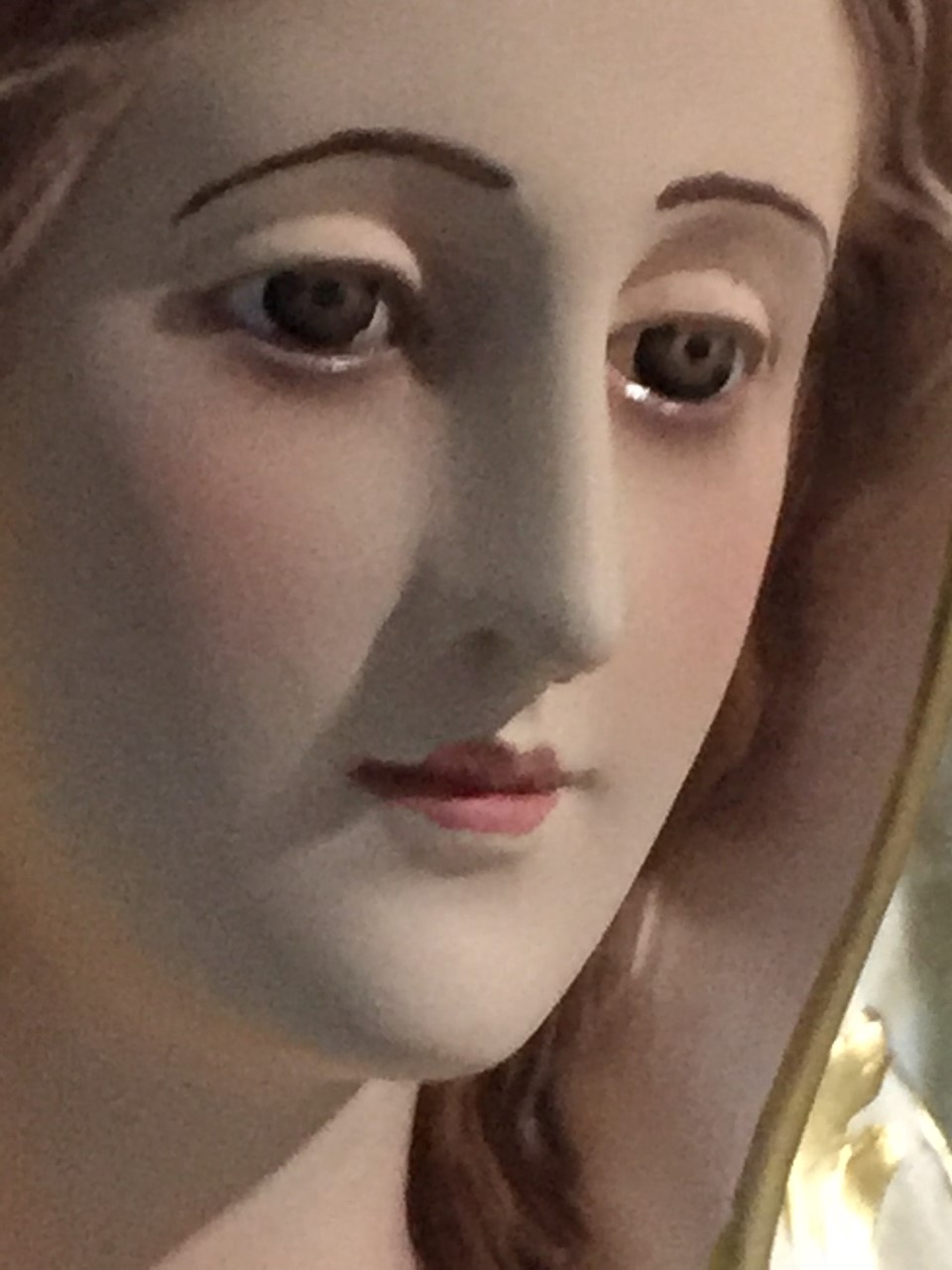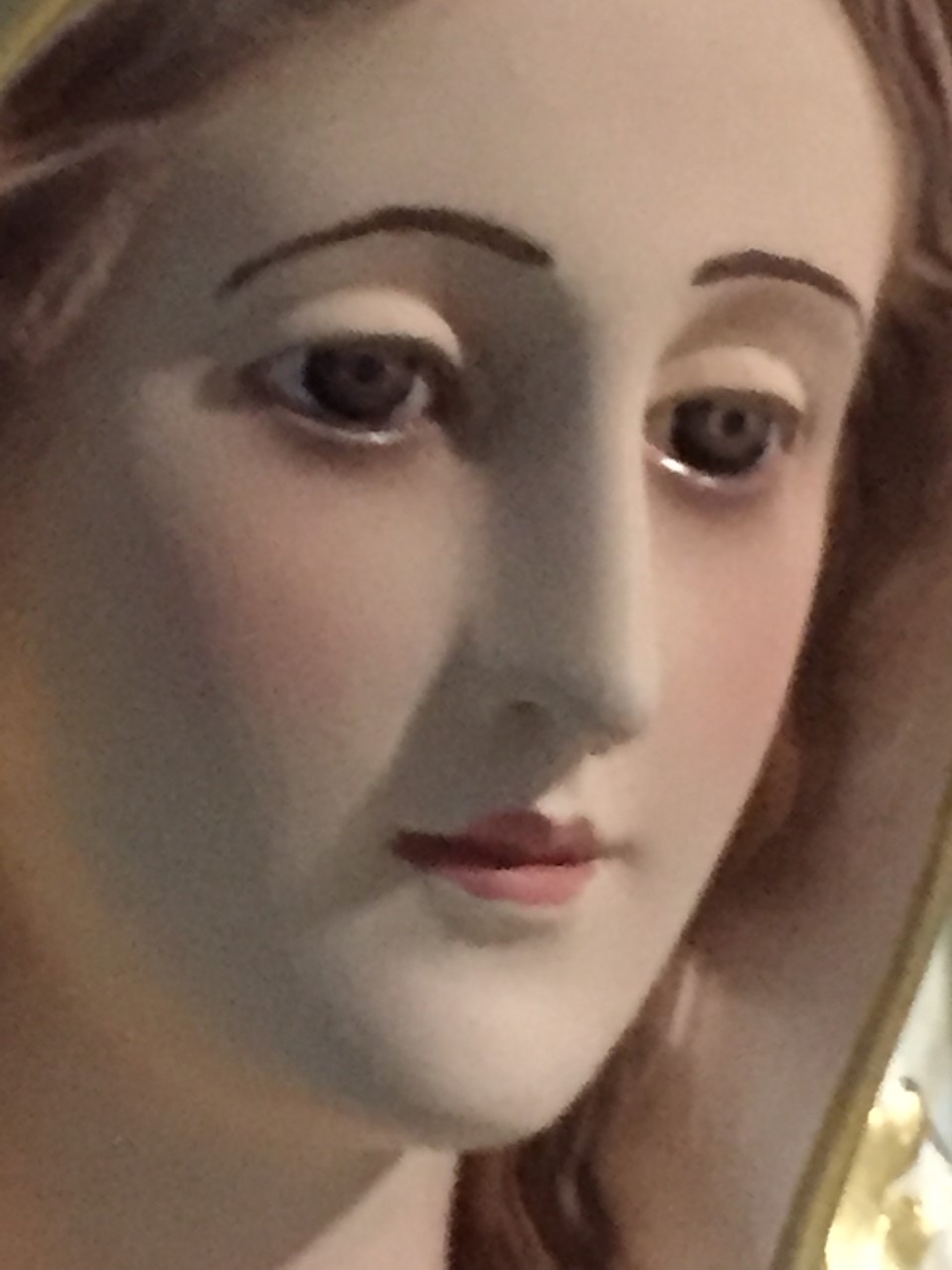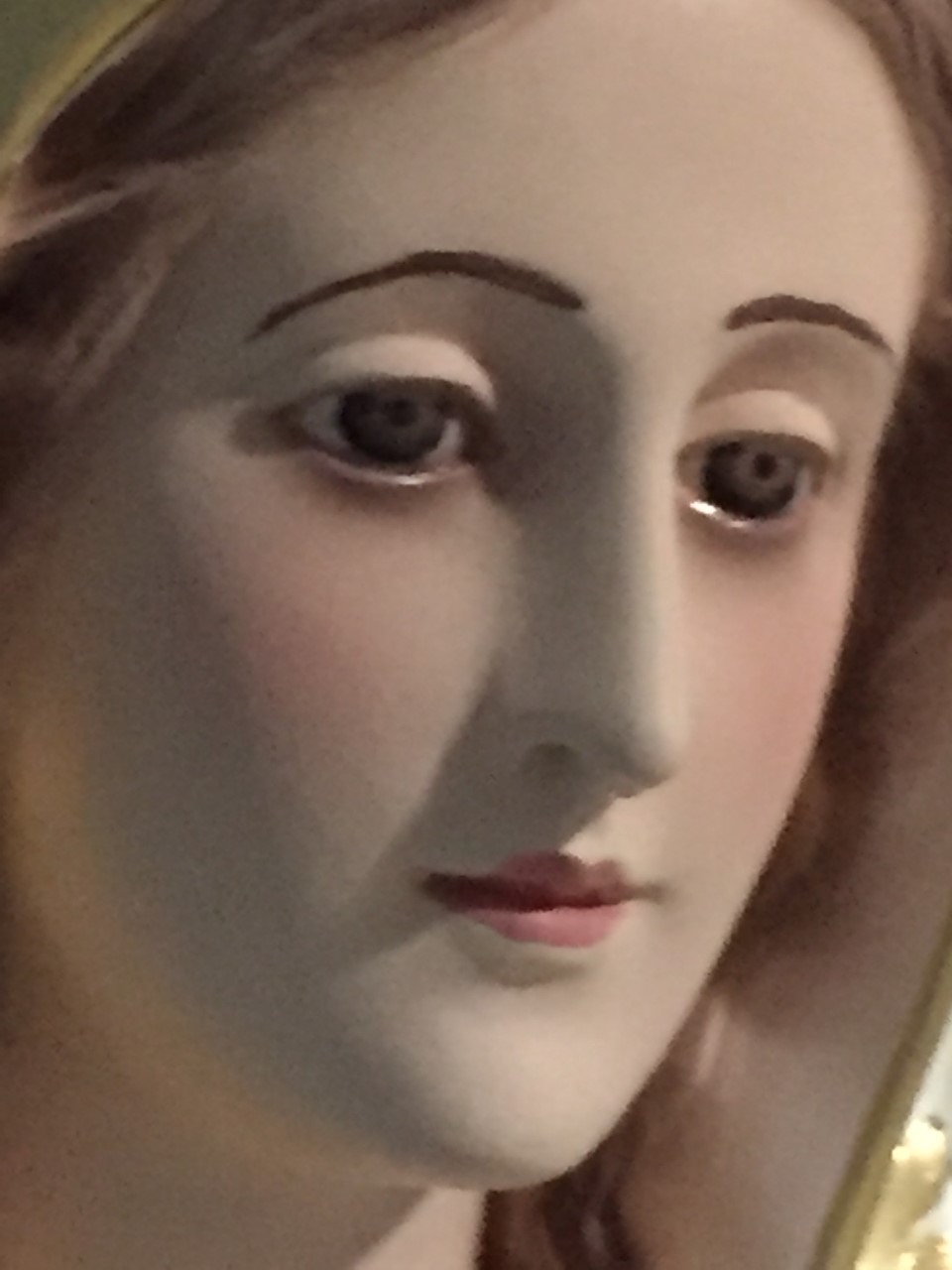 Today January 21, 2019
R. Amid all the cold and beauties of the earth is inconveniences.
God shows us beautiful skies and snow falls and lets us experience frigid weather but it is so beautiful.
Ever new.

Luke 1: 46-55
And Mary said:

My soul proclaims
the greatness of the Lord
and my spirit rejoices
in God my Saviour;
because he has looked upon
the humiliation of his servant.
Yes, from now onwards
all generations will call me blessed,
for the Almighty
has done great things for me.
Holy is his name,
and his faithful love extends age after age
to those who fear him.
He has used the power of his arm,
he has routed the arrogant of heart.
He has pulled down princes
from their thrones
and raised high the lowly.
He has filled the starving with good things,
sent the rich away empty.
He has come to the help
of Israel his servant,
mindful of his faithful love
—according to the promise
he made to our ancestors—
of his mercy to Abraham
and to his descendants for ever.
R. Like every wave in the ocean comes to a peak and washes away on the sandy seashore.
We have so many days to see reality through God's eyes and say yes to God.
What makes a person love and give and care for others?
What makes a person give up, get angry, destroy, fight and hurt others?
God is love, His reality is the reality.
His love is everlasting.
Jesus is truth.
Jesus is the way.
God created us in love to know, love and serve Him and for us to have a personal love, relationship with God for eternity in eternal happiness.
God put us here to be united and to love and care and help each other to show others His message - The Good News.
How do we see –
Is our reality rooted in God, Creator, Master all powerful, loving and the light
First in our lives.
God gives us the beauty of the earth.
God gives us each other to love and cooperate and work with.
God gives us our days on the stage here in life and He watches our performance.
Do we see others in love?
Are we growing in His image and likeness?
Are we growing in love?
Are we prepared to be called home by God?
Surrender to God's reality.
Look at the beautiful little ones.
Such a gift.
Vision.
Interior vision.
Attitude of love.
Dependence on God.
Living by God's will in love.
Look at the beauty God has bestowed on us His creatures.
And He has raised us up.
The victory is in Him.
Not words.
Living in God!
Serving God!
Loving God!!
God is to be honored, praised
And obeyed.
God created us in His image and likeness to love and be loved and live by the Father's plan.
What makes a person with terminal cancer, love and serve and have joy, and a person with nothing wrong given so much love and good things, hate and punish.
It's vision.
Seeing reality as it is through God's eyes. The vision of God.
The eyes of truth and love.
Reality – how we see things is up to us, to follow God's way and pray for grace.
To live in Him, our God.
For the beauty of the earth!!
God is good.
Love and see the light.
We have a free will.

25 Years Ago
Surrender

March 10, 1994

Jesus: This is surrender. I want your all. I do not want you attached to any person or any thing. I want you completely dependent on Me. Do I teach you such lessons on how attached you are to others and things? I have all the answers. If I do not tell you, you do not need to know. You want your will. My will I make known to you in front of the tabernacle. I have spoken here.

Surrender is doing the will of God and it is not your deciding and doing your will. I want your all. I want you to do those things the way I tell you. It is not the way you want to do them. Sweet surrender, only to find I want more. Look at My position on the cross. Did I ask you to die for Me? I ask you to do My Will. I ask you to surrender. I ask for time in front of the tabernacle. I ask for love. Watch this world go up in your face. Then where are your possessions, the things you held on to? You only have limited vision. I know all things.

I am so tired. You do not give but bits and pieces. You hold on to what you want and give Me some. I want your all. I want total surrender. I showed you how to surrender when I died on the cross. I am not asking for this. I am asking for you to do My will. You are so attached to pleasing people that you do not see the whole picture. I make My ways clear here. You do not listen. You do what you think is a good thing and you do not even come to Me. I want your all. I want surrender.

R. Love includes giving up what you don't want to give up. Love is saying, "Yes, Lord", even when you would rather do it your way. It is in your surrender and love of God that you teach mighty lessons to those around you. You teach by your being in love with Jesus. I love you, Jesus. I give of My bounty, not little bits and pieces I stingily let go of. Jesus, my Lord, my God, my All, how can I love You as I ought? Do I give My all, or do I say, "Oh, Lord, you can't mean that you want this," and hold on to what I want.

Do I hold on to people and don't even know it, or do I put You first, Lord, above all persons, places and things? I see how really attached I am to everything, things I do not even know I am attached to. It is easy to give lip service to surrender and tell God to possess our soul and make me selfless, but do I really mean it? This is what keeps us from increased union with Him! It is in total surrender, of living for love of Him and Him alone, that we are free. And what freedom! The bittersweetness to let go, to find freedom from all we hold on to! The things we hold on to most are what keeps us from our increased union with Him.

"Oh, not that, Lord! Oh, do I look at your crucifix and see You letting go?" You held not one thing back. Your arms open wide, nailed to the cross! Total surrender!

What does He ask of me today that I want to hold on to? Holding on to things stops my freedom. To be totally free, I must let go. I cannot hold on and let go at the same time. Freedom is obtained in letting go. See yourself with your arms tight, holding on to all you possess.

Jesus: I call you to surrender. Open your arms as I did when I died on the cross. Let all your sacred worldly possessions drop around you and you will experience the joy of being free, united only to Me, of letting go and knowing that I, God, tend to your every need. To My death on the cross I loved you and I love you this way this very day. Let go and give it all to Me. I will care for you far better than you could for yourself. I am God and I love you more than you can love yourself.

Jesus is dead, hanging on the cross, arms outstretched. His feet are not even on the ground. He is hanging by nails on a piece of wood. What do we hold on to? He wants us in midair in total surrender. Oh, little ones, how you squander your possessions. How you hold on to people. How you won't let go. See Me in total surrender.

I gave My very life for you. What do you hold on to, My little ones? Little bits and pieces you give to Me and you hold tight to your lives. They will be up in smoke and all that will remain will be the things of God. Not one pair of shoes do you take with you, only your love, given to God and others.
end of excerpt
R. Light, Joy and Peace.
Beauty is in God.
Purity is in God.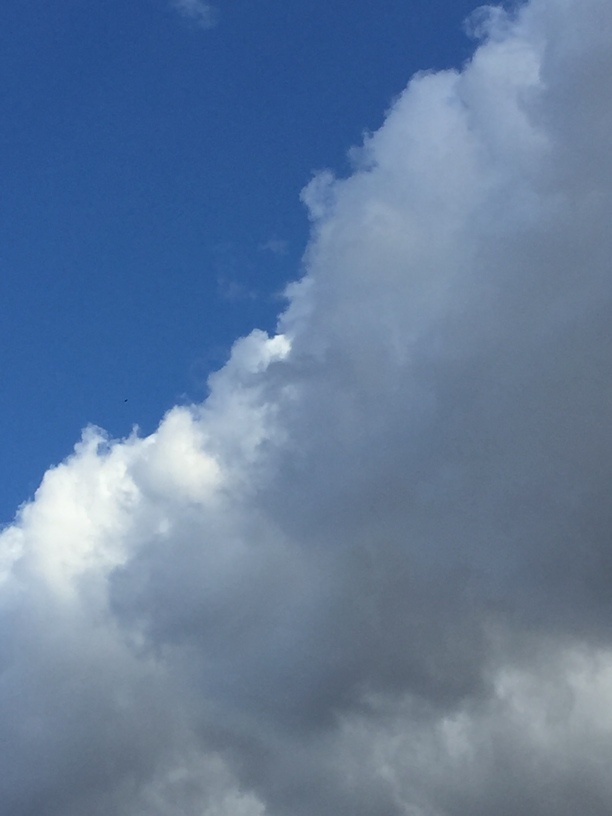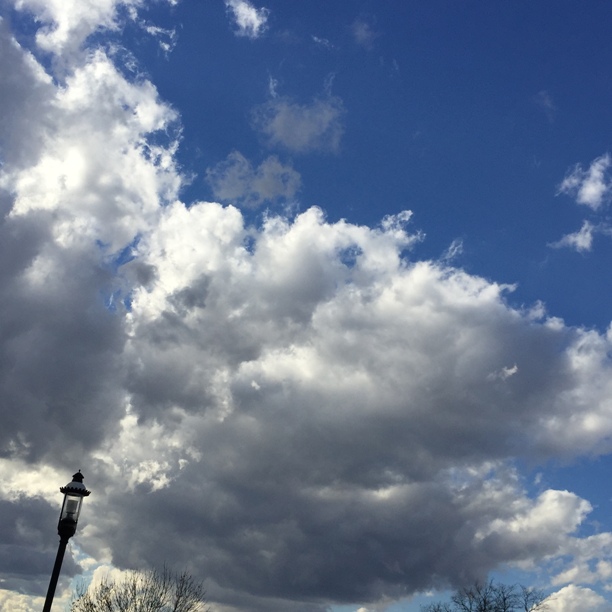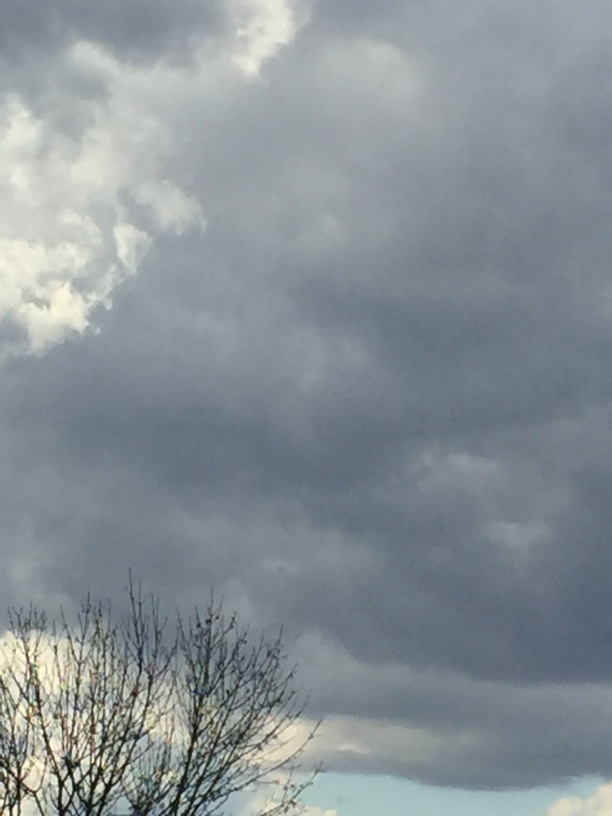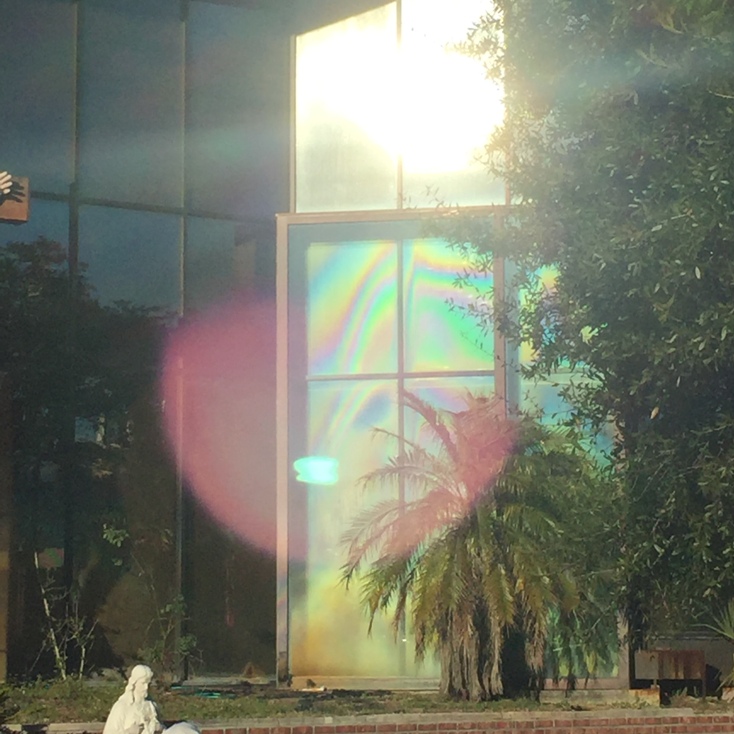 Epiphany 2019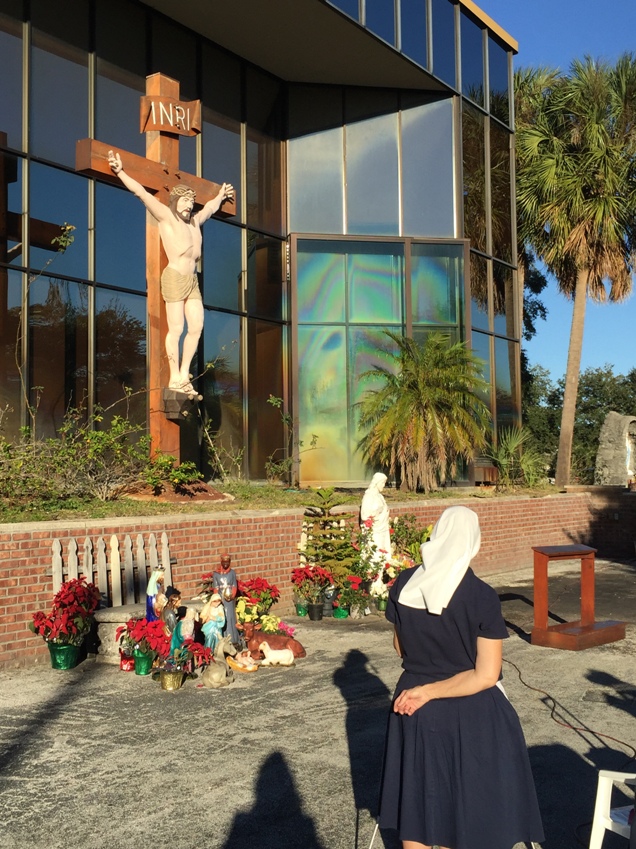 Epiphany 2019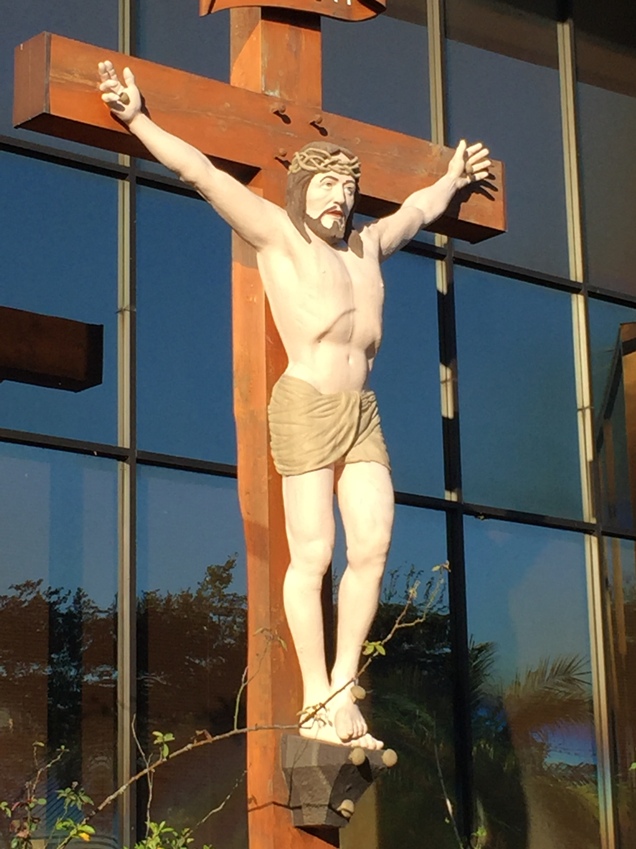 Epiphany 2019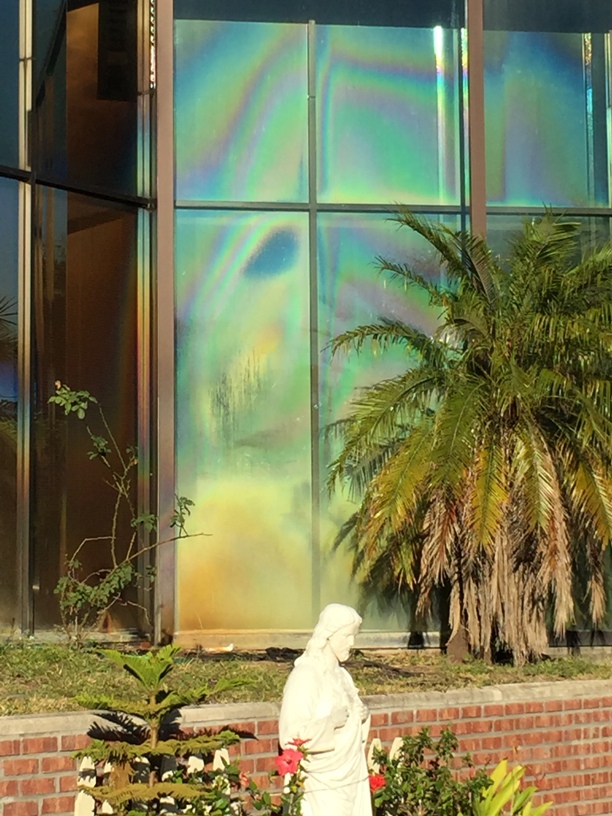 Epiphany 2019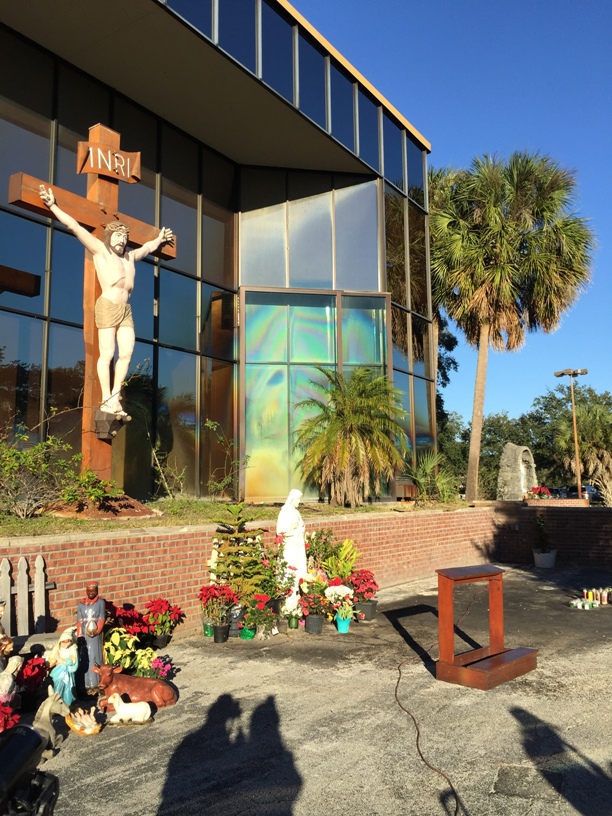 Epiphany 2019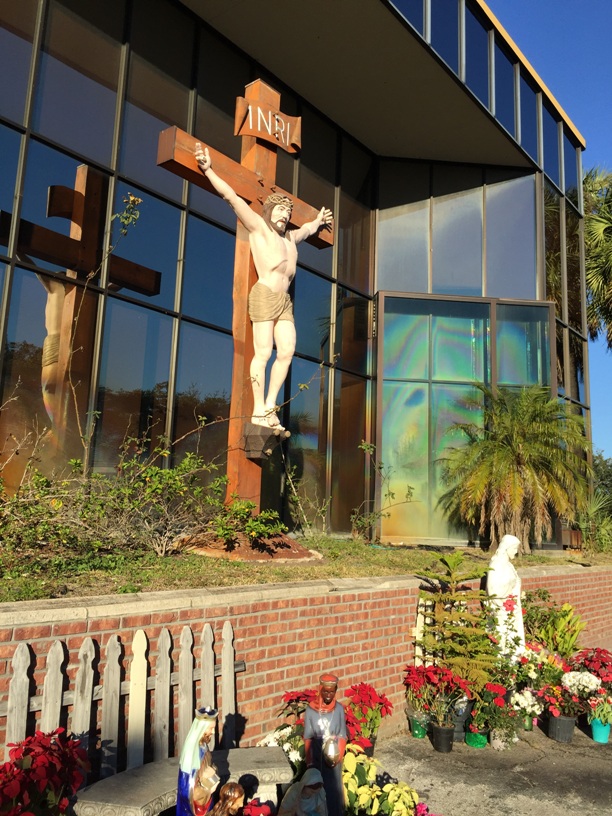 Epiphany 2019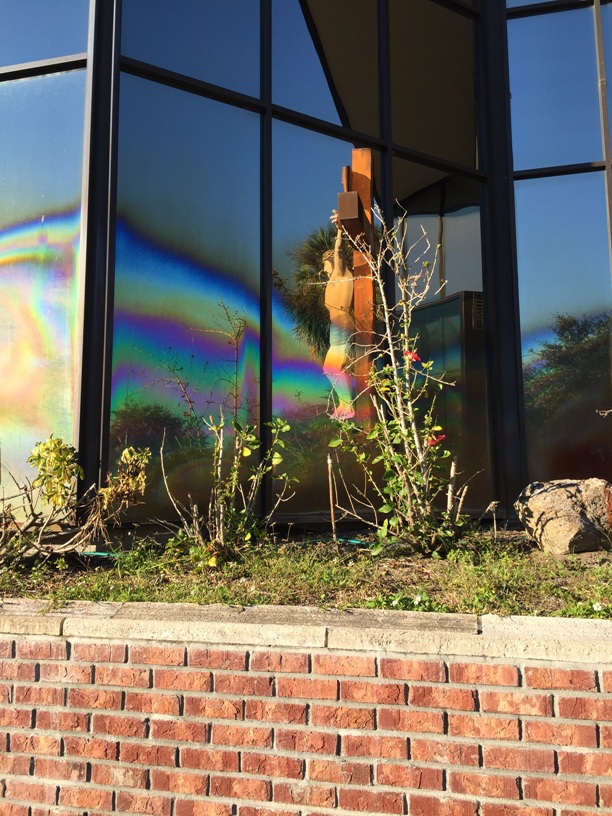 Epiphany 2019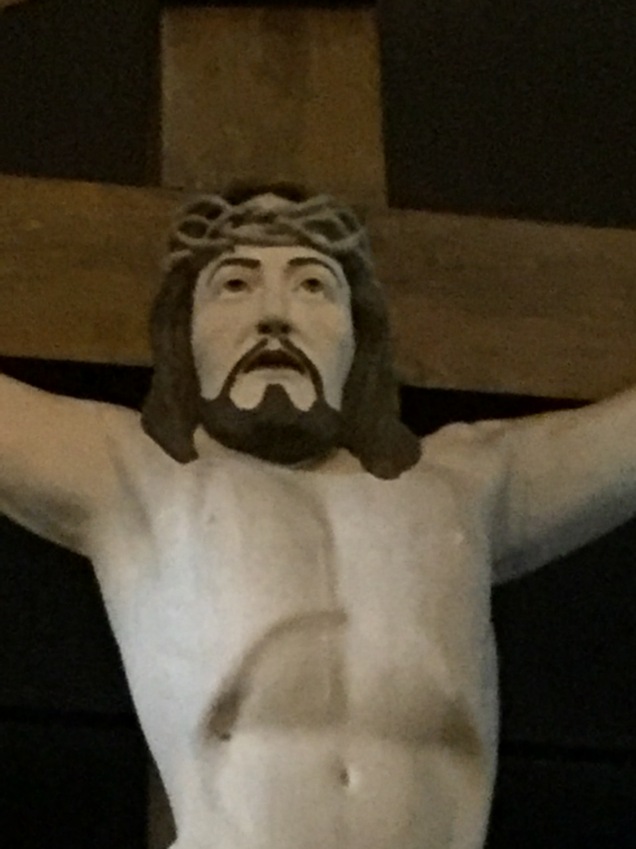 December 17, 2018 Clearwater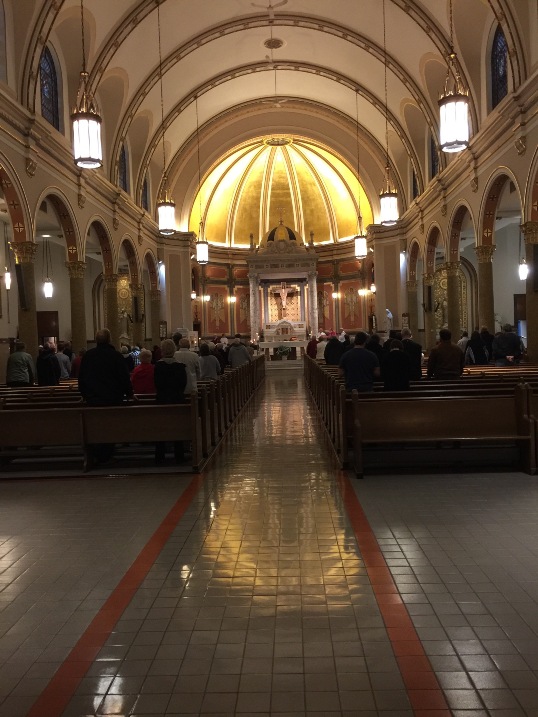 St. Boniface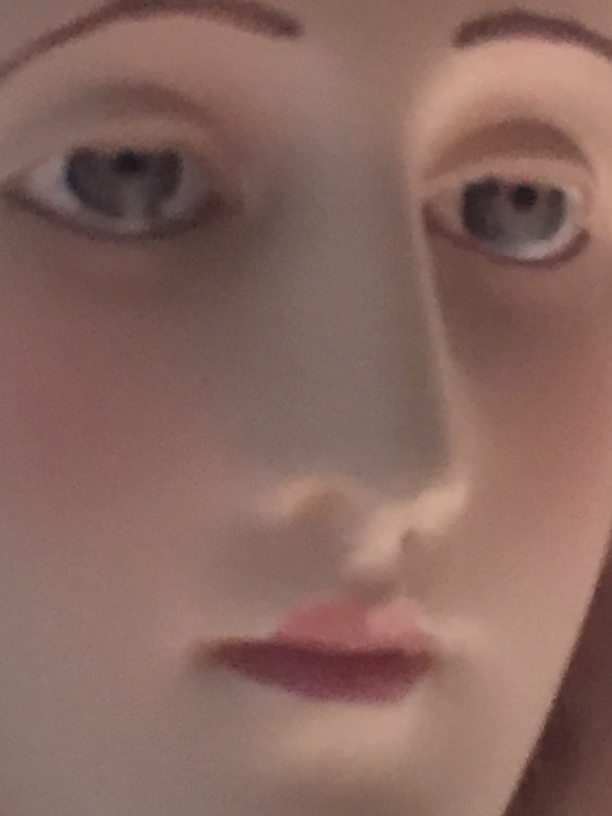 December 8, 2018
Feast of Immaculate Conception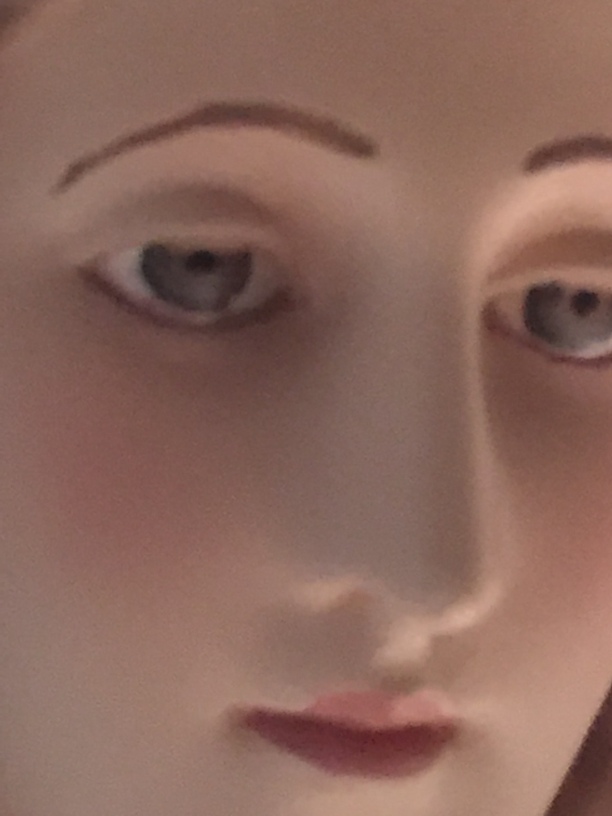 December 8, 2018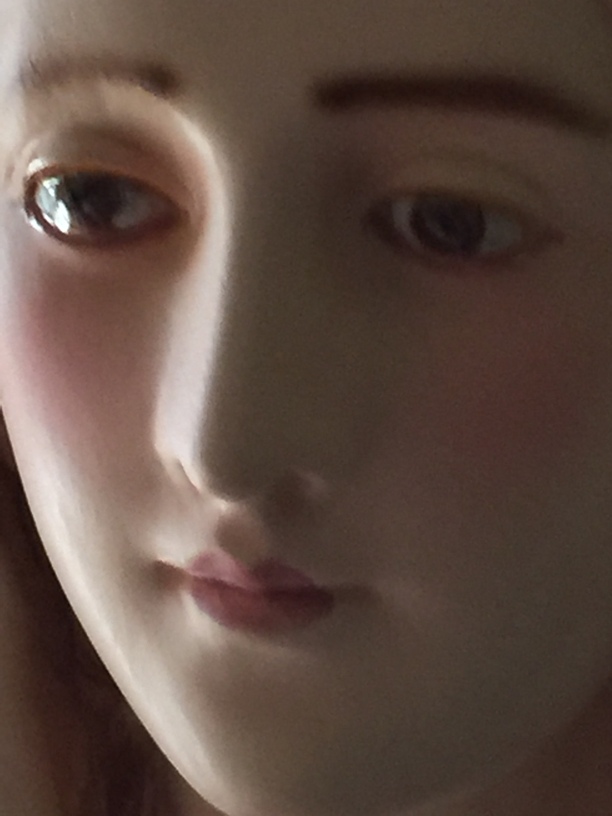 December 4, 2018 Clearwater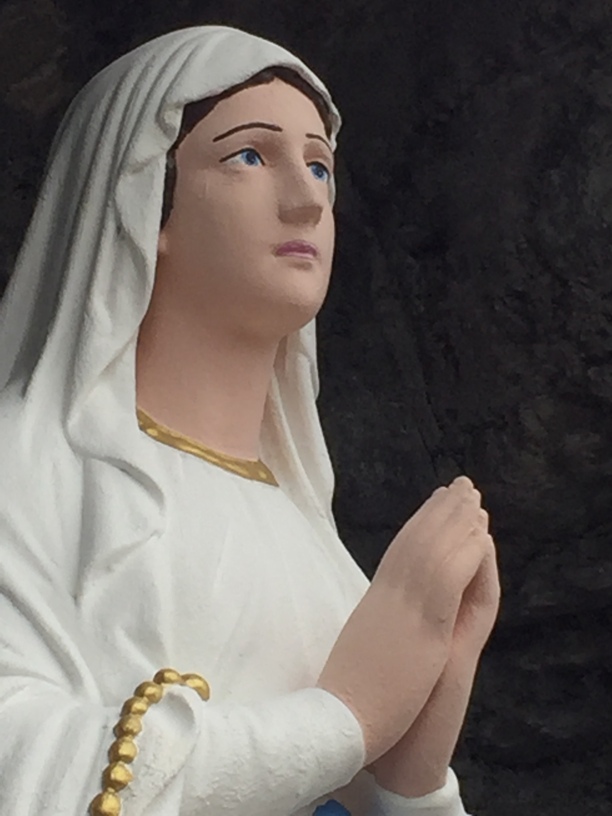 Clearwater, FL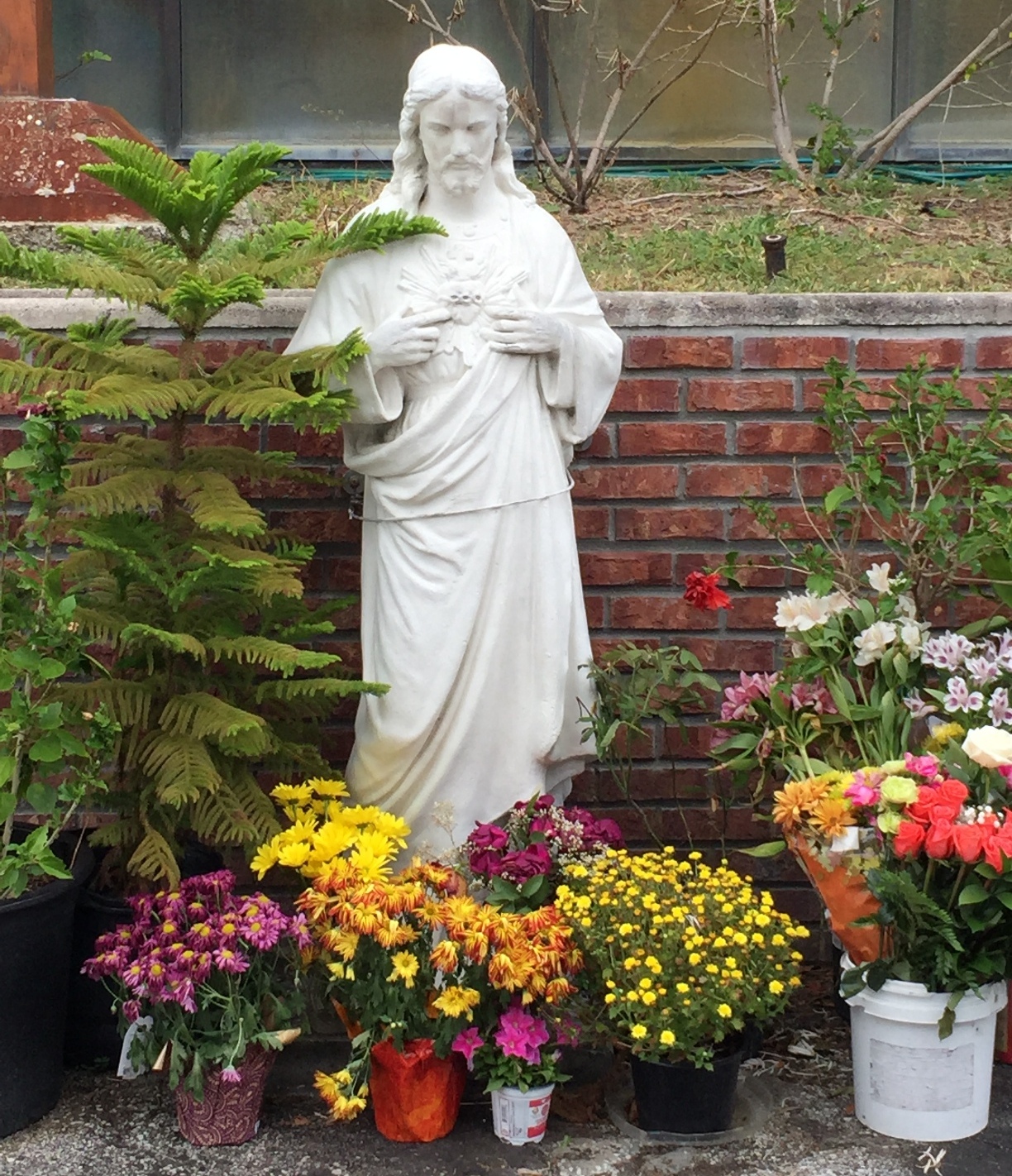 Clearwater, FL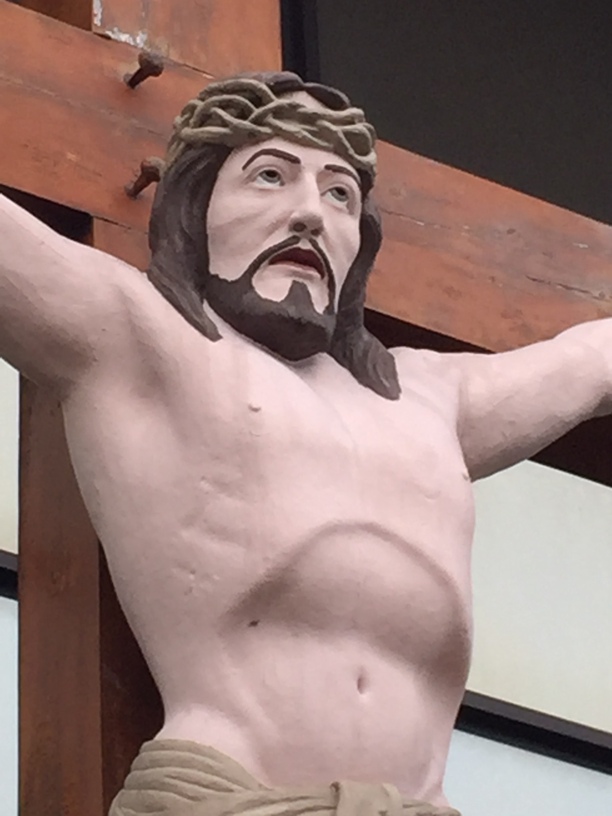 Clearwater, FL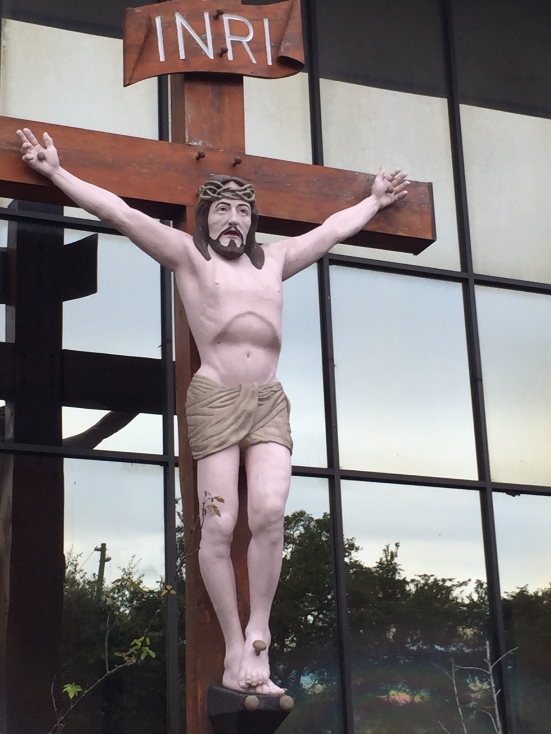 Clearwater, FL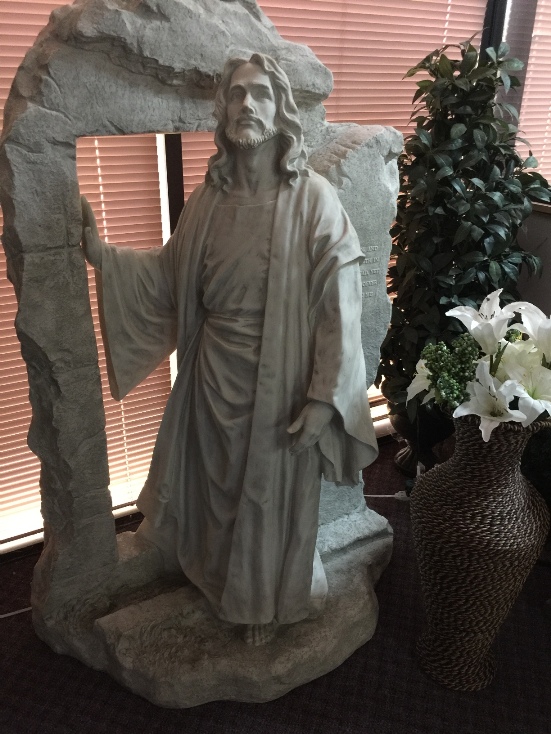 Clearwater, FL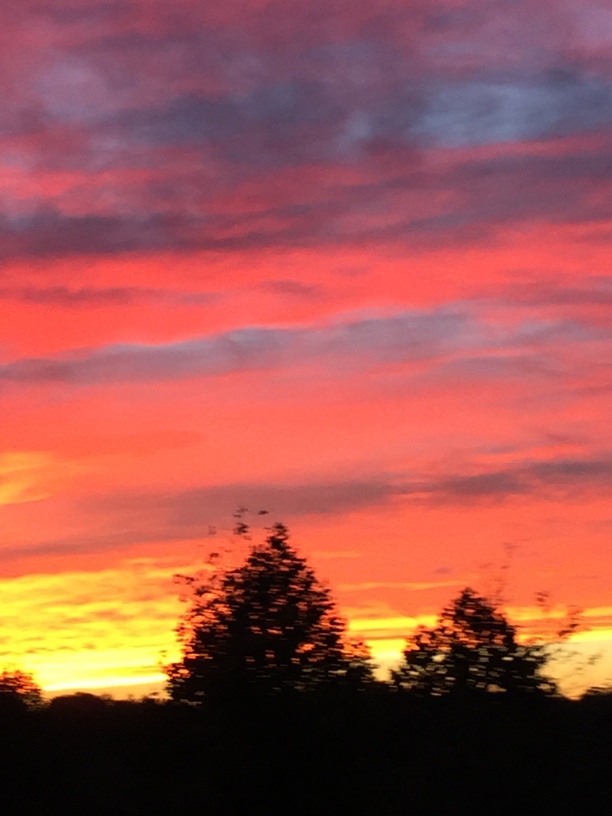 October 16, 2018
Feast of St. Margaret Mary
from behind where Mary appears.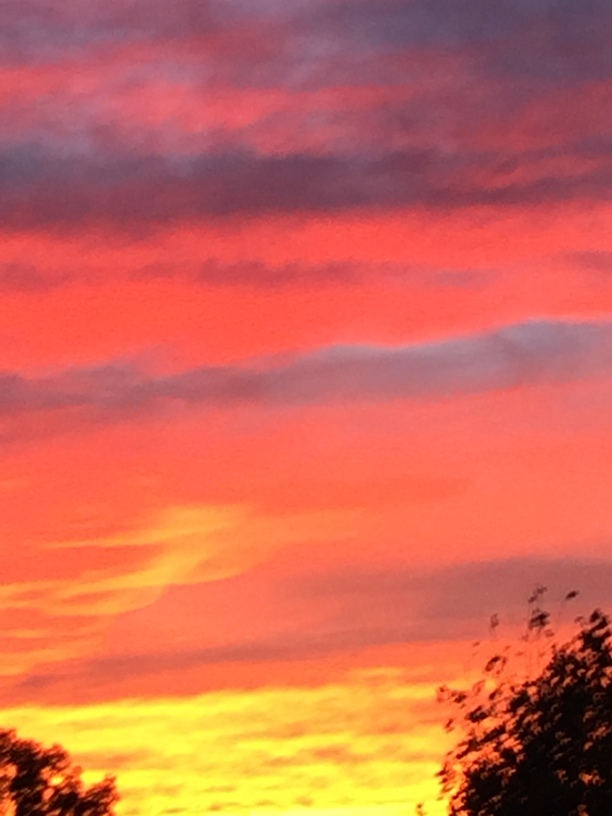 October 16, 2018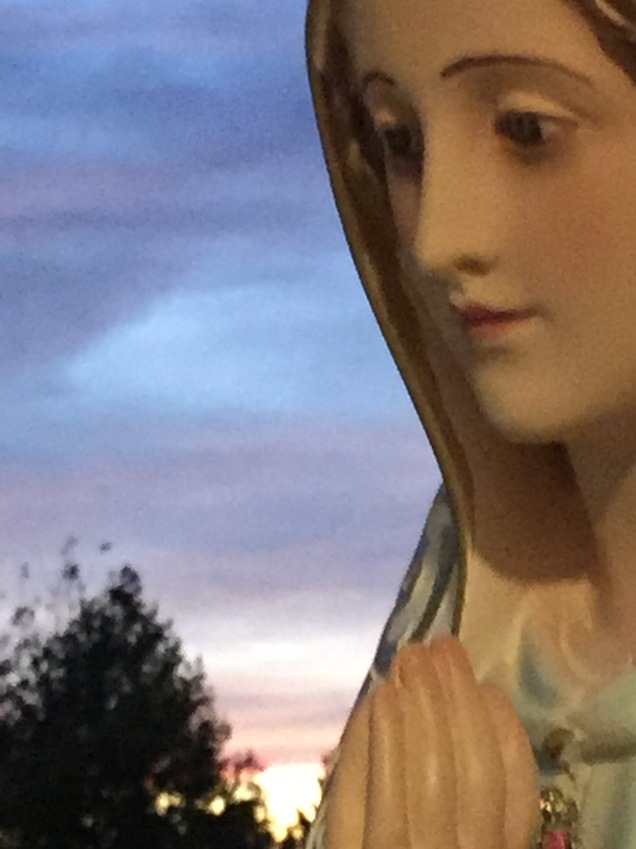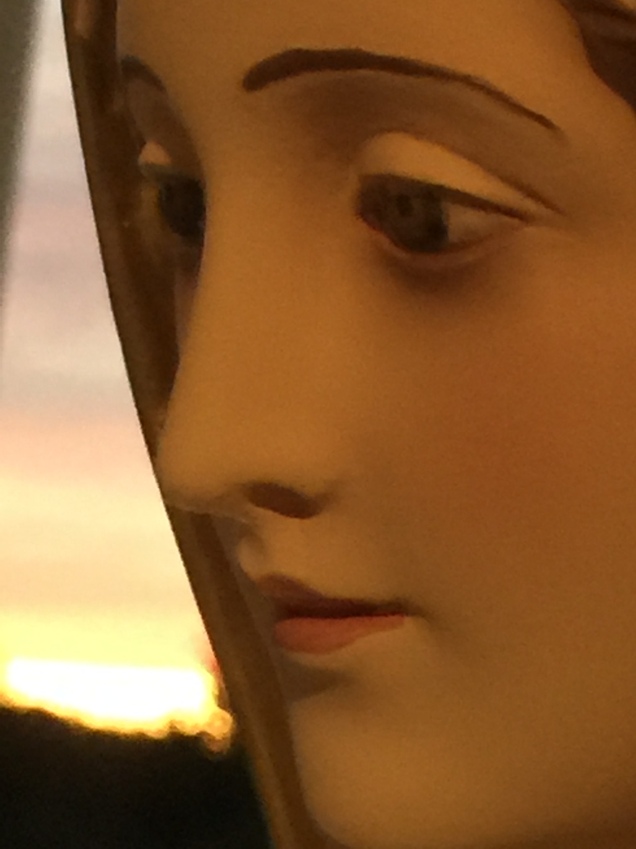 Hebrews 5: 1-10

Every high priest is taken from among human beings and is appointed to act on their behalf in relationships with God, to offer gifts and sacrifices for sins; he can sympathise with those who are ignorant or who have gone astray, because he too is subject to the limitations of weakness. That is why he has to make sin offerings for himself as well as for the people. No one takes this honour on himself; it needs a call from God, as in Aaron's case. And so it was not Christ who gave himself the glory of becoming high priest, but the one who said to him: You are my Son, today I have fathered you, and in another text: You are a priest for ever, of the order of Melchizedek. During his life on earth, he offered up prayer and entreaty, with loud cries and with tears, to the one who had the power to save him from death, and, winning a hearing by his reverence, he learnt obedience, Son though he was, through his sufferings; when he had been perfected, he became for all who obey him the source of eternal salvation and was acclaimed by God with the title of high priest of the order of Melchizedek.

Sing: A Priest is a Gift from God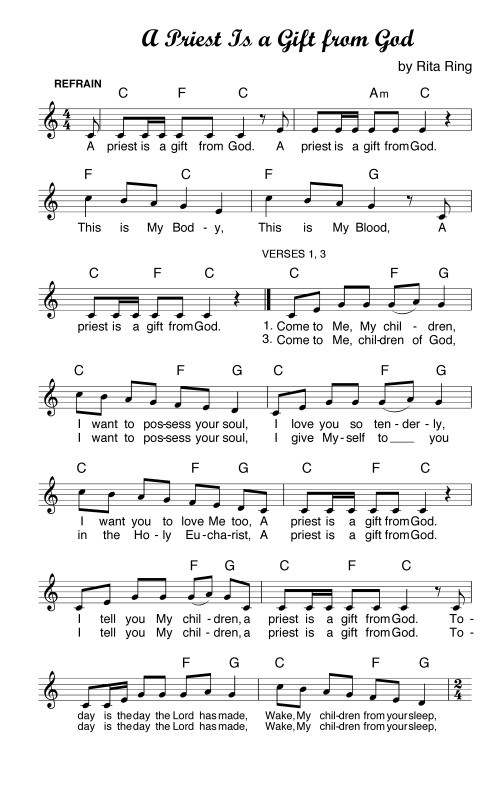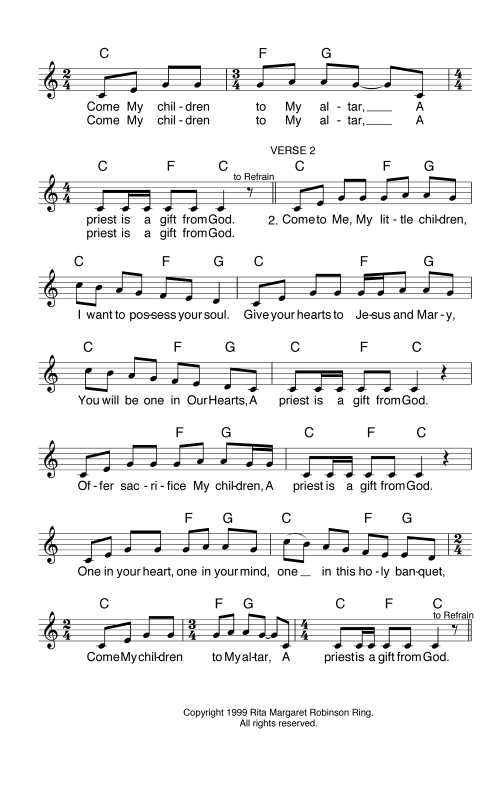 Mark 2: 18-22

John's disciples and the Pharisees were keeping a fast, when some people came to him and said to him, 'Why is it that John's disciples and the disciples of the Pharisees fast, but your disciples do not? Jesus replied, 'Surely the bridegroom's attendants cannot fast while the bridegroom is still with them? As long as they have the bridegroom with them, they cannot fast. But the time will come when the bridegroom is taken away from them, and then, on that day, they will fast. No one sews a piece of unshrunken cloth on an old cloak; otherwise, the patch pulls away from it, the new from the old, and the tear gets worse. And nobody puts new wine into old wineskins; otherwise, the wine will burst the skins, and the wine is lost and the skins too. No! New wine into fresh skins!'


R. Saint Agnes was 13.

She was martyred.

And she was so in love with Lord.

She didn't want suitors. She was so beautiful.

Her suitors reported her to the governor to get her punished.

Agnes was sent to a house of prostitution.

Nobody would approach her.

An account was one man tried and he went blind.

But Agnes prayed and his sight was restored.

She would not offend God.
No matter what the governor did to her.

How are we being forced to do things today that are against our faith.

We must pray united to the Mass for obedience to God's Laws and the vision of God
and grace to not offend God.

Rules of leaders must not oppose God's law, the commandments of God.

The Ten Commandments
1. I, the Lord, am your God. You shall not have other gods besides me.
2. You shall not take the name of the Lord, your God, in vain.
3. Remember to keep holy the Sabbath day.
4. Honor your father and your mother.
5. You shall not kill.
6. You shall not commit adultery.
7. You shall not steal.
8. You shall not bear false witness against your neighbor.
9. You shall not covet your neighbor's wife.
10. You shall not covet anything that belongs to your neighbor.

R. The Blood of Martyrs have helped build up the Church and help people to know the teachings of Our Lord and Savor, Jesus Christ.

| | | | | | |
| --- | --- | --- | --- | --- | --- |
| English | Español | Français | Português | Italiano | Polska |

R. God we are sorry for disobedience to You, for abortion and efforts by leaders to force evil on just others.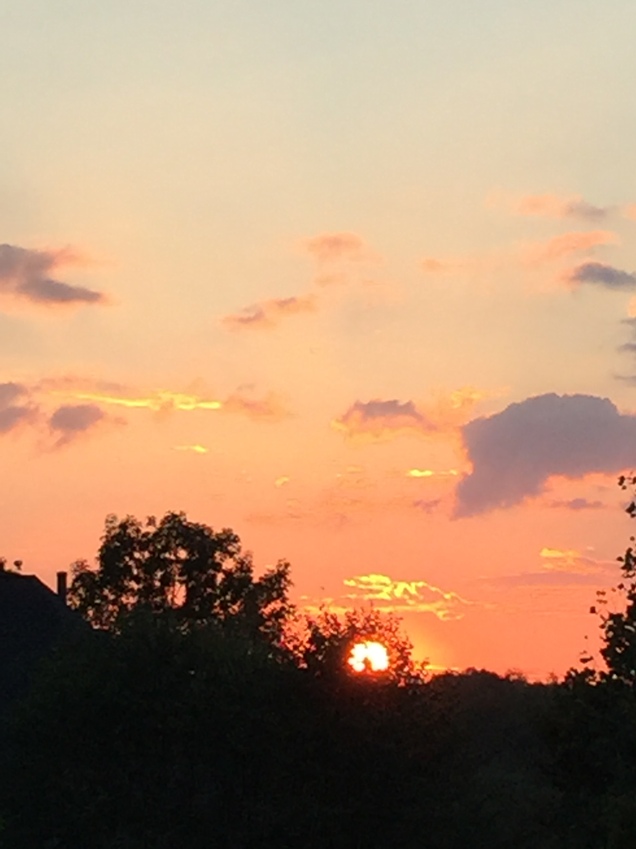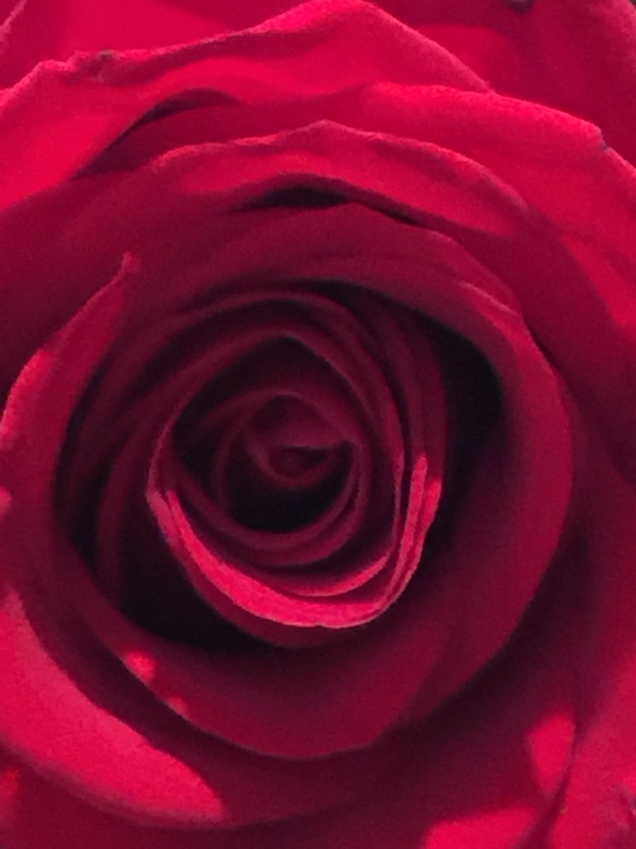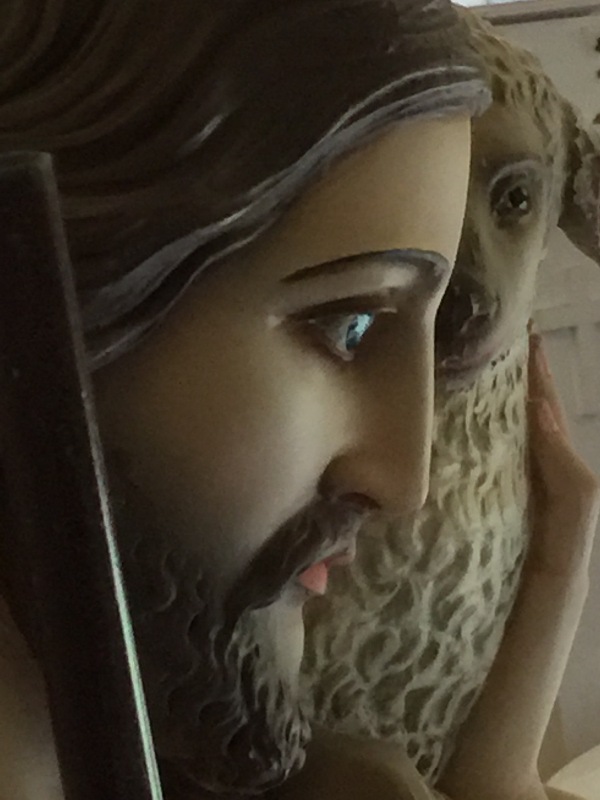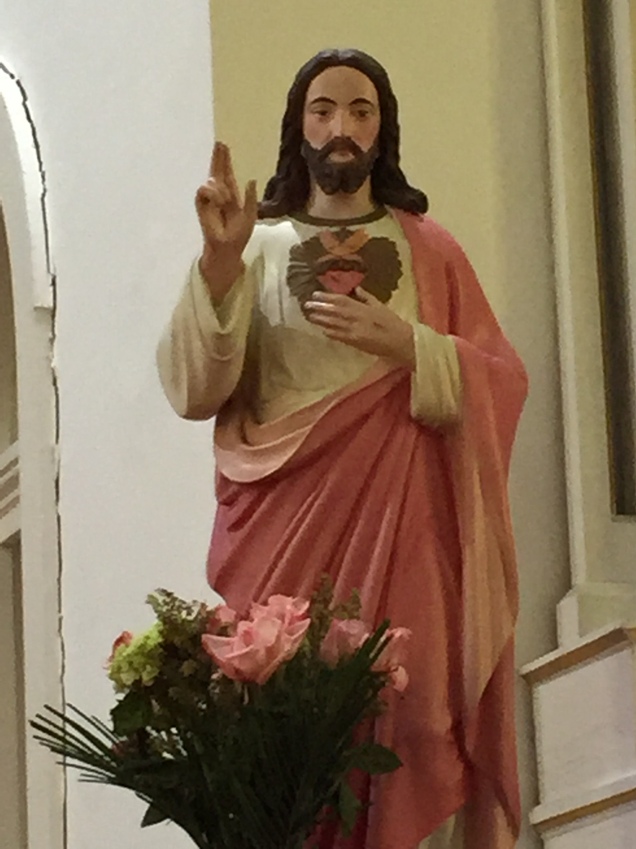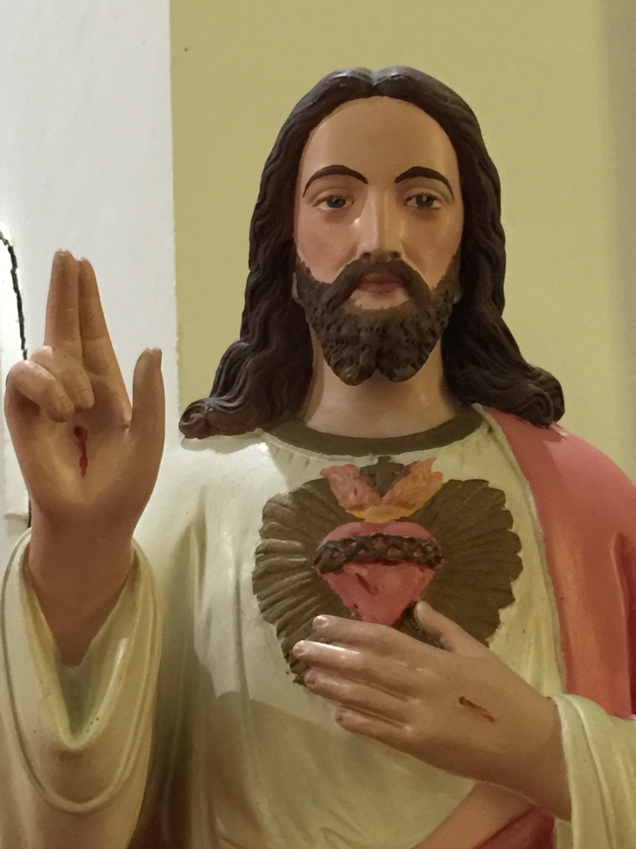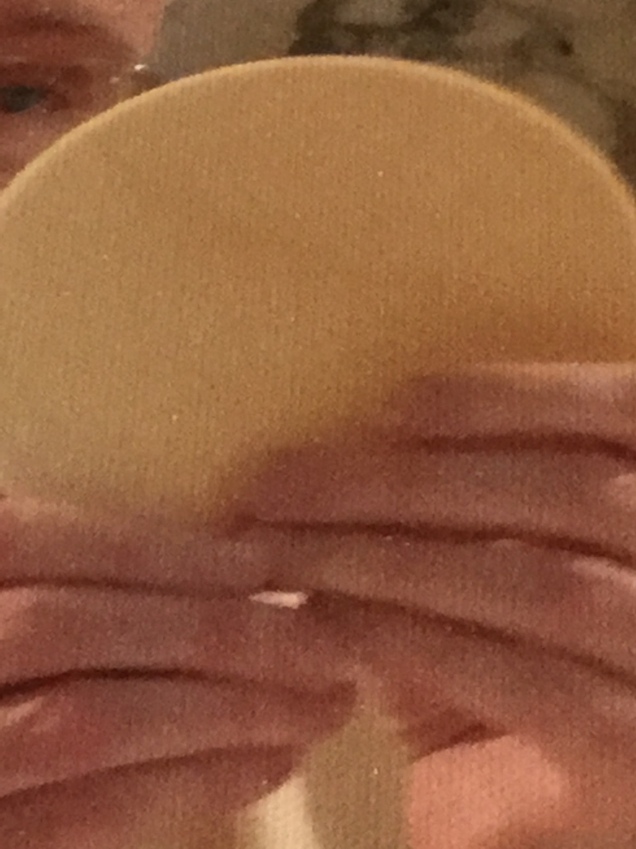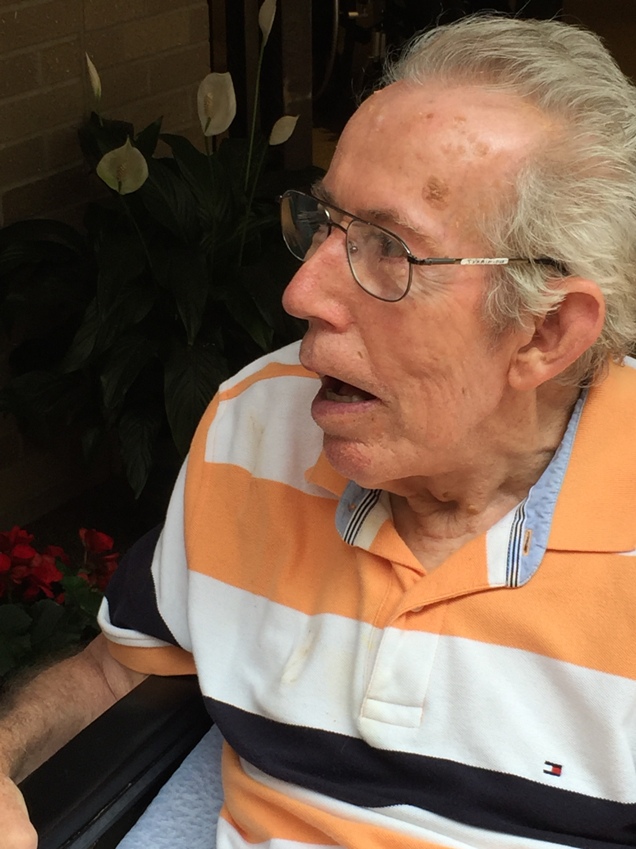 Pray for Jim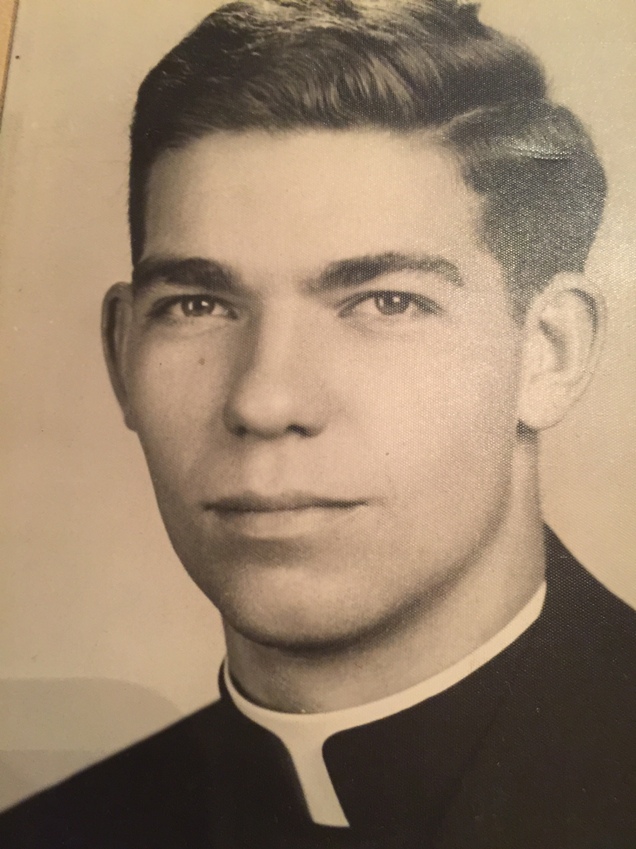 He gave his life for us.
A priest is a gift from God.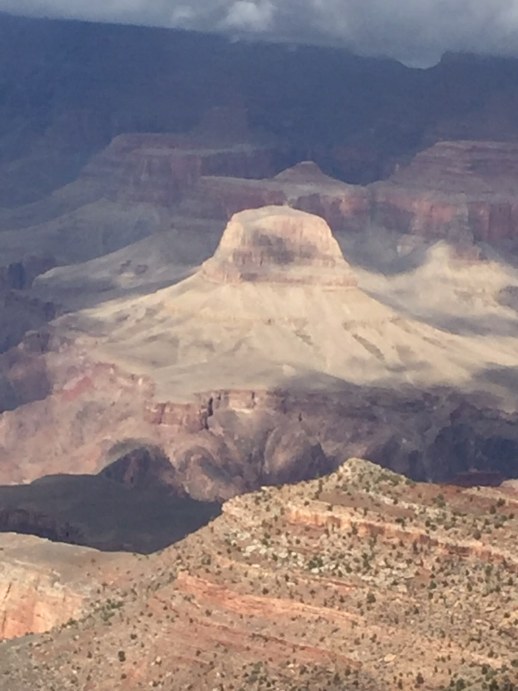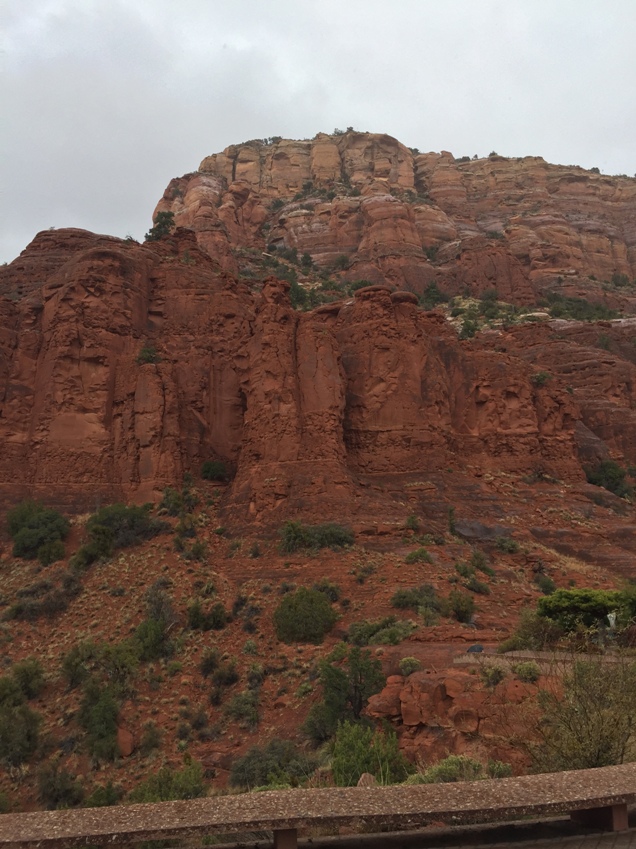 January 20, 2019
R. Joyful Mysteries
Mary said "yes" – Annunciation.
Sorrowful Mysteries – Jesus said
Agony in the Garden "yes".
When I meditate on the Annunciation
I see Mary's "yes".
I see our "yes" to God
calling each man uniquely
to their vocation –
The "yes" is the depth of
my soul.
I pray for supernatural
(1) faith
(2) hope
(3) love
Is there anything less than
total commitment to
the will of God.
God is peace and joy –
God is All powerful
God is Almighty
The Our Father
Our Father, Who art in heaven, hallowed be Thy name. Thy Kingdom come, Thy will be done on earth as it is in heaven. Give us this day our daily bread and forgive us our trespasses as we forgive those who trespass against us. And lead us not into temptation, but deliver us from evil. Amen.
R. He hides me in the shadow
of His Heart –
I am His –
He gives me Himself in
the Eucharist –
My dreams are of this
giving of Himself
to me,
Body, Blood, Soul
and Divinity –
The perfect "yes"
Mary and Jesus –
the perfect "yes"
to the Father's will –
Jesus:
My Heart is ablaze for
love of you.
Say "yes", "yes"
like Mary –
Say "yes" as I did in
the Garden for love –
I am love
I loved you and gave
Myself in love for you
to My death on the cross –
Song: A Song from Jesus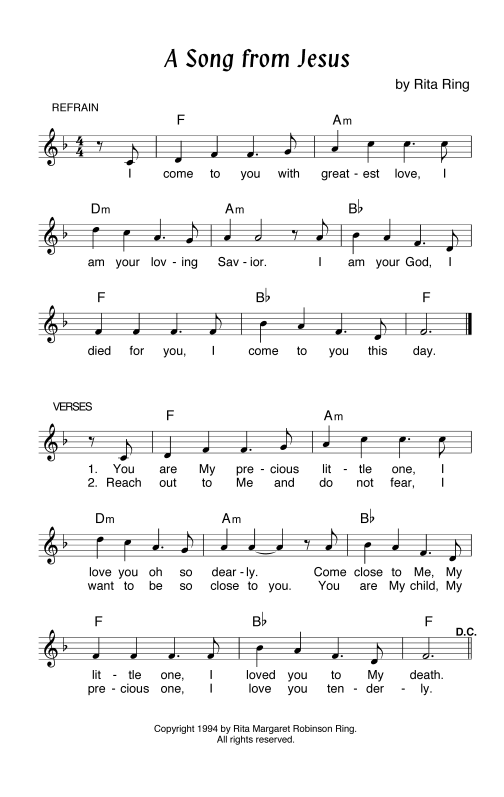 Jesus: I give Myself in the
Eucharist to you today –
I wait for your love –
I want your love given
to Me –
I want your heart pure
and holy, loving
and committed –
I am love!!
Mary:
The Mighty One
has done great
things to me
And holy is His Name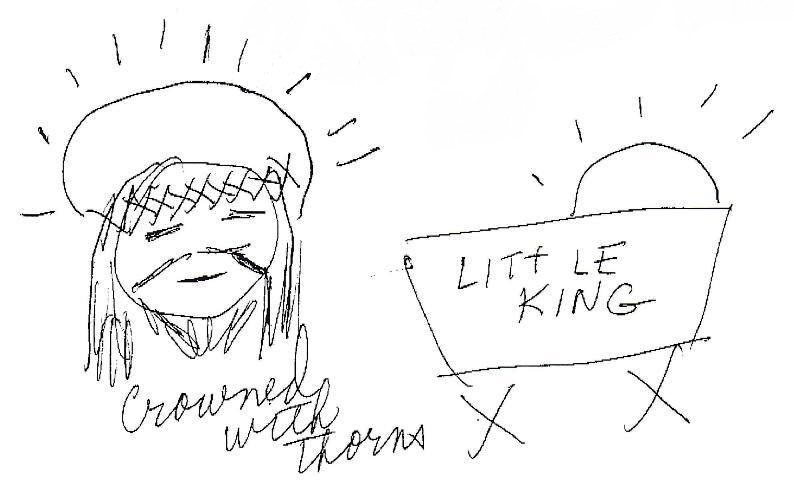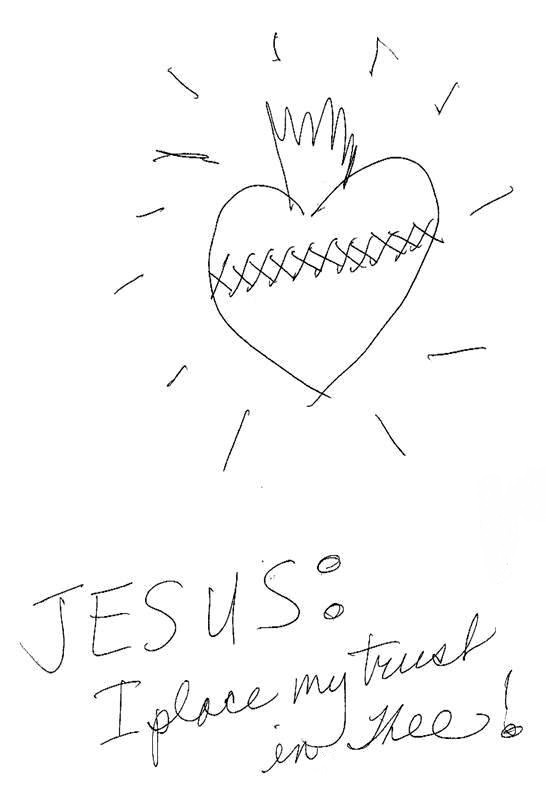 Jesus: Oh I love you.
I want your love.

Presentation in the Temple
Simeon: A sword shall pierce
your soul

Carrying of the Cross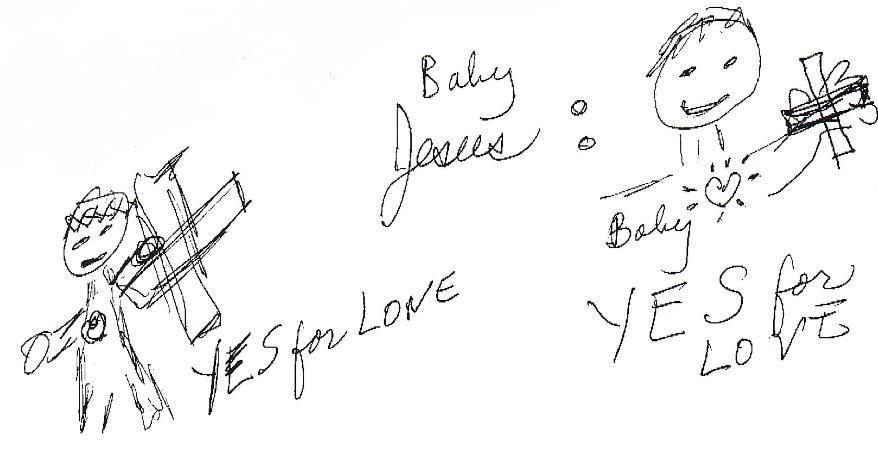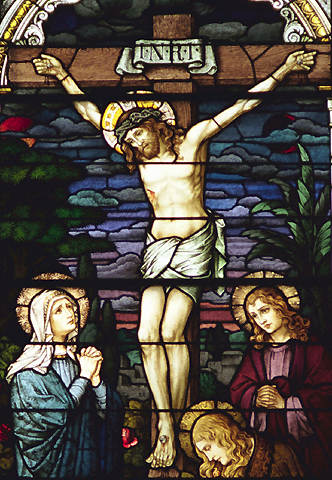 Crucifixion
Jesus:
I died for you.
What more do you
want?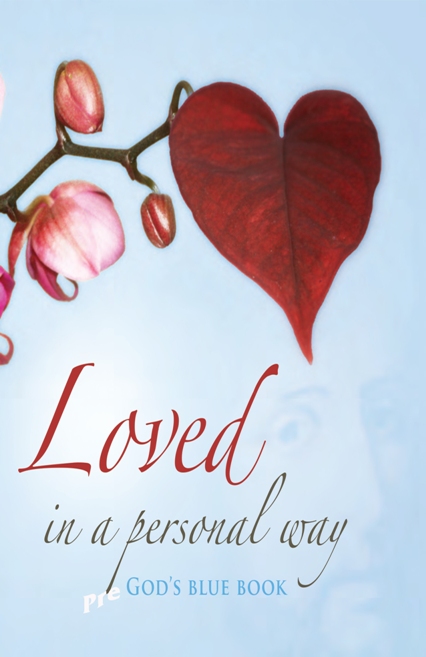 27 Years Ago
January 17, 1992
R.
Dear Jesus,
I want to be close to You and feel Your
presence in my heart. I ask You to open
my heart to the fire of Your love and know
Your promptings at this moment in my
life. You are my God and I am Your child and
my way in life is useless without Your
direction. My life would be so full of fear
without having the relationship that You
have given me with You. The devil tempts me
to think I am unworthy. Most Sacred Heart of
Jesus I put my trust in Thee.
No matter what day and what minute it is, You
will always be there because You do not
slumber or sleep.
Jesus:
I am your rock, I am your strength,
I am your Savior. I am the only one who can
minister to you when your heart is broken.
I know your pain and your distrust and your
hurt and your numbness and fear not to trust
again. I have been offended so many times
by so many. The worst is pains of the heart.
Stay plugged into My source, know I am here
with you every minute, every second,
of your life, and I will be there ALWAYS –
I died on the cross for you.
Come to Me all who are weary and I will
comfort you. Place your yoke upon My
shoulder and do not be afraid for I will
gently show you the way of the Lord.
I will be your rock, I will be your fortress, I
will not leave you, I am there.
Pray for your friends – many are
suffering and will not open their hearts to Me
or you or anybody. Many say "yes"
to satan and "no" to Me. Pray hard for
them, go to daily Mass and Communion and
pray for them.
I have all the power.
All power comes from Me –
My heart is an undying source
of fire and warmth –
I have all the power.
I am your power –
I am your strength –
I am your God –
I am there with you now
I will always be ready to help you
if you turn to Me.
Jesus
January 17, 1992
Jesus:
I am all powerful
I am your strength
I am your God
I am there every breath you take!!
You must stay plugged into My Power.
Without Me life is void, empty and
unproductive.
They wander a valley of pain, hiding –
they give their power to satan –
they think they are in charge and
yet they can be enslaved to satan –
because of their pride.
They can weave a web of their own making –
a web they are caught in
fallacious reasoning from the evil one,
impurities keeps them stuck.
They want power because they feel a
loss of power – so they want
power over innocent others
What is a promise from a man
who rocks with untruths –
full of sin
Some seek power over others so
they like watching others suffer.
You are plugged into My source –
You are plugged into an endless
source –
You know My light –
You know the fire of My love,
You know My warmth,
You know My ever vigilant Heart –
My Heart is burning for love of you –
I am your God –
You should have no gods before Me
I am here with you now in your heart –
I love you so much –
Come Holy Spirit
Beg for the gift of Wisdom –
Beg the Spirit of God to fill you –
The devil wants your power –
Some people want to be over authority,
but authority under God
is to be respected –
People who seek power over authority –
seek problems –
they are challenging structure –
God has put in place –
DISORDER –
Where I put order –
Fallen man
DISORDER
My power never runs out!
It is an endless source of power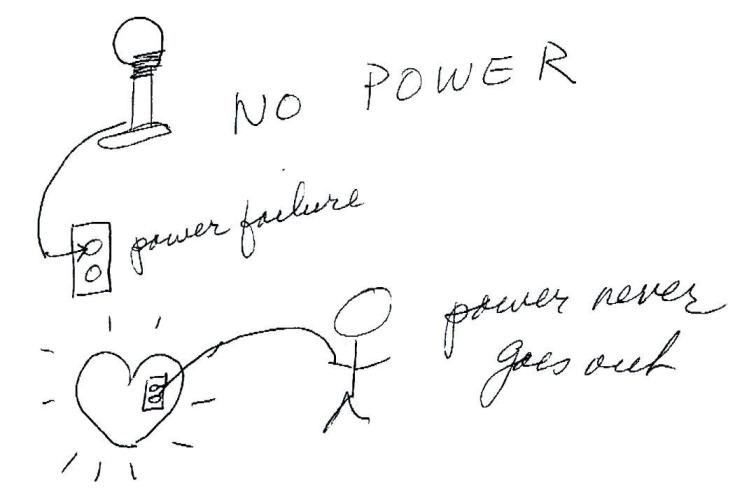 R.
I remember a message I received
January 1992.
I was surrendering to Jesus asking
Him to run my life. I was teaching
Math. I was in a professional religious
choir and I was the organist and choir
director at a small church in Cincinnati.
I got a message and I was falling
asleep while I wrote it, the words
were going up hill. It was January 1992.
He said there won't be a stone left
on a stone. I was falling asleep as I wrote.
Then it happened, I lost my voice and
I couldn't breathe or talk or sing,
He helped me to let go of my old jobs.
It was so difficult, that was
why I was crying on my knees that
spring break March 1993. I was a
mother, wife, teacher ... I couldn't talk.
I was a singer in a choir without a voice.
He helped me to let go of the things
He wanted me to let go of. He wanted
me to work for Him.
It was a time of great suffering and
struggle teaching at the two colleges,
12 hours all together each semester
besides all my other jobs, choir
directing, playing the organ,
singing in the choir and to top
it off I was taking 5 hours of
music classes at XU. These classes
are what helped me be able to hear
the Song from Jesus I received when
Jesus gave it to me October 7, 1994
and write up the notes.
My teachers there both helped me a lot
to be able to do what I had to do to
get the music Jesus gave me down and
get it copy-writed.
It felt as if there wasn't a stone
left on a stone.
I totally had to give up all my jobs
because of my voice.
end of January 17, 1992
R. LOVE
LOVE
LOVE!
Love is everything –
Given
October 29, 2016
R. Please spread blessed holy water
(You can also mix Jesus and Mary water
with your blessed Holy Water if you have it.)
in your yard, around your house,
in the state you live in.
And ask God to bless your state
Ask God to bless the United States
Pray all prayers through the intercession of
Our Lady of CLEAR – WATER.
Ask the Lady of CLEAR - WATER
to help with the blessed water.
Mary has appeared to me for 22 years,
in Ohio and Florida.