Prayer Service
October 5th, 2018 - 6:20pm
Please tune in!

Pray for Fr. Joe
Jesus: Pray for Blue Book 18 &
Pre-Blue Book
Mary says: The Family that prays
together, stays together.
Prayer for Grace for our Country
Dear Father united to Jesus in the Holy Sacrifice of the Mass, the Sacrifice of Calvary sacramentally made present, celebrated around the world, in the Holy Spirit. We offer up all we do united to the Mass. We unite in one mind and one heart as members of the mystical body of Christ, with Christ our head in the pure and holy Hearts of Jesus and Mary, through the powerful intercession of Mary with all the angels and saints and souls in purgatory, and we beg for the saving grace, for our country, the United States. Please help us. We further pray for unity to always do the will of God in love. We spread the Blood of Jesus on the leaders and people of the United States and cast the devil into hell. We consecrate our country to the Sacred Heart and Immaculate Heart and all our dioceses, and beg for an outpouring of the Holy Spirit. God help us. We pray for our families, the priests, the Church and the world. In the Name of Jesus please hear us, we pray. We pray for our president and leaders. We pray that we are united as one nation under God to work together in love as God wants.
October 5, 2018
From Blue Book 18

March 7, 1998

God the Father:

Oh, ye of little faith, you do not comprehend the gifts I give to you and that I am revealing Myself to you in these messages. Come atop the mountain and I will speak to you, and to those who slumber and sleep, they will be comforted by the words you deliver from on high. The earth will be transformed and the earth will shine with light. I created the light in the darkness, a new day dawns on those who fear the Lord and harkens to the voice of My Son. Those who reject Him will suffer a dark day. My shepherds, My Son talks to you here. The dead will know they labor in vain, for when I spoke to you through My Son, Jesus, they defiled My word I gave to you and worshiped the molten calf, a thankless generation of stiffs. Every person who operates in the Shepherds of Christ Movement must operate from the heart. Treat one another as brothers in Christ. I am the Father. Mary is your Mother and this is the holy family that I want on this earth - a holy family of brothers and sisters living according to My will. Live in Christ Jesus, My Son, the Savior of the world. Holy Spirit, come and enlighten the hearts of the faithful.



Also from Pre-Blue Book
27 Years Ago

October 5, 1992 - 3:30am
R. Dear Jesus, Give me Your hand to write this book for you. I am your servant. I want to be Your hand to this world. If you, Lord Jesus, would write a book, what would you say?
Jesus: My dear children,
Today I come to deliver a message to each of you. I want to tell you of each person's dignity, of their beauty and their self-worth. Each child is, oh, so uniquely precious to My Most Sacred Heart. Each child is full of the talents I have given to them. Each person is divinely created by God and given all these gifts to be happy and love one another.
The problem comes when you feel you will be left out. That you will be left by another who has trodden on you and will do it again. I see you all as My most precious children. I watch your every move and know all pain and anguish in your heart. My Heart aches, you
have insecure feelings about yourself. I came to this earth I died for you. I felt cold, hungry, lonely on this earth. You need not worry that no one knows the pain and anguish in your heart. God created you with such special gifts and talents. It is important for you to raise above your wound and forgive those who hurt you.
You need only turn your will and your life over to Me and I will guide you in all your ways. I have all the Power. Many are not of My ways. The key to life is to recognize your faults, but still know you are this precious gift of My Father a gift to this world. This world is in need of your strength. Running yourself down, blaming others hurting them can cause you misery and pain. At this very moment, you are the precious creation of God!! You must operate with Me in your heart.
You need not run yourself down. I am with you every day guiding your ways, lest your foot stumble and you lose your way. You will not wander far from your path if every day you keep bringing your focus back to Me. If you dare let Me be at the helm, if you dare to really let Me run your life, I will do with you such wonders that you yourself would be amazed. But you will know with such ease when you did these things that you did not do them alone. You will know My power, moving the mountain, My power chipping at the stone, My power working on your hardest problem and you will be set free.
Oh yes, you will be set free and know a serenity that only comes from letting go and letting Me run your life. To you, My child, I have given all that is good. I made you My holy soldier, My warrior in a world of pain and hatred. You are the light that shines in the darkness, you are the coat to a cold child, you are the smile that warms a troubled and lonely heart. You are the comfort for everyone you meet, because My most precious Heart powers you, smiles through you, understands and loves through you.
Love your fellows for Me. There are so many troubled hearts that need to know My love. I can love through you if you let Me, I can be their friend through you if you let Me. I am He who comforts you and you are he who comforts them. My power is endless, it never runs out, there is not a power failure EVER. In your darkest hour, My light shines in the darkness and I say to you, "Oh blessed of My Father, look at yourself with awe, you are My creation, you are indeed so precious to Me, you are My light to this world, you are My hands and My feet and most of all My Heart."
Oh, you are My loving Heart, to those who are bowed down, to those who are lost in the darkness, you carry My smile and wear My armor in a world that is trying to tear one another down with hate and ugliness. There is gentleness, there is love, there is hope in you, if you open yourself up to Me. Be My knight to the world, wear My armor. I am your God and I will protect you from the darkness. Plug into My power, be not afraid, I go before you always and you can rest in My arms when you feel weary. You can put your head in My lap and weep, you will know, I am truly with you and you are My light to this world. I created you so special - to cast out fear in the darkness, to clothe the naked, to give hope to the oppressed, to be as I live in you and love through you and you are My smile and I touch My hurting ones through your love.
You are he who loves this world. You must stay plugged into My power-source. This world is hungry for My love. It needs My love, I give to them through you. I am your God and I made you as a gift to the world. You are filled.
Focus on Me and your life will be abundant and whole, joy in suffering, freedom but you can take the knocks because you will know you do not go it alone, but with Me. I love you My precious child.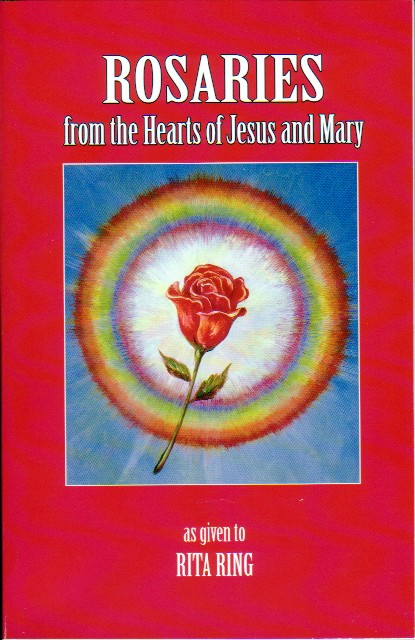 And from Red Rosary Book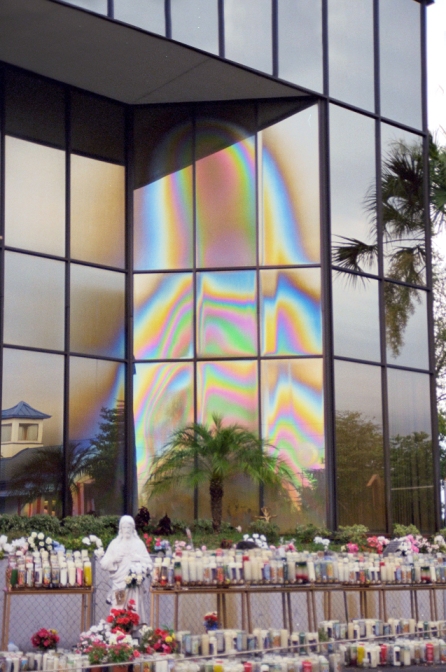 Message of October 5, 1995
Mary: I am Mary, your Mother. This is an urgent call to you at the Center and the Shepherds of Christ Movement. I have appeared as Our Lady of Light for 14 months daily at the Center. I have given to you special rosaries to be circulated among the youth and for all of your devout souls to be drawn closer to the Hearts of Jesus and Mary. These rosaries are an important part of the fulfillment of Fatima.
I have called a special rosary on the 5th of each month in honor of the 5 wounds suffered by my Son and the 5 blasphemies suffered to my Immaculate Heart. I have called and called for all to follow the promises given at Fatima for those who honor my request to pray on the First Saturday of the month. I am calling out an urgent plea to answer my call. I have appeared from April 5th, until September 5th, at the Center, six appearances. The first rosary received in the Sorrowful Mother Chapel was March 17th, a very important rosary, received before the exposed Eucharist. I requested the rosary be prayed in the presence of the tabernacle. On March 21, 1995, a special rosary was prayed before the Pieta at the Shepherds of Christ meeting. Many of my children saw events at that rosary. On March 30, 1995, I came in a special way, the corner was filled with a tinted film and I was adorned in such light and alive. At this time I requested the rosary be prayed in the Sorrowful Mother Chapel. The rosary was prayed there for the Shepherds of Christ meetings and many nights. This continued for six months. On September 1st, I gave a very special rosary at 12:00 noon, Friday, a time my Son requested that the rosary be prayed at the Center. Rosaries were given on most Fridays at 12:00 noon. Very tender rosaries of my Son's special love for His beloved souls. I want published a book of these rosaries received on Friday at 12:00 noon. I want published the first book of rosaries with all the rosaries already discerned. In this book, you should include pictures of the windows in the Rosary Chapel, the love songs given from my Son, Jesus, the Seven Sorrows and the messages I have specified. The second book of rosaries should be all of the rosaries received during the Shepherds of Christ meetings. These rosaries from the Hearts of Jesus and Mary were given to teach chapter members about Our lives. They are to be spread to this world. They will lead the hearts of your members to my Heart and the Heart of my Son. A book should be published as soon as possible for rosaries for children. I have given many children's rosaries, and the early rosaries were given for children. These rosaries should be used in the Junior Shepherds of Christ Movement.
We have given to you thirteen books. Many answers to your problems are in these books. These books, God's Blue Book and Rosaries from the Hearts of Jesus and Mary are an important tool to draw souls back to the Church. My Son is so wounded by the indifference and neglect given to Him in the Eucharist.
The Center will light up this world, for many of my messages and my Son's messages were received there. The rosaries were received at the Center. The hearts of many will be filled with the love of God when you circulate these rosaries.
I call out to you. I will continue to come on the 5th of each month. The time was changed at Our Lady of the Woods for I have requested that the rosary be prayed close to 6:30 p.m.
Your Center will remain divided. The funds will come when these rosaries and love letters are circulated.
The funds for the Shepherds of Christ will come when you circulate and publish the books and tapes. I have given to you information about these books. My Son has requested a book of messages given after the daily Masses. These messages will lead many to a deep union with God during the Mass.
You are given great gifts in these messages. Satan has confused and tried to stop these messages. These messages need to circulate. They will lead many to God. I beg you with my motherly Heart to please listen to me. Today is a special day, this October 5th. This is my message to all, to help circulate these messages. Pray earnestly for their circulation and publication. Pray for the funds to help you circulate the books and tapes. The tapes will help many in hospitals, nursing homes. Pray for the funding and it will come.
Many other messengers will come to confuse the importance of these messages. SATAN wants these messages stopped. When they are circulated, my Son will unite deeper and deeper in such oneness with many hearts. These will be the soldiers that will carry His love to this world. Unless these messages of His love are transmitted in the Church, the Church will continue to suffer.
I beg you to listen. I am Mary, your Mother. Many of my little children will go to hell. You hold personal messages from Our Hearts and Rosaries from the Hearts of Jesus and Mary.
I am Mary, your Mother, and thank you for responding to my request.



Message from October 5, 1996

Mary: I am Our Lady of the Rosary. The Fatima message will unfold around the Shepherds of Christ Movement. I am begging you, please, publish these Rosaries from the Hearts of Jesus and Mary. I appeared daily for 14 months and delivered rosaries for the world. Why have these rosaries been held back from this world? Souls are dropping into hell. Do you comprehend the importance of these rosaries to the Fatima message?

I have appeared as Our Lady of Light and Our Lady of Sorrows delivering these rosaries.

I am now delivering this message as Our Lady of the Holy Rosary.

A great mission I give to you, my beloved apostles in the Shepherds of Christ Movement is to live these rosaries and spread the messages to the world. You must reach the world with these teachings I am giving in the rosary.

On this October 5, 1996, I beg you as your heavenly Mother to not ignore the importance of these rosaries. I have appeared, I have begged, I have warned you. I cannot hold back the hand of my Son any longer. His hand is struck with power.

Today is the 5th of the month, first Saturday. I beg all to study this message and to tell all that come on October 13th, 1996 the importance of these live rosaries and the completion of the Fatima message.

I am Our Lady of the Holy Rosary. This is the key to watching the Movement spread. I am assisting you in publishing and circulating these rosaries. Anyone who stops the rosary messages and meditations will deal with my Son, Jesus!

Souls are at stake and souls have been lost because of the delays to hold back the messages in God's Blue Book and Rosaries from the Hearts of Jesus and Mary. Any negative references in the Movement to these messages displeases my Son for you have been given the greatest gifts in these revelations. I am asking all to help in the circulation of these rosaries and messages. We are communicating to the world majorly in these messages. The completion of the Fatima message is greatly dependent on these messages. Do not give into Satan any longer to block these messages. You are dealing with my Son, Jesus. This is a great gift given to the world. It would please my Son greatly if you expressed to Him your great thanks for the gifts He has given to you. Your answers are found in these messages. They must be studied and recognized for the great gift they are. You were chosen by God to deliver this message to the world. The ingratitude of many displeases my Son greatly. It is now time for the leaders of the Movement and all apostles to support these messages. It is now time to study the content in its entirety. You are missing the key directions because you do not even read the messages.

I am Mary, your Mother. You will be rewarded with the funds needed when you publish these messages and rosaries.

October 5, 2018

Mary: My dear children,

Keep praying.

My children, do not give your power to satan.

Keep your hands up.


Exodus 17: 8-13

The Amalekites then came and attacked Israel at Rephidim. Moses said to Joshua, 'Pick some men and tomorrow morning go out and engage Amalek. I, for my part, shall take my stand on the hilltop with the staff of God in my hand.' Joshua did as Moses had told him and went out to engage Amalek, while Moses, Aaron and Hur went up to the top of the hill. As long as Moses kept his arms raised, Israel had the advantage; when he let his arms fall, the advantage went to Amalek. But Moses' arms grew heavy, so they took a stone and put it under him and on this he sat, with Aaron and Hur supporting his arms on each side. Thus his arms remained unwavering till sunset, and Joshua defeated Amalek, putting their people to the sword.



Mary: You need to pray as never before. Don't give up.

Don't give into satan.

Jesus wants Pre-Blue Book and Blue Book 18 out.

I am Mary, October 5, 2018.


20 and 1/2 Years Ago





From Blue Book 18 - March 8, 1998 Rosary

5. R. And how does the Lady look at night? For she is dark and smoky looking in the window in Clearwater. But the sun comes up and slowly it steals across the beautiful sky there. And the sky is heightened with this tint of beautiful pink. And very lightly it comes across a darkened sky and it is very mystical looking as we look at the sky. Kind of like the mystery of God, it is revealed to us a little at a time. And then, the bright light of the noon day shines on the woman on the building, Our Lady clothed with the sun, and she shines in such brilliance. But she shines ever more brightly when the people are there and they are receiving the materials that will lead them into the Heart of her Son through consecration. This is her intention that the children of light lead the rest of the world into the light through these messages, for it is the voice of the Good Shepherd to bring about the Reign of His Heart.

6. R. Is it not that the Lady clothed as the sun comes to lead the world to the Light of the world, her beloved Son? Is it not that He is the all-powerful, that the Lord of Hosts will Reign, that He should be exposed behind this image of Our Lady clothed as the sun appearing to take the children to the Heart of her beloved Son? He is alive. He is alive. He is alive. He is truly present and with us in the Holy Eucharist. He is ignored and forgotten. And the angel at Fatima talked about the indifference and what was going on in the world with the Eucharist. Would it not be complete that the Lord of Hosts would be exposed behind the image of the woman, the Lady clothed as the sun on the building in Florida?

Reference Revelation 11: 17-18

Revelation 12: 1

Now a great sign appeared in heaven: a woman, robed with the sun, standing on the moon, and on her head a crown of twelve stars.





R. And Mary still appears to me today.



20 Years Ago

From Blue Book 18 from Mary

Excerpt from March 13, 1998 Rosary

Mary:

I have come to you, my little children. For I am Mary, your Mother and I come to you on this 13th with a special message. I know the grief in your own hearts for your children that have gone their way. But do you know the grief in my heart as I stood beneath the cross and I cried for my little children of this world that would lose their souls despite my Son and His suffering? I feel the pain for the children of this earth, my little children. How is it with your own children? Do you understand as your Mother that I appear on the building in Florida, the Lady clothed as the sun to lead the children to the Light? He is the Light of the world, my Son, Jesus. He comes to lead the light home and they do not know for they have plugged up their ears and they will not listen and they are blind, blind and dense. Do you know what it is to be blind that you do not see? Let us think about blindness at this moment, my children. The blind man does not see. This is how it is for so many. For they will not look beyond. They give themselves messages in their hearts that they are right when they do their own wills and they tell them, many religious people, that they are doing the will of the Father.

There are so many on this earth that are blind. Will you lead them to the Light? For in a moment, they can be given a grace and the sky opens up and with the light of seven suns, you see with the greatest clarity the insights into the mystery of God. And you think and you think and you think; it is not in the heads! It is in the hearts! My children, I ask you to lead the souls of this earth into the Heart of my Son, Jesus. For it is there that they will know Him most intimately in His Word. It is so sad, for they are so willful; they will not listen to me. For I told them at Fatima and they ignored the message that I gave to them, my little children of the earth, and how they will suffer soon, for they did not listen to me when I warned them.