Prayer for Grace for our Country
Dear Father united to Jesus in the Holy Sacrifice of the Mass, the Sacrifice of Calvary sacramentally made present, celebrated around the world, in the Holy Spirit. We offer up all we do united to the Mass. We unite in one mind and one heart as members of the mystical body of Christ, with Christ our head in the pure and holy Hearts of Jesus and Mary, through the powerful intercession of Mary with all the angels and saints and souls in purgatory, and we beg for the saving grace, for our country, the United States. Please help us. We further pray for unity to always do the will of God in love. We spread the Blood of Jesus on the leaders and people of the United States and cast the devil into hell. We consecrate our country to the Sacred Heart and Immaculate Heart and all our dioceses, and beg for an outpouring of the Holy Spirit. God help us. We pray for our families, the priests, the Church and the world. In the Name of Jesus please hear us, we pray. We pray for our new president as he takes office. We pray that we are united as one nation under God to work together in love as God wants.

Given November 5, 2017

Sorrowful Mysteries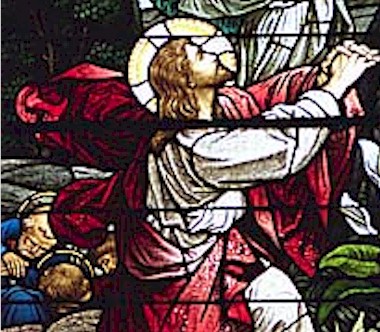 The Agony in the Garden
(1) Jesus sweat Blood for the
anguish of knowing the souls
that would go to hell despite
His suffering, His love, His
gifts to them.
(2) They chose their fate by giving
into satan. They refused
to change their negative,
angry ways of hating
and being evil.
(3) God is love. God has given
and given. Being united
to God is living in
inner peace. Knowing God
is there –
(4) A person, with a free will, that
just keeps giving into satan –
living in pride and anger,
hatred of his brothers is
a person of misery and
darkness.
(5) This misery and darkness
will not lift if they
continue to give into satan
and project hatred and
anger on others.
(6) God calls us to be obedient
to His commandments
of love, of giving, of
life.
(7) God is real. God really loves
us. God's love is so beautiful.
(8) Why would a person give into
satan and allow him
to control their thoughts
of anger and envy and
jealousy toward those
that love them.
(9) Happiness begins inside –
in the heart. God gives
us a heart to love –
to be His instrument
in the world.
(10) Jesus: I am light – I love you,
I want you to spread
My light to others.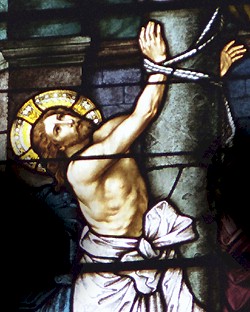 The Scourging at the Pillar
(1) Jesus: I love you, I love you,
I love you.
(2) Jesus: I am love. In Me there is
no darkness. I am the
Light of the world.
(3) A city set on a hill will
shine its light to the
world if every one is
the personal Spouse of Jesus.
(4) R. It is in the suffering
that I knew my precious
Jesus. I knew His closeness
and His presence with me.
I knew Him and was so
one with Him.
(5) Jesus never leaves us, but
loves us so much when
we are suffering.
We need to stop and know
the white heat of His love
(6) I love You my God. I love You
God. In weakness You
strengthen me. When I am
weak, I am strong in Him.
(7) God, I am sorry for my sins,
for my ways of turning
from You.
(8) I know Your presence with
me, my beloved. Let me
never be put to shame,
but walk in the light of
Your love.
(9) My strength is in Thee. My
days are to walk with Thee –
My heart is a heart of love
in union with You, my God.
(10) God strengthen me to do Your
work untirelessly – in building
up the Kingdom of God –
In helping hearts to love
deeply – to surrender
to You and know Your
ever – vigilant love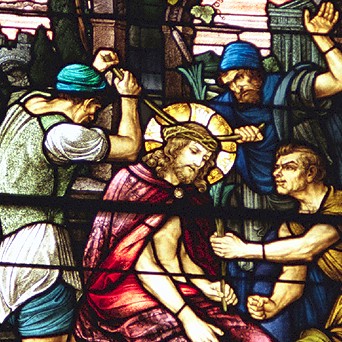 The Crowing with Thorns
(1) I see Jesus' hands tied before
Him and His head crowned
with thorns –
(2) I see Jesus, my beloved, He
suffered for my sins.
(3) Holy Spirit come to me. Help me
to know You more and more.
Help me to be docile to Your
touch, treasure Your
presence – know life is
in God.
(4) In suffering, we can find joy
for we know the fruits
of Divine Love.
(5) We know the white heat of
God's love. When there is
pain - we can experience
the knowing of God with us.
(6) I looked into His Bloody face
and I saw a peace for I
knew more than ever before
I could rest deeply in
His love.
(7) Love gives to the other. Love
is not selfish and
closed in, sunken in –
in selfish remorse –
Love is vibrant because
I know Divine Love –
even in struggle and
suffering.
(8) Dear God, let me never be put
to shame – strengthen my
unbelief – robe me in
the robes of victory –
strength my weary heart –
for when I am weak, I
am strong in Thee.
(9) I love Thee, my Lord and my God.
I love Thee – forever.
(10) My love affair with God is
EVERLASTING –
who can offer this
to any woman or man –

Oh God, let me never be put
to shame by turning from
Thee.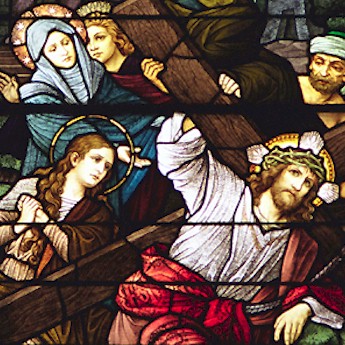 The Carrying of the Cross
(1) Love is giving
(2) Love is strength in Him.
(3) Love is proceeding ahead
when your arms are
weary and your legs
feeling tired to walk.
(4) God leads the way – one
step and then another –
one more and then one more and
soon you may have traveled
a mile.
(5) Jesus carried the cross laden
with our sins. One step,
then another and when
He fell – He got up –
again and again, 3 times
in all.
(6) Jesus: I did it for you. I show you
the journey when you suffer –
one step, in love and then
another, in love –
Love finds a way – I loved
you to My death –
love, beating Heart, love
commitment – keeping on –
in the keeping on –
seeing My bloodied face –
knowing My love always
with you on the journey.
R. Like the beat of a drum – the
cross thumped as Jesus
carried it – laden with
the sins of men –
Thump – Thump – one step –
then another –
keeping on in love, in, the
keeping on in love –
Thump – Thump – Thump –
the cross was carried by
our Savior.
What joy in our hearts to
know a little His
undaunted love for us.
Thump – Thump – Thump –
And do you hear the beat
of His Heart –
Steady in love –
NOW – NOW –
Steady in love –
Lay your head on His loving
Chest – know the Love of
the Savior –
He gave even with a face
full of Blood –
A body torn apart –
He gave endless love
so we could know
His forever love –
forever love – WOW
(7) Take up the cross, He gives you
today, and feel His love and
His strength. Don't put
it down now –
one step after the other –
Thump – Thump – the cross –
Thump – Thump – His beating Heart.
(8) You are called to the table of
the Lord. This is an
invitation to His beloved
ones – to receive the
Sacraments – They are the
Sacraments of Love –
from Jesus.
(9) Thump – Thump goes the cross –
Thump - Thump goes His Heart of Love
(10) Look into His Bloody face in
that trial – it will be
the place you can find
rest in your suffering.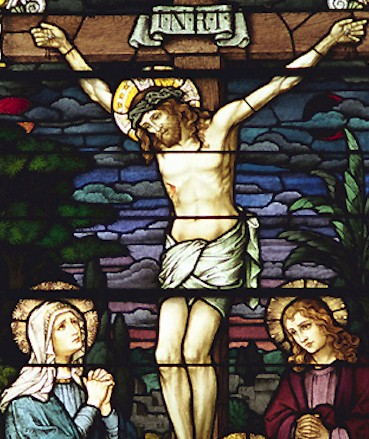 The Crucifixion
(1) The Thumping of the cross stopped
now – Jesus hung to His death
on the cross for love of us –
(2) Jesus endured the bitter passion
to the end – one foot before
the other –
Walk in suffering a mile
in His shoes –
Let your smile in your
heart be a smile of love
united to Jesus in the
sacrifice –
(3) Love finds a way –
Love keeps going on in
the keeping on –
(4) Jesus is the victim –
Jesus gives us the Mass –
Jesus outpours His grace.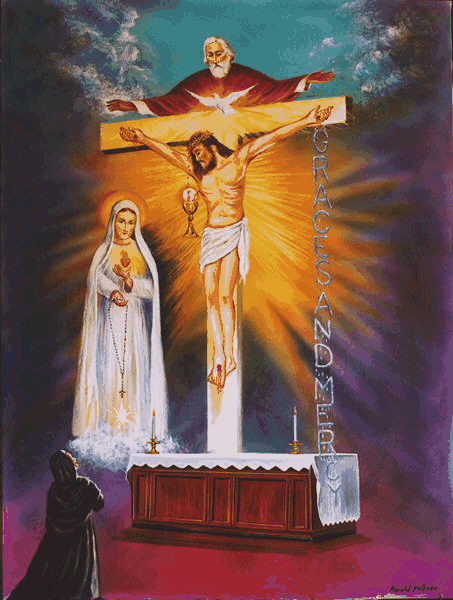 (5) From the Mass flows the
fountain of His grace
upon a thirsty world –
waiting in anguish.
(6) The Bloodied face is my
place of rest, for I
see Him, I know Him,
I hear the Thump, Thump of
His beating Heart of love –
for me.
(7) Keep on – Keeping on
(8)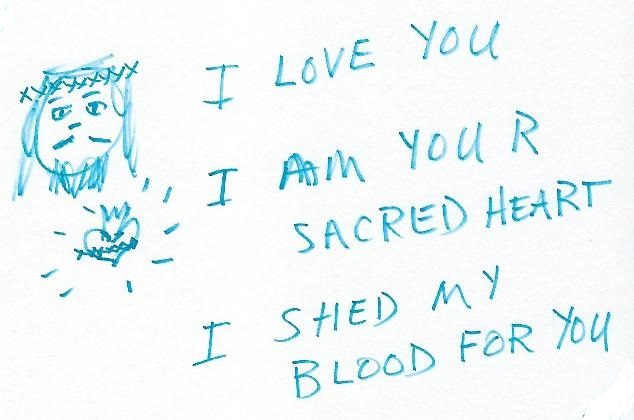 (9) Song: I am Your Sacred Heart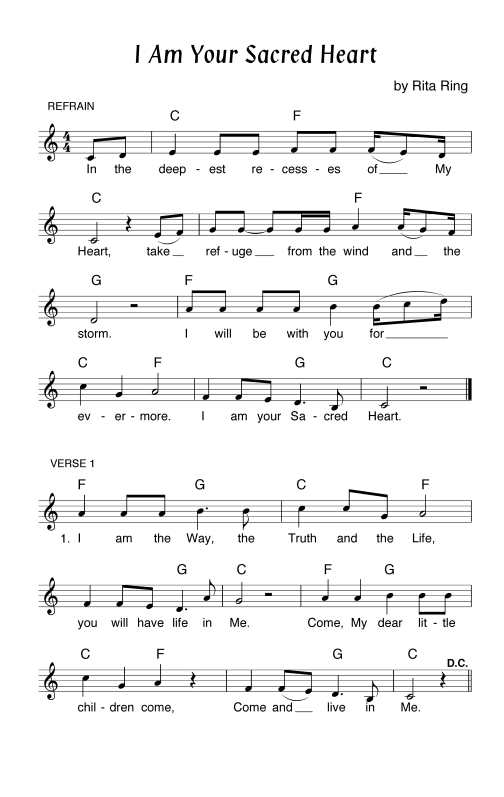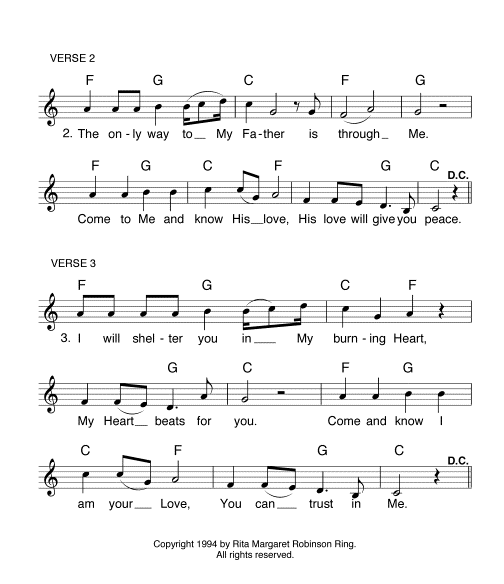 (10) Song: Teach Me to Love with Your Heart

Given
October 29, 2016
R. Please spread blessed holy water
(You can also mix Jesus and Mary water
with your blessed Holy Water if you have it.)
in your yard, around your house,
in the state you live in.
And ask God to bless your state
Ask God to bless the United States
Pray all prayers through the intercession of
Our Lady of CLEAR – WATER.
Ask the Lady of CLEAR - WATER
to help with the blessed water.
Mary has appeared to me for 22 years,
in Ohio and Florida.