Prayer for Grace for our Country
Dear Father united to Jesus in the Holy Sacrifice of the Mass, the Sacrifice of Calvary sacramentally made present, celebrated around the world, in the Holy Spirit. We offer up all we do united to the Mass. We unite in one mind and one heart as members of the mystical body of Christ, with Christ our head in the pure and holy Hearts of Jesus and Mary, through the powerful intercession of Mary with all the angels and saints and souls in purgatory, and we beg for the saving grace, for our country, the United States. Please help us. We further pray for unity to always do the will of God in love. We spread the Blood of Jesus on the leaders and people of the United States and cast the devil into hell. We consecrate our country to the Sacred Heart and Immaculate Heart and all our dioceses, and beg for an outpouring of the Holy Spirit. God help us. We pray for our families, the priests, the Church and the world. In the Name of Jesus please hear us, we pray. We pray for our new president as he takes office. We pray that we are united as one nation under God to work together in love as God wants.

December 6, 2017 - St. Nicholas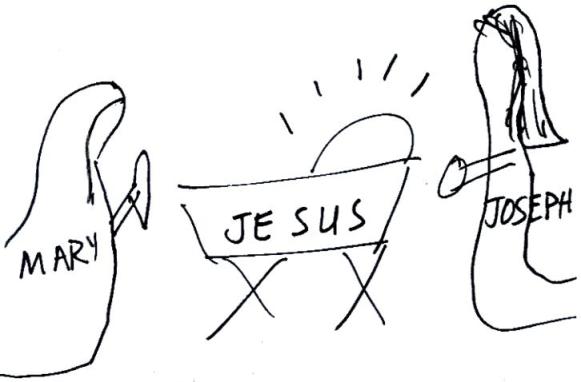 Sing: Jesus, Jesus the Light of the world –
R. Advent is important to our
spiritual life.
When Jesus began giving me
messages in 1991 - for 6 weeks
He told me to feed the hungry.
That's all I heard, for 6 weeks was
feed the hungry, 26 years ago.
In Advent we are to keep Mary
before us as the perfect handmaid
of the Lord. Mary is our model.
Jesus began Handmaids of the
Good Shepherd so the women
would be examples of holiness and
love following in the footsteps
of Jesus. Mary perfectly obeyed
the will of the heavenly Father.
Mary is so beautiful in perfect
love and light. What an honor in
the Shepherds of Christ to call Handmaids
and Servants of the Good Shepherd.
That these men and women would
be examples to others living
lives more perfectly showing love
and holiness before others
as Jesus called them in their vocations –
witnesses before God to the world –
witnesses of holiness before other
women and men –
living as the Spouse of Jesus –
loving the calling Jesus gave to them
and saying "yes" to God as Mary
said "yes".
In living the Consecration to the Two
Hearts of Jesus and Mary, God has
called us in the Shepherds of Christ –
we surrender and give ourselves
to God totally as a servant and
handmaid of the Lord.
We live more and more the
consecration to the Two Hearts in
the image of Jesus, in greater
holiness, as witnesses to God
before men.
Advent is a time of preparing
one's heart as a place of deeper
love for the Christ-child to
dwell there on Christmas
morning. Advent is about
preparing our heart as a little child,
with purity and wonder for the
child Jesus. We are longing this
precious feast when Christ
came a little child into the
world to save us from our sins.
We are full of gratitude and
wonder and lights are used
on trees and all around to
remind us – Christ is the Light
of the world.
We are longing for greater
union with God and our
human family at Christmas to
be united as children of God –
united ever more deeply in
holiness with our brothers
in love.
Christmas is about hearts
growing in greater love –
God is with us –
Jesus came a baby –
Jesus came our Savior –
Jesus came to save us
from our sins –
We rejoice – we live deeply
in Advent singing.
Come, oh beloved Savior –
The people waited the Long -
awaited birth of the Messiah –
We hunger and thirst for
greater holiness in our
hearts for Jesus as Savior –
Consecration to the Sacred Heart is
about emptying ourselves and
begging God to come into our
hearts and fill us with love –
living in the family of our
heavenly Father –
Thanking God for Jesus –
our Savior –
Psalm 33: 2-22

Give thanks to Yahweh on the lyre,
play for him on the ten–stringed lyre.
Sing to him a new song,
make sweet music for your cry of victory.

The word of Yahweh is straightforward,
all he does springs from his constancy.
He loves uprightness and justice;
the faithful love of Yahweh fills the earth.

By the word of Yahweh the heavens were made,
by the breath of his mouth all their array.
He collects the waters of the sea like a dam,
he stores away the abyss in his treasure–house.

Let the whole earth fear Yahweh,
let all who dwell in the world revere him;
for, the moment he spoke, it was so,
no sooner had he commanded, than there it stood!

Yahweh thwarts the plans of nations,
frustrates the counsels of peoples;

but Yahweh's own plan stands firm for ever,
his heart's counsel from age to age.
How blessed the nation whose God is Yahweh,
the people he has chosen as his heritage.

From heaven Yahweh looks down,
he sees all the children of Adam,
from the place where he sits he watches
all who dwell on the earth;
he alone moulds their hearts,
he understands all they do.

A large army will not keep a king safe,
nor his strength save a warrior's life;
it is delusion to rely on a horse for safety,
for all its power it cannot save.

But see how Yahweh watches over those who fear him,
those who rely on his faithful love,
to rescue them from death
and keep them alive in famine.

We are waiting for Yahweh;
he is our help and our shield,
for in him our heart rejoices,
in his holy name we trust.
Yahweh, let your faithful love rest on us,
as our hope has rested in you.
Luke 1: 46-55
And Mary said:

My soul proclaims
the greatness of the Lord
and my spirit rejoices
in God my Saviour;
because he has looked upon
the humiliation of his servant.
Yes, from now onwards
all generations will call me blessed,
for the Almighty
has done great things for me.
Holy is his name,
and his faithful love extends age after age
to those who fear him.
He has used the power of his arm,
he has routed the arrogant of heart.
He has pulled down princes
from their thrones
and raised high the lowly.
He has filled the starving with good things,
sent the rich away empty.
He has come to the help
of Israel his servant,
mindful of his faithful love
—according to the promise
he made to our ancestors—
of his mercy to Abraham
and to his descendants for ever.
R. Jesus is the Messiah –
Jesus is our Savior
God is with us –
Song: A Song from Jesus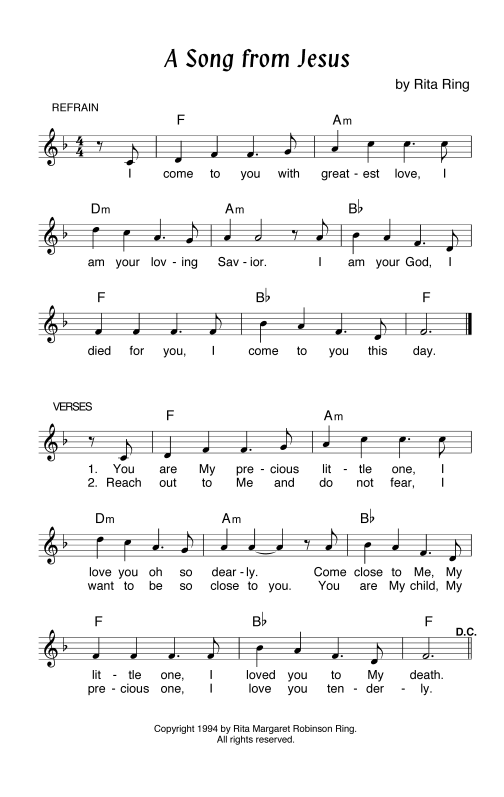 R. We spread the consecration to the
Two Hearts of the Shepherds of Christ
and we surrender our lives
to Jesus and Mary –
We are Theirs –
We dwell in Their Hearts –
We see Jesus gives us a sharing
in His life in baptism and
Jesus feeds us with Himself
in the Eucharist –
Jesus gives us Himself to
eat – Jesus loves us so much.
Love is giving –
Jesus shows us giving –
Jesus shows us love –
Jesus is love –
People brought people to Jesus
to be healed – Jesus shows us
how He gave and gave –
Jesus shows us love.
God gives us the infused
virtues of faith, hope and
love.
We see with greater
spiritual vision –
This time of year
reminds us as the scripture –
The people that walked in darkness
have seen a great light;
on the inhabitants of a country
in shadow dark as death
light has blazed forth.
R. Isaiah is our guide in
Advent –
We see darkness and
then Jesus came into
the world –
He is the Light of the world –
It's about Light!
Awake, oh sleeper –
Arise up and walk –
Light has covered the earth –
God is with us –
Sing: Oh Come, Oh Come Emmanuel –
Advent is a time of thirsting
for greater holiness –
thirsting for the light –
thirsting for love –
Advent tells us to prepare –
God loves and protects His people –
God gives us strength –
The devil is darkness, isolation,
hatred, disobedience –
The devil wants souls for hell –
The devil hates people showing love –
The devil hates Mary who brought
Jesus into the world through
the power of the Holy Spirit
This is reality –
God with us –
Trust in God –
Live in Peace –
Peace on earth – good will to men.
Open the gates –
Let justice rule –
Peace and Justice will kiss
Alleluia –

Given
October 29, 2016
R. Please spread blessed holy water
(You can also mix Jesus and Mary water
with your blessed Holy Water if you have it.)
in your yard, around your house,
in the state you live in.
And ask God to bless your state
Ask God to bless the United States
Pray all prayers through the intercession of
Our Lady of CLEAR – WATER.
Ask the Lady of CLEAR - WATER
to help with the blessed water.
Mary has appeared to me for 22 years,
in Ohio and Florida.