Given February 12, 2017
R. We must love God and our brothers and ourselves –
We are to love God with our whole heart and
our whole strength and our whole self.
Emotions were given in man to be
purified by grace – to have the proper
orientation. We must control ourselves –
We are to become more and more like Jesus,
DIVINIZED
Our love of God is not so we have
a place of refuge for our own gratification
and have somewhere, where we hang our
hat while we continue to not grow
spiritually and live isolated and prideful,
negative in religious communities.

Sunday's Readings
Sirach 15: 15-20
If you choose, you will keep the commandments
and so be faithful to his will.
He has set fire and water before you;
put out your hand to whichever you prefer.
A human being has life and death before him:
whichever he prefers will be given him.
For vast is the wisdom of the Lord;
he is almighty and all-seeing.
His eyes are on those who fear him,
he notes every human action.
He never commanded anyone to be godless,
he has given no one permission to sin.
Psalm 119: 1-2, 4-5, 17-18, 33-34
How blessed are those whose way is blameless,
who walk in the Law of Yahweh
Blessed are those who observe his instructions,
who seek him with all their hearts,

You lay down your precepts
to be carefully kept.
May my ways be steady
in doing your will.
Be generous to your servant and I shall live,
and shall keep your words.
Open my eyes and I shall fix my gaze
on the wonders of your Law.
1 Corinthians 2: 6-10
But still, to those who have reached maturity, we do talk of a wisdom, not, it is true, a philosophy of this age or of the rulers of this age, who will not last long now. It is of the mysterious wisdom of God that we talk, the wisdom that was hidden, which God predestined to be for our glory before the ages began. None of the rulers of the age recognised it; for if they had recognised it, they would not have crucified the Lord of glory; but it is as scripture says: What no eye has seen and no ear has heard, what the mind of man cannot visualise; all that God has prepared for those who love him; to us, though, God has given revelation through the Spirit, for the Spirit explores the depths of everything, even the depths of God.

Alleluia
Matthew 11: 25
At that time Jesus exclaimed, 'I bless you, Father, Lord of
heaven and of earth, for hiding these things from the learned and
the clever and revealing them to little children.
Matthew 5: 17-37
'Do not imagine that I have come to abolish the Law or the Prophets. I have come not to abolish but to complete them. In truth I tell you, till heaven and earth disappear, not one dot, not one little stroke, is to disappear from the Law until all its purpose is achieved. Therefore, anyone who infringes even one of the least of these commandments and teaches others to do the same will be considered the least in the kingdom of Heaven; but the person who keeps them and teaches them will be considered great in the kingdom of Heaven.

'For I tell you, if your uprightness does not surpass that of the scribes and Pharisees, you will never get into the kingdom of Heaven.
'You have heard how it was said to our ancestors, You shall not kill; and if anyone does kill he must answer for it before the court. But I say this to you, anyone who is angry with a brother will answer for it before the court; anyone who calls a brother "Fool" will answer for it before the Sanhedrin; and anyone who calls him "Traitor" will answer for it in hell fire. So then, if you are bringing your offering to the altar and there remember that your brother has something against you, leave your offering there before the altar, go and be reconciled with your brother first, and then come back and present your offering. Come to terms with your opponent in good time while you are still on the way to the court with him, or he may hand you over to the judge and the judge to the officer, and you will be thrown into prison. In truth I tell you, you will not get out till you have paid the last penny.

'You have heard how it was said, You shall not commit adultery. But I say this to you, if a man looks at a woman lustfully, he has already committed adultery with her in his heart. If your right eye should be your downfall, tear it out and throw it away; for it will do you less harm to lose one part of yourself than to have your whole body thrown into hell. And if your right hand should be your downfall, cut it off and throw it away; for it will do you less harm to lose one part of yourself than to have your whole body go to hell.

'It has also been said, Anyone who divorces his wife must give her a writ of dismissal. But I say this to you, everyone who divorces his wife, except for the case of an illicit marriage, makes her an adulteress; and anyone who marries a divorced woman commits adultery.

'Again, you have heard how it was said to our ancestors, You must not break your oath, but must fulfil your oaths to the Lord. But I say this to you, do not swear at all, either by heaven, since that is God's throne; or by earth, since that is his footstool; or by Jerusalem, since that is the city of the great King. Do not swear by your own head either, since you cannot turn a single hair white or black. All you need say is "Yes" if you mean yes, "No" if you mean no; anything more than this comes from the Evil One.
R. How offensive it is for God for a
religious to use the community and
order to try to force their dysfunction
and stagnancies on others.
God has a plan for a religious order.
When a person is not doing God's will –
and serving Him – they are serving
opposed to what He wants and the
work they are supposed to be doing
according to God's will in NOT being
done.
We should live to be more and more
open as God intends us to be – living
by His plan and not trying to force
our dysfunction, our plan for negativism
against God's will –
Being angry and holding out when God
calls someone in a vocation to serve
and love Him is at least two steps
backward. One step for the sin in acting
in darkness blocking God's work –
a second step for not doing the plan
God is expecting of us as our duty
while we do evil instead.
God has a plan and we are
to seek it – pray to the Holy Spirit for
the virtues and gifts and absolutely
don't develop bad controlling habits
of the deadly sins.
When we love another we give
ourselves as a gift to the other for
their fulfillment. We don't ignore our
job and become rescuers where it
isn't our place. We always seek and
do what God wants of us – not other
plans we want for our ego or pain.
We are always called on by God to
follow His plan. Satan wants a person
to go off from the plan.

Definition of Love
The definition of love used by Father Carter is as follows.
Love is the gift of self to promote the true good of those loved. He states the reception of love is the receiving of the gift of the other, so my good will be promoted.
R. An athlete cannot play a big sport
without training – He can hurt himself,
be forced to quit.
Why would a man try to hold onto
anger, darkness, manipulation, pride
in not loving themselves as the creation of God!
Why would a man refuse the necessary
discipline to grow in the spiritual life
and be more and more in the image
of Jesus; Live and seek God the Father's
plan –
What about the musician who
fails to follow orders of harmony
and bangs their dissonant undisciplined
tunes – is life not to grow in
perfection as God intends – not bang
it out like a two year old, undisciplined
banging on the piano –
The art of living in the spiritual
life is living by the instruction of the
Holy Spirit –
Not letting angry emotions, stubbornness,
selfishness, isolation, manipulation
and undisciplined ways bang at life
like a two year old banging on the piano,
and not stopping for no one.
Division with authority and
our brothers God calls us to work with
is not the child of light God calls to
order and love and hope and faithfulness
to our vocation.
It takes a doctor many years to learn
what he needs to know, it takes
an accountant time to learn – a lawyer
time to know and pass the bar –
Why do we think relationships,
love can be undisciplined and
manipulation of people in disorder
and force.
We must learn to respect and love others
as God wants of us. Think of all the effort
a man can use to try to force undisciplined
ways on others. God calls us to love –
to die to our selfishness and rise in
Him. It means learning to grow in
relationships God has called us to, to
do His work – in structure, in giving
and receiving – in doing God's will –
obeying God's plan – not having a
plan of our own opposed to God.
The purpose of the St. Ignatius Spiritual
Exercises is this –

From The Spiritual Exercises of St. Ignatius,
by Louis J. Puhl, S.J. p.11

21. SPIRITUAL EXERCISES

Which have as their purpose the conquest of self
and the regulation of one's life in such a way that
no decision is made under the influence of any
inordinate attachment
R. We are to give ourselves to others – like
a person – like Jesus – to see Jesus in
others –
Giving and taking in friendship!
Welcome others in love into your life!
It is Becoming one with God and letting
God operate in us.
God called us to love our brothers!
Life is not supposed to be lived to
get power for ourselves over others –
that is pride –
We can see what happened to Eve in
the Garden because of pride –
The more you want your way and try
to force it hurting others – the
more you turned your back to
learning a lesson about friendship
and love of God.
God created us to interact – to work
with others, to have friends, God
commands us to love –

Matthew 22: 36-40

'Master, which is the greatest commandment of the Law?' Jesus said to him, 'You must love the Lord your God with all your heart, with all your soul, and with all your mind. This is the greatest and the first commandment. The second resembles it: You must love your neighbour as yourself. On these two commandments hang the whole Law, and the Prophets too.'
R. God created us for heaven, to know
the infinite – we can not take
material things with us when we die –
We need grace to transform us more
and more in the image of Jesus.
Most of our own sufferings can come
from our own dissatisfaction, our
unresolved conflicts, our neglecting
the goal God wants for us in directing
our lives toward eternal life –
The mystery is unraveled and the
unrest quieted by peace when we
are truthful about ourselves
and focused on God's plan for us.
How are we seeking to satisfy
ourselves – are we seeing our lives
through the eyes of God the Father
who uniquely created us, with
unique talents, for a purpose –
We will never be completely satisfied
in this life – there is always an ache
in our soul for the completeness
which only comes in eternal life
in heaven. We must recognize
this!
We are limited here below, but we
were made for the infinite in heaven –
We must seek Him, let go to Him,
surrender to the Father's Plan –
seek virtue and gifts from the Holy Spirit –
We must live in the life God
intended for us –
God wants us to be with Him
eternally in heaven – to grow in
our image and likeness of Him –
Which is to love – to be alive in Him –
to be saturated more and more with
His grace –
Jesus is our Savior.
Song: A Song from Jesus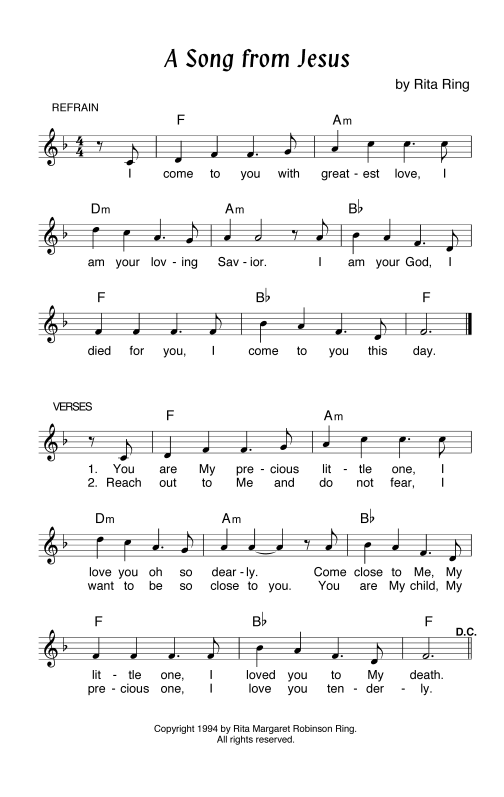 Song: God's Love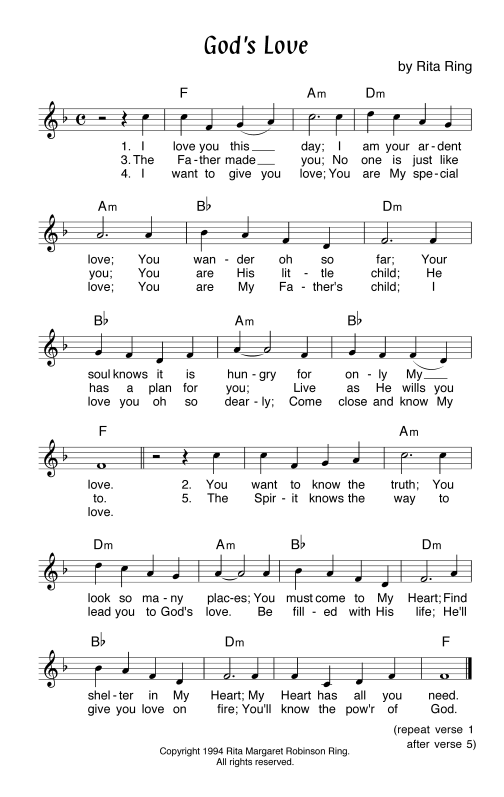 R. Faith helps us see God's plan –
we share in His knowing activity –
we see ourselves and the world
in the Father's plan –
We see insight into the hidden mysteries –
We reach to love with the Heart of Jesus.
We hope for eternal salvation for ourselves
and we hope for eternal salvation for our
brothers because we genuinely
love more and more like Jesus
who died for them.
Have we accepted ourselves with
our faults and limitations and
are we seeking to grow to
be more the ideal self
created by God –
The devil tries to shame a person and
in pride tells them to hide their
imperfections.
Jesus tells us to grow to be more
perfect as our heavenly Father is
perfect – so we have to
recognize our imperfections –
defects of character –
What is the real situation about
ourselves – seeking God's help
to do His will and to improve our
faults, health etc.
Given October 29, 2016
R. Please spread blessed holy water
(You can also mix Jesus and Mary water
with your blessed Holy Water if you have it.)
in your yard, around your house,
in the state you live in.
And ask God to bless your state
Ask God to bless the United States
Pray all prayers through the intercession of
Our Lady of CLEAR – WATER.
Ask the Lady of CLEAR - WATER
to help with the blessed water.
Mary has appeared to me for 22 years,
in Ohio and Florida.