February 18, 2017
7th Sunday in Ordinary Time
Leviticus 19: 1-2, 17-18
Yahweh spoke to Moses and said:
'Speak to the whole community of Israelites and say:
"Be holy, for I, Yahweh your God, am holy.

You will not harbour hatred for your brother. You will reprove your fellow–countryman firmly and thus avoid burdening yourself with a sin. You will not exact vengeance on, or bear any sort of grudge against, the members of your race, but will love your neighbour as yourself. I am Yahweh.
Psalm 103: 1-4, 8, 10, 12-13
Bless Yahweh, my soul,
from the depths of my being, his holy name;
bless Yahweh, my soul,
never forget all his acts of kindness.

He forgives all your offences,
cures all your diseases,
he redeems your life from the abyss,
crowns you with faithful love and tenderness;

Yahweh is tenderness and pity,
slow to anger and rich in faithful love;

he does not treat us as our sins deserve,
nor repay us as befits our offences.

As the distance of east from west,
so far from us does he put our faults.

As tenderly as a father treats his children,
so Yahweh treats those who fear him;
1 Corinthians 3: 16-23
Do you not realise that you are a temple of God with the Spirit of God living in you? If anybody should destroy the temple of God, God will destroy that person, because God's temple is holy; and you are that temple.

There is no room for self-delusion. Any one of you who thinks he is wise by worldly standards must learn to be a fool in order to be really wise. For the wisdom of the world is folly to God. As scripture says: He traps the crafty in the snare of their own cunning and again: The Lord knows the plans of the wise and how insipid they are. So there is to be no boasting about human beings: everything belongs to you, whether it is Paul, or Apollos, or Cephas, the world, life or death, the present or the future — all belong to you; but you belong to Christ and Christ belongs to God.
Matthew 5: 38-48
'You have heard how it was said: Eye for eye and tooth for tooth. But I say this to you: offer no resistance to the wicked. On the contrary, if anyone hits you on the right cheek, offer him the other as well; if someone wishes to go to law with you to get your tunic, let him have your cloak as well. And if anyone requires you to go one mile, go two miles with him. Give to anyone who asks you, and if anyone wants to borrow, do not turn away.
'You have heard how it was said, You will love your neighbour and hate your enemy. But I say this to you, love your enemies and pray for those who persecute you; so that you may be children of your Father in heaven, for he causes his sun to rise on the bad as well as the good, and sends down rain to fall on the upright and the wicked alike. For if you love those who love you, what reward will you get? Do not even the tax collectors do as much? And if you save your greetings for your brothers, are you doing anything exceptional? Do not even the gentiles do as much? You must therefore be perfect, just as your heavenly Father is perfect.'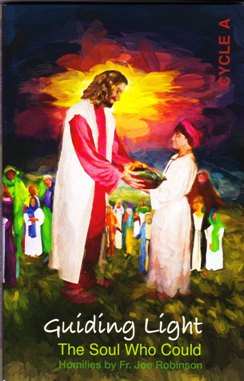 7th Sunday in Ordinary Time
February 20, 2011
INTRODUCTION
– (Leviticus 19:1-2, 17-18; 1 Corinthians 3:16-23; Matthew 5:38-48) Our first reading is from Leviticus, the third book of the Bible. It has many laws about Old Testament priesthood and Temple sacrifices, but its central message is a call to holiness for all God's people. If you look up this portion of the book of Leviticus you will see that this call to holiness includes the Ten Commandments as well as a number of other commandments – all of which are summed up in the commandment to love one's neighbor as oneself. Jesus expands on this command in today's gospel, a continuation of his Sermon on the Mount.
HOMILY
– Late one night, a truck driver pulled into a roadside café for a little something to eat. As he was eating, three nasty-looking motorcyclists noisily strutted in and made their way to the bar. For some unknown reason they gravitated toward the truck driver. One poured a little salt on his head, another knocked his pie on the floor and the third managed to knock the trucker's coffee off the counter and into the man's lap. The truck driver got up, said nothing, paid his bill and made his exit. "That dude sure wasn't much of a fighter" sneered one of the cyclists. The waiter peered out the window onto the dark parking lot and answered, "He's not much of a driver either. He just ran over three motorcycles." (
Sunday Homily Helps,
St. Anthony Messenger Press, for February 20, 2011) . It gives joy to our hearts to see nasty people get paid back for their nastiness. Jesus gives us a different way to look at things in today's gospel. In last week's portion of the Sermon on the Mount, we heard Jesus list several of the commandments with the phrase, "you have heard that it was said ..." and then give us his interpretation of how we were to observe them with the words, "but I say to you ..." Today's gospel continues this pattern with two other commandments: the first is the law of talion, "an eye for an eye and a tooth for a tooth." The second is the law about love of neighbor.
Let's look briefly at each of these two commandments in today's gospel. The law of talion regards proportionate recompense. It is a very ancient principle shared by all civilized people. It is a principle on which we supposedly base our own legal system in that if someone harms you, any restitution must be proportionate to the harm done. When Jesus tells us not to resist one who is evil, he is not addressing those who have responsibility to keep order in society such as law enforcement officers and judges. Their job is to vindicate the rights of the injured. Without someone to keep order in society, there would only be chaos. Jesus is addressing the injured person himself or herself. He is not expressing it as a hard and fast rule that we have to allow ourselves to let other people walk all over us. Remember when Jesus was arrested and put on trial. When someone struck him on the cheek, he didn't turn the other cheek. He didn't retaliate either. He responded, "why did you strike me?" We are entitled to stand up for ourselves, but Jesus wants us to let love guide us rather than vengeance. If in society we always exact retribution every time we are injured or offended, we would all be going around blind and toothless as the Rev. Martin Luther King said. If all of us had to get even for every hurt in life, we would all end up hating one another. Sometimes we have to swallow our pride and move on.
Regarding the second commandment, we've all heard sermons about loving our neighbor as ourselves. This may be part of the greatest commandment but it's also one of the most difficult. There is one thing Jesus said in his comments about this command that I think is extremely practical and useful: Jesus said, "pray for those who persecute you." Some years ago someone hurt our family very badly. Whenever I thought about that person, I could feel my blood pressure go up and anger raging inside of me. One day when I was feeling very angry, these words of Jesus came to me and once they did, whenever I thought of that person, I said a little prayer for the individual. It got rid of all my anger and bitterness. I must confess that doesn't make me perfect. If that person showed up at the rectory wanting to borrow a few hundred dollars, I don't know if I would give it to them (if I had it) – I'm not that far along the road to holiness, but at least my heart is free of anger. There is a lot of benefit in forgiving. Now, when someone tells me that someone is driving them crazy or they are having difficulty forgiving, I say to them, "Jesus says pray for those who persecute you." It will bring you a lot of peace and might even surprise you by helping the other person show more kindness. Amen.
Given February 15, 2017
R. We learn a lot of precautions must be
taken to protect us, like insect spray inside,
and grass spray and fortifying our houses
from burglars and then there are germs –
a baby can be sick and we keep wiping
their nose, but we don't want to give it
to other children. Germs are present so
we wipe our hands, don't get in the
way if one sneezes.
What about dysfunction that was
taught by parents who were divided, or
immature themselves – what about
spiritual maturity that needed to be
learned as a child and was taught
incorrectly.
We were created in the image and
likeness of God – this is our goal
to aim to be more perfect as our
heavenly Father is perfect and yet
we have a wounded human nature –
We have tendencies toward –
pride, greed, envy, wrath, lust,
gluttony, and sloth.
Yes we have tendencies and weaknesses
and we need the virtues and the
gifts of the Holy Spirit to deal with
these so we can have a strengthened
will against the bad habits and defects
of character we have.
Fear is a big roadblock if it is
not healthy fear we need to survive –
Just like a paranoia-like-fear of
germs or diseases can get out of hand –
fear of abandonment is real in some who
suffered in childhood without the security
of having parents or guardians available
when the child needed them –
Then there are other spiritual defects
passed down like parents who were prideful,
angry, jealous, envious, etc.
At an early age a child can be taught
things or they can develop things themselves,
behavior patterns – to take control –
to punish, to get their way –
A 2 year old not wanting to go to bed
may hold their breath to hold out
and manipulate parents – he may be
afraid of the dark or something else
at night – having heard something scary
or watched a TV show.
Manipulation with secret ways to
get control shows up when people
try to grow in relationships in
early adulthood.
People must learn to grow socially
and work with each other to know
what is not the right way to treat
each other.
Children may be forced to suffer
abuse, sexual, physical, emotional –
fear of abandonment can develop from
busy parents, parent not mature themselves
arguing etc.
Recovery is what it is called to
face the masked defects of character in
ourselves and unless we move out
of them pride of a person and wanting
control can lead a person to expect
others in a community or Church
or neighborhood to put up with
immature defects of character
while they develop deeper ones
if they force such behaviors through
finances, situations – whatever
they have developed to manipulate and
control to act perversely on others.
God has given us structure and
spiritual guides are there to help us.
God helps us to grow spiritually –
We receive a sharing in His life in
baptism and the supernatural
world opens to us. We are children
of God and He commands us to love
Him with our whole heart, our whole
soul and our whole being. He gives us
the command to love our neighbor
as ourselves so we must work in
relationships to grow in love –
This is our life's work –
We can't ignore structure –
We can't ignore doing God's will and
opposing God's will to control
things.
If control was the way we ran our
life at 10 – 40 years later, having
isolated and got away with it
in some circles is not helping
us in the spiritual life.
We will need to learn the right way
as God wants and strengthen
our will. To have a weak will and
not learn to do the will of God will
fair in a bad way – all the time –
God has a plan – why would a person
arrogantly try to force opposing it –
Always living against the plan of God
is chaos, confusion and while we are
sinning – we have made a choice
to disobey the job God gave us.
Some people think to not do what
God wants us to do is okay because
we did nothing.
Bishop Sheen has a whole talk
on choices – when we don't do what
God is calling us to do – we are
choosing to disobey what He wants done.
The more we give into twisted thinking
the more our actions are guided
by not right reasoning.
God gives us an intellect and a
will – Our actions should depend
on right reasoning and doing
the will of God –
The more the goal of our actions are
power and control – disobedience
to authority, manipulation –
being weak-willed, the more we grow in
darkness and offend God with
our ways of sin. God commands us
to love. God gives us His Word –
God gives us the Church –
All of this tells us the truth –
The Holy Spirit fills us when we seek the truth
and love doing God's will –
When we don't do what is right
we hurt everybody, especially ourselves.
We are here to prepare for eternal salvation.
Our goal is God.
The Body exists for the soul –
We are to grow to greater perfection
IN God, dying to our bad habits –
making reparation for our sins –
We can't ignore God –
But we have a free will –
God in His Divine Justice will
deal with sinners.
end of excerpt
1 John 4:7-11
My dear friends, let us love one another, since love is from God and everyone who loves is a child of God and knows God. Whoever fails to love does not know God, because God is love. This is the revelation of God's love for us, that God sent his only Son into the world that we might have life through him. Love consists in this: it is not we who loved God, but God loved us and sent his Son to expiate our sins. My dear friends, if God loved us so much, we too should love one another.
Mary's Message


from the Rosary of August 27, 1996

Mary: I stood beneath the cross of my Son, and my Heart was in such pain for I saw Him before my eyes. I saw Him covered with blood. I saw Him die. My Heart, my children, my Heart to watch my Son, but my Heart, my Heart, how I suffered for my little children of the world that give in to this world and give up the love of my Son. O my little children of light, I give you this message. Carry this light into the darkness for your Mother Mary, for I stood beneath the cross and I cried. I cried for the little ones. I cried for the young ones, the ones that do not care and will lose their souls. How do I make you see for you will not listen to me? What can I do? I come. I appear. I beg. I plead. I give you these gifts from my Son, and you reject me. I do not deliver messages very often anymore for I have been ignored. The message is the same. You do not read the messages I have given to you. Please help me. Help the little children. I appear. I appear. I appear, and I am ignored. I stood beneath the cross, and I cried. I cried, and my Heart was in such anguish for my little children, for I am searching for them this day as I searched for the Child Jesus. Please, please help me. I cannot hold back the hand of my Son any longer. I am Mary, your Mother. I ask you to help my children. You are my children of light.

end of Mary's Message
All 5ths - Our Lady of Clearwater Florida


July 5, 2000


September 5, 2000


October 5, 2000


November 5, 2000


December 5, 2000
| | | | | |
| --- | --- | --- | --- | --- |
| January 5, 2001 | February 5, 2001 | March 5, 2001 | April 5, 2001 | May 5, 2001 |
| | | | | |
| --- | --- | --- | --- | --- |
| June 5, 2001 | July 5, 2001 | August 5, 2001 | September 5, 2001 | October 5, 2001 |
| | | | | |
| --- | --- | --- | --- | --- |
| November 5, 2001 | December 5, 2001 | January 5, 2002 | February 5, 2002 | March 5, 2002 |
| | | | | |
| --- | --- | --- | --- | --- |
| April 5, 2002 | May 5, 2002 | June 5, 2002 | July 5, 2002 | September 5, 2002 |
| | | | | |
| --- | --- | --- | --- | --- |
| October 5, 2002 | November 5, 2002 | January 5, 2003 | February 5, 2003 | March 5, 2003 |
| | | | | |
| --- | --- | --- | --- | --- |
| April 5, 2003 | May 5, 2003 | July 5, 2003 | August 5, 2003 | September 5, 2003 |
| | | | |
| --- | --- | --- | --- |
| October 5, 2003 | November 5, 2003 | December 5, 2003 | January 5, 2004 |
| | |
| --- | --- |
| February 5, 2004 | March 5, 2004 |
Excerpts from The Spirituality of Fatima
by Fr. Edward Carter, S.J.
May 13, 1917

"Do not be afraid, I will do you no harm..... I am from Heaven.

"I have come to ask you to come here for six months in succession, on the 13th day, at the same hour. Later on, I will tell you who I am and what I want

"Are you willing to offer yourselves to God and bear all the sufferings He wills to send you, as an act of reparation for the sins by which He is offended, and in supplication for the conversion of sinners?

"Pray the Rosary every day in order to obtain peace for the world, and the end of the war." (8)

June 13, 1917

"God wishes you to remain in the world for some time because He wants to use you to establish in the world the devotion to my Immaculate Heart. I promise salvation to those who embrace it, and their souls will be loved by God as flowers placed by myself to adorn His throne." (10)

July 13, 1917

"During her appearance in July, Our Lady, in answer to Lucia's plea, promised that in October she would work a great miracle so that all might believe and know who she was. Again, the Mother of God told the children to sacrifice themselves for sinners and to say many times, especially when making a sacrifice, this prayer: "O my Jesus, I offer this for love of Thee, for the conversion of poor sinners, and in reparation for all the sins committed against the Immaculate Heart of Mary." (11)

"During this same July apparition, Mary showed the three children a vision of Hell. She told them:

"You have seen Hell, where the souls of poor sinners go. To save them, God wishes to establish, in the world, devotion to my Immaculate Heart. If people do what I tell you, many souls will be saved and there will be peace.

"The war (World War I, then raging) is going to end. But if people do not stop offending God, another and worse one will begin in the reign of Pius XI. When you shall see a night illuminated by an unknown light [January 2, 1938], know that this is the great sign that God gives you that He is going to punish the world for its many crimes by means of war, hunger, and persecution of the Church and the Holy Father. (12)

"To prevent this, I shall come to ask for the consecration of Russia to my Immaculate Heart and the Communion of Reparation on the five first Saturdays. If my requests are granted, Russia will be converted and there will be peace. If not, she will scatter her errors throughout the world, provoking wars and persecutions of the Church. The good will be martyred, the Holy Father will have much to suffer, and various nations will be destroyed....

"But in the end, my Immaculate Heart will triumph, the Holy Father will consecrate Russia to me, Russia will be converted, and a certain period of peace will be granted to the world." (13)

August 19, 1917

She told them she was greatly displeased by the action of the mayor. As a result, the miracle promised for October would not be as impressive as originally planned. (15)

September 13, 1917

More than 30,000 people were present in September, and saw a shower of mysterious white petals fall to within 10 feet of the ground before dissolving into the air. Many also saw the globe of light bearing the Lady come to rest atop the tree, and the branches bend as though someone were standing on them. Later, they saw the cloud depart into the east, from whence it had come.(16)

October 13, 1917

I am the Lady of the Rosary. I have come to warn the faithful to amend their lives and to ask pardon for their sins. They must not offend Our Lord any more, for He is already too grievously offended by the sins of men. People must say the Rosary. Let them continue saying it every day.(17)

While the people in attendance were beholding the great Miracle of the Sun, the three young visionaries, and they alone, were privileged to see striking visions in the heavens:

As Our Lady had promised, St. Joseph had come with the Holy Family and had blessed the world. Then, Our Lady appeared as the Mother of Sorrows, accompanied by her Divine Son, Who also blessed the world. Finally, Lucy had seen the Blessed Virgin, dressed in the brown robes of Our Lady of Mount Carmel, crowned as Queen of Heaven and Earth, holding a brown Scapular in her hand, with her infant Son upon her knee. However, in none of these visions had any of the figures spoken to the children. (18)

Besides the messages associated with the major Fatima apparitions, there were other revelations given by Our Lady. Before Jacinta died, she told of other messages given her (during her illness) by Mary:

More souls go to Hell because of sins of the flesh than for any other reason.

Certain fashions will be introduced that will offend Our Lord very much.

Many marriages are not good; they do not please Our Lord and are not of God.

Priests must be pure, very pure. They should not busy themselves with anything except what concerns the Church and souls. The disobedience of priests, to their superiors and to the Holy Father, is very displeasing to Our Lord.

I can no longer restrain the hand of my Divine Son from striking the world with just punishments for its many crimes.

If the government of a country leaves the Church in peace and gives liberty to our Holy Religion, it will be blessed by God.

Tell everybody that God gives graces through the Immaculate Heart of Mary. Tell them to ask grace from her, and that the Heart of Jesus wishes to be venerated together with the Immaculate Heart of Mary. Ask them to plead for peace from the Immaculate Heart of Mary, for the Lord has confided the peace of the world to her. (19)

---

NOTES:

8. Frere Michael de la Trinite', The Whole Truth about Fatima
(Buffalo: Immaculate Heart Publications, 1989), pp.112-114.
9. For background material on Fatima, I am particularly indebted to
Our Lady of Fatima's Peace Plan from Heaven (Rockford: TAN
Books and Publishers, Inc., 1983). p.30.
10. Ibid., p.3.
11. Ibid., pp.3-4.
12. Ibid., pp.4-5.
13. Ibid., p.5.
14. Rev. Edward Carter, S.J., Mother at Our Side: Mary's Role in
the Spiritual Life (1993: Faith Publishing Co., Milford, Ohio), p.21.
15. Our Lady's Peace Plan, op cit., p.6.
16. Ibid., p.6.
17. Ibid., p.7.
18. Ibid., p.8.
19. Ibid., pp.9-10.
Given October 29, 2016
R. Please spread blessed holy water
(You can also mix Jesus and Mary water
with your blessed Holy Water if you have it.)
in your yard, around your house,
in the state you live in.
And ask God to bless your state
Ask God to bless the United States
Pray all prayers through the intercession of
Our Lady of CLEAR – WATER.
Ask the Lady of CLEAR - WATER
to help with the blessed water.
Mary has appeared to me for 22 years,
in Ohio and Florida.