Prayer for Grace for our Country
Dear Father united to Jesus in the Holy Sacrifice of the Mass, the Sacrifice of Calvary sacramentally made present, celebrated around the world, in the Holy Spirit. We offer up all we do united to the Mass. We unite in one mind and one heart as members of the mystical body of Christ, with Christ our head in the pure and holy Hearts of Jesus and Mary, through the powerful intercession of Mary with all the angels and saints and souls in purgatory, and we beg for the saving grace, for our country, the United States. Please help us. We further pray for unity to always do the will of God in love. We spread the Blood of Jesus on the leaders and people of the United States and cast the devil into hell. We consecrate our country to the Sacred Heart and Immaculate Heart and all our dioceses, and beg for an outpouring of the Holy Spirit. God help us. We pray for our families, the priests, the Church and the world. In the Name of Jesus please hear us, we pray. We pray for our president and leaders. We pray that we are united as one nation under God to work together in love as God wants.
February 18, 2019
6th Sunday in Ordinary Time
Jeremiah 17: 5-8
Yahweh says this,
Accursed be anyone
who trusts in human beings,
who relies on human strength
and whose heart turns from Yahweh.
Such a person is like scrub
in the wastelands:
when good comes, it does not affect him
since he lives in the parched places
of the desert,
uninhabited, salt land.
'Blessed is anyone who trusts in Yahweh,
with Yahweh to rely on.
Such a person is like a tree by the waterside
that thrusts its roots to the stream:
when the heat comes it has nothing to fear,
its foliage stays green;
untroubled in a year of drought,
it never stops bearing fruit.
Psalm 1: 1-2, 3, 4, 6
How blessed is anyone who rejects the advice of the wicked
and does not take a stand in the path that sinners tread,
nor a seat in company with cynics,
but who delights in the law of Yahweh
and murmurs his law day and night.

Such a one is like a tree planted near streams;
it bears fruit in season
and its leaves never wither,
and every project succeeds.
How different the wicked, how different!

Just like chaff blown around by the wind

For Yahweh watches over the path of the upright,
but the path of the wicked is doomed.
1 Corinthians 15: 12, 16-20
Now if Christ is proclaimed as raised from the dead, how can some of you be saying that there is no resurrection of the dead?

For, if the dead are not raised, neither is Christ; and if Christ has not been raised, your faith is pointless and you have not, after all, been released from your sins. In addition, those who have fallen asleep in Christ are utterly lost. If our hope in Christ has been for this life only, we are of all people the most pitiable.
Luke 6: 17, 20-26
He then came down with them and stopped at a piece of level ground where there was a large gathering of his disciples, with a great crowd of people from all parts of Judaea and Jerusalem and the coastal region of Tyre and Sidon Then fixing his eyes on his disciples he said:

How blessed are you who are poor:
the kingdom of God is yours.
Blessed are you who are hungry now:
you shall have your fill.
Blessed are you who are weeping now:
you shall laugh.

'Blessed are you when people hate you, drive you out, abuse you, denounce your name as criminal, on account of the Son of man. Rejoice when that day comes and dance for joy, look!—your reward will be great in heaven. This was the way their ancestors treated the prophets.

But alas for you who are rich:
you are having your consolation now.
Alas for you who have plenty to eat now:
you shall go hungry.
Alas for you who are laughing now:
you shall mourn and weep.

'Alas for you when everyone speaks well of you! This was the way their ancestors treated the false prophets.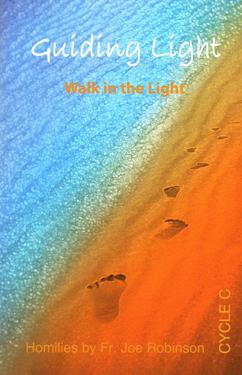 6th Sunday in Ordinary Time
February 14, 2010
INTRODUCTION
– (
Jeremiah 17:5-8; 1 Cor. 15:12, 16-20; Lk. 6:17, 20-26
) Today we hear from the prophet Jeremiah. He lived during the final years before the Babylonians destroyed the land of Judah, Jerusalem, the Temple, and took most of its citizens off as captives and slaves to Babylon. If you read Jeremiah, you will see how God constantly called God's people back to fidelity to their Jewish faith and how they always turned their back on God and relied on their own human resources. Today we hear part of one of Jeremiah's homilies where he reminds God's people that their only hope of survival was in God. Jeremiah was ignored, hated, punished, and almost put to death for preaching God's Word, but he could not stop for he was totally committed to God's work and he found strength in God's power.
HOMILY
– On this Valentine's Day I would like to offer a couple of stories about loving spouses. The first is about a woman whose van was buried in the family driveway. Her husband came to her rescue, digging her out, rocking the van and pushing her free. As she was driving down the road she heard an unusual noise. She got on her cell phone and called home. When her husband answered the phone she said: "Thank God you answered, there was some horrible sound coming from under the van. For a moment I thought I was dragging you down the highway." "And you didn't stop?" he asked. I'm sure in his love he gave her a valentine anyway.
The second takes place in a church where the people offer spontaneous intentions at the intercession time. One man, Bob, asked for prayers for himself and his wife on their 37th anniversary. At the obvious nudging of his wife he corrected that to 38th anniversary. As the chuckling died down, heard from the back of church was, "I'd like to offer a prayer for Bob." (both stories are from
Reader's Digest, Laughter the Best Medicine – pg 153
)
St. Valentine, the patron saint of lovers, was a Roman priest, physician and martyr who was put to death sometime around 270 A.D. A basilica was built on the spot where he was buried some years later after the emperor Constantine made Christianity the official religion of the empire. The custom of sending a "Valentine" to a loved one stems from the medieval belief that birds choose their mates on this day. It's unfortunate we need reminders to tell those we love that we love them. I always encourage married couples to tell one another that they love each other.
Jeremiah is telling us there are only two ways to live our lives: trusting in God and faithfully following him or trying to make our own way through life while ignoring the direction and the grace God gives us. The reading from Jeremiah, telling us how to find true happiness in life, prepared the way for the gospel where Jesus preaches the beatitudes. Beatitude is a word that means blessed or happy. Luke and Matthew have two different versions of the beatitudes. In Luke we hear four beatitudes and four conditions that begin with the word "woe," an expression denoting pain or displeasure, hardship or distress. Matthew has eight beatitudes. Luke is speaking to a distinct audience who in fact were poor, hungry and downcast at times, under the oppression of a foreign power. Some of those who were the oppressors were the ones who were exploiting the poor and having a good time at their expense. Matthew has Jesus speaking to a more general audience when he said "Blessed are the poor in spirit" Neither is saying that being poor is a blessing and having wealth is evil. Some of Jesus' friends were wealthy, at least by the standards of the time. In both Matthew and Luke, Jesus is telling us through the beatitudes there will come a
time when things will be reversed for the poor, the sorrowing, the hungry, the oppressed. In both gospels the beatitudes look forward to a blessedness that is to come, which begins here and now for all who follow Christ faithfully.
This is what St. Paul is telling us in the second reading. The Corinthians had difficulty believing in the resurrection. But Paul tells them our whole faith, our whole salvation, our whole Christian way of life begins and is founded on the resurrection of Jesus. Not only that but we who have followed Christ will share in his resurrection. Jesus was the first fruits, that is, the first indication of what God has planned for all who love him and serve him. At Mass we commemorate his death and resurrection which promise us new life. Amen.
Given
October 29, 2016
R. Please spread blessed holy water
(You can also mix Jesus and Mary water
with your blessed Holy Water if you have it.)
in your yard, around your house,
in the state you live in.
And ask God to bless your state
Ask God to bless the United States
Pray all prayers through the intercession of
Our Lady of CLEAR – WATER.
Ask the Lady of CLEAR - WATER
to help with the blessed water.
Mary has appeared to me for 22 years,
in Ohio and Florida.