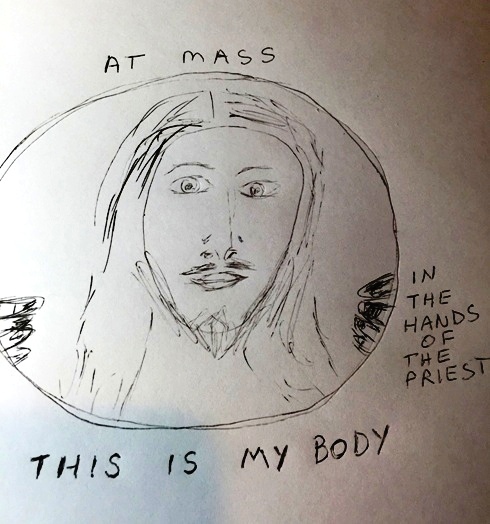 R. Thank You Jesus, for the Eucharist –
John 9: 3-5

'Neither he nor his parents sinned,' Jesus answered, 'he was born blind so that the works of God might be revealed in him.

'As long as day lasts
we must carry out the work of the one
who sent me;
the night will soon be here
when no one can work.
As long as I am in the world
I am the light of the world.'

R. Come Holy Spirit shed a light in my heart that I may
see what I need to do, to do the deeds of
Him who has sent me –
Jesus: My child you are to walk in the Light –
Your life is to be lived in Me –
Let the peace of Christ fill you with beautiful
light inside – that you will know your
God that lives in your heart.
R. Oh my God I want to know You, to walk with
You, to live in You, to love as You want
me to do –
Jesus: For My child your life is made for loving – for giving –
for knowing My presence with you as you walk
and love and seek God ever more in your heart –
Oh My child, you are never alone, I walk with you,
I love you so much – Do you know this love now –
deep inside of you –
It comes in love and forgiveness –
It comes in knowing My presence with you and
unity with your fellows –
There is no division in a heart of love – only
unity –
Others may come to live disunited, divided –
look for chaos, confusion –
My child know, I am love and unity –
See from above –
Pray deeply united to Me –
See your brothers with the eyes of love –
Let go now –
Focus on this peace –
Be deeply one in Me –
Now and forever –
I love you so much, Rita, My child, I love you.
Focus on this – God loves you so much –
Hebrews 8: 10-12
In their minds I shall plant my laws
writing them on their hearts.
Then I shall be their God,
and they shall be my people.
There will be no further need
for each to teach his neighbour,
and each his brother,
saying 'Learn to know the Lord!'
No, they will all know me,
from the least to the greatest,
since I shall forgive their guilt
and never more call their sins to mind.
Jesus: Oh My people that you would spend time with Me –
I have given you My letters of love in the Blue Books
and who pays Me heed –
Oh My precious one, I love you so much –
I am love
Reach that your heart is not afraid, but consumed
with love –
I went to My death –
My enemies closed in – in hatred –
I walked amongst them –
I loved them so much –
And they persecuted Me –
They whipped Me
They scourged Me
They were angry and hateful in their hearts
and I loved them –
Those I loved did this to Me, the Son of God,
I did not hurt them – they treated Me
as an enemy – and I loved them –
I gave them love –
And they tore My flesh –
I gave them life and they did this with
it –
Used the life I gave them to whip Me and
tear My flesh –
Oh My precious –
Deliver My truth –
Deliver My letters of love –
Be in one mind and one heart with Me –
I am with you always –
Make a spiritual communion –
Feel My presence with you always –
Feel My love so deep in your heart –
Reach to know My love –
know My light –
know My truth –
Walk with Me, My little baby –
Let Me hold you in My arms –
Be not afraid –
I walk with you –
Know the fire of My love in your heart –
Know the love of My Sacred Heart and
My union with you –
Be not afraid, now, I go with you always –
Remember the journey, I walk with you
always –
Your strength is in this –
I live and love through you –
I am God, all powerful, all loving and
I dwell in you –
Hebrews 10: 16
No, this is the covenant I will make with them, when those days have come.

the Lord says:

In their minds I will plant my Laws writing them on their hearts,
James 3: 13-18
Anyone who is wise or understanding among you should from a good life give evidence of deeds done in the gentleness of wisdom. But if at heart you have the bitterness of jealousy, or selfish ambition, do not be boastful or hide the truth with lies; this is not the wisdom that comes from above, but earthly, human and devilish. Wherever there are jealousy and ambition, there are also disharmony and wickedness of every kind; whereas the wisdom that comes down from above is essentially something pure; it is also peaceable, kindly and considerate; it is full of mercy and shows itself by doing good; nor is there any trace of partiality or hypocrisy in it. The peace sown by peacemakers brings a harvest of justice.
1 John 1: 5
This is what we have heard from him
and are declaring to you:
God is light,
and there is no darkness in him at all.