Prayer for Grace for our Country
Dear Father united to Jesus in the Holy Sacrifice of the Mass, the Sacrifice of Calvary sacramentally made present, celebrated around the world, in the Holy Spirit. We offer up all we do united to the Mass. We unite in one mind and one heart as members of the mystical body of Christ, with Christ our head in the pure and holy Hearts of Jesus and Mary, through the powerful intercession of Mary with all the angels and saints and souls in purgatory, and we beg for the saving grace, for our country, the United States. Please help us. We further pray for unity to always do the will of God in love. We spread the Blood of Jesus on the leaders and people of the United States and cast the devil into hell. We consecrate our country to the Sacred Heart and Immaculate Heart and all our dioceses, and beg for an outpouring of the Holy Spirit. God help us. We pray for our families, the priests, the Church and the world. In the Name of Jesus please hear us, we pray. We pray for our president and leaders. We pray that we are united as one nation under God to work together in love as God wants.
February 3, 2019
4th Sunday of Ordinary Time
Jeremiah 1: 4-5, 17-19
The word of Yahweh came to me, saying:

'Before I formed you in the womb
I knew you;
before you came to birth
I consecrated you;
I appointed you as prophet to the nations.'
The word of Yahweh came to me, saying:

'As for you, prepare yourself for action.
Stand up and tell them
all I command you.
Have no fear of them
and in their presence
I will make you fearless.
For look, today I have made you
into a fortified city,
a pillar of iron,
a wall of bronze
to stand against the whole country:
the kings of Judah, its princes,
its priests and the people of the country.
They will fight against you
but will not overcome you,
for I am with you,
Yahweh declares,
to rescue you.'
Psalm 71: 1-2, 3-4, 5-6, 15-17

In you, Yahweh, I take refuge,
I shall never be put to shame.
In your saving justice rescue me, deliver me,
listen to me and save me.

Be a sheltering rock for me,
always accessible;
you have determined to save me,
for you are my rock, my fortress.
My God, rescue me from the clutches of the wicked,
from the grasp of the rogue and the ruthless.

For you are my hope, Lord,
my trust, Yahweh, since boyhood.
On you I have relied since my birth,
since my mother's womb you have been my portion,
the constant theme of my praise.

My lips shall proclaim your saving justice,
your saving power all day long.
God, you have taught me from boyhood,
and I am still proclaiming your marvels.
1 Corinthians 12:31—13:1-13
Set your mind on the higher gifts. And now I am going to put before you the best way of all.

Though I command languages both human and angelic—if I speak without love, I am no more than a gong booming or a cymbal clashing. And though I have the power of prophecy, to penetrate all mysteries and knowledge, and though I have all the faith necessary to move mountains—if I am without love, I am nothing. Though I should give away to the poor all that I possess, and even give up my body to be burned—if I am without love, it will do me no good whatever.

Love is always patient and kind; love is never jealous; love is not boastful or conceited, it is never rude and never seeks its own advantage, it does not take offence or store up grievances. Love does not rejoice at wrongdoing, but finds its joy in the truth. It is always ready to make allowances, to trust, to hope and to endure whatever comes.

Love never comes to an end. But if there are prophecies, they will be done away with; if tongues, they will fall silent; and if knowledge, it will be done away with. For we know only imperfectly, and we prophesy imperfectly; but once perfection comes, all imperfect things will be done away with. When I was a child, I used to talk like a child, and see things as a child does, and think like a child; but now that I have become an adult, I have finished with all childish ways. Now we see only reflections in a mirror, mere riddles, but then we shall be seeing face to face. Now I can know only imperfectly; but then I shall know just as fully as I am myself known.

As it is, these remain: faith, hope and love, the three of them; and the greatest of them is love
Luke 4: 21-30
Then he began to speak to them, 'This text is being fulfilled today even while you are listening.' And he won the approval of all, and they were astonished by the gracious words that came from his lips.

They said, 'This is Joseph's son, surely?' But he replied, 'No doubt you will quote me the saying, "Physician, heal yourself," and tell me, "We have heard all that happened in Capernaum, do the same here in your own country." ' And he went on, 'In truth I tell you, no prophet is ever accepted in his own country.

There were many widows in Israel, I can assure you, in Elijah's day, when heaven remained shut for three years and six months and a great famine raged throughout the land, but Elijah was not sent to any one of these: he was sent to a widow at Zarephath, a town in Sidonia. And in the prophet Elisha's time there were many suffering from virulent skin-diseases in Israel, but none of these was cured—only Naaman the Syrian.'

When they heard this everyone in the synagogue was enraged. They sprang to their feet and hustled him out of the town; and they took him up to the brow of the hill their town was built on, intending to throw him off the cliff, but he passed straight through the crowd and walked away.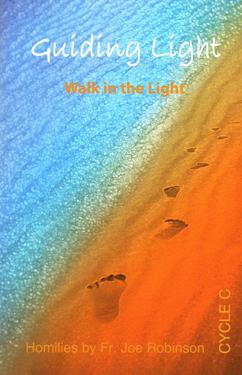 4th Sunday of Ordinary Time
January 31, 2016
INTRODUCTION
– (
Jeremiah 1,4-5.17-19; I Cor. 12,31-13,13; Lk 4, 21-30)
Our gospel last week ended with Jesus' visit to his hometown of Nazareth. Last week's gospel told us Jesus went to the synagogue service on the Sabbath and was invited to do a reading from the Scriptures and he chose a passage from the prophet Isaiah to read and comment on.
Today's gospel continues to tell us about that visit. His relatives, friends and former neighbors responded favorably to his message, but their response quickly turned into hostility. Our first reading, as usual, prepares us for the gospel. Jeremiah the prophet heard God's call to preach, a job that God warned him would lead to suffering and rejection.
HOMILY
– Today's gospel reminds me somewhat of Rodney Dangerfield. He was famous for the expression: "I don't get no respect." He said: "when I was young, all I knew was rejection. My yo-yo, it never came back… "I asked my old man if I could go ice skating on the lake. He told me, 'wait till it gets warmer.'" "Once when I was lost I saw a policeman and asked him to help me find my parents. I said to him, 'Do you think we'll ever find them?" the policeman said, 'I don't know kid. There are so many places they could hide.'" He said once in a swimming pool he was drowning. He screamed for help and the lifeguard told him to hold it down. (
from Dynamic Preaching, January – March 2016, pg 28
)
I imagine Jesus was feeling the same way when he went to visit relatives, friends and former neighbors for the first time after he began his ministry of preaching and healing. We hear Jesus in today's gospel quoting the proverb: "no prophet is accepted in his own native place." Jesus had just told his listeners that God's Spirit had anointed him; in other words, he spoke for God, he spoke as a prophet. At the end of his time in Nazareth, he received not only no respect from the people who had known him most all of his life, they were ready to put him to death.
Even though Jesus had already been preaching and healing in Capernaum, St. Luke uses this event to begin telling us about Jesus' public ministry. He does so because "this event announces who Jesus is, of what his ministry consists, what his church will be and do, and what will be the response to both Jesus and the church." (
Fred Craddock: Luke, Interpretation, pg 61
) So let us look at our gospel more closely.
It is clear to us from the passage who Jesus is, what he came to do, and the ultimate response to his ministry by his own chosen people with whom he lived and worked. What is not clear is how this gathering of his relations, friends and former neighbors could have moved so quickly from a favorable response to him to the place where they wanted to put him to death.
For a long time, I had thought that those who knew him throughout his years at Nazareth rejected him because they had known him as a person who belonged to the working class (since Joseph was a skilled laborer, it would have been the custom for Jesus to grow up learning and working in that trade). Here he was, reading Scripture to them (it shows Jesus knew how to read) and interpreting it for them. Not only was he interpreting it, he was claiming to be the one the Scriptures were speaking of (in reality claiming a dignity and honor higher than any of them: "the Spirit of the Lord is upon me because he has anointed me…"). I expected they took serious offense at that.
Looking at the passage more closely, there is an inference that they expected to have some claim on him and on his wondrous powers. It's almost as if they were saying stay here and take care of us: "do here in your native place the things that we heard were done in Capernaum." Jesus' answer implied not only would he reach out to help others in other places, but like Elijah and Elisha he would even share God's blessings with pagans. Elijah healed a Syrian general and Elisha provided food for a Gentile widow and her son and raised her son back to life. I suspect the anger they felt was because Jesus had taken or was likely to take God's favors to others beyond Nazareth. He might show his favor and love even to those who were not Jews.
I think the lesson here for us is that we subconsciously think we should get preferential treatment from God if we live the way he taught us. In other words, if I do what God wants, he should do what I want. It's true, not only do we see that bad things happen to good people, but good things happen to bad people. We think it shouldn't be that way. But in this life it is. It is in the next life that all will be made fair. Then again, when we stop and think about it and count our blessings, we discover we have been greatly blessed. I always enjoy Archbishop Pilarczyk's answer whenever anyone asks him "How are you doing Archbishop?" He always answers "better than I deserve." The ways of God are sometimes mysterious, we can't always find the answers as to why things happen and that's why Jesus insists that we have faith in him.
How did he get away from the crowd who were going to throw him off of a cliff? Luke gives us no clue. It just wasn't his time – but remember even his time of undeserved suffering would come – but so would his resurrection. Amen.
Given
October 29, 2016
R. Please spread blessed holy water
(You can also mix Jesus and Mary water
with your blessed Holy Water if you have it.)
in your yard, around your house,
in the state you live in.
And ask God to bless your state
Ask God to bless the United States
Pray all prayers through the intercession of
Our Lady of CLEAR – WATER.
Ask the Lady of CLEAR - WATER
to help with the blessed water.
Mary has appeared to me for 22 years,
in Ohio and Florida.