I speak of the apex of creation July 13, 1997.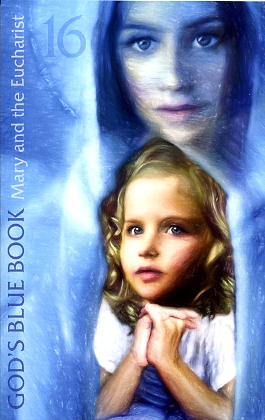 By his divine power, he has lavished on us all the things we need for life and for true devotion, through the knowledge of him who has called us by his own glory and goodness. Through these, the greatest and priceless promises have been lavished on us, that through them you should share the divine nature and escape the corruption rife in the world through disordered passion. With this in view, do your utmost to support your faith with goodness, goodness with understanding, understanding with self–control, self–control with perseverance, perseverance with devotion, devotion with kindness to the brothers, and kindness to the brothers with love.
Certain people look upon religion as a type of enslavement. Religion, claim these people, puts shackles on one's desires for full living, pleasure, and happiness. Religion, they continue, makes you fearful, forces you into a rigid pattern of dos and don'ts which restricts and even suffocates your thrust toward full personality development. Whatever the causes may be for one's arriving at this view, such an attitude grossly misrepresents the nature of true religion.
Jesus has come to make us happy, not to make us participate in a religion which destroys the joy-dimension of human life. Jesus has come to increase our capacity for true self-fulfillment, not to restrict us with a religion which (while encouraging morbid self-enclosement), destroys possibilities for healthy self-expansion. Jesus has come to show us the way to true pleasure, not to present us with a religion which looks askance at such. Furthermore, this happiness and fulfillment which Jesus has come to give us is meant for this life as well as for eternal life. Christianity is a religion which gives a here-and-now happiness that develops into a future and eternal happiness. It satisfies our deepest desires to be fully alive. Furthermore, Christianity is a religion which unites pain and joy.
Christ's followers have looked upon His sufferings—which culminated in the agony of Calvary—and have been moved to a most unique kind of compassion; for the sufferings of Jesus are those of the completely innocent one, sufferings of an extremely kind, sensitive, and loving man. Here was a man who had done nothing but good, and yet, in the end He suffered rejection, betrayal, and denial.
Nevertheless, this classical figure of suffering and pathos who is Jesus is also the classical figure of hope. The crucified Jesus is the great symbol of hope because His suffering and death point beyond Calvary to His Resurrection. The suffering and pathos of Jesus opens up into hope-causing and joy-causing resurrection. The Jesus who exacts compassion from His followers is the same Jesus who fills them with resurrection joy, peace, and happiness. Jesus allows the Christian to see that suffering is not meant to be self-enclosed, but rather open-ended. Suffering is meant, when properly assimilated, to lead to greater life, to greater love, joy, and happiness.
The pain and the joy of life are inevitably linked together. Let us not try to separate them. On the one hand, let us not narrowly view life's suffering so that we fail to see it as a means, if properly encountered, to a fuller life. On the other hand, let us not so exclusively focus on the aspect of joy that we fail to remember that its presence in our life cannot be maintained and deepened unless we are willing to suffer with Jesus. Pain and joy—what God has joined together, let us not strive to separate.
Dying and rising were inseparable in Jesus' existence. Since we have been baptized into Christ's death-resurrection, as St. Paul tells us (Rom. 6:1-11), dying and rising are also inseparable in our own existence. The pain and the joy. In experiencing humanity, the Christian must assimilate both according to God's designs.
6

Faith, Hope, and Love

Faith, hope, and love are the three main Christian virtues. All the other virtues, important as they are, ultimately are at the service of faith, hope, and love. Let us look at this triad.

Today's Christian does not live in a time outstanding for its religious faith. Long ago, in the golden age of Christendom, a Christian faith-milieu was much more in evidence. Many with whom one lived and worked were co-believers. Today, a considerable part of our culture is not only non-Christian, but is also rife with secularism and hostile to religious belief. However, whatever may be the problems and difficulties relative to faith in this or any age, we know that God sustains the believer. God distributes graces commensurate with the difficulties which may confront the person of faith.

Faith gives us a new vision regarding God and all reality. Out of this vision, new relationships emerge. Faith relates us to God in a new way, and to the human family and the rest of creation.

Hope allows us to desire to live the vision of faith and to trust that God will assist us in living according to what faith proposes.

The exercise of hope does not always come easily. In times of greater difficulty or crisis, we realize this. Yet it is precisely at these times that we have a special need for hope. Despite the suffering, we must trust, even though the darkness seems to be enshrouding us.

God can accomplish great things through us if only we cooperate. What God accomplishes through us may, to a considerable extent, be hidden from others. True greatness, however, is still there. If we are to achieve truly great things—great in the eyes of God—we must trust. We must trust that God will lead us on to Christian maturity. We must trust that God will aid us in fulfilling our mission in life. Even at those times when we are painfully aware of how weak we are, we must trust that we can accomplish the task God sets before us. Actually, at those times during which we are especially experiencing our weakness, our optimism should grow. The more we realize our weakness, the more we should throw ourselves into the arms of Christ. We then are strong and secure in His strength. As long as we do not surrender to our weakness, we can glory in our helplessness so that the strength of Christ may support us. This was the attitude of St. Paul:

Therefore, I am content with weaknesses,
insults. . .persecutions, and constraints, for the
sake of Christ; for when I am weak, then I am
strong. (2 Cor. 12:10).

There is the virtue of faith, there is the virtue of hope, and, as the queen of all virtues, there is love. St. Paul reminds us, So faith, hope, love remain, these three; but the greatest of these is love. (Cor. 13:13).

We live successfully to the degree that we love. Jesus has told us this. Jesus has summarized His religion in terms of love. The Incarnation, indeed, is a work of love. In the Gospel of John we read,

For God so loved the world that he gave his
only Son, so that everyone who believes in him
might not perish but might have eternal life.
(Jn. 3:16).

These words remind us that our insight into the Christ-event deepens as we consider it in the light of love. Thus, we should think primarily in terms of love. Christ aids us in this endeavor by showing us His heart as symbol of God's overwhelming love for us. The heart of Christ also calls us to respond—by living our lives out of love for God and neighbor.

It is one thing to recognize the primacy of love. It is another thing to live it. Merely knowing that Christianity is summarized in terms of love is not enough. We must allow this truth to penetrate into our inner depths and to influence the way we think and act. We must consistently live according to love. We must not fall into the error which says that knowledge is virtue—that to know the good is necessarily to act accordingly. We know from painful experience that this is not true, that our activity can proceed in a direction opposite to what we know is right. We can think love, and yet act selfishly. We can know that we achieve real happiness only when we love properly, and yet we can choose to try to find happiness in other ways. We can know that our Christian personalities develop and expand through love of God and neighbor, yet at times we foolishly choose a process of self-enclosement—which is what actually occurs when we refuse to love.

Although we have sometimes failed to love as we should, we are not hopelessly depressed by this fact. We also know that many times we have cooperated with God, and we have loved. We know that in certain instances we have even surprised ourselves because of the height and the depth of our love.

Jesus, then, has come to teach us the primacy of love. He went to extraordinary lengths to impress us with this truth—that love is the chief element of Christianity. Spurred on by love's relentless drive, He embraced the horrors of Calvary's cross. He stretched out His arms on this cross, begging us not to miss His message of love, showing us that love is not measured, but lavish in its outpouring. We should have to plead guilty to an extreme insensitivity if the lesson He has so strikingly taught us makes little impression on the way we live. Let us live love, striving to live it with our entire beings, living it in full measure. This is what it means to be a committed Christian.

---

26

Shattered Dreams

To hear the words "shattered dreams" conjures up for us memories of major disappointments experienced along the ever-changing path of life. The disappointments can be those which wound the heart to its core. Disappointments of lesser proportions cause diminished pain, but still a kind which leaves its mark.

Shattered dreams come in all sorts of sizes and shapes. Some experience career disappointments even though they were privileged to enter the work of their dreams. Once professional success was achieved, however, a type of emptiness ensued and, with puzzlement, they asked themselves, "Is this all the satisfaction that comes from all my strivings? Is this all there is to professional success?"

Others experience shattered dreams because the careers they hoped for were always beyond their grasp. For this or that reason they were not able to give themselves completely to that work or occupation for which their hearts yearned. For example, one with outstanding talent as an artist can only give a bit of free time to expressing his or her genius because financial problems force the person to work full-time at another occupation. The heartbreak this occasions can only be known by one who has experienced this kind of frustration. An athlete on the verge of national stardom sustains a serious injury which necessitates abandonment of a cherished sport. These and similar examples leave one with the question: "What would it have been like?. . .I'll never know."

Personal relationships have yielded a plethora of shattered dreams. A person experiences crushing disappointment because he or she is rejected by a person dearly loved, a person who had been the focus of so many hopes and dreams. Another experiences pain because the hoped-for relationship with a particular person never eventualizes. In both cases tears flow copiously and the person has to strive mightily to convince oneself that life is still worth living.

The shattered dreams of parents regarding their children—this particular kind of pain makes up a considerable portion of life's sufferings. For example, a child with so much to live for is snatched away in sudden, unexpected, and tragic death. Or parents watch a child slip away from their influence and go the way of moral degradation despite the parents' best efforts to provide proper guidance. Other situations involve financial problems which prevent the desired education of exceptionally gifted children—an education the parents had so much hoped for.

There are many examples of shattered dreams. You know of other examples, ones which you have personally suffered, and others which you have seen others experience. All examples involve shattered hopes, whose remains are scattered about in the form of burnt-out ashes, the remnants of goals once eagerly sought, but which now no longer exist.

As Christians we too are subject to experiencing shattered dreams along with the rest of the human race. However, being exposed to various disappointments will not excessively disturb us if we rely on our Christian perspective. To be able to view disappointment in union with Christ is a great gift which all do not possess.

With the light afforded by this Christian perspective, we should ask ourselves whether the shattered dream was the result of seeking that which was outside of God's will. Sooner or later such a pursuit always causes a sense of emptiness, disappointment, disillusion. Disappointment can also result from the relative failure of doing that which we thought to be Spirit-inspired. The disappointment attached to such a venture, however, is permeated with a distinct sense of peace; for we realize we have done our reasonable best to follow God's lead. Our effort has failed in one sense; but in another sense, we have succeeded. We know that good has emanated from our conformity to God's will.

Individual shattered dreams do not destroy the all-pervading dream or hope of the Christian. We know that if we remain basically faithful to Christ, our dream, or hope, regarding our earthly destiny will be fulfilled. We further know that this dream or hope for a truly successful existence on this earth will open up to absolute fulfillment in eternal life. The committed Christian, then, can experience shattered dreams, but not a shattered life, for in them we can also recognize a challenge and a cross to carry. He has asked us to pick up our cross and follow Him.

---

31

Failure

One of the most painful sufferings we experience within the human condition is failure. The suffering is often exacerbated because we over-identify with the situation. We have linked too much of our being with the task, the relationship, or whatever else has prompted the failure. We tend to think, for example, that because we have failed in a particular work, we have failed as human beings. However, as much as we may have involved ourselves in the work, we are not the work itself. This is not to say we are always blameless. We may be considerably at fault regarding the failure. On the other hand, we may be basically without culpability. Whichever the case, we must strive not to over-identify with the situation. This only increases the pain, and needlessly so.

Besides over-identifying with failure, there are two other sufferings connected with it. There is very obviously the pain of the failure itself—even when we succeed in keeping it within proper perspective. There is also the pain of regrouping, of starting over, of getting on with the rest of life. This is not easy; but the pain involved is less than that which results from remaining mired in the failure, allowing it to rob us of some of the joy which is meant to be ours. There have been, are, and will be failures of various kinds and degrees in our lives. Let us accept the pain involved, learn from it, and continue the spiritual journey as wiser human beings.

---

32

Loneliness

Loneliness is an experience which afflicts every human being to one degree or other. No one escapes its suffering. Its pain can vary from being no more disturbing than that of other common sufferings, to a kind of affliction which penetrates to one's inner depths and makes one shed copious tears.

There are two basic kinds of loneliness: the one which need not be, and the one which is inevitable. The one which is avoidable emanates from our not relating to God and others as we should and can. The other, which exists even though we are doing our reasonable best to reach out to God and neighbor, is simply a part of the human condition. We experience an unavoidable loneliness because we are pilgrims. Until our pilgrimage ends in the attainment of eternal life, loneliness will always haunt us in various degrees. This must be, for the kind of loneliness which is inevitable results from our not yet being completely fulfilled. We attain perfect fulfillment only in eternal life. Until then we are, in part, lonely creatures.

If unnecessary loneliness results from our not relating properly to God and others, the remedy for lessening its suffering is obvious. We must strive to grow in our relationships with God and others. This is not going to completely remove loneliness, but it will lessen its pain and make it more bearable.

In coping with loneliness we experience ups and downs in the process, and even apparent contradictions. For example, in striving to deepen my relationship with a significant person—a step which basically lessens loneliness—I may still experience it on occasion because of prolonged physical separation from this person, or because of misunderstandings which temporarily seem to separate us to some extent. Regarding God, at times one can feel a particular loneliness precisely because one desires God so much; but for now, God seems hidden and difficult to contact. Some experience this suffering in a very penetrating fashion as they undergo the classical dark night of the spirit; others feel this loneliness in a less striking, but still very real, fashion.

Loneliness resulting from our efforts to relate properly to God and others is not debilitating as is that which emanates from our failure to go out to God and others as we should. This is so because the former constitutes part of the positive growth process.

The temptations which confront the human person in his or her struggle with loneliness are numerous and well known. Seeking alleviation from loneliness in alcohol and other drugs, in illegitimate sex, in excessive TV watching—these are a few of the escape routes well known to the modern world. Whatever the false escapes, they seem to be more prevalent in affluent cultures where money can buy practically any false comfort one could desire.

Here in the United States, the affluent American can easily buy all the non-authentic escapes from loneliness. These false routes beckon us so enticingly, promising a quick solution to our problem. As with anything non-authentic, however, embracing them as a cure for loneliness actually makes the problem more severe. So it is not surprising that a group of experts has concluded that loneliness is a serious problem in today's world, and nowhere does it seem to be greater than in the United States.

In coping with the problem of loneliness, we should look at the phenomenon realistically. This realistic view tells us that loneliness will always be with us to some degree. Dealing with the problem does not mean eradicating all loneliness. It means making sure that we are not causing ourselves unnecessary loneliness by failing to relate to God and others as we should. In other words, it means we should strive to love as we should. The person who is trying to love properly is not a person who escapes all loneliness. He or she is a person whose basic happiness, loneliness does not destroy.

---

36

Involvement with the World

The world belongs to Christ. Because of our love for Christ, we must be concerned with that which is His. It is the Christian's duty, therefore, to share responsibility for furthering the world's progress according to the designs of its Creator.

Our love for neighbor also prompts us to be concerned about the world. We and our neighbor do not live in a vacuum. We are affected by the type of world which surrounds us. If we say we love our neighbor—and ourselves—we must do our part in helping to make this a better world in which to live.

There are two radically different ways in which one can be involved with the world—the incorrect way and the proper way. The incorrect type of involvement has often been called secularism—secularism being that view of the world which has little or no role for God and religion. The correct manner of involvement is, of course, to follow the lead of God's will. God calls all of us to some engagement with the world. Contrary to what some think, the monk also must have a concern for the world according to his vocation. It is not a question of whether or not to be involved with life in the market place. We must rather ask, "How does God want me to be involved?"

We are involved in the world in either a more individualistic way or in a more communal manner. Both ways have their advantages.

The more individualistic way has the advantage of presenting us with a constant opportunity to help promote the world's goodness and to work against its evil aspect. This manner of involvement simply consists in our carrying our Christian principles into the market place. Whatever we do should spring forth from these principles. In this way, although we may not be attracting much notice, we are doing our share to help further develop the world's God-given goodness.

The other manner of involvement—the more communal way—brings us together in group activity. It is a situation of being united with others to promote this or that good. The advantage of group activity is twofold: it provides corporate support and encouragement, and it usually has greater impact than do mere individual efforts.

These two ways complement each other, so let us then use both. There is so much to be accomplished. Let us labor while there is still time. Jesus has left us these words:

We have to do the works of the one who sent
me while it is day. Night is coming when no
one can work. (Jn. 9:4).

---

38

Marriage

Marriage is an especially intimate union in which man and woman pledge to share each other's uniqueness in a way which is as awesome as it is beautiful. If a marriage is to be this awesomely beautiful union, the partners must be willing to love authentically. Authentic married love is much more than a warm, romantic glow. This may or may not be present at any given moment of married life, but what should be consistently present is a willingness to give of oneself to the other in order to promote her or his real good. This is true love. This is authentic love. This is the kind of love which prevails in the midst of myriad types of experiences.

All sorts of experiences will mark the path of a married couple as they walk the way of life in a togetherness formed by their mutual love. As their love for each other has initially created this unique togetherness, so will it likewise establish a unified and meaningful existence comprised of happenings and experiences spanning a rich and diversified spectrum of life within the human condition. Their love for each other thus provides a common basis for all kinds of experiences. Ecstatic happiness and deep anguish, such different experiences in one sense, are in another sense similar experiences for husband and wife united in love. The similarity arises because it is the same love which makes the two consistently, tenderly, and beautifully desire to share all experiences. Similiarity thus harmoniously blends with dissimilarity.

This extremely close, unifying love of man and wife is expressed in a most special manner through sexual intercourse. The sexual act is the outward, culminating sign of the partners' pledge to give themselves as completely as possible to each other. It is obvious then, that the sexual act is more satisfying in proportion to each partner's willingness to give of self as much as possible. The woman is usually the more perceptive in this since, compared to the man, it is generally more difficult for her to separate love and sex. If there are, consequently, significant problems with the marriage outside the times of intercourse, this negatively affects the woman's attitude toward the sex act itself. In other words, if her husband is seriously and consistently lacking in giving himself to her in the varied aspects of daily married existence, she intuitively sees the problem with the sexual side of the relationship. Intercourse, ideally the outward sign of the desire of both to give themselves as perfectly as possible to each other in all areas of married existence, certainly suffers when one or both are significantly lacking in this self-gift. A satisfactory sex life is therefore contingent upon the partners' readiness to work effectively at promoting the marriage's growth in all its other aspects. Among other things, this requires a willingness to engage in consistent and meaningful communication.

The marriage union gives a basic orientation to one's stance before God. Ideally, it is a question of approaching God in various ways with another person. This does not mean that a married person does not often approach God singularly. The undeniable truth, however, does remain—married people in many ways stand together before God in love, and together receive God's love.

Married people relate in love not only to God, but to each other, and to their children. They are also meant to relate in love to all others. Here again, marriage is a school of love. Husband and wife, in their mutual sharing of love, grow in their knowledge of how to give and receive love regarding those outside the family circle. They should thus realize their responsibility in contributing to the building of a better world. Man and wife, precisely because of their married love, have their own special responsibility to the secular world. Married love obviously is intimately connected with procreation—with the continuation of the human race, with life upon earth. Life in this world has a quantitative aspect—population numbers—and a qualitative aspect—the kind of life this population lives. There is a connection between the two, because the dignity of the human person requires that the quality of life be fundamentally sound. Consequently, in assuming responsibility to help populate the world, married people are also assuming responsibility to help make this world a more fitting place for their children and others to inhabit.

Our day is witnessing an unusually large number of unhappy and broken marriages. This is a tragedy. It is a tragedy that what is intended to be a uniquely beautiful union often never becomes that, or, once that, disintegrates, and there remain only the ashes of a burnt-out beauty that once was, but now is no more. We mourn these unhappy marriages. We thank God for the happy ones, the beautiful ones, ones which are a testimony to marriage's capacity come what may, to unite husband and wife in loving and tender concern. The world desperately needs it.

One common thread of advice from couples who have enjoyed many years of marriage is to pray together. Begin that way, and stick to it.

---

40

Friendship

One of the grandest forms of love we can show for someone is that of friendship. One of its beauties is that it is available to persons of all ages and all vocations. Each of us belongs to a particular state of life and gives and receive love according to the basic dictates of that special vocation. Single and married people in the world, religious, clergy—all of us are meant to love and be loved. Although many of the experiences of love are the same for all, others are indigenous to the particular state of life in question. For example, the celibate cleric is closed off from the experience peculiar to married love just as man and wife, in turn, are not exposed to the pains and joys of celibate love. However, one of the common experiences of love we can all share is that of friendship.

In the course of our daily lives we deal with many people, and some of these we meet rather regularly. We can thus establish amicable relationships with a number of people. We can develop many friends in the process. Deep friendship, however, friendship in the stricter sense of the word, is another matter. For various reasons it seems we establish this type of relationship with only a relatively small number of individuals. Whatever may be the degree and kind of friendship, it is a special gift of God. It indeed plays a treasured role in the Christian life. Christ Himself has shown us this; He, too, had friends, such as Lazarus, Martha, and Mary.

What is friendship, this special, close friendship? It is a mutual self-giving in love. Through this gift of self, friends desire to promote the good of each other. In one's love for a friend, he or she desires that this person becomes everything the friend can become according to God's designs. Through the love of friendship we give ourselves in a very direct, personal, and intimate manner to help achieve this growth.

The desire to give ourself to a friend in such an intimate fashion necessitates that the other also love in return with the love of friendship. You cannot give to another on such a deep level unless that person reciprocally and similarly loves and accepts you as well. The love of friendship, consequently, means a decision to love and be loved in a similar fashion on the part of both.

One of friendship's most distinctive qualities is this mutual acceptance which is given in complete freedom. Friends are radically free to desist loving each other with the love of friendship at any time; yet the fact that they continue to love is one of friendship's glories. Obviously, this is not to say that each and every friendship perenially endures. Sometimes one or both decide for various reasons to end the relationship. Nevertheless, ideal friendship is forever. This demonstrates the necessity of not entering into such a union unless sufficient thought and reflection concerning the responsibilities of friendship have preceded. Full, deep friendship is an important human relationship, and we should treat it in a commensurate fashion.

Friends look at life together and they live life together. This is why there must be a basic affinity between the two, a basic set of common values and ideals. Otherwise, the close union of friendship does not seem possible. On the other hand, this basic affinity does not exclude all differences. Each person in the friendship is unique and will give his or her individuality to the other with the inevitable differences which distinguish one person from another. These personal differences, properly blended into the unity of friendship, help to enrich the relationship, and each other.

Since friendship is a form of love, it is a life, and as with all life, it must be properly nourished; otherwise, it will wither and die. Each person must realize his or her responsibility in keeping friendship alive and healthy. Notice, we are not saying friends should be morbidly anxious regarding the future of their relationship. We are merely stating that friends, while resting secure in their mutual love, can never afford to take each other for granted.

Friendship is a school of love. Through it God intends to make us Christians who love more sincerely, more deeply, more selflessly.

Since friendship is a school of love, it is evident why it cannot be exclusive. A friendship which makes me less loving toward others needs examination. Although I have a special love for my friends, I cannot neglect a loving concern for all. Jealousy and neglect of duty emanating from a friendship are other indications that not all is right with the relationship. These and other possible negative characteristics should not overly surprise us when they appear, especially if they occur in a minor way. They are simply a sign that we are still learning to love, and that at times we fail to a lesser or greater degree. Negative characteristics of a serious nature, however, should either be eliminated or basically controlled. If there is a serious disorder which is not rectified, the course of action seems obvious. The friendship—or what was a friendship—should be terminated, for the relationship has ceased to be a fundamentally sound form of love.

As always though, we should stress the positive. We should be optimistic about our friendships, confident that with God's grace they will remain what they should be. Christ is the mediator of this grace; it is in His presence and in His assistance that our friendships are to be rooted. In this manner they will flourish and become more beneficial, more profound, and more beautiful.

---

44

Love and Communication

There is a close connection between the gift of self in love and the process of communication. God is the prime example of this. The Father gives Himself to us through the mediatorship of His Son Jesus and accompanying this gift is the divine process of communication. While on earth, Jesus, through word and action, continually revealed the Father, the Father's love for us, and the Father's plan for us. In other words, Jesus was explaining, He was communicating concerning God's gift of love. This process continues as Jesus continues to speak to us through the Spirit.

In our love relationships, there also must be appropriate communication. Between wife and husband, parents and children, friend and friend, fundamental communication must be present if the relationship is to be basically healthy and evolving. Love includes the willingness to communicate.

While communication through words is obviously very important, it is not the only form of communication. Our actions, our total demeanor, are also critical vehicles of communication. As a matter of fact, if one's actions do not basically correspond with one's verbal communication, the words themselves become strongly suspect.

Concerning verbal communication, it is not the quantity of words which is most important—although there is a basic adequacy required in this regard. More critical, though, is the quality of words. Two persons can talk over lengthy periods, but, substantively, not much is being communicated because of the rather superficial level of dialogue.

For true communication to exist between two persons, there is no need for one to speak as much as the other. One person may be of a more talkative nature, the other, of a more reticent bent. As long as each respects the temperament of the other, real communication takes place between such opposites.

The ability to communicate, rather paradoxically, requires the capacity not to speak. In other words, good communication requires that each person be a good listener. Each must sincerely want to hear what the other is saying. One must listen not with a defensive attitude, nor with an attitude which effectively says, "Hurry up so I can begin talking," but rather with a patience which realizes that love includes the desire to try to understand what the other is really feeling and trying to communicate.

Some think that real, ongoing communication in a relationship becomes more difficult over time. Actually, it seems a distinction should be made. In one sense, it seems communication becomes easier as time goes by. The persons know each other better as time progresses, and feel more at ease in the process of communication. On the other hand, if the relationship is truly growing, this means that a deeper love is being shared. Deeper love, in turn, demands a deeper level of communication. In this sense, it seems communication becomes more challenging over the months and years of the relationship.

What about arguments? Does true love, true communication exclude these? I think most would say "no." If the arguments are carried on with loving respect for the other, and with a positive purpose, then argumentation has a place in the ongoing communication process. If the arguments are frequent, however, it seems that something is awry in the relationship and that this very issue—having frequent arguments—should become matter for discussion.

It is not only our more intimate relationships which require proper communication. Our more general ones do also. Proper communication between employer and employee, between teacher and student, between doctor and patient—these are a few examples of the proper dialogue which should be present in our daily existence if needless frustration and other kinds of suffering are to be avoided.

We are followers of the Word made flesh. As the process of communication was so important to the love-mission of Jesus, likewise it is important to us who have been called by Him to aid in the continuation of His work upon earth. Communication has its painful moments, but the joy of a relationship will be wanting if it is not properly present.

(End of Excerpt from The Pain and the Joy)