Prayer for Grace for our Country
Dear Father united to Jesus in the Holy Sacrifice of the Mass, the Sacrifice of Calvary sacramentally made present, celebrated around the world, in the Holy Spirit. We offer up all we do united to the Mass. We unite in one mind and one heart as members of the mystical body of Christ, with Christ our head in the pure and holy Hearts of Jesus and Mary, through the powerful intercession of Mary with all the angels and saints and souls in purgatory, and we beg for the saving grace, for our country, the United States. Please help us. We further pray for unity to always do the will of God in love. We spread the Blood of Jesus on the leaders and people of the United States and cast the devil into hell. We consecrate our country to the Sacred Heart and Immaculate Heart and all our dioceses, and beg for an outpouring of the Holy Spirit. God help us. We pray for our families, the priests, the Church and the world. In the Name of Jesus please hear us, we pray. We pray for our president and leaders. We pray that we are united as one nation under God to work together in love as God wants.
March 3, 2019
8th Sunday of Ordinary Time
Sirach 27: 4-7

In a shaken sieve the rubbish is left behind, so too the defects of a person appear in speech. The kiln tests the work of the potter, the test of a person is in conversation. The orchard where the tree grows is judged by its fruit, similarly words betray what a person feels. Do not praise anyone who has not yet spoken, since this is where people are tested.
Psalm 92: 2-3, 13-15
to proclaim your faithful love at daybreak,
and your constancy all through the night,
on the lyre, the ten-stringed lyre,
to the murmur of the harp.

Planted in the house of Yahweh,
they will flourish in the courts of our God.

In old age they will still bear fruit,
will remain fresh and green,
to proclaim Yahweh's integrity;
my rock, in whom no fault can be found.
1 Corinthians 15: 54-58
And after this perishable nature has put on imperishability and this mortal nature has put on immortality, then will the words of scripture come true: Death is swallowed up in victory. Death, where is your victory? Death, where is your sting? The sting of death is sin, and the power of sin comes from the Law. Thank God, then, for giving us the victory through Jesus Christ our Lord.

So, my dear brothers, keep firm and immovable, always abounding in energy for the Lord's work, being sure that in the Lord none of your labours is wasted.
Luke 6: 39-45
He also told them a parable, 'Can one blind person guide another? Surely both will fall into a pit? Disciple is not superior to teacher; but fully trained disciple will be like teacher. Why do you observe the splinter in your brother's eye and never notice the great log in your own? How can you say to your brother, "Brother, let me take out that splinter in your eye," when you cannot see the great log in your own? Hypocrite! Take the log out of your own eye first, and then you will see clearly enough to take out the splinter in your brother's eye. 'There is no sound tree that produces rotten fruit, nor again a rotten tree that produces sound fruit. Every tree can be told by its own fruit: people do not pick figs from thorns, nor gather grapes from brambles. Good people draw what is good from the store of goodness in their hearts; bad people draw what is bad from the store of badness. For the words of the mouth flow out of what fills the heart.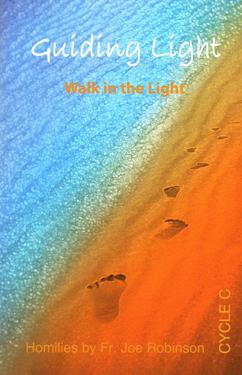 8th Sunday of Ordinary Time
February 26, 1995
HOMILY
– Toward the end of last week's gospel Jesus said "do not judge and you will not be judged." Judging others is what I wish to talk about today. I'm not going to talk about rash judgment or pre-judging (which is also called prejudice). These are always wrong because they are unfair. I'm not going to talk about judging the depth of a person's heart which only God can see. The kind of judgment I wish to talk about is like this: occasionally someone comes into confession and confesses they feel guilty for judging others. Then they go on to explain that they have a relative who does not try to get a job, but who always wants to borrow money. Or they have neighbors whose yard looks like a pigsty while the family has plenty of time to sit and watch TV all day. And they feel guilty for judging! They think "not judging" means we have to like everything everyone does or that we have to convince ourselves that everything everyone does is OK. Jesus himself didn't approve everything he saw people doing. There are obvious exceptions to Jesus' statement "do not judge". Some examples of such exceptions:
1) Parents have to correct their children by judging their behavior as good or bad. This is part of the problem with society today. Too many parents are either afraid or incapable of setting down rules and appropriate expectations for their children. Being good parents is not just providing a house, food and clothing. It involves also teaching their child standards of right and wrong.
2) Someone who is getting married has to make judgments about the person they might consider spending the rest of their life with. Such a person has to judge whether their intended spouse is considerate, honest, responsible, caring, able to compromise, etc. And in making such judgments a young person should not expect to change another a whole lot after they get married.
3) If a person is going to hire someone, whether for a business or as a baby sitter, they have to make judgments about the quality of the person they want working for them.
4) Our St. Vincent de Paul has to make judgments about how needy a person is who comes for help. We can't just pass out money to everyone who comes to the door. It would all be gone very quickly.
In these examples, it is obvious that not only is it acceptable to make judgments about others, sometimes we have the responsibility to do so. There is another example I would like to mention. In the gospel Jesus says "If your brother sins against you, go to him and show him his fault." (Mt 18,15) This is what is called fraternal correction. In this case love for another motivates us to make a judgment about our neighbor that could be to his or her benefit. Basically this means if we see a person headed in the wrong direction, and we have the opportunity to guide them right, we should do so. But this can be very delicate. We are likely to be told to mind our own business. Or someone might say "what right do you have to tell me what I should do?" And yet at the same time should we not say anything for fear of being rebuffed? Can we live with our conscience when we know we could have said something to someone to help them and we didn't? I think this is where today's gospel comes in. Jesus asks whether the blind can lead the blind. They can, but with disastrous results. We are not going to help anyone else if we are blind ourselves: that is if we are blind to our own faults or excuse ourselves for the same faults we condemn in others. The same meaning is contained in the example of the person with the plank in their eye trying to take a splinter out of someone
else's eye. This is an example of hyperbole. Jesus is exaggerating to get his point across. We have all seen examples of people with gross faults condemning someone with much lesser flaws. Does this mean we have to be perfect to make judgments on another or to offer fraternal correction? Well if we have to wait until we are perfect, then we might as well let everyone do whatever they want and just let society fall apart. None of us are perfect that I know of. If anyone here is, let me know and we will put up a statue of you in the front of church here. But we do have to get our own life in order if we are going to be suggesting to other people what they should do. Otherwise, we will make a fool of ourselves. And this leads to our last example of someone we need to judge and correct - ourselves. We need to judge ourselves, not in a negative way, but in a positive, constructive way.
And this is where Lent comes in. It begins this Wednesday. I am not going to say anything about Lent right now except don't miss this opportunity to become a better person. If you have judged that you are good enough and you do not need to do anything special for Lent, then perhaps you would be good enough to offer some extra prayers or do some extra sacrifice for someone who might need it. You might be surprised to find it circling back to yourself.
March 3, 2004
Dear Mary, we're going to miss your face
so much, but what is so sad
is for 7 years a good part of the world
missed Mary's appearance totally.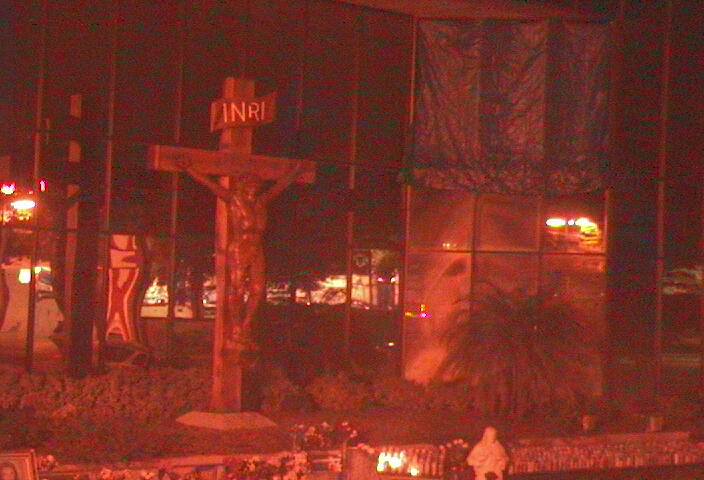 March 3, 2004
| | | |
| --- | --- | --- |
| Memories | Mary's face was shot out with little pellets. | |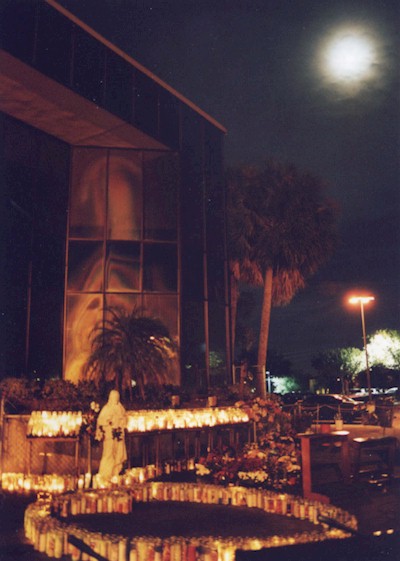 January 5, 2004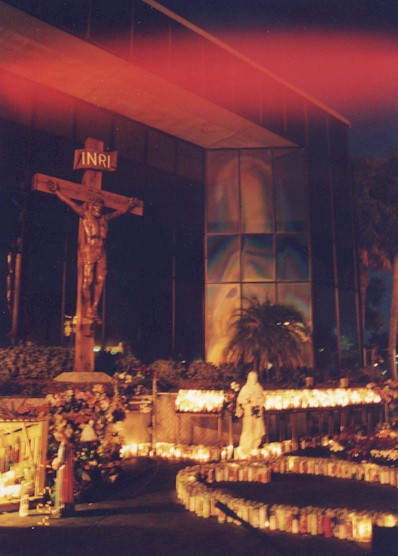 January 5, 2004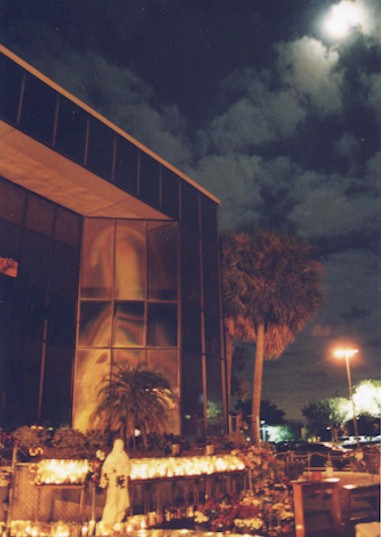 January 5, 2004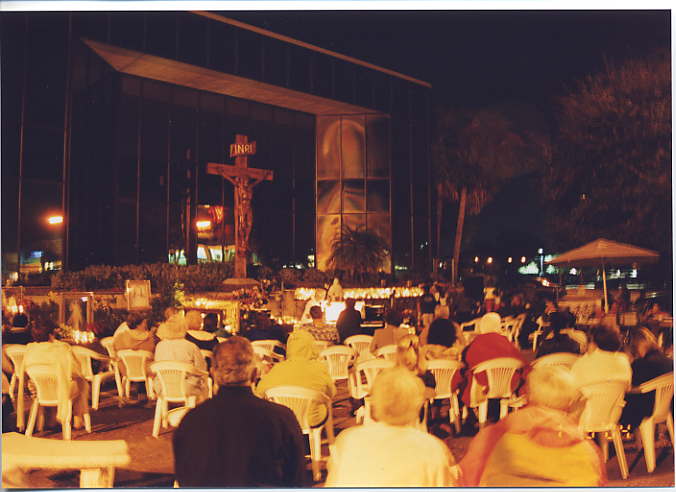 January 5, 2004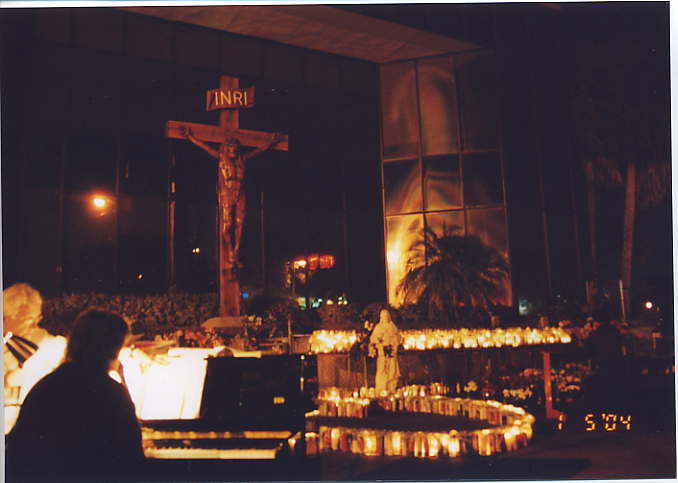 January 5, 2004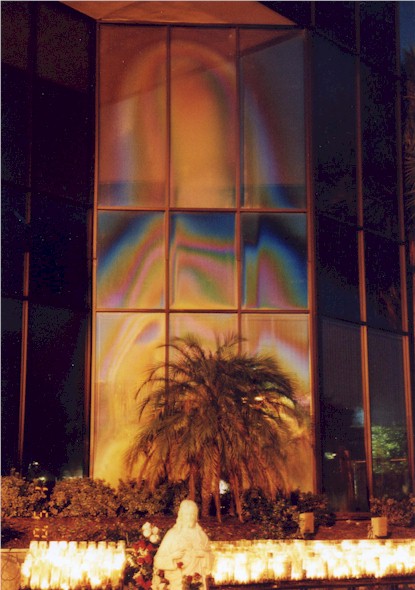 January 5, 2004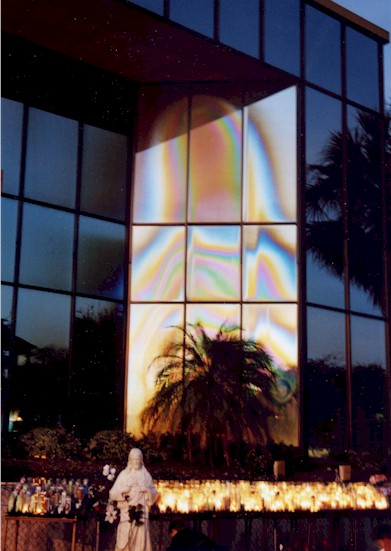 January 5, 2004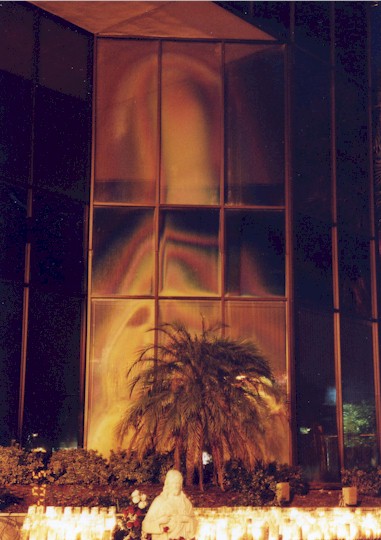 January 5, 2004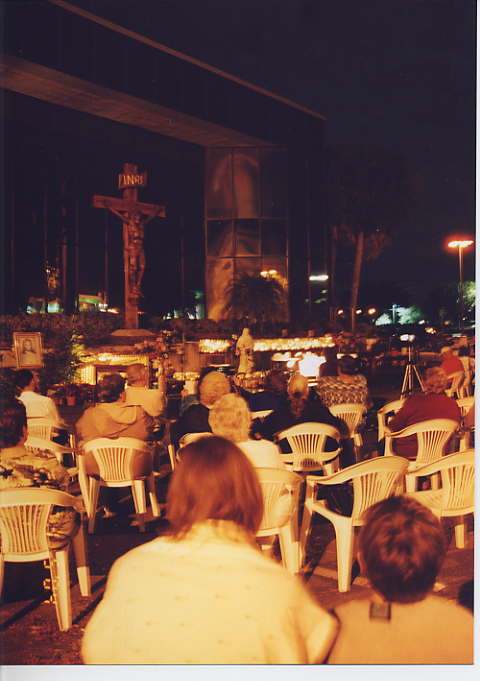 January 5, 2004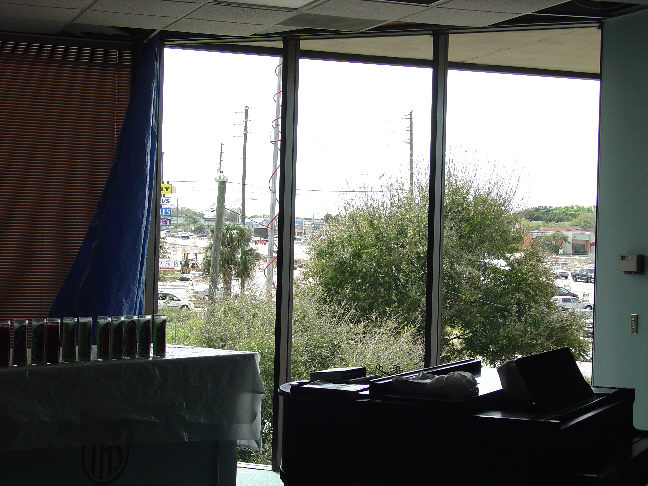 March 2, 2004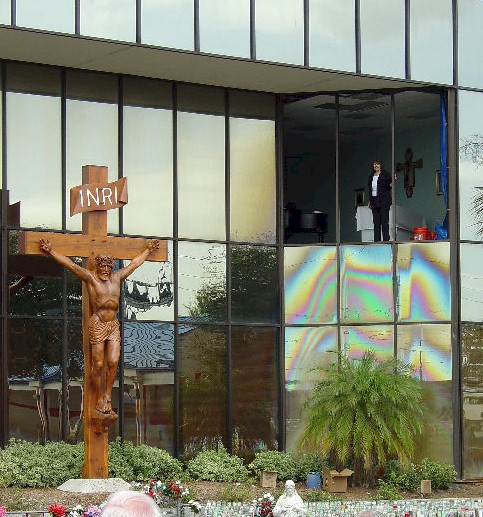 March 2, 2004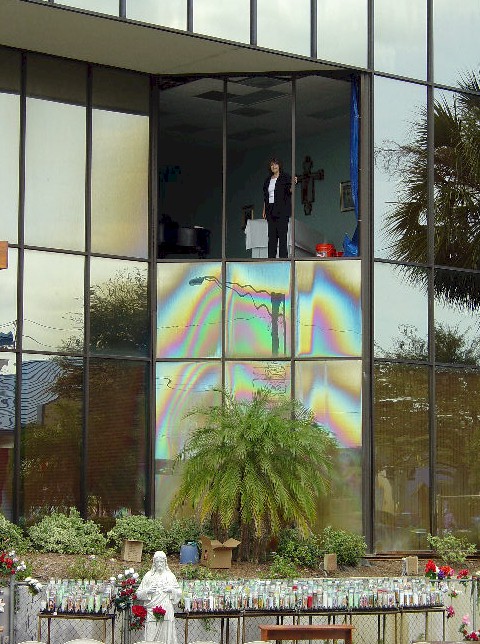 March 2, 2004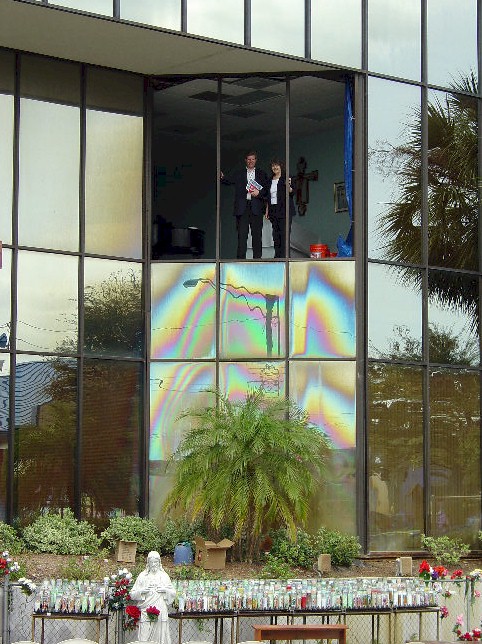 March 2, 2004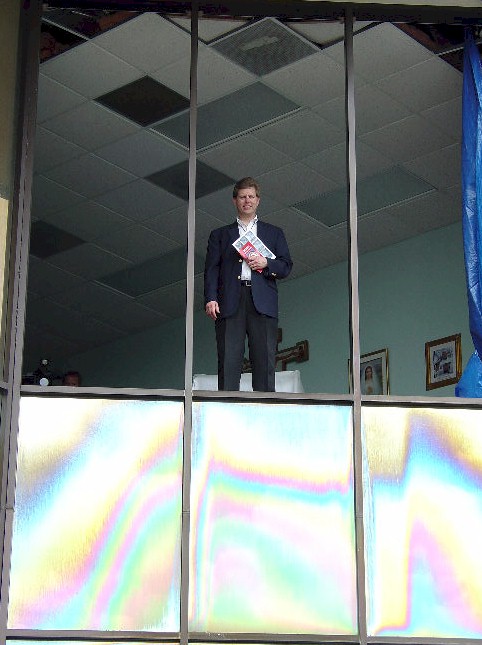 March 2, 2004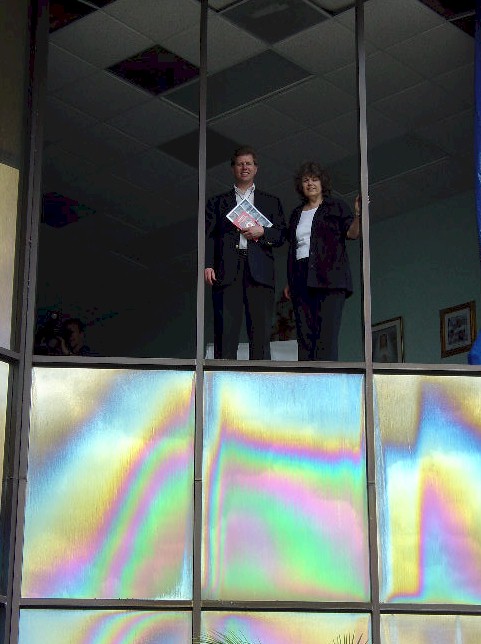 March 2, 2004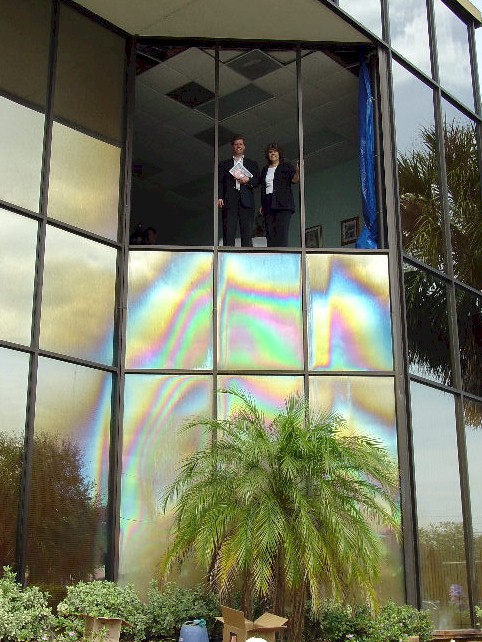 March 2, 2004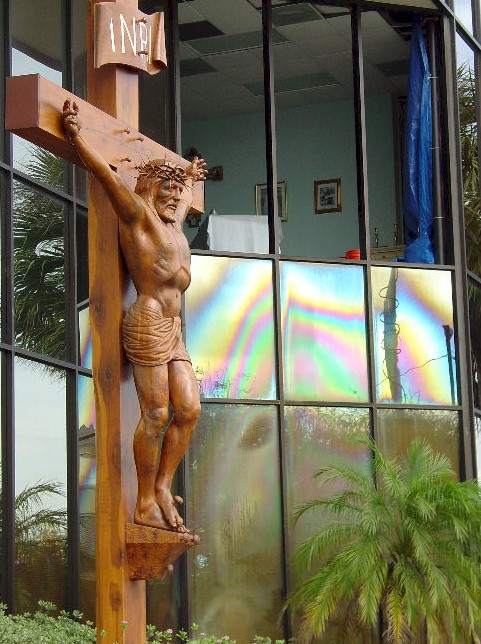 March 2, 2004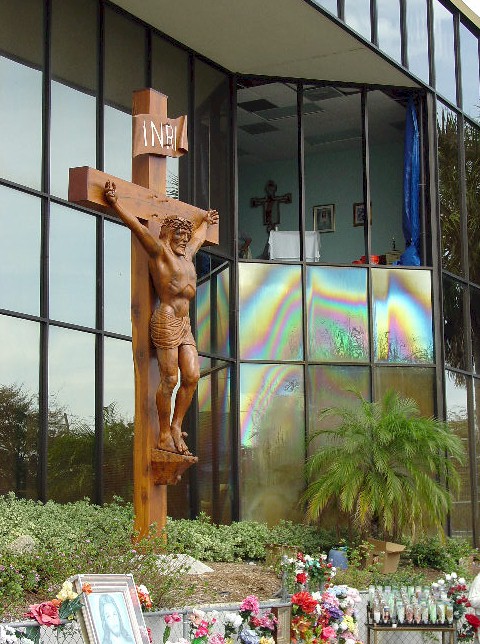 March 2, 2004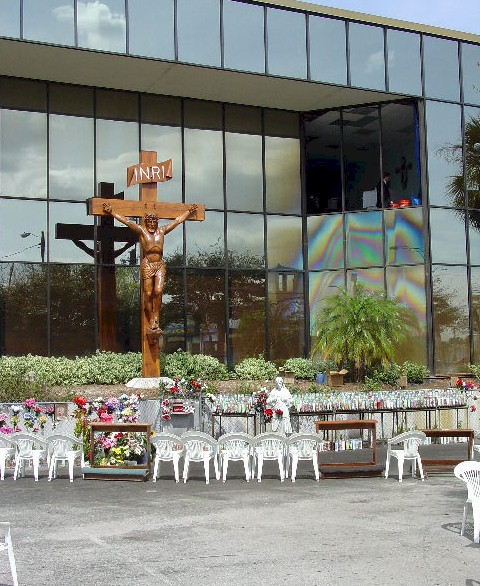 March 2, 2004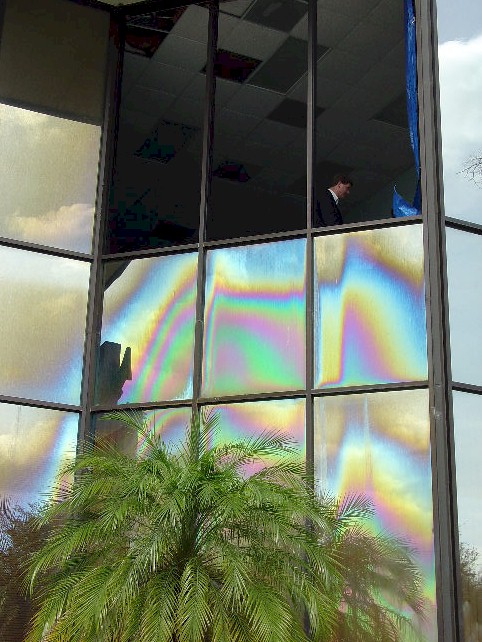 March 2, 2004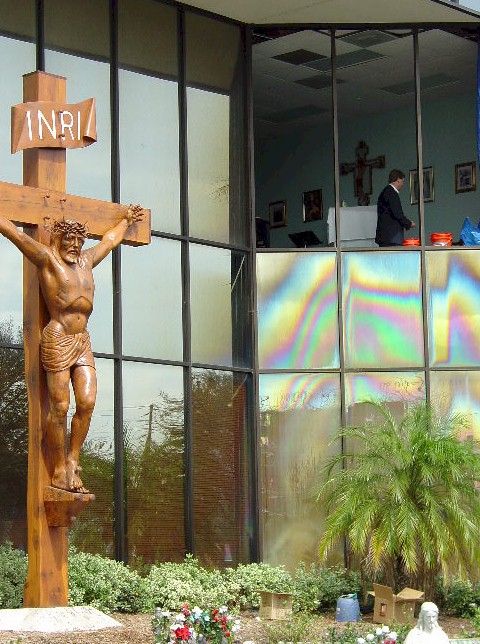 March 2, 2004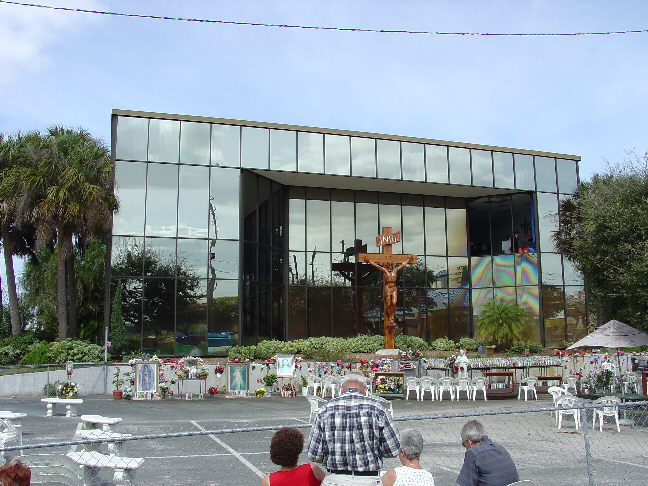 March 2, 2004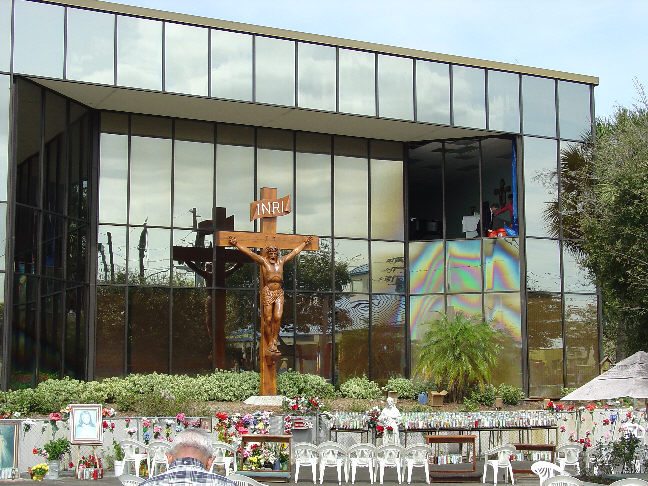 March 2, 2004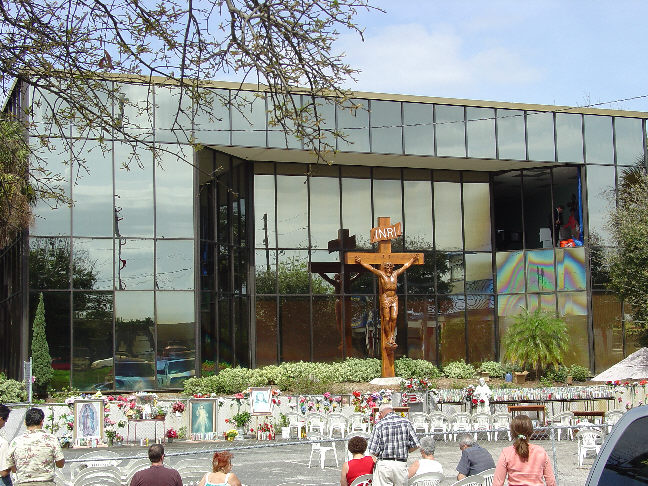 March 2, 2004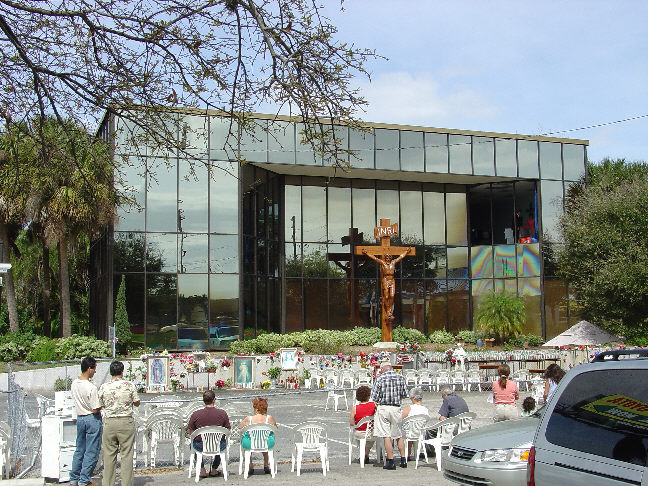 March 2, 2004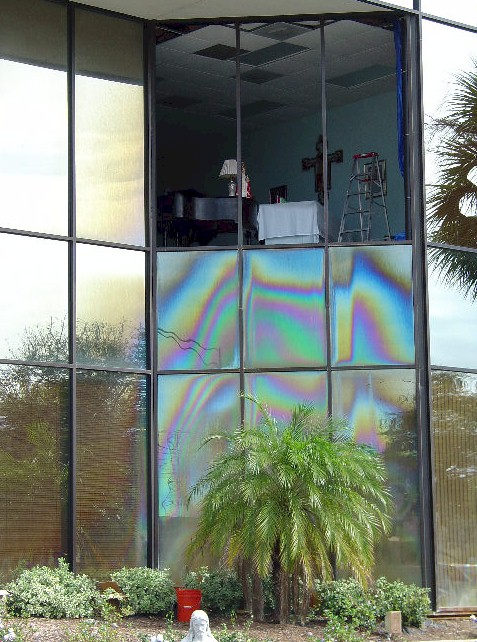 March 2, 2004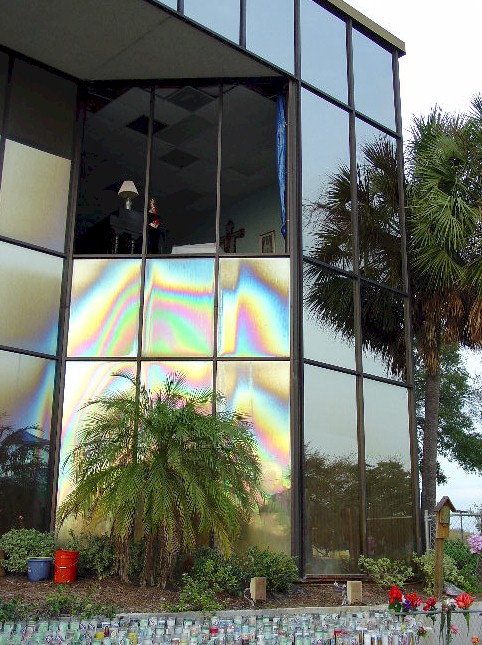 March 2, 2004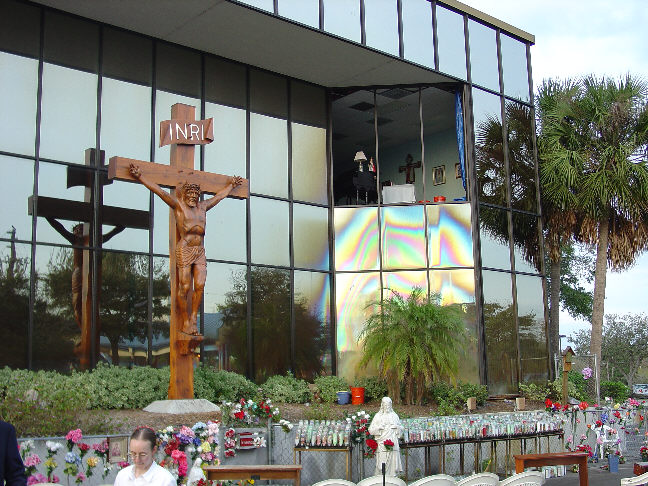 March 2, 2004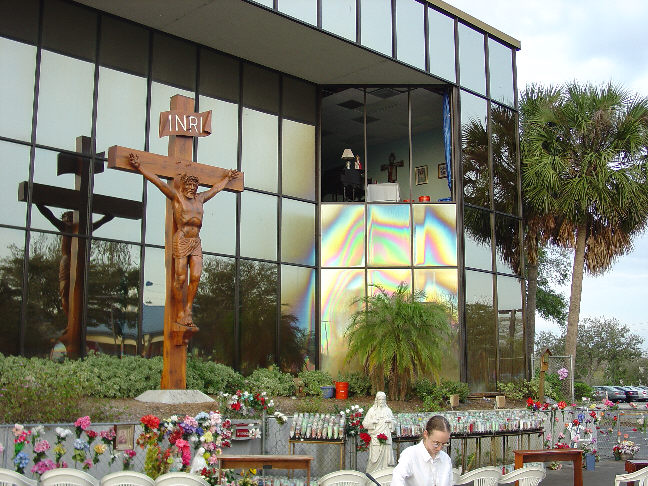 March 2, 2004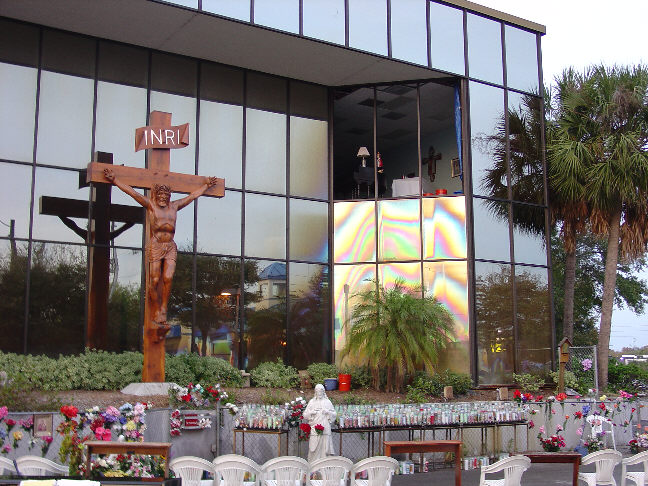 March 2, 2004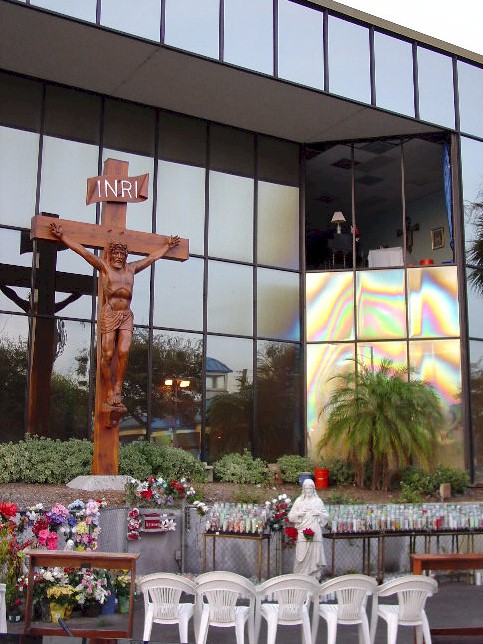 March 2, 2004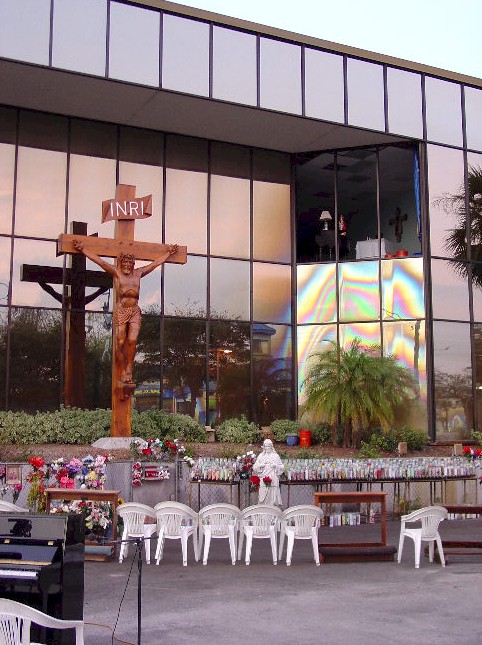 March 2, 2004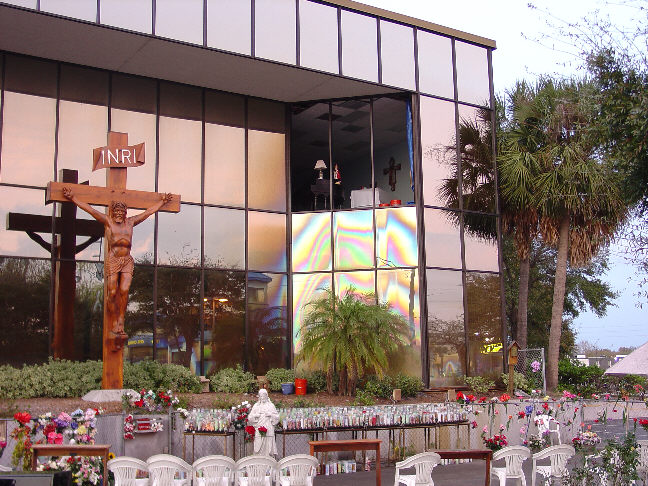 March 2, 2004
More picture will follow tomorrow
March 3, 2004
Messenger: Mary appeared to me from
July 5, 1994 to September 5, 1995
every day for 14 months.
Jesus told me to get this book of rosary
meditations out by Christmas
December 1996.
This book was sent to the publisher with
the rainbow and the publisher
said it would be sent December 17, 1996.
(This book contains the rosary messages
and meditations given by Mary and Jesus
during these apparitions)
Here is the shipping label -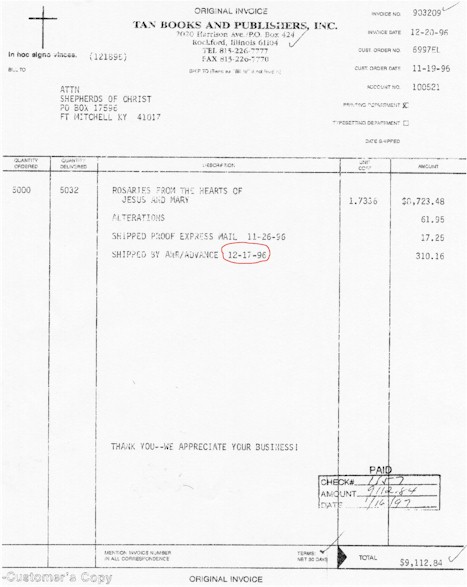 left the publisher
December 17, 1996


Mary appeared
December 17, 1996
in rainbow color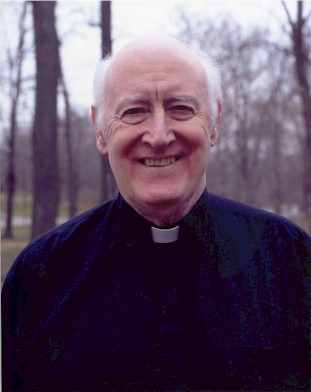 Founder of the Shepherds of Christ Movement
Father Edward Carter S.J. Doctorate of Theology
(author of 18 books and the Priestly Newsletter
which had a regular circulation to 75,000
priests in the world in English and Spanish)
Excerpt from Father Carter's talk
February 13, 1997
And by the way when I'm talking and as long as I'm talking about Florida I might read you part of that message of Our Lady. You have read it, no doubt if you'd gotten a copy of the picture with the message on the back. But for my own purposes I want to read that here and now. So Mary tells us, this is the message which Rita received on December the 19th:

Mary speaks: My dear children, I give to you, my Son, Jesus, born in a stable in Bethlehem on Christmas morn'. He is the Almighty God the Light of the world.

I appear to you, my children on a bank in Florida. You have made money your god! Do you know how cold are your hearts? You turn away from my Son, Jesus for your money. Your money is your god.

I am Mary, your Mother. I do not appear as I once appeared to you.

When Rita got that message and when she gave it to me, both of us for a number of days thought that her number of apparitions was simply decreasing, but we both came to the conclusion; well Rita came to the conclusion and I followed after her, in agreement with her conclusion, Mary says, "I do not appear as I once appeared to you." She was saying apparently that, "I'm appearing to you in this new way, where the whole world can see me."

So many others' apparition sites have had their believers of course, but many, many people throughout the world have doubted all this talk about the various apparition sites of Mary. She says, "I do not appear as I once appeared to you." She is appearing on a bank for the whole world to see.

Mary continues:

"I am asking you today to circulate my message given on a tape on the Feast of Our Lady of Guadalupe, December 12, 1996. Please circulate this tape now."

That's one of the main things our apostles down in Florida are doing, handing out the tapes with this message.

Mary continues:

"Please circulate this tape now. Give it to as many people as you can. I am Mary, your Mother. Please circulate my Rosary Book."

She's referring to a book which Shepherds of Christ Publications came out right around Christmas time. Hopefully all of you have received it in the mail, Rosaries from the Hearts of Jesus and Mary, as given to Rita. Now here's the point I want to make here and now. Notice how she links up the apparition site with the circulation of her Rosary Book, and we are circulating the book there. But to me, there's a very great phenomenon connected with the colors on the window, bank windows and the Rosary Book. And Rita herself pointed this out to me. Now this cover on this book-it was designed by Hal K. weeks and even months before the apparition of Our Lady on the bank in Florida. When did you start to design that Hal? (question asked to Harold K.) Almost, two years ago. And the colors were already selected months ago, right? Well if you'll take the picture of the bank of the apparition of the bank on Florida, and this Rosary Book, you will notice that the colors are the same. To me, that's a miraculous confirmation of the fact that Our Lady is connecting the apparition site on the bank in Florida with the Shepherds of Christ Ministries in a special way with the rosaries. It's just phenomenal. You can check the colors out one by one. They're a little bit brighter on the book, but because of the photography involved I think you can see how they wouldn't be quite as bright on this. But check out the colors. They're the same on the Rosary Book and on this. And these colors, as I say, were picked by Hal months and months before the apparition. You can take it for what you want, but for me it's a miraculous confirmation of this message, that Our Lady chose those same colors which are on the front of her Rosary Book, to show the same colors relative to her apparition there on the bank in Florida.

Therefore, our Florida apostles are one of the many examples I could point out to you of how people in the Movement are more and more taking up the challenge, the invitation of Jesus and Mary to spread this Movement throughout the world. They have chosen the Shepherds of Christ Movement as a great instrument to help bring about the Fatima message. How privileged we are to be part of it, to be called to it. I believe, I've told you this before, at least some of you have heard me, I think this Movement is one of the greatest in the history of the Church. And I think history itself will bear that out. So how precious a gift each of us has been given by Our Lord in calling us to be members of this Movement.

Therefore, a very important aspect of our consecration to Their Hearts is to be apostles, to help spread all the ministries. Another aspect of our consecration is the idea of union. I think we're all very well aware how the consecration unites us to the Hearts of Jesus and Mary, and through Them to the Father and the Holy Spirit. But perhaps we don't think often enough of that how it unites us with one another, in the Movement, in the Church, throughout the whole world. You cannot grow in union with God, Father, Son and Holy Spirit and Mary, without growing in union with all your neighbors. And this is the tough part. It's relatively easy to love Father, Son and Holy Spirit and Mary, isn't it? Three Persons in One God infinitely perfect and Mary a human person, perfect, free from all sin. It's easy to love the Triune Persons and Mary, relatively speaking. But it's not all that easy to love each other all the time, isn't it? And yet that's what Jesus calls us to. Jesus literally died for each and every person. And no matter how unattractive a person is in their behavior, Jesus still died for that person. If He loved that person enough to die for that person, then certainly we have to love them, him or her, and especially within the Movement.

end of excerpt
March 3, 2004 message continues

Messenger: Here is a sample of the rosary
meditations and messages I
received March 1, 1995 from
the Red Rosary Book.

This rosary was received live at Our Lady of the Holy Spirit Center (the old seminary) where Mary appeared to me daily.
March 1, 1995 Rosary
(received live and transcribed from a tape)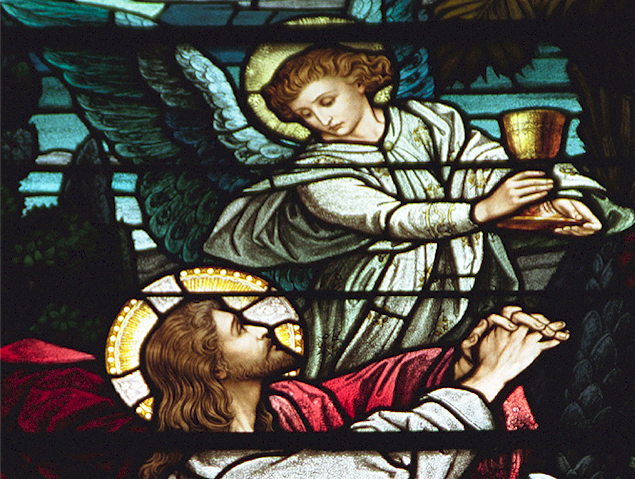 The Agony in the Garden

Jesus: Surrender! Surrender to Me as I surrendered to the Father in the Garden. I said to My Father, "Nevertheless, let your will be done, not mine." (Lk 22:42) As you are in your hearts troubled and anxious, I am there ever present to comfort you, to give you My peace. Let go, let go, let go! I am forever with you at every second, at every moment. I do not go! I forever remain in your hearts. Let go! As you live, so do I live in you!

Jesus: I knelt in the Garden in such agony! I saw before Me all that I would undergo, all the beatings, all the scourging. I knew the Father's Will. I complied with the Father's Will as I ask you to surrender totally to Me. Let go! Focus on Me! Do not focus on those things that are parading in your mind, but release your mind to the mysteries of heaven, to My Passion and My death!

Jesus: And My faithful ones, who came to comfort Me-they slept!

Jesus: Indifference! Ingratitude! Neglect! I saw before Me all those who would neglect Me and treat Me with indifference. How My Heart ached with pain to see the souls that I loved so dearly filled with such nonsense!

Jesus: My Heart, an endless furnace of divine love, of divine life, beating and burning for love of precious souls and they do not see! They have closed their eyes and plugged up their ears and I wait and long to be ever close to them! Spread My love throughout this world. You will be met with resistance on all sides. But I beg you this day to listen to My cry. I cry out to you to stand firm. I am calling you to stand up against the world.

Jesus: As one crying in the wilderness, prepare the way of the Lord. I cry out to you to go to the highways and byways. Shout from the rooftops that I am Lord and that I am in your midst this day. Prepare Me a way, for I am coming!

Jesus: I saw before Me all the souls that would be lost to eternal damnation despite all My sufferings. I call out to you this day to harken to My pleading to be about this world spreading My love. There are souls that are at stake, depending upon what you do with your lives. Will you spread My love?...
March 3, 2004 message continues

Messenger: Mary's head on the image window
was "knocked off" on March 1,
2004 - 9 years later.
Here is Mary's message she wants
with the image window.
I received it after she appeared
everyday for 14 months.
Mary's Message


from the Rosary of August 27, 1996
Mary speaks: I stood beneath the cross of my Son, and my Heart was in such pain for I saw Him before my eyes. I saw Him covered with blood. I saw Him die. My Heart, my children, my Heart to watch my Son, but my Heart, my Heart, how I suffered for my little children of the world that give in to this world and give up the love of my Son. O my little children of light, I give you this message. Carry this light into the darkness for your Mother Mary, for I stood beneath the cross and I cried. I cried for the little ones. I cried for the young ones, the ones that do not care and will lose their souls. How do I make you see for you will not listen to me? What can I do? I come. I appear. I beg. I plead. I give you these gifts from my Son, and you reject me. I do not deliver messages very often anymore for I have been ignored. The message is the same. You do not read the messages I have given to you. Please help me. Help the little children. I appear. I appear. I appear, and I am ignored. I stood beneath the cross, and I cried. I cried, and my Heart was in such anguish for my little children, for I am searching for them this day as I searched for the Child Jesus. Please, please help me. I cannot hold back the hand of my Son any longer. I am Mary, your Mother. I ask you to help my children. You are my children of light.

end of Mary's Message, August 27, 1996
March 3, 2004 message continues
Messenger: Her request and Jesus' request
December 12, 1996 was I put
this message recorded live
as I received it on a tape
with the label -
"Jesus and Mary requested that
this tape be made and circulated
on December 12, 1996, the Feast
of Our Lady of Guadalupe."
It was made immediately and on
December 17, 1996 this book
left the publisher and
Mary appeared on the building
in rainbow color.
I was told to make the tape 5 days
before Mary appeared on the building.
(Mary's Message tape is available)
Before Christmas 1996 we mailed
the tape and Red Rosary Book to
all our members as instructed
by Our Lord.

March 3, 1997 - 7 Years Ago
All attempts to circulate materials Jesus
and Mary had given to me on the Falmouth Farm
(after Their instruction to do so) were strongly
blocked.
After repeated apparitions to me
of the Virgin Mary and requests
to put out the Rosary
Meditations received from
Jesus and Mary on the Falmouth
Farm and get the rosary meditations
and rosaries to school children
going to the Falmouth Farm,
and being instructed to circulate also the
prayer manual and Blue Books on the
Falmouth Farm, the city of

Falmouth Flooded

March 3, 1997 -

7 years ago today

7 years ago today
That morning I received this
message before I knew of
the flood. I gave Father Carter
the message that morning
March 3, 1997.
March 3, 1997 Message
Day Falmouth Flooded Early Morning
Jesus speaks: Oh, the waters will run and the earth will shake and you will suffer and suffer and work your own plan and say it happened before, it is not a sign from God - it is a phenomenon, a happening, no reason to take notice.

And I will shake you on your tree and you will fall to the ground as rotten fruit and all that will remain will be the fruit of heaven.
April 10, 1997
Message from God the Father:

You must release this information. …I am asking the faithful to begin prayer chapters, centered in consecration, and praying the rosary… Lastly, but of major importance to the renewal of the Church and the world, I am asking that the Priestly Newsletter be made available in abundance, that the apostles spread these newsletters to the priests and encourage them to read them. I am asking the Priestly Newsletter Book be published as soon as possible and circulated to all priests and bishops in the United States. I am the Father. You must pray as never before and join in one mind and one heart...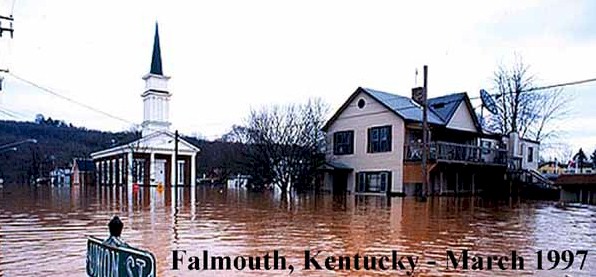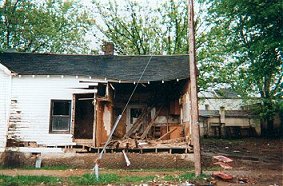 March 3, 2004 message continues
Messenger: After repeated messages from Jesus to circulate the
Blue Books from Our Lady of the
Holy Spirit Center (the old seminary)
and to live by the messages of the Blue Books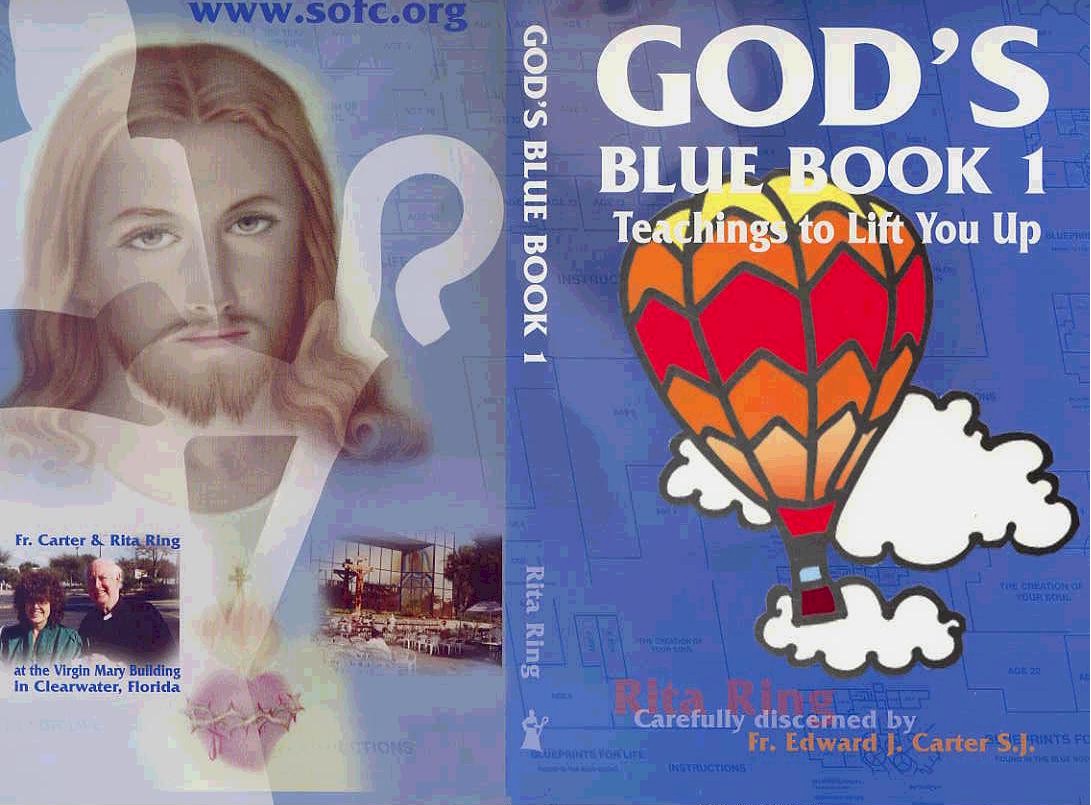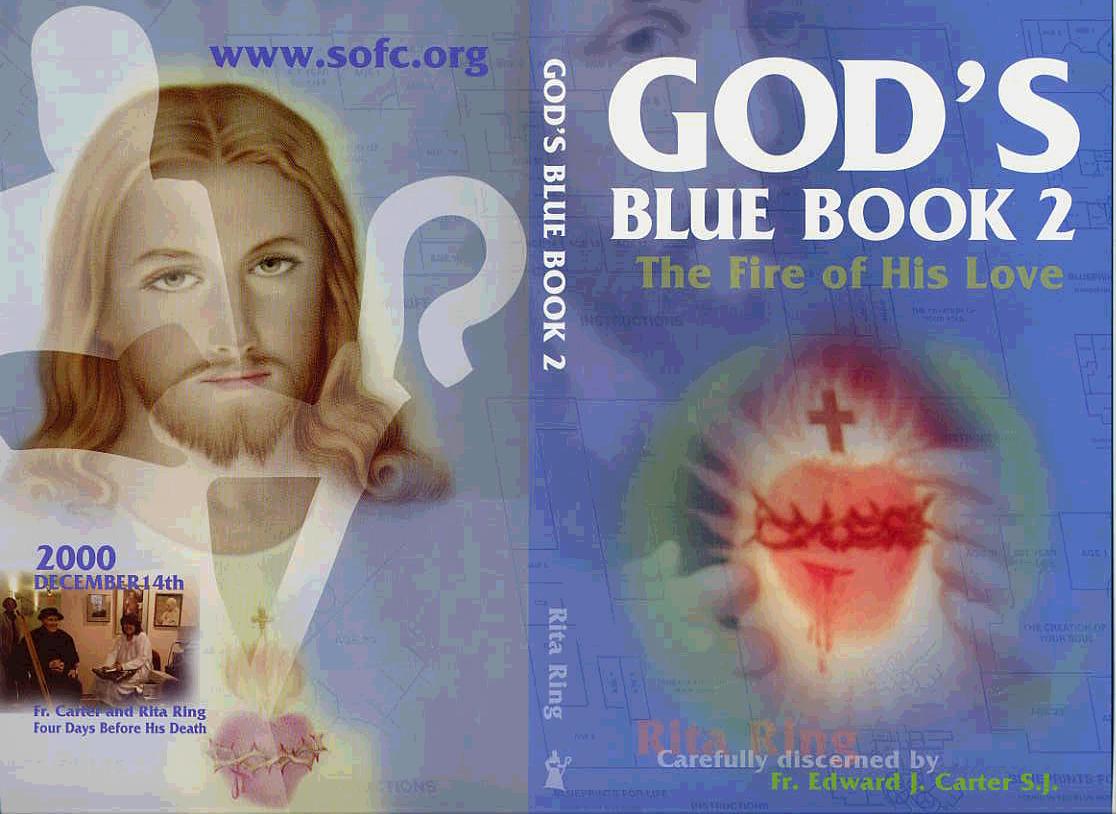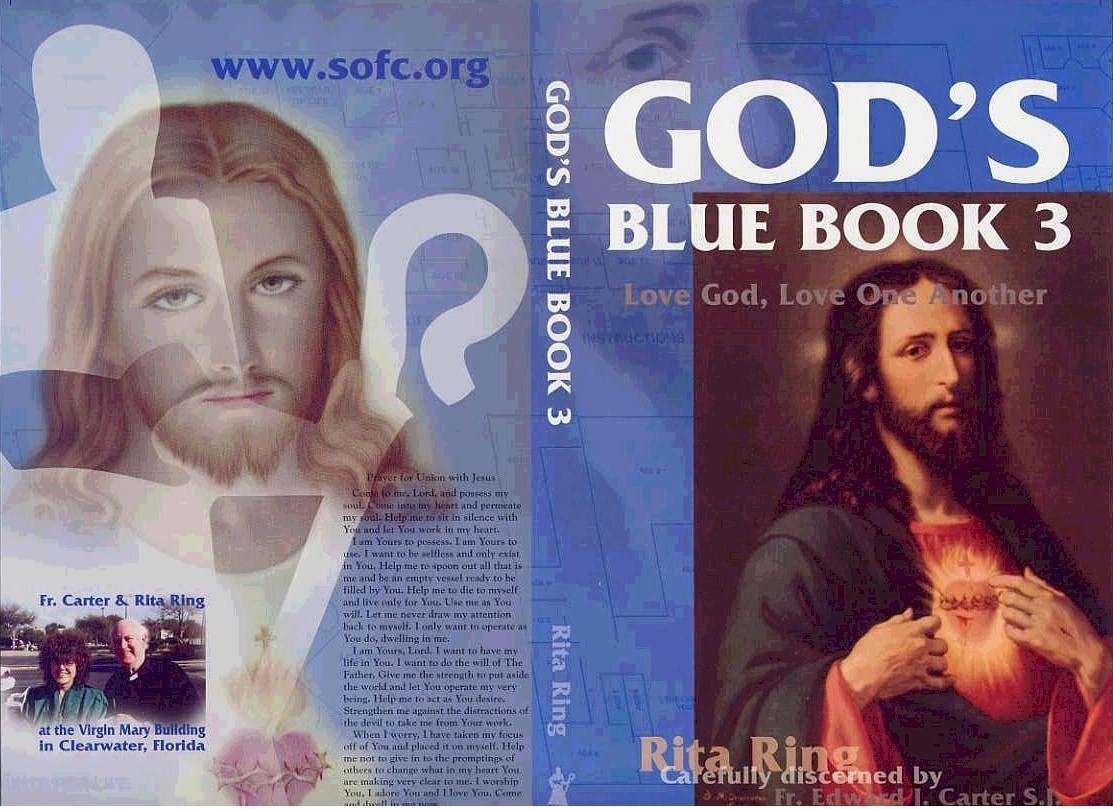 The corner fell off
an old seminary where Mary appeared to me
July 5, 1994 - September 5, 1995.
It was March 22, 1994 -
Lucia's birthday the main
Fatima visionary.
On March 7, 1994 - I received the
following message concerning
the fact
"no one was listening to Our Lord
about spreading the messages of
His love in God's Blue Book"
Excerpt from March 7, 1994

Jesus speaks: "Busy yourself for your day is at hand and you will know My might! I will shake the earth and you will listen Then you will listen, but where were you when I gave you forewarning? You are waiting for the big boom. I am calling you now to listen to Me here....Time is so short. One moment and it is up in smoke....What do I do to shake you? I, in My might can rock you off your rockers. I try to prepare you but you are too busy. Hold on to your last piece of dust and watch it go up in your face! I am Jesus Christ, Son of God and I write to you and who pays heed here? This should tell you of your attachments to worldly things. You want proof. You look the other way. I am God and you contain the mighty medicine for this sick world. I am Jesus, the Son of God. Do you listen?"

end of excerpt from March 7, 1994
On March 13, 1994
I received the following message
excerpt from March 13, 1994

Jesus speaks: "You must tell them how I wait for them. I wait. I want them to come and I will give them such love! Tell them, Rita, tell them! Your discontent is from what emotions I give you and you keep them inside. I want all to know Me and My love. I am crying out to you, little one. Tell them, tell them. Do not waste any time. I am crying out for you to spread this message. I want you to tell all of My love and how I am waiting. Emotion, Emotion! I am crying out to you in your heart. I long for their love. I died for them. How do I make them know if you, to whom I speak, hold back? I want you to get the messages out child.
Ready yourself for a big boom. No one is listening. I am crying out to you. Prepare your brothers, they are in darkness....I am the Sacred Heart of Jesus. I am on fire for love of them. I am Jesus Christ, Son of the Living God. I call you to this state of urgency. Move your friends by this urgent letter. There is no more time to waste. I call you all here to deliver this message personally to you. I am Jesus. I am begging each of you to spread My message. Tell them of My ardent love. In each moment you waste, souls will be lost."

end of excerpts from March 1994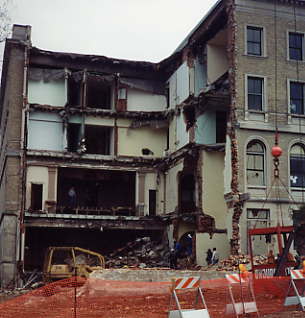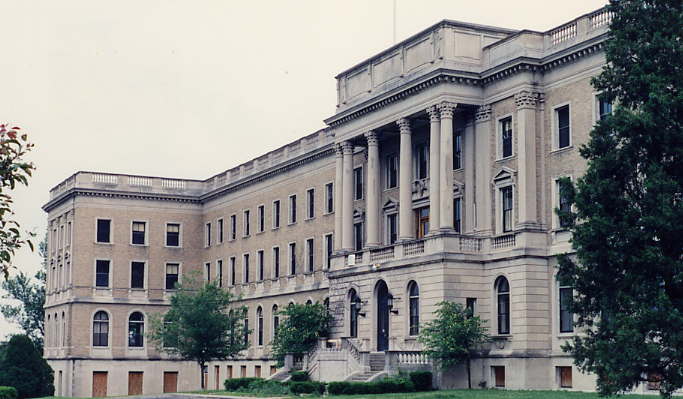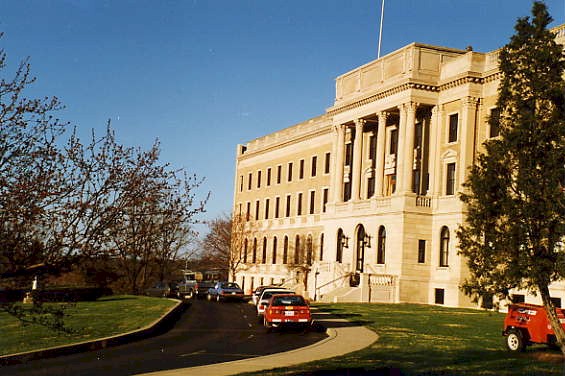 Mary appeared in this building.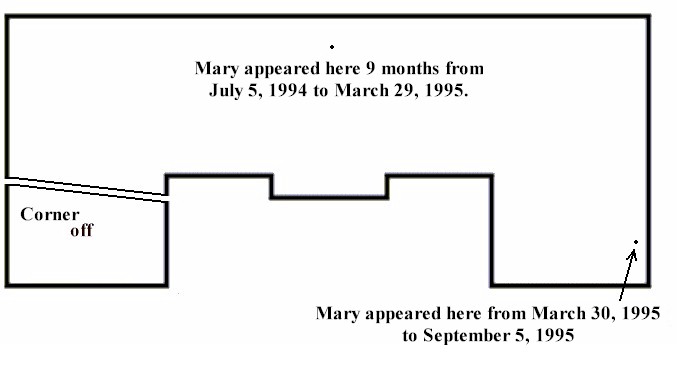 | | | |
| --- | --- | --- |
| Our Lady of the Holy Spirit Center | | Mary's Building in Florida |
Given
October 29, 2016
R. Please spread blessed holy water
(You can also mix Jesus and Mary water
with your blessed Holy Water if you have it.)
in your yard, around your house,
in the state you live in.
And ask God to bless your state
Ask God to bless the United States
Pray all prayers through the intercession of
Our Lady of CLEAR – WATER.
Ask the Lady of CLEAR - WATER
to help with the blessed water.
Mary has appeared to me for 22 years,
in Ohio and Florida.