Prayer for Grace for our Country
Dear Father united to Jesus in the Holy Sacrifice of the Mass, the Sacrifice of Calvary sacramentally made present, celebrated around the world, in the Holy Spirit. We offer up all we do united to the Mass. We unite in one mind and one heart as members of the mystical body of Christ, with Christ our head in the pure and holy Hearts of Jesus and Mary, through the powerful intercession of Mary with all the angels and saints and souls in purgatory, and we beg for the saving grace, for our country, the United States. Please help us. We further pray for unity to always do the will of God in love. We spread the Blood of Jesus on the leaders and people of the United States and cast the devil into hell. We consecrate our country to the Sacred Heart and Immaculate Heart and all our dioceses, and beg for an outpouring of the Holy Spirit. God help us. We pray for our families, the priests, the Church and the world. In the Name of Jesus please hear us, we pray. We pray for our president and leaders. We pray that we are united as one nation under God to work together in love as God wants.
March 31, 2019
R. 40 days of Lent.

Do whatever you do for God.

It is in loving we are most like Him.


Pray for special intentions please.




April 5, 2005

Messenger: The Holy Father died on First Saturday

Holy Thursday - March 24, 2005

Palm Sunday - March 20, 2005

Palm Sunday - March 20, 2005

Palm Sunday - March 20, 2005
Palm Sunday - March 20, 2005

Palm Sunday - March 20, 2005

Palm Sunday - March 20, 2005

Palm Sunday - March 20, 2005

Palm Sunday - March 20, 2005

Palm Sunday - March 20, 2005

Palm Sunday - March 20, 2005

Inside the Vatican

Inside the Vatican

Inside the Vatican

Inside the Vatican

Palm Sunday - March 20, 2005

Palm Sunday - March 20, 2005

Palm Sunday - March 20, 2005

Palm Sunday - March 20, 2005

Palm Sunday - March 20, 2005

Palm Sunday - March 20, 2005

Palm Sunday - March 20, 2005

Our Lady of Clearwater Florida

During the 5th of the month gatherings with Rita Ring


July 5, 2000


September 5, 2000


October 5, 2000


November 5, 2000


December 5, 2000

| | | | | |
| --- | --- | --- | --- | --- |
| January 5, 2001 | February 5, 2001 | March 5, 2001 | April 5, 2001 | May 5, 2001 |

| | | | | |
| --- | --- | --- | --- | --- |
| June 5, 2001 | July 5, 2001 | August 5, 2001 | September 5, 2001 | October 5, 2001 |

| | | | | |
| --- | --- | --- | --- | --- |
| November 5, 2001 | December 5, 2001 | January 5, 2002 | February 5, 2002 | March 5, 2002 |

| | | | | |
| --- | --- | --- | --- | --- |
| April 5, 2002 | May 5, 2002 | June 5, 2002 | July 5, 2002 | September 5, 2002 |

| | | | |
| --- | --- | --- | --- |
| October 5, 2002 | November 5, 2002 | January 5, 2003 | February 5, 2003 |

| | | | | |
| --- | --- | --- | --- | --- |
| April 5, 2003 | May 5, 2003 | July 5, 2003 | August 5, 2003 | September 5, 2003 |


We chose to put more than just one of each of these 5ths because of they're importance.


October 5, 2003




November 5, 2003
Jesus instructed the prayer service
be done inside

November 5, 2003
Jesus instructed the prayer service
be done inside


December 5, 2003
Jesus instructed the prayer service
be done inside

December 5, 2003
Jesus instructed the prayer service
be done inside

December 5, 2003
Jesus instructed the prayer service
be done inside

December 5, 2003



| | | | | |
| --- | --- | --- | --- | --- |
| January 5, 2004 | January 5, 2004 | January 5, 2004 | January 5, 2004 | January 5, 2004 |

| | | |
| --- | --- | --- |
| February 5, 2004 | February 5, 2004 | February 5, 2004 |

| | |
| --- | --- |
| February 5, 2004 | February 5, 2004 |

| | |
| --- | --- |
| February 5, 2004 | March 5, 2004 |

| | |
| --- | --- |
| March 5, 2004 | March 5, 2004 |


March 5, 2004


March 5, 2004


April 5, 2004


May 5, 2004


June 5, 2004

July 5, 2004

Messenger: Jesus says it is the responsibility
of the people of the earth to
help us keep this place of
prayer — not 100 people involved
in the Movement.

February 5, 2004

January 20, 2004

November 6, 2000

August 6, 2001

January 5, 2001

October 5, 2002

October 13, 2003

Doris J.


What has Shepherds of Christ and being a Handmaid done for my life and for my relationship with Jesus?

I first heard of Shepherds of Christ from a letter received concerning a rosary gathering at Tom's Farm in October 1996. My family already had plans for the 13th. When I received a notice for November 13th my brother and I went not knowing much about Shepherds of Christ, but if it was praying the rosary-it had to be good. It was the most powerful rosary I ever attended. I didn't go for several months, but felt drawn to this ministry and compelled to pray the prayers and read the blue books. Jesus was talking directly to me through them and it was great.

Jesus has always worked slowly in my heart. Pain and suffering in my early adult life brought me to realize that God was the only one I could turn to in my need. God alone was my strength.

In July 1997, news came that the department where I worked was being phased out by the parent company on the east coast. I was disenchanted with my job and I only continued working there to live, so I wasn't concerned about the lack of a job.

During this same time, I felt pulled in my heart to pray with Shepherds of Christ as a body. I was shy and I would just come, sit, pray and be silent, not really talking to anyone very much.

I knew from my childhood that I would never marry. The pull Jesus had on me was stronger than the world's, though I didn't realize the source. For the past year I had become closer to Jesus and I felt what I would do with my life, next, would be for him alone.

On August 13, 1998, I went to China, Indiana, to the monthly rosary knowing something was going to happen-but not knowing what. During the rosary the president of Shepherds of Christ started reading a letter from Jesus about women being called as handmaids and their way of life. I felt the power of the Holy Spirit descend on my head and I was glad to be sitting. I knew Jesus was calling me to become a handmaid, a call that I had been waiting patiently for, for over two years.

After the rosary I acted on the Holy Spirit's prompting immediately-knowing if I didn't, I would find excuses not to. Jesus' hand is very strong in my life. I was accepted as a candidate for a handmaid within a few days and gave two weeks notice at work. I found myself in Clearwater, Florida, within three weeks.

As a Handmaid of the Good Shepherd my life is very prayerful and very one on one with Jesus as His spouse. He is the Bridegroom of my Soul. Just being with him after Mass and in front of the tabernacle is candy to my soul and leaves me speechless. Being a handmaid has brought the joy, love and peace of my Divine Bridegroom into my life to an extent I didn't even know could exist.

He calls me to constant change and growth. I cannot remain the same, for my life and love for him would stagnate. I live to serve him. I have only scratched the surface of the depth to which my soul craves union with my Lord and Savior. Any life in God is hard work, but the rewards are unbounded.

Jesus loves each and everyone of us on a personal level. He died on the cross to save each soul. He, the living God, is truly waiting in the tabernacle for us, to love us, if we would only come and sit with him.

Since my move to Clearwater, Florida, in 1998, I have recently traveled to China, Indiana, for a stay and I am currently in Morrow, Ohio, doing the work Jesus has called me to do. Jesus knows where I will be next, even though I do not.

There is nothing boring about being on Jesus' roller coaster. The ride is into eternity! I can't wait to see you there!
January 13, 2004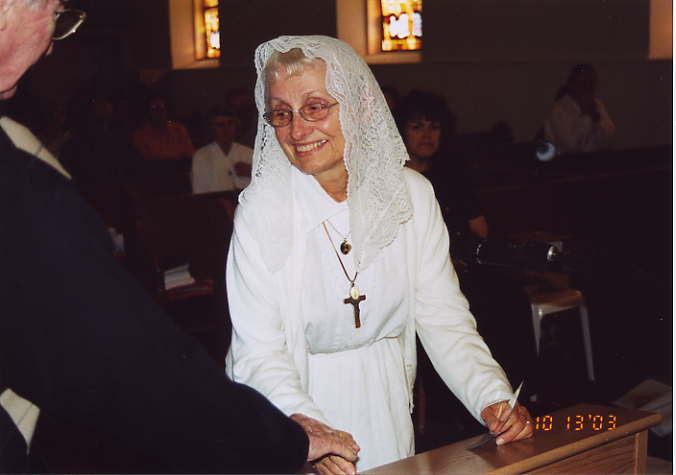 October 13, 2003


Rosie R.


How has Shepherds of Christ changed my life?

The first time I opened God's Blue Book, I knew that Jesus was speaking to me! The message was just what I needed that day!

I had not attended daily Mass since Catholic High School, approximately 30 years previous. MY PRAYER LIFE had been practically non-existent -- attending Sunday Mass and calling on God during trials. In fact, the threat of my husband dying of cancer took me back to praying the rosary and praying novenas to the Blessed Mother. After he died I was at a loss, for I considered him my "rock". For the first time ever in my life, I began praying to do God's will. I had a career, but I felt in my heart that I didn't want to do that for the rest of my working life.

I was invited by a friend to make a Cursillo weekend and without hesitation, said yes. Following the grace-filled weekend, I entered the chapel for adoration and picked up the Blue Book, which I had ignored for weeks. I immediately fell in love with Jesus and my life began to change! With the help of Jesus through the Blue Book, along with daily Mass and Holy Communion and spending time after Communion with Jesus and time in prayer, I was able to work through my depression, which I had even denied existed.

After giving out many Blue Books to relatives and friends, I received an invitation to attend the first monthly Shepherds of Christ national prayer meeting at Tom A's farm held on October 13, 1996, with Rita leading a Live Rosary. I felt drawn to every meeting after that, and soon found myself in the core group at Morrow, Ohio, attending weekly prayer meetings with Live Rosaries. Through the use of the Blue Books, mostly in front of the tabernacle, weekly prayer meetings, and rosaries at Morrow, I have grown closer to Jesus than I ever thought possible.

I thank Jesus every day for His many graces and the deep love that He gives me to draw me closer and closer to Him. I also thank my spiritual Mother, Mary, with all my heart for her help when I turned to her in desperation and for the help she's given me throughout my life.

As an apostle working in Florida at Our Lady's Image Site, I have a great opportunity to spread the light and love of Christ to all I meet!!!



October 13, 2003

Sheila W.


Written January 14, 2000

Jesus has led me gently and gradually into closer union with Him through Shepherds of Christ. From the Prayer for Union that I found in church, to the first time I read a Blue Book, to my first 13th meeting, to starting a prayer chapter in my parish, He has patiently led me into doing things I didn't know I could do.

I have loved Shepherds of Christ from the beginning because I have experienced Jesus' guidance in a special way.

And here I am, a Handmaid of the Good Shepherd, being a spouse of Jesus, loving and serving Him here in China, Indiana. For many years, I wanted to work for Jesus in the Church, but didn't know how.

The daily Mass and holy hour were a part of my life before I knew about Shepherds of Christ or the Blue Books. Reading the Blue Book for the first time confirmed what I was already doing and gave me the direction on how to spend that hour with Jesus before the tabernacle.

During the last few years of my working days, I looked forward to the time off so I could spend it with Jesus before the tabernacle. I purposely did my housework during the weeknights so I could have Saturday totally free to spend with Him before the tabernacle.

So, to be here in China, where I can focus totally on Jesus, loving and adoring Him in the Eucharist, and helping to send out His newsletters and filling the orders, is a dream come true for me.

Being a handmaid has been a joy and a challenge. A joy to know this is God's will for me and a challenge to change myself and to let go of the things I am attached to.

I am now sitting before Jesus, in the exposed Blessed Sacrament, and I am thankful to Him that He has fulfilled my heartfelt wish to be able to love and serve Him 24 hours a day and to adore Him in the Eucharist.

I am also grateful to Jesus for letting me work with the most selfless people who are in Shepherds of Christ. They are always willing to help me out when I need them and go the extra mile to make things easier for me. It is a blessing to be in this family called Shepherds of Christ.

I am also thankful for my friends back home who have been a great support to me, who have prayed for me and helped me to move to China.

On the 13ths, when everyone is gathered for the rosary here in China, I look at the people and I feel a connection in my heart to all of them, to my friends from Jasper and my Shepherds of Christ family and I thank Jesus for loving me through these beautiful people.

And I thank Jesus for leading me to the Shepherds of Christ and for teaching me so many things, especially how to be a better spouse of the Lamb. It is my heartfelt desire to be united with Him forever and He is continuing to lead me there a step at a time. I love Him with all my heart and I love the Shepherds of Christ Movement.

Sheila W.

January 13, 2004

October 13, 2003
In Honor of Our Beloved Priests
101st Anniversary of Fatima
October 13, 2018
My dear priests, hierarchy and members of the mystical body of Christ,
I give my heart to Jesus and Mary with you in love.
Fr. Carter our founder wrote two very important books
Response to God's Love
and
Response in Christ.
The following thoughts are inspired by these two books.
God first loved us.
We receive a sharing in Divine Life in baptism – our knowing and loving capacity is elevated.
We are human creatures and yet we see God's loving self-communication to us with our concomitant response to Him in love.
Man rejected this self-communication of God in original sin.
God on His part communicates His own life through grace and man in return gives himself to God and his fellowman in loving service.
We can respond to this marvelous gift God gives to us as members of the mystical body of Christ – with Christ our head.
We can be witnesses of Christ alive in us both in the Church and in the world because the Father, Son and Holy Spirit dwell in a special way, in our graced, baptized soul.
God wants such intimacy with us.
I, Rita Robinson Ring, have learned a lot about the spiritual life from Our Lord in daily Mass and in spending at least one hour a day before the Blessed Sacrament where Jesus is truly present in His Divinity and humanity, no less present than when He walked the earth.
I have been guided by Fr. Carter our founder and had the gift of my brother, Fr. Joe Robinson at Mass, Sunday, week days, funerals etc. and other priests who have helped us on our journey in Shepherds of Christ.
Through the Priestly Newsletter of Fr. Carter we circulated 17,000,000 Newsletters to Priests and Hierarchy since 1994. This is Fr. Joe's 12th book. We sent out most years to about 38,000 priests and hierarchy. We have circulated about 438,000 of Fr. Joe's homily books over 10 years to priests and hierarchy.
What a gift these homilies of Fr. Joe's are as he teaches us about Responding to God's love, being Christ a-live in this world as a witness to Jesus and teaching us about the Bread of Life: the Word and the Eucharist.
We pray for the priests and have since 1994 in prayer chapters. Our prayers have been translated in 8 languages with the
Imprimatur.
We especially pray 8 days every month with Mass and the Holy Eucharist exposed most of the days for the priests, the Church and the world. We pray 24 hours every day and night in China before the exposed Eucharist for the priests and the Church.
Please pray with us, the prayers, Fr. Carter, our Founder, gave us in 1994 centered in Consecration to the Hearts of Jesus and Mary praying for the priests, the Church and the world. Life is in Jesus.
With love,
Rita Robinson Ring and all at Shepherds of Christ
Fourth Sunday of Lent
Joshua 5: 9-12
Yahweh then said to Joshua, 'Today I have taken the shame of Egypt away from you.' Hence, the place has been called Gilgal ever since.

The Israelites pitched their camp at Gilgal and kept the Passover there on the fourteenth day of the month, at evening, in the plain of Jericho. On the very next day after the Passover, they ate what the land produced, unleavened bread and roasted ears of corn. The manna stopped the day after they had eaten the produce of the land. The Israelites from that year onwards ate the produce of Canaan and had no more manna.
Psalm 34: 2-7

Bet
I will praise Yahweh from my heart;
let the humble hear and rejoice.

Gimel
Proclaim with me the greatness of Yahweh,
let us acclaim his name together.

Dalet
I seek Yahweh and he answers me,
frees me from all my fears.

He
Fix your gaze on Yahweh and your face will grow bright,
you will never hang your head in shame.

Zain
A pauper calls out and Yahweh hears,
saves him from all his troubles.

Het
The angel of Yahweh encamps
around those who fear him, and rescues them.
2 Corinthians 5: 17-21
So for anyone who is in Christ, there is a new creation: the old order is gone and a new being is there to see. It is all God's work; he reconciled us to himself through Christ and he gave us the ministry of reconciliation. I mean, God was in Christ reconciling the world to himself, not holding anyone's faults against them, but entrusting to us the message of reconciliation.

So we are ambassadors for Christ; it is as though God were urging you through us, and in the name of Christ we appeal to you to be reconciled to God. For our sake he made the sinless one a victim for sin, so that in him we might become the uprightness of God.
Luke 15: 1-3, 11-32

The tax collectors and sinners, however, were all crowding round to listen to him, and the Pharisees and scribes complained saying, 'This man welcomes sinners and eats with them.' So he told them this parable:

Then he said, 'There was a man who had two sons. The younger one said to his father, "Father, let me have the share of the estate that will come to me," So the father divided the property between them. A few days later, the younger son got together everything he had and left for a distant country where he squandered his money on a life of debauchery.

When he had spent it all, that country experienced a severe famine, and now he began to feel the pinch; so he hired himself out to one of the local inhabitants who put him on his farm to feed the pigs. And he would willingly have filled himself with the husks the pigs were eating but no one would let him have them. Then he came to his senses and said, "How many of my father's hired men have all the food they want and more, and here am I dying of hunger! I will leave this place and go to my father and say: Father, I have sinned against heaven and against you; I no longer deserve to be called your son; treat me as one of your hired men." So he left the place and went back to his father.

'While he was still a long way off, his father saw him and was moved with pity. He ran to the boy, clasped him in his arms and kissed him. Then his son said, : "Father, I have sinned against heaven and against you. I no longer deserve to be called your son." But the father said to his servants, "Quick! Bring out the best robe and put it on him; put a ring on his finger and sandals on his feet. Bring the calf we have been fattening and kill it; we will celebrate by having a feast, because this son of mine was dead and has come back to life; he was lost and is found." And they began to celebrate.

'Now the elder son was out in the fields, and on his way back, as he drew near the house, he could hear music and dancing. Calling one of the servants he asked what it was all about. The servant told him, "Your brother has come, and your father has killed the calf we had been fattening because he has got him back safe and sound." He was angry then and refused to go in, and His father came out and began to urge him to come in; but he retorted to his father, "All these years I have slaved for you and never once disobeyed any orders of yours, yet you never offered me so much as a kid for me to celebrate with my friends. But, for this son of yours, when he comes back after swallowing up your property—he and his loose women—you kill the calf we have been fattening.
'The father said, "My son, you are with me always and all I have is yours. But it was only right we should celebrate and rejoice, because your brother here was dead and has come to life; he was lost and is found.'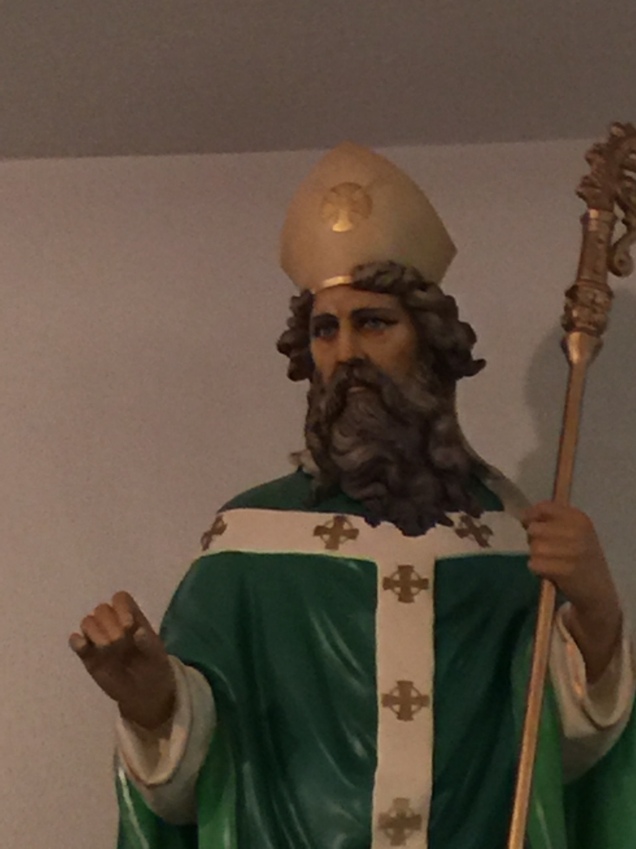 Parable of the Father's Love
Fourth Sunday of Lent
March 6, 2016
HOMILY
– (
Jos 5:9,10-12; 2 Cor 5:17-21; Luke 15:1-3,11-32
) We just heard the story of a young boy whose life was misdirected by love of riches and pleasure. After his so called friends abandoned him and he suffered hunger and want for a period of time, he came to his senses and returned to his father. He returned a changed person. Fortunately, he had a loving and forgiving father who accepted him unconditionally. The point of the story is abundantly clear when we consider the relationship between the father and his younger son. As regards the relationship between the father and the older son, Jesus leaves the conclusion open-ended. We have to reflect on what might have happened, whether the older son gave in to his father's pleading to be forgiving or whether he refused. How we end the story will tell us a lot about ourselves.
I want to tell you about another young man whose story is somewhat similar. He was Catholic to start with but admits that he was not a very good one. His father was a government official and this young man enjoyed the comforts of those who were well off. He described himself at sixteen as a scatterbrained youth who had "turned away from God and did not keep his commandments." As his story goes, he was kidnapped and sold as a slave and made to labor on a farm for six years. Like the prodigal son who was without friends and who suffered without adequate food or shelter, this young man came to his senses and he learned obedience through what he suffered. He discovered (and we quote) "God showed me how to have faith in him forever, as one who is never to be doubted." After six years God spoke to him in a way that he heard with his own ears. He would escape and God audibly told him when to leave and what direction to go in order to
accomplish his escape. Miraculously God protected him along the way until he arrived back home. Like the prodigal son, he came home a new person. Although his parents wanted to keep him at home with them, his love for God led him to want to serve God as a priest. Even more than serving as a priest, his love for others led him to want to return to the people who captured and enslaved him and teach them about God. And that he did. After overcoming many obstacles, including rejection by the hierarchy, a breach of confidence by a friend to whom he entrusted a confession of his past life, his lack of education and social graces, he returned as a bishop to the people who had enslaved him. Once he arrived he wasn't greeted with open arms. Again, in his own words, he said "daily I expect either murder, or robbery, or enslavement." He writes elsewhere "they seized me with my companions. And on that day they most eagerly desired to kill me; but my time had not yet come. And everything they found with us they plundered, and myself they bound in chains." He feared nothing, for even if he were to be put to death, he felt that would have been the supreme act of love for his God. But God had other intentions than that he should be a martyr. For 30 years he served God and the people who once enslaved him and his work was blessed. He ordained many bishops and priests, established convents, monasteries and schools and in thirty years saw the conversion of almost all of Ireland. And of course you all know I've been talking about St. Patrick, who is one of our patronal saints and whose statue is under the choir loft. His work was so successful that in a short time Ireland was sending out missionaries to revitalize the faith of Europe which had fallen into decline. Irish missionaries have been a blessing to the Church ever since.
For those who are Irish and who honor Patrick, the best way to truly honor him is not by drinking a Guinness. We should respond to his example and his call to holiness. Again quoting Patrick, he asks those who believe in him and love him to "strengthen and confirm your faith…That will be my glory, for a wise son is the glory of his father."
And for those who are not Irish and who think too much is made of St. Patrick on March 17th, I would like you to think of how our faith has been strengthened by the witness of many Irish saints and how our civilization has been preserved by the scholarship of the Irish during the days when mainland Europe was being overrun by barbarians. The great heritage of western civilization, from the Greek and Roman classics to Jewish and Christian works, would have been utterly lost were it not for the holy men and women of unconquered Ireland. These Irish recorded the great works of western civilization in their monasteries and convents (remember all books had to be written by hand). They brought this learning back to Europe after it began to stabilize in the eighth century under Charlemagne. Whether you're Irish or not, we all owe a great debt to the Irish and we pray that our patron, St. Patrick, blesses our parish and our families.
From Rita Robinson Ring,
Co-founder of Shepherds of Christ
God has chosen us, we are to turn to Christ with greater generosity, and as baptized Christians to grow in our knowing and loving capacity.
God has put His handprint on us in baptism giving to us the virtues of faith, hope and love. These are theological virtues. We must pray to God for the increase in these virtues and we respond to the grace He outpours to us. In praying for the increase in faith we can see more and more the vision of the Heavenly Father. We can hope for our eternal salvation and help spread that hope in our lives to others and we can share more deeply in God's loving activity – loving more supernaturally as we cooperate by responding to the gifts given by God of greater faith, hope and love.
God is with us, God wants us to spread the good news, to turn toward Him in loving union performing good acts according to His will.
Fr. Joe's book teaches us about love and life in God. Fr. Joe's book teaches us about the gift of the Mass and the Church, and about salvation history. We live more every day according to the scriptures in peace, love and joy. We know Jesus, we love Him. He is operating in us.
We all seek happiness – Happiness is found in God –
In reading the weekly scriptures and reading Fr. Joe's homily – God's loving self-communication to us will grow in our lives – as we respond in love to Him.
This book and the scripture come alive in our lives every Sunday after we read the scriptures and Fr. Joe's homily before Mass.
God communicates His own life through grace and man in return gives himself to God and his fellowman in loving service.
Happiness comes to us in dying to those ways not likened to God and rising in the spiritual life in that image and likeness of Christ.
We love Fr. Joe's jokes that help us to clear our minds and laugh and listen.
He told me of a little boy who was drawing a picture in art class and the teacher said "Who is this?" And the little boy said, "It is God."
The teacher said, "Nobody knows what God looks like." The little boy said, "When I get done – they will know."
In baptism we have been given a sharing in God's life with this elevated knowing and loving capacity.
It is up to us to pray to God for the grace to grow to know and love Him more – to be more and more likened to God.
In the pages of Fr. Joe's homilies we learn more and more about God, about loving God and loving others as ourselves – God is love – God is the source of love – We are to Respond to God's love.
Excerpt from Response to God's Love by Fr. Edward Carter, S.J.
"... In reference to Christianity, God himself is the ultimate mystery. Radically, God is completely other and transcendent, hidden from man in his inner life, unless he chooses to reveal himself. Let us briefly look at this inner life of God.

The Father, in a perfect act of self-expression, in a perfect act of knowing, generates his son. The Son, the Word, is, then, the immanent expression of God's fullness, the reflection of the Father. Likewise, from all eternity, the Father and the Son bring forth the Holy Spirit in a perfect act of loving.

At the destined moment in human history, God's self-expression, the Word, immersed himself into man's world. God's inner self-expression now had also become God's outer self-expression. Consequently, the mystery of God becomes the mystery of Christ. In Christ, God tells us about himself, about his inner life, about his plan of creation and redemption. He tells us how Father, Son, and Holy Spirit desire to dwell within us in the most intimate fashion, how they wish to share with us their own life through grace. All this he has accomplished and does accomplish through Christ. St. Paul tells us: "I became a minister of this Church through the commission God gave me to preach among you his word in its fullness, that mystery hidden from ages and generations past but now revealed to his holy ones. God has willed to make known to them the glory beyond price which this mystery brings to the Gentiles—the mystery of Christ in you, your hope of glory. This is the Christ we proclaim while we admonish all men and teach them in the full measure of wisdom, hoping to make every man complete in Christ" (Col 1:25-28)."
Excerpts from
Guiding Light – Feed My Soul
p. 111 When Jesus said the two greatest commandments were about love: love of God and love of neighbor, the Jewish scholar asked Jesus another question: "And who is my neighbor?" You might recall that there was great animosity between Jews and Samaritans, so in introducing a Samaritan into the story, Jesus shows us "neighbor" could be anyone, even someone we despise.
p. 51 The conversation Jesus had about tragic events at the beginning of today's gospel was interesting. Sometimes people think when something bad happens to someone it is God's punishment. Jesus said that's not always true. He does not try to explain suffering here, but he is telling us not to be complacent, which we sometimes are. We can't think "well, if nothing bad is happening to me, it must be because I am so good." He tells us we all need to repent, i.e., to work to be better than we are.
pp. 29-30 As we celebrate Jesus' baptism, may we at the same time celebrate our own. May we rejoice in God's gift of love and life given to us, and may we live up to the high dignity with which God has blessed us.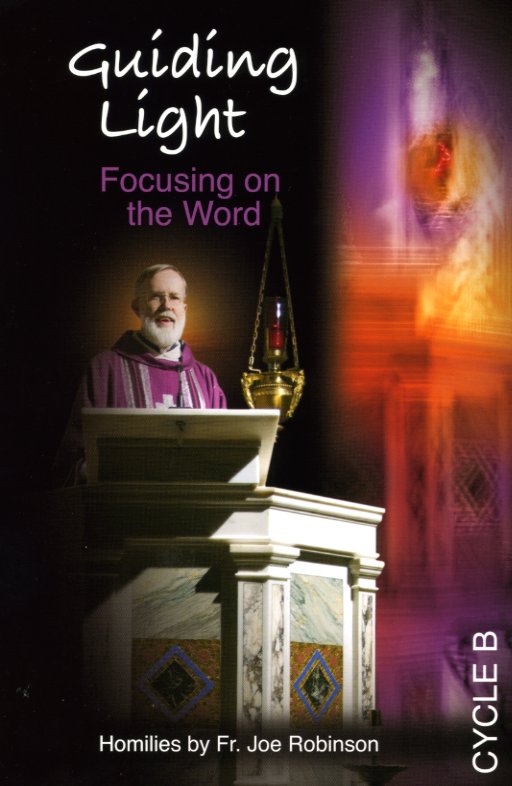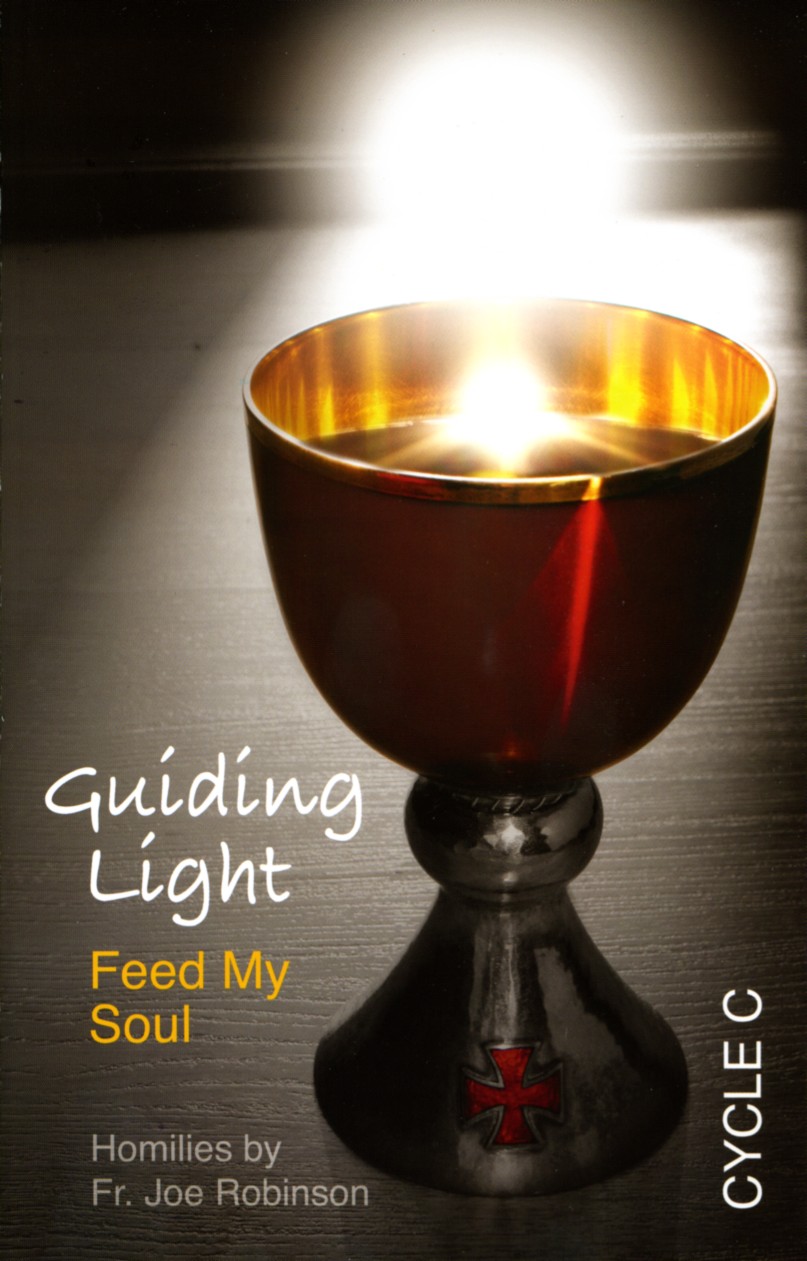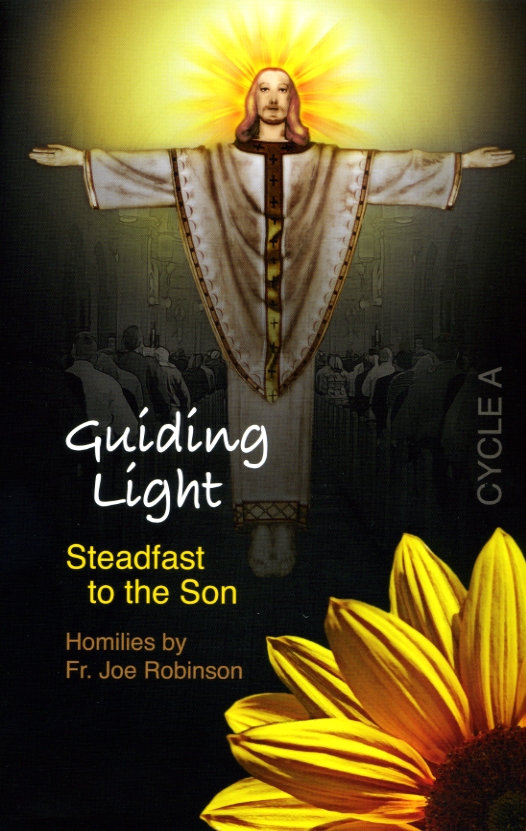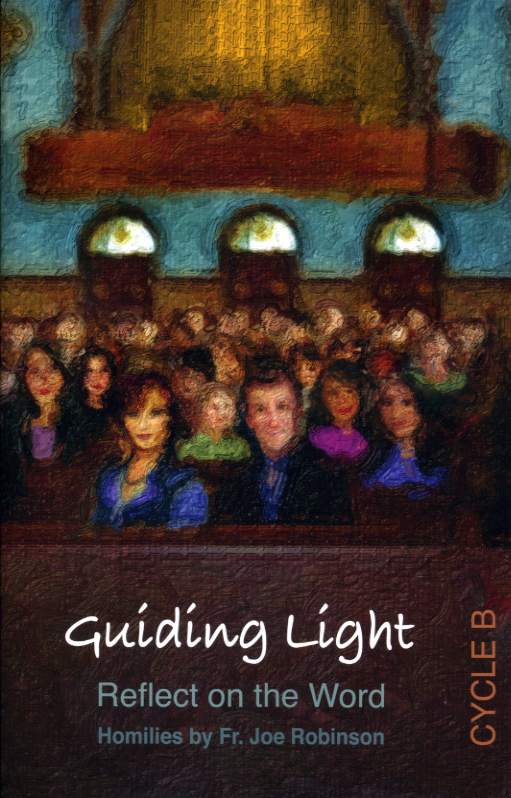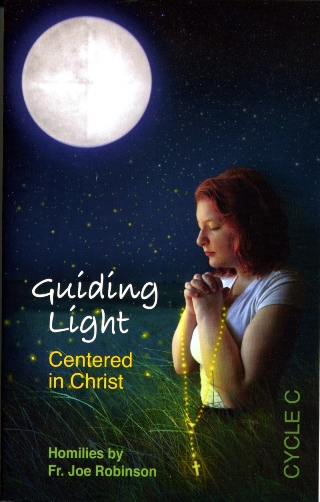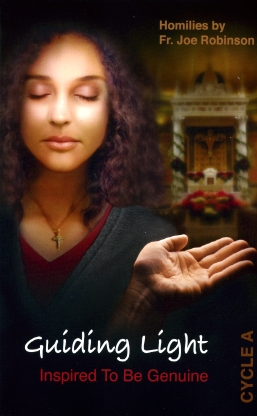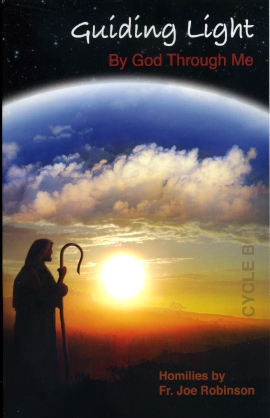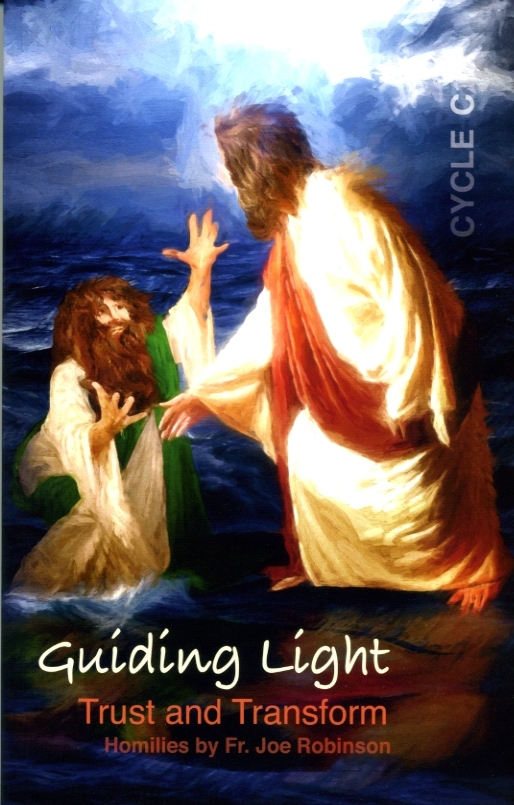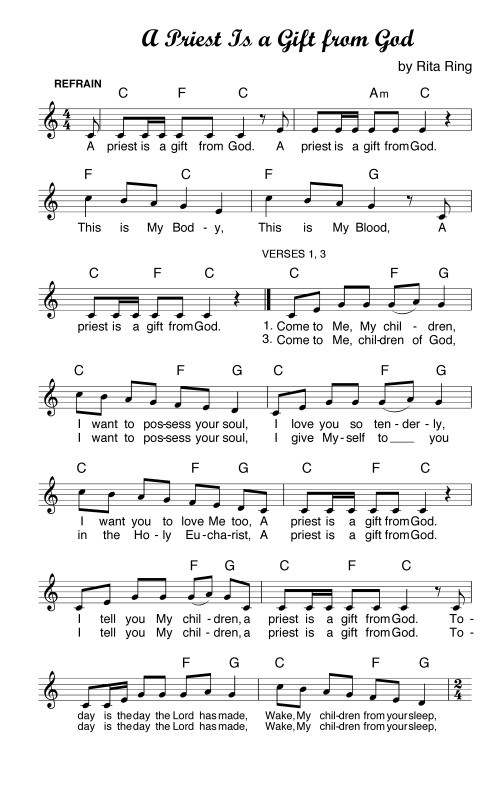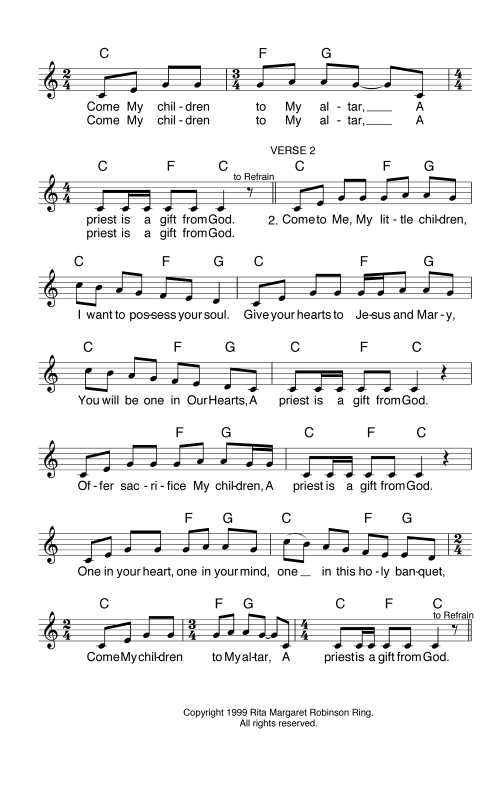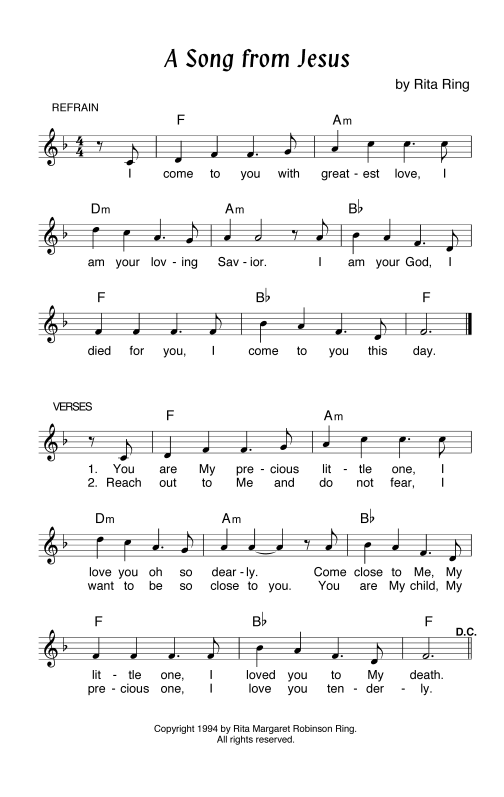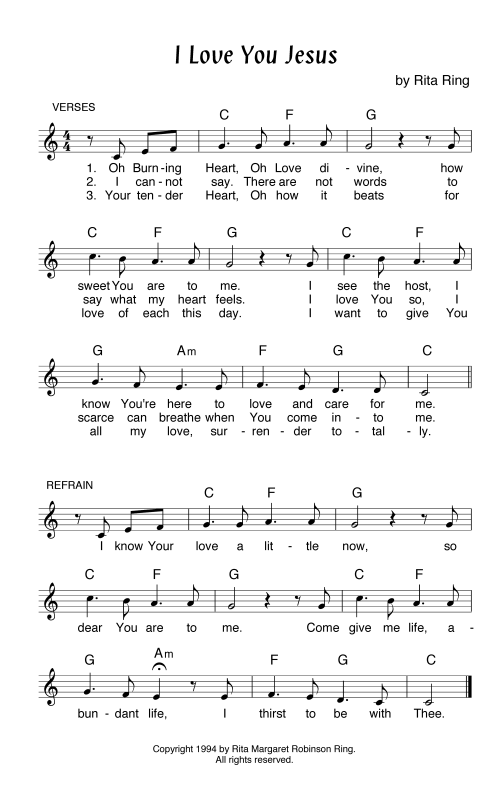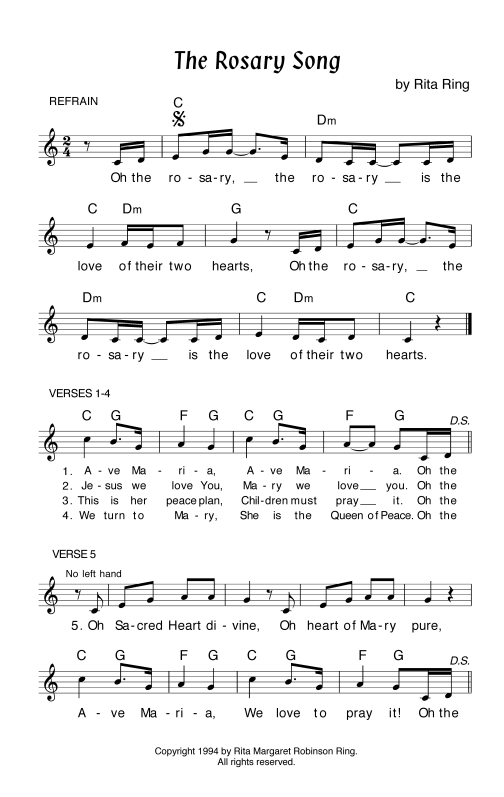 "This is My Body, This is My Blood."
A Prayer before the
Holy Sacrifice of the Mass
Let me be a holy sacrifice and unite with God in the sacrament of His greatest love.

I want to be one in Him in this act of love, where He gives Himself to me and I give myself as a sacrifice to Him. Let me be a holy sacrifice as I become one with Him in this my act of greatest love to Him.

Let me unite with Him more, that I may more deeply love Him. May I help make reparation to His adorable Heart and the heart of His Mother, Mary. With greatest love, I offer myself to You and pray that You will accept my sacrifice of greatest love. I give myself to You and unite in Your gift of Yourself to me. Come and possess my soul.

Cleanse me, strengthen me, heal me. Dear Holy Spirit act in the heart of Mary to make me more and more like Jesus.

Father, I offer this my sacrifice, myself united to Jesus in the Holy Spirit to You. Help me to love God more deeply in this act of my greatest love.

Give me the grace to grow in my knowledge, love and service of You and for this to be my greatest participation in the Mass. Give me the greatest graces to love You so deeply in this Mass, You who are so worthy of my love.

-Mass Book, December 27, 1995
Given
October 29, 2016
R. Please spread blessed holy water
(You can also mix Jesus and Mary water
with your blessed Holy Water if you have it.)
in your yard, around your house,
in the state you live in.
And ask God to bless your state
Ask God to bless the United States
Pray all prayers through the intercession of
Our Lady of CLEAR – WATER.
Ask the Lady of CLEAR - WATER
to help with the blessed water.
Mary has appeared to me for 22 years,
in Ohio and Florida.