R. Dear Holy Spirit please come to me the
Guest of my soul. Please pour
into me Your virtues and gifts.
Dear Father, Son and Holy Spirit dwell in me.
Please fill me with the
supernatural gifts I received at
baptism – that they may grow
ever greater to know and love supernaturally.
Dear Holy Spirit,
Please mold in me more and
more the image of Jesus in my
heart and soul.

From Tell My People
by Fr. Edward J. Carter, S.J.
The Holy Spirit
Jesus: "My beloved friend, tell My people to pray daily to the Holy Spirit. They are to pray for an increase in His gifts. My people must realize that the Holy Spirit comes to transform them. The Spirit desires to transform you more and more according to My image. Those who are docile to His touch become increasingly shaped in My likeness. He performs this marvel within Mary's Immaculate Heart. The more one dwells in My Mother's Heart, the more active are the workings of the Spirit. The Spirit leads Mary to place you within My own Heart. In both Our Hearts, then, your transformation continues. The more you are formed after My own Heart, the more I lead you to the bosom of My Father. Tell My people all this. Tell them to pray daily for a greater appreciation of these wondrous gifts. I am Lord and Master. All who come to My Heart will be on fire to receive the gifts of the Spirit in ever greater measure! I love and bless My people!"

Reflection: The Holy Spirit is given to us to fashion us ever more according to the likeness of Jesus. And the more we are like Jesus, the more Jesus leads us to the Father. Do we, each day, pray to the Holy Spirit to be more open to His transforming influence? Do we strive each day to grow in union with Mary? The greater our union with our Mother, the spouse of the Holy Spirit, the greater is the transforming action of the Holy Spirit within us.

Prayer:

Come, Holy Spirit, fill us with your gifts of wisdom, understanding, knowledge, counsel, fortitude, piety, and fear of the Lord. As we dwell in the Heart of Mary, Your spouse, fashion us more and more according to the Heart of Jesus.
end of excerpt
R. Help me to live my life praising
and loving God in love and
being as God wants me to be.
Holy Spirit be the Guest of my soul.
Come Holy Spirit fill me with the Spirit –
Let the Spirit of God be in me.

John 16:12-15

I still have many things to say to you
but they would be too much for you
to bear now.
However, when the Spirit of truth comes
he will lead you to the complete truth,
since he will not be speaking
of his own accord,
but will say only what he has been told;
and he will reveal to you
the things to come.
He will glorify me,
since all he reveals to you
will be taken from what is mine.
Everything the Father has is mine;
that is why I said:
all he reveals to you
will be taken from what is mine.
Sing: Come Holy Ghost
Sing: Come Holy Spirit
R. Let the Light of Christ live
in my soul. Amen.
We see when the Holy Spirit lives
in us there is cooperation with
the Plan of God, Our heavenly Father.
The Holy Spirit brings unity to the soul –
order in our hearts – direction
according to and with God,
our heavenly Father who
created us in the image and
likeness of God.
Genesis 1: 26-27
God said, 'Let us make man in our own image, in the likeness of ourselves, and let them be masters of the fish of the sea, the birds of heaven, the cattle, all the wild animals and all the creatures that creep along the ground.'

God created man in the image of himself,
in the image of God he created him,
male and female he created them.
R. The Holy Spirit opens our hearts and
souls to God – so God can dwell
in us more abundantly.
Come to me God and possess my
soul –
Sing: Come to me, Lord, and possess my soul. Come into my heart and permeate my soul.
Help me to sit in silence with You and let You work in my heart.
We are imperfect – the Holy Spirit
comes to transform our souls
more and more in the image and
likeness of Jesus –
Come to me Lord and possess
my soul –
God fills us more and more abundantly
with His life –
Sing Song: I Love You Jesus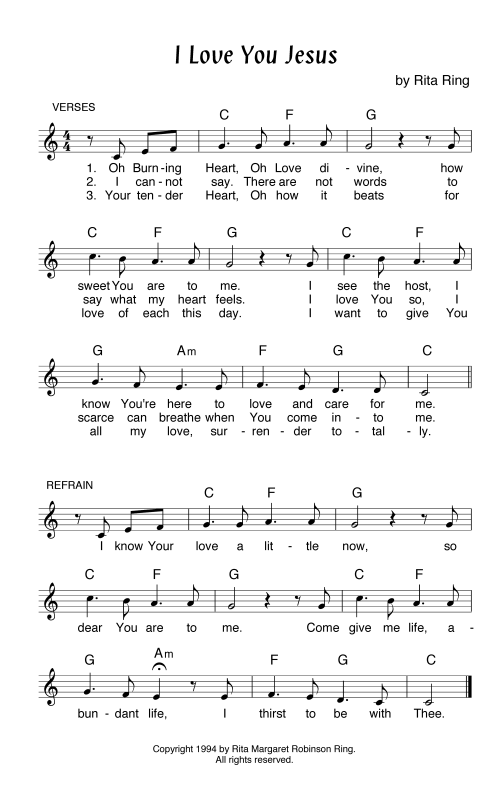 R. The Holy Spirit is the Spouse of the
Virgin Mary – perfect handmaid
of the Lord.
The Holy Spirit wants to transform
us more and more into the image of Jesus.
We were created for this –
Oh God, we are so grateful for
the sacrament of baptism and
the other sacraments. We are
so grateful for the Eucharist
whereby, you feed the life you
gave to us.
God gives us a sharing in
His life in baptism and feeds
us with the Body and Blood
of Jesus in the Eucharist.
Come to me Lord and possess my soul –
1 Corinthians 3: 16

Do you not realise that you are a temple of God with the Spirit of God living in you?
R. We consecrate ourselves to God.
We give ourselves to the Hearts of Jesus and Mary.

From the Holy Spirit Novena
Prayer for Holy Spirit

We pray for an outpouring of the Holy Spirit on us, to be baptized by the Holy Spirit, that He will descend mightily on us as He did on the Apostles at Pentecost. That the Holy Spirit will transform us from fear to fearlessness and that He will give us courage to do all the Father is asking of us to help bring about the Reign of the Sacred Heart and the triumph of Mary's Immaculate Heart. We pray for the Holy Spirit to descend mightily on the Jesuits and the Poor Clares on the Shepherds of Christ leaders and members and on the whole Body of Christ and the world.


Prayer for Strength and Light

We adore You, oh Holy Spirit. Give us strength, give us light, console us. We give ourselves entirely to You. Oh Spirit of light and grace, we want to only do the will of the Father. Enlighten us that we may live always in the Father's will.

Eternal Spirit fill us with Your Divine Wisdom that we may comprehend more fully insight into Your Divine Mysteries.

Give us lights, Oh Holy Spirit that we may know God. Work within the heart, the spiritual womb of the Virgin Mary, to form us more and more into the image of Jesus.


Prayer to Be One with God, Father, Son and Holy Spirit

We long for You, Oh Spirit of Light, we long to know God, we want to be one with Him, our Divine God. We want to be one with the Father, know Him as a Person most intimately. We want to know the beloved One, the Sacred Heart of Jesus, and live and dwell in Him at all times, every moment of our lives. We want to be one with You, Oh Spirit of Light, that You move in us in our every breath.


Prayer to Be One in Jesus

Let us experience life in the Sacred Heart of Jesus, so we can say as Saint Paul, "I have been crucified with Christ and yet I am alive; yet it is no longer I, but Christ living in me...." Let us live, united to the Mass, all through the day being one in Him. Let us be able to love and know in this elevated state of oneness with our God. We long for Thee, oh beauteous God, we love You, we love You, we love You. We praise You, worship You, honor You, adore You, and thank You, our beloved God, Father, Son, and Holy Spirit.


Prayer to Dwell in the Hearts of Jesus and Mary

We seek to be one in God, to live and dwell in the Hearts of Jesus and Mary, our little heaven on earth, to experience life in the all perfect, pure, sinless heart of our Mother. We want the Holy Spirit to move in us and to be united to Jesus as the Bridegroom of our souls and be a most perfect sacrifice offered to the Father at every moment as we unite in the Holy Sacrifice of the Mass around the world to help in the salvation of souls.


Prayer for the Holy Spirit and His Gifts

Come Holy Spirit, come, come into our hearts, inflame all people with the fire of Your love.

Leader: Send forth Your Spirit and all will be reborn.
All: And You will renew the face of the earth.

We pray for the seven gifts of the Holy Spirit, we ask for perfection in our souls to make us holy, holy souls likened to God.

Dear Holy Spirit, we give ourselves to You soul and body. We ask You to give us the Spirit of Wisdom, Understanding, Counsel, Fortitude, Knowledge, Piety, and Fear of the Lord.


Prayer for the Word Alive in Our Hearts

We know, dear Holy Spirit, the Word in His human nature was brought forth within the womb of the woman. We pray that His word will be brought forth in our hearts as He lives and dwells in us. We want the incarnation to go on in our lives. Dear Holy Spirit, work in us.


Little Prayers to the Holy Spirit

Dear Holy Spirit, help us not to be ignorant or indifferent or weak, help us to be strong with the love of God.

Dear Holy Spirit, please pray for our needs for us.

Dear Holy Spirit, help us to respect God and to avoid sin. Help us to live in the Father's will.

Dear Holy Spirit, help us to keep Your commandments and to respect authority. Help us to love all things as You will us to love them. Help us to want to pray and always serve God with the greatest love. Help us to know the truth. Help us to have the gift of faith, hope, and love. Help us to know what is right and what is wrong.

November 4, 2013


A Prayer for Intimacy with the Lamb, the Bridegroom of the Soul

Oh Lamb of God, Who take away the sins of the world, come and act on my soul most intimately. I surrender myself, as I ask for the grace to let go, to just be as I exist in You and You act most intimately on my soul. You are the Initiator. I am the soul waiting Your favors as You act in me. I love You. I adore You. I worship You. Come and possess my soul with Your Divine Grace, as I experience You most intimately.
end of prayers from holy spirit novena
From the Shepherds of Christ Prayer Manual

Holy Spirit Prayer

Come, Holy Spirit, almighty Sanctifier, God of love, who filled the Virgin Mary with grace, who wonderfully changed the hearts of the apostles, who endowed all Your martyrs with miraculous courage, come and sanctify us. Enlighten our minds, strengthen our wills, purify our consciences, rectify our judgment, set our hearts on fire, and preserve us from the misfortunes of resisting Your inspirations. Amen.
Act of consecration to the Sacred Heart of Jesus
and the Immaculate Heart of Mary
"Lord Jesus, Chief Shepherd of the flock, I consecrate myself to Your most Sacred Heart. From Your pierced Heart the Church was born, the Church You have called me, as a member of Shepherds of Christ Associates, to serve in a most special way. You reveal Your Heart as a symbol of Your love in all its aspects, including Your most special love for me, whom You have chosen as Your companion in this most important work. Help me to always love You in return. Help me to give myself entirely to You. Help me always to pour out my life in love of God and neighbor! Heart of Jesus, I place my trust in You!

"Dear Blessed Virgin Mary, I consecrate myself to your maternal and Immaculate Heart, this Heart which is symbol of your life of love. You are the Mother of my Savior. You are also my Mother. You love me with a most special love as a member of Shepherds of Christ Associates, a movement created by your Son as a powerful instrument for the renewal of the Church and the world. In a return of love, I give myself entirely to your motherly love and protection. You followed Jesus perfectly. You are His first and perfect disciple. Teach me to imitate you in the putting on of Christ. Be my motherly intercessor so that, through your Immaculate Heart, I may be guided to an ever closer union with the pierced Heart of Jesus, Chief Shepherd of the flock."
Novena al Espíritu Santo
Oración para el Espíritu Santo

Oramos para que el Espíritu Santo se derrame sobre nosotros, para ser bautizados en el Espíritu Santo, para que él descienda con su poder sobre nosotros, como lo hizo sobre los apóstoles en Pentecostés. Que el Espíritu Santo nos transforme del temor a la valentía, y que nos dé fuerza para realizar todo lo que el Padre nos está pidiendo para ayudar a implantar el Reinado del Sagrado Corazón y el triunfo del Corazón Inmaculado de María. Oramos para que el Espíritu Santo descienda sobre todo el Cuerpo Místico de Cristo y el mundo.

Oración para pedir fortaleza y luz

Te adoramos, Señor Espíritu Santo. Danos fortaleza, danos luz, consuélanos. Nosotros nos entregamos enteramente a ti. ¡Oh Espíritu de luz y gracia, queremos realizar solamente la voluntad del Padre! Ilumínanos para que podamos vivir siempre cumpliendo Su voluntad.

Espíritu Eterno, llénanos de tu Divina Sabiduría para que podamos entender más a fondo el conocimiento hacia tus Divinos Misterios.

Danos luces, Oh Santo Espíritu, para conocer a Dios. Actúa dentro de nuestro corazón para formarnos cada vez más a imagen de Jesús.

Oración para ser uno con Dios, Padre, Himo y Espírity Santo

Oh Espíritu de Luz anhelamos por ti, anhelamos conocer a Dios, queremos ser uno con él, nuestro Divino Señor. Queremos ser uno con el Padre, conocerlo íntimamente como persona. Queremos conocer al Amado, al Sagrado Corazón de Jesús, y vivir y habitar en él siempre, cada momento de nuestras vidas. Queremos ser uno Contigo, Señor Espíritu de Luz, que te mueves en nosotros con cada respiración nuestra.

Oración para ser uno con Jesús

Permítenos, Señor, experimentar la vida en el Sagrado Corazón de Jesús, para que podamos decir como San Pablo, "Yo he sido crucificado con Cristo y a pesar de esto estoy vivo, pero ya no soy Yo, sino Cristo viviendo en mi..." Permítenos vivir, unidos a la Misa, siendo uno con él durante todo el día. Déjanos ser capaces de amar y conocer, en ese alto nivel de unidad con nuestro Dios. Te deseamos, oh Dios de la belleza, te queremos, te amamos, te adoramos. Te damos gracias, te alabamos, te glorificamos, nuestro Dios amado, Padre, Hijo y Espíritu Santo.

Oración para habitar en los Corazones de Jesús y María

Buscamos ser uno en Dios, vivir y habitar en los Corazones de Jesús y María, nuestro pequeño cielo en la tierra, para experimentar la vida en el Corazón puro y perfecto de Nuestra Madre. Queremos que el Espíritu Santo se mueva en nosotros y que seamos unidos a Jesús como el esposo de nuestras almas y que seamos un sacrificio muy perfecto ofrecido al Padre en cada momento, mientras nos unimos al Santo Sacrificio de la Misa celebrada en todo el mundo para ayudar a la salvación de almas.

Oración para el Espíritu Santo y Sus Dones

Ven Espíritu Santo, ven a nuestros corazones, y enciende en ellos el fuego de tu amor.

Líder: Envía, Señor, tu Espíritu y todos renacerán

Todos: Y Tu renovarás la faz de la tierra.

Oramos y pedimos los siete dones del Espíritu Santo, suplicamos perfección en nuestras almas para hacerlas santas, almas santas semejantes a Dios.

Querido Espíritu Santo, nos entregamos a ti en alma y cuerpo. Te pedimos que nos des el Espíritu de Sabiduría, Entendimiento, Consejo, Fortaleza, Ciencia, Piedad, y Temor de Dios.

Oración para que la Palabra Viva en Nuestros Corazones

Sabemos, querido Espíritu Santo, que la Palabra en Su naturaleza humana nació del vientre de la mujer. Oramos para que Su palabra vea la luz dentro de nuestros corazones, puesto que el Señor vive y permanece en nosotros. Queremos que la encarnación se realice en nuestras vidas. Querido Espíritu Santo, haz tu obra en nosotros.

Oraciones cortas al Espíritu Santo

Querido Espíritu Santo, ayúdanos a no ser ignorantes o indiferentes o débiles. Ayúdanos a ser fuertes con el amor de Dios.

Querido Espíritu Santo, por favor pide por nuestras necesidades.

Querido Espíritu Santo, ayúdanos a respetar a Dios y a evitar el pecado. Ayúdanos a vivir según la voluntad del Padre.

Querido Espíritu Santo ayúdanos a guardar tus mandamientos y a respetar la autoridad. Ayúdanos a amar a todas las cosas como tu quieres que las amemos. Ayúdanos a desear orar y servir siempre a Dios con el mayor amor. Ayúdanos a conocer la verdad. Ayúdanos a disponer siempre del regalo de la fe, la esperanza y el amor. Ayúdanos a discernir siempre lo correcto y lo erróneo.

Una Oración para intimidad con el Cordero, el Esposo del Alma

Cordero de Dios, que quitas el pecado del mundo, ven y actúa íntimamente en mi alma. Yo me entrego a ti y te pido la gracia de liberarme, para existir solo para ti y que tu actúes lo más íntimamente en mi alma. Tú eres el Iniciador. Yo soy el alma que espera tus favores mientras obras en mí. Te amo. Te adoro. Te alabo. Ven y toma posesión de mi alma con tu Gracia Divina, mientras te experimento lo más íntimamente.
Asociados de los Pastores de Cristo
MANUAL DE ORACIONES
Oración al Espíritu Santo. "Ven, Espíritu Santo, Santificador todopoderoso, Dios de amor, que llenaste a la Virgen María de gracias, que cambiaste admirablemente los corazones de los apóstoles, que le comunicaste a tus mártires un milagroso valor, ven y santifícanos. Ilumina nuestras mentes, fortalece nuestras voluntades, purifica nuestras conciencias, rectifica nuestro juicio, pon fuego en nuestros corazones, y presérvanos de la desgracia de no hacerle caso a tus inspiraciones. Amén."
Acto de consagración al Sagrado Corazón de Jesús y al Inmaculado Corazón de María.
"Señor Jesús, Supremo Pastor, yo me consagro a tu Sagrado Corazón. De tu Corazón traspasado nació la Iglesia, la Iglesia a la cual me has llamado, como miembro de los Asociados de los Pastores de Cristo, a servir en una forma muy especial. Tú revelas Tu Corazón como un símbolo de Tu amor en todos los aspectos, incluyendo Tu amor muy especial hacia mi, a quien has escogido como Tu compañero en éste tan importante trabajo. Ayúdame a corresponder siempre a Tu amor. Ayúdame a entregarme totalmente a Ti. Ayúdame siempre a derramar mi vida en amar a Dios y mi prójimo! Corazón de Jesús, pongo mi confianza en Ti!

"Amada y bendita Virgen María, yo me consagro a tu maternal e inmaculado Corazón, este Corazón que es símbolo de tu vida de amor. Tú eres la Madre de mi Salvador. Tú eres también mi Madre. Tú me amas con amor muy especial como miembro de Asociados de los Pastores de Cristo, una cruzada creada por Tu Hijo, como un instrumento poderoso para la renovación de la Iglesia y el mundo. Correspondiendo al amor, yo me entrego totalmente a tu amor maternal y protección. Tú seguiste a Jesús perfectamente. Tú eres Su primer y perfecto discípulo. Enséñame a imitar en ante poner a Cristo. Sé mi maternal intercesora, para que, a través de tu Corazón Inmaculado, sea conducida a una unión más cercana al Corazón herido de Jesús, Pastor Supremo del rebaño."
| | | | | | |
| --- | --- | --- | --- | --- | --- |
| English | Español | Français | Português | Italiano | Polska |
Scriptures from the Holy Spirit Novena
First Period
Meditations Nine Days
1. Romans 8:14-17

All who are guided by the Spirit of God are sons of God; for what you received was not the spirit of slavery to bring you back into fear; you received the Spirit of adoption, enabling us to cry out, 'Abba, Father!' The Spirit himself joins with our spirit to bear witness that we are children of God. And if we are children, then we are heirs, heirs of God and joint-heirs with Christ, provided that we share his suffering, so as to share his glory.

2. Romans 8:5-9

Those who are living by their natural inclinations have their minds on the things human nature desires; those who live in the Spirit have their minds on spiritual things. And human nature has nothing to look forward to but death, while the Spirit looks forward to life and peace, because the outlook of disordered human nature is opposed to God, since it does not submit to God's Law, and indeed it cannot, and those who live by their natural inclinations can never be pleasing to God. You, however, live not by your natural inclinations, but by the Spirit, since the Spirit of God has made a home in you. Indeed, anyone who does not have the Spirit of Christ does not belong to him.

3. 1 John 4:12-16

No one has ever seen God, but as long as we love one another God remains in us and his love comes to its perfection in us. This is the proof that we remain in him and he in us, that he has given us a share in his Spirit. We ourselves have seen and testify that the Father sent his Son as Saviour of the world. Anyone who acknowledges that Jesus is the Son of God, God remains in him and he in God. We have recognised for ourselves, and put our faith in, the love God has for us. God is love, and whoever remains in love remains in God and God in him.

4. 1 John 4:17-21

Love comes to its perfection in us when we can face the Day of Judgement fearlessly, because even in this world we have become as he is. In love there is no room for fear, but perfect love drives out fear, because fear implies punishment and no one who is afraid has come to perfection in love. Let us love, then, because he first loved us. Anyone who says 'I love God' and hates his brother, is a liar, since whoever does not love the brother whom he can see cannot love God whom he has not seen. Indeed this is the commandment we have received from him, that whoever loves God, must also love his brother.

5. 1 John 4:7-11

My dear friends, let us love one another, since love is from God and everyone who loves is a child of God and knows God. Whoever fails to love does not know God, because God is love. This is the revelation of God's love for us, that God sent his only Son into the world that we might have life through him. Love consists in this: it is not we who loved God, but God loved us and sent his Son to expiate our sins. My dear friends, if God loved us so much, we too should love one another.

6. Acts of the Apostles 1:1-5

In my earlier work, Theophilus, I dealt with everything Jesus had done and taught from the beginning until the day he gave his instructions to the apostles he had chosen through the Holy Spirit, and was taken up to heaven. He had shown himself alive to them after his Passion by many demonstrations: for forty days he had continued to appear to them and tell them about the kingdom of God. While at table with them, he had told them not to leave Jerusalem, but to wait there for what the Father had promised. 'It is', he had said, 'what you have heard me speak about: John baptised with water but, not many days from now, you are going to be baptised with the Holy Spirit.'

7. Acts of the Apostles 1:6-9

Now having met together, they asked him, 'Lord, has the time come for you to restore the kingdom to Israel?' He replied, 'It is not for you to know times or dates that the Father has decided by his own authority, but you will receive the power of the Holy Spirit which will come on you, and then you will be my witnesses not only in Jerusalem but throughout Judaea and Samaria, and indeed to earth's remotest end.'

As he said this he was lifted up while they looked on, and a cloud took him from their sight.

8. Acts of the Apostles 1:12-14

So from the Mount of Olives, as it is called, they went back to Jerusalem, a short distance away, no more than a Sabbath walk; and when they reached the city they went to the upper room where they were staying; there were Peter and John, James and Andrew, Philip and Thomas, Bartholomew and Matthew, James son of Alphaeus and Simon the Zealot, and Jude son of James. With one heart all these joined constantly in prayer, together with some women, including Mary the mother of Jesus, and with his brothers.


9. Acts of the Apostles 2:1-4

When Pentecost day came round, they had all met together, when suddenly there came from heaven a sound as of a violent wind which filled the entire house in which they were sitting; and there appeared to them tongues as of fire; these separated and came to rest on the head of each of them. They were all filled with the Holy Spirit and began to speak different languages as the Spirit gave them power to express themselves.

---

Second Period
Meditations Nine Days

1. John 14:21-31

Whoever holds to my commandments and keeps them is the one who loves me; and whoever loves me will be loved by my Father, and I shall love him and reveal myself to him.'

Judas-not Judas Iscariot-said to him, 'Lord, what has happened, that you intend to show yourself to us and not to the world?' Jesus replied:

Anyone who loves me will keep my word, and my Father will love him, and we shall come to him and make a home in him. Anyone who does not love me does not keep my words. And the word that you hear is not my own: it is the word of the Father who sent me. I have said these things to you while still with you; but the Paraclete, the Holy Spirit, whom the Father will send in my name, will teach you everything and remind you of all I have said to you. Peace I bequeath to you, my own peace I give you, a peace which the world cannot give, this is my gift to you. Do not let your hearts be troubled or afraid. You heard me say: I am going away and shall return. If you loved me you would be glad that I am going to the Father, for the Father is greater than I. I have told you this now, before it happens, so that when it does happen you may believe. I shall not talk to you much longer, because the prince of this world is on his way. He has no power over me, but the world must recognise that I love the Father and that I act just as the Father commanded. Come now, let us go.

2. John 17:11-26

I am no longer in the world, but they are in the world, and I am coming to you. Holy Father, keep those you have given me true to your name, so that they may be one like us. While I was with them, I kept those you had given me true to your name. I have watched over them and not one is lost except one who was destined to be lost, and this was to fulfil the scriptures. But now I am coming to you and I say these things in the world to share my joy with them to the full. I passed your word on to them, and the world hated them, because they belong to the world no more than I belong to the world. I am not asking you to remove them from the world, but to protect them from the Evil One. They do not belong to the world any more than I belong to the world. Consecrate them in the truth; your word is truth. As you sent me into the world, I have sent them into the world, and for their sake I consecrate myself so that they too may be consecrated in truth. I pray not only for these but also for those who through their teaching will come to believe in me. May they all be one, just as, Father, you are in me and I am in you, so that they also may be in us, so that the world may believe it was you who sent me. I have given them the glory you gave to me, that they may be one as we are one. With me in them and you in me, may they be so perfected in unity that the world will recognise that it was you who sent me and that you have loved them as you have loved me.

Father, I want those you have given me to be with me where I am, so that they may always see my glory which you have given me because you loved me before the foundation of the world. Father, Upright One, the world has not known you, but I have known you, and these have known that you have sent me. I have made your name known to them and will continue to make it known, so that the love with which you loved me may be in them, and so that I may be in them.

3. I Corinthians 15:20-28

In fact, however, Christ has been raised from the dead, as the first-fruits of all who have fallen asleep. As it was by one man that death came, so through one man has come the resurrection of the dead. Just as all die in Adam, so in Christ all will be brought to life; but all of them in their proper order: Christ the first-fruits, and next, at his coming, those who belong to him. After that will come the end, when he will hand over the kingdom to God the Father, having abolished every principality, every ruling force and power. For he is to be king until he has made his enemies his footstool, and the last of the enemies to be done away with is death, for he has put all things under his feet. But when it is said everything is subjected, this obviously cannot include the One who subjected everything to him. When everything has been subjected to him, then the Son himself will be subjected to the One who has subjected everything to him, so that God may be all in all.

4. Revelation 3:1-3,12,16-19

'Write to the angel of the church in Sardis and say, "Here is the message of the one who holds the seven spirits of God and the seven stars: I know about your behaviour: how you are reputed to be alive and yet are dead. Wake up; put some resolve into what little vigour you have left: it is dying fast. So far I have failed to notice anything in your behaviour that my God could possibly call perfect; remember how you first heard the message. Hold on to that. Repent! If you do not wake up, I shall come to you like a thief, and you will have no idea at what hour I shall come upon you.

Anyone who proves victorious I will make into a pillar in the sanctuary of my God, and it will stay there for ever; I will inscribe on it the name of my God and the name of the city of my God, the new Jerusalem which is coming down from my God in heaven, and my own new name as well.

'...but since you are neither hot nor cold, but only lukewarm, I will spit you out of my mouth. You say to yourself: I am rich, I have made a fortune and have everything I want, never realising that you are wretchedly and pitiably poor, and blind and naked too. I warn you, buy from me the gold that has been tested in the fire to make you truly rich, and white robes to clothe you and hide your shameful nakedness, and ointment to put on your eyes to enable you to see. I reprove and train those whom I love: so repent in real earnest.'

5. Revelation 5:9-14

They sang a new hymn: You are worthy to take the scroll and to break its seals, because you were sacrificed, and with your blood you bought people for God of every race, language, people and nation and made them a line of kings and priests for God, to rule the world.

In my vision, I heard the sound of an immense number of angels gathered round the throne and the living creatures and the elders; there were ten thousand times ten thousand of them and thousands upon thousands, loudly chanting:

Worthy is the Lamb that was sacrificed to receive power, riches, wisdom, strength, honour, glory and blessing.

Then I heard all the living things in creation-everything that lives in heaven, and on earth, and under the earth, and in the sea, crying:

To the One seated on the throne and to the Lamb, be all praise, honour, glory and power, for ever and ever.

And the four living creatures said, 'Amen'; and the elders prostrated themselves to worship.

6. Revelation 7:14-17

I answered him, 'You can tell me, sir.' Then he said, 'These are the people who have been through the great trial; they have washed their robes white again in the blood of the Lamb. That is why they are standing in front of God's throne and serving him day and night in his sanctuary; and the One who sits on the throne will spread his tent over them. They will never hunger or thirst again; sun and scorching wind will never plague them, because the Lamb who is at the heart of the throne will be their shepherd and will guide them to springs of living water; and God will wipe away all tears from their eyes.'

7. Revelation 12:1-8

Now a great sign appeared in heaven: a woman, robed with the sun, standing on the moon, and on her head a crown of twelve stars. She was pregnant, and in labour, crying aloud in the pangs of childbirth. Then a second sign appeared in the sky: there was a huge red dragon with seven heads and ten horns, and each of the seven heads crowned with a coronet. Its tail swept a third of the stars from the sky and hurled them to the ground, and the dragon stopped in front of the woman as she was at the point of giving birth, so that it could eat the child as soon as it was born. The woman was delivered of a boy, the son who was to rule all the nations with an iron sceptre, and the child was taken straight up to God and to his throne, while the woman escaped into the desert, where God had prepared a place for her to be looked after for twelve hundred and sixty days.

And now war broke out in heaven, when Michael with his angels attacked the dragon. The dragon fought back with his angels, but they were defeated and driven out of heaven.

8. Revelation 14:1-7

Next in my vision I saw Mount Zion, and standing on it the Lamb who had with him a hundred and forty-four thousand people, all with his name and his Father's name written on their foreheads. I heard a sound coming out of heaven like the sound of the ocean or the roar of thunder; it was like the sound of harpists playing their harps. There before the throne they were singing a new hymn in the presence of the four living creatures and the elders, a hymn that could be learnt only by the hundred and forty-four thousand who had been redeemed from the world. These are the sons who have kept their virginity and not been defiled with women they follow the Lamb wherever he goes; they, out of all people, have been redeemed to be the first-fruits for God and for the Lamb. No lie was found in their mouths and no fault can be found in them.

Then I saw another angel, flying high overhead, sent to announce the gospel of eternity to all who live on the earth, every nation, race, language and tribe. He was calling, 'Fear God and glorify him, because the time has come for him to sit in judgement; worship the maker of heaven and earth and sea and the springs of water.'

Revelation 19: 7-8

let us be glad and joyful and give glory to God, because this is the time for the marriage of the Lamb. His bride is ready, and she has been able to dress herself in dazzling white linen, because her linen is made of the good deeds of the saints.'

9. Revelation 21:1-10

Then I saw a new heaven and a new earth; the first heaven and the first earth had disappeared now, and there was no longer any sea. I saw the holy city, the new Jerusalem, coming down out of heaven from God, prepared as a bride dressed for her husband. Then I heard a loud voice call from the throne, 'Look, here God lives among human beings. He will make his home among them; they will be his people, and he will be their God, God-with-them. He will wipe away all tears from their eyes; there will be no more death, and no more mourning or sadness or pain. The world of the past has gone.'

Then the One sitting on the throne spoke. 'Look, I am making the whole of creation new. Write this, "What I am saying is trustworthy and will come true."' Then he said to me, 'It has already happened. I am the Alpha and the Omega, the Beginning and the End. I will give water from the well of life free to anybody who is thirsty; anyone who proves victorious will inherit these things; and I will be his God and he will be my son. But the legacy for cowards, for those who break their word, or worship obscenities, for murderers and the sexually immoral, and for sorcerers, worshippers of false gods or any other sort of liars, is the second death in the burning lake of sulphur.'

One of the seven angels that had the seven bowls full of the seven final plagues came to speak to me and said, 'Come here and I will show you the bride that the Lamb has married.' In the spirit, he carried me to the top of a very high mountain, and showed me Jerusalem, the holy city, coming down out of heaven from God.

Revelation 22:20

The one who attests these things says: I am indeed coming soon.

Amen; come, Lord Jesus.

---
Scriptural quotations are taken from The New Jerusalem Bible, Doubleday & Co.
Imprimatur granted by Cardinal Hume.
"If you ask the Father anything in my name,
He will give it to you"

R. God wants our unity – we ask for this
unity – that the Spirit of God fill
us and help us to be holy –
that we do not hold onto any of the deadly
sins that block us from this unity –
that the Holy Spirit can work in our souls,
so we can be His instruments of love
and peace and joy among our brothers.

We pray this heavenly Father in the name of
Jesus who said ask in my name and
it will be given to you.

Let us experience the joy of unity and love
on a supernatural level and know You
our beloved God – more and more supernaturally.
We want our hearts to be sanctified in
our love and work so we are holy and
pleasing to You God.

Come to us Lord and possess our soul.

We want to walk as God intends us
to walk today in the plan of God,
in the work He has called us to do today.

We know that we must cooperate with the grace
You are giving us – now and today to
bring unity and peace and love to this
day as we serve to do the work – You are
calling us in our vocation to do.

Dear Heavenly Father, hear our prayer,
in the name of Jesus, we pray,
we ask, heavenly Father for these
graces necessary this day to
bring peace, love and joy to
our relationships and work – as You
work in us.

We seek perfection in our souls to be holy
souls likened to You – in work
and in play – to be holy in prayer –
we invite You Holy Spirit to be
the Guest of our soul.

We seek order in our lives, not disorder.

We beg for the virtues of faith, hope, love,
prudence, temperance, fortitude, justice,
and humility. We seek to be obedient
to the will of God and live obedient to
the will of God in love.

Come Holy Spirit Come into our hearts. Transform
us from fear to fearlessness to serve
You as You desire in our lives.

Help our actions to be for the glory and honor
of God with the goal of these actions
to one day be in heaven with Thee,
our beloved God.

Heal our hearts and our bodies – Help
us to have health of body now in
this work you call us to do.

Instill in us a desire to want to only
do the will of the heavenly Father
and to walk in holiness and love.

We pray all these prayers heavenly Father,
united to Jesus, in His name for
grace and holiness today and always.

Help us to live by right reasoning in
our lives – to have the truth
in our every thought and to live
in order as You operate in us
in unity and love.

Come to me Lord and possess my soul.

We seek order in our lives – Your order
to love in us, to help us to act as
You desire, to have the thoughts
that are in right reasoning and in
Your order, Lord.

Give us the grace to use our faculties
to love and serve You and do
Your work.

Give us faith and right reasoning.

Help us to love and be just in our actions.

Help us to seek Your Divine Will and to
perform those actions, which are actions
pleasing to You in everything.

Come to us Lord and purify our consciences,
our souls.

Help us to hope and love in Thee.

We seek heavenly vision – to see
things through the eyes of
the heavenly Father and to be
perfected more and more in doing
God's will in our lives.

We pray for the gifts and fruits of the Holy Spirit.

We pray for this purity in our souls –
to live virtuously, to be perfected
more and more and filled with the
gifts of the Holy Spirit –
Wisdom, Understanding, Counsel,
Fortitude, Knowledge, Piety
and Fear of the Lord

and to have the fruits of the Holy Spirit --
charity, joy, peace, patience,
benignity (kindness), goodness,
long-suffering, mildness,
faith, modesty, continency,
and chastity.

We do not want the enemies to
invade our thoughts, our
actions, our lives –

We pray to give up ugly bad habits of the
deadly sins –
pride, greed, envy, wrath, lust, gluttony, and sloth

We know on this journey we will
experience sufferings and joys
and we accept the struggles
in life and ask You to help us,
strengthen us in our lives to
suffer and rejoice as You
desire us to do in our lives.

We want to be a reflection of Your
heavenly love – to be full of light –
Your light in us. To operate in
light and not darkness – IN You,
our beloved God.

We want to follow in the footsteps
of Jesus in giving love and
light and unity to those
we contact in our lives –

Prayer for Union with Jesus

Come to me, Lord, and possess my soul. Come into my heart and permeate my soul. Help me to sit in silence with You and let You work in my heart.

I am Yours to possess. I am Yours to use. I want to be selfless and only exist in You. Help me to spoon out all that is me and be an empty vessel ready to be filled by You. Help me to die to myself and live only for You. Use me as You will. Let me never draw my attention back to myself. I only want to operate as You do, dwelling within me.

I am Yours, Lord. I want to have my life in You. I want to do the will of the Father. Give me the strength to put aside the world and let You operate my very being. Help me to act as You desire. Strengthen me against the distractions of the devil to take me from Your work.

When I worry, I have taken my focus off of You and placed it on myself. Help me not to give in to the promptings of others to change what in my heart You are making very clear to me. I worship You, I adore You and I love You. Come and dwell in me now.

-God's Blue Book, January 17, 1994