Prayer for Grace for our Country
Dear Father united to Jesus in the Holy Sacrifice of the Mass, the Sacrifice of Calvary sacramentally made present, celebrated around the world, in the Holy Spirit. We offer up all we do united to the Mass. We unite in one mind and one heart as members of the mystical body of Christ, with Christ our head in the pure and holy Hearts of Jesus and Mary, through the powerful intercession of Mary with all the angels and saints and souls in purgatory, and we beg for the saving grace, for our country, the United States. Please help us. We further pray for unity to always do the will of God in love. We spread the Blood of Jesus on the leaders and people of the United States and cast the devil into hell. We consecrate our country to the Sacred Heart and Immaculate Heart and all our dioceses, and beg for an outpouring of the Holy Spirit. God help us. We pray for our families, the priests, the Church and the world. In the Name of Jesus please hear us, we pray. We pray for our new president as he takes office. We pray that we are united as one nation under God to work together in love as God wants.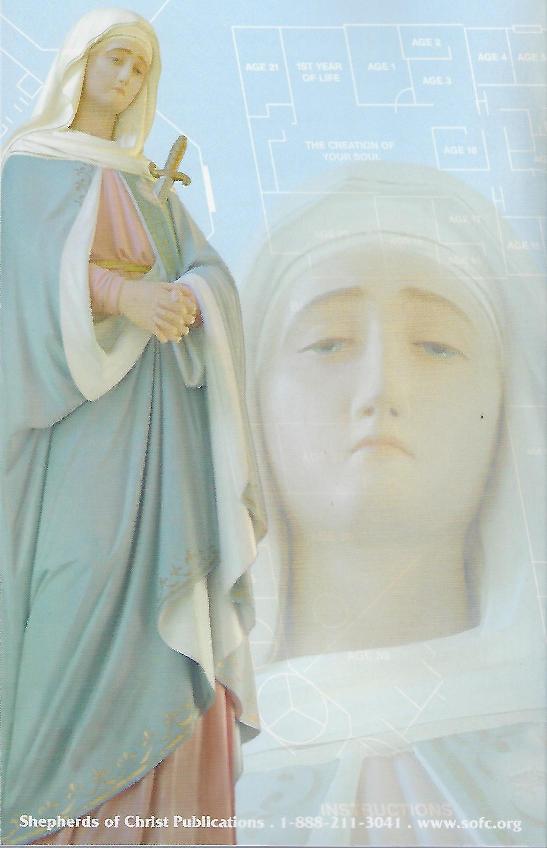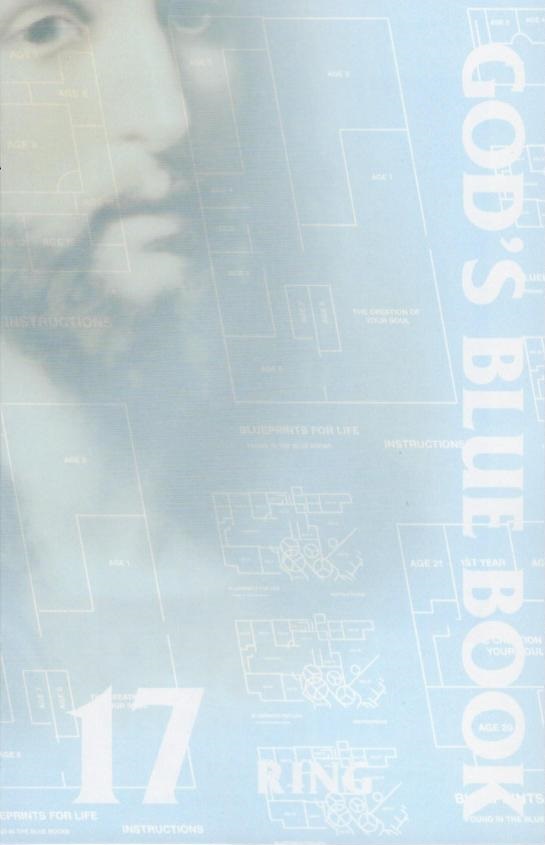 God's Blue Book 17 is available
$5.00 plus postage.
Help us spread the Blue Books.
May 20, 2018 - Pentecost
R. Love is beyond any explanation –
It is the love of God that fills
the soul and it is His love
in us as He possesses our
soul.
It is an energy that is unexplainable,
it is a rush of selflessness that
goes out to others. It is a vision
inside that is not hampered or
restricted by selfish enclosure –
The love of God in the heart
of man paints a picture of
light and beauty. It lays the rolling
hills with a beauty of comfort to
the eye as one gazes on the fresh
green wonder and beauty of its
vision.
Love sees deep into things –
Seeing the Creator's hand in
the gift given. The baby is
beautiful – the child of 2 a
wonder, the body has a beauty
how it functions and the
uniqueness of every person and how
the plan of God was written in
them to be an instrument for
the building of His Kingdom –
the love that only they can uniquely
give, the purpose of their unique
personality and talents –
God created us in love, to
be love to others. God created
us to give Him love. God
created us because He saw
in us beauty and purpose and
purity in His image and
likeness.
God willed we existed to be,
and He created us in love,
uniquely and with purpose.
God knew us before we knew
ourselves, or how we got here,
and what we would be like.
Can anyone really see
themselves as they should in
the eyes of the Creator. Do we
know the mind and heart of
God? Do we know the depths
of love? God is love. How
can we define this?

John 3: 16
For this is how God loved the world:
he gave his only Son,
so that everyone who believes in him
may not perish
but may have eternal life.
R. We seek that relationship
with our heavenly Father – who
has a plan for us, who loves
us like a Father, who wants
us to be all He uniquely wants us
to be – living and being with
our brothers in harmony and
co-operation – blending and
being – making our mark in
our unique expression God
wants of us –
Beauty – God created us
with a unique beauty –
We may have eyes and noses
and a mouth and ears,
but there is the unique
way God has created our hearts
to love – to give – to contribute
in unity, in love with Him
and others as no other person
can do.
The message God wrote on
our soul, in our heart,
in our future, with others –
to work with – in our
vocation – in our being
who we are – so special
and beautiful created uniquely
by the hand of God!
God created us and God
has a plan for us. God
created us in His image and
likeness, but we have a wounded
human nature because of the
sin of Adam and Eve.
God has given us baptism –
God gives us a sharing in
His Divine Life – God opens
the supernatural world to
us, God elevates our knowing
and loving capacity in baptism –
God gives us the supernatural
virtues of faith, hope and
love and God dwells in
the graced baptized soul.
God has given us this sharing
in His life in baptism and
Jesus feeds this life with
Himself in the Eucharist –
Sing Song: I Am the Bread of Life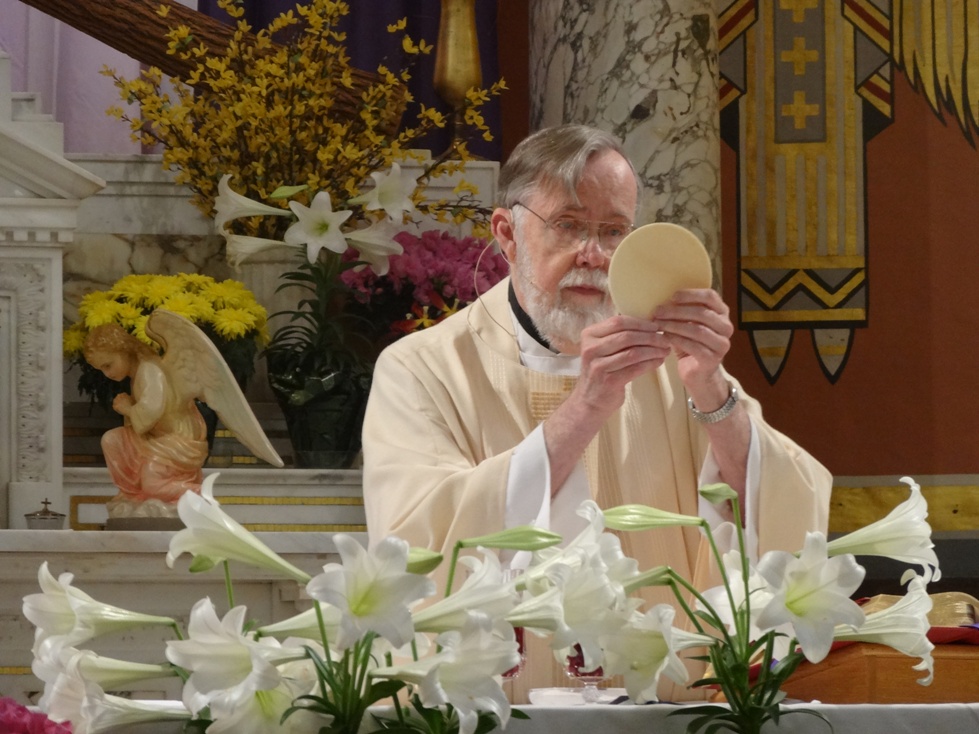 R. Love

Love is in the hearts of
those who say "yes" as
Mary said "yes". Mary
perfect disciple, Mary
perfect handmaid of Jesus.
Mary is so beautiful –
Mary is sinless –
Mary is love –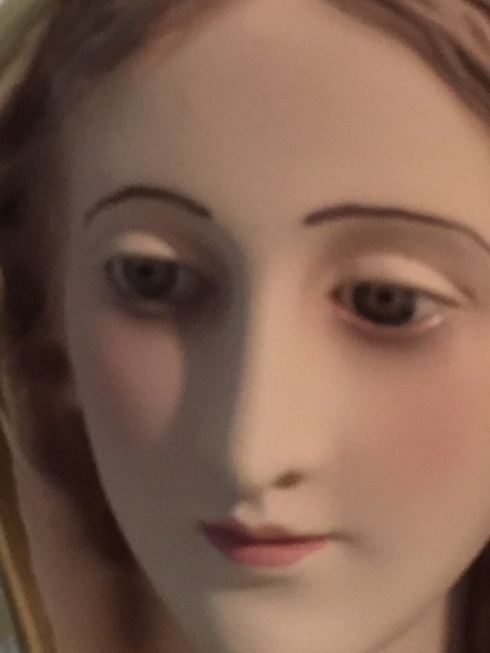 R. Can you comb the depths of a
heart filled with the love
of God?
Do you know that God
abundantly wants to
fill our hearts and souls
with greater life in Him?
25 Years Ago in the hand
of a child.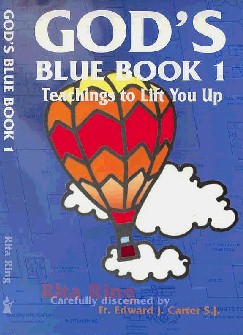 Cling to Me

May 13, 1993

Jesus: My dear child, if you stay close to Me, then I live in you and you live in Me. I am He Who created you and I love you with such an intensity that you will never know. My words are your truth. You must abide in My heart in all things. There is no room for doubt. My ways are steadfast, direct, and without error.

You must stay rooted in Me to ward off the power of the evil one. His grip is paralyzing and crippling. His power is stronger every day.

When you live in Me, I am in your heart and he has no power over Me. I am your God. I am your true lover. I want to protect you. I want to guard you from this force. Stay rooted firmly in Me and he will have no power.

I am He Who comforts you. My hand is upon you. Hold tight to Me, My child. My eyes are fixed right on you. You are My most precious child. I love you as no other can. My arms are about you. My tenderness surrounds you. My love is in your heart. You go not alone. I walk with you.

I share every aspect of your life with you. Cling to Me, feel My presence. It is warm and secure within your chest. There is no room for fear, for I cast out fear and bring you comfort and joy.

end of May 13, 1993

Prayer for Union with Jesus
Come to me, Lord, and possess my soul. Come into my heart and permeate my soul. Help me to sit in silence with You and let You work in my heart.

I am Yours to possess. I am Yours to use. I want to be selfless and only exist in You. Help me to spoon out all that is me and be an empty vessel ready to be filled by You. Help me to die to myself and live only for You. Use me as You will. Let me never draw my attention back to myself. I only want to operate as You do, dwelling within me.

I am Yours, Lord. I want to have my life in You. I want to do the will of the Father. Give me the strength to put aside the world and let You operate my very being. Help me to act as You desire. Strengthen me against the distractions of the devil to take me from Your work.

When I worry, I have taken my focus off of You and placed it on myself. Help me not to give in to the promptings of others to change what in my heart You are making very clear to me. I worship You, I adore You and I love You. Come and dwell in me now.

-God's Blue Book, January 17, 1994
R. We put on Christ. We imitate
Christ, we live in Christ,
we live the Christ life. We
follow in His footprints –
The Holy Spirit moves
in us like a Divine breath –
The fire of God's love burns
in us. The Holy Spirit is the Divine
Artist painting the image of
Jesus on our soul if we
open ourselves and beg
Him to come and possess
our soul.
We are docile to the Holy Spirit's
touch – we are obedient to the will
of our heavenly Father –
We dwell in the burning
love of the Sacred Heart of Jesus.
We surrender to God. We give
God ourselves. We are faithful
to God we obey the Commandments
of God, we live by the Word –
We receive the gifts of
being members of the
Body of Christ.
We put God first in our
lives always. Our love for
God is so real – we do
not want to offend Him –
We seek to mature more and more
in this supernatural love
capacity God has given to
us in baptism and is
abundantly filling us more
and more with His life in
us as we seek Him –
Life is not life if
it is not rooted in Him.
Come Holy Spirit Come –
Come and possess my soul –
Come Holy Spirit move in me as I
surrender more and more to
Thee – Let me be silent
so I can hear Your voice,
Holy Spirit, in me. Bring the
light of God's love in my
soul. Help me to grow
in greater purity. Embrace
me with Your love and
help me to be Your instrument
of love in this world.
Give to me Your virtues
and gifts, Holy Spirit –
Breathe in me, Holy Spirit –
that I live in God and
hear His voice.

From the Prayer Manual

Holy Spirit Prayer
Come, Holy Spirit, almighty Sanctifier, God of love, who filled the Virgin Mary with grace, who wonderfully changed the hearts of the apostles, who endowed all Your martyrs with miraculous courage, come and sanctify us. Enlighten our minds, strengthen our wills, purify our consciences, rectify our judgment, set our hearts on fire, and preserve us from the misfortunes of resisting Your inspirations. Amen.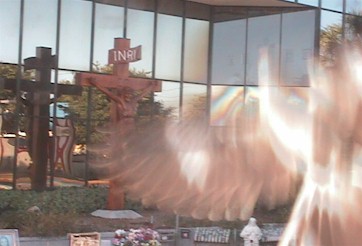 R. Help me Holy Spirit to put on the
mind of Jesus. Let Your
movement in me be as
a gentle breath – so I
can hear Your voice
in me. Let this purity of
heart and soul prepare me
so I can be more deeply
united to You in my
heart and soul. Let me
be open to Your inspirations.
Let my soul be greater
one with God –
Love of the Holy Spirit comes
when we surrender our
selves to Him to let Him
possess our soul –
It is Union – like the message
Jesus gave us May 13, 1993
25 years ago –
I want to be one in you
and you one in Me –
We see John 17.
John 17: 20-26
I pray not only for these
but also for those
who through their teaching
will come to believe in me.
May they all be one,
just as, Father, you are in me
and I am in you,
so that they also may be in us,
so that the world may believe
it was you who sent me.
I have given them the glory
you gave to me,
that they may be one as we are one.
With me in them and you in me,
may they be so perfected in unity
that the world will recognise
that it was you who sent me
and that you have loved them
as you have loved me.

Father,
I want those you have given me
to be with me where I am,
so that they may always see my glory
which you have given me
because you loved me
before the foundation of the world.
Father, Upright One,
the world has not known you,
but I have known you,
and these have known
that you have sent me.
I have made your name known to them
and will continue to make it known,
so that the love with which you loved me
may be in them,
and so that I may be in them.
R. This is infinite love –
this is love in Him –
Can you even fathom the
mystery of God's love – the
interior life of the Trinity –
Fr. Carter wrote in Response to
God's Love.
Excerpt from Response to God's Love by Fr. Edward Carter, S.J.
... In reference to Christianity, God himself is the ultimate mystery. Radically, God is completely other and transcendent, hidden from man in his inner life, unless he chooses to reveal himself. Let us briefly look at this inner life of God.

The Father, in a perfect act of self-expression, in a perfect act of knowing, generates his son. The Son, the Word, is, then, the immanent expression of God's fullness, the reflection of the Father. Likewise, from all eternity, the Father and the Son bring forth the Holy Spirit in a perfect act of loving.

At the destined moment in human history, God's self-expression, the Word, immersed himself into man's world. God's inner self-expression now had also become God's outer self-expression. Consequently, the mystery of God becomes the mystery of Christ. In Christ, God tells us about himself, about his inner life, about his plan of creation and redemption. He tells us how Father, Son, and Holy Spirit desire to dwell within us in the most intimate fashion, how they wish to share with us their own life through grace. All this he has accomplished and does accomplish through Christ. St. Paul tells us: "I became a minister of this Church through the commission God gave me to preach among you his word in its fullness, that mystery hidden from ages and generations past but now revealed to his holy ones. God has willed to make known to them the glory beyond price which this mystery brings to the Gentiles—the mystery of Christ in you, your hope of glory. This is the Christ we proclaim while we admonish all men and teach them in the full measure of wisdom, hoping to make every man complete in Christ" (Col 1:25-28).
end of excerpt
R. Love –
The Holy Spirit is the Guest
of our soul. We are docile
to the Movement of the Holy Spirit
in us. The Holy Spirit pours the fire
of God's love into our soul.
We receive love itself.
The Virtues of Faith,
Hope and Love are theological
virtues – only God can
give us an increase in
these virtues we received
in baptism, but we must
be open to God, allowing God
to come in us, co-operate
with the grace given and
the increase of these virtues
working in us by the hand
of God.
Being faithful to God is
paramount, be trustworthy
in how we conduct our
lives, being predictable
to walk in the Light –
in the ways of God – to
be obedient to God in our
lives.
Obedience to the will of God –
is paramount – obedience is
practiced – God is a God
of order and structure –
He is unchanging – God
is trying to teach us –
We must be listening, learning,
walking the journey God
has here below –
Obedience is practiced –
Obedience must be cultivated
in the soul –
Lawlessness is not of God!!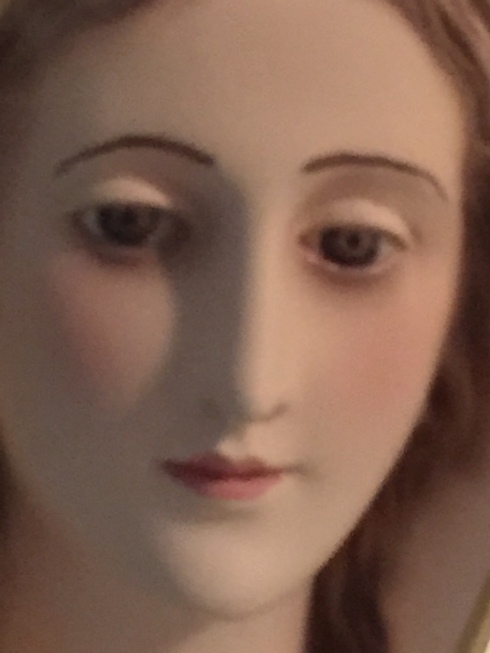 A Prayer for Intimacy with the Lamb, the Bridegroom of the Soul
Oh Lamb of God, Who take away the sins of the world, come and act on my soul most intimately. I surrender myself, as I ask for the grace to let go, to just be as I exist in You and You act most intimately on my soul. You are the Initiator. I am the soul waiting Your favors as You act in me. I love You. I adore You. I worship You. Come and possess my soul with Your Divine Grace, as I experience You most intimately.
R. The Holy Spirit comes and moves the
soul – the soul is waiting
God's favors - seeking
perfection in loving as God
loves in us –
Come Holy Spirit come and possess
my soul –
God wants to penetrate
our hearts with the fire
of His love –
Freedom

March 2, 1994
At Cathedral After Communion

Jesus: I want you to love Me as I love you. If I asked you to lay down your life for Me, you would give this freely of yourself. I need this surrender from you that you put Me above all things--not some things, all things. I am the Lord thy God, thou shalt not have any gods before Me--not your husband, your children, your life, your house. I want your total surrender! I am not asking you to give these things up. I am asking you to love Me more than any of these things, that you are willing to give them up for Me!

This is freedom. When your love is for Me and Me alone, no one has any control over you. You live for Me and I am Almighty. I love you with the most ardent love and you know all that comes from Me is from Him Who laid down His life for you.

Do you love Me? Would you lay your life down for Me? If you love, you give of yourself. Do you love each other? Do you give of yourself to one another or do you have relationships that give to you? This is not love. Love gives from the heart. Love is for the good of the other. I gave My life for you that you might live. Follow the Master. I did not die for any of My own gratifications, I died to show you how I loved you! I gave My only life for you. I love you this much!

I call you to love. Love is action from your heart. Do you love Me this way or do you just do busy work and call it love?

To learn about love you must come and be with Me. Sit and let Me teach you My ways. I sit with My red garb, covering My white tunic, you at My feet and I teach you ever so sweetly each day. You are My beloved ones. I died for you. I give you this same love today. Love gives to the other. Do you give this kind of love to Me and your brother or do you ask what others and I will give to you?

You do not know love if you do not come and you are not taught by Me. I am the author of love. I teach the mighty lessons of love. I died out of love for you.

You cannot love intimately if you hold back. To love Me, you must totally surrender, surrender all you hold on to. People do not love Me because they want to hold back. If you want intimacy with Me, you must be willing to surrender your all to Me.

Are you willing to do this? This is where the power is. When you give your all, I possess your soul and I am all powerful. I want your all, not little pieces you stingily let go of. I want your all. Then you will have an intimate union with God. Then you will live in His love and be powered by His might. Then you will be free. I will operate you and you will be united to Me as one. What power, God dwelling within your breast and acting from your soul! Become selfless and unattached to anything. I am God and you shall not have any gods before Me! end of excerpts
Let me be a holy sacrifice and unite with God in the sacrament of His greatest love.

I want to be one in Him in this act of love, where He gives Himself to me and I give myself as a sacrifice to Him. Let me be a holy sacrifice as I become one with Him in this my act of greatest love to Him.

Let me unite with Him more, that I may more deeply love Him. May I help make reparation to His adorable Heart and the heart of His Mother, Mary. With greatest love, I offer myself to You and pray that You will accept my sacrifice of greatest love. I give myself to You and unite in Your gift of Yourself to me. Come and possess my soul.

Cleanse me, strengthen me, heal me. Dear Holy Spirit act in the heart of Mary to make me more and more like Jesus.

Father, I offer this my sacrifice, myself united to Jesus in the Holy Spirit to You. Help me to love God more deeply in this act of my greatest love.

Give me the grace to grow in my knowledge, love and service of You and for this to be my greatest participation in the Mass. Give me the greatest graces to love You so deeply in this Mass, You who are so worthy of my love.

-Mass Book, December 27, 1995