June 14, 2017
In the Month of the Sacred Heart
R. How am I willing to share myself with the world?
Am I willing to show you what is inside of me
and if I make myself vulnerable - you
can accept or reject what I have said.
I wonder how Jeremiah dealt with the pit
they threw him in and chained him as
they did.
Did Christ hold back - when He gave His all –
In the 3 years of public ministry He
did the work He was called to give.
I remember how God gave me the writings
of the pre-Blue Book, Blue Book I and
part of Blue Book II and I was rejected for
answering the call to share His letters
of love.
No one really seemed to be paying much
heed to help me deliver the letters
and then the messages of the Big Boom,
and sure enough He gave the Big Boom
to the old seminary – Nobody even
noticed what I had said and the priest even
said when Jesus told me to donate my grand
piano at Our Lady of the Holy Spirit Center,
"If Jesus wants that piano in here He
can knock a wall out" only days before
the wall was knocked out – a whole
corner of the seminary built 70 years
before fell off on Lucia's birthday
March 22, 1994 where the priests
in this diocese had studied.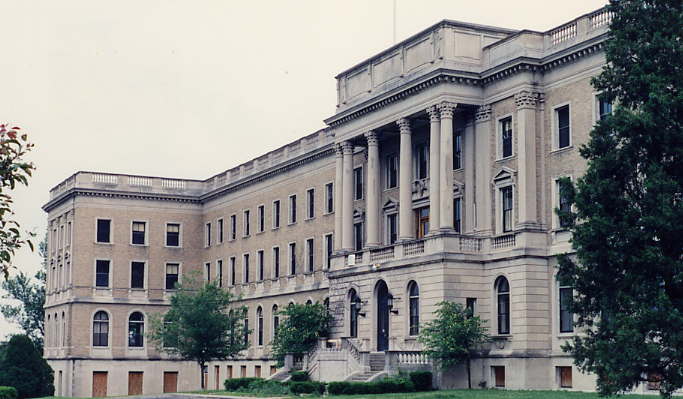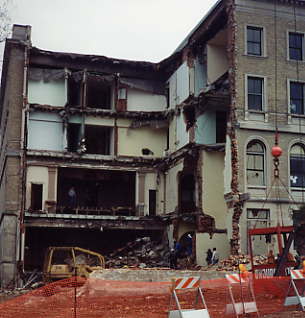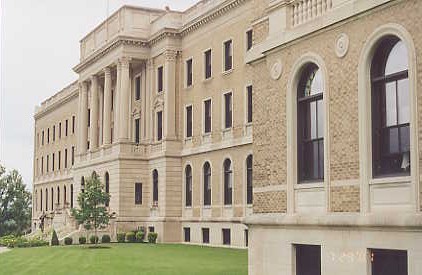 R. The struggle was very great and I
was asked to leave Our Lady of the Holy
Spirit Center after Mary appeared daily. We
didn't really have a center for us to pray at
until December 1996 when Fr. Carter said
Jesus told him to buy the Morrow Center and
then Mary's image appeared on the Clearwater
building December 17, 1996.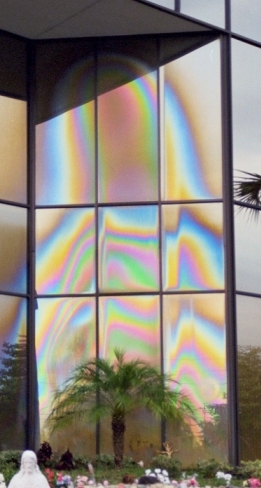 R. This was the same day the Red Rosary book
went out. Mary's image was in rainbow
color and so was the Red Rosary book
with the rainbow on it – It left the
printer the same day, December 17, 1996.

shipped from the printers
December 17, 1996

Mary appeared
December 17, 1996
R. December 17, 1991, 5 years before I had
a vision of the Heart of Jesus –

Jesus: I am Jesus. I have spoken as never before, you will spread My love to all souls on this earth.

His Burning Heart

R. I was alone in All Saints Church after Mass and Communion, in front of the tabernacle, when I saw the Sacred Heart. It was red around the outside, then a layer of yellow and then the brightest light in the center. I felt heat and it looked like an open furnace.

I thought about it all day and it instantly gave me peace and warmth in my heart. This is the purpose of these letters—to draw hearts to the ardent on-fire love of Jesus. I received the following message that day:

"Open your heart to the fire of God's love. He is ablaze in your heart. He wants to dwell in you and love you and others through you. Love God, yourself and one another and experience the fire set aglow in your heart and experience the warmth of His love."

end of writing
R. December 17, 1993, 3 years before the first
message I ever received was published.
Blue Book 14 is very important.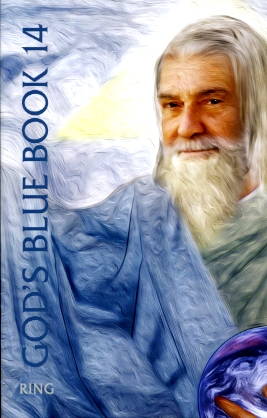 R. Jesus really got rid of all the officers
ignoring the messages and requests
He asked for and on March 3, 1997
the city of Falmouth flooded –
wiped out homes and the houses,
and streets were under water.
Fr. Carter said Jesus wanted us to look
for another center and so we found
the China Church by accident and
a member told us about it after
we found it.
The Archdiocese asked Fr. Carter to
take it for a very cheap price for
our work.
We were able to lease the Virgin Mary
building and begin the 5th rosaries
on July 5, 1998. The Daily Writing
also began then – So I could do the
5ths from the Virgin Mary building
now since July 5, 1998 – 19 years
ago.
It took faith believing in what God
told me to do. Fr. Carter encouraged me.
Fr. Carter said Mass almost every day during
the week in China. He said the Mass
of the Sacred Heart whenever he could.
The 13ths soon began at the China
Church and Fr. Carter was able to reserve
the Eucharist. We prayed almost all
day in the China Church since
late in 1998.
Fr. Carter and other priests circulated
over 17,000,000 Priestly Newsletters
all over the world to hierarchy and
priests. Every other month we would
circulate 75,000 to 85,000 Priestly
Newsletters in English and Spanish
checked by his Jesuit superiors. Fr. Carter
our founder had a doctorate and had
previously published 17 books many
in other languages on the spiritual
life.
Fr. Carter tried in these years before he
died to begin prayer chapters in
every state and he was able to
get the prayers and rosary books
translated in many different
languages with the Imprimatur.
We got consecration cards, prayers,
coloring books translated in many
languages with the Church's
Imprimatur.
As co-founder after Fr. Carter's death
I followed the messages and directions
God gave me to try to do the Ministry
as He told me.
When you open yourself up and tell what
Jesus wants, we can be rejected.
I pray that people will see the hand
of God in this gift to help renew
the Church and the world.
God calls us uniquely to make a
mark in salvation history and in
justice we are to give of ourselves
for this world and future generations
as people in the past did for us.
In justice we are called to help
spread the Kingdom of God.
God uniquely calls us to a vocation
to do what He has called us to do.
We are here to die to our imperfections
and live the life of resurrection in
our lives –
Mary at Fatima 100 years ago called us
to conversion and spread the devotion
to the Sacred Heart and Immaculate Heart.
We must work in union and
cooperation with others to do
the work God has called us to do
and follow the directions of God.
In baptism we are called to go out
and spread the Good News.
Dear God give us the grace we
need most to obey this calling
You have given to us – so souls
can be reached with the prayers
and messages of Jesus and Mary.
Jesus said: Blessed are they who have
not seen and still believe –
Fr. Carter believed and worked for this.

Hebrews 11:1-40
The exemplary faith of our ancestors
Only faith can guarantee the blessings that we hope for, or prove the existence of realities that are unseen. It is for their faith that our anestors are acknowledged.

It is by faith that we understand that the ages were created by a word from God, so that from the invisible the visible world came to be.

It was because of his faith that Abel offered God a better sacrifice than Cain, and for that he was acknowledged as upright when God himself made acknowledgement of his offerings. Though he is dead, he still speaks by faith.

It was because of his faith that Enoch was taken up and did not experience death: he was no more, because God took him; because before his assumption he was acknowledged to have pleased God. Now it is impossible to please God without faith, since anyone who comes to him must believe that he exists and rewards those who seek him.

It was through his faith that Noah, when he had been warned by God of something that had never been seen before, took care to build an ark to save his family. His faith was a judgement on the world, and he was able to claim the uprightness which comes from faith.

It was by faith that Abraham obeyed the call to set out for a country that was the inheritance given to him and his descendants, and that he set out without knowing where he was going. By faith he sojourned in the Promised Land as though it were not his, living in tents with Isaac and Jacob, who were heirs with him of the same promise. He looked forward to the well-founded city, designed and built by God.

It was equally by faith that Sarah, in spite of being past the age, was made able to conceive, because she believed that he who had made the promise was faithful to it.

Because of this, there came from one man, and one who already had the mark of death on him, descendants as numerous as the stars of heaven and the grains of sand on the seashore which cannot be counted.

All these died in faith, before receiving any of the things that had been promised, but they saw them in the far distance and welcomed them, recognising that they were only strangers and nomads on earth. People who use such terms about themselves make it quite plain that they are in search of a homeland. If they had meant the country they came from, they would have had the opportunity to return to it; but in fact they were longing for a better homeland, their heavenly homeland. That is why God is not ashamed to be called their God, since he has founded the city for them.

It was by faith that Abraham, when put to the test, offered up Isaac. He offered to sacrifice his only son even though he had yet to receive what had been prcomised, and he had been told: Isaac is the one through whom your name will be carried on. He was confident that God had the power even to raise the dead; and so, figuratively speaking, he was given back Isaac from the dead.

It was by faith that this same Isaac gave his blessing to Jacob and Esau for the still distant future. By faith Jacob, when he was dying, blessed each of Joseph's sons, bowed in reverence, as he leant on his staff. It was by faith that, when he was about to die, Joseph mentioned the Exodus of the Israelites and gave instructions about his own remains.

It was by faith that Moses, when he was born, was kept hidden by his parents for three months; because they saw that he was a fine child; they were not afraid of the royal edict. It was by faith that, when he was grown up, Moses refused to be known as the son of Pharaoh's daughter and chose to be ill-treated in company with God's people rather than to enjoy the transitory pleasures of sin. He considered that the humiliations offered to the Anointed were something more precious than all the treasures of Egypt, because he had his eyes fixed on the reward. It was by faith that he left Egypt without fear of the king's anger; he held to his purpose like someone who could see the Invisible. It was by faith that he kept the Passover and sprinkled the blood to prevent the Destroyer from touching any of their first-born sons. It was by faith they crossed the Red Sea as easily as dry land, while the Egyptians, trying to do the same, were drowned.

It was through faith that the walls of Jericho fell down when the people had marched round them for seven days. It was by faith that Rahab the prostitute welcomed the spies and so was not killed with the unbelievers.

What more shall I say? There is not time for me to give an account of Gideon, Barak, Samson, Jephthah, or of David, Samuel and the prophets. These were men who through faith conquered kingdoms, did what was upright and earned the promises. They could keep a lion's mouth shut, put out blazing fires and emerge unscathed from battle. They were weak people who were given strength to be brave in war and drive back foreign invaders. Some returned to their wives from the dead by resurrection; and others submitted to torture, refusing release so that they would rise again to a better life. Some had to bear being pilloried and flogged, or even chained up in prison. They were stoned, or sawn in half, or killed by the sword; they were homeless, and wore only the skins of sheep and goats; they were in want and hardship, and maltreated. They were too good for the world and they wandered in deserts and mountains and in caves and ravines. These all won acknowledgment through their faith, but they did not receive what was promised, since God had made provision for us to have something better, and they were not to reach perfection except with us.