June 29, 2018 - Feast of Sts Peter and Paul Apostles
Acts 3:1-10
The cure of a lame man
Once, when Peter and John were going up to the Temple for the prayers at the ninth hour, it happened that there was a man being carried along. He was a cripple from birth; and they used to put him down every day near the Temple entrance called the Beautiful Gate so that he could beg from the people going in. When this man saw Peter and John on their way into the Temple he begged from them. Peter, and John too, looked straight at him and said, 'Look at us.' He turned to them expectantly, hoping to get something from them, but Peter said, 'I have neither silver nor gold, but I will give you what I have: in the name of Jesus Christ the Nazarene, walk!' Then he took him by the right hand and helped him to stand up. Instantly his feet and ankles became firm, he jumped up, stood, and began to walk, and he went with them into the Temple, walking and jumping and praising God. Everyone could see him walking and praising God, and they recognised him as the man who used to sit begging at the Beautiful Gate of the Temple. They were all astonished and perplexed at what had happened to him.
Response: Their message goes out through all the earth.
Psalm 19: 2-5
day discourses of it to day,
night to night hands on the knowledge.

No utterance at all, no speech,
not a sound to be heard,
but from the entire earth the design stands out,
this message reaches the whole world.
High above, he pitched a tent for the sun,

who comes forth from his pavilion like a bridegroom,
delights like a champion in the course to be run.
Galatians 1: 11-20
Now I want to make it quite clear to you, brothers, about the gospel that was preached by me, that it was no human message. It was not from any human being that I received it, and I was not taught it, but it came to me through a revelation of Jesus Christ. You have surely heard how I lived in the past, within Judaism, and how there was simply no limit to the way I persecuted the Church of God in my attempts to destroy it; and how, in Judaism, I outstripped most of my Jewish contemporaries in my limitless enthusiasm for the traditions of my ancestors. But when God, who had set me apart from the time when I was in my mother's womb, called me through his grace and chose to reveal his Son in me, so that I should preach him to the gentiles, I was in no hurry to confer with any human being, or to go up to Jerusalem to see those who were already apostles before me. Instead, I went off to Arabia, and later I came back to Damascus. Only after three years did I go up to Jerusalem to meet Cephas. I stayed fifteen days with him but did not set eyes on any of the rest of the apostles, only James, the Lord's brother. I swear before God that what I have written is the truth.
John 21: 15-19
When they had eaten, Jesus said to Simon Peter, 'Simon son of John, do you love me more than these others do?' He answered, 'Yes, Lord, you know I love you.' Jesus said to him, 'Feed my lambs.' A second time he said to him, 'Simon son of John, do you love me?' He replied, 'Yes, Lord, you know I love you.' Jesus said to him, 'Look after my sheep.' Then he said to him a third time, 'Simon son of John, do you love me?' Peter was hurt that he asked him a third time, 'Do you love me?' and said, 'Lord, you know everything; you know I love you.' Jesus said to him, 'Feed my sheep.
R. Man performs actions – everyday
we can determine what we will
do that day. So we seek to do things
all day.
God has a plan for us. God
wants us to serve Him and to
do His will.
With every day a new day we
have a choice what actions
we will do and what good
we will attain.
Are we really living to
co-operate with God's plan
for us to serve Him in the
building of the Kingdom of God?
Are we really living the calling
God has called us to in our
vocation?
Yesterday in the Gospel I heard
a scripture Fr. Carter quoted
frequently and lived by –

Matthew 7: 21
'It is not anyone who says to me, "Lord, Lord," who will enter the kingdom of Heaven, but the person who does the will of my Father in heaven.
A person can develop habits
of seeking God's will in their lives
and live by this 24 / 7 – saying
to themselves – asking the Holy Spirit
to guide them – "What is God's will
for me? What does God want me
to do today?" Obedience to God
becomes a habit. Seeking God's
will over our will becomes a
habit. Learning to work with
others in trust and love
becomes a habit. Asking for
God's help in everything we do
becomes a habit.
Like a little child with
their parents – it's a habit
to be docile – under the Lord –
surrendering control to God.
Likewise it's a habit to always
be in control of one's life. Saying,
"I want my space, I want my
comfort zone, I don't let anyone
tell me what to do, I am
autonomous, I don't trust
anyone, I don't believe anyone
is trustworthy" ETC. –
ETC. ETC.
This is self-talk a person
has lived by shutting door after
door daily because of wounded,
survival tactics they learned
in the past. CLOSED, CAVED-IN.
The devil's playground is in
shutting the door to the past
and keep acting-out unfinished
business. The unfinished
business doesn't go miraculously
away.
Yesterday I cut a finger opening
some fresh fruit with a plastic
seal. It was kind-of deep.
Someone called me down the
street so I quickly put a bandage
on it and went –
I basically left it alone. I usually
wash my hands a lot of times
and instead I nursed that hand
until today. When I got up today
and took off the bandage it
was still cut and it needs to
heal.
It is on my right hand and
it isn't good practice to
not use your dominant hand,
not wash your hand etc.
I did that because I cut myself
and it needs to heal. The
practice one uses when one
has a wound is not the same
as when one is healed.
What about deep - deep wounds
of trusting others because of
abuse, incest, abandonment,
not having one's emotional needs
met as a child?
To live in homes such as this,
where communication was thwarted,
union with others, lack of
trust, lack of expressing feelings
and oneself, lack of talking
problems out – a child may
have been forced to survival tactics,
to deal with the dysfunctional,
serious situation, but we are
to look for the truth in our
present situation and not be
a slave to unhealed, bad
habits of healthy living.
Impulses, memories can be
acted out constantly when a
person refuses to let go of
control from the past.
The truth must be
ours and we need to heal.
I will work with my cut
finger until it heals.
Our habits should be good habits
rooted in greater faith – seeing the
vision of the heavenly Father,
in hope of eternal salvation for
ourselves and others and of
love –
All of our actions done in love –
When we love God first and
love our neighbor as ourselves
we are most likened to God.
God created us in His image
and likeness. God is love
We are to love –
Will the real me, please stand up.
God calls us in our vocation to
serve Him and thereby attain
eternal salvation. We are to
live with good habits – that
is virtuously.
The deadly sins are bad habits,
pride, anger, jealousy, envy,
slothfulness, gluttony, lust.
Bandages from the past need
to be removed and the
truth looked at so it can
be healed when one keeps
acting out behaviors of closing
down, not trusting anyone,
not loving, not communicating
needed information and being
hard in heart.
God created us to grow more
and more loving – to co-operate
with Him and others helping
the world to be more and
more Christic.
We must seek the will of
God in our lives and live
with an open heart in the
vocation and family God has
given to us.
Jesus is the way, the truth and
the life. We seek the truth –
it is a habit to seek the truth
and tell the truth as God
command us to do.
We are to live by the commandments
of God –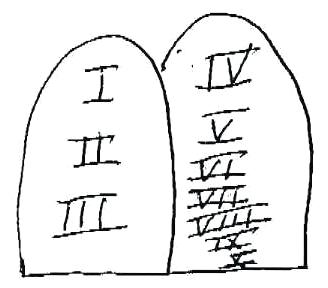 R. The Word is the Bread of Life.

Matthew 7: 21-29
'It is not anyone who says to me, "Lord, Lord," who will enter the kingdom of Heaven, but the person who does the will of my Father in heaven. When the day comes many will say to me, "Lord, Lord, did we not prophesy in your name, drive out demons in your name, work many miracles in your name?" Then I shall tell them to their faces: I have never known you; away from me, all evil doers!

'Therefore, everyone who listens to these words of mine and acts on them will be like a sensible man who built his house on rock. Rain came down, floods rose, gales blew and hurled themselves against that house, and it did not fall: it was founded on rock. But everyone who listens to these words of mine and does not act on them will be like a stupid man who built his house on sand. Rain came down, floods rose, gales blew and struck that house, and it fell; and what a fall it had!'

Jesus had now finished what he wanted to say, and his teaching made a deep impression on the people because he taught them with authority, unlike their own scribes.


Prayer for Union with Jesus
Come to me, Lord, and possess my soul. Come into my heart and permeate my soul. Help me to sit in silence with You and let You work in my heart.

I am Yours to possess. I am Yours to use. I want to be selfless and only exist in You. Help me to spoon out all that is me and be an empty vessel ready to be filled by You. Help me to die to myself and live only for You. Use me as You will. Let me never draw my attention back to myself. I only want to operate as You do, dwelling within me.

I am Yours, Lord. I want to have my life in You. I want to do the will of the Father. Give me the strength to put aside the world and let You operate my very being. Help me to act as You desire. Strengthen me against the distractions of the devil to take me from Your work.

When I worry, I have taken my focus off of You and placed it on myself. Help me not to give in to the promptings of others to change what in my heart You are making very clear to me. I worship You, I adore You and I love You. Come and dwell in me now.

-God's Blue Book, January 17, 1994
R. It is in right reasoning and
living as the Father wills us
to live, that we perform
actions in our lives that will
help build the Kingdom of God –
God has called us to be
a fit instrument to help in
the building of the Kingdom of God –
Our health is a habit – taking
care of ourselves.
We are to live to serve God –
to obey God, to put God's will
first in our lives, to love
our neighbor as ourselves.
God calls us to grow in greater
faith – to seek the vision God
wants for us in our lives –
God is the Initiator –
We are the soul waiting His
favor.
We are full of gratitude
and co-operate with God in
His plan unfolding in our lives.
We seek what God wants for
the good in our lives and the
good of others. We are not
selfishly disposed to controlling
our lives and what concerns
us so we can block God's
plan in our lives that
effect His plan for the salvation
of others.
We are to be meek and tender
in our hearts – not full of
anger and pride and jealousy
that are habits that effect
our actions.
Reason and will –
God has elevated our knowing
and loving capacity in baptism –
God has given us a sharing
in His life – We go beyond our
natural capabilities and we
see the vision of God in faith –
We hope for our eternal salvation
and that of our brothers
and we can love more and more
on a supernatural level.
In baptism we can share
in God's loving activity –
We are given a sharing in
Divine life in baptism –
Actions that are God-like
can increase in us or
diminish. When we act
in truth and honesty this
becomes a habit to always
act in truth and honesty –
To not pay our debts and
hold back becomes a habit.
Hold back what is needed
is a habit.
Love is giving for the good
of the other –
Hold out in reluctance for
control becomes a habit –
It's a habit to work toward
unity and co-operate
with superiors and others –
It can become a habit to always
disobey what one is called
to do for control.
The more we disobey God the
further we go from Him –
The more we live to do God's
will and be loving
likened to God – the more
He can unite and live
in unity and love in
our soul –
Acting contrary to others and to God's
will – opposing God is addressed
over and over again in the
scriptures at Mass.
It speaks of how they abandoned
God and did their own will and
tells us consequences of this –
Yesterday we heard of the
Babylonian exile and how the
Jews suffered because the King
ignored God. They were taken
over, they lost their freedom,
their treasures, they lived in
such suffering.
That is what the devil does –
tempts people to disobey and do
their own will.