July 15, 2017
Morning Offering
My dear Father, I offer You this day all my prayers, works, joys and sufferings, my every breath, my every heartbeat, my every thought, all my actions, in union with Jesus in the Holy Sacrifice of the Mass throughout the world, in the Holy Spirit. I pray the Holy Spirit is with me every second today, enlightening me to do the Will of the Father and filling me with the fire of God's love.

I ask Jesus and Mary to be one in me in all that I do and I unite with all the angels and saints and souls in purgatory to pray continually to the Father for these intercessions, in this prayer, for this day.

For myself, I pray for grace-abundant grace, to know and love God more and more and to follow the Will of the Father. I pray to the Holy Spirit to transform me in the heart of Mary to be more and more like Jesus. I pray that I can forever dwell in the Hearts of Jesus and Mary. I pray for conversion of all those I hold dear who need conversion. I pray for each member of my family that they will be filled with Your abundant grace to grow in their knowledge and love of God.

I pray for all my friends that they will receive abundant grace to carry out the great plan of the Father, that they will grow forever closer to Jesus' Heart through Mary's heart, that we will all be led by the Holy Spirit to do His work, that we will, together, carry out the plan of the Father as He intends us to, to spread the love of the Sacred Heart of Jesus and Mary's heart to this world.

Jesus, I pray for myself so the Holy Spirit descends upon me and opens my heart to Your love so I will grow more and more deeply in union with You. I pray that I do not worry what other people think but try always to please the Father and do His Will. I pray that I may help lead many to Your burning love.

I pray for the following people in particular that they will be filled with the Spirit and grow deeply in their union with You, that they will receive abundant graces to know, love and serve You more. (Include special friends by name...)

I pray for priests the world over, for the success of the Priestly Newsletter, the Chapters and for the finances needed for the Newsletter. I pray for the circulation of the Blue Book messages, rosary meditations and tapes. I pray for all those involved in the publication of these messages.

I pray that You will shower Your abundant graces onto the priests reading the Newsletter the people reading and hearing the Blue Book messages and rosary meditations and all of Fr. Carter's publications.

We pray for the intentions we hold deep within our hearts, for our families and friends, for those requesting our prayers. We pray for children the world over and for the souls in purgatory. We ask God to shower His abundant grace on us and the members of our Shepherds of Christ Chapter so that we may grow more and more in our knowledge and love of God.

We consecrate ourselves to the Hearts of Jesus and Mary. We pray for Father Carter, for Father Smith, for Rita Ring, and for John Weickert, for all leaders and helpers in the Shepherds of Christ Movement, for Shepherds of Christ Ministries, and Our Lady of Light Ministry. We pray for all those who are working in these ministries.

We bind ourselves and our children and our friends to the Immaculate Heart of Mary. We place the precious blood of Jesus on ourselves, and all we touch, so that we will be protected from the evil one. We pray to St. Michael to cast the devil into hell.

We love You, God, we love You, we love You. We beg that we may receive the grace to love You more and more deeply. We adore You, we praise You, our beloved Father, Son, and Holy Spirit.
R. We seek maturity more and more in the
spiritual life. Surrendering giving our lives
to God. The enemy of the spiritual life is the
soul enslaved by pride, anger, jealousy,
envy, slothfulness, lust, gluttony. Advancing
in bad habits act like channels at the
top of a mountain. If someone pours water
from above it will easily go to the ruts.
Likewise if a person is loving - they
have good habits of being loving,
acting in faith –
They live in hope of eternal
salvation – They increase in
good habits, virtues, humility,
prudence, temperance, justice,
fortitude. They develop good
habits and the Holy Spirit can gift this
soul with wisdom, understanding,
the gift of fortitude, counsel, knowledge,
piety and fear of the Lord.
The person then has the fruits of
the Holy Spirit.
They become more mature in the
spiritual life – more likened to Christ.
Last night as I was meditating I was
reminded of the scripture.
Matthew 20: 1-16
'Now the kingdom of Heaven is like a landowner going out at daybreak to hire workers for his vineyard. He made an agreement with the workers for one denarius a day and sent them to his vineyard. Going out at about the third hour he saw others standing idle in the market place and said to them, "You go to my vineyard too and I will give you a fair wage." So they went. At about the sixth hour and again at about the ninth hour, he went out and did the same. Then at about the eleventh hour he went out and found more men standing around, and he said to them, "Why have you been standing here idle all day?" "Because no one has hired us," they answered. He said to them, "You go into my vineyard too." In the evening, the owner of the vineyard said to his bailiff, "Call the workers and pay them their wages, starting with the last arrivals and ending with the first." So those who were hired at about the eleventh hour came forward and received one denarius each. When the first came, they expected to get more, but they too received one denarius each. They took it, but grumbled at the landowner saying, "The men who came last have done only one hour, and you have treated them the same as us, though we have done a heavy day's work in all the heat." He answered one of them and said, "My friend, I am not being unjust to you; did we not agree on one denarius? Take your earnings and go. I choose to pay the lastcomer as much as I pay you. Have I no right to do what I like with my own? Why should you be envious because I am generous?" Thus the last will be first, and the first, last.'
R. God wants to forgive us and give
us mercy if we come with a humble
contrite heart – a truthful heart –
asking to be made clean and
asking for forgiveness and begging
for mercy.
Mary Magdaline came to the
feet of Christ. She wasn't a
sinner that tried to hide her
sin and say she was perfect
and lie.
St. Paul was acted on and was
forgiven. He has given us the writings –
David sinned and he suffered
for his sin, but he was a great
King.
We are here to advance in
the spiritual life. The pope said
the devil is here – we must learn
from the Gospel –
The devil is sneaky. If a
person does sneaky things behind
our back to hurt us they are
acting in the image of satan.
The devil is not seen – all he
does is sneaky –
The devil tries to tempts us constantly
to sin. It takes discipline –
It takes begging the Holy Spirit to
dwell in us.
A person fighting authority
after they sinned – trying to
bring down authority reminds
me of the Scripture where
satan tempted the Lord and
wanted him to bow to him
after Christ fasted in the desert.
If a person becomes more and
more fighting to always be right –
fighting rules in unruliness –
rules that are under God –
how can they be so blind not
seeing selfishness, control,
like a 2 year old – wanting to
work with no one so they don't
have to change bad habits.
Children are under parents
and are to be disciplined, taught –
adults are to know how to obey
God's commandments, obey just
authority, obey God's will –
It is what we are to learn as
Fr. Carter said
"Growing in the spiritual life
is living according to God's
will in love."
We must depend on prayer,
the scriptures, the bread of
life – the Word and the Eucharist
to fight satan.
I read on the internet that St. Benedict
was called to organize some monks
and since they thought he was
too strict they tried to poison him –
He blessed the cup with the sign of
the cross and it broke into pieces.
He prayed for mercy and forgiveness
for them.
The devil works easily in the
slothful, prideful, jealous,
envious soul who is in the
habit of disobedience and
sinning in anger, hurting
others.
Sin makes a person very
unhappy –
pride works in vain glory –
haughtiness, selfishness
anger in a person makes
them quarrelsome, fighting,
sneaky tricks, cowardice
gluttony - no discipline,
eat what you want when
you want –
eating is to help us sustain life –
eating and drinking to excess
not caring about your
body is being rebellious –
giving into temptation to over
indulge –
used to numb pain –
impudence
envy – over indulgent love of self --
disrespect for others
God calls us to love our
neighbors –
The envious person - not
liking himself wants
to bring down a person
doing good, looking good
because they think it hurts
their image –
sloth - refusal to grow in spiritual
direction they need –
lazy spiritually
God loves us so much. We are to
have proper self-esteem
to see ourselves as created
by God and precious to Him.
Seeing ourselves valuable
in God's eyes. This helps
us to have humility –
see through God's eyes –
This gift we have that should
be with right reasoning
can get out of control in pride –
The person is puffed up –
their brothers they
can see as enemies – they
see not through God's eyes
but through the deception of
satan.
When it is pride it can become a
habit. A person is prideful. It is
a bad vice.
Pride is the root of all sins.
If a person loves God as He
should he puts God first and
his life is in proper order –
A prideful person sees himself
above God, above others.
Man has a desire for food
and drink to sustain his life
by right reasoning above the
animals.
Temperance is a virtue
that moderates these bodily
desires, taste, touch.
God has given us these
desires, but they must be
moderated. We are to use them
to glorify God – to serve God,
to help us save our souls.
They must be controlled!
We are not animals – we are
Temples of the Holy Spirit.
In baptism we receive a
sharing of God's life –
Father, Son and Holy Spirit dwell
in the graced baptized soul.
Animals don't have right
reasoning like men to control
themselves.
Temperance is a virtue – We
are to discipline ourselves!
Moderation in drinking,
eating, purity, modesty,
mildness, kindness,
humility.
Humility is truth. Man needs
to see in himself the truth
about his sins and seek
purity.
God wants our hearts loving,
obedient and pure - likened
to the Heart of Jesus.
God wants us to give love –
to give for the good of the other –
the person living in the deadly
sins can hold back more and
more in selfishness, vain
glory and can deteriorate in
secrets to bring others down
because of their jealousy
and envy –
God gives us as gifts to each
other – how ugly to use a
person for our envy and
jealousy and evil – when
God is giving us gifts through
them.
Mark 12:1-12
Parable of the wicked tenants

He went on to speak to them in parables, 'A man planted a vineyard; he fenced it round, dug out a trough for the winepress and built a tower; then he leased it to tenants and went abroad. When the time came, he sent a servant to the tenants to collect from them his share of the produce of the vineyard. But they seized the man, thrashed him and sent him away empty handed. Next he sent another servant to them; him they beat about the head and treated shamefully. And he sent another and him they killed; then a number of others, and they thrashed some and killed the rest. He had still someone left: his beloved son. He sent him to them last of all, thinking, "They will respect my son." But those tenants said to each other, "This is the heir. Come on, let us kill him, and the inheritance will be ours." So they seized him and killed him and threw him out of the vineyard. Now what will the owner of the vineyard do? He will come and make an end of the tenants and give the vineyard to others. Have you not read this text of scripture:

The stone which the builders rejected
has become the cornerstone;
this is the Lord's doing,
and we marvel at it?'

And they would have liked to arrest him, because they realised that the parable was aimed at them, but they were afraid of the crowds. So they left him alone and went away.
R. There is this scripture
how the master sends
his own son to them and they
kill him –
Jealousy, envy are vices,
bad habits that grow in
greater and greater corruption
in the heart.
Vices are like roots
because they become bad
habits that lead to dark
hearts –
A garden that is cared
for is beautiful – leaving
vices grow in the heart
becomes greater and greater
darkness and impurity.
The commandments are
rules given by God and are
to be obeyed.
God gives us our bodies
to care for. The 5th
Commandment tells us we
cannot kill. We cannot
mistreat our bodies –
we are to care for their
needs –
Our bodies are to help the
soul to live the spiritual life –
Our bodies are to be holy –
Our bodies are sacred –
God created us to know,
love and serve Him.
Our soul is to become
more and more as God wants
us to be –
We are to maintain our
health – We are not to
disrespect the health
of others –
We are not to expose our bodies,
or others' bodies to unnecessary
danger. If we live in a
community we give good
examples of health and help
others to care for themselves.
We are to live in
love and peace with
those God has called
us to live with.
We can't decide we
can be a leader in a
community and act before
them in rebellion concerning
health, eating, drinking
etc.
We do not live in a
vacuum –
Killing babies in abortion
for our convenience is wrong.
We do not live in a vacuum –
What about people who
try to get others to get
abortions?
Anger against our innocent brothers
for our own unhealed anger
inside is sinful.
Jesus: You are not to try
to provoke others for your
own power – It is disgusting
to watch a person try to
punish innocent others for
their own vain glory and power.
The more darkness is
growing in a man's heart it
is like a great and thick weed.
Anxiety from angry people
acting out has caused such
suffering, sorrow, grief,
fighting and quarreling.
Just authority is to be obeyed.
Trying to force lawlessness
in an institution while
constituents all do their own
independent way of living,
disregarding rules,
structure, authority is
utter pandemonium.
It will bring down the house
for the man's darkness or
men's darkness engaged in
hate and anger and
punishment of innocent
others –
Anger grows in a man in
pride. A person must seek
to develop humility and
pray for help from God.
There are times of just
anger – when anger is
not a sin –
John 2: 13-22
When the time of the Jewish Passover was near Jesus went up to Jerusalem, and in the Temple he found people selling cattle and sheep and doves, and the money changers sitting there. Making a whip out of cord, he drove them all out of the Temple, sheep and cattle as well, scattered the money changers' coins, knocked their tables over and said to the dove sellers, 'Take all this out of here and stop using my Father's house as a market.' Then his disciples remembered the words of scripture: I am eaten up with zeal for your house. The Jews intervened and said, 'What sign can you show us that you should act like this?' Jesus answered, 'Destroy this Temple, and in three days I will raise it up.' The Jews replied, 'It has taken forty-six years to build this Temple: are you going to raise it up again in three days?' But he was speaking of the Temple that was his body, and when Jesus rose from the dead, his disciples remembered that he had said this, and they believed the scripture and what he had said.
Ephesians 4: 26
Even if you are angry, do not sin: never let the sun set on your anger
Jesus: Anger leads to greater and
greater hatred, not love of
brother, when it comes
from a dark heart wishing
power and hurt to their
brother.

1 John 3: 15
Anyone who hates his brother
is a murderer,
and you are well aware that no murderer
has eternal life remaining in him.
Jesus: Envy is being hateful
of the good fortune of others
and wishing them harm.
Revenge is a desire to injure
a person because of one's
own anger.
A person can have revenge
because he believes
someone has injured
them –
It can be imaginary
that the person
injured them.
It is wrong when a person
projects anger on
an innocent other
and wants to punish them
in revenge. It can be
great disorder to get back
at an innocent other.
It is evil.
I call you to forgiveness,
to love, I call you to
purity.
R. We say in the Our Father
"...forgive us our trespasses
as we forgive those
who trespasses against us."
Jesus: Seeking a quarrel with just
authority is wrong –
I give you the Word and Commandments
to live by.
Matthew 22: 36-40

'Master, which is the greatest commandment of the Law?' Jesus said to him, 'You must love the Lord your God with all your heart, with all your soul, and with all your mind. This is the greatest and the first commandment. The second resembles it: You must love your neighbour as yourself. On these two commandments hang the whole Law, and the Prophets too.'
Given July 14, 2017
Jesus: I am the I am. I created you to be
beautiful - to be My instrument in
the world. Sin makes you unhappy.
People may want their independence –
what extreme do they go to - to prove
they are right. They can sin and after
they do – do all they can to prove they
were right.
A person who sins offends God
and others. They need to be sorry and
repent for the wrong they did and ask for
mercy and forgiveness.
This is taught to children – to be as
God wants the family to be, but if there
were parents who taught children to
have it their way, to be unfair, to
be selfish, to not work in love and
harmony – children learn what they
are taught and must seek to be
loving of God and loving their neighbor
as themselves. People who were severely
wounded need to heal from those wounds.
A person can be prideful, jealous, envious,
slothful, angry, gluttonous and how
could they be happy giving into this
program.
Finding a place to stay the same
is to decay more and more spiritually.
The Spirit of God does not move in
the man who is locked in their deadly
sins, deep anger they deny and if they
keep the same patterned behavior of
disorder, pride, wanting to prove they
are right when they are wrong their
lives become more and more unmanageable.
You have a free will to obey My
commandment of love –
Love gives for the good of the other –
Love is beautiful –
I love the person in sin and bid them to
come and ask for forgiveness and mercy,
but they must want to change their
sinful ways.
Wanting to be in charge – not trusting
anyone – always living to prove you are
never wrong – even when you sin –
is a death trap. You refuse to listen
to people who I send in your lives
and listen to satan tempting you with
pride and anger and envy – not loving
God and others as you should, but
treating those I send as enemies to
use for your darkness and anger –
then a person of such evil habits
can further sin by blaming innocent
others for their own hatred and
darkness inside.
I am love – if you have seen
dark most of your life and refuse
in independence to listen to anyone
but yourself and satan, you will
go down the road he leads you
with giving into the deadly sins.
People need healing when they
hurt their bodies. A person hurt
as a child, in other
relationships need healing, direction,
changing bad patterned behavior –
I command you to love –
Are you a light –
Are you full of love –
Is there beauty in your relationships
you have with others outside
your family system –
Or do you choose to shut down
and let no one in – trust
no one – control and I say
this –
If your life is lived serving
satan in pride and anger,
being right, never learning
obedience and discipline –
Who can reach you when you force
others by your stubbornness,
actions, punishment to
be defiant and rebel against
authority –
When you disobey just authority –
you disobey Me.
I am the I am.
I am Divine –
I am Almighty –
I give to you, your life to love - to
give to serve –
To love with your whole heart –
To trust, to surrender and let the
Holy Spirit come and possess your soul.
Satan is deception, darkness, he
wants independence, punishing
your brothers – not loving
them.
Love comes from God –
You are to be instruments of love –
The man in control, shutting down
has no room in his heart
for God –
He won't let go and satan comes
and he lets him in and
listens to him.
Satan is hate –
Satan wants souls for hell –
April 3, 2017

A Prayer for Grace and Holiness today
A prayer to work in love and holiness

John 16: 23
"If you ask the Father anything in my name,
He will give it to you"

R. God wants our unity – we ask for this
unity – that the Spirit of God fill
us and help us to be holy –
that we do not hold onto any of the deadly
sins that block us from this unity –
that the Holy Spirit can work in our souls,
so we can be His instruments of love
and peace and joy among our brothers.

We pray this heavenly Father in the name of
Jesus who said ask in my name and
it will be given to you.

Let us experience the joy of unity and love
on a supernatural level and know You
our beloved God – more and more supernaturally.
We want our hearts to be sanctified in
our love and work so we are holy and
pleasing to You God.

Come to us Lord and possess our soul.

We want to walk as God intends us
to walk today in the plan of God,
in the work He has called us to do today.

We know that we must cooperate with the grace
You are giving us – now and today to
bring unity and peace and love to this
day as we serve to do the work – You are
calling us in our vocation to do.

Dear Heavenly Father, hear our prayer,
in the name of Jesus, we pray,
we ask, heavenly Father for these
graces necessary this day to
bring peace, love and joy to
our relationships and work – as You
work in us.

We seek perfection in our souls to be holy
souls likened to You – in work
and in play – to be holy in prayer –
we invite You Holy Spirit to be
the Guest of our soul.

We seek order in our lives, not disorder.

We beg for the virtues of faith, hope, love,
prudence, temperance, fortitude, justice,
and humility. We seek to be obedient
to the will of God and live obedient to
the will of God in love.

Come Holy Spirit Come into our hearts. Transform
us from fear to fearlessness to serve
You as You desire in our lives.

Help our actions to be for the glory and honor
of God with the goal of these actions
to one day be in heaven with Thee,
our beloved God.

Heal our hearts and our bodies – Help
us to have health of body now in
this work you call us to do.

Instill in us a desire to want to only
do the will of the heavenly Father
and to walk in holiness and love.

We pray all these prayers heavenly Father,
united to Jesus, in His name for
grace and holiness today and always.

Help us to live by right reasoning in
our lives – to have the truth
in our every thought and to live
in order as You operate in us
in unity and love.

Come to me Lord and possess my soul.

We seek order in our lives – Your order
to love in us, to help us to act as
You desire, to have the thoughts
that are in right reasoning and in
Your order, Lord.

Give us the grace to use our faculties
to love and serve You and do
Your work.

Give us faith and right reasoning.

Help us to love and be just in our actions.

Help us to seek Your Divine Will and to
perform those actions, which are actions
pleasing to You in everything.

Come to us Lord and purify our consciences,
our souls.

Help us to hope and love in Thee.

We seek heavenly vision – to see
things through the eyes of
the heavenly Father and to be
perfected more and more in doing
God's will in our lives.

We pray for the gifts and fruits of the Holy Spirit.

We pray for this purity in our souls –
to live virtuously, to be perfected
more and more and filled with the
gifts of the Holy Spirit –
Wisdom, Understanding, Counsel,
Fortitude, Knowledge, Piety
and Fear of the Lord

and to have the fruits of the Holy Spirit –
charity, joy, peace, patience,
benignity (kindness), goodness,
long-suffering, mildness,
faith, modesty, continency,
and chastity.

We do not want the enemies to
invade our thoughts, our
actions, our lives –

We pray to give up ugly bad habits of the
deadly sins –
pride, greed, envy, wrath, lust, gluttony, and sloth

We know on this journey we will
experience sufferings and joys
and we accept the struggles
in life and ask You to help us,
strengthen us in our lives to
suffer and rejoice as You
desire us to do in our lives.

We want to be a reflection of Your
heavenly love – to be full of light –
Your light in us. To operate in
light and not darkness – IN You,
our beloved God.

We want to follow in the footsteps
of Jesus in giving love and
light and unity to those
we contact in our lives –

Prayer for Union with Jesus

Come to me, Lord, and possess my soul. Come into my heart and permeate my soul. Help me to sit in silence with You and let You work in my heart.

I am Yours to possess. I am Yours to use. I want to be selfless and only exist in You. Help me to spoon out all that is me and be an empty vessel ready to be filled by You. Help me to die to myself and live only for You. Use me as You will. Let me never draw my attention back to myself. I only want to operate as You do, dwelling within me.

I am Yours, Lord. I want to have my life in You. I want to do the will of the Father. Give me the strength to put aside the world and let You operate my very being. Help me to act as You desire. Strengthen me against the distractions of the devil to take me from Your work.

When I worry, I have taken my focus off of You and placed it on myself. Help me not to give in to the promptings of others to change what in my heart You are making very clear to me. I worship You, I adore You and I love You. Come and dwell in me now.

-God's Blue Book, January 17, 1994
April 4, 2017
R. Dear Holy Spirit please come to me the
Guest of my soul. Please pour
into me Your virtues and gifts.
Dear Father, Son and Holy Spirit dwell in me.
Please fill me with the
supernatural gifts I received at
baptism – that they may grow
ever greater to know and love supernaturally.
Dear Holy Spirit,
Please mold in me more and
more the image of Jesus in my
heart and soul.

From Tell My People by Fr. Edward J. Carter, S.J.
The Holy Spirit
Jesus: "My beloved friend, tell My people to pray daily to the Holy Spirit. They are to pray for an increase in His gifts. My people must realize that the Holy Spirit comes to transform them. The Spirit desires to transform you more and more according to My image. Those who are docile to His touch become increasingly shaped in My likeness. He performs this marvel within Mary's Immaculate Heart. The more one dwells in My Mother's Heart, the more active are the workings of the Spirit. The Spirit leads Mary to place you within My own Heart. In both Our Hearts, then, your transformation continues. The more you are formed after My own Heart, the more I lead you to the bosom of My Father. Tell My people all this. Tell them to pray daily for a greater appreciation of these wondrous gifts. I am Lord and Master. All who come to My Heart will be on fire to receive the gifts of the Spirit in ever greater measure! I love and bless My people!"

Reflection: The Holy Spirit is given to us to fashion us ever more according to the likeness of Jesus. And the more we are like Jesus, the more Jesus leads us to the Father. Do we, each day, pray to the Holy Spirit to be more open to His transforming influence? Do we strive each day to grow in union with Mary? The greater our union with our Mother, the spouse of the Holy Spirit, the greater is the transforming action of the Holy Spirit within us.

Prayer:

Come, Holy Spirit, fill us with your gifts of wisdom, understanding, knowledge, counsel, fortitude, piety, and fear of the Lord. As we dwell in the Heart of Mary, Your spouse, fashion us more and more according to the Heart of Jesus.
end of excerpt
R. Help me to live my life praising
and loving God in love and
being as God wants me to be.
Holy Spirit be the Guest of my soul.
Come Holy Spirit fill me with the Spirit –
Let the Spirit of God be in me.

John 16:12-15

I still have many things to say to you
but they would be too much for you
to bear now.
However, when the Spirit of truth comes
he will lead you to the complete truth,
since he will not be speaking
of his own accord,
but will say only what he has been told;
and he will reveal to you
the things to come.
He will glorify me,
since all he reveals to you
will be taken from what is mine.
Everything the Father has is mine;
that is why I said:
all he reveals to you
will be taken from what is mine.
Sing: Come Holy Ghost
Sing: Come Holy Spirit
R. Let the Light of Christ live
in my soul. Amen.
We see when the Holy Spirit lives
in us there is cooperation with
the Plan of God, Our heavenly Father.
The Holy Spirit brings unity to the soul –
order in our hearts – direction
according to and with God,
our heavenly Father who
created us in the image and
likeness of God.
Genesis 1: 26-27
God said, 'Let us make man in our own image, in the likeness of ourselves, and let them be masters of the fish of the sea, the birds of heaven, the cattle, all the wild animals and all the creatures that creep along the ground.'

God created man in the image of himself,
in the image of God he created him,
male and female he created them.
R. The Holy Spirit opens our hearts and
souls to God – so God can dwell
in us more abundantly.
Come to me God and possess my
soul –
Sing: Come to me, Lord, and possess my soul. Come into my heart and permeate my soul.
Help me to sit in silence with You and let You work in my heart.
We are imperfect – the Holy Spirit
comes to transform our souls
more and more in the image and
likeness of Jesus –
Come to me Lord and possess
my soul –
God fills us more and more abundantly
with His life –
Sing Song: I Love You Jesus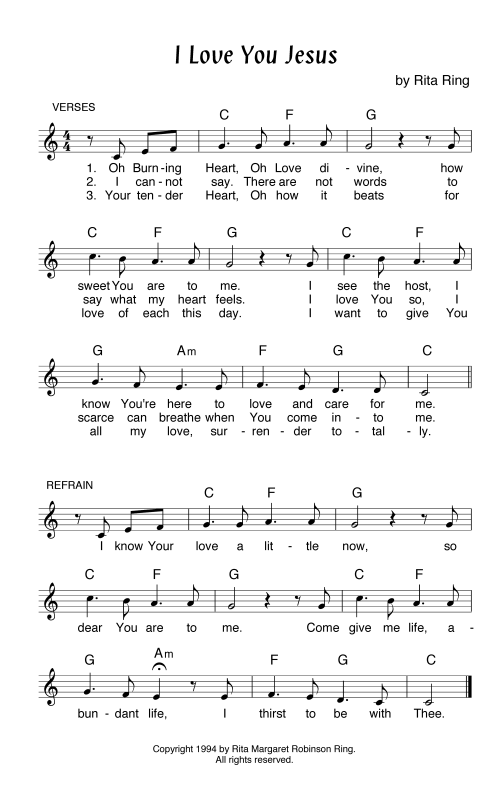 R. The Holy Spirit is the Spouse of the
Virgin Mary – perfect handmaid
of the Lord.
The Holy Spirit wants to transform
us more and more into the image of Jesus.
We were created for this –
Oh God, we are so grateful for
the sacrament of baptism and
the other sacraments. We are
so grateful for the Eucharist
whereby, you feed the life you
gave to us.
God gives us a sharing in
His life in baptism and feeds
us with the Body and Blood
of Jesus in the Eucharist.
Come to me Lord and possess my soul –
Sing: Glory be to the Father, and to the Son, and to the Holy Spirit. As it was in the beginning, is now, and ever shall be, world without end. Amen.
1 Corinthians 3: 16

Do you not realise that you are a temple of God with the Spirit of God living in you?
R. We consecrate ourselves to God.
We give ourselves to the Hearts of Jesus and Mary.
end of april 3-4,2017

Given
October 29, 2016
R. Please spread blessed holy water
(You can also mix Jesus and Mary water
with your blessed Holy Water if you have it.)
in your yard, around your house,
in the state you live in.
And ask God to bless your state
Ask God to bless the United States
Pray all prayers through the intercession of
Our Lady of CLEAR – WATER.
Ask the Lady of CLEAR - WATER
to help with the blessed water.
Mary has appeared to me for 22 years,
in Ohio and Florida.