R. We ask the Holy Spirit to come and possess
our souls – to come into us. We are open –
wanting Him as the Guest of our
soul.
Transformation is needed in us so
we can be more and more that image
of love God wants with us. But we
must ask the Holy Spirit to come and possess
us and then co-operate in wanting
God to mold us into the image of Jesus.
Wanting the transformation in us –
living for God, knowing we become
more and more His channel of love
to the world – radiant transformation.
We seek what is necessary to grow
in this way. We are the soul needing
His favors. We hunger after His
plan in our vocation in our lives.
God is Divine Love. We cannot
even comprehend how God the Father loved
us so very much to give Jesus to us as He
did or understand Jesus giving
Himself for our sins on the cross.
Love is the mystery – How a
person gives more and more of
themselves for the good of another –
This is a mystery to watch another
give freely for the sake of the other.
The devil is into doing something
to others for your own selfish promotion –
acting out on innocent others. It
is not like the pure love one has
in their hearts that sacrifices and
gives to the other because of love –
love given for the other – for the good
of the other – love is not doing it
for one's selfishness –
The person of love has groves
too as they become more and more
a conduit for the love of God
going out to others – a channel
of love and purity given for the
sake of the person loved.
We see a priest, a parent, a person in
office – that is operating as God wants
them to be – for the good of the other,
Operating to promote the Kingdom of God
as God operates in them.
Jesus is the way, the truth and the
life. To be molded in the image of
Jesus is to be that conduit to
allow Him to take over and to
be truthful – to bring vibrancy
to the scene, to bring the dynamism
of His presence in the love in
our hearts to the place. It is
a mystery of unity – so unlike the
pride, the anger, the jealousy,
envy – holding out – selfishness,
even - Stephen, punish your
brother as enemies of the ways of satan.
It is a motion – It is an action – it
is the lifting up that only God can do in
the mystery of love – of God working
in our hearts – We are His and
we are His instruments bringing
His love into the world, into the
lives of others – into our unity
in prayer.
23 Years Ago
Surrender

June 17, 1993 - Early Evening

Jesus: Oh My child, I am with you. Drink in My presence. Know I never leave you. Even though everything seems mixed up, I am there.

I am here with you. You will know what to do. My hand is forever upon you, protecting you and keeping you from harm. I will never leave you. I am He Who comforts you. Breathe in My peace, My direction, My will, My way. Surrender it all up to Me and let yourself feel the freedom of surrender. Your life is guided by Me. You only have to operate.

I am puttering you about. You go as a little doll that is wound up. Does this little doll get anxious. Does it get tired? It just stops when the power is off. It isn't mad. It doesn't worry about food and who will wind it up. Nobody else matters. He just goes and does his thing when he is wound up. Otherwise he is motionless and sits and waits. Sit and wait on the Lord and I will grant your heart's request. You are powered by Me. There is no need for anxiety. I am He Who comforts you, runs you, loves you. You needn't worry. Just be for Me. Be My hands, My heart, My love. Be totally selfless and full of direction by Me. Do you feel used little child? I want to use you to do My work. I want to use you to walk for Me and talk for Me and smile for Me and be there for others for Me. Die of yourself and live in My love. I will use you, yes, I will. You will know when you grab back your control. You will stumble and fall and feel afraid. You will need to let go and surrender because you will want to get back control. Trust Me. I am here-no need to fret and fear and be anxious. I am always with you and you needn't worry ever, because I will never leave you orphaned and alone. I am always by your side. My hand is upon you. You are My precious daughter, My brother, My child. I am here, let go of it all. Surrender to My power. Feel it as it lifts you up like a balloon over the troubled earth. You don't care. You know it will all work out. Look at all you worried all your life-for what? Did it go away? No, you only suffered for your lack of trust. Trust Me and let it go. I am the God of Jacob and Joseph and all your ancestors. Doesn't it seem silly to think of them wasting their life worrying? It didn't add a moment to their life. Listen to My work and just do it, let go, live and be happy. My joy is there. You have been lifted up and now you see and feel this glory of the Lord. Alleluia. Alleluia. Alleluia.

My peace I give to you My child, not as man can give but as only I can give. Your heart is at unrest, but I have been with you and have seen you through. Hold tight to Me and grab hard onto My hand. Let go. You need not worry. You are engulfed in a sea of fear. With Me, there is no fear. I am peace and I give it now to you. Breathe in peace and Jesus, and out fear. Enjoy the fruits of this moment with your little ones. I am He Who comforts you. You will not be orphaned. My plan is always working with you. Hold My hand. Trust in Me. There are trials to test your love and strength. Offer them up for your sins and others.

You have partaken in a beautiful journey with the Lord. It may seem as if you have followed your tail around, but I have been with you through all of it and guided you. Your life unfolds a mystery and I have the key and know where you are going. You are following My path. It may seem a little crooked at times but it is directed and straight. Enjoy each moment. Now I go with you every second. You are not alone. I am here with you right now.

I am here always. My rod and staff is upon you. You have handled your trials well. Stay close to Me and feel My presence. All is well. The devil wants you to look at dark corners. Look into the light, into the sunlight of My heart. I am here with you My child. I love you!

Know this-you are chosen by Me to do My work, to stay close, to walk your journey close to Me, to carry your cross. It is the only way to Me. My way is not easy. It has bumps and pitfalls, but you know My plan is at work, even in the pits. You are My precious child. I love you. As you are tired, weary, place your yoke upon My shoulders and I will give you rest. Breathe in the richness of God. I am your shepherd. I know Mine and Mine know Me. Read this to My little children. I love them so. They are so dear and precious to Me. end of excerpt
R. We have a free will to open up to God
and allow Him to use us. We do not
give up our freedom – we open up and
ask the Holy Spirit to penetrate the inner
sanctuaries of our heart and help
us to be all God wants us to be –
We are the soul – open – waiting
God's favor – trusting in Him –
believing in the power of God –
living more and more in the Mighty
embrace of God's plan --
We are His. We love Him – we
know more Divine love – the action
of the Holy Spirit as He fills us, we are
docile to His touch – like an artist
with a brush He works on our
souls and the mystery is in
the mystery of God's love possessing
our souls – we are letting go in
trust and love to Him –
Our relationship with God is
growing – we are becoming more
and more one with God.
Galatians 2: 19-20
...I have been crucified with Christ and yet I am alive; yet it is no longer I, but Christ living in me.
R. We give ourselves to God, but we
are free under His direction. He helps
us, inspires us, leads us and
we operate in Him –
He is the director of our soul. We
operate in deeper love of God and
love of others – love is the mystery –
love is the force – love is God
at work in our hearts.
Song: Give me Your Heart oh Jesus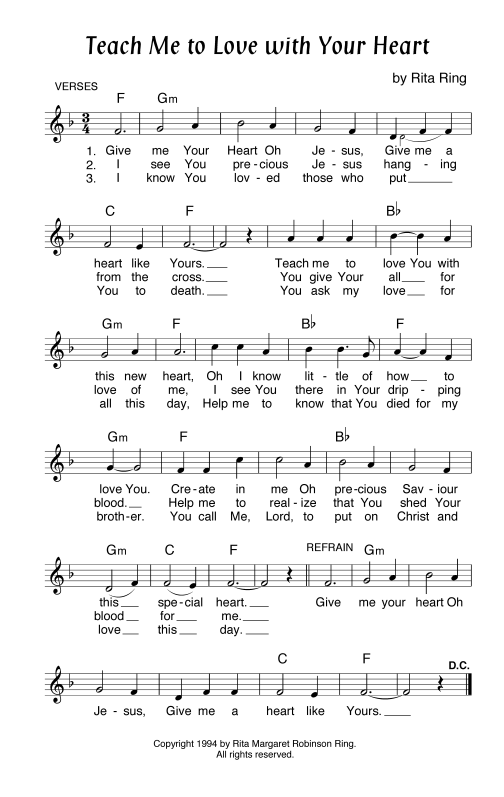 R. We are the soul – waiting His favor –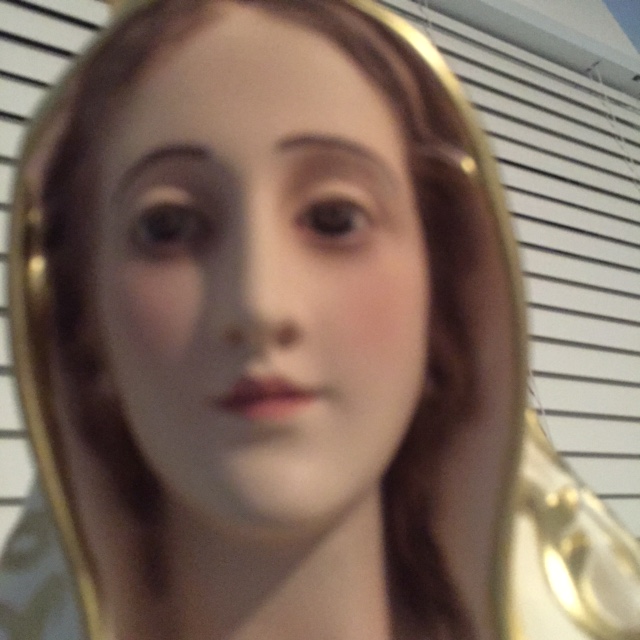 A Prayer for Intimacy with the Lamb, the Bridegroom of the Soul
Oh Lamb of God, Who take away the sins of the world, come and act on my soul most intimately. I surrender myself, as I ask for the grace to let go, to just be as I exist in You and You act most intimately on my soul. You are the Initiator. I am the soul waiting Your favors as You act in me. I love You. I adore You. I worship You. Come and possess my soul with Your Divine Grace, as I experience You most intimately.
Prayer for Union with Jesus
Come to me, Lord, and possess my soul. Come into my heart and permeate my soul. Help me to sit in silence with You and let You work in my heart.
I am Yours to possess. I am Yours to use. I want to be selfless and only exist in You. Help me to spoon out all that is me and be an empty vessel ready to be filled by You. Help me to die to myself and live only for You. Use me as You will. Let me never draw my attention back to myself. I only want to operate as You do, dwelling within me.
I am Yours, Lord. I want to have my life in You. I want to do the will of the Father. Give me the strength to put aside the world and let You operate my very being. Help me to act as You desire. Strengthen me against the distractions of the devil to take me from Your work.
When I worry, I have taken my focus off of You and placed it on myself. Help me not to give in to the promptings of others to change what in my heart You are making very clear to me. I worship You, I adore You and I love You. Come and dwell in me now.
-God's Blue Book, January 17, 1994
R. We are disciples of the Master –
on the other end of this spectrum
is the soul who thinks they know
everything and need no teacher –
They close the door to the Holy Spirit
who would move in them and operate
as a Divine breathe – molding the
soul into greater perfection likened
to the heavenly Father –
Matthew 5: 48
...You must therefore be perfect, just as your heavenly Father is perfect.'
R. God is Divine – God works in us
as the Divine Mystery – God wants
us to be one more and more in
deeper and deeper love –
Jesus showed us love, when He
emptied Himself and gave the last
drop of Blood – the last beat of
His Heart.
Jesus gives us this love today in
His presence with us.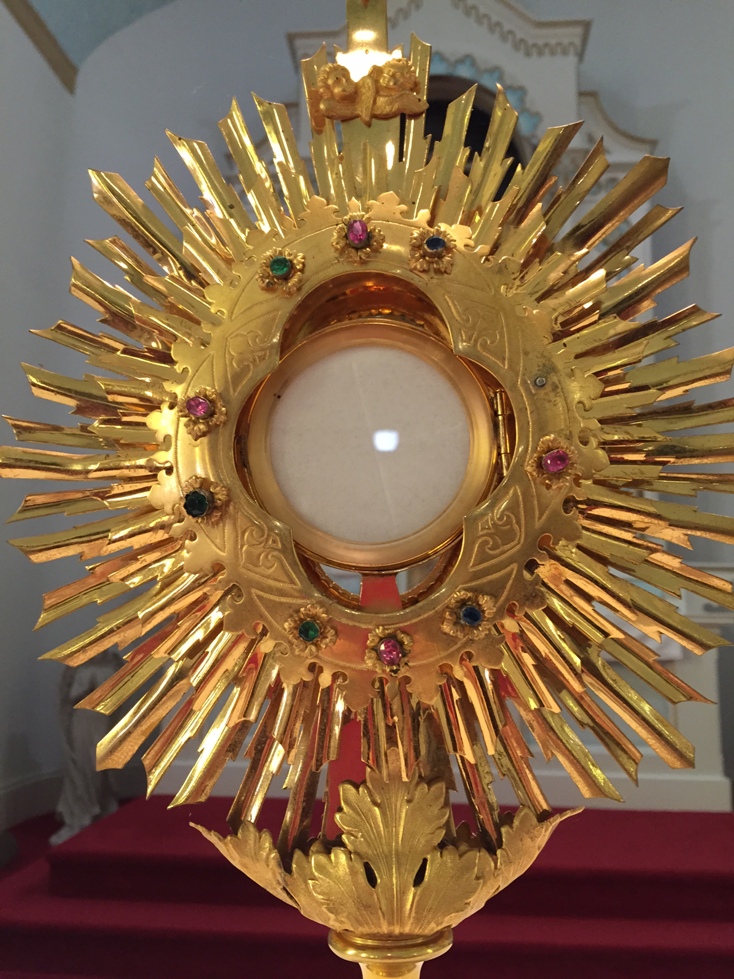 R. Jesus gives Himself to us Body, Blood,
Soul and Divinity in the Holy Eucharist –
We eat His Body – we drink
His Blood.
Disciples are learners. When
a person decides they know it
all – they no longer are a
disciple.
We go to school to learn – We take in
all kinds of things in our minds –
we develop habits - good and bad –
the Holy Spirit is the Divine Director –
the Holy Spirit in our hearts leading
us, guiding us, we are the soul –
docile and ready to be taught –
We know more and more that we
want to know the Divine Mystery
of love about God –
God elevates our loving and knowing
capacity in baptism – God moves
in us – we participate in His
loving and knowing activity –
We must go to God to operate
in the super-natural way –
the man strapped down in pride
and anger is like an animal
locked in a cage –
A cage of his own making.
God gives us a sharing in His
life in baptism –
We are pupils, we are
learners, we are catching
insights into the Divine Mysteries –
We pray for the increase of
the virtues in our lives –

Good habits –
greater faith, hope, love, prudence,
fortitude, temperance, justice,
humility.
We ask the Holy Spirit to gift our souls
with 7 gifts –
operate in us –
to move in us –
God gives us the super natural
virtues of faith, hope and love in baptism
and opens up the super-natural world
to us – It is from God – We must
develop in these good habits
under God at work in us.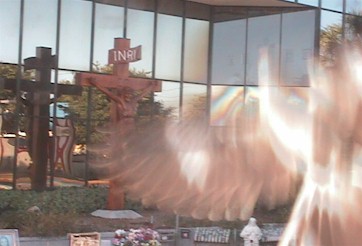 From Tell My People
by Fr. Edward J. Carter, S.J.
The Holy Spirit
Jesus: "My beloved friend, tell My people to pray daily to the Holy Spirit. They are to pray for an increase in His gifts. My people must realize that the Holy Spirit comes to transform them. The Spirit desires to transform you more and more according to My image. Those who are docile to His touch become increasingly shaped in My likeness. He performs this marvel within Mary's Immaculate Heart. The more one dwells in My Mother's Heart, the more active are the workings of the Spirit. The Spirit leads Mary to place you within My own Heart. In both Our Hearts, then, your transformation continues. The more you are formed after My own Heart, the more I lead you to the bosom of My Father. Tell My people all this. Tell them to pray daily for a greater appreciation of these wondrous gifts. I am Lord and Master. All who come to My Heart will be on fire to receive the gifts of the Spirit in ever greater measure! I love and bless My people!"

Reflection: The Holy Spirit is given to us to fashion us ever more according to the likeness of Jesus. And the more we are like Jesus, the more Jesus leads us to the Father. Do we, each day, pray to the Holy Spirit to be more open to His transforming influence? Do we strive each day to grow in union with Mary? The greater our union with our Mother, the spouse of the Holy Spirit, the greater is the transforming action of the Holy Spirit within us.
end of excerpt
From the Priestly Newsletter Book III by Fr. Edward Carter, S.J.
The Holy Spirit And Mary

The late Archbishop Luis M. Martinez of Mexico strikingly speaks of the ongoing cooperation of Mary with the Holy Spirit regarding the reproduction of Jesus within us: "Christian life is the reproduction of Jesus in souls…

"Now, how will this mystical reproduction be brought about in souls? In the same way in which Jesus was brought into the world, for God gives a wonderful mark of unity to all His works. Divine acts have a wealth of variety because they are the work of omnipotence; nevertheless, a most perfect unity always shines forth from them because they are the fruit of wisdom; and this divine contrast of unity and variety stamps the works of God with sublime and unutterable beauty.

"In His miraculous birth, Jesus was the fruit of heaven and earth…The Holy Spirit conveyed the divine fruitfulness of the Father to Mary, and the virginal soil brought forth in an ineffable manner our most loving Savior, the divine Seed, as the prophets called Him…

"That is the way He is reproduced in souls. He is always the fruit of heaven and earth.

"Two artisans must concur in the work that is at once God's masterpiece and humanity's supreme product: the Holy Spirit and the most holy Virgin Mary. Two sanctifiers are necessary to souls, the Holy Spirit and the Virgin Mary, for they are the only ones who can reproduce Christ.

"Undoubtedly, the Holy Spirit and the Virgin Mary sanctify us in different ways. The first is the Sanctifier by essence; because He is God, who is infinite sanctity; because He is the personal Love that completes, so to speak, the sanctity of God, consummating His life and His unity, and it belongs to Him to communicate to souls the mystery of that sanctity. The Virgin Mary, for her part, is the co-operator, the indispensable instrument in and by God's design. From Mary's maternal relation to the human body of Christ is derived her relation to His Mystical Body which is being formed through all the centuries until the end of time, when it will be lifted up to the heavens, beautiful, splendid, complete, and glorious.

"These two, then, the Holy Spirit and Mary, are the indispensable artificers of Jesus, the indispensable sanctifiers of souls. Any saint in heaven can co-operate in the sanctification of a soul, but his co-operation is not necessary, not profound, not constant: while the co-operation of these two artisans of Jesus of whom we have just been speaking is so necessary that without it souls are not sanctified (and this by the actual design of Providence), and so intimate that it reaches to the very depths of our soul. For the Holy Spirit pours charity into our heart, makes a habitation of our soul, and directs our spiritual life by means of His gifts. The Virgin Mary has the efficacious influence of Mediatrix in the most profound and delicate operations of grace in our souls. And, finally, the action of the Holy Spirit and the co-operation of the most holy Virgin Mary are constant; without them, not one single character of Jesus would be traced on our souls, no virtue grow, no gift be developed, no grace increased, no bond of union with God be strengthened in the rich flowering of the spiritual life. mm

"Such is the place that the Holy Spirit and the Virgin Mary have in the order of sanctification. Therefore, Christian piety should put these two artisans of Christ in their true place, making devotion to them something necessary, profound, and constant." 18
18. Archbishop Luis M. Martinez, The Sanctifier, op. cit. pp. 5-7.