August 21, 2018
R. Personal Relationship with Jesus.
Galatians 2:19-21

In fact, through the Law I am dead to the Law so that I can be alive to God. I have been crucified with Christ and yet I am alive; yet it is no longer I, but Christ living in me. The life that I am now living, subject to the limitation of human nature, I am living in faith, faith in the Son of God who loved me and gave himself for me. I am not setting aside God's grace as of no value; it is merely that if saving justice comes through the Law, Christ died needlessly.
From the Priestly Newsletter

Cardinal Newman said

"... everyone who breathes, high and low,
educated and ignorant, young and old, man and woman,
has a mission, has a work. We are not sent
into this world for nothing; we are not born at
random. . . God sees every one of us;
He creates every soul, He lodges it in
a body, one by one, for a purpose. He needs,
He deigns to need, every one of us.
He has an end for each of us... we are
placed in our different ranks and stations, not to
get what we can out of them for ourselves, but to
labor in them for Him, as He rejoiced to do His work,
we must rejoice in ours also."
(Discourses addressed to mixed congregations)
R. God created us
God has a Plan
He knows us more intimately than
we know ourselves –
Jesus died for us and gives us Himself –
No one can give to Christ what we can –
we were uniquely created –
we love uniquely –
If I would really realize what it is to be
redeemed by God's love, that He
intimately loves me more than I love
myself, I would be happy –
If I build my self image on what others
think of me
than I am not happy –
God has a plan for my life –
if I don't do the mission God has
called me to, then the world is poor for it.
We are in the process of becoming –
All life is meant to develop to its
greatest Christian potential.
How many Christians even care
about developing their
Christian existence –
A basket ball player practices to be
more and more skilled –
better and better –
Why don't we focus on developing
our best Christian existence?
We must focus on being a mature
Christian and developing our
skill – nun - mother - teacher -
doctor - etc. –
We want development to the Christian
life to its fullest stages –
We consider the Christian Life as
LIFE IN THE HOLY SPIRIT
1 Corinthians 2: 6-16

But still, to those who have reached maturity, we do talk of a wisdom, not, it is true, a philosophy of this age or of the rulers of this age, who will not last long now. It is of the mysterious wisdom of God that we talk, the wisdom that was hidden, which God predestined to be for our glory before the ages began. None of the rulers of the age recognised it; for if they had recognised it, they would not have crucified the Lord of glory; but it is as scripture says: What no eye has seen and no ear has heard, what the mind of man cannot visualise; all that God has prepared for those who love him; to us, though, God has given revelation through the Spirit, for the Spirit explores the depths of everything, even the depths of God. After all, is there anyone who knows the qualities of anyone except his own spirit, within him; and in the same way, nobody knows the qualities of God except the Spirit of God. Now, the Spirit we have received is not the spirit of the world but God's own Spirit, so that we may understand the lavish gifts God has given us. And these are what we speak of, not in the terms learnt from human philosophy, but in terms learnt from the Spirit, fitting spiritual language to spiritual things. The natural person has no room for the gifts of God's Spirit; to him they are folly; he cannot recognise them, because their value can be assessed only in the Spirit. The spiritual person, on the other hand, can assess the value of everything, and that person's value cannot be assessed by anybody else. For: who has ever known the mind of the Lord? Who has ever been his adviser? But we are those who have the mind of Christ.
R. The spirit allows me to know myself –
The spirit within –
God is the one who perfectly understands God.
Who teaches us to understand a God-like
existence –
Jesus leads us to the Father in the Holy Spirit.
Definition of Love
Love is the gift of self to others
to promote the good of the
other or others.
Many people have relationships not to
give of self, but to get love for themselves.
Can we love someone without liking
their behavior?
What is self - love –
Loving oneself and seeing oneself
as God sees us –
His beautiful creation –
Created in the image and
likeness of God!
The deeper we love – the more perfected
our love –
The more we want the other to live
as God wants them to –
it's not selfish, jealous, envious
Love is an interaction –
Love is not love / hate –
Love is not slamming a door
in others' faces because
we are afraid to open up
and trust others and God –
Loving others – giving to others – opens
up, we might be rejected, but
it doesn't shatter us
We love because God commands
us to love –
Tough love – means we do God's
will and correct or say
or do what we have to even
when others may persecute us for
doing what God wants –
How do we see in today's world
a serious lack of love – of
spreading Christ's message of love –
LACK OF CONCERN FOR OTHERS –
People can be so selfish –
worried about what they want –
worried about their time –
worried about money –
God loves us – we should give God
what He wants –
co-operate with God's Plan
with others for the building
of the Kingdom of God –
Tell others you love them today –
Don't wait –

From January 27, 1992

I can never live the moments
of this day again

When I go to bed
today is gone forever

I must choose to treasure
each moment because
it is the only moment I have and
it only lasts one moment.
R. In Matthew we see the Sermon on the Mount
In Matthew we see the beatitudes –
Matthew was working on being more holy –
LOVE –
We are to follow Jesus
Radical renunciation –
We have to renounce whatever gets
in the way of following Jesus –

Prayer for Union with Jesus
Come to me, Lord, and possess my soul. Come into my heart and permeate my soul. Help me to sit in silence with You and let You work in my heart.

I am Yours to possess. I am Yours to use. I want to be selfless and only exist in You. Help me to spoon out all that is me and be an empty vessel ready to be filled by You. Help me to die to myself and live only for You. Use me as You will. Let me never draw my attention back to myself. I only want to operate as You do, dwelling within me.

I am Yours, Lord. I want to have my life in You. I want to do the will of the Father. Give me the strength to put aside the world and let You operate my very being. Help me to act as You desire. Strengthen me against the distractions of the devil to take me from Your work.

When I worry, I have taken my focus off of You and placed it on myself. Help me not to give in to the promptings of others to change what in my heart You are making very clear to me. I worship You, I adore You and I love You. Come and dwell in me now.

-God's Blue Book, January 17, 1994
R. Nobody has ever suffered more than Jesus.
Whatever God asks of us is for
our own good –
He loves us
Song: God's Love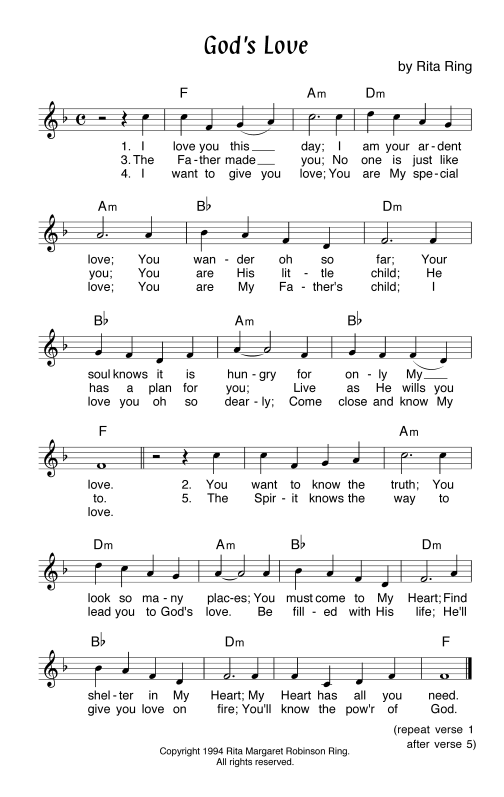 Matthew 11: 28-30

'Come to me, all you who labour and are overburdened, and I will give you rest. Shoulder my yoke and learn from me, for I am gentle and humble in heart, and you will find rest for your souls. Yes, my yoke is easy and my burden light.'
R. Even the heaviest cross is really light
if we love Jesus.
Matthew 12: 46-50
He was still speaking to the crowds when suddenly his mother and his brothers were standing outside and were anxious to have a word with him. But to the man who told him this Jesus replied, 'Who is my mother? Who are my brothers?' And stretching out his hand towards his disciples he said, 'Here are my mother and my brothers. Anyone who does the will of my Father in heaven is my brother and sister and mother.'
R. They offered the sacrificing of Blood
in the Old Testament.
Establishing a family of God
The NEW COVENANT
This scripture tells us –
The more we do His will –
the more we are His Family!!!

Matthew 16: 24-28
Then Jesus said to his disciples, 'If anyone wants to be a follower of mine, let him renounce himself and take up his cross and follow me. Anyone who wants to save his life will lose it; but anyone who loses his life for my sake will find it. What, then, will anyone gain by winning the whole world and forfeiting his life? Or what can anyone offer in exchange for his life?

'For the Son of man is going to come in the glory of his Father with his angels, and then he will reward each one according to his behaviour. In truth I tell you, there are some standing here who will not taste death before they see the Son of man coming with his kingdom.'
R. We must deny ourselves and follow
Jesus –
Matthew 18: 1-4
At this time the disciples came to Jesus and said, 'Who is the greatest in the kingdom of Heaven?' So he called a little child to him whom he set among them. Then he said, 'In truth I tell you, unless you change and become like little children you will never enter the kingdom of Heaven. And so, the one who makes himself as little as this little child is the greatest in the kingdom of Heaven.
R. Be like a little child –
The more we die to ourselves we
become like little children –
Child-like –
God is our Father
Song: I Am a Child of God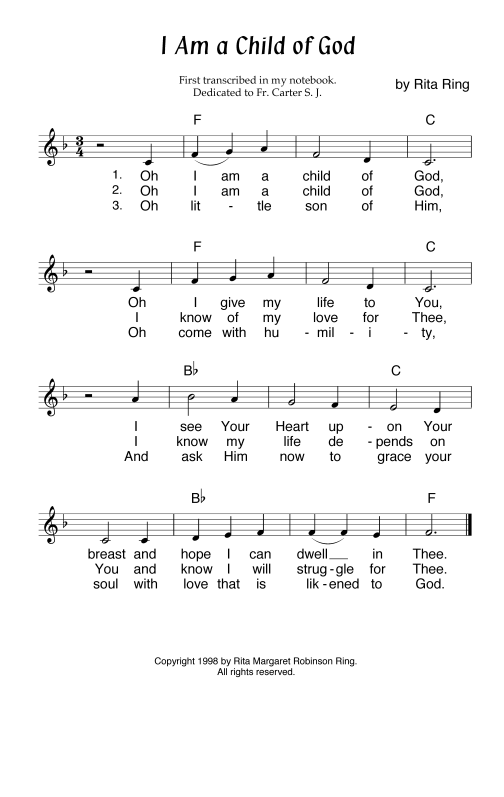 Song: Live This Day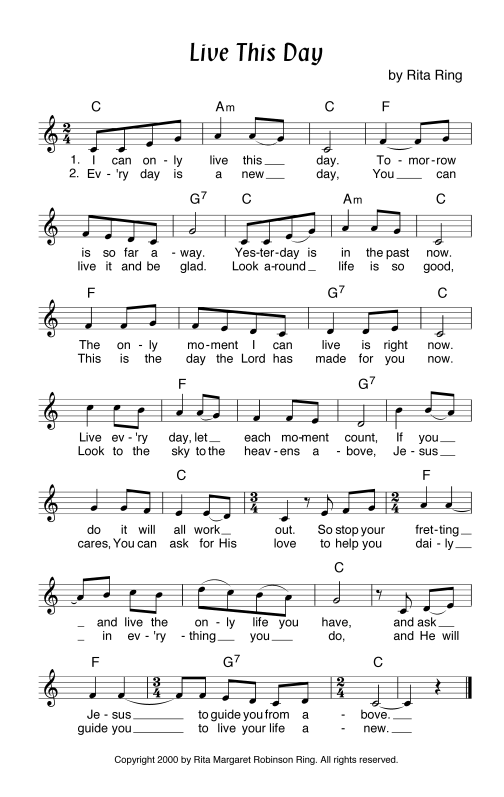 R. Live each day as if it is your last –
Song: God's Love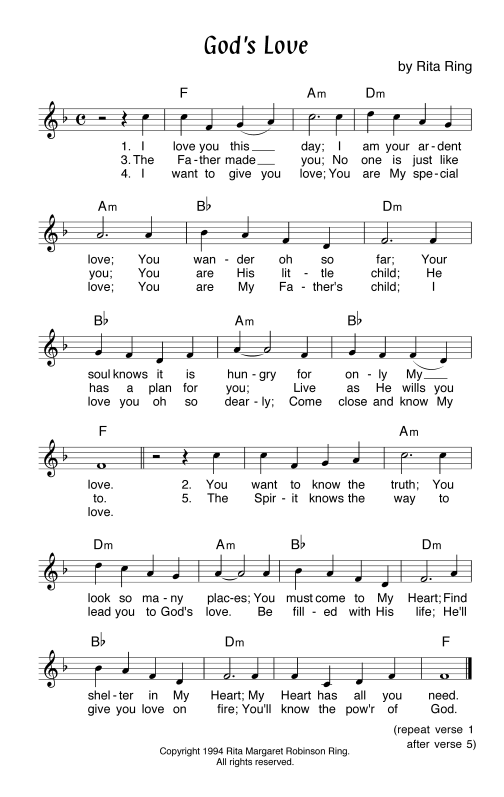 Matthew 22: 36-40

'Master, which is the greatest commandment of the Law?' Jesus said to him, 'You must love the Lord your God with all your heart, with all your soul, and with all your mind. This is the greatest and the first commandment. The second resembles it: You must love your neighbour as yourself. On these two commandments hang the whole Law, and the Prophets too.'
R. 3 Loves
Love of God
Love of others
Love of self
Response to God's love
God loved us first
God loved us into existence –
God wants us eternally with Him in heaven –
God wants us to be with Him eternally –
He commands I love my neighbor –
He commands I love myself –
Hating myself is not from God –
I was called to love my neighbor as myself –
Human suffering – not that there is so much
of it, but so much is wasted –
offer up your suffering –
Identify with Christ's suffering –
Dying / Rising – the Pascal Mystery –
A person can ignore God their whole life –
and ignore His commands –
Is it living if a person is caved-in, in
embittered self enclosure.
Remember Helen Keller –
From a young age Helen Keller was
blind, deaf and mute, she was
like that for the rest of her life.
She was tremendously productive
even in such suffering.
I remember Fr. Carter the year he died –
He wrote the suffering Newsletter –
We went to a ball game that honored War heroes.
They were heroes.
How are our sports people?
One man who was a POW for five years
came home after that and people
spit at him at the airport a leader
of the program told me.
He said the real heroes are these men
who suffered for our country –
Many died so we could have the freedom
we have today –
How are we thanking them?
How are we thanking service men in general?
How are we thanking God for our gifts
given?
Are we living and spreading Christ's love
as He commanded us to do –

Matthew 22: 34-40

'Master, which is the greatest commandment of the Law?' Jesus said to him, 'You must love the Lord your God with all your heart, with all your soul, and with all your mind. This is the greatest and the first commandment. The second resembles it: You must love your neighbour as yourself. On these two commandments hang the whole Law, and the Prophets too.'
Romans 6: 1-11
What should we say then? Should we remain in sin so that grace may be given the more fully? Out of the question! We have died to sin; how could we go on living in it? You cannot have forgotten that all of us, when we were baptised into Christ Jesus, were baptised into his death. So by our baptism into his death we were buried with him, so that as Christ was raised from the dead by the Father's glorious power, we too should begin living a new life. If we have been joined to him by dying a death like his, so we shall be by a resurrection like his: realising that our former self was crucified with him, so that the self which belonged to sin should be destroyed and we should be freed from the slavery of sin. Someone who has died, of course, no longer has to answer for sin.

But we believe that, if we died with Christ, then we shall live with him too. We know that Christ has been raised from the dead and will never die again. Death has no power over him any more. For by dying, he is dead to sin once and for all, and now the life that he lives is life with God. In the same way, you must see yourselves as being dead to sin but alive for God in Christ Jesus.
2 Corinthians 4:7-15
But we hold this treasure in pots of earthenware, so that the immensity of the power is God's and not our own. We are subjected to every kind of hardship, but never distressed; we see no way out but we never despair; we are pursued but never cut off; knocked down, but still have some life in us; always we carry with us in our body the death of Jesus so that the life of Jesus, too, may be visible in our body. Indeed, while we are still alive, we are continually being handed over to death, for the sake of Jesus, so that the life of Jesus, too, may be visible in our mortal flesh. In us, then, death is at work; in you, life.

But as we have the same spirit of faith as is described in scripture--I believed and therefore I spoke -- we, too, believe and therefore we, too, speak, realising that he who raised up the Lord Jesus will raise us up with Jesus in our turn, and bring us to himself -- and you as well. You see, everything is for your benefit, so that as grace spreads, so, to the glory of God, thanksgiving may also overflow among more and more people.
R. Suffering always leads to greater life
when we suffer as God wants –
Here are some examples of the cross –
From Fr. Carter's The Pain and the Joy
(1) Self discipline
(2) Renunciation
(3) Loneliness
(4) Everydayness
(5) Crucial decision making
(6) Failure
(7) Transitions (mystical, or spiritual death)
(8) Rejection
(9) Uncertainty
(10) Sickness
(11) Other
We do not want to escape reality –
Denial –
Face reality and live a new life –
Ask to be healed of painful past –
Admit we are not always right –
We need others –
We are sinners –
We have so much – A person that is bored
can look for excitement – adrenalin
rush by starting some negative things –
Carry the cross of everydayness –
this can lead to greater life - joy –
Love your brothers –
Don't be mean for fun –
When a person is lonely they can
pray – give to others – help
build God's Kingdom –
Slothfulness is a deadly sin –
Is there a difference between being alone
and being lonely?
How does God want us to be at this
moment? In our heart, disposition –
What does God want us to do?
How can we co-operate with the
people in God's plan for us
to work with, live with,
share life with?
CO-OPERATION with God's Plan
(not demand our own)
Not facing pain from the past and asking
for help to heal can lead to escapism –
Repression of one's sins can lead
to greater and greater sin –
God intends us to walk hand-in-hand
with each other –
God intends us to live virtuously –

Love of God
Love of others
Love of self
3 LOVES
for relating properly
as God intends and
preparing for heaven
here and now
Loneliness may be inevitable to a person,
shut-in, hospital.
Some people isolate won't work with
others – co-operate and then they
are lonely and start something
because they are bored –
We are to PROPERLY RELATE
TO GOD AND OTHERS –
How are people escaping in our modern
culture –
Media tools –
Drugs –
Arguing, hurting others
Control
Hatred
Alcohol
Sex
ESCAPISM – we waste precious
moments of life
Song: Live This Day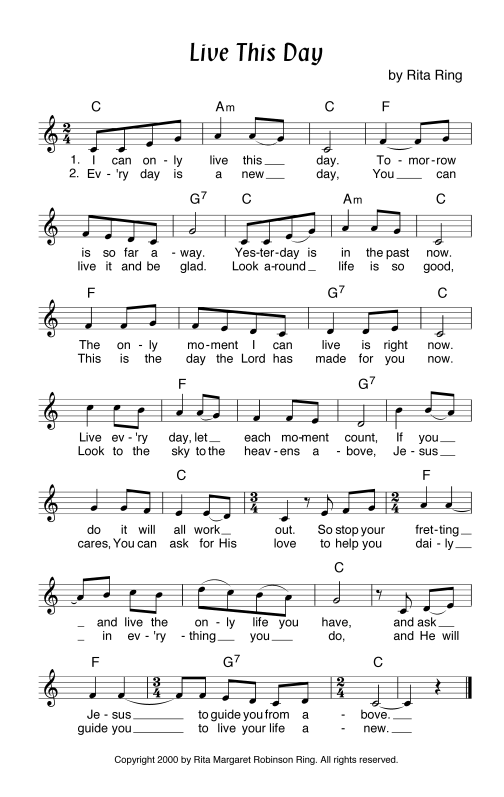 R. Saying I wrote –
From January 27, 1992

I can never live the moments
of this day again

When I go to bed
today is gone forever

I must choose to treasure
each moment because
it is the only moment I have and
it only lasts one moment.



R. Where are you?
A person can be in a room of people
and be lonely –
LIVE VIRTUOUSLY
All virtues support love –
vision of love as its goal –
We must possess a goal – GOD –
Eternal Happiness – leads to
Happiness and God's Plan for us –
Faith – gives a new vision of God and
everything as it relates to God.
Hope – desire to live in faith –
trust God will give this
Hope of eternal salvation for
ourselves and for others
Love – LIVE THE VISION of FAITH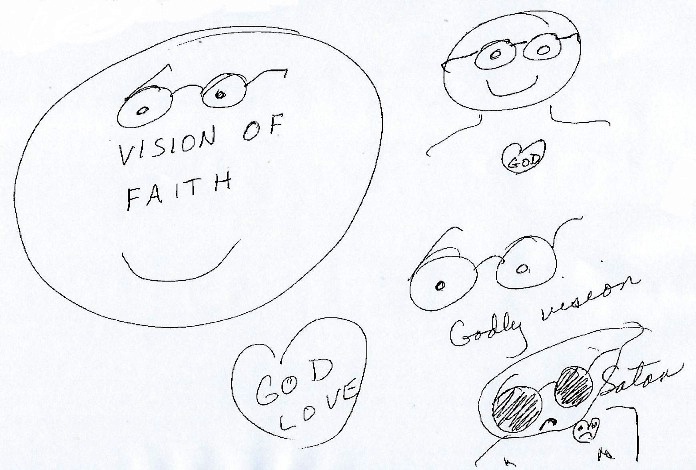 John 3: 16
For this is how God loved the world:
he gave his only Son,
so that everyone who believes in him
may not perish
but may have eternal life.
R. 1 Corinthians 13 Chapter - Read
1st Letter of John - Read
We must realize God's love for us.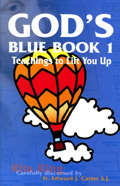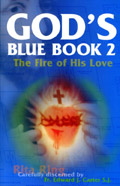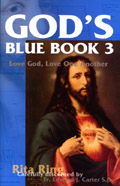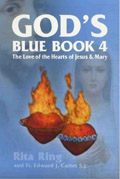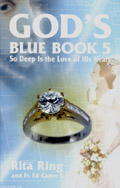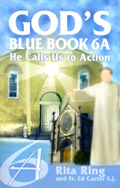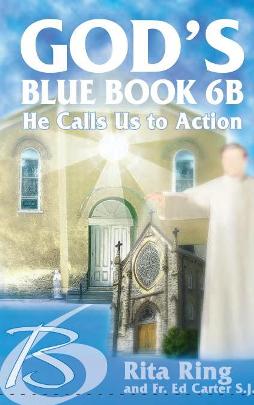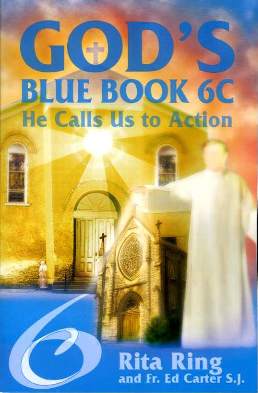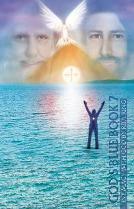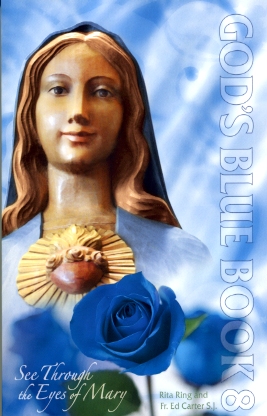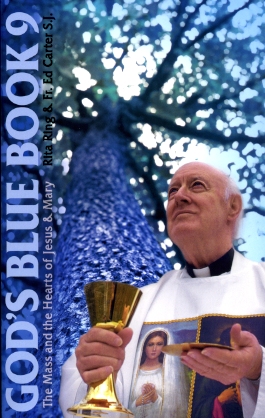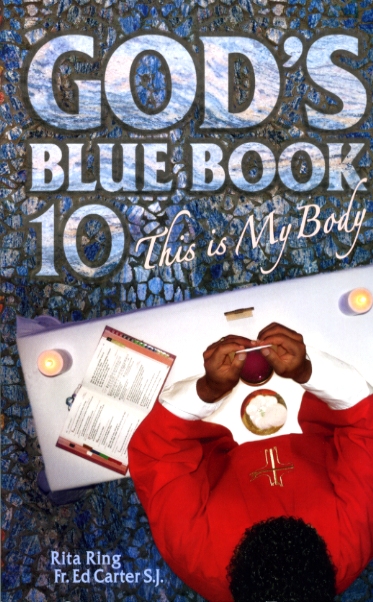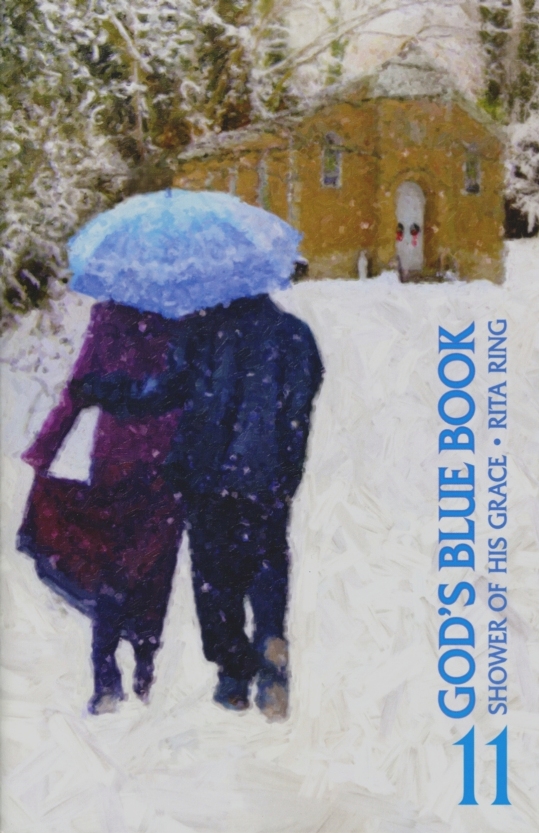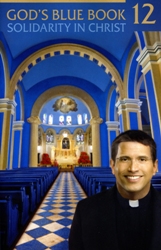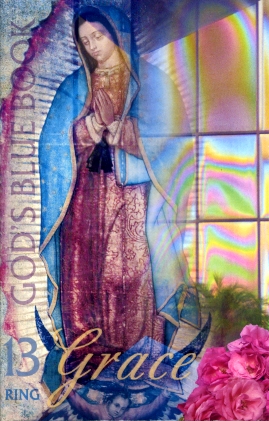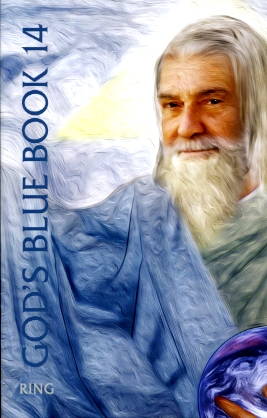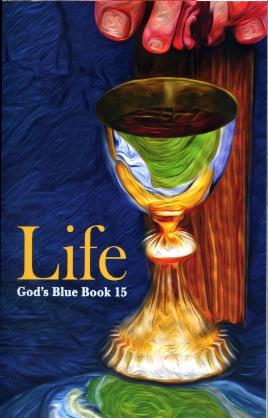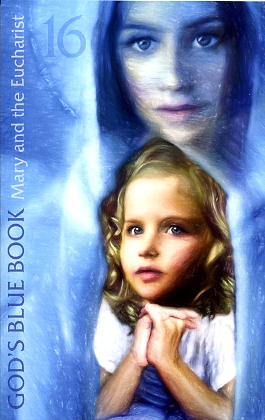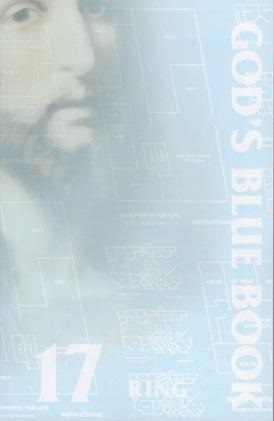 R. Letters of God's love
You can't give away what
you don't have.
John 4: 10
Jesus replied to her:

If you only knew what God is offering
and who it is that is saying to you,
'Give me something to drink,'
you would have been the one to ask,
and he would have given you living water.
R. God loved us and sent His Son
and Jesus paid for our sins –
Song: A Song from Jesus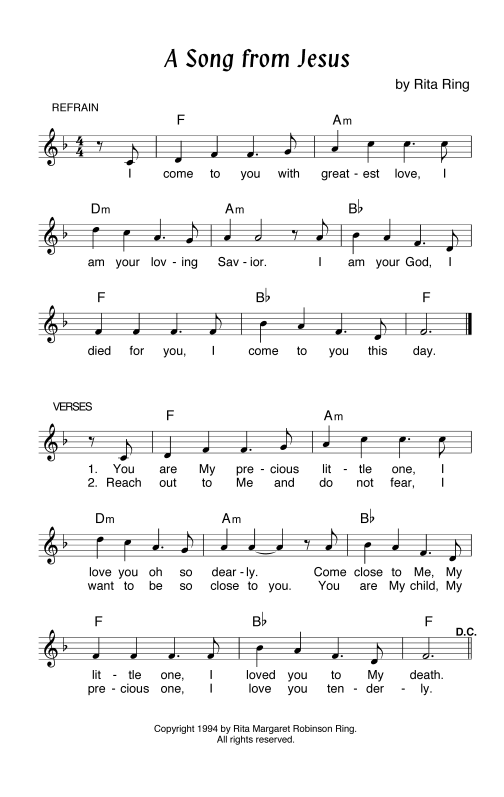 R. Help me spread the Blue Books –
You can't give away
what you don't have –
Song: I Love You Jesus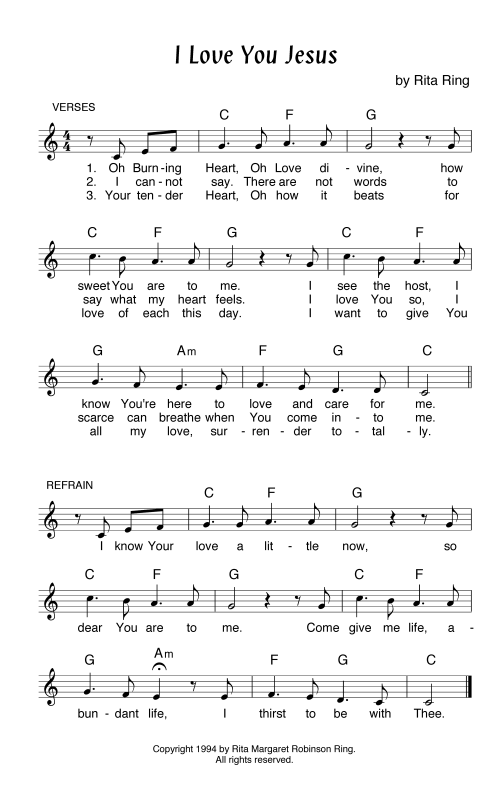 Song: God's Love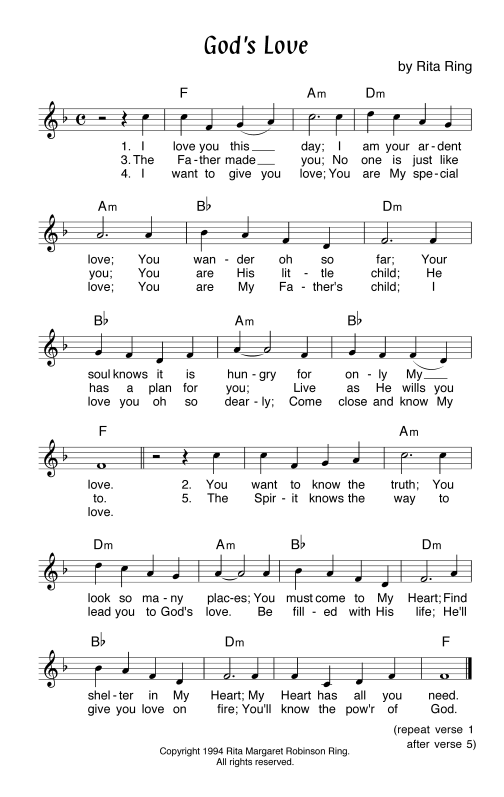 R. God loved us first.

God is the Source of Love –

Don't Reject Him

Love of the Two Hearts
R. Response to God's Love
FRIENDSHIP RELIGIOUS
MARRIAGE LIFE
FAMILY LIFE
Given

October 29, 2016
R. Please spread blessed holy water
(You can also mix Jesus and Mary water
with your blessed Holy Water if you have it.)
in your yard, around your house,
in the state you live in.
And ask God to bless your state
Ask God to bless the United States
Pray all prayers through the intercession of
Our Lady of CLEAR – WATER.
Ask the Lady of CLEAR - WATER
to help with the blessed water.
Mary has appeared to me for 22 years,
in Ohio and Florida.
Give the gift that Counts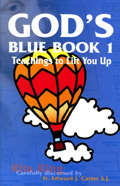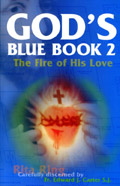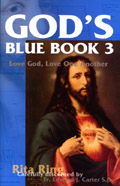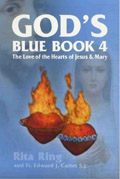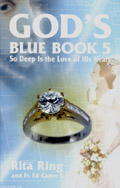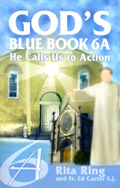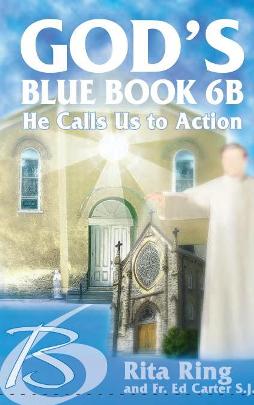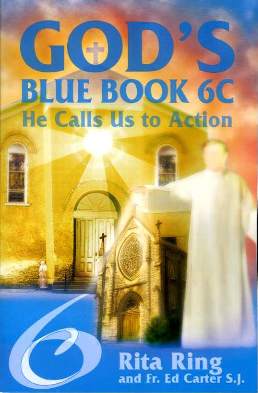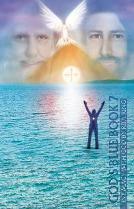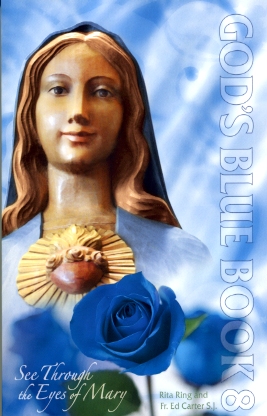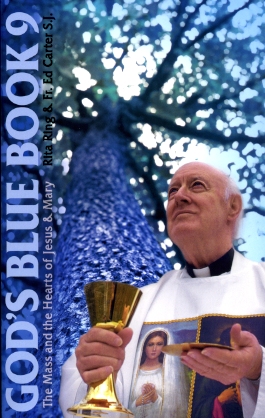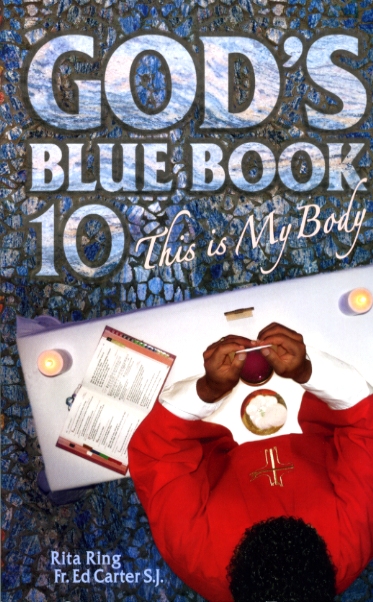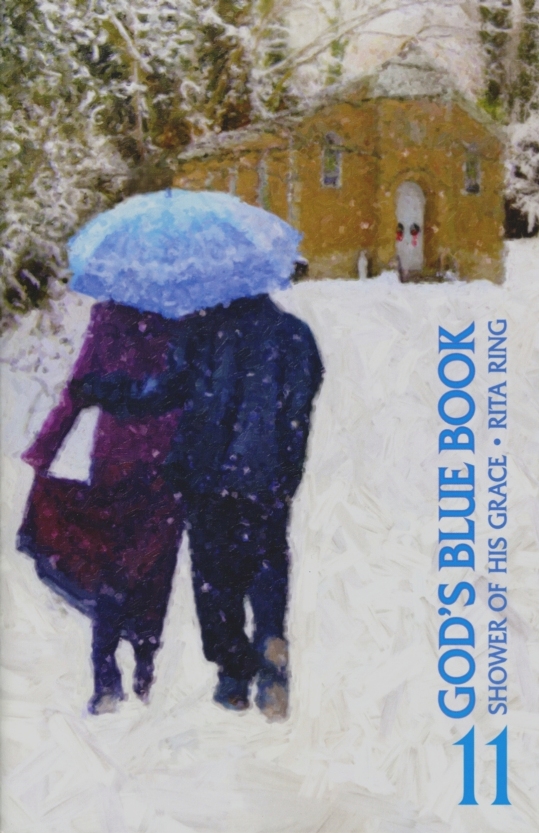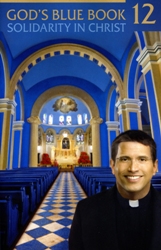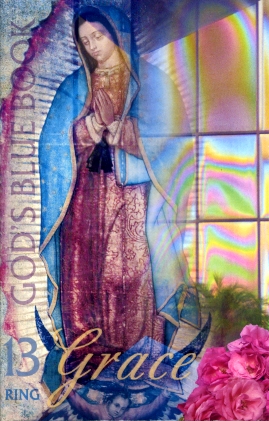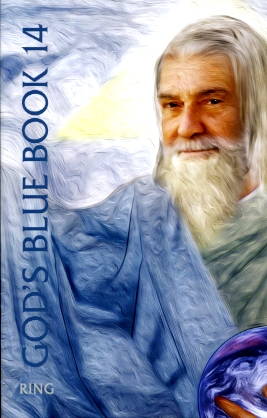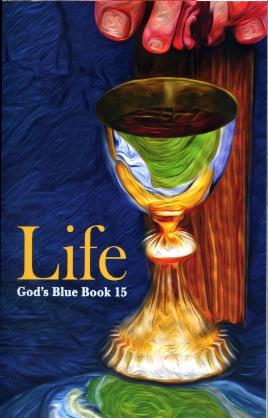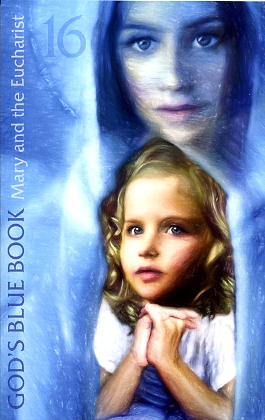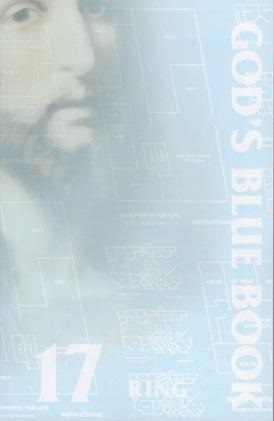 God's Blue Books - Love Letters from Jesus
Blue Books 1 & 2 - $4 each
Blue Book 3 - $3
Blue Books 4 & 5 - $2 each
Blue Books 6A, 6B, 6C, 7, 8, 9, 10, 11, 12 & 13 - $3 each
Blue Books 14, 15, 16 & 17 - $5 each