Prayer for Grace for our Country
Dear Father united to Jesus in the Holy Sacrifice of the Mass, the Sacrifice of Calvary sacramentally made present, celebrated around the world, in the Holy Spirit. We offer up all we do united to the Mass. We unite in one mind and one heart as members of the mystical body of Christ, with Christ our head in the pure and holy Hearts of Jesus and Mary, through the powerful intercession of Mary with all the angels and saints and souls in purgatory, and we beg for the saving grace, for our country, the United States. Please help us. We further pray for unity to always do the will of God in love. We spread the Blood of Jesus on the leaders and people of the United States and cast the devil into hell. We consecrate our country to the Sacred Heart and Immaculate Heart and all our dioceses, and beg for an outpouring of the Holy Spirit. God help us. We pray for our families, the priests, the Church and the world. In the Name of Jesus please hear us, we pray. We pray for our new president as he takes office. We pray that we are united as one nation under God to work together in love as God wants.
August 23, 2017
Matthew 20: 1-16
'Now the kingdom of Heaven is like a landowner going out at daybreak to hire workers for his vineyard. He made an agreement with the workers for one denarius a day and sent them to his vineyard. Going out at about the third hour he saw others standing idle in the market place and said to them, "You go to my vineyard too and I will give you a fair wage." So they went. At about the sixth hour and again at about the ninth hour, he went out and did the same. Then at about the eleventh hour he went out and found more men standing around, and he said to them, "Why have you been standing here idle all day?" "Because no one has hired us," they answered. He said to them, "You go into my vineyard too." In the evening, the owner of the vineyard said to his bailiff, "Call the workers and pay them their wages, starting with the last arrivals and ending with the first." So those who were hired at about the eleventh hour came forward and received one denarius each. When the first came, they expected to get more, but they too received one denarius each. They took it, but grumbled at the landowner saying, "The men who came last have done only one hour, and you have treated them the same as us, though we have done a heavy day's work in all the heat." He answered one of them and said, "My friend, I am not being unjust to you; did we not agree on one denarius? Take your earnings and go. I choose to pay the lastcomer as much as I pay you. Have I no right to do what I like with my own? Why should you be envious because I am generous?" Thus the last will be first, and the first, last.'
R. God has a plan for our lives. He calls
us and we have a free will to answer
His plan.
A person can meditate on God and how
they got here. We can meditate on God
who created us in love – uniquely for
a purpose and He made us special for
His Plan. God made us in His image
and likeness.
God has given me the Blue Books now
for 24 years and 26 years with the Pre-Blue Book.
He hold me how much God the Father loved
me and God has all the power. What
matters in our lives is how we answer
God's call who loves us so much.
I love this scripture because to me
it shows the love of God for us.
Even when we have strayed we see how
much God loves us if we come back.
If we meditate on the prodigal son – we
see the heavenly Father's love for us.
God's love never runs out. God's love
is not limited. God loves us and we
were created by God – such a gift
to be given to others.
We can learn to love – we have a
free will. We ask God to come and possess
our soul and operate out of us –
We want the light of God to shine from us.
God is light and in Him is no darkness.
We had a cellar at our old house –
Say it had no windows – I see this
vision of a soul coming up from
a cellar of total darkness and coming
into the light.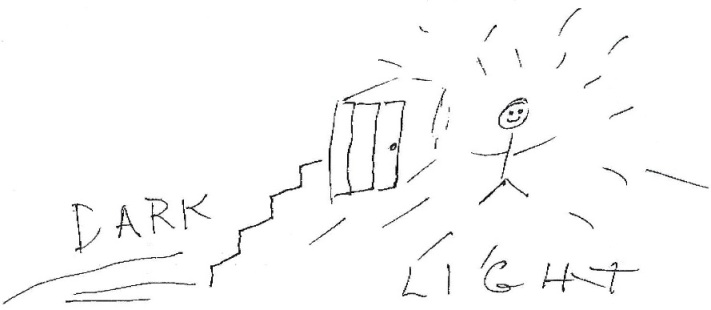 R. I see this vision, a man coming out through
the door after he was in darkness and
seeing the blinding – beautiful – light
of day.
The men who came at the end of the
day and did an hours work were given
pay that was most generous in the parable.
A man can turn his life around and
WORK in God's vineyard trying to
help souls.
God calls us to help the souls Jesus
died for. Jesus died for us. Can
you even think of such love that
Jesus died for us.
On August 23, 1993 –
24 years ago – Jesus gave me
this writing on the Passion –

August 23, 1993
On His Passion

Jesus: My dear child, I was condemned to death, death on a cross. They gave Me a big cross and made Me carry it. They stood around and glared at Me. It weighed on My shoulder and I pulled at it until it finally moved. Every step was almost impossible as I dragged it, weighing so heavily on My shoulders.

My shoulder felt as if the bones inside would crack and the cross would fall through to the ground. I couldn't drag it any more. I tried, I fell. I fell and its weight fell on Me. A guard hit Me with something sharp. It really hurt because he wanted Me to move, and fast! People were watching—on with the show! How dare I fall in the middle of the show! He hit Me again and the blow really stung Me. I got up because it hurt so badly. I tried to walk on.

My Mother was in the crowd. She looked at Me and her face looked red and hurt. Tears rolled down her cheeks like rain and as her eyes met Mine, I was hurt so by her sorrow! She was always by My side, silent and loving. She was My mother of love! She is always there next to you when you suffer.

I fell again and he (the guard) really hit Me. It (the cross) was so heavy that he and I together could barely move it. It seemed as I walked, heavier with the sins of the world heaped on it. My hands were bleeding. Blood ran from the wounds of My thorns and My head throbbed, seeming to make the wounds in My head bleed even more. Some of the Blood was dried, some of it running all over My Body. I had so many cuts and bruises—and people watched and laughed!

I am Jesus, Son of the Living God, and they laughed and mimicked Me! Oh, such hardened hearts! How vile can men's heart become? The devil's grip is paralyzing and crippling.

The walk was so long up a hill and over rocks—the cross had to be lifted over the rocks. My Body was bleeding so badly! My heart was pounding. I knew that the salvation of all men depended on My love. Therefore, I went through such agony.

I thought of My intense love for you—that many would go to heaven because of My suffering—and I continued to the top of the hill. At the top they laid Me on the cross and with a big hammer nailed My hands to it. It was the worst (suffering) yet. My hands were nailed with big nails and the big hammer. Oh, it was unbelievable! Then, as if that weren't enough, with a big nail they nailed through both feet.

Then they lifted the cross and banged it into (a hole in) the ground. My shoulders ached from how I hung. My head bobbed and My neck ached and they laughed and said, "Now save Yourself." I hurt so much! I suffered this way for hours—which seemed like forever—and they glared at Me and laughed! My Mother watched in such agony.

For love of you, to My death I gave you My Body. My child, I shed My Blood and gave you My life that you might be with Me forever in heaven -- not for a day, a month or a year, but forever with Me in heaven.

I am the true Bread come down from heaven. He who eats My Flesh will have life forever. For the drink I give you is My Blood and food you eat is My Body. Who would lay down his life for a friend? I did, for you. I love you this much, child. Forget about those who reject you. You have My life that I gave you and I give you life eternal.

I am the One true God. I am the Light of life. He who abides in Me will have life eternal, for the drink I give is My Blood and the food I give is My Body. Drink and eat and have everlasting life.

My child, that is all you need to know. Love one another and be good that you may enter into My kingdom.

end of August 23, 1993
R. I love this scripture we have in the Gospel
today.
If I see myself as so beautifully created
by God and I know His love for me –
then I can see the beauty of His
creation in creating others – my
brothers, I can see through God's
eyes – love He has for my brothers –
I can see with the eyes of love –
This is happiness having the truth of
God's love in our hearts. Working for God
in His vineyard with the desire to please
Him and to receive the pay He can
give us of eternal life.
If I see these things I don't want
to give into the deadly sins of
slothfulness and pride and jealousy,
anger and envy –
I can be filled up by God's love –
Know the truth about the Light –
See through His eyes.

R. This is reality –
On October 5, 1992 – 25 years ago –
I asked God to use my hand to
write a book –
I was in the study of the Trillium house
where I received the Blue Book
messages –
He gave me this writing –
October 5, 1992 - 3:30am

R. Dear Jesus, Give me Your hand to write this book for you. I am your servant. I want to be Your hand to this world. If you, Lord Jesus, would write a book, what would you say?

Jesus: My dear children,

Today I come to deliver a message to each of you. I want to tell you of each person's dignity, of their beauty and their self-worth. Each child is, oh, so uniquely precious to My Most Sacred Heart. Each child is full of the talents I have given to them. Each person is divinely created by God and given all these gifts to be happy and love one another.

The problem comes when you feel you will be left out. That you will be left by another who has trodden on you and will do it again. I see you all as My most precious children. I watch your every move and know all pain and anguish in your heart. My Heart aches, you have insecure feelings about yourself. I came to this earth I died for you. I felt cold, hungry, lonely on this earth. You need not worry that no one knows the pain and anguish in your heart. God created you with such special gifts and talents. It is important for you to raise above your wound and forgive those who hurt you.

You need only turn your will and your life over to Me and I will guide you in all your ways. I have all the Power. Many are not of My ways. The key to life is to recognize your faults, but still know you are this precious gift of My Father a gift to this world. This world is in need of your strength. Running yourself down, blaming others hurting them can cause you misery and pain. At this very moment, you are the precious creation of God!! You must operate with Me in your heart.

You need not run yourself down. I am with you every day guiding your ways, lest your foot stumble and you lose your way. You will not wander far from your path if every day you keep bringing your focus back to Me. If you dare let Me be at the helm, if you dare to really let Me run your life, I will do with you such wonders that you yourself would be amazed. But you will know with such ease when you did these things that you did not do them alone. You will know My power, moving the mountain, My power chipping at the stone, My power working on your hardest problem and you will be set free.

Oh yes, you will be set free and know a serenity that only comes from letting go and letting Me run your life. To you, My child, I have given all that is good. I made you My holy soldier, My warrior in a world of pain and hatred. You are the light that shines in the darkness, you are the coat to a cold child, you are the smile that warms a troubled and lonely heart. You are the comfort for everyone you meet, because My most precious Heart powers you, smiles through you, understands and loves through you.

Love your fellows for Me. There are so many troubled hearts that need to know My love. I can love through you if you let Me, I can be their friend through you if you let Me. I am He who comforts you and you are he who comforts them. My power is endless, it never runs out, there is not a power failure EVER. In your darkest hour, My light shines in the darkness and I say to you, "Oh blessed of My Father, look at yourself with awe, you are My creation, you are indeed so precious to Me, you are My light to this world, you are My hands and My feet and most of all My Heart."

Oh, you are My loving Heart, to those who are bowed down, to those who are lost in the darkness, you carry My smile and wear My armor in a world that is trying to tear one another down with hate and ugliness. There is gentleness, there is love, there is hope in you, if you open yourself up to Me. Be My knight to the world, wear My armor. I am your God and I will protect you from the darkness. Plug into My power, be not afraid, I go before you always and you can rest in My arms when you feel weary. You can put your head in My lap and weep, you will know, I am truly with you and you are My light to this world. I created you so special - to cast out fear in the darkness, to clothe the naked, to give hope to the oppressed, to be as I live in you and love through you and you are My smile and I touch My hurting ones through your love.
You are he who loves this world. You must stay plugged into My power-source This world is hungry for My love. It needs My love, I give to them through you. I am your God and I made you as a gift to the world. You are filled.

Focus on Me and your life will be abundant and whole, joy in suffering, freedom but you can take the knocks because you will know you do not go it alone, but with Me. I love you My precious child. end of excerpt
R. God loves us so much – It is up to us
to want to love – We have a
free will – we have to want to give –
to let go of darkness – anything
that has held us back from the reality –
God loves us so much and He gives
to us and
We were created in His image and
likeness –
Thank You God for loving me –
I love You –
Thank You for loving my brothers –
Thank You God for loving US.
Help me spread the Blue Books – the
Letters of love Jesus gave to us.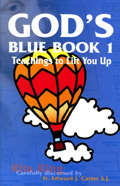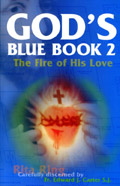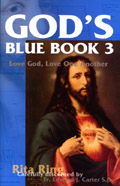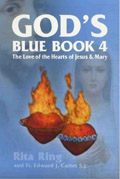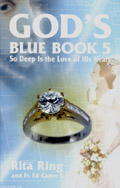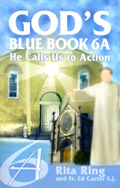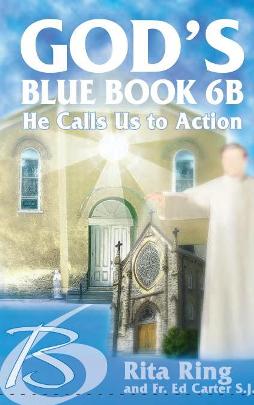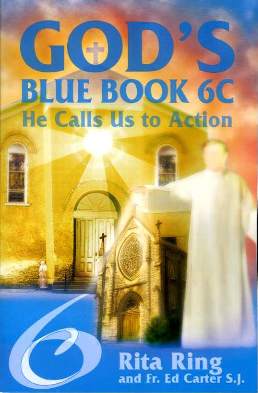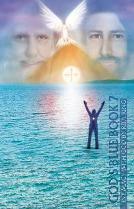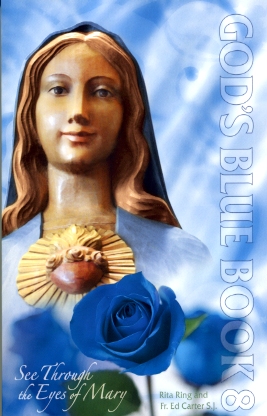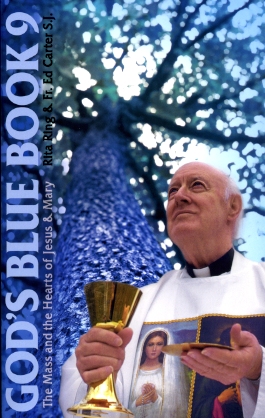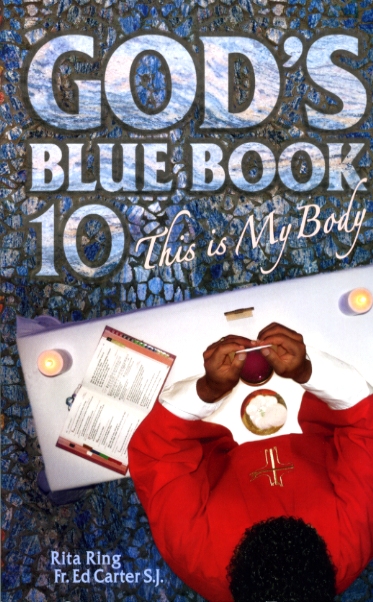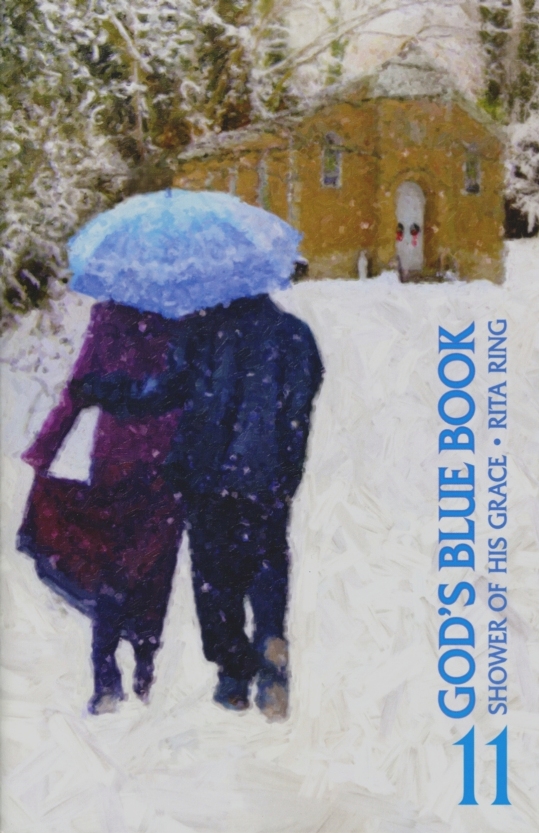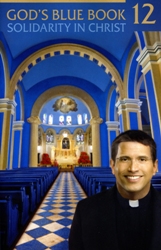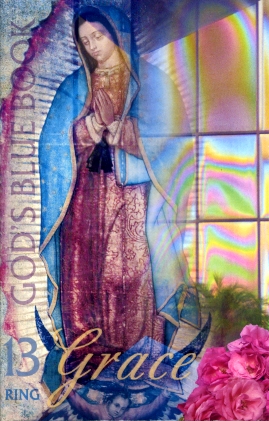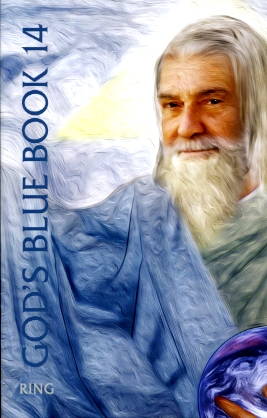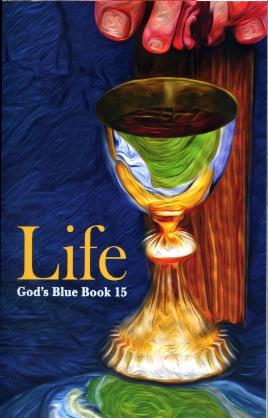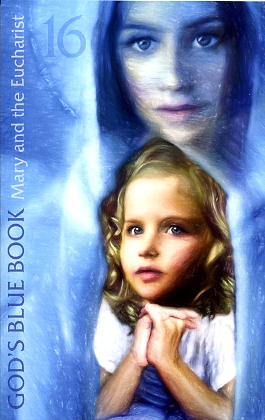 R. Nothing is too big for God. I received the Precious
Blood of Jesus. Jesus gave His all for our sins. Giving is
an act of the will. God gives us His Body, His Blood –
we share one cup because God wants unity with
us. He gives His body and blood to drink. We
willingly say "yes" to being united, to receiving
God, to having faith when we go to the Mass
we receive the Body and Blood of Jesus. We
know when we receive the Eucharist it is His
Body, when we drink from the cup – we
really believe it is the Blood of Jesus.
Jesus loved us so much He shed His
Blood for us. Jesus gave the last drop of His
Blood. Jesus gave the last beat of His Heart.
Jesus held nothing back. Jesus teaches us
about giving and the will of the heavenly
Father.
Doing His will is a decision – to do God's will –
to give – not to hold back – not to do what
is our will opposed to God's will because it
is familiar. If God asks us to do a certain
job – we do it willingly, we find joy in
serving our beloved as He desires.
St. Rose of Lima taught us about discipline
like the saints who did God's will and didn't
give into willfulness. God has a plan – it
is a Plan to make us happy and help build God's
Kingdom.
My daughter told me she went to visit
my brother Jim who has Parkinson's yesterday.
Dorothy, his wife, really spends her life helping Jim.
That is a very hard disease. Think of the love
of a Spouse that gives so very much to the
care of their husband or wife and how God
has this set up how they must work together
to cope with the illness.
God has a plan – people may hold onto
everything and then have to give up to a
nursing home, sickness etc.
God puts us here to do His work. We have so
many days to say "yes" to Him and to help
the world be more as God wants. What we do
here can effect the world – long – long after we
are gone – in a good way – in a way that
can tear it down if we say "no" to God
and use our lives willfully and selfishly –
Jesus says: Your days are numbered aright –
He also says "life goes on in petty pace"
Yesterday was the Feast of the Queenship
of Mary – last week we celebrated the Feast
of the Assumption –
Revelation 12: 1-2
Now a great sign appeared in heaven: a woman, robed with the sun, standing on the moon, and on her head a crown of twelve stars. She was pregnant, and in labour, crying aloud in the pangs of childbirth.
R. In between these two beautiful Feasts was
August 19th when Mary appeared 100 years ago
at Fatima –
Mary is the perfect handmaid of the Lord.
Mary loved the will of God.

Priestly Newsletter Book II - September/October 1997
In all this Mary offers an example. Selfishness was totally foreign to her. She did not belong to herself. She belonged to God. She was not closed in upon herself. She was completely open to God. When God spoke, she listened. When God pointed the way, she followed. She realized that life is not a process a person masters by carefully mapping out one's own self-conceived plans of conquest, but a mystery to be gradually experienced by being open to God's personal and loving guidance.

Selfishness, then, did not close Mary off from God's call. Neither did fear. God asked her to assume a tremendous responsibility. He asked her to be the Mother of Jesus. Mary did not engage in a process of false humility and say that such a great role was above her. She did not say that she did not have the proper qualifications for this awesome mission. Briefly, she did not waste time looking at herself, making pleas that she was not worthy, telling the angel he had better go look for someone else. No, Mary did not look at herself. Her gaze was absorbed in God. She fully realized that whatever God asked of her, His grace would accomplish. She fully realized that although she herself had to cooperate, this work was much more God's than hers.

Mary's words, then, truly sum up what is the authentic Christian response at any point of life, in any kind of situation: "I am the handmaid of the Lord," said Mary, "let what you have said be done to me".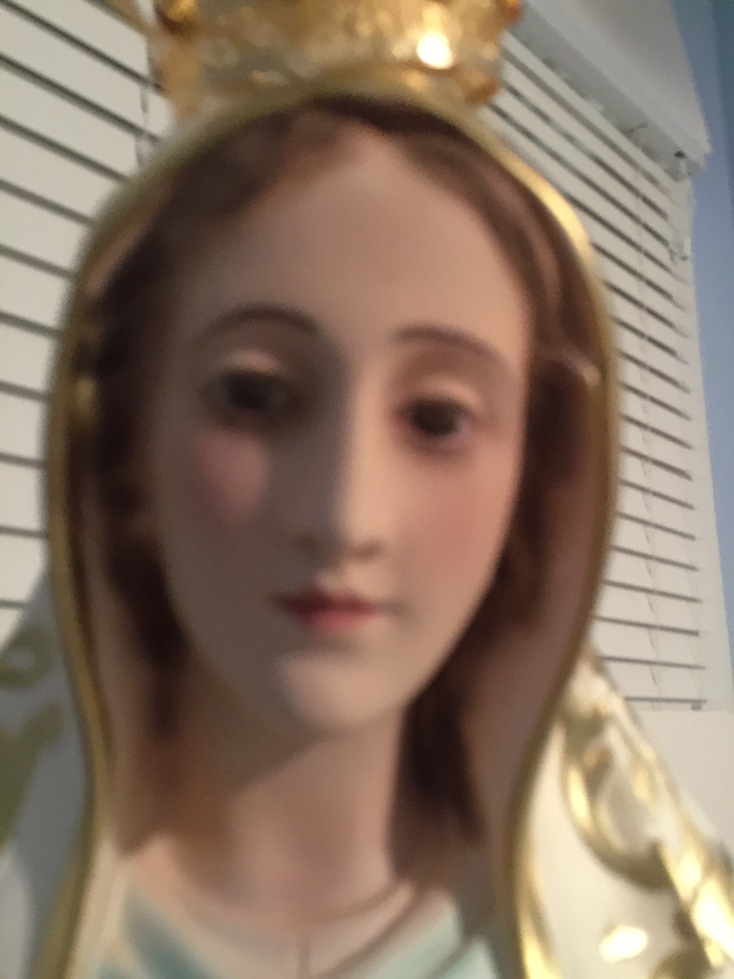 R. Mary gave us this message –

Mary's Message


from the Rosary of August 27, 1996

Mary: I stood beneath the cross of my Son, and my Heart was in such pain for I saw Him before my eyes. I saw Him covered with blood. I saw Him die. My Heart, my children, my Heart to watch my Son, but my Heart, my Heart, how I suffered for my little children of the world that give in to this world and give up the love of my Son. O my little children of light, I give you this message. Carry this light into the darkness for your Mother Mary, for I stood beneath the cross and I cried. I cried for the little ones. I cried for the young ones, the ones that do not care and will lose their souls. How do I make you see for you will not listen to me? What can I do? I come. I appear. I beg. I plead. I give you these gifts from my Son, and you reject me. I do not deliver messages very often anymore for I have been ignored. The message is the same. You do not read the messages I have given to you. Please help me. Help the little children. I appear. I appear. I appear, and I am ignored. I stood beneath the cross, and I cried. I cried, and my Heart was in such anguish for my little children, for I am searching for them this day as I searched for the Child Jesus. Please, please help me. I cannot hold back the hand of my Son any longer. I am Mary, your Mother. I ask you to help my children. You are my children of light.

end of Mary's Message
R. Fr. Carter gave this talk
February 13, 1997 - 2 months after Mary
appeared in Clearwater.

February 13, 1997 Talk
given by Fr. Edward J. Carter, S.J.
Founder of Shepherds of Christ Ministries

Talk given February 13, 1997 National Conference of Shepherds of Christ, held at Our Lady of the Holy Spirit Center, Norwood, Ohio.

Before we begin the rosary, I'd like to say a few words about the great importance of these days on the 13th of each month. Before Our Lord asked me to begin the Shepherds of Christ Ministries, the 1st dimension of that ministries was given to me on May the 31st, 1994. But before Our Lord asked me to start the ministries, I had been given a great devotion to Our Lady of Fatima. And I knew that everything concerning recent Marian apparitions centered around the Fatima message. The Fatima message is key to the peace of the world, as Our Lady of Fatima has told us. So because I had been given a great devotion to Our Lady of Fatima, it was no surprise to me when Our Lord told me, and through me the whole Movement, the great connection that there would be between Shepherds of Christ Ministries and helping to bring the Fatima message to conclusion. I'll expand more upon that in my talk this afternoon. But here and now I'd like to read just a part of the message I received on October the 13th, 1994, when Our Lord called the full Ministries into existence. It had begun May 31st , some five or six months previous to that. But really October the 13th, 1994, marks the real birth, the complete birth of Shepherds of Christ Ministries. And part of the message I received on that day reads as follows:

"I am giving you this message on this day, the 77th anniversary of the great apparition at Fatima, because of the close connection between the Shepherds of Christ Movement and the Fatima message. The Fatima message is centered in devotion to My Heart and My Mother's Heart, especially in consecration to Our Hearts. Shepherds of Christ Ministries is also centered in devotion to Our Hearts. I will use Shepherds of Christ Ministries as a great instrument in helping to bring about the triumph of the Immaculate Heart and the Reign of My Sacred Heart. Today then, October the 13th, 1994, the 77th anniversary of the great apparition at Fatima, marks the birth of Shepherds of Christ Ministries. I pour forth the great love of My Sacred Heart to all. I am Jesus, the Chief Shepherd of the Flock."

The calling of Our Lord to Shepherds of Christ to be present if possible at these meetings on the 13th of each month, and if they cannot be present physically, to be present in spirit with us then comes as no surprise. It's merely another unfolding in the history of the Shepherds of Christ Movement and in the Fatima message.

These 13th of the months meetings are extremely important. They are great instruments which Our Lord and Our Lady are using to help bring to completion the Fatima message, which will result in that great era of peace, which Our Lady of Fatima promised eventually would come to the world. So I ask you to take these meetings on the 13th of the month with the utmost seriousness, gratitude, thanksgiving, joy that Our Lord, for His own reasons has chosen Shepherds of Christ, the members thereof, the whole Ministries to play such a great part in the completion of the Fatima message. It comes as no surprise either that Our Lord gives special messages during the rosary on the meeting of the 13th, just as Our Lady of Fatima gave messages to the three visionaries at Fatima in 1917, from May through October. So at this stage of the Fatima message's unfolding, it is no surprise that they continue, and in a new way and a new phase of the Fatima plan, give us these very special messages on the 13th. They are meant not only for us here present, they are meant for all members of the Movement, and eventually for the whole world. All these messages, all these rosaries on the 13th, eventually go onto our Internet with its world-wide audience.

So please, be very grateful to God for the messages He gives us during the rosary. Not everything which Rita says is a message. I think you'll be able to distinguish when she's receiving a message from Our Lord or from Our Lady, and when she is speaking from her own heart. Sometimes the transition is very quick and you may miss it, but there are both ways in which meditations are given on the decades: in strict locutions or messages, and then from Rita's meditations or reflections herself.

(After the Rosary)

I wish to thank everybody who made the effort to be here with us, especially those people who had to travel from out of town. I'm sure the Lord has blessed you already and will continue to do so for your effort to be here. These are extremely important meetings on the 13th of the month. Our Lord has, Himself, instructed us in His great love and mercy for us and the whole world to have them. From these meetings, the messages of Our Lord, the previous message given at Fatima, go out to the whole world...

I sort of left off when I introduced the rosary by reading the rest, or at least a good part of the rest, of that message which I, myself, received on October the 13th, 1994, when Our Lord called the full Shepherds of Christ Ministries into existence. "My beloved priest-companion, today I come to you with another mission."

He had already asked me on May the 31st of 1994 to start the priestly newsletter and then shortly after that to start the prayer chapters.

"I'm asking you to establish Shepherds of Christ Ministries. At My request you have already begun the priestly newsletter, Shepherds of Christ, and the prayer chapters, Shepherds of Christ Associates...

"I am giving you this message on this day, the 77th Anniversary of the Great Apparition at Fatima, because of the close connection between the Shepherds of Christ movement and the Fatima message. The Fatima message is centered in devotion to My Heart and My Mother's Heart, especially in consecration to Our Hearts. Shepherds of Christ Ministries is also centered in devotion to Our Hearts. I will use Shepherds of Christ Ministries as a great instrument in helping to bring about the triumph of the Immaculate Heart and the reign of My Sacred Heart. When this occurs, My Church and the world will be experiencing the great era of peace promised by My Mother at Fatima.

"Today, then, October 13, 1994, the 77th Anniversary of the Great Apparition at Fatima, marks the birth of Shepherds of Christ Ministries. I pour forth the great love of My Sacred Heart to all. I am Jesus, Chief Shepherd of the flock."

So (this is) one of the most important messages given in the whole history of our Movement, and I think you can see why. Not only was Our Lord calling the Ministries into full bloom with this message, but He was making that great connection between Shepherds of Christ and the Fatima message. You see how He says that both the Fatima message and Shepherds of Christ is centered in devotion, and especially in consecration, to the Hearts of Jesus and Mary.

So in my moments here before you this afternoon, I wish to speak a bit about this consecration.

I'll start off by reading a message of Our Lord and from "Tell My People" which deals with this consecration to the Hearts of Jesus and Mary.

"My beloved friend, tell My people that I desire all to consecrate themselves to My Sacred Heart and to Mary's Immaculate Heart. Tell them not to just recite words in making the Act of Consecration, but to realize what they are saying. Consecration to Our Hearts means a total gift of self. That means handing over everything to Me and My Mother. Consecration means a willingness to surrender completely to Me. In Baptism, one is consecrated to Father, Son and Holy Spirit. But how many fail to live out their consecration? I extend to all the invitation to renew this Baptismal consecration through consecration to My Heart and to My Mother's Heart.

"My beloved companion, I have taught you what this consecration means. I have given you great peace, joy and happiness because you have made this consecration. I have taught you that you are to renew this act of consecration each day. I constantly remind you that you are to pray each day for the grace to more and more live the consecration. I have taught you that your consecration to Me and My Mother means that you constantly surrender yourself to Us and to Our care. I have taught you that the more you surrender yourself to Me, the more I live in you, and through you and for you. I have taught you that My great love for you longs to draw you more deeply into My Heart. I have shown you that I wish your Mother Mary to place you there within My Heart, and that the more you dwell within her Heart, the more deeply she places you within My Heart. Dwelling within Our Hearts, the Holy Spirit fashions you more and more in My likeness. The Father thus looks upon you with greater favor and takes you more closely to Himself.

"Tell My people all these wondrous truths. I am Lord and Master and I desire all to listen to My words. (end of message)"

And what beautiful words those are, which Christ gives all, to us all regarding the consecration to His Heart and Mary's Heart.

I want to - after that message of Jesus telling us what consecration involves, I wish to single out a few aspects of the consecration, what it includes. One aspect of our consecration and especially the consecration which Our Lord has given us for Shepherds of Christ, one aspect of our consecration to Their Hearts is to realize that we are apostles and that we are called to go out into the world as we have heard in the rosary today, and other times to be the apostles of His love, of His love and His Mother's love, and thus to help bring about that great era of peace promised by Our Lord, Our Lady of Fatima in which love will just dominate. That's what it means when Our Lady says, "In the end," she says, "my Immaculate Heart will triumph." And along with that triumph of her Immaculate Heart will occur the Reign of the Sacred Heart. The Reign of the Sacred Heart and the triumph of the Immaculate Heart simply is a reign of love, a triumph of love and in that era there will be a type of love existent in the hearts of the members of the human family never known before. We will all be so united in love to the Father and the Holy Spirit through the Hearts of Jesus and Mary. And not only with Them, but with each other. What a glorious era we have to look forward to.

We are apostles. More and more as the Movement has gone on, Jesus is letting us know that, yes, we are supposed to pray. This is one of our primary duties in the chapters and elsewhere, to pray for priests and all others. But more and more He is telling us that now is the time to start to more and more move out from our chapters and to be apostles of His love, to help spread the Movement, to help spread the consecrations in the schools through the consecration cards, the Rosary Aves, both of which have the Imprimatur of the Cincinnati Archdiocese, to help spread all our materials, all our books and all the various rosaries, the rosary tapes. And you are called to do that. In the beginning of the Movement, it was a relatively few people who were carrying the burden and carrying the Ministry on. We have entered a great new episode of the Movement, principally in that episode, principally centers itself around these meetings of the 13th. More and more people are realizing as they hear more and more the messages, more and more people in the Movement are hearing that Jesus is calling each one of us to be apostles of the Movement, to spread the Movement, to help implement the various ministries in all ways possible, to help spread the movement by starting new prayer chapters. Just think if we have something like, I guess, 2500-3000 members in the chapters and the Apostles of the Eucharistic Heart of Jesus Movement here in this country and throughout the world - most of those, thus far, in this country. But just think if each person would take it upon himself or herself to go all out to get one more new chapter formed. That's not impossible, I don't think that's asking something heroic. That would double our chapters; that would double our prayer power. And so much of the Movement, the success of it, depends upon the prayer power coming out of the chapters and the Apostles of the Eucharistic Heart of Jesus Movement. So He's calling all of us; and how admirably so many in the Movement are answering. I wish to single out-just because all of you know about the Florida apparition - four or five, six, I don't know how many now of our members from Rita's core group have gone down to the apparition site. One of our main members, Tom A., has a home there at St. Petersburg, and Clearwater is just a short distance from there. And they've been going down and staying in his house, and each day going over to the apparition site and handing out our materials, especially the rosary message tape, but other materials also. This is what Our Lord, Our Lady has asked us to do. And they've had phenomenal success. We can't keep enough materials down there. They just, the people are just so eager for it. But this is what. . .and they do it on their own time, they drive down, some of them spend three or four days, some a week and they come back. But what a marvelous example of their answering the call to the apostleship to which Jesus calls them in the Movement. And they're doing just a tremendous amount of good.

And by the way when I'm talking and as long as I'm talking about Florida I might read you part of that message of Our Lady. You have read it, no doubt if you'd gotten a copy of the picture with the message on the back. But for my own purposes I want to read that here and now. So Mary tells us, this is the message which Rita received on December the 19th:

Mary:

My dear children, I give to you, my Son, Jesus, born in a stable in Bethlehem on Christmas morn'. He is the Almighty God the Light of the world. I appear to you, my children on a bank in Florida. You have made money your god! Do you know how cold are your hearts? You turn away from my Son, Jesus for your money. Your money is your god.

I am Mary, your Mother. I do not appear as I once appeared to you.

When Rita got that message and when she gave it to me, both of us for a number of days thought that her number of apparitions was simply decreasing, but we both came to the conclusion; well Rita came to the conclusion and I followed after her, in agreement with her conclusion, Mary says, "I do not appear as I once appeared to you." She was saying apparently that, "I'm appearing to you in this new way, where the whole world can see me."

So many others' apparition sites have had their believers of course, but many, many people throughout the world have doubted all this talk about the various apparition sites of Mary. She says, "I do not appear as I once appeared to you." She is appearing on a bank for the whole world to see.

Mary continues:

"I am asking you today to circulate my message given on a tape on the Feast of Our Lady of Guadalupe, December 12, 1996. Please circulate this tape now."

That's one of the main things our apostles down in Florida are doing, handing out the tapes with this message.

Mary continues:

"Please circulate this tape now. Give it to as many people as you can. I am Mary, your Mother. Please circulate my Rosary Book."

She's referring to a book which Shepherds of Christ Publications came out right around Christmas time. Hopefully all of you have received it in the mail, Rosaries from the Hearts of Jesus and Mary, as given to Rita. Now here's the point I want to make here and now. Notice how she links up the apparition site with the circulation of her Rosary Book, and we are circulating the book there. But to me, there's a very great phenomenon connected with the colors on the window, bank windows and the Rosary Book. And Rita herself pointed this out to me. Now this cover on this book-it was designed by Hal K. weeks and even months before the apparition of Our Lady on the bank in Florida. When did you start to design that Hal? (question asked to Harold K.) Almost, two years ago. And the colors were already selected months ago, right? Well if you'll take the picture of the bank of the apparition of the bank on Florida, and this Rosary Book, you will notice that the colors are the same. To me, that's a miraculous confirmation of the fact that Our Lady is connecting the apparition site on the bank in Florida with the Shepherds of Christ Ministries in a special way with the rosaries. It's just phenomenal. You can check the colors out one by one. They're a little bit brighter on the book, but because of the photography involved I think you can see how they wouldn't be quite as bright on this. But check out the colors. They're the same on the Rosary Book and on this. And these colors, as I say, were picked by Hal months and months before the apparition. You can take it for what you want, but for me it's a miraculous confirmation of this message, that Our Lady chose those same colors which are on the front of her Rosary Book, to show the same colors relative to her apparition there on the bank in Florida.

Therefore, our Florida apostles are one of the many examples I could point out to you of how people in the Movement are more and more taking up the challenge, the invitation of Jesus and Mary to spread this Movement throughout the world. They have chosen the Shepherds of Christ Movement as a great instrument to help bring about the Fatima message. How privileged we are to be part of it, to be called to it. I believe, I've told you this before, at least some of you have heard me, I think this Movement is one of the greatest in the history of the Church. And I think history itself will bear that out. So how precious a gift each of us has been given by Our Lord in calling us to be members of this Movement.

Therefore, a very important aspect of our consecration to Their Hearts is to be apostles, to help spread all the ministries. Another aspect of our consecration is the idea of union. I think we're all very well aware how the consecration unites us to the Hearts of Jesus and Mary, and through Them to the Father and the Holy Spirit. But perhaps we don't think often enough of that how it unites us with one another, in the Movement, in the Church, throughout the whole world. You cannot grow in union with God, Father, Son and Holy Spirit and Mary, without growing in union with all your neighbors. And this is the tough part. It's relatively easy to love Father, Son and Holy Spirit and Mary, isn't it? Three Persons in One God infinitely perfect and Mary a human person, perfect, free from all sin. It's easy to love the Triune Persons and Mary, relatively speaking. But it's not all that easy to love each other all the time, isn't it? And yet that's what Jesus calls us to. Jesus literally died for each and every person. And no matter how unattractive a person is in their behavior, Jesus still died for that person. If He loved that person enough to die for that person, then certainly we have to love them, him or her, and especially within the Movement. Satan is violently attacking us, he will always try to cause division in the Movement. But if we are going to be examples - and we are called to that, to be examples to the whole Church and the whole world of what it's going to be like in the new era, when we all exist in such great loving union with each other in Christ. We are the forerunners of that. We're helping to prepare the way for that for the whole Church, for the whole world. Not only us, but we have been given a special mission for that. So we have to be united in love with each other, if we have differences, we work them out in love and in peace. We work them out in love and in peace. In one of the Blue Books, Jesus says, "The glass is either half-empty or it's half-full." I look at my neighbor, whether he or she is in the Movement or outside of it. I can either look at the half-empty part of the glass or the half-full part. I can either look at that person's faults and concentrate on them, or I can concentrate on the great goodness which is inherently theirs. If they are in the state of sanctifying grace, their soul is magnificently beautiful, despite the blemishes of their failings of their sins. When I look at a person, do I look at the half-empty part or the half-full part?

Everyday I ask you to pray for a growing unity in the Movement. What Our Lord has allowed us to accomplish so far in less than three years is just miraculous, I think it's just miraculous. The sign becomes ever and ever greater that He started this Movement, not me. I was just the instrument which He chose to head it up. He has given me so many beautiful people to help me do the Movement and that includes all of you. He has given you so many beautiful companions in the Movement. Let us concentrate on that part of it. This is the only way we're going to be models to the rest of the Church and the world, of the profound union that Our Lord calls us to, not only with Himself, but with each other.

Strength for all this, day after day, it's not easy to live this way, is it? But as I said in my homily, the great strength we have for that is the Eucharist. The power of the Eucharist is much greater than your faults or my faults or the faults of others in the Movement that surround you, or the faults of others in your parish, or the rest of the Church and the world. He can give you the strength to arise above your own faults and the faults of others around you, and march forward in the most positive way towards this great new era. Oh what a gift the Eucharist is.

St. Julian Eymard, the founder of the Blessed Sacrament Fathers, who gave us such beautiful writings on the Eucharist, in one of his writings on the Eucharist he says: "It is true also that the world does all in its power to prevent us from loving Jesus in the most Blessed Sacrament with a real and practical love, to prevent us from visiting Him and cripple the effects of His love. This world engrosses the attention of souls; it finds and enslaves them with external occupations in order to deter them from dwelling too long on the love of Jesus. It even fights directly against this practical love and represents it as optional, as practicable at most only in a convent. And the devil wages incessant warfare on our love for Jesus in the most Blessed Sacrament. He knows that Jesus is there, living and substantially present; that by Himself He is drawing souls and taking direct possession of them. The devil tries to efface the thought of the Eucharist in us, and the good impression made by it; for in his mind, that should decide the issue of the struggle." (That is if we give in to Jesus' desire to possess us in the Eucharist.) "And yet God is all love. This gentle Savior pleads with us from the Host: "Love Me as I have loved you; abide in My love! I came to cast the fire of love on the earth, and My most ardent desire is that it should set your hearts on fire."

1

1. St. Peter Eymard, "The Most Blessed Sacrament Is Not Loved!," as in

The Treasury of Catholic Wisdom, Fr. John Hardon, S.J., ed.; Ignatius Press, p. 384.

Union amongst ourselves through our union with Jesus and Mary and Father and Holy Spirit. Each of you is so precious to Jesus. He has given each of you a very, very, very special gift, precious gift, in calling you to be involved in this Movement. Very early on in the Movement, it was July 31st of 1994, on the Feast of St. Ignatius, He often gives me very important messages on key feasts, and the Feast of St. Ignatius is a feast for Jesuits, Ignatius Loyola, the founder of the Jesuits. And He told me in that message that He would give great, great, great graces to those who join the Movement, and hope I'm sure, all of you who have been in the Movement have experienced those great graces. In appreciation for the great graces Jesus has given you in the Movement, I ask you, with great joy and a great sense of responsibility and a great sense of privilege, to do what you can to implement the ministries of the Movement. No one else can do your role, can carry out your part. You are preciously unique, no one exists like you now, no one ever has, no one ever will. It's you alone who can give Jesus the opportunity to do what He wants through your humanity to help spread the Movement. To the extent that you answer Jesus and give yourselves to Him, and work as time and energy permits, as your other duties permit to help spread the ministries, to that extent you give Him an opportunity which no one else can give Him, and to the extent that you hold back, to this extent He loses this opportunity which no one else can give Him.

A precious Savior who has done so much to each of us. Certainly He deserves our full loving response. As I kneel before the crucifix each day, either before a actual crucifix or one in my mind, let us ask ourselves those questions posed to us by Ignatius Loyola, "What have I done for Christ?" "What am I now doing for Christ?" "What ought I to do for Christ?"

end of talk by Fr. Carter