Prayer for Grace for our Country
Dear Father united to Jesus in the Holy Sacrifice of the Mass, the Sacrifice of Calvary sacramentally made present, celebrated around the world, in the Holy Spirit. We offer up all we do united to the Mass. We unite in one mind and one heart as members of the mystical body of Christ, with Christ our head in the pure and holy Hearts of Jesus and Mary, through the powerful intercession of Mary with all the angels and saints and souls in purgatory, and we beg for the saving grace, for our country, the United States. Please help us. We further pray for unity to always do the will of God in love. We spread the Blood of Jesus on the leaders and people of the United States and cast the devil into hell. We consecrate our country to the Sacred Heart and Immaculate Heart and all our dioceses, and beg for an outpouring of the Holy Spirit. God help us. We pray for our families, the priests, the Church and the world. In the Name of Jesus please hear us, we pray. We pray for our new president as he takes office. We pray that we are united as one nation under God to work together in love as God wants.
September 29, 2017 - Feast of Sts. Michael, Gabriel, and Raphael, Archangels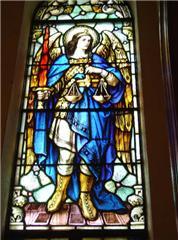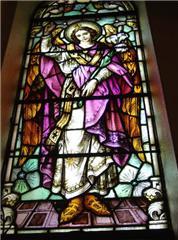 St. Michael the Archangel
"St. Michael the Archangel, defend us in battle. Be our safeguard against the wickedness and snares of the devil. May God rebuke him, we humbly pray, and do thou, O prince of the heavenly hosts, by the power of God, cast into hell Satan and all the other evil spirits who prowl about the world seeking the ruin of souls. Amen."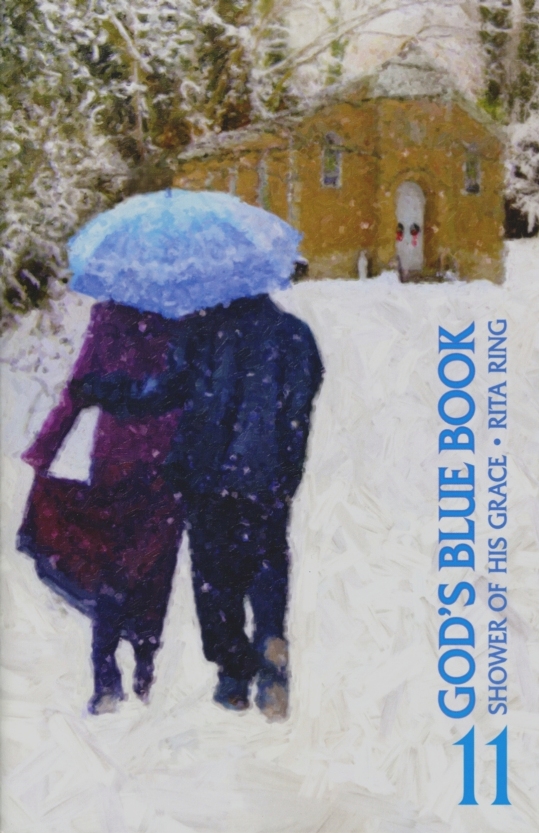 R. Blue Book 11
helps us understand how we
help in the work of Redemption.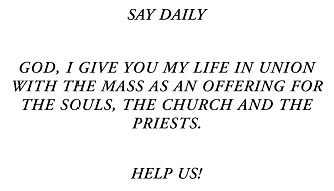 From a Lenten Homily, March 24, 2000
Live in the Moment
Today's Gospel in its story certainly points ahead to Jesus in His Passion and death. And as we read passages such as this during the Lenten season, we are reminded once again that the Church in her Liturgy of the Word gives us an opportunity to undergo a purification, an ever deepening cleansing of ourselves so that we may be a more fit instrument for receiving the great graces which are to be given to us at the time of the Resurrection memorial on Easter. And so all in all, Lent is a time of purification to prepare us for ever-greater gifts of the Lord. It's a time of self-discipline, a time to renew our efforts to be self-disciplined in the service of the Lord. Self-discipline is an aspect of purification. And I suggest that one of the most difficult acts of self-discipline in the spiritual journey is to concentrate on the present moment. We have a very strong tendency to disregard the importance of the present moment by focusing in a wrong way on the past or in a wrong way on the future. There are proper occasions for thinking of the past and the future. For example, we have to learn from the past and we have to prepare for the future, but our great emphasis has to be upon the present. There is a Latin axiom which says, age quod agis, age quod agis, which means: do what you are doing, concentrate on the present. And of course we are familiar with that term in the history of spirituality: the sacrament of the present moment. And so the discipline of Lent certainly encourages us to include in a deeper self-discipline a greater determination to get as much as we can out of the present moment. People with a terminal illness have an opportunity as they prepare for death for increased prayer, contrition, love of God. However, some are taken very, very quickly. But for those who have the opportunity of knowing with some certainty the time of their death, I'm sure as they look back on their lives, they are saddened by the many times they did not use time and opportunities for the service of the Lord properly, and are overjoyed at those times in which they did use the present opportunity properly. A great means we have of living in the present properly is a greater focus upon our Lord. For if I have that awareness of the fact I am united with Jesus here and now, why should I be concerned so much about the future or the past? Yes, a great help in living in the present and deriving all the good we can from it for ourselves and others is an ever greater focus upon Jesus, because the more I focus upon Jesus and the more I live with Him in the present moment, the more I am satisfied with the present moment. And so let us in our Lenten activity resolve to grow in that self-discipline - which is very difficult at times - to really live in the presence with the fullness of our being as much as is possible, with the help of God's grace. Now is the day of salvation. Now is the day of salvation.

end of Father Carter's homily
Song: Live This Day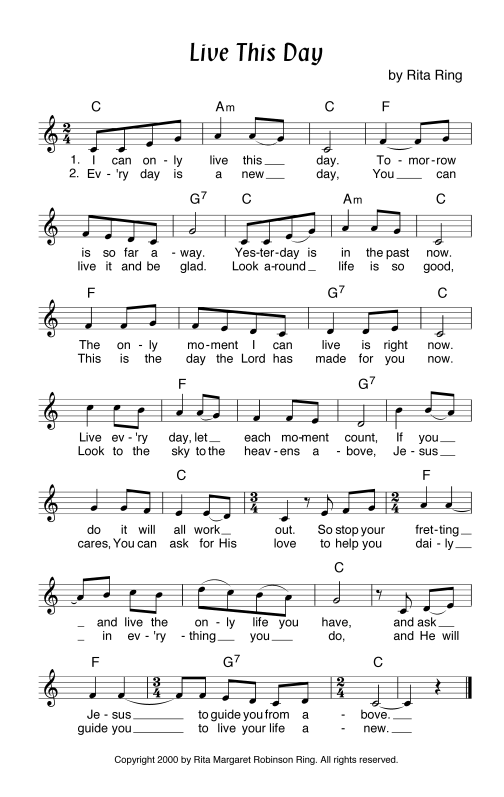 R. We need to enjoy what we are doing
right now – not feel like we must
get done to do something else –
Try to do what you are doing
and focusing on that – doing it
in the moment as God wants –
enjoy the moments of our lives –
the moments we can do things –
How much pleasure we miss
if we are always thinking about
what comes next rather than
enjoying what we are doing.
We are never satisfied if all we
do is think about the next thing.
We must learn to live in the
moment. Enjoy the work or pleasure
we are experiencing. Talk to God and
ask for His help and believe He is
listening to our heart-felt prayer.
Today is the Feast of St. Michael,
St. Gabriel, St. Raphael. We know
God uses these angels. St. Michael
is to help us in our battle with
satan.
The St. Michael prayer is in the
Shepherds of Christ Prayers. We know in
today's world a great battle is going on. We
need St. Michael's help to fight off
satan. We also know the Blessed Mother
crushes the head of the serpent.
Here is a message from Mary
before she appeared in Clear - Water.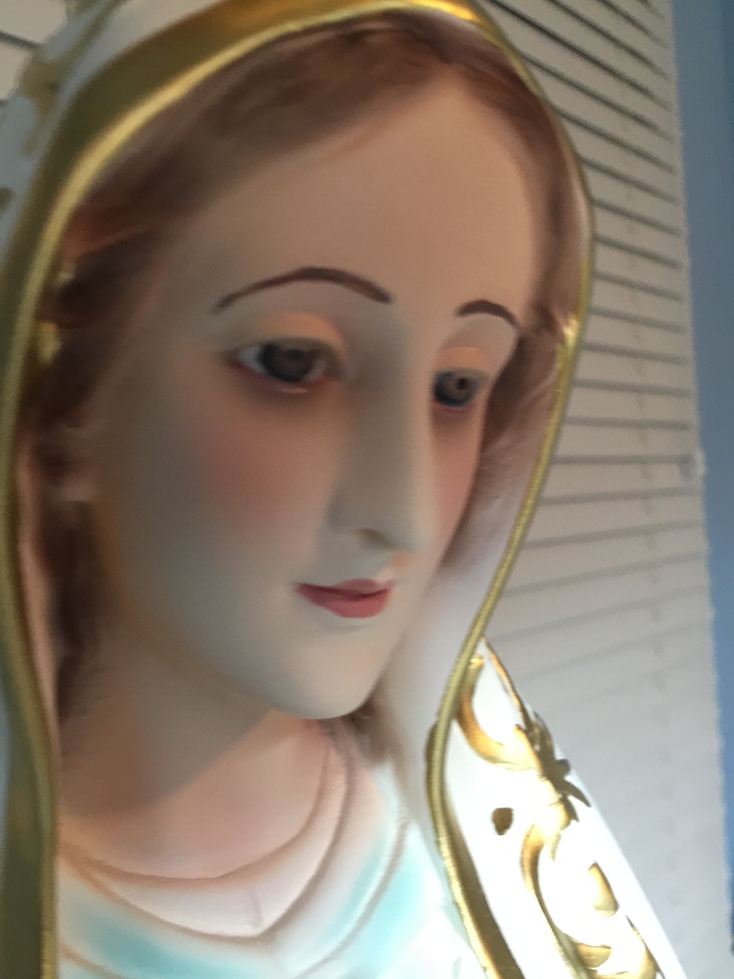 Mary's Message


from the Rosary of August 27, 1996

Mary: I stood beneath the cross of my Son, and my Heart was in such pain for I saw Him before my eyes. I saw Him covered with blood. I saw Him die. My Heart, my children, my Heart to watch my Son, but my Heart, my Heart, how I suffered for my little children of the world that give in to this world and give up the love of my Son. O my little children of light, I give you this message. Carry this light into the darkness for your Mother Mary, for I stood beneath the cross and I cried. I cried for the little ones. I cried for the young ones, the ones that do not care and will lose their souls. How do I make you see for you will not listen to me? What can I do? I come. I appear. I beg. I plead. I give you these gifts from my Son, and you reject me. I do not deliver messages very often anymore for I have been ignored. The message is the same. You do not read the messages I have given to you. Please help me. Help the little children. I appear. I appear. I appear, and I am ignored. I stood beneath the cross, and I cried. I cried, and my Heart was in such anguish for my little children, for I am searching for them this day as I searched for the Child Jesus. Please, please help me. I cannot hold back the hand of my Son any longer. I am Mary, your Mother. I ask you to help my children. You are my children of light.

end of Mary's Message
R. We know we have the Jesus-well
and Mary-well in Clearwater. We
mix the two and put holy water
with it. We sprayed Florida
before Irma.
Dear God please help us
spread the waters from the wells
so people will spray the United States.
We can have faith and ask God
to hear our prayers.
After someone broke the image
window.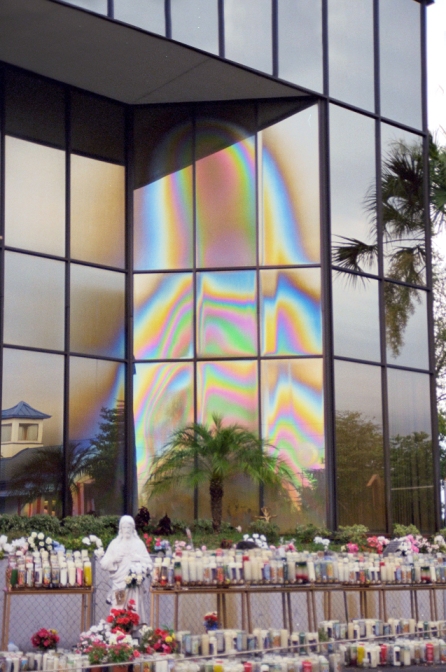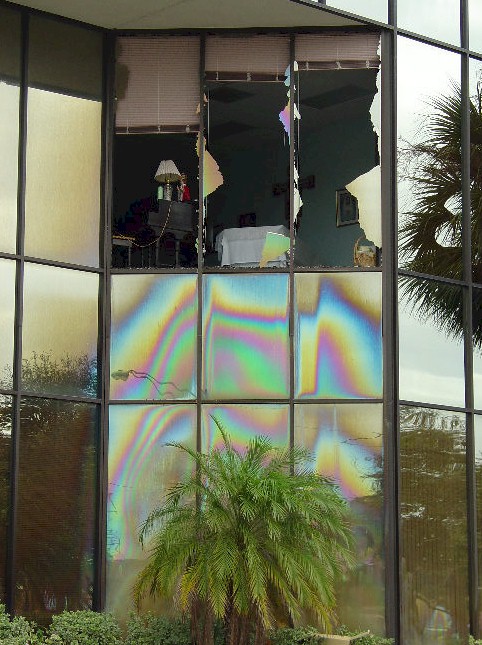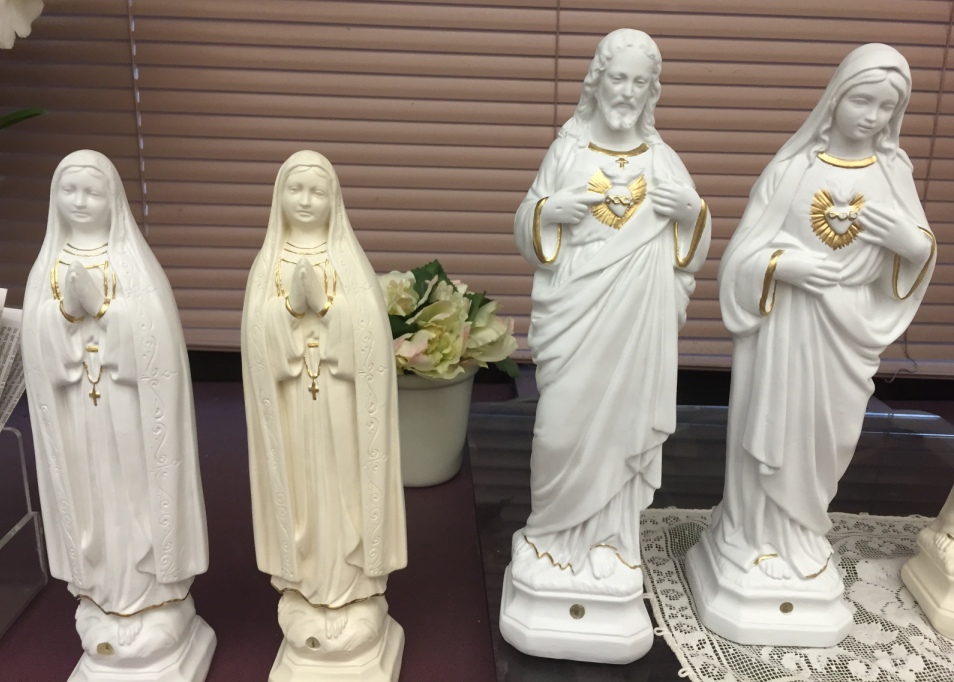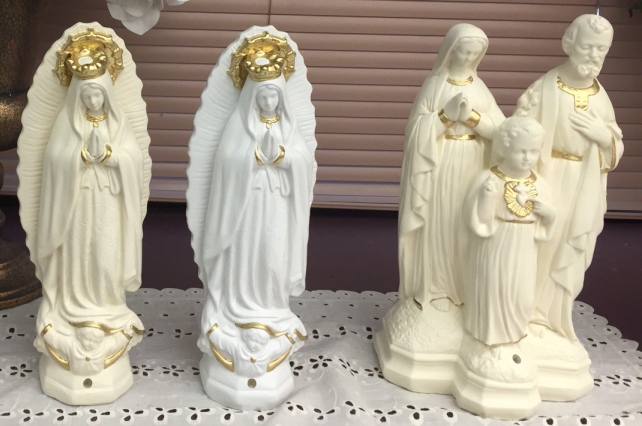 Statues with image glass
R. Our Lord told us to put it in the
beautiful Fatima statues – So a
little piece has been placed in
the statues and we were told
to pray the Shepherds of Christ Prayers
that Jesus gave Fr. Carter in 1994.
| | | | | | |
| --- | --- | --- | --- | --- | --- |
| English | Español | Français | Português | Italiano | Polska |
R. We have these prayers in 8 languages
with the Church's Imprimatur.
We need to have the statues with
glass in our homes and pray
these prayers, Jesus gave us.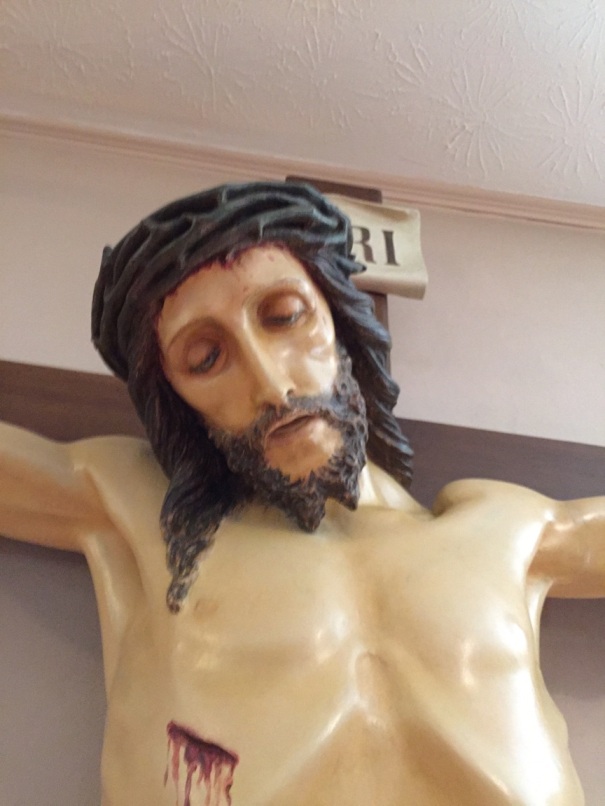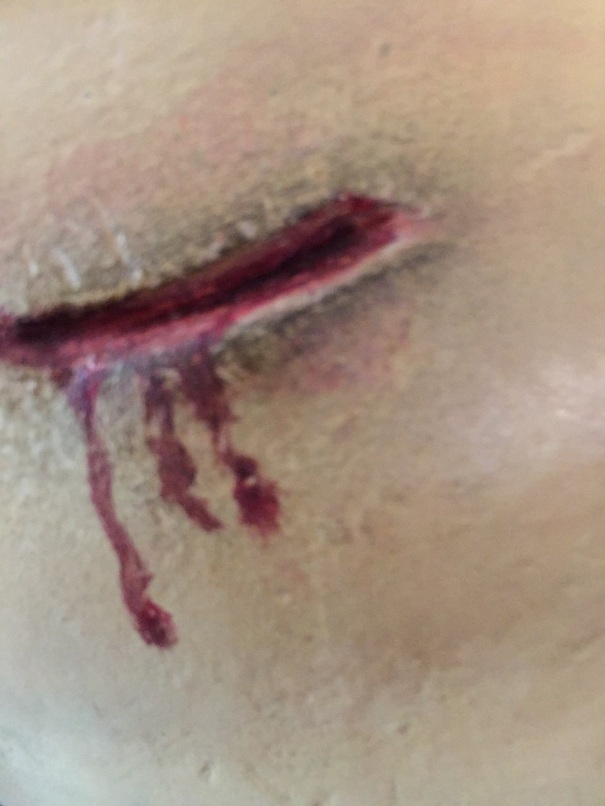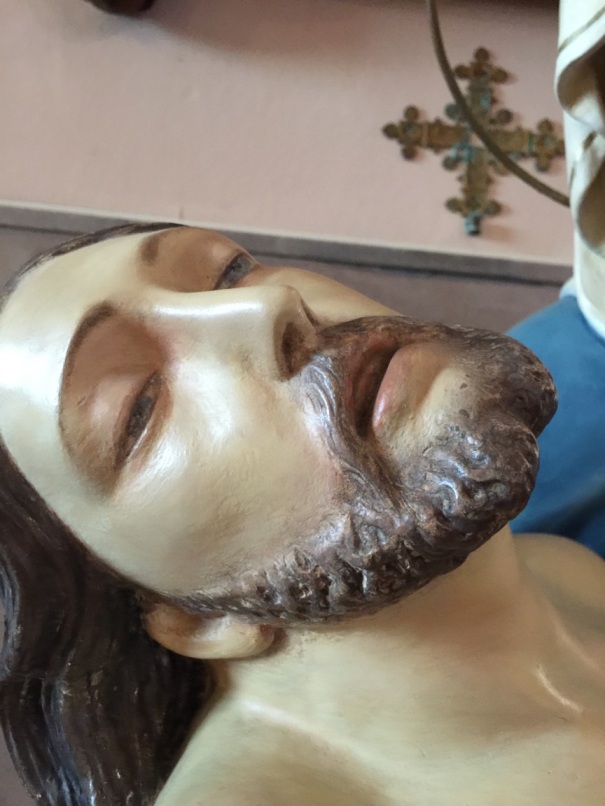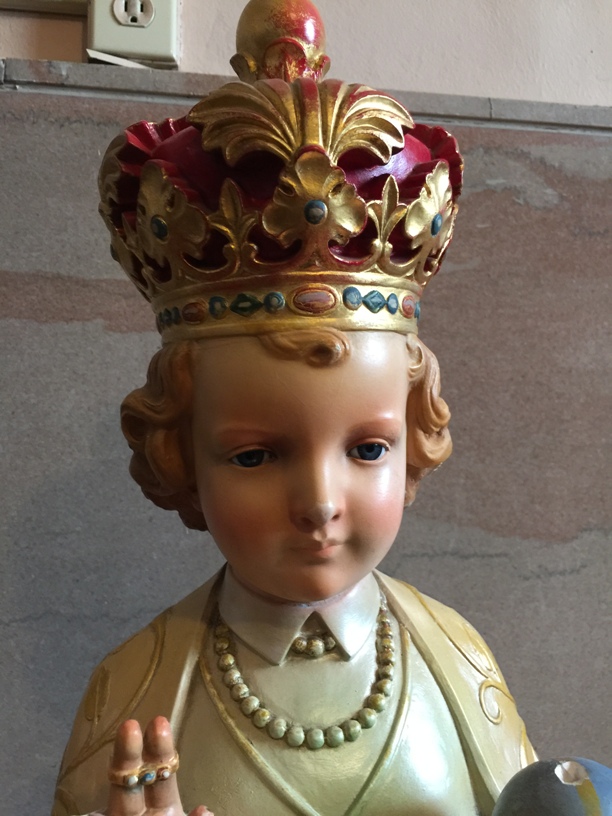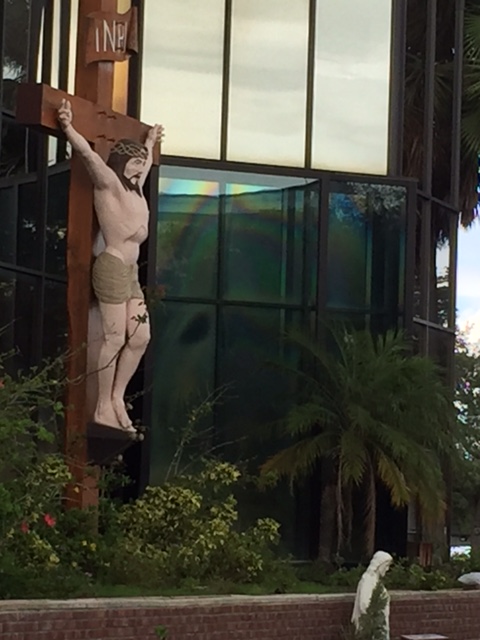 Prayer for Union with Jesus
Come to me, Lord, and possess my soul. Come into my heart and permeate my soul. Help me to sit in silence with You and let You work in my heart.

I am Yours to possess. I am Yours to use. I want to be selfless and only exist in You. Help me to spoon out all that is me and be an empty vessel ready to be filled by You. Help me to die to myself and live only for You. Use me as You will. Let me never draw my attention back to myself. I only want to operate as You do, dwelling within me.

I am Yours, Lord. I want to have my life in You. I want to do the will of the Father. Give me the strength to put aside the world and let You operate my very being. Help me to act as You desire. Strengthen me against the distractions of the devil to take me from Your work.

When I worry, I have taken my focus off of You and placed it on myself. Help me not to give in to the promptings of others to change what in my heart You are making very clear to me. I worship You, I adore You and I love You. Come and dwell in me now.
-God's Blue Book, January 17, 1994
R. We pray for the priests, the Church
and the world.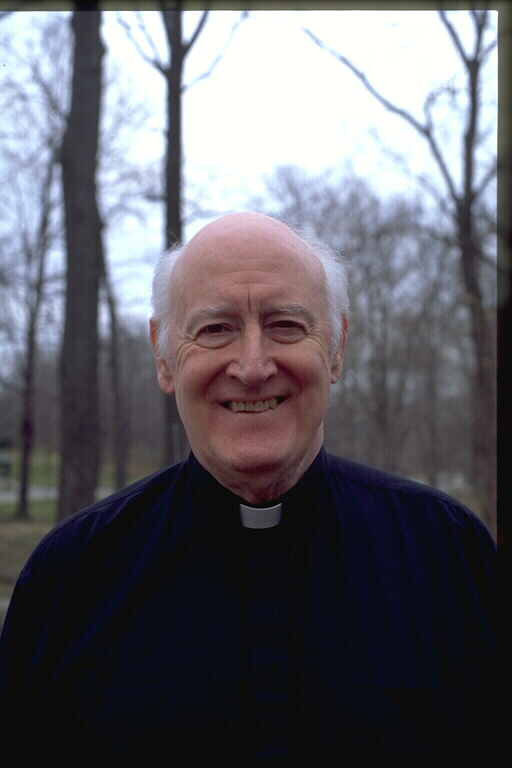 R. Jesus gave Fr. Carter this message.

July 31, 1994
Words of Jesus to Members of
Shepherds of Christ Associates:

"My beloved priest-companion, I intend to use the priestly newsletter, Shepherds of Christ, and the movement, Shepherds of Christ Associates, in a powerful way for the renewal of My Church and the world.

"I will use the newsletter and the chapters of Shepherds of Christ Associates as a powerful instrument for spreading devotion to My Heart and My Mother's Heart.

"I am calling many to become members of Shepherds of Christ Associates. To all of them I will give great blessings. I will use them as instruments to help bring about the triumph of the Immaculate Heart and the reign of My Sacred Heart. I will give great graces to the members of Shepherds of Christ Associates. I will call them to be deeply united to My Heart and to Mary's Heart as I lead them ever closer to My Father in the Holy Spirit."

- Message from Jesus to Father Edward J. Carter, S.J., Founder, as given on July 31, 1994,
feast of Saint Ignatius Loyola, Founder of the Society of Jesus (The Jesuits)
R. I received this message for the world.
Message January 22, 1998.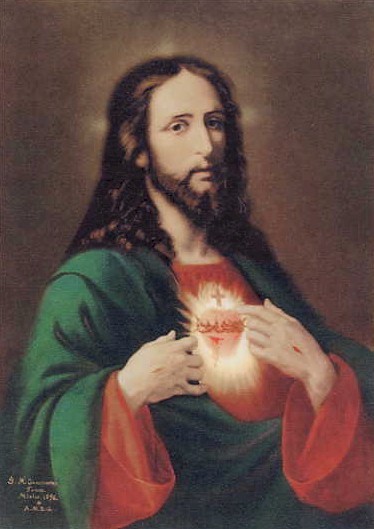 A message for the Earth from Jesus
January 22, 1998
I am the Good Shepherd, these are My prayers, the prayers I give to help renew the Church and the world, all prayer chapters are asked to include these prayers (found in the Shepherds of Christ Prayer Manual). As My Apostles and Shepherds I ask you to encourage all existing Chapters to try to encourage all existing prayer groups to pray the Shepherds of Christ prayers. Encourage all Churches to pray these prayers. It is most urgent that the people of this earth concur with the Father's wishes to begin Prayer Chapters. This is an urgent request from the Good Shepherd. The flock will become one when they have given their hearts to Jesus and Mary. Encourage all priests to pray the Shepherds of Christ prayers. Your world will be lighted with great light as the people of this earth pray these prayers.

My promise is this to you My beloved earth: When you give your heart to Me and spread the devotion to My Sacred Heart, I will write your name In My Heart. I promise to give the greatest graces when you pray these prayers for renewal of the Church and the world and take all who pray them deeply into My Heart. The prayers I give will bring about the reign of My Sacred Heart and the triumph of Mary's Immaculate Heart. I am Jesus Christ, this is My message of January 22, 1998, Please circulate this message to your world. I am the Good Shepherd, I know Mine and Mine know Me and they follow Me. Grace My Shepherds, I will give you the greatest graces for spreading these words to this earth and to your Church. I love you, I am Jesus Christ, the Son of Man, it is the Plan of the Father that Prayer Chapters are begun immediately and the Priestly Newsletter is given to all priests. The Voice of the Good Shepherd speaks through it.

end of January 22, 1998
R. I also received this message the
day after Fr. Carter received his
message August 1, 1994.

August 1, 1994
Pray For The Success Of The Priestly Newsletter - Shepherds of Christ
R. The following is the first official message I received before the statue of Mary at Our Lady of the Holy Spirit Center. It is a personal message for Father Carter.

Mary: (in front of the glowing statue of Our Lady of Sorrows) I am the Immaculate Heart. My Heart is glowing for love of all my beloved children. I am your most loving Mother. I am with you this day. Pray for the success of the priestly newsletter Shepherds of Christ. I am guarding your way. You will receive such graces to accomplish this task! Grace from God is so abundantly bestowed on you and will lead to the success of this endeavor! Pray for this cause at the Center. The priests will lead the people to the love of My beloved Son. This is no little task. It will take many prayers and graces. Pray hard, little one. Your prayers will change many hearts.

I am Mary, your Immaculate Mother. I bring this message to My beloved priest-son.

end of August 1, 1994
R. We are to be witnesses before
men and pray for the priests,
the Church and the world –
God gave us all these messages