Prayer for Grace for our Country
Dear Father united to Jesus in the Holy Sacrifice of the Mass, the Sacrifice of Calvary sacramentally made present, celebrated around the world, in the Holy Spirit. We offer up all we do united to the Mass. We unite in one mind and one heart as members of the mystical body of Christ, with Christ our head in the pure and holy Hearts of Jesus and Mary, through the powerful intercession of Mary with all the angels and saints and souls in purgatory, and we beg for the saving grace, for our country, the United States. Please help us. We further pray for unity to always do the will of God in love. We spread the Blood of Jesus on the leaders and people of the United States and cast the devil into hell. We consecrate our country to the Sacred Heart and Immaculate Heart and all our dioceses, and beg for an outpouring of the Holy Spirit. God help us. We pray for our families, the priests, the Church and the world. In the Name of Jesus please hear us, we pray. We pray for our new president as he takes office. We pray that we are united as one nation under God to work together in love as God wants.
September 6, 2017
R. When we love others and give good
to others as God wants us to do we
will be rewarded by God for this.
We act as His instruments – we
are channels of God's love and
we bring His love and light to
the world – to those He wants to
reach.
Jesus came into the world – made
His entrance through Mary and
God enlists our help today to be
His instruments, His channel to
bring His light and love to others
as He dwells in us.

Matthew 10: 42
'If anyone gives so much as a cup of cold water to one of these little ones because he is a disciple, then in truth I tell you, he will most certainly not go without his reward.'
R. In this life we can ask God to
come and dwell in us. In baptism
we receive a sharing in God's life and
the Father, Son and Holy Spirit dwell in our
graced, baptized soul. We can truly ask
God to dwell in us and operate in
us and know this supernatural
presence of God in us if we give
ourselves to God, seek holiness and
love and give God ourselves, our
heart to operate in us.
God calls us to love – God wants
an intimate union with us –
Excerpt from Spirituality Handbook

An Overview of the Spiritual Life

... Jesus has come, then, not to destroy anything that is authentically human, but to perfect it by leading it to a graced fulfillment. This is the meaning of the Word's becoming flesh, the meaning of the Incarnation. The more God-like we become through Christ, the more human we become.

We, through our incorporation into Christ which occurs at Baptism, are meant to relive the life, death, and resurrection of Jesus. In doing so, we are not only accomplishing our own salvation, but we are assisting in the salvation of others also. The Incarnation continues all the time. Christ, of course, is the one Who fundamentally continues the Incarnation. But He enlists our help. The world no longer sees Jesus, no longer is able to reach out and touch Him. We are the ones who now, in some way, make Christ visible and tangible. In union with the invisible, glorified Christ, and depending on Him as our source of life, we continue the Incarnation in its visible and temporal dimensions. This is our great privilege. This is our great responsibility.

The Christian is initiated into the mystery of Christ, into his or her role in prolonging the Incarnation, through Baptism. In the words of St. Paul: "Do you not know that all of us who have been baptized into Christ Jesus were baptized into His death? We were buried therefore with Him by Baptism into death, so that as Christ was raised from the dead by the glory of the Father, we too might walk in newness of life." (Rom. 6: 3-4). . . .
end of excerpt
R. There will be others in life –
no matter how much we give
love and try to do God's work –
There are others who can oppose all
we do with their free will – oppose
God and work in darkness against
what God wants us to do –
Satan is real and he uses men
who give into him to spread darkness and
opposition to God's plan in the
world.
God commands us to love Him in
relationship and love our neighbor
as ourselves. We can say "yes" like Mary
or we can oppose God and serve
satan –
There is good and bad in the world –
If we follow in the foot-prints
of Jesus we will suffer, like
Jesus with men who oppose
the heavenly Father's will.
We need to ask God to forgive our
sins. What is the worst is to deny
our sins and not ask for forgiveness –
tell ourselves we have no sin
when we have sinned.
Sin breaks down relationships.
Jesus shed His Blood for our
sins.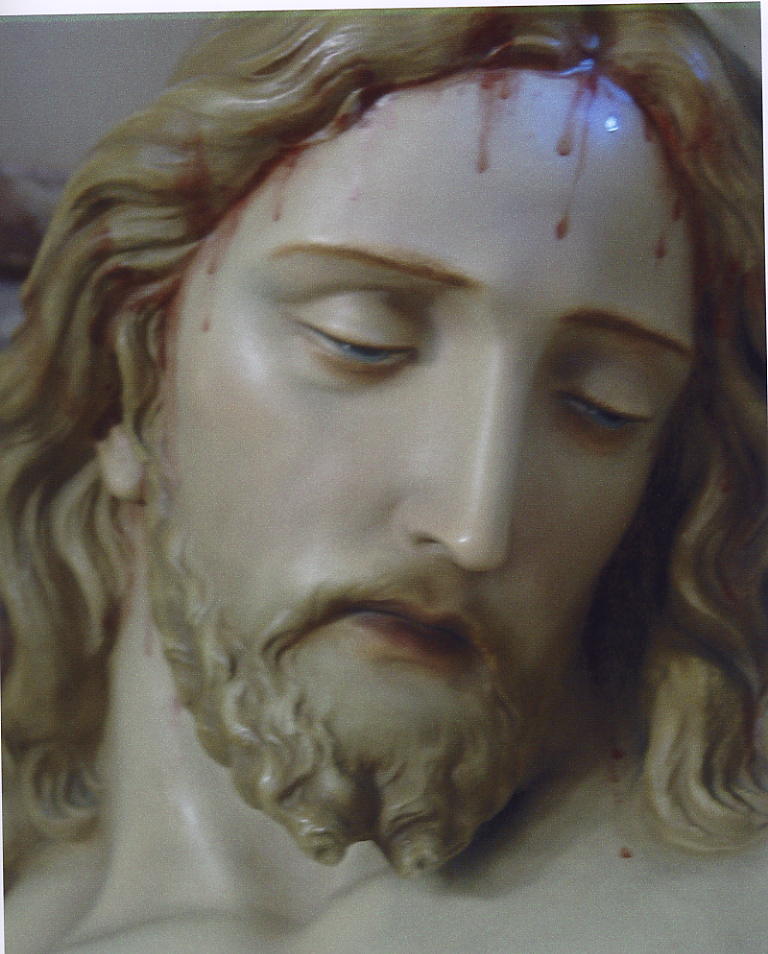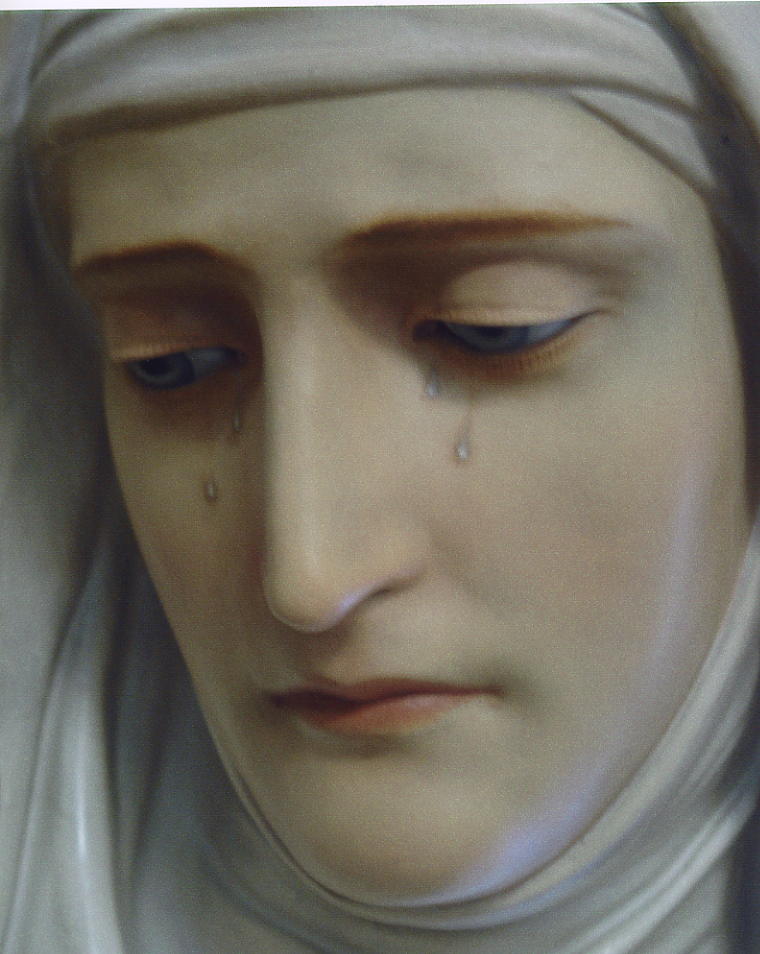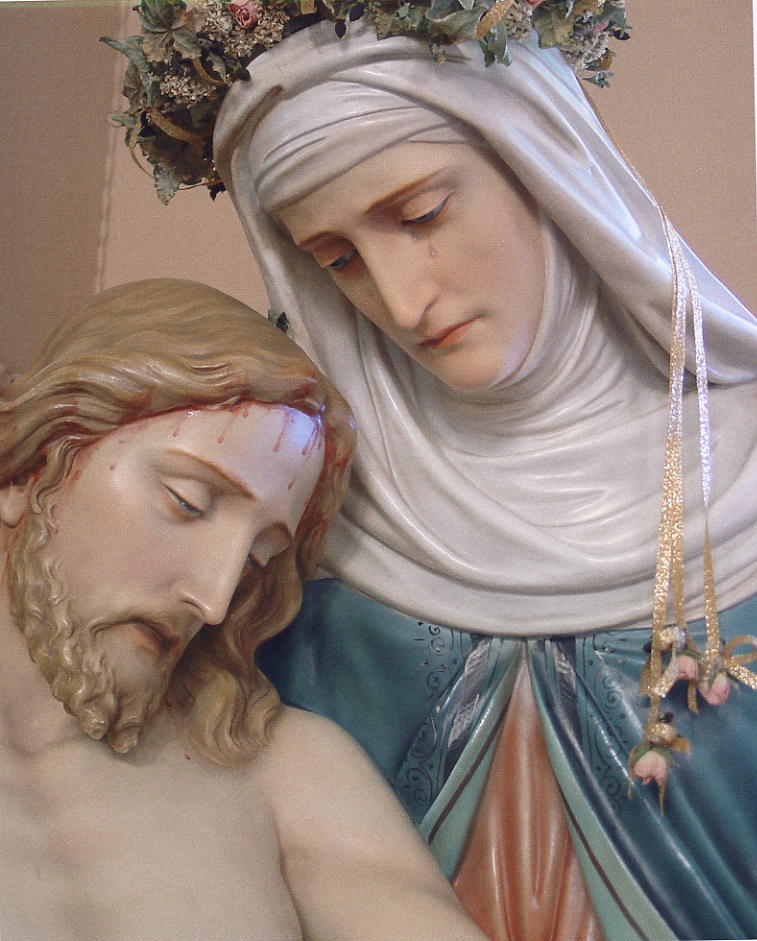 R. We are saved by the Blood of Jesus.
We see the importance of Blood
at the Passover – The angel of
death passed over the houses
with the Blood.
We see the bronze serpent
and how they were told anyone
who looked up this would be healed.
God has given us the Jesus and Mary
water in CLEARWATER –
We sprayed over 60 last night
this morning – down the Florida
turnpike between 60 and 70 and over
70 this morning –
We see Jesus paid the
price for our sins –
Do we know the scape-goat?
Jesus is the Lamb of God – Jesus
takes away the sins of the world –
We must go to Him and ask for
forgiveness. We go to the Holy Sacrifice
of the Mass – we unite to the Holy Sacrifice
of the Mass – all day –
If I deny my sin – how can I be forgiven?
Souls are sad because they don't love
themselves as God wants them to
love themselves – Some people
escape what they need to admit
and look at their personal guilt
for their sins and ask to be forgiven –
When we sin we effect others – sin
is not isolating.
100 Years Ago
Excerpt from the Spirituality of Fatima

by Fr. Edward Carter, S.J.
October 13, 1917
In her message that day, Our Blessed Mother told the children:
I am the Lady of the Rosary. I have come to warn the faithful to amend their lives and to ask pardon for their sins. They must not offend Our Lord any more, for He is already too grievously offended by the sins of men. People must say the Rosary. Let them continue saying it every day.(17)

---

17. For background material on Fatima, I am particularly indebted to Our Lady of Fatima's Peace Plan from Heaven (Rockford: TAN Books and Publishers, Inc., 1983). p.7.

Excerpt from The Spirituality of Fatima
by Fr. Edward Carter, S.J.
July 13, 1917

"During her appearance in July, Our Lady, in answer to Lucia's plea, promised that in October she would work a great miracle so that all might believe and know who she was. Again, the Mother of God told the children to sacrifice themselves for sinners and to say many times, especially when making a sacrifice, this prayer: "O my Jesus, I offer this for love of Thee, for the conversion of poor sinners, and in reparation for all the sins committed against the Immaculate Heart of Mary." (11)

"During this same July apparition, Mary showed the three children a vision of Hell. She told them:

"You have seen Hell, where the souls of poor sinners go. To save them, God wishes to establish, in the world, devotion to my Immaculate Heart. If people do what I tell you, many souls will be saved and there will be peace.

"The war (World War I, then raging) is going to end. But if people do not stop offending God, another and worse one will begin in the reign of Pius XI. When you shall see a night illuminated by an unknown light [January 2, 1938], know that this is the great sign that God gives you that He is going to punish the world for its many crimes by means of war, hunger, and persecution of the Church and the Holy Father. (12)

"To prevent this, I shall come to ask for the consecration of Russia to my Immaculate Heart and the Communion of Reparation on the five first Saturdays. If my requests are granted, Russia will be converted and there will be peace. If not, she will scatter her errors throughout the world, provoking wars and persecutions of the Church. The good will be martyred, the Holy Father will have much to suffer, and various nations will be destroyed....

"But in the end, my Immaculate Heart will triumph, the Holy Father will consecrate Russia to me, Russia will be converted, and a certain period of peace will be granted to the world." (13)

11. For background material on Fatima, I am particularly indebted to
Our Lady of Fatima's Peace Plan from Heaven (Rockford: TAN
Books and Publishers, Inc., 1983). pp.3-4.
12. Ibid., pp.4-5.
13. Ibid., p.5.
From Fatima Peace Plan — Tan Books p.4-5.
July 13, 1917
THE CHILDREN SEE HELL
As she spoke these words, Our Lady stretched out her hands, and bright rays came forth which seemed to penetrate into the earth. All at once the ground vanished, and the children found themselves standing on the brink of a sea of fire. As they peered into this dreadful place, the terrified youngsters saw huge numbers of devils and damned souls. The devils resembled hideous black animals, each filling the air with despairing shrieks. The damned souls were in their human bodies and seemed to be brown in color, tumbling about constantly in the flames and screaming with terror. All were on fire within and without their bodies, and neither devils nor damned souls seemed able to control their movements. They were tossing about in the flames like fiery coals in a furnace. There was never an instant's peace or freedom from pain.
end of excerpt
R. We are commanded to love our neighbor
as ourselves. We are not to be nasty
and mean to others because we
feel like it and then tell ourselves
we have no guilt.
A person can be mean and nasty
and inside know its wrong and they
should be punished for their behavior
but they deny it – so they can
project their meanness on others,
provoking them and bringing
down punishment on them –
then the sinner feels relief because
somebody is being punished –
This is twisted and evil –
Denial of personal guilt for sin
can lead to despair and hurt the person
denying their guilt in other ways –
We can sin and seek God's forgiveness –
but to sin and deny it is not
good –
Sin breaks relationships with
God and others –
We need to be reconciled to God
when we sin – repair the
breach – ask God
to forgive us –
We need to examine our consciences
and tell God we are sorry
when we sin!
Act of Contrition

"O my God, I am heartily sorry for having offended Thee, and I detest all my sins, because I dread the loss of Heaven and the pains of Hell, but most of all because they offend Thee, my God, Who art all-good and deserving of all my love. I firmly resolve, with the help of Thy grace to confess my sins, to do penance and to amend my life. Amen."
From the Priestly Newsletter

"Through the Eucharistic Sacrifice Christ the Lord desired to set before us in a very special way this remarkable union whereby we are united one with another and with our divine Head, a union that no word of praise can ever sufficiently express. For in this sacrifice the sacred ministers act not only as the representative of our Saviour, but as the representative of the whole Mystical Body and of each one of the faithful. Again, in this act of sacrifice, the faithful of Christ, united by the common bond of devotion and prayer, offer to the eternal Father through the hands of the priest, whose prayer alone has made it present on the altar, the Immaculate Lamb, the most acceptable victim of praise and propitiation for the Church's universal need. Moreover, just as the divine Redeemer, while dying on the Cross, offered Himself to the eternal Father as Head of the whole human race, so now, 'in this clean oblation' He not only offers Himself as Head of the Church to His heavenly Father but in Himself His mystical members as well. He embraces them all, yes, even the weaker and more ailing members, with the deepest love of His Heart. (Pope Pius XII, Mystici Corporis AAS, XXXV, 232-233)
Given
October 29, 2016
R. Please spread blessed holy water
(You can also mix Jesus and Mary water
with your blessed Holy Water if you have it.)
in your yard, around your house,
in the state you live in.
And ask God to bless your state
Ask God to bless the United States
Pray all prayers through the intercession of
Our Lady of CLEAR – WATER.
Ask the Lady of CLEAR - WATER
to help with the blessed water.
Mary has appeared to me for 22 years,
in Ohio and Florida.