R. Dear God,
Please help us do Your will today. We want to pray
for all our needs and we want to serve You
and be as You want us to be.
Dear God, we offer up all we do all day in
union with the Mass and we pray for the priests,
the Church and the world –
We thank You God for all the grace You give
us, we ask You to increase in us faith, hope
and love and to help us to focus on
Your presence within our graced, baptized
soul.
We know You are God with us and Mary is our
Mother at our side. We love You God, thank
You.
God has called us to pray for the priests, the
Church and the world and that is a great
gift – that we can be so close to Him and
know He promises to help us.
Today is Fr. Carter's birthday.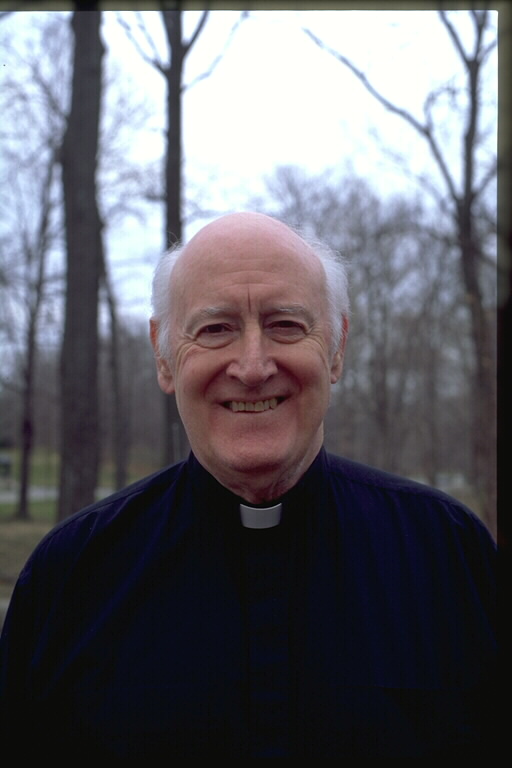 R. Here is a message Jesus gave Fr. Carter - 20 1/2
years ago.
July 31, 1994
Words of Jesus to Members of
Shepherds of Christ Associates:

"My beloved priest-companion, I intend to use the priestly newsletter, Shepherds of Christ, and the movement, Shepherds of Christ Associates, in a powerful way for the renewal of My Church and the world.

"I will use the newsletter and the chapters of Shepherds of Christ Associates as a powerful instrument for spreading devotion to My Heart and My Mother's Heart.

"I am calling many to become members of Shepherds of Christ Associates. To all of them I will give great blessings. I will use them as instruments to help bring about the triumph of the Immaculate Heart and the reign of My Sacred Heart. I will give great graces to the members of Shepherds of Christ Associates. I will call them to be deeply united to My Heart and to Mary's Heart as I lead them ever closer to My Father in the Holy Spirit."

- Message from Jesus to Father Edward J. Carter, S.J., Founder, as given on July 31, 1994,
feast of Saint Ignatius Loyola, Founder of the Society of Jesus (The Jesuits)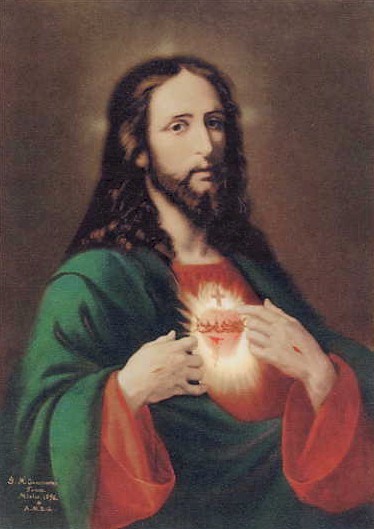 Most Sacred Heart of Jesus we place our trust in You.
R. Presence, we want to know God's presence in
our graced, baptized soul –
We ask You dear God to help us to be grateful
and joyful to know and love and
serve You today in our lives, but
not to be overwhelmed in our lives,
but confident in Your merciful love.
When we are suffering or worrying we
must stop and ask Him to help us
and feel His presence with us and His
Might able to help us with whatever it is.
I want to know His presence in My
graced, baptized soul. We celebrated Christmas
and we celebrated "God with us".
We are His instruments, His witnesses
to be what He wants us to be –
We are children of God –
When we pray the Our Father we recognize
Our Father – we give Him praise,
we recognize that He has a plan for us
and for men, we tell God we want His
will – We ask God to nourish us and
feed us our daily bread – we pray for spiritual
food to feed us and we ask for forgiveness
for our trespasses and tell God we want
the grace to forgive others and we pray
for grace to not give into temptation
and be delivered from evil.
What a prayer for the child of God praying
to their Father. Jesus told us to pray
this way.
We have the beautiful prayer Jesus gave
Fr. Carter to pray for the priests, the Church
and the world –
We have the Litanies to Mary and Jesus –
| | | | | | |
| --- | --- | --- | --- | --- | --- |
| | Español | Français | Português | Italiano | Polska |
R. We have the Holy Spirit Prayers Jesus told
me to write and the scripture with
it –
R. We can pray and communicate to God –
We need that grace – to be filled more
abundantly with God's life in us –
That we can see with His eyes –
see with the soul – His vision –
not only to see what is seen with naked vision
our eyes, but to see with the soul –
His vision for us in everything –
To know God's presence with us –
To reach for our mission with enthusiasm and
live being one in Him
Galatians 2: 19-20
...I have been crucified with Christ and yet I am alive; yet it is no longer I, but Christ living in me.
R. Cloth us God with Your grace –
lest we stumble and fall –
We are little ones that need
Your Fatherly protection –
the hand of God reaching out to
us His little child –
The light of God to light our path –
The hope that our lives lived for Him
will bring light and peace to others
as we witness to him in our
lives, by our example and love.
Jesus: I am with you.
Song: A Song from Jesus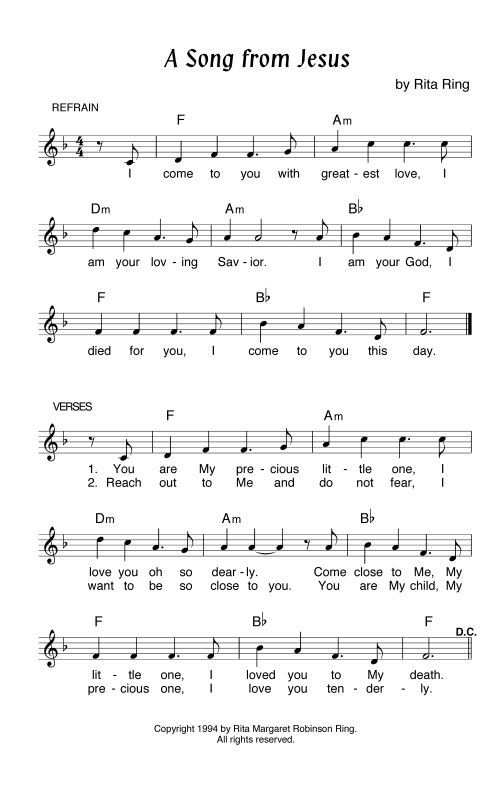 R. Days turn into weeks
Weeks turn into months
Months turn into years –
We can only live today –
Song: Live This Day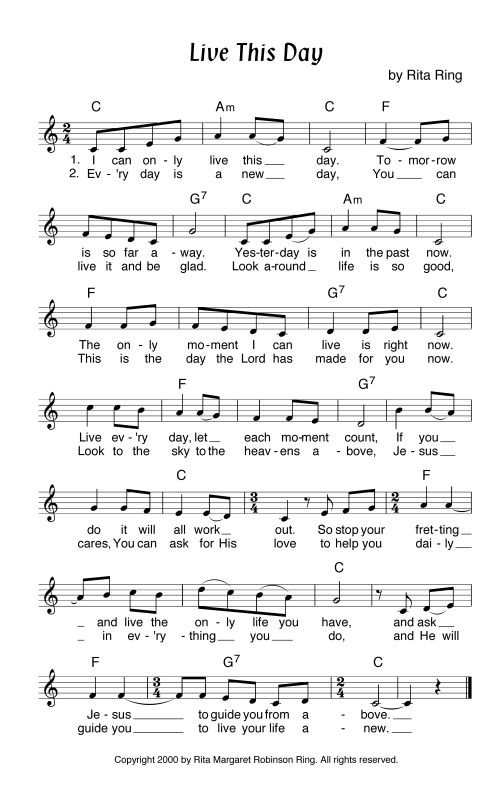 R. God is with us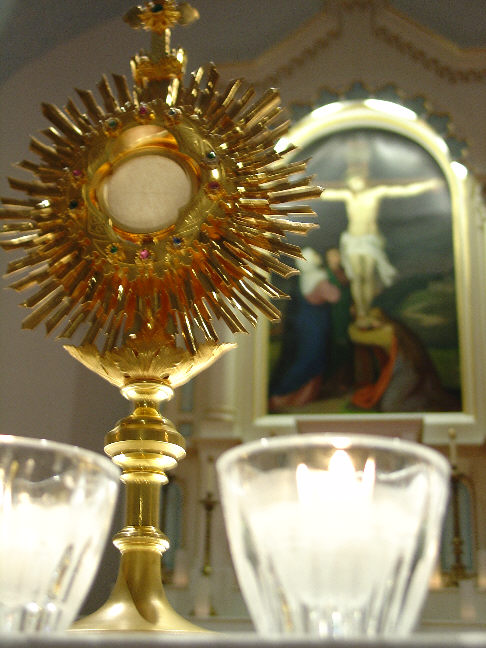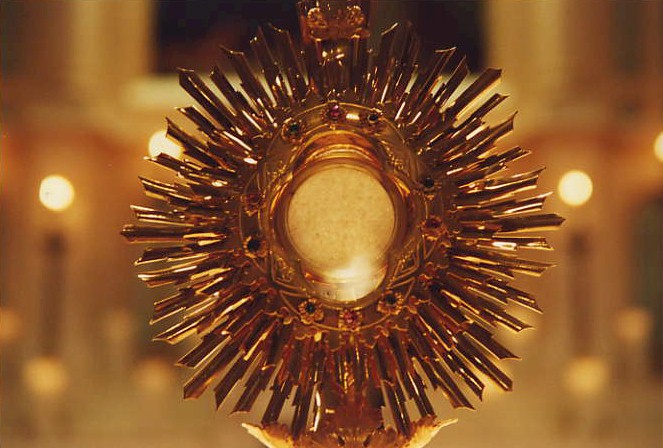 R. Jesus is truly present on the altar –
Rise Up Jerusalem – let your light shine –
God has visited His people
Mary is with us too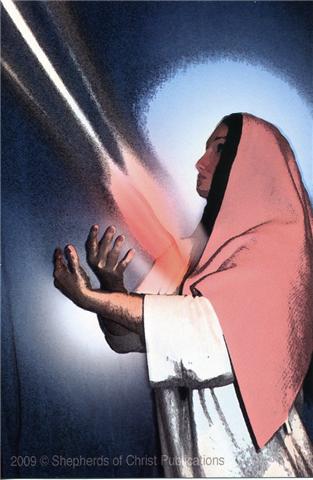 R. Jesus watches over the city –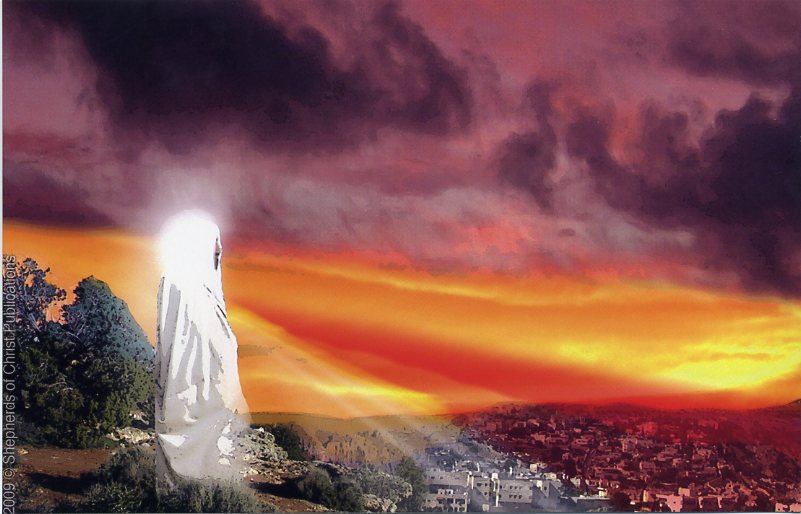 Excerpts from December 23, 2014
Jesus: Reach, oh daughter of Zion,
your day has come –
throw away your polluted rags –
what waits you is the
golden cloth you can obtain
from heaven –
Seek the heavenly reward –
Throw off the dark rags that
you once thought were so
beautiful


Can't you see - your vision
is impaired

Take off your glasses –
God is in charge –
Don't be afraid –
R. Seek God and He will be found –
Seek God and live to know Him more and
more –
Pray to the Holy Spirit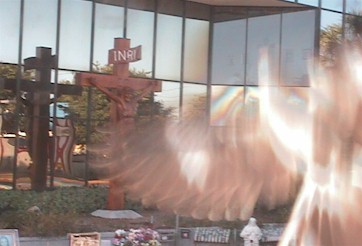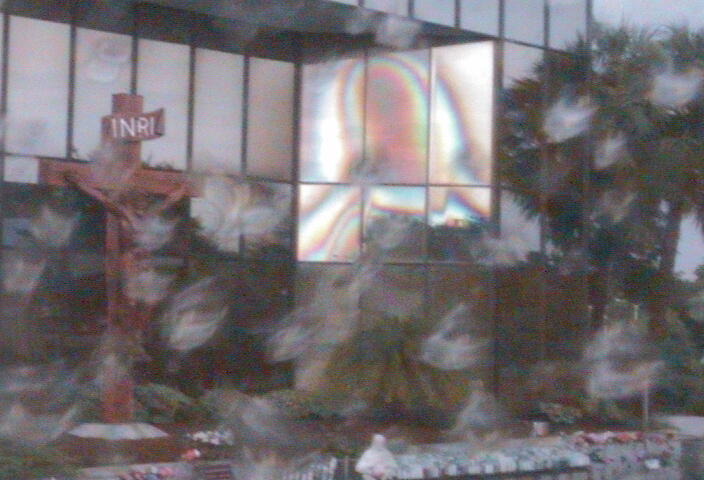 R. Seek and believe in what God has
told you –
Why do you hold onto dark debris
clogging your heart –
God is with you –
Embrace Him –
Put away fear –
Seek the morning of gladness –
Today is the day to love –
Reach with the Heart of Jesus –
Song: Give me Your Heart oh Jesus –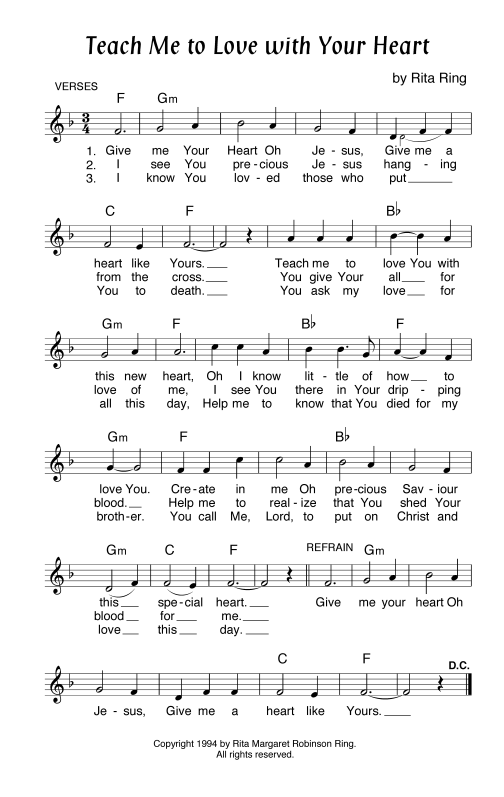 Isaiah 12: 2
Look, he is the God of my salvation:
I shall have faith and not be afraid,
for Yahweh is my strength and my song,
he has been my salvation.'
R. Holy Mary, Spotless Virgin we
love you
Excerpt from October 5, 2014
Mary: I loved God in my life as a little
child of my Father, the Mother of
Jesus and the Spouse of the Holy Spirit –
I am the singular vessel –
I show you my Immaculate Heart –
You, as handmaids of Jesus, are to live
your life to be pure in heart –
I am Mary, the Immaculate Heart –
I give you my heart to come and dwell
in my heart, your spiritual womb –
I am your spiritual Mother –
You are not alone –
I want you to be united to me –
I give you my love as your spiritual Mother,
I want you to pray through my powerful
intercession.
I appeared to you October 2, 2014 to teach you
about intercession through My Immaculate
Heart.
R. Mary appeared to me October 2, 2014 in
magnificent light and her beauty was
unmeasured in her faces she showed
me. There was a silence as I watched the vision –
a silence, so still in the vision, but the
handmaids and another person prayed the rosary
outside the apparition room in one voice –
it sounded very unified and strong
and sincere, but in her vision I
know a profound stillness as I
watched Mary in such enormous
light, pray, her mouth moving so
distinctly, so pronounced with them as
they prayed. I continued to watch this
for the first two decades of the rosary,
for apparitions seem to leave me
weak sometimes and then I am
wrapped in that peace of having
seen her and left listless or tired.
She prayed pronounced with them and
it looked as if in great unity with
them. Unity is the word I knew –
Unity and sincerity in their prayers
and unity of the Mother of God appearing
before me in such beauty and light –
praying in unity with them, but there
was only stillness in the apparition –
no noise.
I have an apostle rosary I place on
the Mary statue in the apparition
room and when I pray the rosary
or lead the rosary in the room
I hold that rosary many times – I lead
the beginning of every bead only with
Hail Mary and they say all the rest of
the prayer. It is a profound unity in
one voice I hear when they are
out there many times, sometimes I
feel the sound is the sound of unity
I hear that is joined by what God
is allowing me to hear, the songs I
lead are very united in perfect
voice and very angelic. The voices
perfectly synchronized and heavenly
sounding and there is absolute
stillness in the vision.
On October 2nd as they prayed and I
heard this unity from those outside the
apparition room – I saw the same
way visions of Mary change for the
20 years she has appeared to me –
Stillness and her beautiful face changes
from different faces without a noise,
so smooth as when the Monstrance
in China has changed positions –
it turns without a noise, without
any seeing it turn, it is in motion
without detectable motion of it
turning.
Mary was like this in the vision –
surrounded in light and the faces
of the Virgin different as her faces
changed, one more beautiful and
different than the other – so beautiful
and a profound response of her
answering or praying with the
prayers united outside the room –
in stillness of her response inside –
I have never seen this before – it was
at a certain point and made clear
to me – she held an invisible rosary
and her fingers were going from bead to bead
as she prayed with them.
I watched this vision for as long as I
could, then I was left weak and
sort of limp, hearing the praying outside
and continuing to just bath in a
quiet presence.
I was not focused on Jesus, but to
the left I saw light and knew His
presence in there likewise, Mary's
apparition was the focus and she was
giving this gift to us in the first day of
retreat. Many times I receive an
apparition of Mary on the 2nd
of the month and sometimes the 3rd
too, many times the 5th. It is not unusual
for me to see Mary on the 2nd.
This date to me, reminds me of the Two Hearts,
of Jesus and Mary and the calling
I receive to come do the retreat
the 2nd to the 5th in the Clearwater
building.
As I watched Mary pray more profoundly
than I ever saw with those outside and
heard such profound unity in their
prayers, although Mary looked in
complete unity with them, I wondered
if she would say
Hail Mary – to herself
Holy Mary – praying this –
I have wondered this before –
The next day I was told of Mary's powerful
intercession, when we pray and ask her
to intercede for us to God –
Mary, the Mother of God –
Mary, the pure and Immaculate Heart –
Mary, our Mother,
Intercedes to God, Our Heavenly Father,
Jesus, the Son of God and her
Spouse the Holy Spirit.
In this place heaven showed me –
how powerfully Mary prays as
an intercessor –
the perfect prayer –
the pure prayer –
a heavenly prayer of intercession
to her Son Jesus as we
know and were shown the
prayer of Mary to her Son at
the Marriage of Cana –
To you, as a messenger, I account this
experience - for never will I have such
an understanding of Mary's powerful
intercession as I have now from
this vision.
end of excerpt

All 5ths - Our Lady of Clearwater Florida


July 5, 2000


September 5, 2000


October 5, 2000


November 5, 2000


December 5, 2000
| | | | | |
| --- | --- | --- | --- | --- |
| January 5, 2001 | February 5, 2001 | March 5, 2001 | April 5, 2001 | May 5, 2001 |
| | | | | |
| --- | --- | --- | --- | --- |
| June 5, 2001 | July 5, 2001 | August 5, 2001 | September 5, 2001 | October 5, 2001 |
| | | | | |
| --- | --- | --- | --- | --- |
| November 5, 2001 | December 5, 2001 | January 5, 2002 | February 5, 2002 | March 5, 2002 |
| | | | | |
| --- | --- | --- | --- | --- |
| April 5, 2002 | May 5, 2002 | June 5, 2002 | July 5, 2002 | September 5, 2002 |
| | | | | |
| --- | --- | --- | --- | --- |
| October 5, 2002 | November 5, 2002 | January 5, 2003 | February 5, 2003 | March 5, 2003 |
| | | | | |
| --- | --- | --- | --- | --- |
| April 5, 2003 | May 5, 2003 | July 5, 2003 | August 5, 2003 | September 5, 2003 |
| | | | |
| --- | --- | --- | --- |
| October 5, 2003 | November 5, 2003 | December 5, 2003 | January 5, 2004 |
| | |
| --- | --- |
| February 5, 2004 | March 5, 2004 |
Galatians 4: 4-7
but when the completion of the time came, God sent his Son, born of a woman, born a subject of the Law, to redeem the subjects of the Law, so that we could receive adoption as sons. As you are sons, God has sent into our hearts the Spirit of his Son crying, 'Abba, Father'; and so you are no longer a slave, but a son; and if a son, then an heir, by God's own act.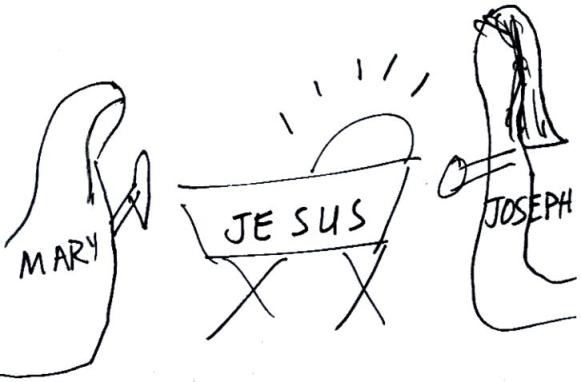 Luke 2: 15-19
Now it happened that when the angels had gone from them into heaven, the shepherds said to one another, 'Let us go to Bethlehem and see this event which the Lord has made known to us.' So they hurried away and found Mary and Joseph, and the baby lying in the manger. When they saw the child they repeated what they had been told about him, and everyone who heard it was astonished at what the shepherds said to them. As for Mary, she treasured all these things and pondered them in her heart.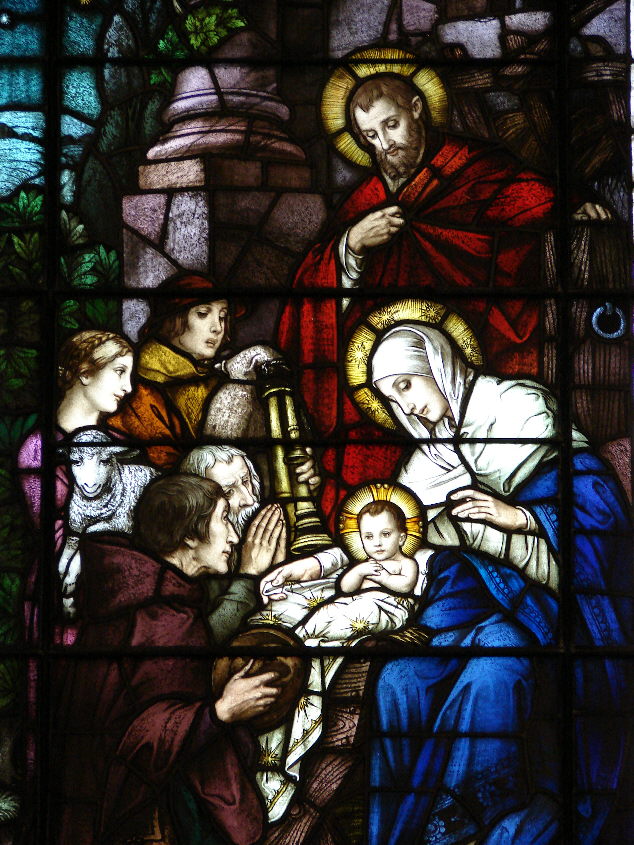 . . .
The warmth of Your love, God –
Let us walk in surrendering love and
gratitude to You and
seek to be under You –
filled by You –
never apart from You –
In this we are confident and strengthened
as we are filled more and more by God –
Embraced by His loving arm –
Permeated with His grace, His life in
us filling us –
I am Yours – Lord
I come to do Your will –
It is in the simple things of life –
We know His strength in all we do –
We let go to Him –
He is Almighty –
We are the soul, waiting His favor –
The beauty of a rose –
The vast sky –
The wide ocean –
The love of children, little ones,
The deep love of friendship –
These are everlasting – the love
of friends –
Serenity Prayer
God grant me the Serenity to accept the things I cannot change...
Courage to change the things I can
and Wisdom to know the difference.
R. I look to the heavens –
From there comes my help –
My life is in Him!!

Genesis 12: 1-7
Yahweh said to Abram, 'Leave your country, your kindred and your father's house for a country which I shall show you; and I shall make you a great nation, I shall bless you and make your name famous; you are to be a blessing!

I shall bless those who bless you,
and shall curse those who curse you,
and all clans on earth
will bless themselves by you.'

So Abram went as Yahweh told him, and Lot went with him. Abram was seventy–five years old when he left Haran. Abram took his wife Sarai, his nephew Lot, all the possessions they had amassed and the people they had acquired in Haran. They set off for the land of Canaan, and arrived there.

Abram passed through the country as far as the holy place at Shechem, the Oak of Moreh. The Canaanites were in the country at the time. Yahweh appeared to Abram and said, 'I shall give this country to your progeny.' And there, Abram built an altar to Yahweh who had appeared to him.
R. Praise God –
Praise Him with the trumpet –
Be attentive to God who is
close in our every breath –
Breathe in Jesus –
Breathe out fear
Breathe in Jesus
Breathe out fear
Let the eyes see the care He gives
to the flowers and
ask ourselves – are not we
far more precious than the flowers?
Do we see the genealogy and know
how God has a Plan in
salvation history in our
lives – why do we ignore
such a calling –
Jesus: Rise up Jerusalem –
Your time has come –
Open your eyes to the Lord and
Quit, I beg you, burying your head in the sand.
Why do you worship the rocks and
Ignore your Creator –
Why do you bury your head in the
sand, Jerusalem –
Raise your eyes to the heavens and see
the sky by day, the star-studded
sky by night –
Oh Jerusalem, you are blinded and
reach for the earthy –
Come to the mountain top and
see the city that is sleeping
in darkness –
Pray, Jerusalem, Pray for your
ancestors to pray with you –
pray for a new day of brightness and light
among the people walking in darkness –