Pray for Fr. Joe, Dan, Mary, Sanja,
Rita, Jim, Rosie, Louie's family –
Madonna, Christopher,
all Shepherds of Christ intentions on lists.
Pray for China and the mailing.
Also pray for Urgent intention


January 25, 2020 - Conversion of St. Paul
Sorrowful Mysteries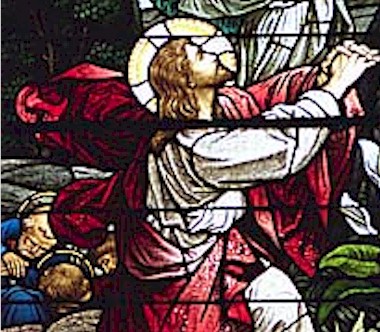 The Agony in the Garden
(1) Jesus was in the Garden and He knew
everything He would have to experience
and He was willing to suffer this
for our salvation because He
loves us so very much.
(2) How can you ever measure Divine Love?
We can't, we have to ask God for
grace to know more of His Divine
Love – to share more deeply in
His loving capacity.
(3) Many times we have to go through
something we know we must
endure in the future and we know it
will be so much suffering, but we
do it because we have to for a
greater good or we just have to
do it – it's our duty – a love one's
funeral, an operation, taking
chemo, going through testing –
being by someone's side in
suffering, sickness or death –
(4) Can you imagine Jesus knowing
how He would be tortured – His
body mangled, flesh torn,
beat on the head with thorns –
hanging on the cross to His death –
and in the Garden – He had
knowledge of His suffering He
would go through and He said
yes for us – yes in His Divine love
for us.
(5) Jesus suffered so much He sweat
Blood –
He knew each of us and His
love for us was so strong –
Divine Love –
He loved us so much and
didn't want us lost –
(6) See Jesus by us now, when we
turn away saying, I love you
so much, come to Me.
(7) See Jesus standing by those
sinning saying, "Please
stop it, I love you so
much, I love you, do
the right thing, don't
give into satan, stop sinning."
(8) Jesus loves us so much –
Jesus knew all the souls that
would reject Him and keep
sinning despite all His suffering
and Jesus sweat blood.
(9) Be still and focus on His love –
His love is real – He loves
us so much.
(10) These love letters in God's Blue Books
are love letters to His precious
souls. We have been given
this duty to get them to His
beloved ones – will you
help me.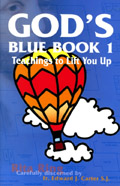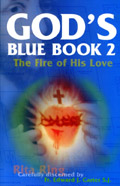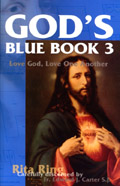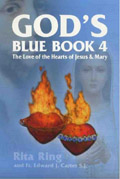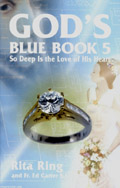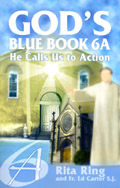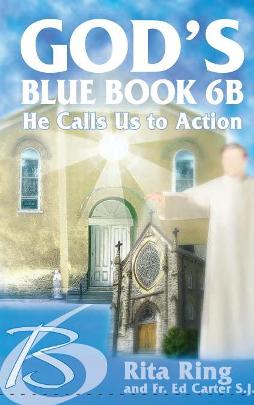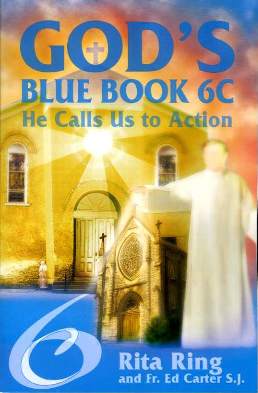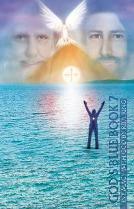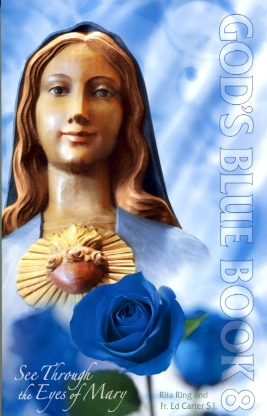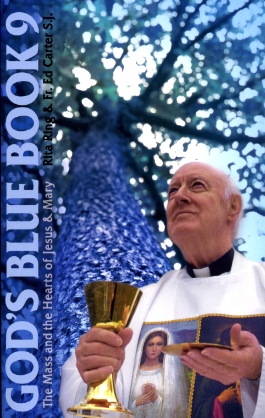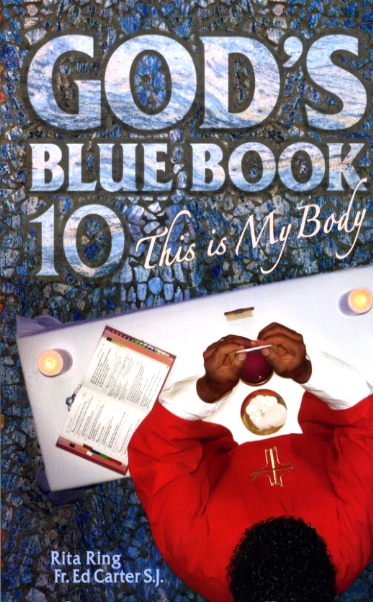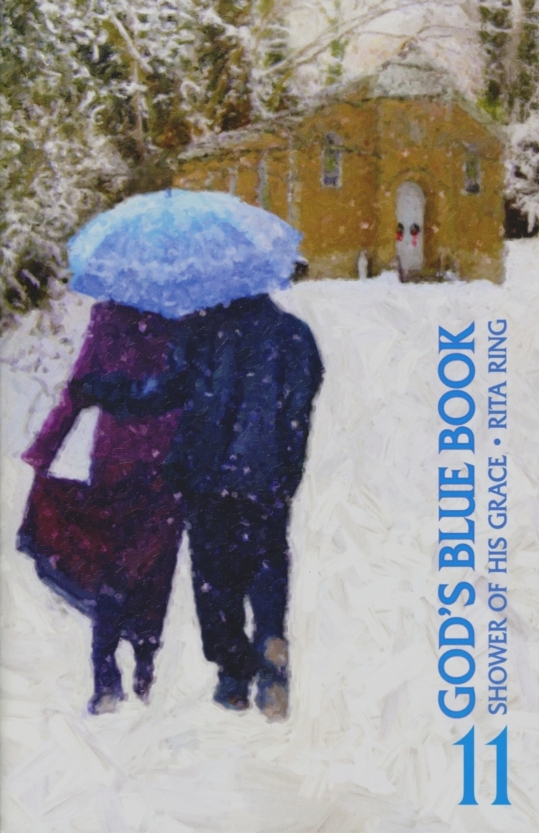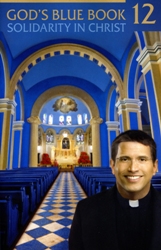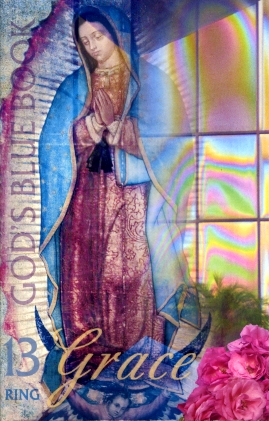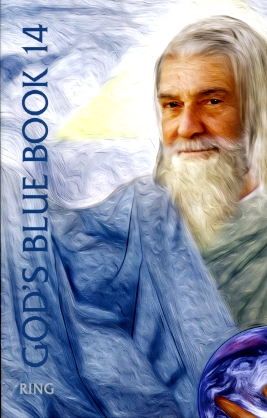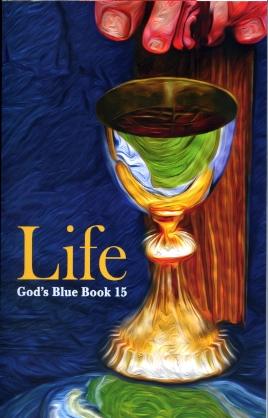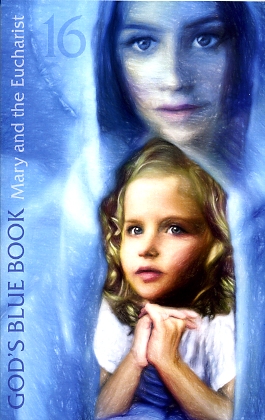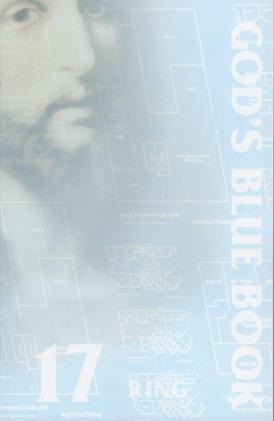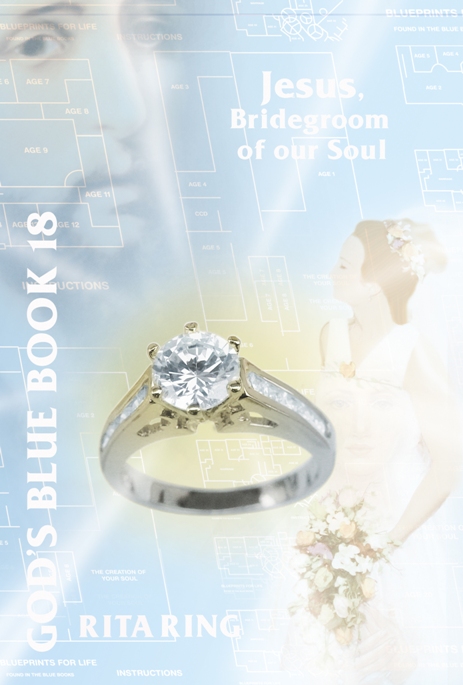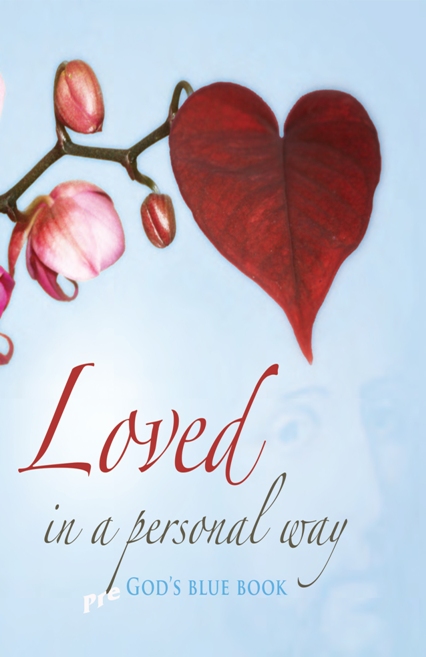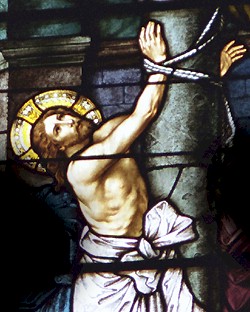 The Scourging at the Pillar
(1) Jesus: I love them so much. They
look so many places and
they don't think of the
love I have for them.
(2) Song: God's Love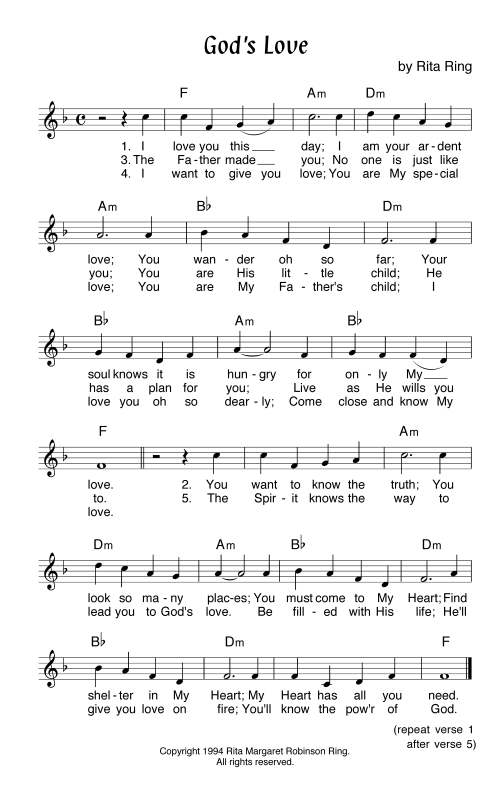 (3) Jesus: My flesh was ripped apart –
I endured such suffering
so you could live –
I love you so much –
I give you My letters of love –
Please give them to My precious souls.
(4) The nights are dark and we can see
the morning light – so different –
There is difference between
darkness and light –
(5) Jesus: Softness and love I give to you
in My letters of love and
so many fill themselves with
noise, noise, chaos,
confusion – I am full of
Divine love –
(6) Jesus: They tore My flesh –
They whipped Me -
They had hearts full of hate,
anger, darkness –
(7) Jesus: I am tender and sweet in Heart –
(8) Jesus: I love you so much –
Give them My letters –
(9) Jesus: How deep is darkness –
deeper and deeper and deeper –
(10) Song: Give Me Your Heart, oh Jesus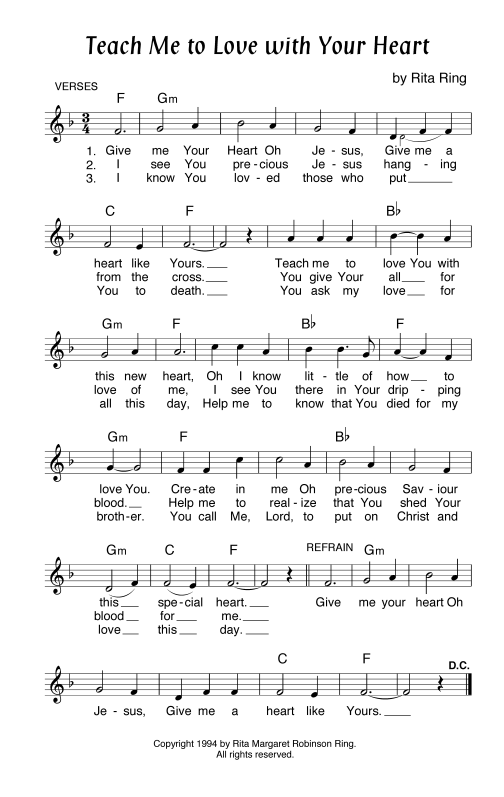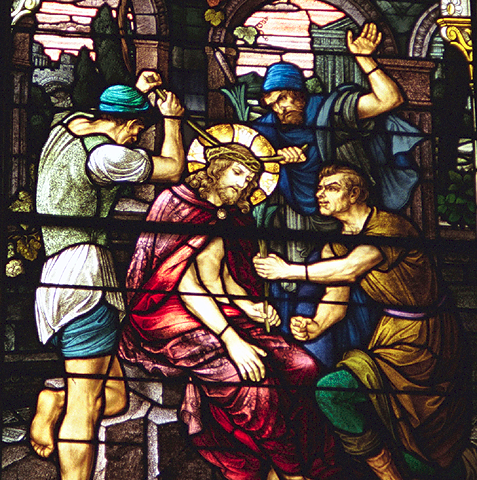 The Crowning with Thorns
(1) Jesus: I love, I love, I love you, My
beloved souls.
(2) Jesus: I give Myself to you, truly
present in the Eucharist –
in My Divinity and humanity.
(3) Jesus: They crowned Me in hate and
anger and darkness in
their hearts –
(4) Jesus: I am love, I love you,
I want you to meditate on
the truth – My love for
you – I am Divine –
I love you – forgive your
brothers, pray for them –
(5) Jesus: Turn to Me – Do not listen
to the lies of hate of satan –
(6) Jesus: Pride –
So many want to control,
want power and put
this first –
I love you, child – I love
you.
NOISE
(7) Song: Little Child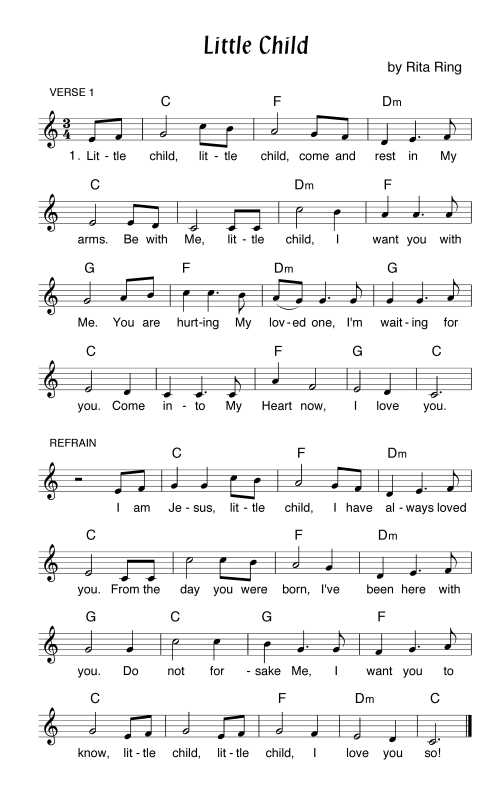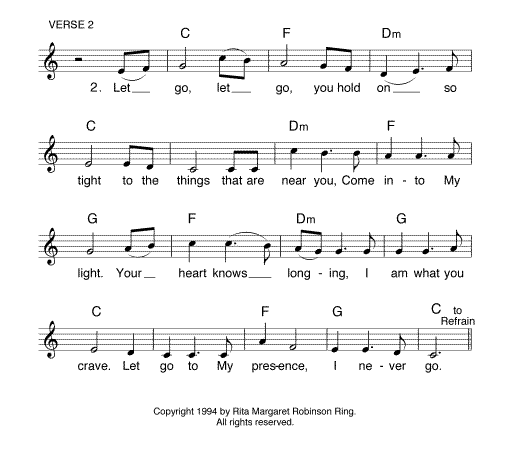 (8) Song: A Song from Jesus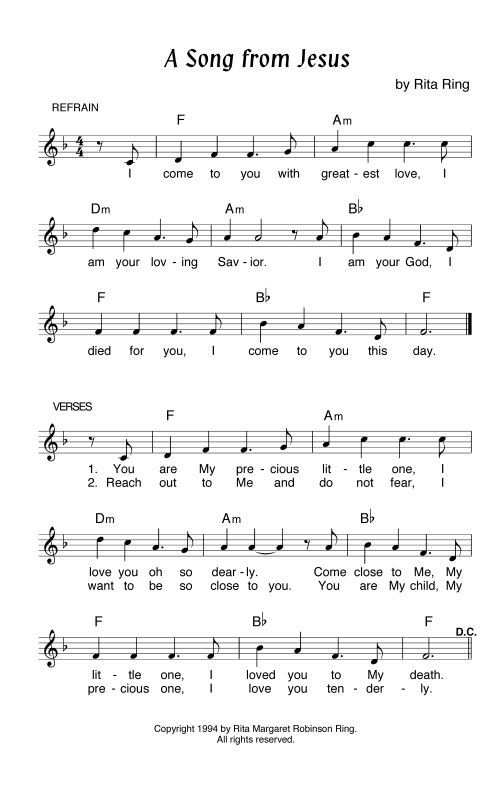 (9) Prayer for Union with Jesus

Come to me, Lord, and possess my soul. Come into my heart and permeate my soul. Help me to sit in silence with You and let You work in my heart.

I am Yours to possess. I am Yours to use. I want to be selfless and only exist in You. Help me to spoon out all that is me and be an empty vessel ready to be filled by You. Help me to die to myself and live only for You. Use me as You will. Let me never draw my attention back to myself. I only want to operate as You do, dwelling within me.

I am Yours, Lord. I want to have my life in You. I want to do the will of the Father. Give me the strength to put aside the world and let You operate my very being. Help me to act as You desire. Strengthen me against the distractions of the devil to take me from Your work.

When I worry, I have taken my focus off of You and placed it on myself. Help me not to give in to the promptings of others to change what in my heart You are making very clear to me. I worship You, I adore You and I love You. Come and dwell in me now.

-God's Blue Book, January 17, 1994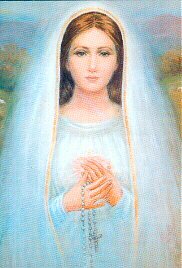 (10) Prayer for Intimacy with the Lamb, the Bridegroom of the Soul
Oh Lamb of God, Who take away the sins of the world, come and act on my soul most intimately. I surrender myself, as I ask for the grace to let go, to just be as I exist in You and You act most intimately on my soul. You are the Initiator. I am the soul waiting Your favors as You act in me. I love You. I adore You. I worship You. Come and possess my soul with Your Divine Grace, as I experience You most intimately.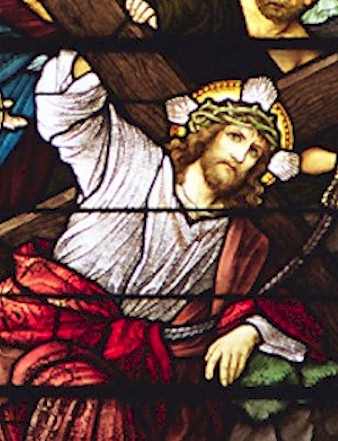 The Carrying of the Cross
(1) Jesus: My thoughts were of you as
I carried My cross.
I was covered with Blood –
I was hit –
(2) Jesus: The cross was so heavy
laden with the sins of
this world –
Pray as I direct you My
people.
(3) Jesus: Eternity is forever – prepare
your hearts –
Pray for your brother.
(4) Jesus: Men prepare and prepare for
this life.
What about being so detailed
about your eternal life –
If you buy a car, you need
pages and pages of details –
What about your soul –
Prepare, prepare your
hearts and souls.
I died for you.
(5) Jesus: I am the way, the truth
and the life –
(6) Jesus: Winning is in life –
life in Me –
(7) Jesus: Prepare your hearts and
souls – March for
life – life in Me –
Stand up for truth –
Love is giving –
You can choose life!!
(8) Jesus: Life! Life is in ME –
I carried the cross for
your sins!
(9) Jesus carried the cross for
life –
Jesus is the way, the truth
and the life!!
(10) Jesus: I love you, I love you,
I love you –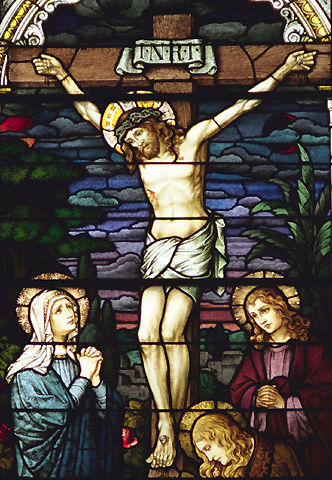 The Crucifixion
(1) Jesus: I hung on the cross
and I did it because
I love you - I love you!!
(2) Jesus: Look at the crucifix and
meditate on My love for
you.
(3) Jesus: Look at the crucifix on
your rosary –
I love you so very much.
I love you –
(4) Jesus: Life is in Me –
(5) Jesus: I died, I rose –
I give you new life –
Life is in Me –
Turn to Me –
I stand by your side
and tell you –
Turn to Me – I am love.
(6) Jesus: Meditate on My crucifix.
I love you.
(7) Mary: Jesus loves you so much.
(8) Mary's Message - from the Rosary of August 27, 1996
Mary: I stood beneath the cross of my Son, and my Heart was in such pain for I saw Him before my eyes. I saw Him covered with blood. I saw Him die. My Heart, my children, my Heart to watch my Son, but my Heart, my Heart, how I suffered for my little children of the world that give in to this world and give up the love of my Son. O my little children of light, I give you this message. Carry this light into the darkness for your Mother Mary, for I stood beneath the cross and I cried. I cried for the little ones. I cried for the young ones, the ones that do not care and will lose their souls. How do I make you see for you will not listen to me? What can I do? I come. I appear. I beg. I plead. I give you these gifts from my Son, and you reject me. I do not deliver messages very often anymore for I have been ignored. The message is the same. You do not read the messages I have given to you. Please help me. Help the little children. I appear. I appear. I appear, and I am ignored. I stood beneath the cross, and I cried. I cried, and my Heart was in such anguish for my little children, for I am searching for them this day as I searched for the Child Jesus. Please, please help me. I cannot hold back the hand of my Son any longer. I am Mary, your Mother. I ask you to help my children. You are my children of light.

end of Mary's Message
(9) Pope Pius XII, Encyclical Letter, Mystici Corporis, AAS, XXXV, pp. 232-233.
Through the Eucharistic Sacrifice Christ the Lord desired to set before us in a very special way this remarkable union whereby we are united one with another and with our divine Head, a union that no word of praise can ever sufficiently express. For in this sacrifice the sacred ministers act not only as the representative of our Saviour, but as the representative of the whole Mystical Body and of each one of the faithful.
(10) Pope Pius XII, Encyclical Letter, Mystici Corporis, AAS, XXXV, pp. 232-233 continues
Again, in this act of sacrifice, the faithful of Christ, united by the common bond of devotion and prayer, offer to the eternal Father through the hands of the priest, whose prayer alone has made it present on the altar, the Immaculate Lamb, the most acceptable victim of praise and propitiation for the Church's universal need. Moreover, just as the divine Redeemer, while dying on the Cross, offered Himself to the eternal Father as Head of the whole human race, so now, 'in this clean oblation' He not only offers Himself as Head of the Church to His heavenly Father but in Himself His mystical members as well. He embraces them all, yes, even the weaker and more ailing members, with the deepest love of His Heart. (Pope Pius XII, Mystici Corporis AAS. XXXV, 232-233)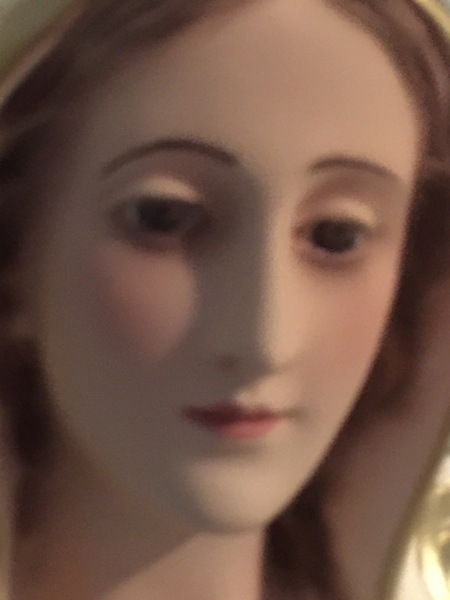 Mary: Pray the rosary –
The family that prays
together stays together.
I am your heavenly Mother.
23rd Sunday in Ordinary Time
Ezekiel 33: 7-9

Son of man I have appointed you as watchman for the House of Israel. When you hear a word from my mouth, warn them from me. If I say to someone wicked, "Evil- doer, you are to die," and you do not speak to warn the wicked person to renounce such ways, the wicked person will die for this guilt, but I shall hold you responsible for the death. If, however, you do warn someone wicked to renounce such ways and repent, and that person does not repent, then the culprit will die for this guilt, but you yourself will have saved your life.
Psalm 95: 1-2, 6-9
Come, let us cry out with joy to Yahweh,
acclaim the rock of our salvation.
Let us come into his presence with thanksgiving,
acclaim him with music.

Come, let us bow low and do reverence;
kneel before Yahweh who made us!
For he is our God,
and we the people of his sheepfold,
the flock of his hand.

If only you would listen to him today!
Do not harden your hearts as at Meribah,
as at the time of Massah in the desert,
when your ancestors challenged me,
put me to the test, and saw what I could do!
Romans 13: 8-10

The only thing you should owe to anyone is love for one another, for to love the other person is to fulfil the law. All these: You shall not commit adultery, You shall not kill, You shall not steal, You shall not covet, and all the other commandments that there are, are summed up in this single phrase: You must love your neighbour as yourself. Love can cause no harm to your neighbour, and so love is the fulfilment of the Law.
Matthew 18:15-20
'If your brother does something wrong, go and have it out with him alone, between your two selves. If he listens to you, you have won back your brother. If he does not listen, take one or two others along with you: whatever the misdemeanour, the evidence of two or three witnesses is required to sustain the charge. But if he refuses to listen to these, report it to the community; and if he refuses to listen to the community, treat him like a gentile or a tax collector.

'In truth I tell you, whatever you bind on earth will be bound in heaven; whatever you loose on earth will be loosed in heaven.

'In truth I tell you once again, if two of you on earth agree to ask anything at all, it will be granted to you by my Father in heaven. For where two or three meet in my name, I am there among them.'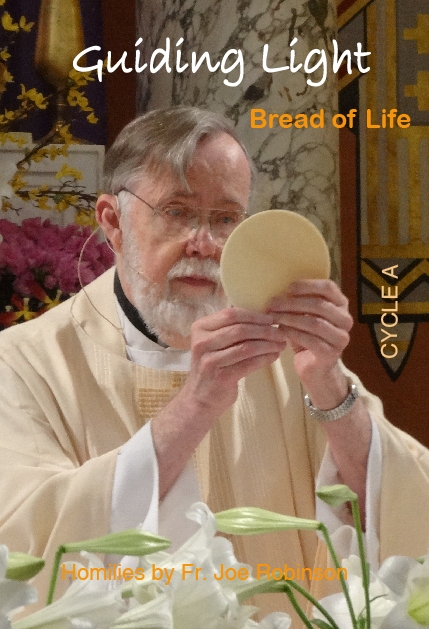 23rd Sunday in Ordinary Time
September 10, 2017
INTRODUCTION – (Ezekiel 33, 7-9) (Romans 13, 8-10) (Matthew 18, 15-20) Our first reading takes us back six hundred years before Christ as God explains to his prophet Ezekiel his responsibility as a prophet. Ezekiel must warn God's people of their sinful ways or Ezekiel himself will be held accountable. It is a prelude to the gospel where Jesus instructs his followers how to help each other stay on the right track. St. Paul's teaching on love in our second reading reminds us that if we should try to correct one another, it should be done out of love.
HOMILY – We are talking about something today we seldom hear much about - sin. When we sin, we hurt ourselves for we are doing something that takes us further away from God. It's not just ourselves we hurt when we sin. Most of the time our actions hurt others as well as ourselves. That's also what makes something a sin because it violates the law of love. This is something that modern Christians do not like to hear. We like to think we are in charge and we can do what we want – with our body, with our activities, with our time, or with our possessions. We forget that we are not as much in charge as we would like to think.
In today's gospel Jesus gives us some suggestions about how to deal with sin from the perspective of the one who is sinned against. He is not talking about the harm we do to ourselves. That is the focus in other parts of Matthew's gospel in a number of parables. Jesus is talking about how to react when someone has hurt us and he gives four possible ways we might try to resolve the problem. One Scripture scholar, Douglas Hare said in order to understand today's gospel, we should first look at the conclusion which says: if they don't listen to the Church, treat them as an outsider. This gives us a clue that Jesus is dealing with a pretty large offense.
It's not like someone was chewing gum during Mass. It had to be something that affected the spiritual health of the church as a whole.
One or two others might help mediate the situation so that the response to the offense does not reach that final stage. An offense that is harmful to the community needs to be addressed. We address it because we want to preserve unity and love in the community. As St. Paul says: the fulfillment of the law is love. (Romans 13,10) It's a delicate thing to confront another, to persuade them they need to do the right thing.
I was really impressed with a parent I knew. When he faced the unpleasant task of confronting one of his teenagers, he always said God has given you to me for me to care for and to love and I need to talk with you about this issue or this habit because some day I will be standing before God's judgment seat and he will ask me why I didn't do a better job. It sounds like Ezekiel in today's first reading. I know it's one of the hardest jobs I have to do.
I'm not encouraging people to go around nitpicking each another. What I have been saying has to be balanced with love and kindness. Jesus tells us to be careful how we use these steps for he said "judge not, lest you be judged." The Jesus who encourages fraternal correction also told us to take the beam out of our own eye before we try to take the speck out of our brother's eye.
Jesus does not give us a GPS to lead us through life, telling us where to turn, what exit to take off of the expressway, etc. He does give us a compass to guide us in the right direction. We have to struggle with putting up with little annoyances, of trying to get along with one another, or when to say something and how to say it.
Some years ago when I was hearing confessions a little boy came in and confessed he was having difficulty getting along with his sister. I told him that getting along with other people is sometimes a challenge and suggested he say a little prayer before he talks with her and God would hear him and help him. I was rewarded on my good advice when the little boy came to confession a few months later and thanked me for the advice I gave him and he said "it works." Amen.
Given
October 29, 2016
R. Please spread blessed holy water
(You can also mix Jesus and Mary water
with your blessed Holy Water if you have it.)
in your yard, around your house,
in the state you live in.
And ask God to bless your state
Ask God to bless the United States
Pray all prayers through the intercession of
Our Lady of CLEAR – WATER.
Ask the Lady of CLEAR - WATER
to help with the blessed water.
Mary has appeared to me for 22 years,
in Ohio and Florida.