October 1st - Prayer Service 12 to 3
Please pray for healing & our country
Pray united and tune in to the radio.

Please pray for Special Intention, funds,
and the mailing, especially for Jeff.

Pray for Dan, Jeff, Fr. Joe, Larry & Annette.
Pray for Fr. Joe, Dan, Melanie, Mary, Sanja, Rita,
Jim, Rosie, Louie's family, Carol R. & Family –
Madonna, Christopher, a special couple,
all Shepherds of Christ intentions on lists.
Pray for China and the mailing.
Also pray for Urgent intention
Blue Book 16 is available.

Prayer for Grace for Election and our Country

Dear Father united to Jesus in the Holy Sacrifice of the Mass, the Sacrifice of Calvary sacramentally made present, celebrated around the world, in the Holy Spirit. We offer up all we do united to the Mass. We unite in one mind and one heart as members of the mystical body of Christ, with Christ our head in the pure and holy Hearts of Jesus and Mary, through the powerful intercession of Mary with all the angels and saints and souls in purgatory, and we beg for the saving grace, for our country, the United States. Please help us. We further pray for unity to always do the will of God in love. We spread the Blood of Jesus on the leaders and people of the United States and cast the devil into hell. We consecrate our country to the Sacred Heart and Immaculate Heart and all our dioceses, and beg for an outpouring of the Holy Spirit. God help us. We pray for our families, the priests, the Church and the world. In the Name of Jesus please hear us, we pray. We pray for our president and leaders. We pray that we are united as one nation under God to work together in love as God wants.
October 1, 2016
R. The Little Flower wanted to please God.
Mary wanted to please God – She is the
perfect disciple and handmaid of God.
Mark 10: 51
Then Jesus spoke, 'What do you want me to do for you?' The blind man said to him, 'Rabbuni, let me see again.'
R. Master –
God wants us to know what
Master means –
Our life is to be lived
under the Master –
God puts us in families –
we come from a Father and Mother
that are our Master –
Here is the 4th Commandment –
4. Honor your father and your mother.

Some children spend their whole
life rebelling against their parents –
Some are respective of their
parents.
Sirach 3: 1-16
Children, listen to me for I am your father:
do what I tell you, and so be safe;
for the Lord honours the father above his children
and upholds the rights of a mother over her sons.
Whoever respects a father expiates sins,
whoever honours a mother is like someone amassing a fortune.
Whoever respects a father will in turn be happy with children,
the day he prays for help, he will be heard.
Long life comes to anyone who honours a father,
whoever obeys the Lord makes a mother happy.
Such a one serves parents as well as the Lord.
Respect your father in deed as well as word,
so that blessing may come on you from him;
since a father's blessing makes his children's house firm,
while a mother's curse tears up its foundations.
Do not make a boast of disgrace overtaking your father,
your father's disgrace reflects no honour on you;
for a person's own honour derives from the respect shown to his father,
and a mother held in dishonour is a reproach to her children.
My child, support your father in his old age,
do not grieve him during his life.
Even if his mind should fail, show him sympathy,
do not despise him in your health and strength;
for kindness to a father will not be forgotten
but will serve as reparation for your sins.
On your own day of ordeal God will remember you:
like frost in sunshine, your sins will melt away.
Whoever deserts a father is no better than a blasphemer,
and whoever distresses a mother is accursed of the Lord.
R. A person that is prideful thinks they
don't want anyone over them –
They can be in competition and argue
constantly telling authority why
the authority is wrong and
they are right –
1 Corinthians 15: 20-28
In fact, however, Christ has been raised from the dead, as the first-fruits of all who have fallen asleep. As it was by one man that death came, so through one man has come the resurrection of the dead. Just as all die in Adam, so in Christ all will be brought to life; but all of them in their proper order: Christ the first-fruits, and next, at his coming, those who belong to him. After that will come the end, when he will hand over the kingdom to God the Father, having abolished every principality, every ruling force and power. For he is to be king until he has made his enemies his footstool, and the last of the enemies to be done away with is death, for he has put all things under his feet. But when it is said everything is subjected, this obviously cannot include the One who subjected everything to him. When everything has been subjected to him, then the Son himself will be subjected to the One who has subjected everything to him, so that God may be all in all.
R. We need to be taught – God is
Divine – We are human – we don't
know it all – It is being a fool
to think we need no teachers!
We should love people who
teach us, teachers God put over
us to teach us and respect them –
Not rebel and fight them and
challenge them and discredit them
before others. How do you think
God likes this disrespect of
a person for just authority –
We need to see – we need spiritual
vision. God is the teacher –
We go to God to know about God –
we are open –
ready to be taught by God and
those who have helped us learn –
not punish and challenge
someone who loves and cares
for us and sent by God to
teach us.
2 Peter 1: 3-7

The generosity of God

By his divine power, he has lavished on us all the things we need for life and for true devotion, through the knowledge of him who has called us by his own glory and goodness. Through these, the greatest and priceless promises have been lavished on us, that through them you should share the divine nature and escape the corruption rife in the world through disordered passion. With this in view, do your utmost to support your faith with goodness, goodness with understanding, understanding with self–control, self–control with perseverance, perseverance with devotion, devotion with kindness to the brothers, and kindness to the brothers with love.
R. We see respect for Jesus even as
a boy in the temple –
Romans 8: 38-39
For I am certain of this: neither death nor life, nor angels, nor principalities, nothing already in existence and nothing still to come, nor any power, nor the heights nor the depths, nor any created thing whatever, will be able to come between us and the love of God, known to us in Christ Jesus our Lord.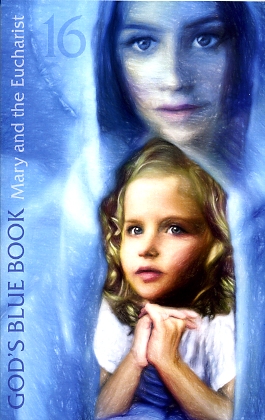 Excerpt from July 13, 1997 Rosary

7. R. ...Jesus is giving us insight into the hidden mysteries to understand and know Him more fully. God elevates our knowing and loving capacity in baptism. God gives us a sharing in His Divine life in Baptism. God is a Divine Person. We are human persons, but God gives us a sharing in His Divine life in baptism. In the apex of creation - the dog cannot think like we think. He does not remember and think like we think. His nature is that of an animal. We have a human nature, it is much higher than the dog. But if God did not give us the grace, we could not comprehend anything about the mystery of the Trinity. When we are baptized, He elevates our knowing and loving capacity. We share in His life. We can understand things because He gives us grace. And we know on a different level. We go to the Eucharist and we get this immense amount of grace. And if He gives us even a more special grace which He is doing to us especially because we keep giving ourselves so much to Him in this consecration. He wants us to give ourselves to Him.

Grace comes from God. It's a gift. He gives it as He chooses. He gives it most abundantly in the Eucharist, before the tabernacle, when we receive Him in Communion. So we go in there, we receive God, and He elevates our capability to know as we become more intimate with Him. This is immensely what this new era will be - knowing God with this highly elevated level. You know how you read the Scriptures for years and you didn't get something out of a certain line and then all of a sudden, it's just crystal clear and it like burns in your heart, because at that point, God gave the grace and the vision and the insight into the mystery of that line of Scripture. Can you see Jesus in the garden, knowing everything, knowing the love of the Trinity, knowing everything about every mystery into God, and knowing He is going to go out there and they are going to hang the Almighty God on a tree, mock Him, spit on Him, whip Him, pound nails into His hands and thorns into His head, and hang Him to die on a tree.

8.
Jesus: Oh, the senseless ones, for they do not comprehend but they are so proud and so haughty in their hearts, and I give to them My gentle, tender love and they turn their backs and they walk away. And they seek the pleasures of this life when I am alive and I am giving them all that they need. And I knelt in the garden and I saw them. I saw them as they fell into the pit of everlasting hell, for their hearts were haughty and their minds were willful and they were warned and they were given the grace but they said 'no' - 'no' to the Almighty God for a few moments of foolish pleasure. They indulged in such trivial things in mortal sin and they lost their souls forever.

9.

R. Look at our hearts. Look at your heart and my heart. Our hearts are joined because we keep saying this consecration - so we keep merging more and more and more, in unity and oneness. We're trying to do the will of God - so we keep merging more and more and more. We get along. There isn't bumping of heads. There's a lot of love. Walk into the Church on the Sunday morning. How does it feel? Does it feel like the hearts in that Church are joined in oneness? Do you feel this overall burst of love that you know that God is going to give Himself and we are all going to be united in this oneness? Do you feel warmth in your heart, or do you feel like here is your heart and there is their heart and nary will the two ever meet? And here's the priest and here is his heart. Do you feel united with the priest and everyone? This is a sacrament in which man is made in the great oneness with each other. How do you feel? end of excerpt

Colossians 1: 15-20
Christ is the head of all creation

He is the image of the unseen God,
the first–born of all creation,
for in him were created all things
in heaven and on earth:
everything visible and everything invisible,
thrones, ruling forces, sovereignties, powers—
all things were created through him and for him.
He exists before all things
and in him all things hold together,
and he is the Head of the Body,
that is, the Church.

He is the Beginning,
the first–born from the dead,
so that he should be supreme in every way;
because God wanted all fullness to be found in him
and through him to reconcile all things to him,
everything in heaven and everything on earth,
by making peace through his death on the cross.
May 16, 1998 - Prayer to the Father
My Father,

With my whole heart I desire to consecrate the whole world to the Sacred Heart of Jesus and the Immaculate Heart of Mary. I wish with my whole being for the salvation of souls and that man live according to Thy Holy Will. I pray my Father that we may be one in You and Your Son Jesus and the Holy Spirit that we may intercede to You for this cause.

It is this burning desire within my soul to spread the consecration to the far ends of the earth, that the cries of Your children are cries of glory and honor and adoration, praising God as their God.

My Father, at this moment a soul hangs on the edge of death. For all eternity they will go to a place. It is not the plot of this soul as it trods this barren land to decide on the edge of death. You created us that we would grow in our oneness with God, that we would mature more and more in our image and likeness to God.

And so My Father, I pray with every cell in my body for this earth. In the name of Your Son Jesus I consecrate all the souls of this earth to the Sacred Heart and the Immaculate Heart of Mary in the Holy Spirit in union with the Holy sacrifice of the Mass with all the angels and saints and the souls in Purgatory.

I beg You Father for mercy.
I beg You Father for assistance.
I beg You Father to help us to spread this consecration to the far ends of the earth.

Please help us. We are helpless little ones coming in the heart of our Mother, bleeding from our wounds and our sins.

Your Son, Jesus Christ, shed the last drop of His Blood for the salvation of mankind. We wish to unite in this sacrifice, sacramentally made present in the Mass all over the world at every moment. Help us to make reparation to You for the sins of men.

Please my Father, help us. Held in the heart of Mary and the Heart of Jesus we come as the children of Eve to beg for the Reign of the Sacred Heart and the Triumph of Mary's heart. Look upon our love, Your shepherds in the Shepherds of Christ, our sacrifices and devotion to You Our Beloved Father. Come by the means of the Holy Spirit and sanctify us and make us whole, that we are one in Your Son Jesus, praying to You, Father, in the name of Your Son Jesus in the Holy Spirit united with all the angels and saints, in the heart of Mary. We beg for help for special intentions concerning the Movement. We beg for help to reach the Churches to give these prayers of Jesus to them, to reach the schools and the family. Help we cry as poor banished children of Eve. Help us Father to do this work the Good Shepherd has entrusted to us. Help us to be one in You that we act as intercessors to help this world to be turned to God as their God, loving, honoring and adoring Him as the Lord of Host is truly present on His throne.

We are Your children Father, we implore You to answer our prayer.
We love You, we worship You, we adore You, we thank you and we sing from the bottom of our hearts, Holy God we Praise Your Name. Alleluia end of prayer to the Father
R. God is our Father and He created us for
a purpose. God the Father created us
uniquely special, God is so generous to us.
God loves us so much, but we can ignore
the Father's love – we can ignore His will –
we can rebel.
We read Genesis and we see how Adam
and Eve were given so much. Why did Eve
want to rebel against God and be a rival
to God?
We have a wounded human nature because
of the fall of Adam and Eve. We can see
Cain and Abel and how Abel was
righteous and Cain was jealous and
God told Cain that satan was knocking
at his door, but he could be Master
over him.
Cain killed his brother in cold blood
despite God's warning. Eve disobeyed God.
Eve rebelled against God and she
and Adam rebelled against God –
disobeyed God. With this, sin entered
the world and disorder.
God gives us parents, God expects us to
obey our parents and respect authority –
We can be disobedient and rebel against
our parents as a child and try to be
over them our whole childhood. God did
not give us parents so we could try to
be better than them – be in competition
with them.
God made us very special and God
gave us parents. Parents are not perfect,
but God the Father is. People can be
full of anger at their parents in
their 50's and 60's after their parents
are dead. They may not even see how little
love and gratitude they showed to their parents
for all they did.
Anger seeps into a person and can
be like corroded rust. We used to
park our cars on part grass and rocks
and they rusted out underneath –
We had to quit parking them there and
letting them sit there –
Rust can damage the break lines.
What happens when a person is angry
and stores up anger every day – year
after year. Anger can get so deep
in a heart – that a person may lose
contact with the importance of things
around them and just need to vent their
anger, and be angry, venting anger their
whole life. Another person can be asking
them about important things needed for
life, for living and the person can
go deeper and deeper into anger and
living in darkness – acting-it-out.
Why would somebody become a rival
to God, who created them, and has a
plan for them? Why would someone
ignore the commandments, the Word –
Ignore God the Father who created them
and gave them life.
God is calling us to obey Him, but He gives
us a free will. Because of our wounded
human nature we need to discipline ourselves
and not give into pride and anger and
jealousy and envy and slothfulness.
It can be very hard for parents, for
authority to watch people under them make
very foolish mistakes that can ruin their
life.
Some people can be so rebellious they
don't want anybody to tell them what to do
and want no one, over them. They can live
their whole life focused on being INDEPENDENT
of God and everybody.
Life is so beautiful – God wants us to
love and give and take and work with
each other. We learn to live and work
with each other.
Being close to God helps us to do the
right thing – Our goal for all of our
actions should be eternal salvation.
We see our lives under our heavenly Father
and we want to please Him. What
we do we should always do to please
our heavenly Father.
But the devil tempts people to oppose
God – to be independent with their free
will. Satan is a liar. He wants souls
to go to hell forever. Satan does whatever
he can to tempt them, to lead them off
from what the Father wants –
God is so generous to us, but we can
squander our days in life for things
that are not God's will, but are for
our own honor and glory. Satan wants
us to hate and lie to get ahead with
satan's plan –
God gives us our life and He has a
plan for us and He wants us to love
and serve Him and help build the
Kingdom of God with the unique talents
He has given us.
Out of all the people God created –
He picked us and gave us unique
gifts to use for His plan –
But we can tell ourselves we want
our independence – Satan
leads us down the path, if we give in,
and he wants us to make God a
rival to what we think is hindering
our power, our independence.
We need God in our lives.
God created us to know, love and serve
Him.
Satan tells us we don't need anyone.
We shouldn't trust people, we should
be free. Satan knows what he needs
to do – to tempt us – to turn away
from what and why our heavenly
Father created us.
We need to try to grow in our
relationship with God and
seek God's will, to live in love –
to be as God wants us to be.
The devil wants a person to be
permissive with themselves – "go ahead",
the devil says, "give into yourself" –
"nobody is over you – you need no
restrictions" – the devils says – "have
fun, anything you want – do it", the devil
says – "do what you want" –
We are responsible before God
for our actions – We are accountable
to God – what we do in our actions to help
or hurt others – We must account for
every moment of our lives.
God commands us to love, God gives
us the commandments to live by –
God gives us the Church and the Word –
Why would a person take the one life
they have to seek independence from
their heavenly Father, independent
of rules – like the commandments –
independent of the plan of God
the Father.
God gives us our life to make something
of it – in putting Him first and serving
Him –
We can just throw everything away
and not do God's will and rebel
against Him.
What do we have left when we
throw our life away – away from the
heavenly Father's Plan.
Adam and Eve disobeyed, then they
hid – So many disobey God and
they don't even think about God –
We cannot hide our life from God.
God knows everything – God knows
what we think, our every moment
what we did – we cannot hide from
God.
God gives us our life and we can
squander our days and act like
He isn't over us and try to do what
we want and ignore God's will!
We can make ourselves
miserable disobeying God's will and
we could have just lived to try to
please our heavenly Father but we
opposed His will instead and didn't give
Him what He wanted with our life.
God calls us to love Him first and
love our neighbor as ourselves –
to be team players in this life –
We need each other – we need to learn
to give and take – We need to empty
out the hatred and anger in our
hearts and fill our hearts with
love.
God has prepared for us a place
for everlasting happiness and we
can listen to satan, instead of God, and
be a rival to God and turn away from
this great gift He wants to give us –
In the scripture the prodigal
son – we see how the son squanders
the Father's gifts given to him and
ends up with the pigs –
God loves us and offers us forgiveness
for our sins if we repent and tell Him
we are sorry and try to make up for the
wrong we did.
We were put here to love and to help
each other. A person can take others'
money illegally and try to get away
with it. Or they can have a heart
of love and give to others – be
other focused – with a heart of love
and gentleness like Jesus.
Will we come home to God after
we hit the bottom? We have a choice
to live every day as the Father wants –
The Father loves us and forgives us
when we go to Him and tell Him
we are sorry and we repent.
The Father provides for us if
we ask Him and we are to repent
and live as God wants – Give
God what He wants!
We do not deserve all God gives us.
God is generous with us.
There is a movie you can watch
about the prodigal son. It's called

A Long Way Off.

24th Sunday in Ordinary Time

Yahweh then said to Moses, 'Go down at once, for your people whom you brought here from Egypt have become corrupt. They have quickly left the way which I ordered them to follow. They have cast themselves a metal calf, worshipped it and offered sacrifice to it, shouting, "Israel, here is your God who brought you here from Egypt!" ' Yahweh then said to Moses, 'I know these people; I know how obstinate they are! So leave me now, so that my anger can blaze at them and I can put an end to them! I shall make a great nation out of you instead.'

Moses tried to pacify Yahweh his God. 'Yahweh,' he said, 'why should your anger blaze at your people, whom you have brought out of Egypt by your great power and mighty hand?

Remember your servants Abraham, Isaac and Jacob, to whom you swore by your very self and made this promise: "I shall make your offspring as numerous as the stars of heaven, and this whole country of which I have spoken, I shall give to your descendants, and it will be their heritage for ever." ' Yahweh then relented over the disaster which he had intended to inflict on his people.

Psalm 51: 3-4, 12-13, 14, 17, 19

A prayer of contrition

For I am well aware of my offences,
my sin is constantly in mind.
Against you, you alone, I have sinned,
I have done what you see to be wrong,

Give me back the joy of your salvation,
sustain in me a generous spirit.
I shall teach the wicked your paths,
and sinners will return to you.

Deliver me from bloodshed, God, God of my salvation,
and my tongue will acclaim your saving justice.

Sacrifice to God is a broken spirit,
a broken, contrite heart you never scorn.

Then you will delight in upright sacrifices,
—burnt offerings and whole oblations—
and young bulls will be offered on your altar.

I thank Christ Jesus our Lord, who has given me strength. By calling me into his service he has judged me trustworthy, even though I used to be a blasphemer and a persecutor and contemptuous. Mercy, however, was shown me, because while I lacked faith I acted in ignorance; but the grace of our Lord filled me with faith and with the love that is in Christ Jesus. Here is a saying that you can rely on and nobody should doubt: that Christ Jesus came into the world to save sinners. I myself am the greatest of them; and if mercy has been shown to me, it is because Jesus Christ meant to make me the leading example of his inexhaustible patience for all the other people who were later to trust in him for eternal life. To the eternal King, the undying, invisible and only God, be honour and glory for ever and ever. Amen.

The tax collectors and sinners, however, were all crowding round to listen to him, and the Pharisees and scribes complained saying, 'This man welcomes sinners and eats with them.' So he told them this parable:

'Which one of you with a hundred sheep, if he lost one, would fail to leave the ninety–nine in the desert and go after the missing one till he found it? And when he found it, would he not joyfully take it on his shoulders and then, when he got home, call together his friends and neighbours, saying to them, "Rejoice with me, I have found my sheep that was lost." In the same way, I tell you, there will be more rejoicing in heaven over one sinner repenting than over ninety–nine upright people who have no need of repentance.

'Or again, what woman with ten drachmas would not, if she lost one, light a lamp and sweep out the house and search thoroughly till she found it? And then, when she had found it, call together her friends and neighbours, saying to them, "Rejoice with me, I have found the drachma I lost." In the same way, I tell you, there is rejoicing among the angels of God over one repentant sinner.'

Then he said, 'There was a man who had two sons. The younger one said to his father, "Father, let me have the share of the estate that will come to me." So the father divided the property between them. A few days later, the younger son got together everything he had and left for a distant country where he squandered his money on a life of debauchery.

'When he had spent it all, that country experienced a severe famine, and now he began to feel the pinch; so he hired himself out to one of the local inhabitants who put him on his farm to feed the pigs. And he would willingly have filled himself with the husks the pigs were eating but no one would let him have them. Then he came to his senses and said, "How many of my father's hired men have all the food they want and more, and here am I dying of hunger! I will leave this place and go to my father and say: Father, I have sinned against heaven and against you; I no longer deserve to be called your son; treat me as one of your hired men." So he left the place and went back to his father.

'While he was still a long way off, his father saw him and was moved with pity. He ran to the boy, clasped him in his arms and kissed him. Then his son said, "Father, I have sinned against heaven and against you. I no longer deserve to be called your son." But the father said to his servants, "Quick! Bring out the best robe and put it on him; put a ring on his finger and sandals on his feet. Bring the calf we have been fattening, and kill it; we will celebrate by having a feast, because this son of mine was dead and has come back to life; he was lost and is found." And they began to celebrate.

'Now the elder son was out in the fields, and on his way back, as he drew near the house, he could hear music and dancing. Calling one of the servants he asked what it was all about. The servant told him, "Your brother has come, and your father has killed the calf we had been fattening because he has got him back safe and sound." He was angry then and refused to go in, and his father came out and began to urge him to come in; but he retorted to his father, "All these years I have slaved for you and never once disobeyed any orders of yours, yet you never offered me so much as a kid for me to celebrate with my friends. But, for this son of yours, when he comes back after swallowing up your property—he and his loose women—you kill the calf we had been fattening."

'The father said, "My son, you are with me always and all I have is yours. But it was only right we should celebrate and rejoice, because your brother here was dead and has come to life; he was lost and is found." '




24th Sunday in Ordinary Time

September 15, 2013

INTRODUCTION – (Exodus 32:7-11, 13-14; 1 Timothy 1:12-17; Luke 15:1-32) God's forgiveness is today's theme. Our first reading takes us back to Moses, about 1300 years before Christ. The people of Israel had just escaped from Egypt and were going through the desert of Sinai on their way to the Promised Land. They had already made a covenant with God at Mt. Sinai, and they had promised they would worship only the God of Israel as their God. When God called Moses back to the top of Mt. Sinai to speak with him again, the people got into trouble. They fashioned for themselves a golden calf and worshipped it as their god. This is where our first reading begins. God is angry with his people. Notice, in speaking to Moses, he calls them "your people." Moses intercedes for the people and "convinces" God to be forgiving. His prayer displays total unselfishness. God, of course, forgives them. In the second reading, we hear St. Paul describe what a sinful person he once was and how God was merciful to him. In today's gospel, which is the entire fifteenth chapter of St. Luke, we hear three beautiful parables on God's forgiveness.

HOMILY –

We just heard several beautiful stories about God and about God's mercy: the first reading tells us how God forgave his people for worshipping a Canaanite god right after they promised to worship only the God of Israel. We heard how God forgave Paul after he had been persecuting Christians. We heard three parables from Jesus, each one illustrating God's mercy. The readings were long and the message was clear, so I don't think I need to speak very long today. There are just a couple of details I would like to point out. First notice the joy Jesus talks about in each parable. In the story of the prodigal son, the word joy is not used, but we can see the joy expressed by the father when he sees his wayward son. The father runs to him. In that culture older men did not run, it was undignified, but the father ran and welcomed his son, even without giving the son a chance to make his apology. God's happiness is so great when we have been away from him and then we return.

Another detail I want to stress. In the first two parables about the lost sheep and the lost coin, the persons who lost them, the shepherd and the lady, actively searched for what they lost until they found what they were seeking. With the prodigal son, the father did not actively chase after his son to drag him home. He waited and watched and hoped his son might return. As in the parable of the sheep and the coin, God actively seeks to lead us back to himself if we have strayed, but as in the prodigal son, God waits for us to make the decision to return. God respects our free will, and if we choose to separate ourselves from him, it's up to us to choose to return or as the parable puts it, "to come to our senses."

The last thing I want to mention is the older brother. Jesus leaves us in suspense as to whether he forgave his younger brother. We can't be too hard on the older brother for feeling the way he did. Remember, the younger brother asked for his half of the inheritance so everything that was left would eventually belong to the older brother. Here is the forgiving father spending a significant portion of the older brother's assets in order to welcome back his prodigal son. When Jesus tells us "be merciful, just as also your Father is merciful," (Lk. 6:36) it is sometimes a big order. Amen.