Please pray for healing & our country
Pray united and tune in to the radio.

Please pray for Special Intention, funds,
and the mailing, especially for Jeff.

Pray for Dan, Jeff, Fr. Joe, Larry & Annette.
Pray for Fr. Joe, Dan, Melanie, Mary, Sanja, Rita,
Jim, Rosie, Louie's family, Carol R. & Family –
Madonna, Christopher, a special couple,
all Shepherds of Christ intentions on lists.
Pray for China and the mailing.
Also pray for Urgent intention
People, please spray your state with Jesus, Mary and Holy Water for the election.
Prayer for Grace for Election and our Country
Dear Father united to Jesus in the Holy Sacrifice of the Mass, the Sacrifice of Calvary sacramentally made present, celebrated around the world, in the Holy Spirit. We offer up all we do united to the Mass. We unite in one mind and one heart as members of the mystical body of Christ, with Christ our head in the pure and holy Hearts of Jesus and Mary, through the powerful intercession of Mary with all the angels and saints and souls in purgatory, and we beg for the saving grace, for our country, the United States. Please help us. We further pray for unity to always do the will of God in love. We spread the Blood of Jesus on the leaders and people of the United States and cast the devil into hell. We consecrate our country to the Sacred Heart and Immaculate Heart and all our dioceses, and beg for an outpouring of the Holy Spirit. God help us. We pray for our families, the priests, the Church and the world. In the Name of Jesus please hear us, we pray. We pray for our president and leaders. We pray that we are united as one nation under God to work together in love as God wants.
October 10, 2020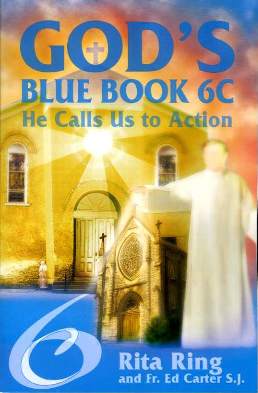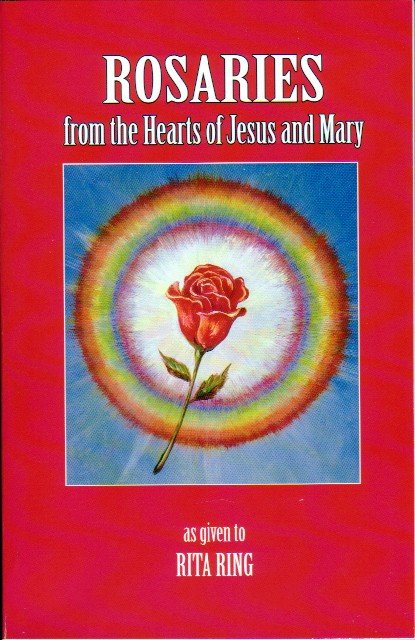 March 21, 1995
Tuesday, Shepherds of Christ Meeting
Sorrowful Mysteries
This rosary was said by candlelight during the Tuesday Shepherds of Christ meeting. Jesus told Rita to pray this rosary in front of the Pieta statue in the back of the Rosary chapel. Rita was in an ecstatic state. Some present at the Rosary saw Jesus alive in the statue and blood running from His wounds. During the crucifixion His face was white. Mary was seen crying.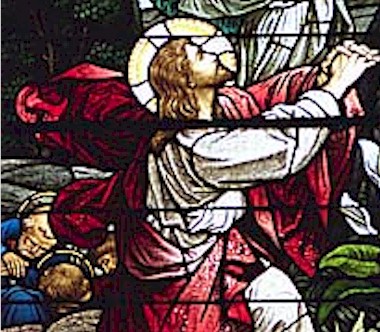 The Agony in the Garden
R. Be there with Jesus in the Garden in the darkened night as He kneels. Before Him He sees all the sufferings He is about to undergo.

R. His Heart is in such anguish to see before Him all the souls that will be lost despite all the sufferings He is about to experience.

R. We tap ever so lightly at the door of His Heart. He is an endless, burning furnace of fire, on love for each one of us. He says, "You do not know even the smallest amount of the immensity of the love that I have for you. You must come into My Heart. It is in My Heart that I lavishly give you My great love."

R. Think of the Heart of the Virgin Mary from the first moment of conception and how she carried the child within her womb, how she watched Him at play. All through His life Mary was there, to His death on the cross. How her Heart knows the Heart of Jesus! She stood under the cross. She held His lifeless body in her arms under the cross. It is through the Heart of Mary that we will more tenderly embrace the love that Jesus has for us. See Him as He kneels in the Garden, His Heart in such anguish. His sweat became as great drops of blood upon the ground. He knew all the souls that would reject this immense love that He has, who would not even care, who would go about their days without even thinking of Him. Yet He longs to be so united to each one of us so that every action we perform is an acton we do in oneness with Him. Jesus' Heart was in such anguish that His sweat became as great drops of blood on the ground.

R. Think of the mystery all through this rosary! Think of the mystery! There is a mystery when there is blood! The blood comes from deep within. Think of the mystery that Jesus sweat blood! He was in such anguish!

R. He tenderly calls to us day after day. Do we hear His gentle call, deep within our hearts, to be joined ever closer to Him? How many times do we reject the love that Jesus outpours to us because we are not sensitive to the little call that He makes to us in our hearts. He suffered in the Garden for all the souls He loved so dearly, some of whom would reject Him totally.

R. He suffered in the Garden for all of our sins, for our haughtiness and our pride, for our lack of compassion and mercy for our brothers. Yet He gives to us unconditional love and asks us to love one another. In the Our Father we say, "Forgive us our trespasses as we forgive those…" He suffered for all the times that we say no to forgiving our brothers. We forgive some but not all and think it is okay. Jesus loves each and every soul.

Jesus: Come to My open Heart through My pierced side. Look at the wound in My side. Suffering helps you reach My immense love. Enter My Heart through My pierced side and fall deeply into the abyss of My great love.

Jesus: Do not let your hearts turn cold! You must come to Me with hearts that are soft and ready to love. Put aside all the hardness in your hearts, for a soul that is haughty and angry cannot unite with My love. I long to be in the deepest union with each one of you present. So deep! You cannot fathom the great love that I have for you. You must clean your hearts of all the debris. Sweep away the unforgiveness and come into My Heart through My pierced side.

Jesus: My Heart was in such agony that I sweat blood. Do you know, even a small amount, the immense love that I have for you? I was born a helpless baby in the town of Bethlehem and I gave My flesh and My blood for love of you.
Song between decades: I come to you with greatest love, I am your loving Savior. I am your God, I died for you. I come to you this day.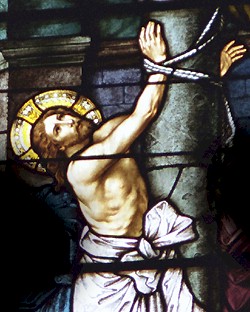 Jesus Is Scourged at the Pillar
R. Think of Jesus! Visualize Him, totally present, His body here! See Him as they lead Him away. They poke at Him! They pull His hair! See this so clearly in your mind. A person named Jesus being led away!

R. What a sight for our eyes if we truly saw what happened there, if we saw them with such violence and anger tie Jesus, our friend, to the pillar and then take out weapons and beat His flesh!

R. This is your best friend, Jesus Christ. They have tied Him to a pillar and they are beating Him with instruments that are tearing His flesh. The blood is pouring down His body!

R. They shout at Him and they holler angry and ugly remarks. He does not respond, only grunts as they hit Him harder. To their own exhaustion they beat Jesus. Watch this!
Jesus: It is in your heart that you will know Me, My dear children. You must visualize more and more the lives of Myself and My Mother. As you go through these mysteries of the rosary, put yourself there. See as if you were present. Experience what I went through. It is in knowing Our lives that you will know the great love that We have for you.

R. He stood in a puddle of His own blood!

R. This is my beaten friend Jesus! He shed His blood for love of me so that I may be with Him forever in heaven.

R. Hear the blows that they give to Jesus! Listen! Hear the blows! These are the blows that He suffered for love of each one of us. He suffered those blows for each and every soul, the poor beggar, the person that is a little different, the person that is not as rich as I am, the person that is somewhat short, the person that I think looks strange. Jesus stood at the pillar and was beaten for each one of these persons. These are my brothers! When Jesus came to the world, He made us brothers with God!

R. If I stood at the pillar next to you, Jesus, and they beat my back and tore my flesh, if I did it for someone here and they did not even think about me, how my heart would ache. But you are God! You, who are infinite Love, suffered this brutal persecution for love of each one of us. How did Your Heart ache, Jesus, when you suffered your bloodied flesh and knew that people would not even think about You?

R. And what do you ask of me, Jesus? To love God and love my brother! To become more closely united to You as You outpour divine love and divine life!

Jesus: I call you to purity. I call you to open up your hearts, to rid yourselves of anything that is impure. I long to be closely united with each of you. People are watching you! If you call yourselves Christians, then you must act as I would act! Do you preach the Gospel in your actions? Is your way the way of love? I came to show you the way. Will you follow Me? Will you love all your brothers as I ask you to do? People are watching you, My faithful Christians, apostles that I send into this world to spread the love of My Most Sacred Heart. You are being watched and are teaching so many lessons through your example. I call out to you today to rid yourselves of all impurities in your heart. Then you will receive a reward that far surpasses anything you can gain on this earth. You will receive closer union with My Most Sacred Heart. I love you! I love you! I love you! Moment by moment, second by second, I am there to provide you with everything you need. You must surrender and trust in Me!
Song between decades: I come to you with greatest love…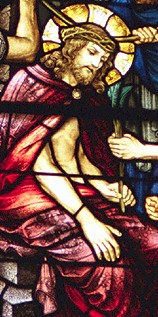 Jesus Is Crowned with a Crown of Thorns
Jesus: They tore My flesh! They beat My body! I shed My blood! They pounded into My head a sharp crown of thorns that pierced My head and punctured My forehead!

R. Jesus, You bled for love of each one of us. Help us to realize during this Lenten season the immensity of Your love as we meditate on Your wounds, the wounds to Your most precious Head, the wounds that you suffered to Your hands and feet. How would it be to rub our hands across Jesus' head, to touch the puncture wounds from the thorns! He truly suffered this for love of us!

R. The thorns were pounded into His head and He bled down His face and into His hair. Think of His hair covered with blood from the thorns that punctured His head!

R. Let me kiss your wounds, dear Jesus, the wounds that you suffered for love of me! Let me enter into the wound in Your side. The more deeply I enter into this wound, the more I enter the abyss of the endless love of Your Most Sacred Heart.

Song: Crown Him with many crowns, the Lamb upon His throne. His regal scepter knows no bounds, all kingdoms are His own. All Christians come and sing to Him Who died for thee. And hail Him as our Savior King for all eternity.

R. Jesus is God! He is the King of all Kings! God took on a human nature and came into this world a helpless baby. Now He is spit upon and taunted, He is hollered at and He sits on a mockery of a throne.

R. We look for love in so many places when, minute by minute, second by second, Jesus is inside of our hearts telling us how He is truly there and loving us.

R. If you put your fingers into the nail marks in His hands and into His side, would you believe that, minute by minute, second by second, He loves you so much, and that He is God and will provide you with all your needs?

Song: Only this I want, but to know the Lord. And to bear His cross and to wear the crown He wore.

R. Minute by minute, second by second, hear the soft, gentle voice within your heart say, "I love you, I love you, I love you. It is in realizing this immense love that there is love to give to others.
Song between decades: I come to you with greatest love…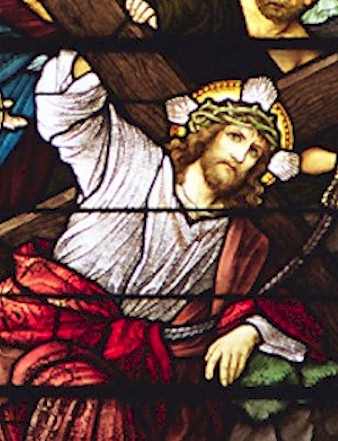 Jesus Carries His Cross to Calvary
R. He came to serve. He came into the world in such poverty in a stable in the town of Bethlehem. He left this world hanging on a cross. Both were bare wood! He came to show us the way! Meditate on this mystery as He carries His cross. The Son of God! He took on human form for love of us. He came to show us how to love.

Song: We were made for service to care for each other. We were made to love each sister and brother. With love that will last our whole life through…

R. Jesus came and He loved and He preached the Gospel. His way was love. He always acted in love and they condemned Him to death. When we preach the Gospel, when we act from love, why do we expect people to treat us differently when they treated Jesus this way? But He came and carried His cross to show us His way and His way is the way of love. He promises to us an everlasting reward far beyond our comprehension. Look at the Virgin Mary and the Pieta. Look at her face and see through her eyes as she watches her Son, with the cross on His back, covered with blood and wounds. This is her beloved Son! Look at her face. She comes today to ask us to go into this world and to spread His love. She asks us to open up our hearts and put aside any hatred or anger that we have, for if we do not spread this love, who will spread love into this world? Open up your hearts! Be not hardened but be as Jesus has asked us to be, with hearts that are filled with love, going into battle in a world that has forgotten God. He calls us this day to be His soldiers, to spread the fire of His love throughout the world. You may be persecuted, you may be spit on. Whatever happens, remember what they did to Him. His way is love and His reward is everlasting life.

R. These are rosaries from the Hearts of Jesus and Mary. See their eyes as they gaze at one another on the way to Calvary. Look at her face here! The horror, on top of more horror, to behold her beloved Son in such anguish! She asks us to see through her eyes the suffering that her Son endured for love of us. The more we realize the love He has, the more we will go into the world and take this love to others. We are soldiers of the Most Sacred Heart of Jesus.

R. He wants to become one with us so that it is no longer we who operate, but it is He Who operates in us, so that our every action is an action that we perform with Jesus, and the might is the might of the Almighty God within us! In order to unite this way with Him, we must be ever pure. Love unites only with love! If our hearts are filled with hatred and anger for any person, we cannot be one with Him. He longs for this love. He longs to be one in us! He wants to penetrate our souls with the fire of His love. Pray to the Spirit so that the Spirit moves inside of you.

R. See the horror in Mary's face and in her eyes. How would your face look if you were looking at your Son, covered with blood and wounded, as He fell under the cross? How would your face look? How would your heart be? It is through Mary's pure and sinless Heart that she will take us deeper and deeper into the Heart of Jesus. There is such oneness between these two Hearts, such connection between them! Look at the Pieta and see her, see her face, as she watches the Passion of her Son!

R. They hit Him on the head and the blood ran from the corners of His mouth. His face was covered with blood and Veronica wiped His face.

Jesus: My children, My children! I do not tell you things to be taken lightly. In My Heart I am longing for such union with you but you do not hear. You close your eyes and plug up your ears. You do not listen time and time again. I have come to you this evening and I have asked you to pray in front of this statue. I ask you to meditate on this. You do not know what I am saying to you. You take these words lightly. This world is in pain. You do not know the sufferings that are about to befall you. I ask you to listen, to listen to Me! I am truly Jesus Christ and I come to you this day and I beg you to spend your waking hours spreading My love throughout this world! I beg you to help save souls from damnation. Your actions are so important to Me and the plan of the Father. You are here because you are called and you have answered this call. Each and every one of you present I send into this world as warriors to spread My love. You listen and you take it so lightly but you will know that I am truly calling you for this world is in such sin and pain. To the little work that you do I will apply My grace to lead souls to My Most Sacred Heart. Surrender and become one in Me for I truly am calling you to the highest union for it is in this union that I can operate through you. As long as you resist My call there are many souls that will not be touched. I beg you to take Me seriously. Meditate on this statue (the Pieta). Meditate on this, My children.

Jesus: I carried My cross on My back And I fell under the cross. See Me as I crawl with the cross on My back.

Jesus: This is the love that I have for each and every soul. The bodily agonies I experienced were nothing compared to the agonies I experienced in My Heart for the souls that would be condemned to eternal damnation despite My sufferings. I beg you this day to answer My call.
Song between decades: I come to you with greatest love…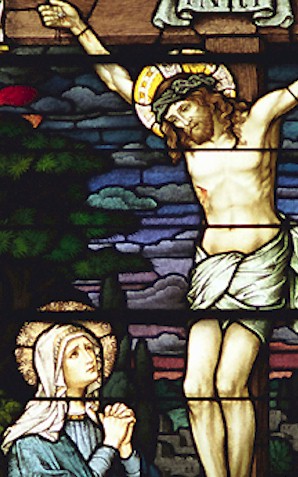 Jesus Is Crucified and Dies on the Cross
R. He hung for three agonizing hours against the darkened sky. He gave His flesh! He gave His blood! He gave the last beat of His Heart, the last breath in His body! Covered with blood and weakened, He hung on the cross!

Jesus: I speak and so many do not listen! I am crying out to you to listen to My voice here, to read My letters for they are truly letters of love that I give to each one of you. It is in reading these letters that you will know more and more the immensity of the love that I have for you. You are My soldiers that I send into the sick world with the medicine to heal so many hearts. You are the chosen ones I have called here to this Center. Please, I beg you, take My call seriously, for I am truly Jesus and I speak to you this day. So many take My plea lightly. I beg! I plead! I ask Rita to talk more and more about My pleadings. You do not know how I am longing for you to be so close. How I want you to surrender and let Me operate in your hearts! You tap ever so lightly when there is an ocean of My love that I want to give to you. Surrender your hearts and read My letters of love for it is in these letters that you will know My love more and more.

Jesus: I give Myself to you at every Eucharist and you take it so lightly! Take Me seriously, My children, for I am truly with you with much love! How it wounds My aching Heart that you do not listen.

Jesus: I am sending you into battle in a world that is godless, that has forgotten God, but with your hearts filled with My love. Will you answer My call?

Jesus: Surrender! Surrender! Surrender to the God Who gave His life for you!

Jesus: As Mary walked by My side on the way to Calvary, as she stood under the cross, she is by your side in all your sufferings. You are never alone.

Jesus: I give you My very own Mother!

R. As she held His little baby body, she now holds His lifeless body in her arms under the cross.

Song: At the cross her station keeping stood the mournful Mother weeping. Close to Jesus to the last.

R. This rosary is from the Hearts of Jesus and Mary, so united, one with each other. To love Jesus is to love Mary. To love Mary is to love Jesus.
Song after last decade: I come to you with greatest love…
28th Sunday in Ordinary Time
Isaiah 25: 6-10a
On this mountain, for all peoples,
Yahweh Sabaoth is preparing
a banquet of rich food,
a banquet of fine wines,
of succulent food, of well–strained wines.
On this mountain, he has destroyed
the veil which used to veil all peoples,
the pall enveloping all nations;
he has destroyed death for ever.
Lord Yahweh has wiped away the tears
from every cheek;
he has taken his people's shame away
everywhere on earth,
for Yahweh has spoken.

And on that day, it will be said,
'Look, this is our God,
in him we put our hope
that he should save us,
this is Yahweh, we put our hope in him.
Let us exult and rejoice
since he has saved us.'
For Yahweh's hand will rest
on this mountain,
Psalm 23
Yahweh is my shepherd, I lack nothing.
In grassy meadows he lets me lie.

By tranquil streams he leads me
to restore my spirit.
He guides me in paths of saving justice
as befits his name.

Even were I to walk in a ravine as dark as death
I should fear no danger, for you are at my side.
Your staff and your crook are there to soothe me.

You prepare a table for me
under the eyes of my enemies;
you anoint my head with oil;
my cup brims over.

Kindness and faithful love pursue me
every day of my life.
I make my home in the house of Yahweh
for all time to come.
Philippians 4: 12-14, 19-20

I know how to live modestly, and I know how to live luxuriously too: in every way now I have mastered the secret of all conditions: full stomach and empty stomach, plenty and poverty. There is nothing I cannot do in the One who strengthens me. All the same, it was good of you to share with me in my hardships.

And my God will fulfil all your needs out of the riches of his glory in Christ Jesus. And so glory be to God our Father, for ever and ever. Amen.
Matthew 22: 1-14

Jesus began to speak to them in parables once again, 'The kingdom of Heaven may be compared to a king who gave a feast for his son's wedding. He sent his servants to call those who had been invited, but they would not come. Next he sent some more servants with the words, "Tell those who have been invited: Look, my banquet is all prepared, my oxen and fattened cattle have been slaughtered, everything is ready. Come to the wedding." But they were not interested: one went off to his farm, another to his business, and the rest seized his servants, maltreated them and killed them. The king was furious. He despatched his troops, destroyed those murderers and burnt their town. Then he said to his servants, "The wedding is ready; but as those who were invited proved to be unworthy, go to the main crossroads and invite everyone you can find to come to the wedding." So these servants went out onto the roads and collected together everyone they could find, bad and good alike; and the wedding hall was filled with guests. When the king came in to look at the guests he noticed one man who was not wearing a wedding garment, and said to him, "How did you get in here, my friend, without a wedding garment?" And the man was silent. Then the king said to the attendants, "Bind him hand and foot and throw him into the darkness outside, where there will be weeping and grinding of teeth." For many are invited but not all are chosen.'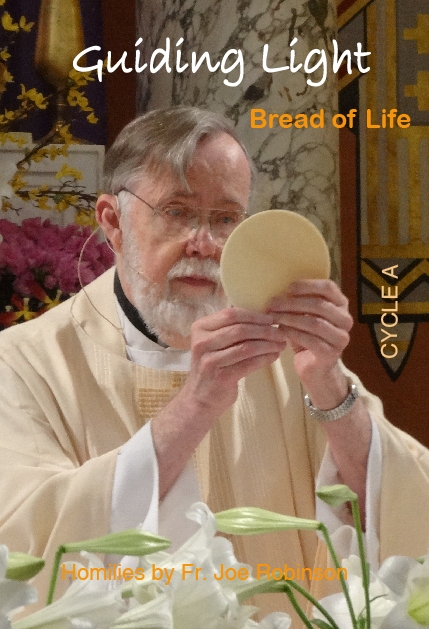 28th Sunday in Ordinary Time
October 15, 2017
INTRODUCTION – (Isaiah 25, 6-10a; Matthew 22, 1-14) Today's first reading and today's gospel give us a beautiful picture of what it is we're praying for when we say "thy will be done." God's will is for our complete and eternal happiness.
Our gospel warns us, however, that in order to be part of his beautiful plan, we need to respond to the invitation he offers us. This passage from Isaiah is one of my favorite passages in the Hebrew Bible (the Old Testament).
HOMILY – I know many of you have come this evening to wish me a happy birthday. I am grateful for your affection and your support. To thank you, I thought I would give you a few quotes from that great philosopher, Will Rogers.
Will Rogers said about growing older: "eventually you will reach a point when you stop lying about your age and start bragging about it." My uncle delighted in bragging about his age to everybody he met until he passed away at 96. Will Rogers also said: "you know you are getting old when everything either dries up or leaks."
Also from Will Rogers: "I don't know how I got over the hill without getting to the top." Or: "one of the many things no one tells you about aging is that it's such a nice change from being young. Being young is beautiful, but being old is comfortable and relaxed. If you don't learn to laugh at trouble, you won't have anything to laugh at when you're old."
I don't know yet how it feels to be 80. As long as I have good health, it feels pretty good. If you want to pray for me, pray that I can keep doing the Lord's work with good health.
Our first reading seems to describe a celebration of some sort. The details are not clear. Perhaps it is a celebration of God's victory over one of Israel's neighboring nations with whom there was some serious conflict. Perhaps the conflict was with Moab (no one knows for sure). The celebration the reading describes would have been on Mt. Zion – in Jerusalem. For a people who lived hand to mouth, it was a very appealing picture of the end of time and the final judgment that was to come.
Jesus' parable also speaks of a great banquet a king prepared for his son's wedding. Wedding celebrations lasted for several days in that culture, so one can assume the king's celebration would really be a blast. Those previously invited suddenly found excuses not to come to the banquet. Considering the killing of the king's servants, it appears to be some kind of rebellion against the king – a rebellion that rained death upon the rebels. The rejection of the servants and the fatal rebellion is usually a description of what actually did happen to Jerusalem in the year 70 AD. Those first invited, that is the Jews, would be left out of the party. However, the king was determined to celebrate his son's wedding – so he filled the banquet hall with whomever could be found.
Like today's Church, God's kingdom would be made up of a coming together of many folks from various lands.
The main lesson to be learned is that admission to the kingdom is not enough to guarantee getting to stay in it. God wants us to be part of his kingdom, but being part of the kingdom requires a certain response, certain expectations that the king has of us.
We may not always meet all that is expected of us, but our king is merciful and forgiving if we turn to him, and he will help us if we ask. Amen
May 4, 2020
Mary: Pray to the Holy Spirit.
Keep consecrating to the Sacred Heart and my
Immaculate Heart as I have told you.
Do not let up on your prayers –
China is the Eucharistic Center of the world.
I appear as Our Lady of Clearwater to
deliver these message from
God the Father –
25 years later May 5, 1995
26 years ago this was blocked May 4, 1994.
I am Mary your Mother –
Tell Sheila to read my message
from 2 days ago and this
message
and May 5, 1995
May 4, 1994
and do the rosary in today's
daily message from Blue Book 10.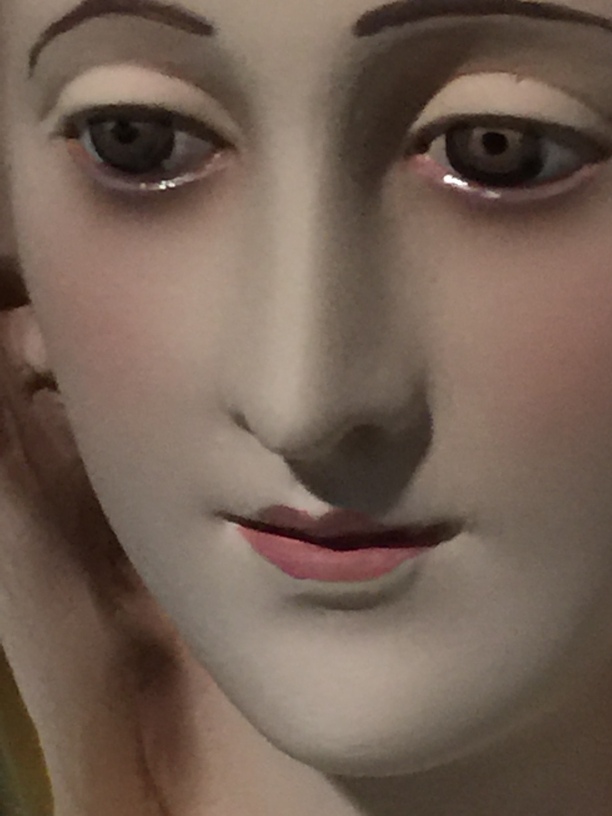 May 5, 2020


25 Years Ago

May 5, 1995
Consecrate Your Churches, Home, and Workplace to Our Hearts
Jesus: I want you to consecrate the human race to Sacred Heart of Jesus. I want to be enthroned in all homes, churches, and businesses.

June is the month of the Sacred Heart. I want to be king and center of all hearts. I will keep My promises given to St. Margaret Mary of Alacoque. I promise all this from My most Sacred Heart. Consecrate your chapter to the Sacred Heart of Jesus. Consecrate the church or room in which you hold your meeting.

Today is First Friday. I want you to circulate the message I gave to you on consecrating your homes to My Sacred Heart. Make booklets available for people to be able to consecrate their homes and businesses easily. Use the message I gave to you when you consecrated your home.

The Sacred Heart of Jesus will reign and the Immaculate Heart of Mary will triumph. Consecrate all homes and businesses to Our Two Hearts. Tell all to have displayed and honored, pictures of the Sacred Heart of Jesus and the Immaculate Heart of Mary. May and June are the months of Mary and the Sacred Heart of Jesus. Tell all to consecrate their homes to Our Two Hearts. I am the Sacred Heart of Jesus. On this day, the 5th of May, 1995, First Friday, I request that you spend the next two months encouraging all to do this consecration.

Gather your friends and say the prayers I have instructed you to say. Sing "To Jesus Heart All Burning" and "Immaculate Mary." May these Two Hearts of love give all members of the human race peace, joy and love in their hearts.

R. Jesus said He desires to be honored by men in the Blessed Sacrament.

Jesus: Circulate the Blue Book messages. They promote this devotion. How My Heart is filled with happiness by the souls who come to the tabernacle and sit with Me. I am Jesus Christ, I wait and long and thirst for My precious souls to come. The souls of men have turned cold. I want souls to come to daily communion and be with Me in front of the tabernacle.

Men's hearts have turned cold. They do not know what love really means. I want hearts that are filled with fire for love of God. Men's hearts have turned to stone.

You are to promote devotion to My most Sacred Heart. I want hearts that burn with love for My Heart. It is through Me that you will know the Father's love. I am the Way, I am the Truth, I am the Life.

Offer a holy hour for the indifference, ingratitude, and sacrileges committed against Jesus in the Blessed Sacrament, the Sacrament of His greatest love.

R. He promises great graces to those who give reparation to His Sacred Heart and who tell others about offering reparation to Him. end of May 5, 1995
What is important is praying to the Holy Spirit.
Do not fear – pray, my children.
I love you, I am your Mother,
Mary, I love you my precious
child.