Please pray for healing & our country
Pray united and tune in to the radio.

Please pray for Special Intention, funds,
and the mailing, especially for Jeff.

Pray for Dan, Jeff, Fr. Joe, Larry & Annette.
Pray for Fr. Joe, Dan, Melanie, Mary, Sanja, Rita,
Jim, Rosie, Louie's family, Carol R. & Family –
Madonna, Christopher, a special couple,
all Shepherds of Christ intentions on lists.
Pray for China and the mailing.
Also pray for Urgent intention
People, please spray your state with Jesus, Mary and Holy Water for the election.
Prayer for Grace for Election and our Country
Dear Father united to Jesus in the Holy Sacrifice of the Mass, the Sacrifice of Calvary sacramentally made present, celebrated around the world, in the Holy Spirit. We offer up all we do united to the Mass. We unite in one mind and one heart as members of the mystical body of Christ, with Christ our head in the pure and holy Hearts of Jesus and Mary, through the powerful intercession of Mary with all the angels and saints and souls in purgatory, and we beg for the saving grace, for our country, the United States. Please help us. We further pray for unity to always do the will of God in love. We spread the Blood of Jesus on the leaders and people of the United States and cast the devil into hell. We consecrate our country to the Sacred Heart and Immaculate Heart and all our dioceses, and beg for an outpouring of the Holy Spirit. God help us. We pray for our families, the priests, the Church and the world. In the Name of Jesus please hear us, we pray. We pray for our president and leaders. We pray that we are united as one nation under God to work together in love as God wants.
October 7, 2020
Luminous Mysteries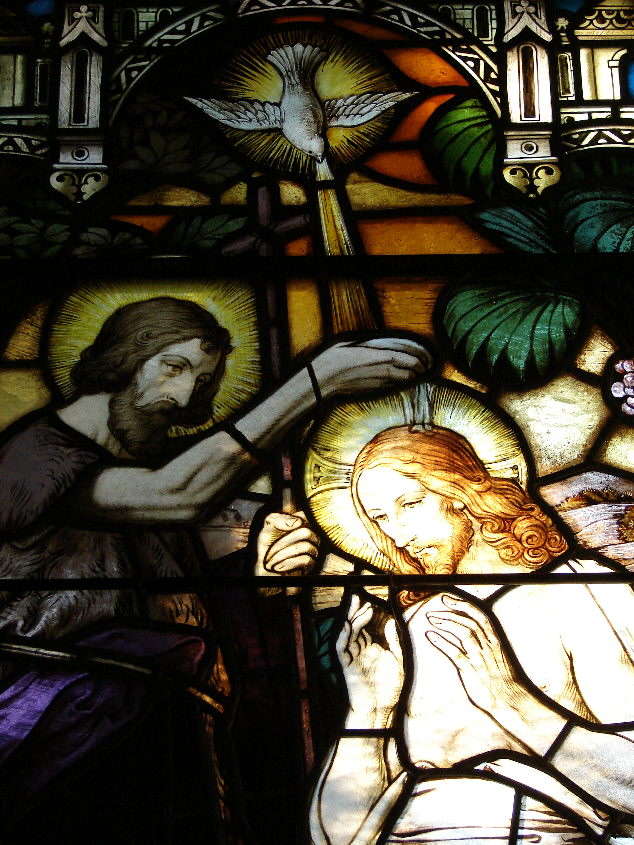 The Baptism of Jesus
(1) The heavens were opened –
Above the Head of Jesus the
Holy Spirit was seen.
The voice of the Father was
heard
"This is My Beloved Son
in whom I am
well pleased."
(2) In baptism we receive a sharing
in His life.
(3) In baptism our knowing and loving
capacity is elevated.
(4) In Baptism we receive a sharing
in God's loving activity.
(5) In Baptism we receive
the supernatural
virtues of faith, hope and love.
(6) We need to pray for an
increase in these
virtues, they are
the theological
virtues.
(7) The baptism of Jesus
is a mystery –
(8) John the Baptist said
"I need to be baptized
by you, and
yet you are coming
to me!"
(9) Baptism takes away
original sin.
(10) Colossians 2: 9
In him, in bodily form, lives divinity in all its fullness, and in him you too find your own fulfilment, in the one who is the head of every sovereignty and ruling force.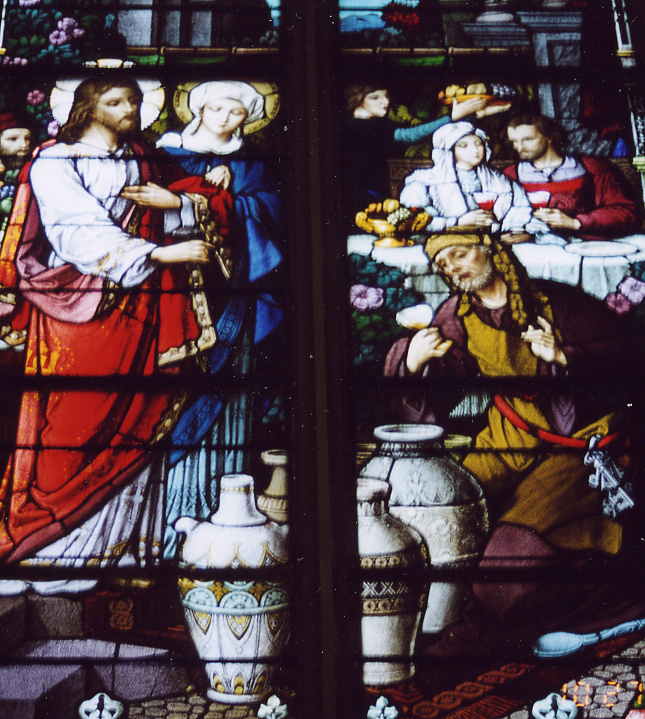 The Wedding at Cana
(1) John 2: 1-10
On the third day there was a wedding at Cana in Galilee. The mother of Jesus was there, and Jesus and his disciples had also been invited. And they ran out of wine, since the wine provided for the feast had all been used, and the mother of Jesus said to him, 'They have no wine.' Jesus said, 'Woman, what do you want from me? My hour has not come yet.' His mother said to the servants, 'Do whatever he tells you.' There were six stone water jars standing there, meant for the ablutions that are customary among the Jews: each could hold twenty or thirty gallons. Jesus said to the servants, 'Fill the jars with water,' and they filled them to the brim. Then he said to them, 'Draw some out now and take it to the president of the feast.' They did this; the president tasted the water, and it had turned into wine. Having no idea where it came from—though the servants who had drawn the water knew—the president of the feast called the bridegroom and said, 'Everyone serves good wine first and the worse wine when the guests are well wined; but you have kept the best wine till now.'
(2) This began Jesus' public
life.
(3) Jesus performed many
miracles.
(4) This mystery shows us
Mary's powerful
intercession.
(5) We know Jesus turned
water into wine –
(6) In the Mass the wine
is changed into the
Blood of Jesus.
(7) We are so blessed to
have the Mass.
(8) The Mass is the sacrifice
of Calvary, sacramentally
made present.
(9) We receive the Eucharist.
(10) The Eucharist is the
Body and Blood of Jesus –
He comes to us!!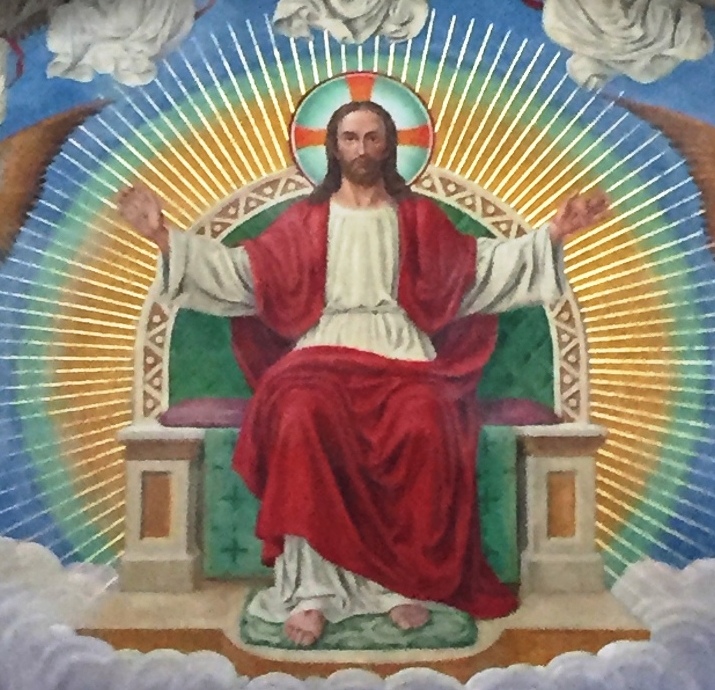 The Kingdom of God
(1) We are called to go out and
spread the Gospel
message –
the Good News!
(2) We are to become more
one with God so
as we live we live
the Gospel Message.
(3) We were created in the
image and likeness of
Jesus.
(4) We are to be instruments
of love in the world.
(5) God is love!
(6) Heaven is for lovers!
(7) God commands us to
love.
(8) Matthew 22: 36-40
'Master, which is the greatest commandment of the Law?' Jesus said to him, 'You must love the Lord your God with all your heart, with all your soul, and with all your mind. This is the greatest and the first commandment. The second resembles it: You must love your neighbour as yourself. On these two commandments hang the whole Law, and the Prophets too.'
(9) Matthew 5: 1-12
Seeing the crowds, he went onto the mountain. And when he was seated his disciples came to him. Then he began to speak. This is what he taught them:

How blessed are the poor in spirit:
the kingdom of Heaven is theirs.
Blessed are the gentle:
they shall have the earth as inheritance.
Blessed are those who mourn:
they shall be comforted.
Blessed are those
who hunger and thirst for uprightness:
they shall have their fill.
Blessed are the merciful:
they shall have mercy shown them.
Blessed are the pure in heart:
they shall see God.
Blessed are the peacemakers:
they shall be recognised
as children of God.
Blessed are those who are persecuted
in the cause of uprightness:
the kingdom of Heaven is theirs.

Blessed are you when people abuse you and persecute you and speak all kinds of calumny against you falsely on my account. Rejoice and be glad, for your reward will be great in heaven; this is how they persecuted the prophets before you.
(10) From the Guiding Light homily book - Bread of Life, p. 159

Christ the King -

November 26, 2017
Today's gospel is one of the best known of Jesus' parables. It tells us, first of all, that at the end of time there will be only two kingdoms: the kingdom of God where there will be happiness beyond anything we can imagine and there will be the kingdom of Satan where there will be endless remorse and suffering. Notice that we're the ones who make the decision as to which kingdom we will belong – we make that choice not by what we say but by the way we live. Karma is a reality.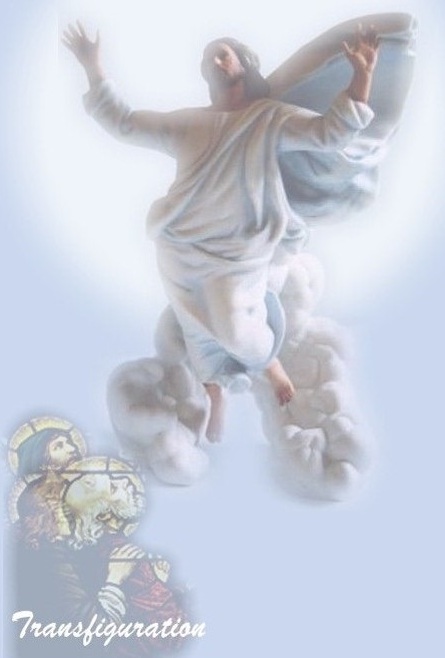 The Transfiguration
(1) Jesus took Peter, James and John
up Mt. Tabor –
(2) He was transfigured
before them.
(3) A voice from heaven said
"This is my beloved Son
in whom I am well pleased
listen to Him."
(4) Mark 9: 2-10
Six days later, Jesus took with him Peter and James and John and led them up a high mountain on their own by themselves. There in their presence he was transfigured: his clothes became brilliantly white, whiter than any earthly bleacher could make them. Elijah appeared to them with Moses; and they were talking to Jesus. Then Peter spoke to Jesus, 'Rabbi,' he said, 'it is wonderful for us to be here; so let us make three shelters, one for you, one for Moses and one for Elijah.' He did not know what to say; they were so frightened. And a cloud came, covering them in shadow; and from the cloud there came a voice, 'This is my Son, the Beloved. Listen to him.' Then suddenly, when they looked round, they saw no one with them any more but only Jesus.

As they were coming down from the mountain he warned them to tell no one what they had seen, until after the Son of man had risen from the dead. They observed the warning faithfully, though among themselves they discussed what 'rising from the dead' could mean.
(5) We are asked to
"Listen to Him."
(6) We are to live according
to God's will –
Not tell God what to do.
(7) God has a Plan –
(8) We must surrender to this
to live God's Plan.
(9) Prayer for Union with Jesus
Come to me, Lord, and possess my soul. Come into my heart and permeate my soul. Help me to sit in silence with You and let You work in my heart.

I am Yours to possess. I am Yours to use. I want to be selfless and only exist in You. Help me to spoon out all that is me and be an empty vessel ready to be filled by You. Help me to die to myself and live only for You. Use me as You will. Let me never draw my attention back to myself. I only want to operate as You do, dwelling within me.

I am Yours, Lord. I want to have my life in You. I want to do the will of the Father. Give me the strength to put aside the world and let You operate my very being. Help me to act as You desire. Strengthen me against the distractions of the devil to take me from Your work.

When I worry, I have taken my focus off of You and placed it on myself. Help me not to give in to the promptings of others to change what in my heart You are making very clear to me. I worship You, I adore You and I love You. Come and dwell in me now.

-God's Blue Book, January 17, 1994
(10) Sing: Come to me, Lord, and possess my soul.
Come into my heart and permeate my soul.
Help me to sit in silence with You and
let You work in my heart.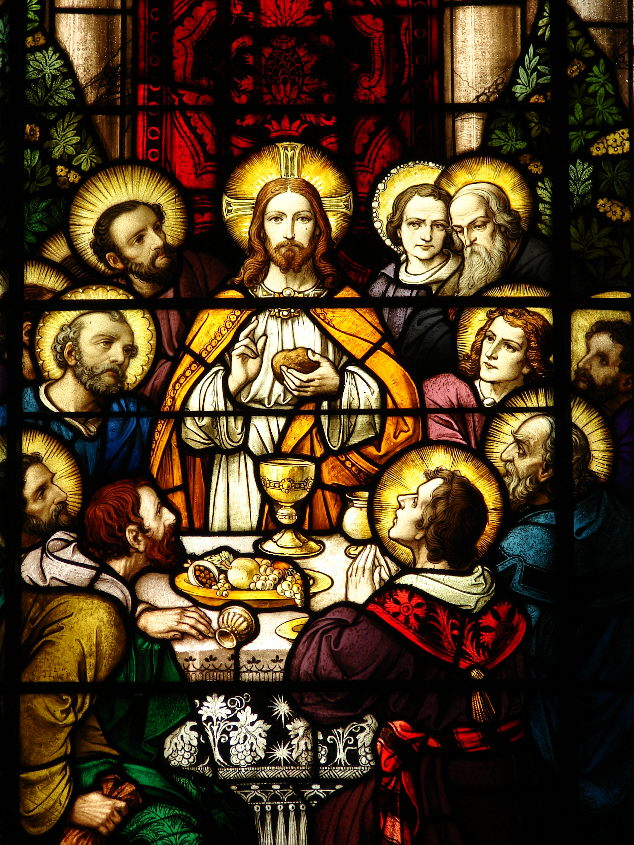 The Institution of the Eucharist
(1) Jesus wants such union
with us – He gives
us Himself:
Body, Blood, Soul and
Divinity in the Eucharist.
(2) The priest is such a gift –
we pray for our
priests, the Church and
the world in the prayers
Jesus gave to Fr. Carter.
(3) The Mass is the sacrifice
of Calvary, sacramentally
made present.
(4) We think of the Last Supper.
(5) We thank God for the gift
of the Eucharist.
(6) Jesus is truly present
in His Divinity and
humanity in the Eucharist.
(7) This truly is a Sacrament
of Love, God is Love.
(8) We can receive Jesus and
be transformed.
(9) We can also make
spiritual communions
through the day –
(10) Spiritual Communion
Dear Jesus – we want to make a spiritual
communion, we cannot receive You
now, but we want to know Your
presence deep in our heart –
deep in our soul – Oh God fill us
with Your presence that we can
just focus on You and Your love
for us now – Love deep in us –
Oneness with You –
Quiet surrender to be alone in
this moment with You in our heart
in deep love –
We love You so much our beloved
God –
China is the Eucharistic Center of the world.
26 years ago this was blocked May 4, 1994.