If you can help, we need donations.

Pray for Fr. Joe & Fr. Mike
Pray for Special Intention.


Prayer for Grace for our Country

Dear Father united to Jesus in the Holy Sacrifice of the Mass, the Sacrifice of Calvary sacramentally made present, celebrated around the world, in the Holy Spirit. We offer up all we do united to the Mass. We unite in one mind and one heart as members of the mystical body of Christ, with Christ our head in the pure and holy Hearts of Jesus and Mary, through the powerful intercession of Mary with all the angels and saints and souls in purgatory, and we beg for the saving grace, for our country, the United States. Please help us. We further pray for unity to always do the will of God in love. We spread the Blood of Jesus on the leaders and people of the United States and cast the devil into hell. We consecrate our country to the Sacred Heart and Immaculate Heart and all our dioceses, and beg for an outpouring of the Holy Spirit. God help us. We pray for our families, the priests, the Church and the world. In the Name of Jesus please hear us, we pray. We pray for our president and leaders. We pray that we are united as one nation under God to work together in love as God wants.

A Prayer for Intimacy with the Lamb, the Bridegroom of the Soul

Oh Lamb of God, Who take away the sins of the world, come and act on my soul most intimately. I surrender myself, as I ask for the grace to let go, to just be as I exist in You and You act most intimately on my soul. You are the Initiator. I am the soul waiting Your favors as You act in me. I love You. I adore You. I worship You. Come and possess my soul with Your Divine Grace, as I experience You most intimately.
February 18, 2021
R. In Shepherds of Christ God wants to dwell
in our hearts.
In the first Blue Book message May 13, 1993
we see what God says:

Cling to Me - May 13, 1993

Jesus: My dear child, if you stay close to Me, then I live in you and you live in Me. I am He Who created you and I love you with such an intensity that you will never know. My words are your truth. You must abide in My heart in all things. There is no room for doubt. My ways are steadfast, direct, and without error. ...
end of excerpt
R. With Adam and Eve sin entered the world.
With this disorder

We see that man is born with
original sin and baptism takes
away original sin, but the
tendencies to the deadly sins
remain.
We can choose to act a certain
way or not. We have a free
will.
A woman used to cut the ends
off of her ham.
Her husband said
"Why do you do this?"
She said, "My mother did this."
On exploring why her mother did
it, she discovered the ham
did not fit in the pan, so
her mother cut off the ends.
Exodus 34: 6-7
Then Yahweh passed before him and called out, 'Yahweh, Yahweh, God of tenderness and compassion, slow to anger, rich in faithful love and constancy, maintaining his faithful love to thousands, forgiving fault, crime and sin, yet letting nothing go unchecked, and punishing the parent's fault in the children and in the grandchildren to the third and fourth generation!'

R. Habits are practiced and learned.
A child may be in a dysfunctional
home and deprived of their
needs or wants.
When the child reaches a certain
age to survive they may
decide – I never get what I
want and when I ask, I
get punished – so I will
resign myself to not
asking for or getting what
I want.
There is a decision to deal
with a dysfunctional
situation as a child and
asking for things are
grounds in some homes
for abuse or punishment.
The child may suppress their
wants and needs and then
get deep seated anger,
even bitterness as they
grow and carry out this
behavior long passed their
home as a child.
But this unfinished business
resulted in a bad habit
how to handle needs and
wants accompanied by
deep seated anger they
may use in later life to
resolve by punishing others
who need or what
something essential.
AA calls it
"stinking thinking"
The Pascal Mystery is
Death / Resurrection –
We all need recovery from
bad habits, but some
are so wounded they
deny any dysfunction,
bad habits because
of pride and unfinished
business.
Justice and peace will
kill.
Justice is giving to God and
others what is their
due.
Right reasoning for why
we act –
Our conscience is to help us
to grow in what is right.
Bad habits we learned and
many can be forced because
of generational woundedness.
A spiritual director can only
help a person seeking
the truth and wanting
to change.
A person growing up in a
dysfunctional home with
bad habits going back
in generations - has to
want recovery –
not search for a place to
force their dysfunction
on innocent others
by some form of
power-over tactic they
use.
The devil works in the wounded
human nature, the deadly
sins to try to push his
evil on innocent others
by people who are prideful who
want to continue bad
sinful habits and not change.
God wants to fill us and operate
in us.
When the Sacred Heart dwells in our
hearts, the Holy Spirit works in
our hearts –
There is love –
The focus must be living by the
Father's will in love.
Lent is a time to ask God to help
us see bad habits in our
actions and not deny those
bad unruly habits that
lead to destruction and rupture
of relationships with God, others
and ourselves.
Love is a gift!
Some think they are unlovable.
God created us in love –
When God dwells in us – He
fills us with love –
Pride – thinking that we do not have
to change bad habits -
makes us unhappy.
When God dwells abundantly
in a soul – He loves
in them –
1 Corinthians 13: 1-13
Though I command languages both human and angelic—if I speak without love, I am no more than a gong booming or a cymbal clashing. And though I have the power of prophecy, to penetrate all mysteries and knowledge, and though I have all the faith necessary to move mountains—if I am without love, I am nothing. Though I should give away to the poor all that I possess, and even give up my body to be burned—if I am without love, it will do me no good whatever.

Love is always patient and kind; love is never jealous; love is not boastful or conceited, it is never rude and never seeks its own advantage, it does not take offence or store up grievances. Love does not rejoice at wrongdoing, but finds its joy in the truth. It is always ready to make allowances, to trust, to hope and to endure whatever comes.

Love never comes to an end. But if there are prophecies, they will be done away with; if tongues, they will fall silent; and if knowledge, it will be done away with. For we know only imperfectly, and we prophesy imperfectly; but once perfection comes, all imperfect things will be done away with. When I was a child, I used to talk like a child, and see things as a child does, and think like a child; but now that I have become an adult, I have finished with all childish ways. Now we see only reflections in a mirror, mere riddles, but then we shall be seeing face to face. Now I can know only imperfectly; but then I shall know just as fully as I am myself known.

As it is, these remain: faith, hope and love, the three of them; and the greatest of them is love.
R. God commands us to love
others –
How can we love when
we are an empty well –
We need to ask God to dwell in us.
1 John 4: 7-11
My dear friends, let us love one another, since love is from God and everyone who loves is a child of God and knows God. Whoever fails to love does not know God, because God is love. This is the revelation of God's love for us, that God sent his only Son into the world that we might have life through him. Love consists in this: it is not we who loved God, but God loved us and sent his Son to expiate our sins. My dear friends, if God loved us so much, we too should love one another.
R. When we want to be more loving
we must ask God to operate
in us and then be willing
to let Him run the show.
I remember a joke in one of Fr. Joe's
books.
1st Sunday of Lent - February 10, 2008
HOMILY: A teacher asked her little children in religion class to draw a picture of their favorite bible story. One small boy drew the picture of an elderly gentleman, elegantly dressed, driving a big convertible. In the back of the car were two people, hardly dressed at all. The teacher thought it was an interesting picture and asked what it meant. The young artist was surprised the teacher had to ask, but he explained that was God driving Adam and Eve out of the Garden of Eden...

R. We know we are commanded
to love God with our
whole soul, our whole heart,
and our whole being and
love our neighbor as ourselves.
Love is a theological virtue –
We will love if God dwells
in us and we have an
intimate relationship
with God where He
is first.
The Blue Books are Jesus' letters of
love to us. They help us
grow in that oneness and
intimacy with Jesus.
God intends us to love others
and ourselves –
Many do not even see themselves
as lovable –
how can they love God
and others –
Many never even try to see
others through the eyes
of love –
that takes giving oneself
to see and listen and
be empathic to others.
If we don't see ourselves
as lovable – how can
we give love – we are
like an empty well –
Jesus heals –
We see the scripture –
He healed – He taught –
Disciples are learners
ready to be taught –
Having Jesus in our hearts
will help us heal –
The Holy Spirit dwelling in us
sanctifies us –
When we give our heart to
Mary our Mother –
She works lavishly to help
us be holy –
The Holy Spirit molds us more and
more in the image and
likeness of Jesus –
We ask Father, Son and Holy Sprit to
dwell in us – operate in us –
live in us –
Be one in us –
Happiness is only found –
really – in God !! –
God even tells us to love our
enemies –
We need God operating in
us to do this –
to forgive –
to see the person at
their core existence
created by God.
Before the cataract surgery
I couldn't see very
clear –
The devil wants us to be
blind to loving our
brothers –
The deadly sins are about
division, competition,
making enemies of
our brothers in our
hearts –
ENVY – it's in us
JEALOUSY – it's in us
Pride – we see ourselves
up –
others down
Anger – having mean
thoughts toward others
Etc.
LOVE –
finds a way
LOVE brings unity –
When we truly love, our
hearts are happy –
Our hearts were created
to love –
The only way to know this
happiness of loving others
is to do it!!
Not loving is unhappiness –
and if you never love you
don't know the joy of loving.
God is love –
Loving is Godly –
We were created for this –
created in the image
and likeness of God –
Joy comes in loving –
giving – going out
in sacrifice and
kindness –
The more one does not love
the more self-centered
they become –
even caved-in
Bad habits
selfishness, pride, jealousy,
envy etc.
Loving is really its own
reward – in joy and happiness,
nothing else compares
to this.
And God tells us to love our
enemies –
not make enemies in
our hearts by the
bad habits of the
deadly sins –
pride, greed, envy, wrath,
lust, gluttony, and sloth.
Loving people trust God and
others – they are not
isolated and closed in –
Building walls does not make
us happy –
God wants Unity –
God is the Ultimate Truth –
Truth sets you free –
Song; God's Love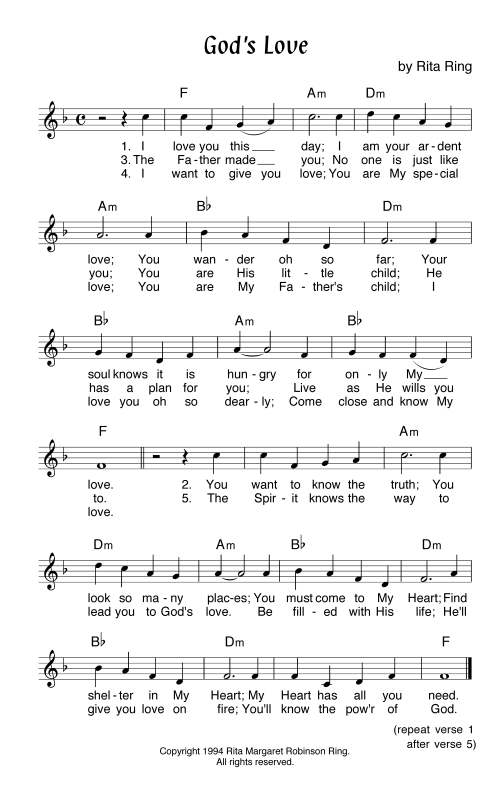 Jesus: Let everything you do be
an act of love – You can
operate for your selfishness
or you can operate in
actions of love as I
act in you and spread
My Kingdom –
Why do you act –
for yourself or
for love???
From The Spiritual Exercises of St. Ignatius, by Louis J. Puhl, S.J. p.12
23. FIRST PRINCIPLE AND FOUNDATION
Man is created to praise, reverence and serve God
our Lord, and by this means to save his soul.
From The Spiritual Exercises of St. Ignatius, by Louis J. Puhl, S.J. p.11

21. SPIRITUAL EXERCISES

Which have as their purpose the conquest of self
and the regulation of one's life in such a way that
no decision is made under the influence of any
inordinate attachment
R. Let go of the inordinate
attachments this Lent –
Operate to love –
Operate for the honor and glory
of God –
See others in love –
Do what you do as I love
them through you –
Quit your selfishness –
Operate in love –
Love isn't love until you give it away.
You won't experience the
joy of loving others
until you do it.
Get out of the way!
Song: Give Me Your Heart oh Jesus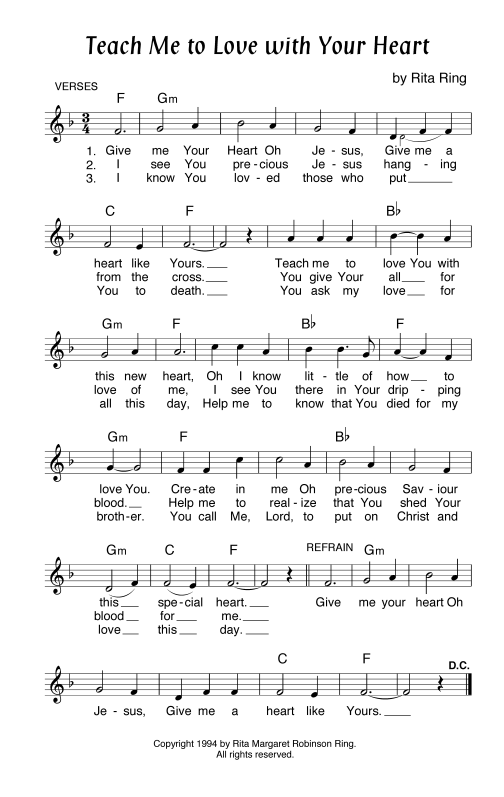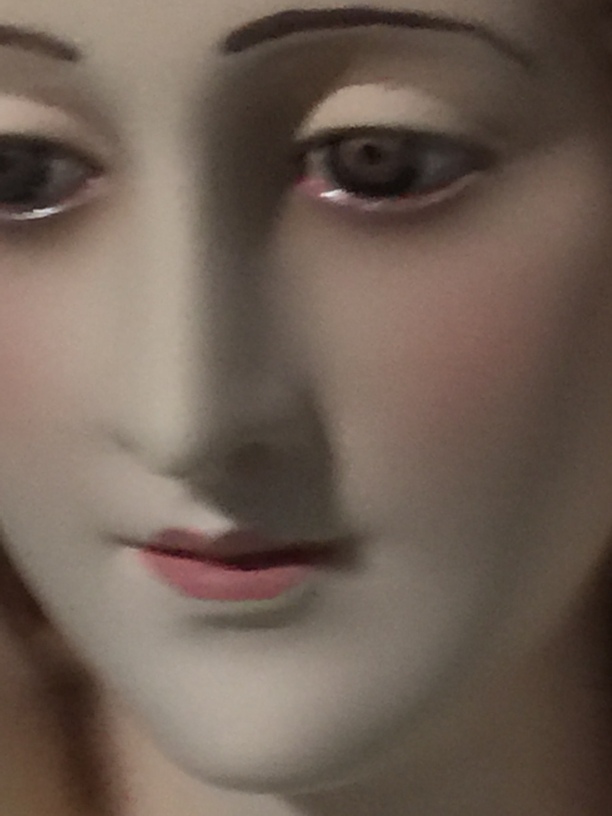 February 18, 2021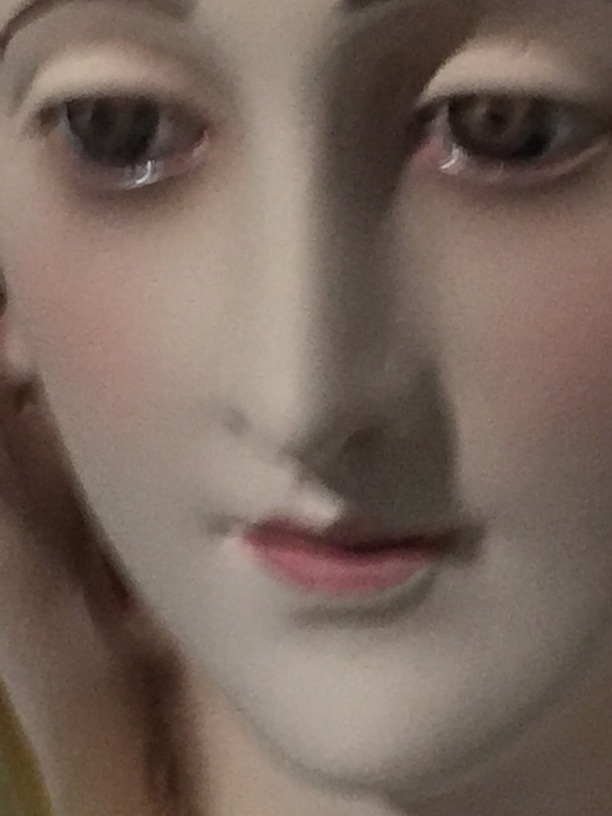 February 18, 2021
February 18, 2021

Mary: Do what you do out of love.
Many put themselves first and it becomes such a habit.
Selfishness is not Godly.

Do what you do for love.
Love brings happiness you only know when you love. In forgiving you give love.

Selfishness brings unhappiness, you are caved-in.
Some people never know what it is to give in love because they never try it.

My soul doth magnify the Lord, and my spirit rejoices in God my Savior.

I am Mary, Mother of love,
Come and dwell in my heart.
I give you my Motherly love.
Give yourself in love.

Love your brothers, ask for the grace to love them.
See them with love.


John 3: 16

For this is how God loved the world:
he gave his only Son,
so that everyone who believes in him
may not perish
but may have eternal life.

R. God loved us first.

The Father loved us into existence.

Love never dies.
Love is eternal.

It spreads to others - God is behind it.
If we love, God gives us this grace to love.

Mary: Be grateful.

I am your Mother of Love.

Love gives!!!!
Experience the joy.
Be obedient to the Father's will.
Live in love.
Live in happiness.

Love brings peace.
I am the Queen of Peace.

R. 3 mountains

Suffering – Mt. Moriah where Abraham was to take Isaac.

Ecstasy – Mt. Tabor where Jesus appeared transfigured.

Calvary where Jesus died.

Death / Resurrection

Calvary / Mt. Tabor

Jesus only once showed them the glory on Mt. Tabor before His death.

The voice of the Father was heard "This is My beloved Son in whom I am well pleased."

Now we are to help build the Kingdom of God.
It is a Kingdom of love.

Our arms are hearts of love.
Open your hearts to God!!

Ecstasy

The teacher wants the student to learn. He teaches and they must apply themselves.

Jesus called Himself the teacher after Mary appeared in Clearwater.
Without the eyes of faith, some do not open up to absorb His teachings here, even after Mary appeared as she did in Clearwater.

To some nothing will ever be enough - what a loss.




..."thy Kingdom come, thy will be done, on earth as it is in heaven."

R. Our King does not rule with guns, but with love.
He gives us our life to love, know and serve Him.

He has all the power, His Kingdom is not of this world.

Jesus, King of the Jews.
His bed was a bed of wood dying on the cross.

Thy Kingdom come...
The Kingdom of love.

Of forgiveness.

We want to live in the heavenly kingdom forever and hope to help others to go there too.
Thy Kingdom come.
February 17, 2021 - From Ash Wednesday early morning
R. God is in perfect order –
When Adam and Eve sinned disorder
entered the world.
When satan has tempted a person
to sin and they disobey just
authority over them, they
act in disorder.
Adam and Eve sinned, disorder
entered the world.
The world was in perfect order –
then there was disorder in the
elements, in the animals, fish,
Adam and Eve, because sin
brings disorder.
Justice is proper order –
God is Divinely Just –
Song: I am a God of Justice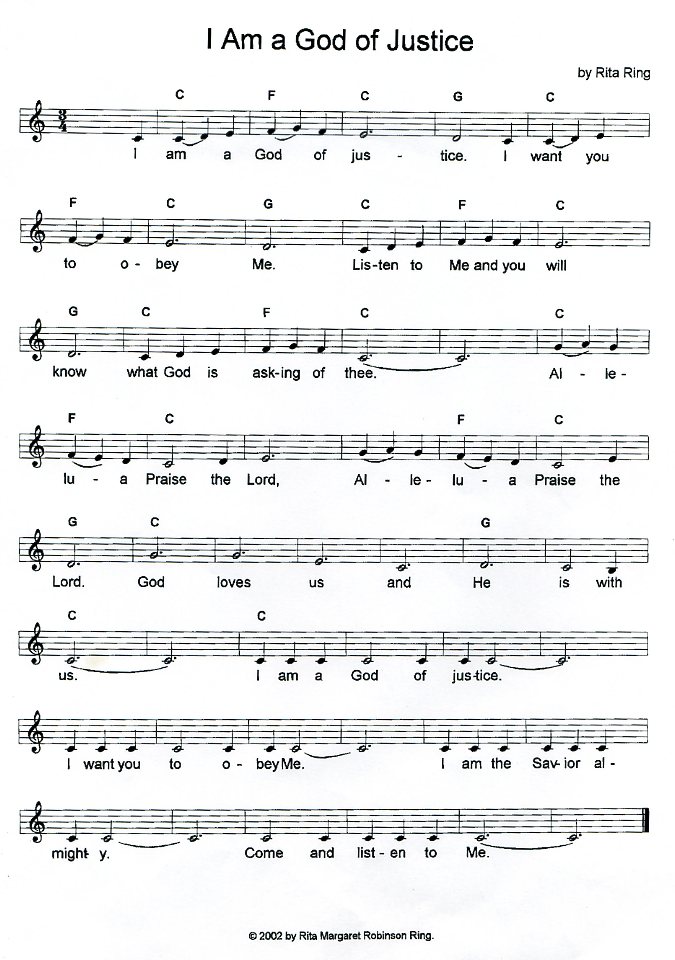 R. Fortitude strengthens the
will.
We have a choice to obey
God's will or disobey
God's will –
Adam and Eve disobeyed God's
will – this brought disorder
to the perfect, orderly
world God created.
God gifts us with the
infused virtues –
Love is a virtue –
The devil is hate –
Justice helps us give to
God what is his due.
Here on earth we hope to
attain heaven –
In heaven we don't need to
hope – we possess God.
The sinners in hell have
rejected God forever
they do not have hope
in hell.
In heaven we love God
eternally - seeing God
face to face in the
beatific vision we
are full of life.
The is no love in hell.
1 Corinthians 13: 4-8, 13
Love is always patient and kind; love is never jealous; love is not boastful or conceited, it is never rude and never seeks its own advantage, it does not take offence or store up grievances. Love does not rejoice at wrongdoing, but finds its joy in the truth. It is always ready to make allowances, to trust, to hope and to endure whatever comes.

Love never comes to an end.

As it is, these remain: faith, hope and love, the three of them; and the greatest of them is love.