If you can help, we need donations.

Pray for Fr. Joe & Fr. Mike
Pray for Special Intention.


Prayer for Grace for our Country

Dear Father united to Jesus in the Holy Sacrifice of the Mass, the Sacrifice of Calvary sacramentally made present, celebrated around the world, in the Holy Spirit. We offer up all we do united to the Mass. We unite in one mind and one heart as members of the mystical body of Christ, with Christ our head in the pure and holy Hearts of Jesus and Mary, through the powerful intercession of Mary with all the angels and saints and souls in purgatory, and we beg for the saving grace, for our country, the United States. Please help us. We further pray for unity to always do the will of God in love. We spread the Blood of Jesus on the leaders and people of the United States and cast the devil into hell. We consecrate our country to the Sacred Heart and Immaculate Heart and all our dioceses, and beg for an outpouring of the Holy Spirit. God help us. We pray for our families, the priests, the Church and the world. In the Name of Jesus please hear us, we pray. We pray for our president and leaders. We pray that we are united as one nation under God to work together in love as God wants.

A Prayer for Intimacy with the Lamb, the Bridegroom of the Soul

Oh Lamb of God, Who take away the sins of the world, come and act on my soul most intimately. I surrender myself, as I ask for the grace to let go, to just be as I exist in You and You act most intimately on my soul. You are the Initiator. I am the soul waiting Your favors as You act in me. I love You. I adore You. I worship You. Come and possess my soul with Your Divine Grace, as I experience You most intimately.
February 19, 2021
R. Come Holy Spirit fill us with
Your fire of love. Move in
us like a Divine breath that
we understand more and more
how God loves us and wants
us to know this.
Satan lies – A person can
hear all day messages from the
past - how he is not loveable –
day long – then when someone
enters, the person being empty in
love of self as created by God,
they can accuse an innocent other
of their unhappiness.
24/7 God loves us. God wants
us to be filled in our spirit
to give love, encouragement
to others.
Year after year, day after
day, hour after hour a person
can hear old voices of parents
and care-takers that did not
honor them as they deserved or
did not respect them and love
them as they should or encourage
them as they deserved. And
these voices can stop the person
knowing they are loveable.
Jesus gives us these Blue Books,
letters of love from Him to
us. He wants us to be a full
well, to count on the truth –
we are so loved by God and
He wants us to live like obedient
children of our heavenly Father.
We hear the prodigal son parable
and we see how the father loved
his son and wanted him home.
God put us here to help build
the Kingdom of God – to love our brothers,
to walk humbly – to live by His
will – we can trust God and
trust-worthy others God put
in our lives to lead us to Him.
The devil wants to stamp
out love – give lies, make us
disordered, lust-ful, angry,
prideful, jealous.
God wants us to know
harmony in living by the
truth. Jesus is the way,
the truth and the life.
In Lent we stop and see
how we need to be filled
more and more by God –
so we are not an empty
well –
When our body is exhausted
we don't feel good when our
energy is spent. We need water,
oxygen, food, rest etc.
The spirit shouldn't be
empty of faith, of God –
operating like a car out of
gas.
What voices of love and
encouragement play in our
minds 24/7.
How many years have
we taken stock of the
messages we send ourselves
about ourselves.
Unless a well has water
it can't give any.
Is the spirit with-in battling
sounds – 'I'm not loveable or
I always get treated this way!
And its their fault I feel bad.'
How do we talk to ourselves
about ourselves?
Fear drives out love –
Do we see how God has
taken care of us despite
many tapes of negativity
we may have played for years?
God calls us to love. To
love we need to know love –
How can you know how happy
an experience of loving can
be unless you do it?
We need Jesus to fill our
hearts and listen to the
truth about His love –
The Blue Books tell us the
truth about His love – They
are love letters from Him
to us.
We need to be filled more
and more with Him – He
is love. We need to open
our hearts to love and know
others will disappoint and
hurt us. That's okay we can ask
God to love them anyway.
Ask God to help us forgive them –
and be as He wants us to be –
Loving God, others and ourselves.
Love finds a way. People
will disappoint us, but we
need each other, we need to
try to work together as God
wills us to do.
Doing God's will – seeking God's
will – living in truth as God
wills.
Jesus is the Bridegroom of
our soul –
God loves us so much.
Jesus came to this earth
and lived and died and rose
so we could live –
What love is this –
Open the Blue Book anywhere.
I opened Blue Book 19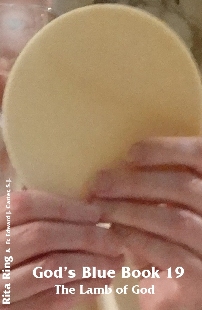 Excerpt from Blue Book 19
April 1, 1997 continues

Jesus:
You must be constantly motivated by faith. It comes down to this – it is your belief. For, if I call you and you do not hear Me, then My work will not get done. For I am calling you and you can plug up your ears, but souls are being lost at this very moment that you can be helping through your faith. You must have fervor in your prayers. end of excerpt
Genesis 22: 15-18
The angel of Yahweh called Abraham a second time from heaven. 'I swear by my own self, Yahweh declares, that because you have done this, because you have not refused me your own beloved son, I will shower blessings on you and make your descendants as numerous as the stars of heaven and the grains of sand on the seashore. Your descendants will gain possession of the gates of their enemies. All nations on earth will bless themselves by your descendants, because you
have obeyed my command.'

Excerpt from May 24, 1998 Rosary
R. ...What He wants is the salvation of souls. And what is so beautiful is that we do not even know this is happening inside of our soul. But because we are united to Him, our Bridegroom, in this intimate way, His desires become our desires. Not an exchange of words that may occur when I receive Him at the Eucharist, it is: we become more one in Him. And His desires are the desires of our heart. His love for His Mother is helping us to love His Mother more because we are becoming one in Him.

And more than the things of the earth that we used to crave, since we are becoming intimately united to Him, the things in our heart that we crave, are the things that God wants for this earth. Now look at yourself. He wants us to be interceding to the Father for the graces that we need for our family. We pray united to the Holy Sacrifice of the Mass. So before my eyes I see somewhere in this world at this moment the priest raising the Host at the Consecration of the Mass and I want to be there in the deepest union united in the heart of that priest, united in the Hearts of Jesus and Mary in such oneness with Jesus in the Holy Sacrifice of the Mass pleading to God the Father for grace.

I feel the union of myself in the Sacrifice with the priest. I feel the union of myself in this Sacrifice with Jesus that I am one in this Sacrifice offering myself to the Father and in this I feel the oneness of myself to the Father for He has united my soul to God: Father, Son and Holy Spirit. I am one with God. And I know that in this great oneness that the petitions that we pray here will be heard.

We are one in the Holy Sacrifice of the Mass going on right now. The prayers that we pray here, when we go to the Immaculate Heart of our Mother, will make a difference to this world. That He is leading us here, especially in the Shepherds of Christ into such intimacy with Him. That when we intercede to Him that great grace will be released, pray united.

I pray for the Reign of the Sacred Heart and the triumph of Mary's heart and for the souls. We pray united to the Mass. I want the Father's will on earth as it is in heaven. This is His message. We consecrate our hearts to Jesus and Mary. We are becoming more one in Him and He is living in us in a more intimate way. We have put on Christ and we can say more and more as St. Paul says,

...I have been crucified with Christ and yet I am alive; yet it is no longer I, but Christ living in me.
Galatians 2: 19-20
I would like to read what He gave to me on Ascension Thursday but I'll wait until that mystery. And then I would like to read what I got this Ascension Thursday, three years later from Him shouting out loud "I am alive. I am alive. I am alive." And He is treated as a dead object in many cases.
We have gone to Him in the openness. We have laid ourselves bare. We have shown Him our faults. We have shown each other our faults in this Movement. We have skinned our knees. But it is in the desire to please God, we have tried to let God work within us to change us. We are merging more in oneness as we die to our imperfections. We can all lay our arms open as Christ did on the cross and say, "We are sinners but we want to be like Him." We come here to serve. We come here to love. We know that we are imperfect indeed. We know that we can go deeply into the heart of our Mother and then go into the Heart of Jesus. We have been trained by Christ that we can say,
...I have been crucified with Christ and yet I am alive; yet it is no longer I, but Christ living in me.
Galatians 2: 19-20
Song:
Be Not Afraid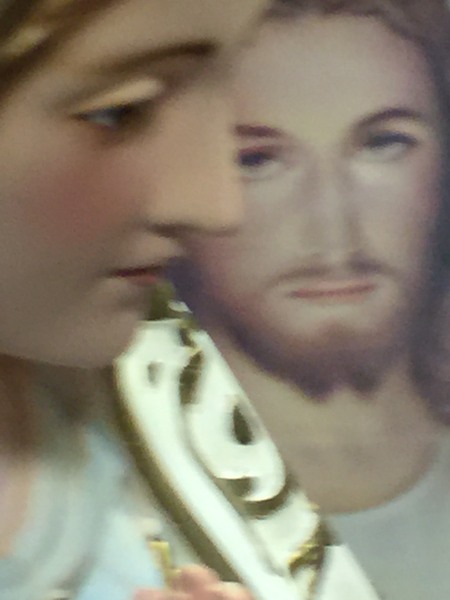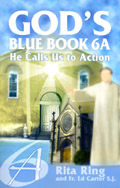 Prayer for Union with Jesus (Excerpt)
When I worry, I have taken my focus off of You and placed it on myself. Help me not to give in to the promptings of others to change what in my heart You are making very clear to me. I worship You, I adore You and I love You. Come and dwell in me now.

-God's Blue Book, January 17, 1994
I LOVE YOU
Love
Jesus
January 5, 1995 - Before the Exposed Eucharist after Communion

The Church is the Body of Christ (excerpt)

R. The Spirit fills my soul, God's presence pervades my soul, I am alive with His life, it is the life of the one true God.

Full, Full of life God fills me with this life more and more. I become one in Him, where I was lost and afraid, I am filled more with His life, permeating my very being.

Oh God I love you —

Who am I that you come and dwell in me?

I was filled with the Spirit. I was filled with God's love. Mary was filled with the Spirit, when she proclaimed the Magnificat. My soul is filled with His life and I sing the song of the soul.

Luke 1: 46-49

And Mary said:

My soul proclaims
the greatness of the Lord
and my spirit rejoices
in God my Saviour;
because he has looked upon
the humiliation of his servant.
Yes, from now onwards
all generations will call me blessed,
for the Almighty
has done great things for me.
Holy is his name,

R. We can put up with rejection –
look what they did to Jesus.
Love isn't love until you
give it away.
God wants a deep love-union
with Him. We were created
for this.
Nothing else satisfies us –
1 John 4: 20
Anyone who says 'I love God' and hates his brother, is a liar, since whoever does not love the brother whom he can see cannot love God whom he has not seen.
R. The Pascal Mystery
Fr. Carter says
Death / Resurrection
"Jesus was always in
a process of passing over,
passing back to the Father."
Jesus' death was the passing away
to resurrection.
"The death marked the final
mortal act of Jesus. It
was the final act of His
earth-bound life in
which He would conform
His will in love to His
Father's will. His death was
an act of final pouring out
of Himself. It was His final
libation, His final kenosis –
His final self-emptying in love.
All the acts of His life previous
to Calvary participated in this
culmination of final kenosis
which was His death. All through
His life Jesus was undergoing
this emptying out, this giving
of Himself. He was always
giving of Himself, always
concerned about others,
always loving, even though
this meant great suffering
and hardship at times.
Yet Jesus viewed suffering and
hardship very positively. He
always saw it as leading to
greater life. He suffered
as no one else ever has or
ever will suffer, yet He suffered
with dignity, with a perduring
optimism, with a basic peace
of spirit, with a happiness
which could not be extinguished
despite the pain."
August 31, 1994
Don't Be Afraid to Love
Jesus: Don't be afraid to love. I loved until I gave My insides. Give your all in love, this is My way. I supply you with the love inside of you. My love supply is inexhaustible. This is My way, to love unconditionally and to come to God to refurbish your supply. I am consistently on fire for love of you this day. I never go in and out. Your Father still loves you, your Mother loves you, the Holy Spirit loves you! In all your actions, put on Christ. My sweet one, oh how I love you. Come to Me!

Mary: I am Mary, your Mother. Let me hold you tenderly in my arms and caress your little body. I am your most loving Mother. I never leave you, child. I am caressing you now. Come and be joined in Our Hearts, cradled by Our love. Hear the beating of Our Hearts. I am your Mother and thank you for responding to this call.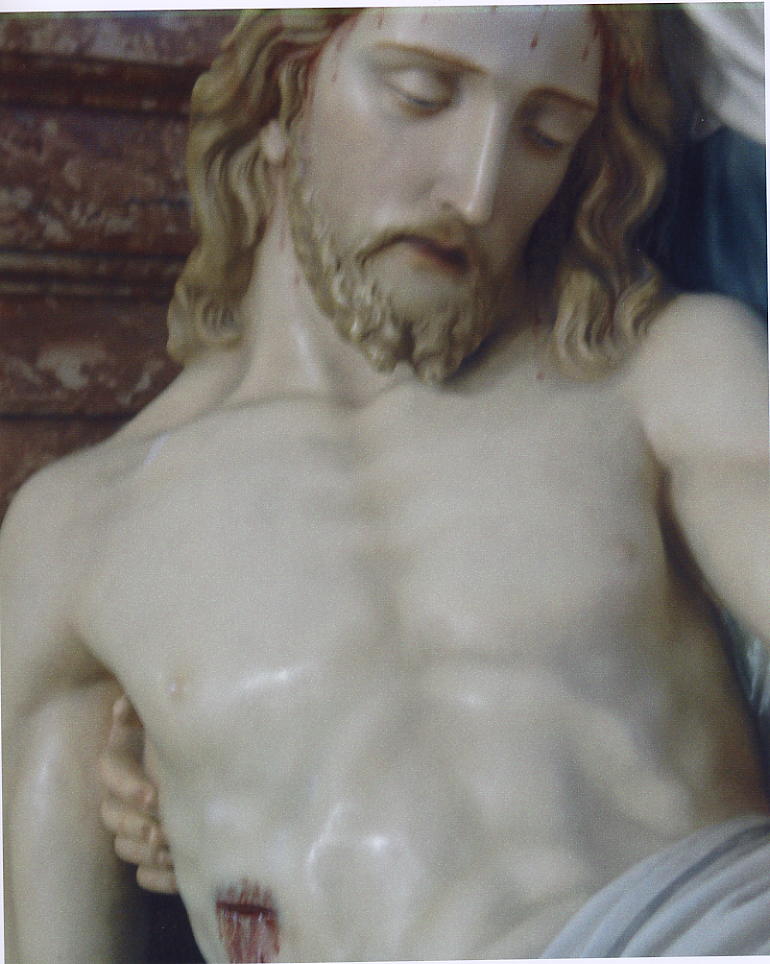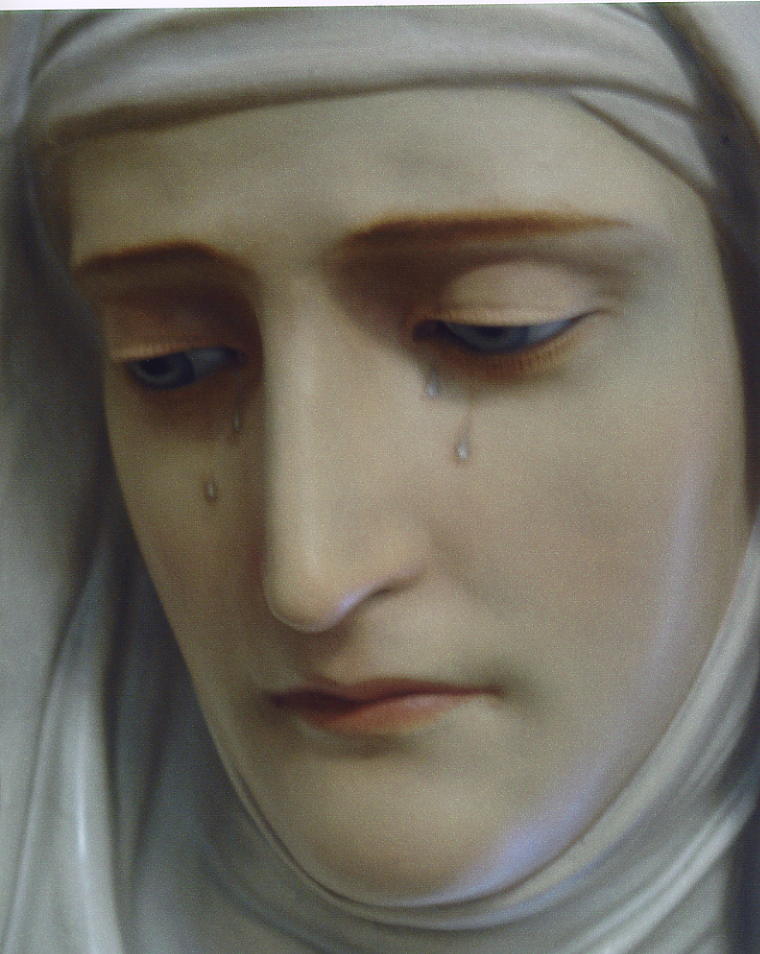 I Died In Peace

August 31, 1993

Jesus: You are hurried. Relax and soak in My peace. Only My peace will quiet you. Your days are full of changes. You are adapting well, but always come back to My peace. Breathe in Jesus, out anxiety and fear. In Jesus, out anxiety. Quiet your mind and focus just on My face. See My sorrowful face, see Me with thorns. Bring yourself back to the Passion. It is because of you and your sins I suffered and died for all My children. How great is My love for you that I would die for love of you. Think of this-that you have a friend Who died for you. Oh, how I love, how I long to be with you to tell you of My infinite love for you. Your human minds cannot even comprehend My Divine love! In your deepest meditation you couldn't come close to all the love I have for you. But you must keep trying to know and feel this love. This is your salvation. This is what sets you free in a world of hate. You can always be drawn back to My love and know it is waiting for you always. It never stops. It is infinite. This is what comforts your troubled soul. When they scorn you and mock you, think of Me loving you. I am the all-perfect love. Always come back to Me. Don't let the world get to you. I am here, with peace, love, joy, rapture, being connected to your heart so divinely. I love you so much! I wish you would totally feel this love the way I want you to.

The only way you can experience Me more is to let go of the world more. In this bustling world, My peace reigns. It is in the quiet of your heart. It is within you and you can stay connected at every moment. You never have to lose this peace no matter what goes on around you. You can be a pillar of peace because I am peace. I am joy. I died in peace and dignity. My peace was not shattered even to death. You can experience this peace if you stay in Me. It is My gift I give you. Remember I was at peace at My death. You are being strengthened in your trials. You are growing in My peace. You are learning not to shatter to anything, that if you stay rooted in Me I never leave you and you remain at peace though the earth be shaking. For I am He Who lives in you. You can have this same consistency, but you must stay so connected to Me every minute, every second. Breathe in Jesus, out fear. Look at My face. It is there for you. Look and see Me, I am your rock. You will not falter or fall on your face. Your heart is rooted in My peace and My love. It is consistent, it is everlasting, it is intense and it is My gift to My children who remain fixed in Me. I love you.
end of excerpt
R. Jesus whole life was a life that was leading to the cross.
His whole life was a life of giving Himself.
His whole life was a life of giving love.
His whole life a life of emptying Himself.

Love is not love until you give it away.
You can only know the joy of loving by experiencing loving given to another.

Jesus gave Himself holding nothing back.




R. The Agony in the Garden shows His compliance to the Father's will, even though He knew all the suffering He would endure.
His greatest suffering was to His Sacred Heart for those who reject Him despite His undaunted love given.

So much so was His suffering
and love given - Jesus sweat Blood.

He emptied Himself and took the nature of a slave, for our sins.

Giving, giving, giving - emptying Himself.
All given for love of others.

How foolish, selfish absorption.
Jesus paid a big price teaching us.
The proud say, I know it all.


This is Divine love - Jesus emptying Himself for our sins - paying the price for loving us so much.

R. Jesus was beaten and beaten for repeated sins over and over again without sorrow or remorse for sin.
Sin offends God.
Jesus paid for the sins of all men.

Afraid of a little shot - look at Jesus.

Look at the fear of dying and so many lost to Corona virus - Mary says souls are being lost to eternal damnation forever.

Thy Kingdom come

Above Jesus on the cross it said
The King of the Jews





R. Jesus died in dignity - in perfect peace on the cross - for love of us - spread His love letters the Blue Books -
Read them - don't waste another day.

R. Jesus was crowned on His head for the pride of men, sins in the head!!

Thinking is for God's honor and glory.
Thinking is to bring greater love of God.
Thinking is to love others by kindness, like Jesus.

Not anger, jealousy, envy, etc

Jesus said yes.

Mary said yes.

R. Jesus carries the cross laden with our sins.
Sins, we commit that are unloving, sins of selfishness,
Cruelty toward one another.

Mary's Message


from the Rosary of August 27, 1996

Mary: I stood beneath the cross of my Son, and my Heart was in such pain for I saw Him before my eyes. I saw Him covered with blood. I saw Him die. My Heart, my children, my Heart to watch my Son, but my Heart, my Heart, how I suffered for my little children of the world that give in to this world and give up the love of my Son. O my little children of light, I give you this message. Carry this light into the darkness for your Mother Mary, for I stood beneath the cross and I cried. I cried for the little ones. I cried for the young ones, the ones that do not care and will lose their souls. How do I make you see for you will not listen to me? What can I do? I come. I appear. I beg. I plead. I give you these gifts from my Son, and you reject me. I do not deliver messages very often anymore for I have been ignored. The message is the same. You do not read the messages I have given to you. Please help me. Help the little children. I appear. I appear. I appear, and I am ignored. I stood beneath the cross, and I cried. I cried, and my Heart was in such anguish for my little children, for I am searching for them this day as I searched for the Child Jesus. Please, please help me. I cannot hold back the hand of my Son any longer. I am Mary, your Mother. I ask you to help my children. You are my children of light.
28 Years Ago

August 23, 1993 - Message from Jesus
On His Passion
Jesus: My dear child,
I was condemned to death, death on a cross. They gave Me a big cross and made Me carry it. They stood around and glared at Me. It weighed on My shoulder and I pulled at it until it finally moved. Every step was almost impossible as I dragged it, weighing so heavily on My shoulders.
My shoulder felt as if the bones inside would crack and the cross would fall through to the ground. I couldn't drag it any more. I tried, I fell. I fell and its weight fell on Me. A guard hit Me with something sharp. It really hurt because he wanted Me to move, and fast! People were watching — on with the show! How dare I fall in the middle of the show! He hit Me again and the blow really stung Me. I got up because it hurt so badly. I tried to walk on.
My Mother was in the crowd. She looked at Me and her face looked red and hurt. Tears rolled down her cheeks like rain and as her eyes met Mine, I was hurt so by her sorrow! She was always by My side, silent and loving. She was My Mother of love! She is always there next to you when you suffer.
I fell again and he (the guard) really hit Me. It (the cross) was so heavy that he and I together could barely move it. It seemed as I walked, heavier with the sins of the world heaped on it. My hands were bleeding. Blood ran from the wounds of My thorns and My head throbbed, seeming to make the wounds in My head bleed even more. Some of the Blood was dried, some of it running all over My Body. I had so many cuts and bruises — and people watched and laughed!
I am Jesus, Son of the Living God, and they laughed and mimicked Me! Oh, such hardened hearts! How vile can men's hearts become? The devil's grip is paralyzing and crippling.
The walk was so long up a hill and over rocks — the cross had to be lifted over the rocks. My Body was bleeding so badly! My Heart was pounding. I knew that the salvation of all men depended on My love. Therefore, I went through such agony.
I thought of My intense love for you — that many would go to heaven because of My suffering — and I continued to the top of the hill. At the top they laid Me on the cross and with a big hammer nailed My hands to it. It was the worst (suffering) yet. My hands were nailed with big nails and the big hammer. Then, as if that weren't enough, with a big nail they nailed through both feet.
Then they lifted the cross and banged it into (a hole in) the ground. My shoulders ached from how I hung. My head bobbed and My neck ached and they laughed and said, "Now save Yourself." I hurt so much! I suffered this way for hours — which seemed like forever — and they glared at Me and laughed! My Mother watched in such agony.
For love of you, to My death I gave you My Body. My child, I shed My Blood and gave you My life that you might be with Me forever in heaven — not for a day, a month or a year, but forever with Me in heaven.
I am the true Bread come down from heaven. He who eats My Flesh will have life forever. For the drink I give you is My Blood and food you eat is My Body. Who would lay down his life for a friend? I did, for you. I love you this much, child. Forget about those who reject you. You have My life that I gave you and I give you life eternal.
I am the One true God. I am the Light of life. He who abides in Me will have life eternal, for the drink I give is My Blood and the food I give is My Body. Drink and eat and have everlasting life.
My child, that is all you need to know. Love one another and be good that you may enter into My Kingdom.
end of excerpt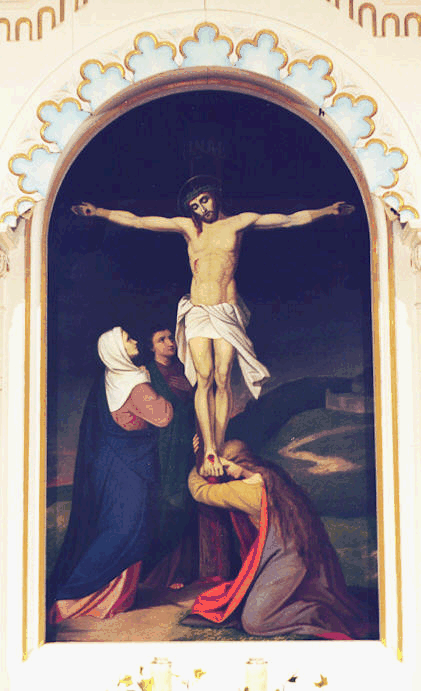 January 2, 1999
Mary: I am Our Lady of Snows. I come to cover the earth with a soft white blanket of my love.
I come to bring peace to the earth. I tell you to let go of the anxiety in your heart and experience my peace and His love.
I am your heavenly Mother. I come to hold you and caress you and take you to my Immaculate Heart.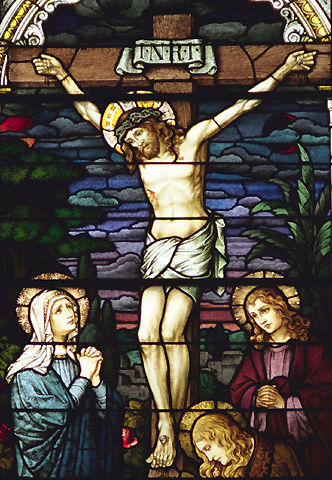 R. We live death - resurrection in our lives - the pascal mystery
We also live Resurrection now. We are meant to experience peace, joy, happiness, and fulfillment in this life also -
Not perfectly as in eternal life, but nevertheless - really.
God wants us to have joy in our lives. This is a participation in resurrection - joy.
Death / Resurrection
We live the life, death and resurrection of Christ in our lives.
Living in the moment, being one in Jesus.
Song: A Song from Jesus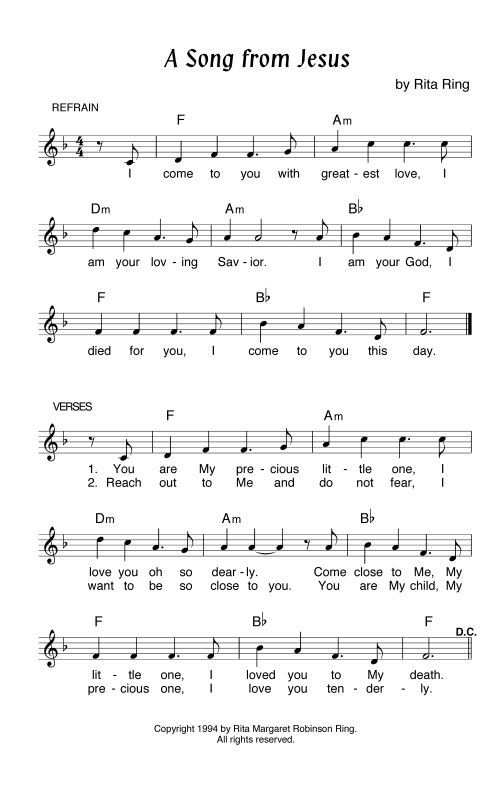 Song: Live This Day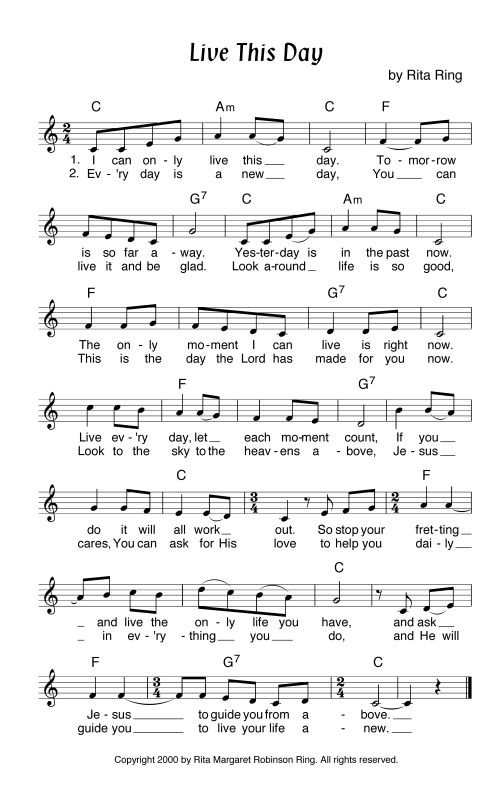 R. Living in the moment being one in Jesus!!
Death/ Resurrection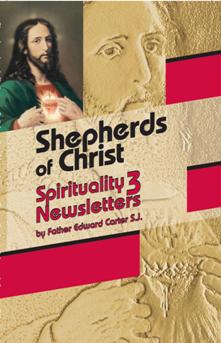 Excerpt from Priestly Newsletter Book III by Fr. Edward J. Carter, S.J.
Prayer (excerpt)
Pope Paul VI on the rosary: "As a Gospel prayer, centered in the mystery of the redemptive Incarnation, the Rosary is therefore a prayer with a clearly Christological orientation—the Jesus that each Hail Mary recalls is the same Jesus Whom the succession of the mysteries proposes to us…By its nature the recitation of the Rosary calls for a quiet rhythm and a lingering pace, helping the individual to meditate on the mysteries of the Lord's life as seen through the eyes of her who was closest to the Lord. In this way the unfathomable riches of these mysteries are unfolded."
49
On May 12, 1982, Pope John Paul II made a pilgrimage to Fatima. One of his motives for his visit was to offer thanks for Mary's intercession in saving his life relative to the assassination attempt a year earlier.

Some fifteen years later in 1997, the Holy Father gave us the following words regarding Fatima. Lynne Weil, a newspaper reporter, gives this account: "Pope John Paul said the series of Marian apparitions at Fatima, Portugal, rank as one of the most significant events of this century.

"The string of apparitions that ended 80 years ago was 'one of the greatest' signs of the times, 'also because it announces in its message many of the signs that followed and it invites (us) to follow their call', the pope said in a letter to Bishop Serafim de Sousa Ferreire Silva of Leiria - Fatima, Portugal. The message, dated October 1, was released at the Vatican October 14 (1997).

"Pope John Paul said the event at Fatima 'helps us to see the hand of God' even in the 20th century, with its wars and other mass tragedies. And it showed that despite having 'removed itself from God', humanity was offered God's protection, the pontiff said.

"Pope John Paul recalled that in Gospel accounts of Jesus' death, he invoked clemency on his captors even as he was being crucified and entrusted humanity to the care of his mother, Mary.

"The pope repeated the exhortation stemming from the Marian apparitions at Fatima that the faithful recite the rosary every day. He asked pastors to recite the rosary, and to teach others to recite it, daily. —CNS"
49. Pope Paul VI, Devotion to the Blessed Virgin Mary (Marialis Cultus), United States Catholic Conference, Nos. 46-47.

Prayer for Union with Jesus
Come to me, Lord, and possess my soul. Come into my heart and permeate my soul. Help me to sit in silence with You and let You work in my heart.

I am Yours to possess. I am Yours to use. I want to be selfless and only exist in You. Help me to spoon out all that is me and be an empty vessel ready to be filled by You. Help me to die to myself and live only for You. Use me as You will. Let me never draw my attention back to myself. I only want to operate as You do, dwelling within me.

I am Yours, Lord. I want to have my life in You. I want to do the will of the Father. Give me the strength to put aside the world and let You operate my very being. Help me to act as You desire. Strengthen me against the distractions of the devil to take me from Your work.

When I worry, I have taken my focus off of You and placed it on myself. Help me not to give in to the promptings of others to change what in my heart You are making very clear to me. I worship You, I adore You and I love You. Come and dwell in me now.

-God's Blue Book, January 17, 1994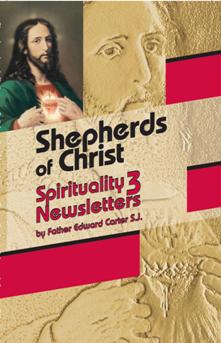 Excerpt from Priestly Newsletter Book III by Fr. Edward J. Carter, S.J.
Growth in the spiritual life entails an ongoing and progressive purification. This purification enables us to grow in union with God as it allows God to increasingly possess us through the Christ-life of grace.
The process of purification takes many forms. It comprises everything which cleanses us more and more of the false self – the self which operates outside of God's will – and which allows the true self, the Christ-like self, to increasingly emerge.
One of the forms of purification is what has traditionally been called asceticism. Asceticism is that active self-purification aimed at helping the divine image in us to be more manifest and operative. Asceticism helps us to become more like the persons God wants us to be.
The Christian must experience an ongoing conversion away from the non-authentic self to a greater Christ-likeness, to greater development of the authentic self. Asceticism is the graced control, the active self-purification, of one's total being.
Christian asceticism is at the service of freedom, of life. In aiding us to be more Christ-like, it helps us be more alive. Far from confining our capacity to live and to enjoy life, asceticism contributes to the ongoing process of our being persons capable of deeper love, and, therefore, capable of greater life. One who practices a reasonable asceticism is not one who is less interested in love and life. Such a person is rather one who is willing to bear with the hardships involved in a reasonable, graced control of one's being with all its various dimensions – intellect, will, memory, emotions, and so forth – so that one may be more alive, more capable of authentic love.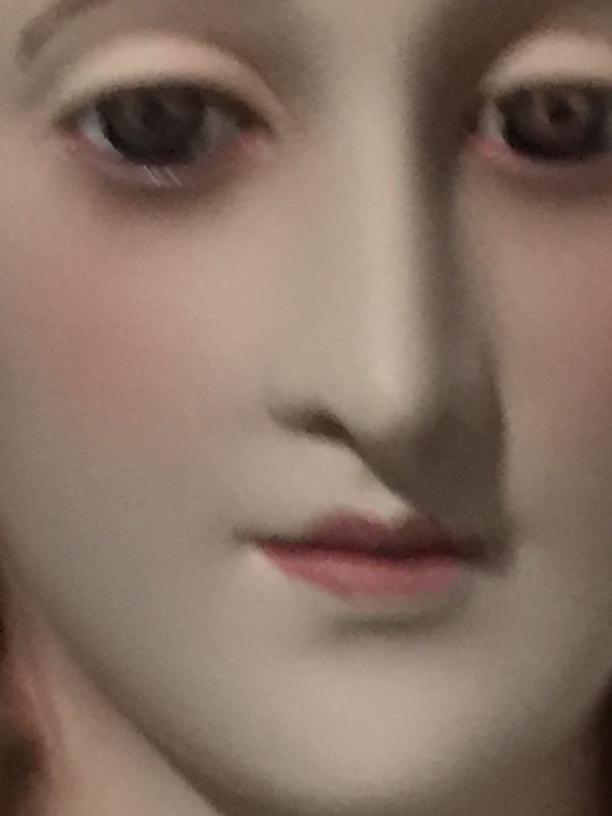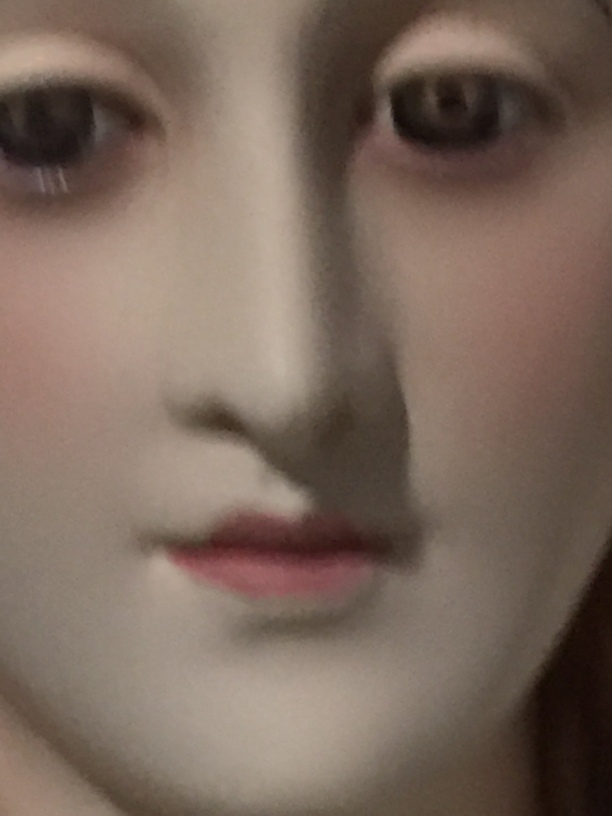 February 19, 2021 Now 1:33 am