If you can help, we need donations.

Pray for Fr. Joe & Fr. Mike
Pray for Special Intention.


Prayer for Grace for our Country

Dear Father united to Jesus in the Holy Sacrifice of the Mass, the Sacrifice of Calvary sacramentally made present, celebrated around the world, in the Holy Spirit. We offer up all we do united to the Mass. We unite in one mind and one heart as members of the mystical body of Christ, with Christ our head in the pure and holy Hearts of Jesus and Mary, through the powerful intercession of Mary with all the angels and saints and souls in purgatory, and we beg for the saving grace, for our country, the United States. Please help us. We further pray for unity to always do the will of God in love. We spread the Blood of Jesus on the leaders and people of the United States and cast the devil into hell. We consecrate our country to the Sacred Heart and Immaculate Heart and all our dioceses, and beg for an outpouring of the Holy Spirit. God help us. We pray for our families, the priests, the Church and the world. In the Name of Jesus please hear us, we pray. We pray for our president and leaders. We pray that we are united as one nation under God to work together in love as God wants.

A Prayer for Intimacy with the Lamb, the Bridegroom of the Soul

Oh Lamb of God, Who take away the sins of the world, come and act on my soul most intimately. I surrender myself, as I ask for the grace to let go, to just be as I exist in You and You act most intimately on my soul. You are the Initiator. I am the soul waiting Your favors as You act in me. I love You. I adore You. I worship You. Come and possess my soul with Your Divine Grace, as I experience You most intimately.
February 21, 2021
Matthew 18: 1-4
At this time the disciples came to Jesus and said, 'Who is the greatest in the kingdom of Heaven?' So he called a little child to him whom he set among them. Then he said, 'In truth I tell you, unless you change and become like little children you will never enter the kingdom of Heaven. And so, the one who makes himself as little as this little
child is the greatest in the kingdom of Heaven.

R. Humble yourself as a little child.
The more child-like we are - the more
our complete reliance is
on God.
The more we die to our selfish
ways, the more we can
live a new life.
A man walled in like a bank vault
with the door locked is in
a real pickle.
We can wall ourselves in, in
imperfect behaviors learned
as survival behaviors from
a dysfunctional childhood.
We need to die to the imperfect ways.
The Sacred Heart picture is usually shown like this: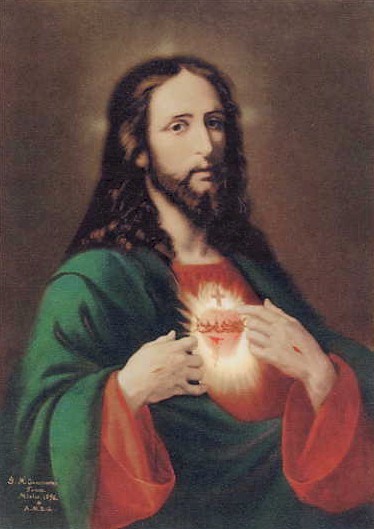 Most Sacred Heart of Jesus
I place my Trust in Thee.
R. Who can we trust if we don't trust
Jesus.
Others who raised us may have come
from wounded families and
struggling themselves –
so they were not treating
us as they should –
behavior patterns develop in
such homes for children to
survive dysfunction.
Matthew 24: 36-51
But as for that day and hour, nobody knows it, neither the angels of heaven, nor the Son, no one but the Father alone.

'As it was in Noah's day, so will it be when the Son of man comes. For in those days before the Flood people were eating, drinking, taking wives, taking husbands, right up to the day Noah went into the ark, and they suspected nothing till the Flood came and swept them all away. This is what it will be like when the Son of man comes. Then of two men in the fields, one is taken, one left; of two women grinding at the mill, one is taken, one left.

So stay awake, because you do not know the day when your master is coming. You may be quite sure of this, that if the householder had known at what time of the night the burglar would come, he would have stayed awake and would not have allowed anyone to break through the wall of his house. Therefore, you too must stand ready because the Son of man is coming at an hour you do not expect.

Parable of the conscientious steward

Who, then, is the wise and trustworthy servant whom the master placed over his household to give them their food at the proper time? Blessed that servant if his master's arrival finds him doing exactly that. In truth I tell you, he will put him in charge of everything he owns. But if the servant is dishonest and says to himself, "My master is taking his time, and sets about beating his fellow–servants and eating and drinking with drunkards, his master will come on a day he does not expect and at an hour he does not know. The master will cut him off and send him to the same fate as the hypocrites, where there will be weeping and grinding of teeth.'
R. We must live each day as if it is
our last.
Living doing God's will, in love,
being the best we can be.
St. Ignatius Spiritual Exercises have this as the
First Principle and Foundation.

From The Spiritual Exercises of St. Ignatius, by Louis J. Puhl, S.J. p.12
23. FIRST PRINCIPLE AND FOUNDATION
Man is created to praise, reverence and serve God
our Lord, and by this means to save his soul.

R. And the Purpose of the Spiritual Exercises.

From The Spiritual Exercises of St. Ignatius,
by Louis J. Puhl, S.J. p.11

21. SPIRITUAL EXERCISES

Which have as their purpose the conquest of self
and the regulation of one's life in such a way that
no decision is made under the influence of any
inordinate attachment

R. God commands us to love God
first and love our neighbor
as ourselves –
There are 3 loves.
(1) Love of God
(2) Love of Neighbor
(3) Love of Self
My ultimate goal is the salvation of
my soul, I can't do that if
I don't love my neighbor.
Not holding back to play a game
with others.
God calls us to be pure –
Jesus lived His life going out –
loving, giving –
He emptied Himself for our
sins.
When some are tempted to live
in pride (not humility)
they can live in games to
be on top –
We don't need games, we need living
in God's will, in love, serving
God the best we can –
our life is lived for His honor
and glory.
When I don't love my neighbor,
I am actually not loving
myself – God commands
us to do so –
Fr. Carter would always say –
"It's not that there is so much
suffering, but so much
of it is wasted."
We had a nursing home ministry –
We would go –
Give them a say daily card –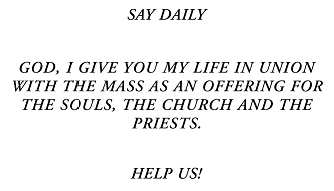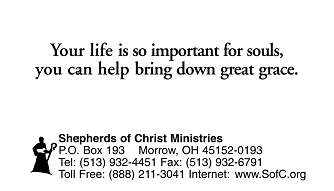 R. Pictures of the Sacred Heart
and Immaculate Heart
and tell them how important
their lives are and how
much God loves them –
I made discs at Mary's
image site with a
decade of the rosary.
We still have them –
The image of Mary would
change in rainbow
colors for each DVD.
Then people would take these
DVDs to the Nursing Homes.
We also had Fr. Mike saying Mass –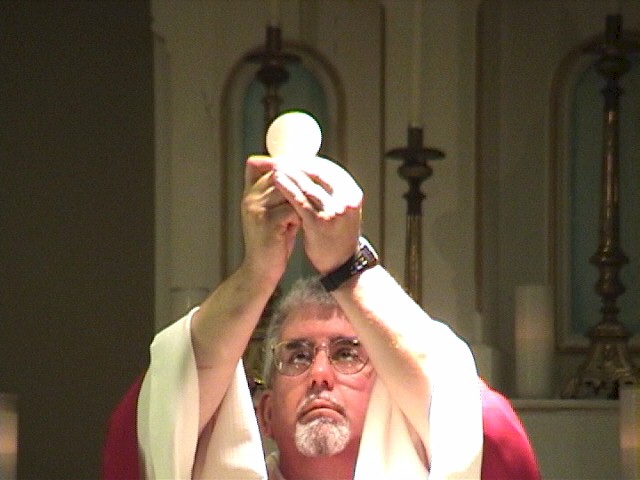 R. One lady dying just was so close to
Jesus and watched Fr. Mike's Mass constantly.
Others would play the Shepherds of Christ
Prayers over and over again.
Fr. Carter would talk about Helen Keller
and say – even in suffering
you can be a productive
human being –
Helen Keller from an early age was
blind, deaf and mute and
she was like this for the
rest of her life!!
We are so blessed.
Fr. Carter wrote a book
The Pain and the Joy –
He talked about escapism –
Where a person in morbid flight
he would say distances themselves
from painful reality –
This can be done in
work –
misery –
abuse –
drink
drugs
food
Numbing oneself out –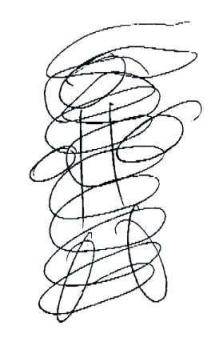 R. Escapism wastes precious moments
we have to live –
It can become a bad behavior
habit.
The Christian Virtues are supernatural
faculties.
We receive a sharing in God's life
in baptism –
We receive the supernatural virtues
of faith, hope and charity in
baptism.
Faith – a new capacity to know –
Our knowing and loving capacity
is elevated in baptism –
All Christian virtues support love –
vision of a goal!!
Faith gives us a new vision of God
and everything in relation to God.
Hope – desire to live according to faith –
We trust God he will give us
what we need –
Our hope is for eternal salvation,
for ourselves and our neighbor.
Love – We live the vision of Faith.
John 3: 16
For this is how God loved the world:
he gave his only Son,
so that everyone who believes in him
may not perish
but may have eternal life.
1 Corinthians 13: 4-8, 13
Love is always patient and kind; love is never jealous; love is not boastful or conceited, it is never rude and never seeks its own advantage, it does not take offence or store up grievances. Love does not rejoice at wrongdoing, but finds its joy in the truth. It is always ready to make allowances, to trust, to hope and to endure whatever comes.

As it is, these remain: faith, hope and love, the three of them; and the greatest of them is love.
John 4: 10
Jesus replied to her:

If you only knew what God is offering
and who it is that is saying to you,
'Give me something to drink,'
you would have been the one to ask,
and he would have given you living water.
R. The Virtue of love as a participation
in God's loving activity.
Supernatural
Baptism is so important because of this.
We share in God's loving activity.
God loved us first –
We have a supernatural loving
capacity because of baptism.

1 Peter 3: 18-22
The resurrection and the descent into hell

Christ himself died once and for all for sins, the upright for the sake of the guilty, to lead us to God. In the body he was put to death, in the spirit he was raised to life, and, in the spirit, he went to preach to the spirits in prison. They refused to believe long ago, while God patiently waited to receive them, in Noah's time when the ark was being built. In it only a few, that is eight souls, were saved through water. It is the baptism corresponding to this water which saves you now—not the washing off of physical dirt but the pledge of a good conscience given to God through the resurrection of Jesus Christ, who has entered heaven and is at God's right hand, with angels, ruling forces and powers subject to him.
R. Clearwater
Sign of the Rainbow
Genesis 9: 8-15
God spoke as follows to Noah and his sons, 'I am now establishing my covenant with you and with your descendants to come, and with every living creature that was with you: birds, cattle and every wild animal with you; everything that came out of the ark, every living thing on earth. And I shall maintain my covenant with you: that never again shall all living things be destroyed by the waters of a flood, nor shall there ever again be a flood to devastate the earth.'

'And this', God said, 'is the sign of the covenant which I now make between myself and you and every living creature with you for all ages to come: I now set my bow in the clouds and it will be the sign of the covenant between me and the earth. When I gather the clouds over the earth and the bow appears in the clouds, I shall recall the covenant between myself and you and every living creature, in a word all living things, and never again will the waters become a flood to destroy all living things.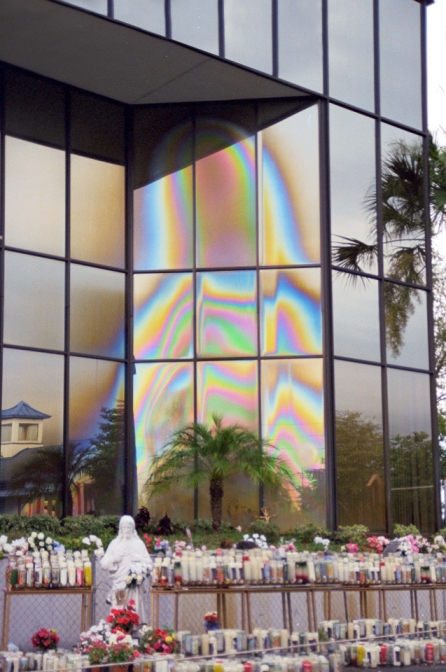 R. Basic ideas of Christian life
(1) Response to God's love
(2) Living Christ-life
(3) Elevation of our human nature –
Our knowing and loving capacity
is elevated in baptism.
(4) Christian life is participation
in God's life.
(5) Christian Life considered as
Life in the Spirit –
Virtues
The virtues are supernatural faculties!
Natural life expresses itself through
intellect and will.
The Divine participation expresses
itself through the Christian virtues.
Participation in God's loving activity.
Love
Response to God's love
(1) Love of God
(2) Love of self
(3) Love of neighbor
friendship
marriage and family
Faith
- Is a participation in God's
knowing activity
- Elevation of human nature –
Faith and love are 2 most
important virtues
The 2 most important faculties of
the human person are
(1) intellect
(2) will
Genesis 1: 27
God created man in the image of himself,
in the image of God he created him,
male and female he created them.

R. The elevation of the intellect
allows us to participate
in God's knowing activity.
The will – participate in
God's willing activities.
Intellect and will allow us to
reflect on God.
The intellect and will are the 2
most important faculties
because they allow us to
reflect on God.
Faith is a virtue – man cannot
know by natural reason –
i.e. Understanding the mystery of the Trinity
and other mysteries.
Hope – gives us the capacity to desire God,
desire to live the life
of faith and trust God.
(1) Desire to live the life of faith.
(2) Trust God!
Trust God will help us!!
Prudence – helps us make right choices
according to God's will.
Justice – (1) to give others their due
(2) we must respect the rights
of others.
(3) cannot harm their good name,
- unless there is good reason.
- a teacher if child is bad.
– Rights of the unborn
Rights of infant in the womb
must be respected.
Rights of society at large.
Fortitude – Courage
Courage to handle the
difficult aspects of life.
Temperance – handle sense pleasure
properly according to God's will.
Humility – is truth
– realization of our creaturehood
and living according to this
realization.
Mary did this perfectly.
She is blessed, but she realized
the greatness of God.

Luke 1: 46-55
And Mary said:

My soul proclaims
the greatness of the Lord
and my spirit rejoices
in God my Saviour;
because he has looked upon
the humiliation of his servant.
Yes, from now onwards
all generations will call me blessed,
for the Almighty
has done great things for me.
Holy is his name,
and his faithful love extends age after age
to those who fear him.
He has used the power of his arm,
he has routed the arrogant of heart.
He has pulled down princes
from their thrones
and raised high the lowly.
He has filled the starving with good things,
sent the rich away empty.
He has come to the help
of Israel his servant,
mindful of his faithful love
—according to the promise
he made to our ancestors—
of his mercy to Abraham
and to his descendants for ever.

R. Humility doesn't mean, I hide
my talents!!
Humility makes me realize
where they came from –
If we do not recognize our gifts – We don't
thank God for our gifts!
Humility is trust
Humility makes me see
what my gifts are and
thank God

makes me see what
is wrong with me,
and needs
improvement
A proud person does not grow.
God resists the proud and gives
grace to the humble.
The gift God offers to the proud is
humility.
The more humble you are, the
stronger you are because
you draw your strength
from Jesus.

2 Corinthians 12: 9-10
but he has answered me, 'My grace is enough for you: for power is at full stretch in weakness.' It is, then, about my weaknesses that I am happiest of all to boast, so that the power of Christ may rest upon me; and that is why I am glad of weaknesses, insults, constraints, persecutions and distress for Christ's sake. For it is when I am weak that I am strong.
Joyful Mysteries
The Annunciation

R. Mary always did the will of the Father.
She loved the will of the Father.
Fr. Carter said does it matter if God asks us to carry a boulder or a pebble.

"Be it done unto me according to Thy Word." Luke 1:38

Humility is truth - recognizing our creaturehood.
Humility is the opposite of pride.
Pride is putting ourselves above God.
Humility is seeing ourselves under God as His creatures He loves so much.
Humility is being what God calls us to be.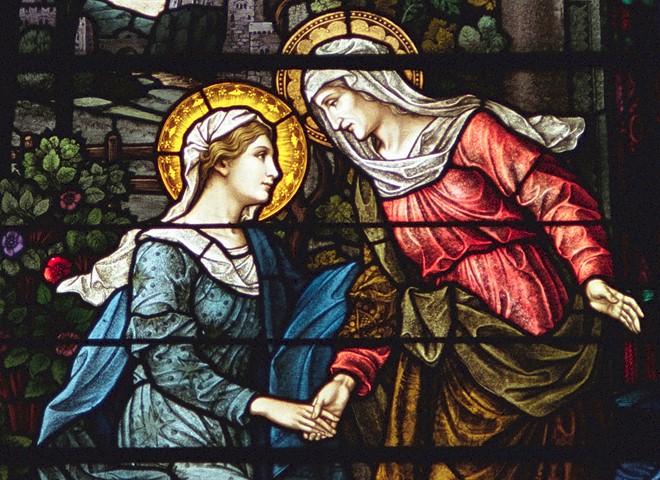 The Visitation
My soul doth magnify the Lord
And my spirit rejoices in God my Savior. Luke 1: 46
R. Mary carried Jesus in her womb.
Jesus is truly present in the Eucharist.
Angels adore God.
Myriads of angels worship before Him.
See with eyes unveiled the gift of the Eucharist now.
Jesus is truly present in His Divinity and humanity in the Eucharist.
Adore Him, Jesus loves us so much to give us the Eucharist.
John 3: 16
For this is how God loved the world:
he gave his only Son,
so that everyone who believes in him
may not perish
but may have eternal life.
R. God wants our love.
Honor God in the Eucharist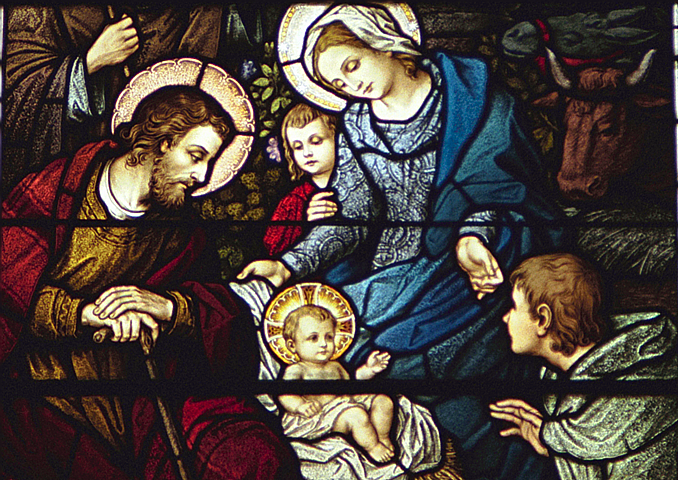 The Birth of Jesus
R. Jesus came a baby.
Jesus lived a little child.
God wants us to walk humbly as little obedient children of God the Father, our Creator.
He has all the power.
He created the heavens and earth from nothing.
Satan wants pride. For a penny of power turn our backs on the Almighty God - Satan says.
We are to live the Chris-life.
Response to God's love.
Justice is giving God and others, what is their do.
Song: I Am a God of Justice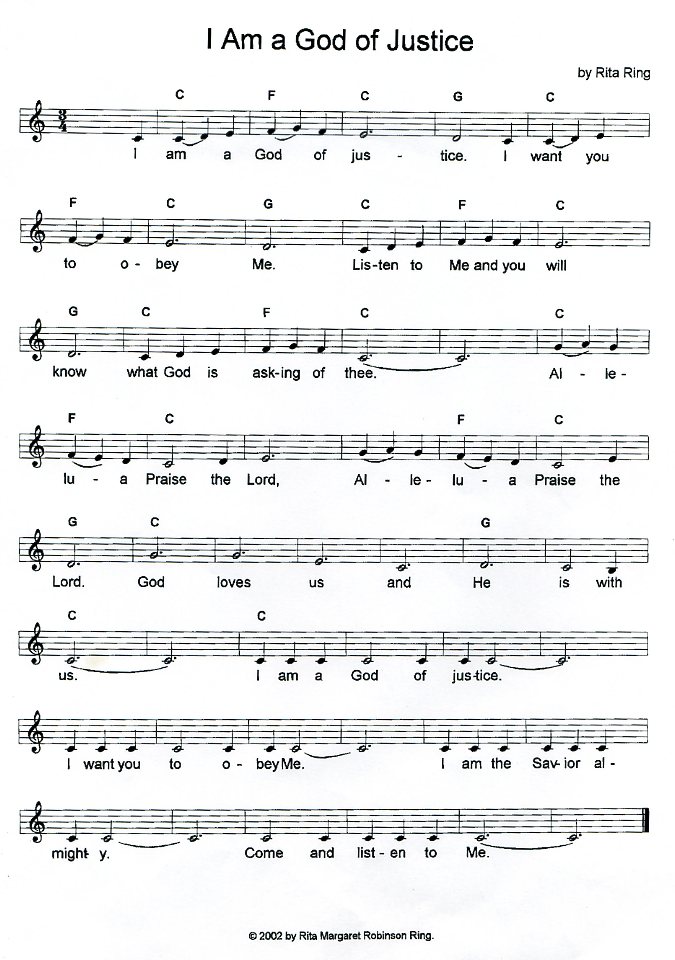 R. We are here to live a life of joy being interiorly one with Jesus.

Sing: Joy to the World

R. Love is its own reward.
We were created for friendship with the Divine God.

Use the Blue Books.

Believe and trust God is faithful to His promise.
Trust!!
Faith!!

Hope!!
Love!!
The incarnation goes on in us!
We were created in the image of God.
Believe and be saved!!


From Tell My People by Fr. Edward J. Carter, S.J.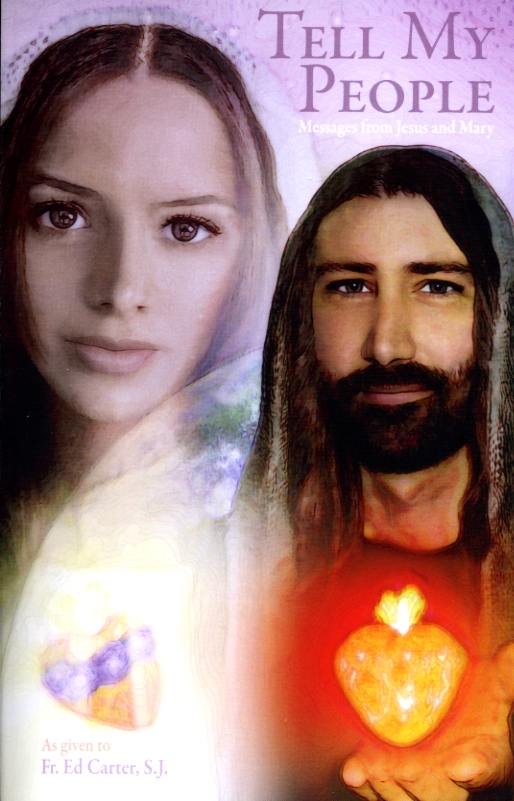 The Holy Spirit
Jesus: "My beloved friend, tell My people to pray daily to the Holy Spirit. They are to pray for an increase in His gifts. My people must realize that the Holy Spirit comes to transform them. The Spirit desires to transform you more and more according to My image. Those who are docile to His touch become increasingly shaped in My likeness. He performs this marvel within Mary's Immaculate Heart. The more one dwells in My Mother's Heart, the more active are the workings of the Spirit. The Spirit leads Mary to place you within My own Heart. In both Our Hearts, then, your transformation continues. The more you are formed after My own Heart, the more I lead you to the bosom of My Father. Tell My people all this. Tell them to pray daily for a greater appreciation of these wondrous gifts. I am Lord and Master. All who come to My Heart will be on fire to receive the gifts of the Spirit in ever greater measure! I love and bless My people!"

Reflection: The Holy Spirit is given to us to fashion us ever more according to the likeness of Jesus. And the more we are like Jesus, the more Jesus leads us to the Father. Do we, each day, pray to the Holy Spirit to be more open to His transforming influence? Do we strive each day to grow in union with Mary? The greater our union with our Mother, the spouse of the Holy Spirit, the greater is the transforming action of the Holy Spirit within us.

Prayer: Come, Holy Spirit, fill us with your gifts of wisdom, understanding, knowledge, counsel, fortitude, piety and fear of the Lord. As we dwell in the Heart of Mary, Your spouse, fashion us more and more according to the Heart of Jesus. end of excerpt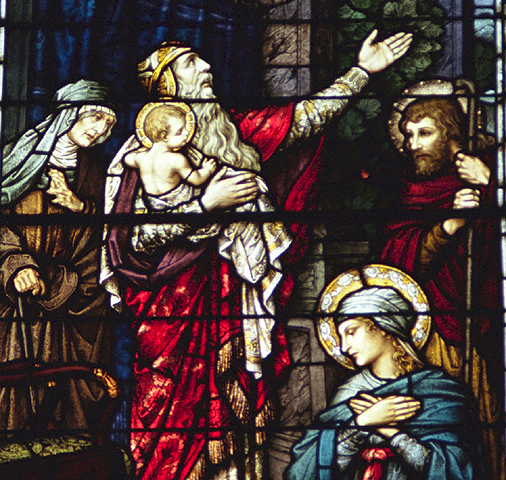 The Presentation
R. Mary suffered.
She brought the little baby Jesus to the temple.
And Simeon told her of the sufferings to come.
A sword too will pierce your heart, oh Mary.
Mary knew suffering.
Mary had to flee from Herod.
Mary knew the 3 days lost in the temple.
Mary saw Jesus' face carrying the cross.
Then she stood under the cross and watched Him die.
She held Him under the cross.
His dead body.
The body of her baby.
He died for our games of unloving ways toward our brothers.
And God watches this unloving petty rebuttals after what Jesus did.
Sing: A Song from Jesus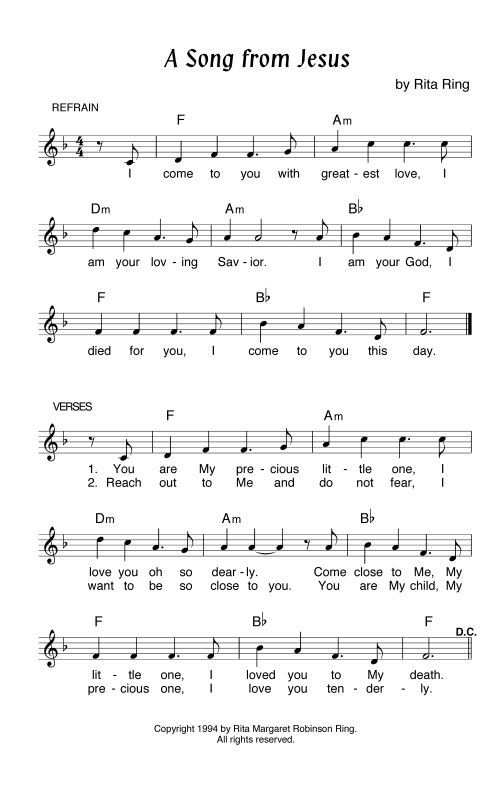 R. Mary knew suffering!!
Mary was perfectly loving despite all this suffering she endured!!
Mary's Message


from the Rosary of August 27, 1996
Mary: I stood beneath the cross of my Son, and my Heart was in such pain for I saw Him before my eyes. I saw Him covered with blood. I saw Him die. My Heart, my children, my Heart to watch my Son, but my Heart, my Heart, how I suffered for my little children of the world that give in to this world and give up the love of my Son. O my little children of light, I give you this message. Carry this light into the darkness for your Mother Mary, for I stood beneath the cross and I cried. I cried for the little ones. I cried for the young ones, the ones that do not care and will lose their souls. How do I make you see for you will not listen to me? What can I do? I come. I appear. I beg. I plead. I give you these gifts from my Son, and you reject me. I do not deliver messages very often anymore for I have been ignored. The message is the same. You do not read the messages I have given to you. Please help me. Help the little children. I appear. I appear. I appear, and I am ignored. I stood beneath the cross, and I cried. I cried, and my Heart was in such anguish for my little children, for I am searching for them this day as I searched for the Child Jesus. Please, please help me. I cannot hold back the hand of my Son any longer. I am Mary, your Mother. I ask you to help my children. You are my children of light.

end of Mary's Message

R. Jesus gave His whole life.
Jesus emptied Himself for love of us.
We are so loved.
We are so blessed.
We are chosen.

Nobody suffered more than Jesus - for our unloving ways.

The Finding of Jesus in the Temple

Mary: I stood beneath the cross of Jesus.

I cry for my little ones going to hell.
Listen to me.
Satan blocks my message here.


February 21, 2021 12:59am

R. Baptism is Clear - water.
God gives us the sign of the rainbow.
Mary, our Mother - Spiritual Mother appeared
to take us to her spiritual womb,
her Immaculate Heart.
The Holy Spirit forms us more and more
in the image of God.
Birthing – Incarnation goes on in us.
Spiritual birthing - from Mary, our Spiritual Mother
and the Holy Spirit.
We are fruit of her Immaculate Heart.
Jesus was the fruit of her womb.
So beautiful!
Baptism – Clear - water.
The sign of the rainbow.
The Covenant God made with Noah.
Our Holy Mother appearing in rainbow color.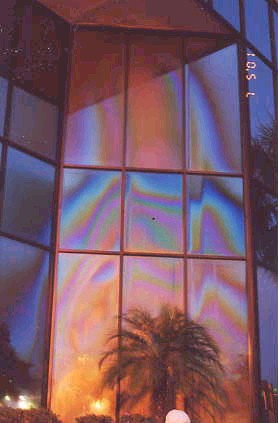 Genesis 9: 8-15
God spoke as follows to Noah and his sons, 'I am now establishing my covenant with you and with your descendants to come, and with every living creature that was with you: birds, cattle and every wild animal with you; everything that came out of the ark, every living thing on earth. And I shall maintain my covenant with you: that never again shall all living things be destroyed by the waters of a flood, nor shall there ever again be a flood to devastate the earth.'

'And this', God said, 'is the sign of the covenant which I now make between myself and you and every living creature with you for all ages to come: I now set my bow in the clouds and it will be the sign of the covenant between me and the earth. When I gather the clouds over the earth and the bow appears in the clouds, I shall recall the covenant between myself and you and every living creature, in a word all living things, and never again will the waters become a flood to destroy all living things.

1 Peter 3: 18-22

The resurrection and the descent into hell

Christ himself died once and for all for sins, the upright for the sake of the guilty, to lead us to God. In the body he was put to death, in the spirit he was raised to life, and, in the spirit, he went to preach to the spirits in prison. They refused to believe long ago, while God patiently waited to receive them, in Noah's time when the ark was being built. In it only a few, that is eight souls, were saved through water. It is the baptism corresponding to this water which saves you now—not the washing off of physical dirt but the pledge of a good conscience given to God through the resurrection of Jesus Christ, who has entered heaven and is at God's right hand, with angels, ruling forces and powers subject to him.


R. Clear - water – Baptism