March 1st - Special Prayer Services
12 - 3; and 6:20pm
Please tune in & pray with us.


If you can help, we need donations.

Pray for Fr. Joe & Fr. Mike
Pray for Special Intention.


Prayer for Grace for our Country

Dear Father united to Jesus in the Holy Sacrifice of the Mass, the Sacrifice of Calvary sacramentally made present, celebrated around the world, in the Holy Spirit. We offer up all we do united to the Mass. We unite in one mind and one heart as members of the mystical body of Christ, with Christ our head in the pure and holy Hearts of Jesus and Mary, through the powerful intercession of Mary with all the angels and saints and souls in purgatory, and we beg for the saving grace, for our country, the United States. Please help us. We further pray for unity to always do the will of God in love. We spread the Blood of Jesus on the leaders and people of the United States and cast the devil into hell. We consecrate our country to the Sacred Heart and Immaculate Heart and all our dioceses, and beg for an outpouring of the Holy Spirit. God help us. We pray for our families, the priests, the Church and the world. In the Name of Jesus please hear us, we pray. We pray for our president and leaders. We pray that we are united as one nation under God to work together in love as God wants.

A Prayer for Intimacy with the Lamb, the Bridegroom of the Soul

Oh Lamb of God, Who take away the sins of the world, come and act on my soul most intimately. I surrender myself, as I ask for the grace to let go, to just be as I exist in You and You act most intimately on my soul. You are the Initiator. I am the soul waiting Your favors as You act in me. I love You. I adore You. I worship You. Come and possess my soul with Your Divine Grace, as I experience You most intimately.
March 1, 2021
R. Dear Jesus,

Circulate

Please help us spread this message, the consecration to the Two Hearts, Jesus.

Our country needs special grace to follow God's will and do what is loving.

Jesus: My child,

Spread the consecration to Our Two Hearts.
Spread the prayers I gave Fr. Carter in the Shepherds of Christ prayer manual.

Do the mailing to spread Blue Book 9, the Mass Book with Imprimatur and the Second Priestly Newsletter Book as I directed you to do.

Spread My prayers and Holy Spirit Novena.

| | | | | | |
| --- | --- | --- | --- | --- | --- |
| English | Español | Français | Português | Italiano | Polska |

Mary: You will not have peace until a sufficient amount of people have consecrated their hearts to the Sacred Heart of Jesus
and my Immaculate Heart.
Consecrate homes, schools, dioceses, churches, places of business, countries, the world all to Our Two Hearts.

Listen to my Son Jesus.
Like the scripture.

The voice of the Father was heard
"This is My beloved Son in whom I am well pleased, Listen to Him." Matthew 17: 5

On this day March 1, 2004, My image head was destroyed in Clear-water by a vandal.

Make reparation to your Heavenly Father.

Tell God you are sorry for the sins of the human race, the rebellion.

Oh my children, Satan is running rampart hurting your children.

I warned at Fatima.
Listen, my little ones.

I am Mary, your mother of love.
Model your lives after Jesus and My life.

Adam and Eve sinned.
Jesus paid the price.
Unite to the Mass all day in the Morning Offerings He gave you for all.

Spread all the prayers and the messages and writings.

I am Mary your Mother.

I am the Immaculate Conception.
I am Our Lady of Fatima in the Americas - Our Lady of Clearwater.

I love you my beloved children.
Jesus loves you so much.

Pray as you have never prayed before.

I love you.

Mary, Queen of heaven and earth,
Queen of Peace.
Joyful Mysteries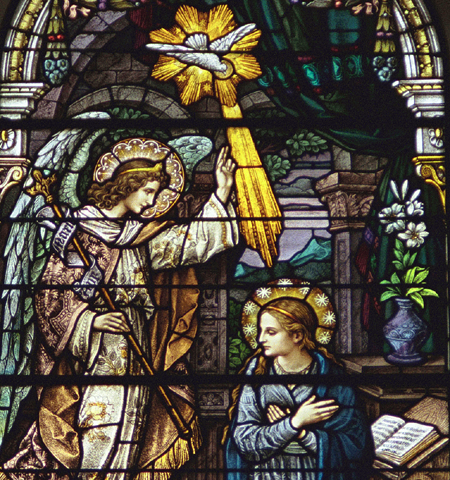 The Annunciation
1. Luke 1: 26-38
In the sixth month the angel Gabriel was sent by God to a town in Galilee called Nazareth, to a virgin betrothed to a man named Joseph, of the House of David; and the virgin's name was Mary. He went in and said to her, 'Rejoice, you who enjoy God's favour! The Lord is with you.' She was deeply disturbed by these words and asked herself what this greeting could mean, but the angel said to her, 'Mary, do not be afraid; you have won God's favour. Look! You are to conceive in your womb and bear a son, and you must name him Jesus. He will be great and will be called Son of the Most High. The Lord God will give him the throne of his ancestor David; he will rule over the House of Jacob for ever and his reign will have no end.' Mary said to the angel, 'But how can this come about, since I have no knowledge of man?' The angel answered, 'The Holy Spirit will come upon you, and the power of the Most High will cover you with its shadow. And so the child will be holy and will be called Son of God. And I tell you this too: your cousin Elizabeth also, in her old age, has conceived a son, and she whom people called barren is now in her sixth month, for nothing is impossible to God.' Mary said, 'You see before you the Lord's servant, let it happen to me as you have said.' And the angel left her.
2. Mary obeyed the Father's will.
3. Mary loved the Father's will.
4. Mary was conceived without sin.
5. Mary is the New Eve.
6. Mary is our Spiritual Mother.
7. Sing: See the Eyes that Look at Mary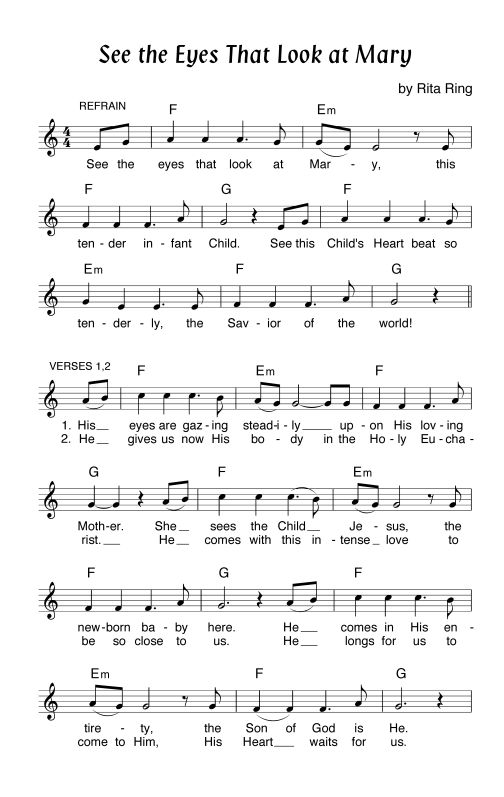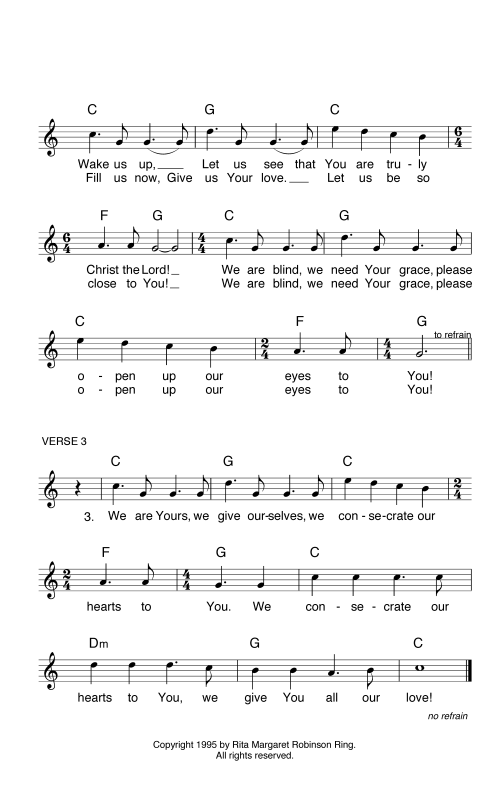 8. Mary wants us to pray the rosary.
9. Mary likes Rosary Novenas: Petition, Days of thanksgiving.
10. Sing: Immaculate Mary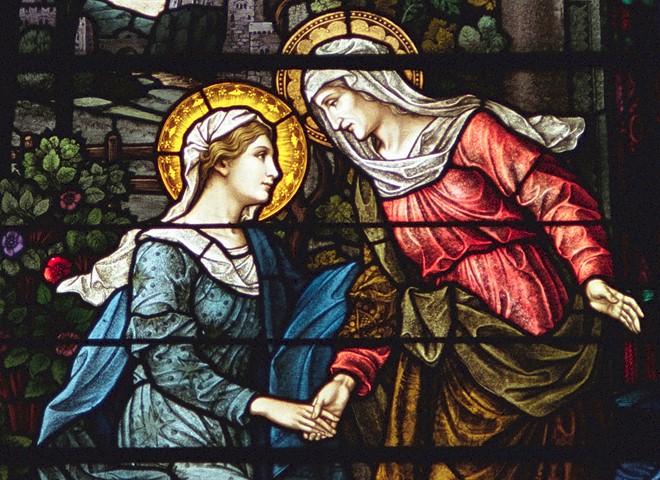 The Visitation
1. Luke 1: 39-45
Mary set out at that time and went as quickly as she could into the hill country to a town in Judah. She went into Zechariah's house and greeted Elizabeth. Now it happened that as soon as Elizabeth heard Mary's greeting, the child leapt in her womb and Elizabeth was filled with the Holy Spirit. She gave a loud cry and said, 'Of all women you are the most blessed, and blessed is the fruit of your womb. Why should I be honoured with a visit from the mother of my Lord? Look, the moment your greeting reached my ears, the child in my womb leapt for joy. Yes, blessed is she who believed that the promise made her by the Lord would be fulfilled.' Yes, blessed is she who believed that the promise made her by the Lord would be fulfilled.'
2. Luke 1: 46-56
And Mary said:

My soul proclaims
the greatness of the Lord
and my spirit rejoices
in God my Saviour;
because he has looked upon
the humiliation of his servant.
Yes, from now onwards
all generations will call me blessed,
for the Almighty
has done great things for me.
Holy is his name,
and his faithful love extends age after age
to those who fear him.
He has used the power of his arm,
he has routed the arrogant of heart.
He has pulled down princes
from their thrones
and raised high the lowly.
He has filled the starving with good things,
sent the rich away empty.
He has come to the help
of Israel his servant,
mindful of his faithful love
—according to the promise
he made to our ancestors—
of his mercy to Abraham
and to his descendants for ever.
Mary stayed with her some three months and then went home.

3. The babe in Elizabeth's womb leapt for joy at the sight of Mary, and Jesus in Mary's womb
4. Sing: The Rosary Song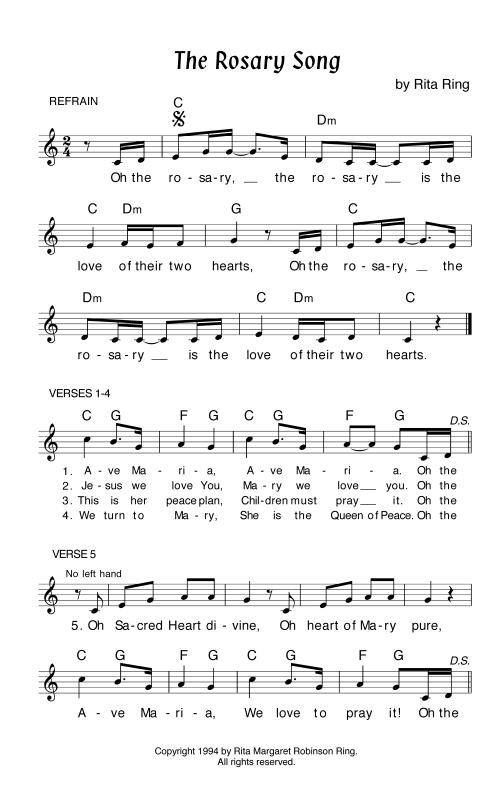 5. Mary has a Peace Plan.
6. Mary tells us to consecrate ourselves, families, homes, the Church and the world to the Sacred Heart and her Immaculate Heart.
7. Mary is the New Eve.
8. Jesus is the New Adam.
9. Jesus gave Fr. Carter prayers to pray, to pray for the priests, the Church and the world.
10 These prayers give devotion to the Sacred Heart and Immaculate Heart.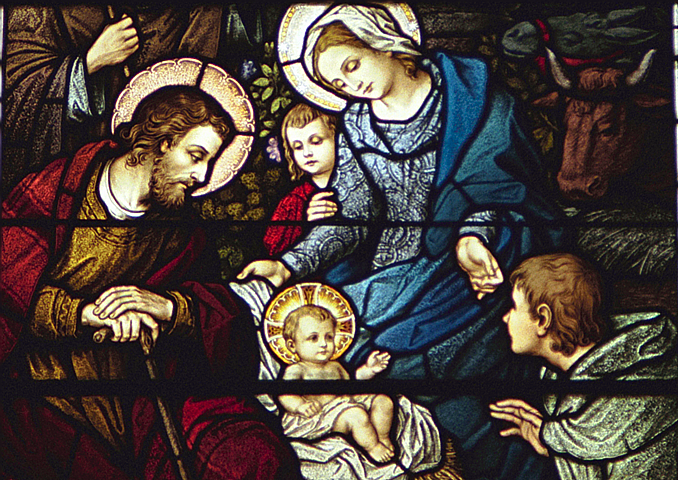 The Birth of Jesus
1. Luke 2:1-7
Now it happened that at this time Caesar Augustus issued a decree that a census should be made of the whole inhabited world. This census—the first—took place while Quirinius was governor of Syria, and everyone went to be registered, each to his own town. So Joseph set out from the town of Nazareth in Galilee for Judaea, to David's town called Bethlehem, since he was of David's House and line, in order to be registered together with Mary, his betrothed, who was with child. Now it happened that, while they were there, the time came for her to have her child, and she gave birth to a son, her first–born. She wrapped him in swaddling clothes and laid him in a manger because there was no room for them in the living–space.

2. Sing: Silent Night
3. Sing: What Child is This
4. Sing: A Song from Jesus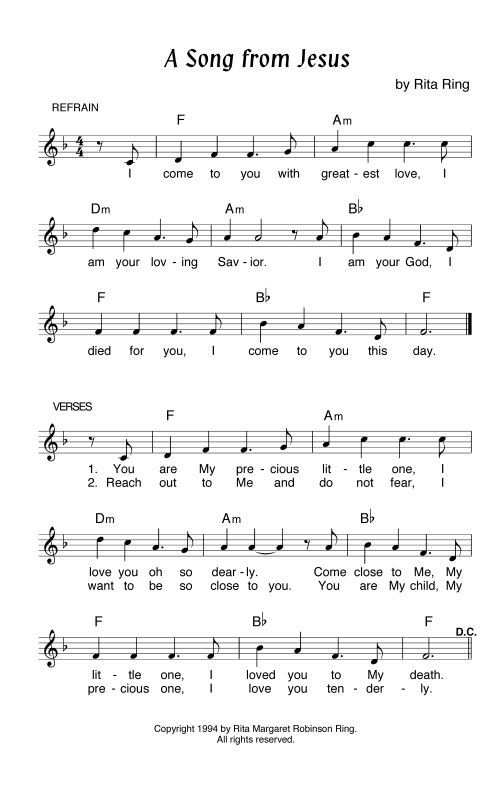 5. We need to open our hearts to Jesus.
6. God wants to dwell in our hearts.
7. We can receive the sacrament of baptism and we have a sharing in His life.
8. God dwells in our graced baptized soul.
9. Father, Son and Holy Spirit dwell in our graced baptized soul.
10. Sing: I Love You Jesus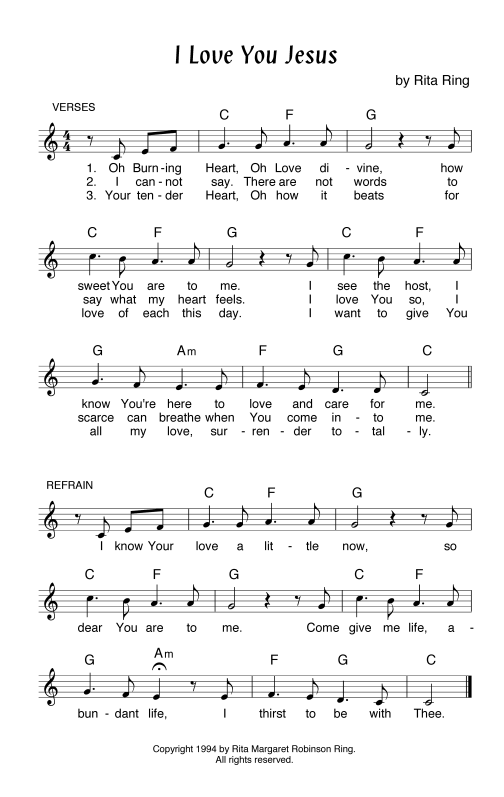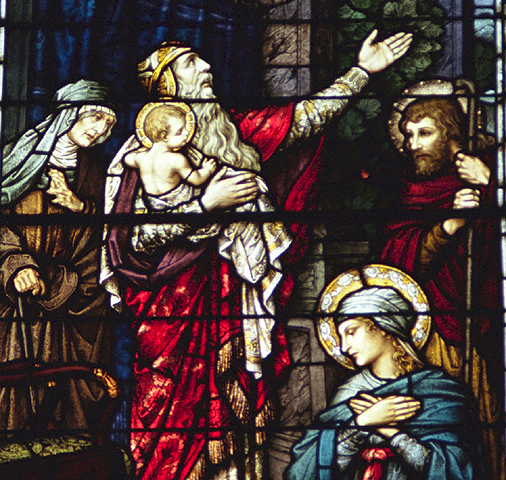 The Presentation
1. Luke 2: 25-34
Now in Jerusalem there was a man named Simeon. He was an upright and devout man; he looked forward to the restoration of Israel and the Holy Spirit rested on him. It had been revealed to him by the Holy Spirit that he would not see death until he had set eyes on the Christ of the Lord. Prompted by the Spirit he came to the Temple; and when the parents brought in the child Jesus to do for him what the Law required, he took him into his arms and blessed God; and he said:

Now, Master, you are letting
your servant go in peace
as you promised;
for my eyes have seen the salvation
which you have made ready
in the sight of the nations;
a light of revelation for the gentiles
and glory for your people Israel.

As the child's father and mother were wondering at the things that were being said about him, Simeon blessed them and said to Mary his mother, 'Look, he is destined for the fall and for the rise of many in Israel, destined to be a sign that is opposed—
2. Sing: Little Baby Hands and Feet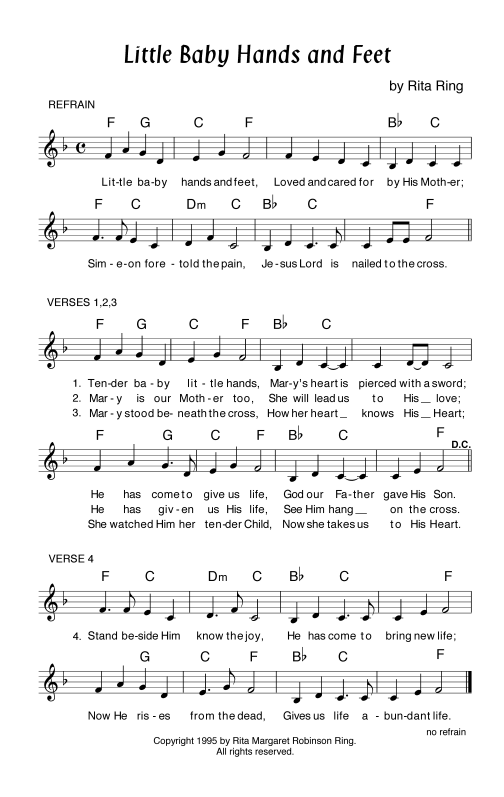 3. From the Parents & Children's Rosary Book
The Seven Sorrows of Mary with Imprimatur.
1. The Prophecy of Simeon
Mary, Joseph and the Child Jesus went to the Temple. Simeon, the prophet, inspired by the Holy Spirit, met them and told Joseph and Mary of the great sufferings of Jesus and Mary. He told Mary that a sword would pierce her heart. From that point on, Mary ever remembered the prophecy of Simeon whenever she beheld her child. When she looked at His little body, even as an infant, she knew He would suffer. Every time she clothed Him and watched Him at play, her heart was torn in her chest as she knew what He would suffer. And a sword, too, shall pierce your heart, O Mary!
4. The Seven Sorrows of Mary with Imprimatur continues
2. The Flight into Egypt
Joseph was told by the angel to flee. Joseph, Mary, and the Child Jesus had to flee because of what might happen to Jesus. They had to pack for a long stay. The Child Jesus was so small! They left on their journey, hearts full of fear, trying to protect Jesus. They were forced to flee into Egypt.
5. The Seven Sorrows of Mary with Imprimatur continues
3. The Loss of the Child Jesus in the Temple
Imagine the sufferings in Mary's heart when she realized the Child Jesus was not with them. Think of how it would be to lose your child and not know where he was or if anything happened to him. With sorrow in their hearts, Mary and Joseph returned to Jerusalem to look for the Child Jesus. And a sword, too, shall pierce your heart, O Mary!
6. The Seven Sorrows of Mary with Imprimatur continues
4. Jesus and Mary Meet on the Way to the Cross
Song: See the eyes that look at Mary
See the eyes of Jesus and Mary as they met on Calvary. Mary's heart knew Jesus' Heart so well! From the first moment of conception and throughout His life, Mary was so connected with Jesus and now she peered into His eyes. The crown of thorns adorned His head! Blood ran down His face! A heavy cross on His back! Wounded, His whole body covered with bleeding wounds! And her whole life flashed before her, the life that she had spent with Jesus. This was the beloved child that she had held in her arms when Simeon told Mary that a sword, too, shall pierce her heart!
7. The Seven Sorrows of Mary with Imprimatur continues
5. Jesus Dies on the Cross
(Silence.)
Mary stood under Jesus' cross as He was put to death. She held in her heart the prophesy of Simeon. "and a sword will pierce your soul too--so that the secret thoughts of many may be laid bare." (Lk. 2:35) See Mary in the Temple with Simeon and Joseph holding the baby in her arms. Now Jesus is dead on the cross! He gave His flesh, He gave His blood so that we might be with Him forever in heaven. He held nothing back. He gave His all. Jesus is with us this day. He remains with us in the Eucharist, no less present than the day that he hung on the cross. He longs for us to come and be with Him. He is in our brother. How can we not love our brother when Jesus died for our brother? Her heart was pierced with a sword. His Heart was pierced with a lance. What came forth was blood and water, the sacramental life of the Church. He lives with us this day in the Church. He gives to us His Sacraments, the source of His life! He gives to us the Sacrament of Penance whereby any sin that we commit can be taken away through the priest. He wants us to be so close to Him! He gives us everything to be close to Him. But we see with such limited vision only those things that are right before our face, when the true reality is that which we don't see with our eyes, the reality of the invisible divinity of Jesus Christ, the Son of God, in the consecrated Host! This is reality! This is our life! This is our power! This is God! And a sword, too, shall pierce your heart, O Mary!
8. The Seven Sorrows of Mary with Imprimatur continues
6. Jesus Is Taken Down from the Cross and Laid in Mary's Arms
If we ever doubted for one second that we were loved, we could visualize the picture of Mary as she sat beneath the cross with the lifeless, battered, bruised and bloodied body of her Son in her arms, the same child that she held when Simeon prophesied her suffering. Jesus gave His last breath. He gave the last beat of His Heart. He gave His all! This is the way He complied with the will of the Father. He came to show us the way. He died in perfect peace. To His death He was in peace because He knew the Father's love. The Father loves us so much that He gave His only begotten Son for love of us! The Spirit descended upon the Virgin Mary and the Word was made flesh! The love of the Two Hearts! Such immense love beating for us! In all love there is suffering. Her Heart was pierced with a sword. His Heart was pierced with a lance. And a sword, too, shall pierce your heart, O Mary!
9. The Seven Sorrows of Mary with Imprimatur continues
7. The Burial of Jesus
The lifeless body of Jesus was locked in the tomb. What cold reality for Mary to realize that His body is now gone! A stone separated her from her Son! He gave His last breath! He gave the last beat of His Heart for love of each one of us! And she comes to us this day with her sweet, beautiful voice and she asks us to go to her Son and love Him! How can we refuse Jesus who spread His arms and gave His life for each and every one of us? How can we not trust Him when He loved us so much that He allowed them to tear His flesh, to crown Him with piercing thorns and, lastly, to hang Him on a cross? He truly gave His life for us! He, truly God, is with us this day, the same as the day He died on the cross, in the tabernacle! And we take it so lightly! Death has no power over Him! Locked in the tomb for three days, He rose triumphant on the third day as He had foretold. He comes to give us life. He gives us the sacrament of Baptism that initiates us into His life, that makes us children of God and heirs of heaven if we remain in the state of grace. He asks two things: love of God and love of one another! He came to show us the way and His way is love. To His death on the cross He loved each one of us! He calls out to each one of us here today to be His soldiers, to march on a world that has forgotten God, that has forgotten what it is like to love! It is a battle to live in this world. But the battle is won with hearts that are filled with His love, empowered by the grace and might that He pours out in the Eucharist. He calls out for us to come to the Eucharist and to the tabernacle and be fed with His very flesh and blood. To feed on Divine Life, the greatest nourishment, the Body and Blood of Jesus Christ, the Son of God! This is the love He gives. This is the love He asks us to share.
10. And a sword too will pierce your heart, oh Mary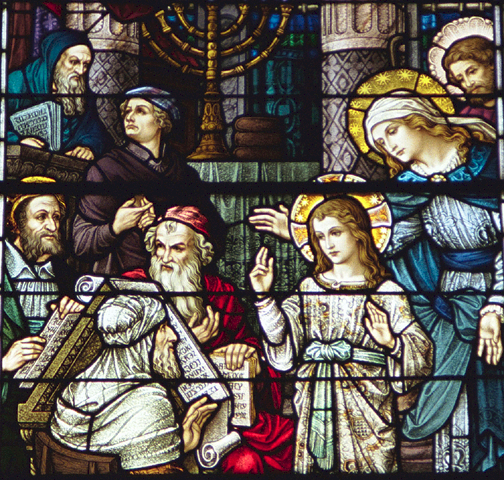 The Finding in the Temple
1. Luke 2: 41-52
Every year his parents used to go to Jerusalem for the feast of the Passover. When he was twelve years old, they went up for the feast as usual. When the days of the feast were over and they set off home, the boy Jesus stayed behind in Jerusalem without his parents knowing it. They assumed he was somewhere in the party, and it was only after a day's journey that they went to look for him among their relations and acquaintances. When they failed to find him they went back to Jerusalem looking for him everywhere.

It happened that, three days later, they found him in the Temple, sitting among the teachers, listening to them, and asking them questions; and all those who heard him were astounded at his intelligence and his replies. They were overcome when they saw him, and his mother said to him, 'My child, why have you done this to us? See how worried your father and I have been, looking for you.' He replied, 'Why were you looking for me? Did you not know that I must be in my Father's house?' But they did not understand what he meant. He went down with them then and came to Nazareth and lived under their authority. His mother stored up all these things in her heart. And Jesus increased in wisdom, in stature, and in favour with God and with people.
2. Mary's Message - from the Rosary of August 27, 1996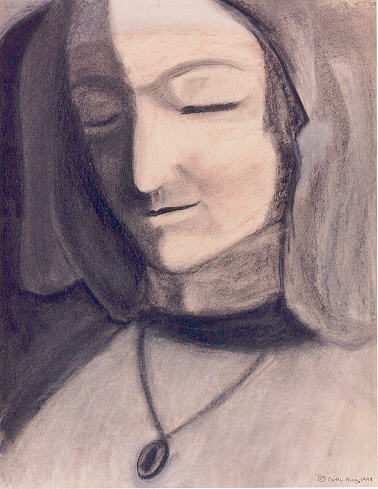 Mary: I stood beneath the cross of my Son, and my Heart was in such pain for I saw Him before my eyes. I saw Him covered with blood. I saw Him die. My Heart, my children, my Heart to watch my Son, but my Heart, my Heart, how I suffered for my little children of the world that give in to this world and give up the love of my Son. O my little children of light, I give you this message. Carry this light into the darkness for your Mother Mary, for I stood beneath the cross and I cried. I cried for the little ones. I cried for the young ones, the ones that do not care and will lose their souls. How do I make you see for you will not listen to me? What can I do? I come. I appear. I beg. I plead. I give you these gifts from my Son, and you reject me. I do not deliver messages very often anymore for I have been ignored. The message is the same. You do not read the messages I have given to you. Please help me. Help the little children. I appear. I appear. I appear, and I am ignored. I stood beneath the cross, and I cried. I cried, and my Heart was in such anguish for my little children, for I am searching for them this day as I searched for the Child Jesus. Please, please help me. I cannot hold back the hand of my Son any longer. I am Mary, your Mother. I ask you to help my children. You are my children of light.

end of Mary's Message

3. Mary suffered.
4. She loves us, her little children, so much.
5. Mary is the perfect Mother.
6. She leads us to Jesus.
7. She is a powerful intercessor.
8. She wants her lost children to repent.
9. She wants us to live the life of conversion.
10. Mary is Mother at Our side.