If you can help, we need donations.

Please Pray for Fr. Joe & special intentions.

Fr. Mike, Special Intention.


Prayer for Grace for our Country

Dear Father united to Jesus in the Holy Sacrifice of the Mass, the Sacrifice of Calvary sacramentally made present, celebrated around the world, in the Holy Spirit. We offer up all we do united to the Mass. We unite in one mind and one heart as members of the mystical body of Christ, with Christ our head in the pure and holy Hearts of Jesus and Mary, through the powerful intercession of Mary with all the angels and saints and souls in purgatory, and we beg for the saving grace, for our country, the United States. Please help us. We further pray for unity to always do the will of God in love. We spread the Blood of Jesus on the leaders and people of the United States and cast the devil into hell. We consecrate our country to the Sacred Heart and Immaculate Heart and all our dioceses, and beg for an outpouring of the Holy Spirit. God help us. We pray for our families, the priests, the Church and the world. In the Name of Jesus please hear us, we pray. We pray for our president and leaders. We pray that we are united as one nation under God to work together in love as God wants.

A Prayer for Intimacy with the Lamb, the Bridegroom of the Soul

Oh Lamb of God, Who take away the sins of the world, come and act on my soul most intimately. I surrender myself, as I ask for the grace to let go, to just be as I exist in You and You act most intimately on my soul. You are the Initiator. I am the soul waiting Your favors as You act in me. I love You. I adore You. I worship You. Come and possess my soul with Your Divine Grace, as I experience You most intimately.
March 20, 2021
Glorious Mysteries

The Resurrection

1. Mark 16: 1-11

When the Sabbath was over, Mary of Magdala, Mary the mother of James, and Salome, bought spices with which to go and anoint him. And very early in the morning on the first day of the week they went to the tomb when the sun had risen.
They had been saying to one another, 'Who will roll away the stone for us from the entrance to the tomb?' But when they looked they saw that the stone—which was very big—had already been rolled back. On entering the tomb they saw a young man in a white robe seated on the right–hand side, and they were struck with amazement. But he said to them, 'There is no need to be so amazed. You are looking for Jesus of Nazareth, who was crucified: he has risen, he is not here. See, here is the place where they laid him. But you must go and tell his disciples and Peter, "He is going ahead of you to Galilee; that is where you will see him, just as he told you." ' And the women came out and ran away from the tomb because they were frightened out of their wits; and they said nothing to anyone, for they were afraid.
Having risen in the morning on the first day of the week, he appeared first to Mary of Magdala from whom he had cast out seven devils. She then went to those who had been his companions, and who were mourning and in tears, and told them. But they did not believe her when they heard her say that he was alive and that she had seen him.

2. Come out of your Tombs,
Come out of your Tombs,
Come out of your Tombs!

3. Sing: Glory, Glory, Glory Lord

4. Jesus rose from the dead.

5. In baptism we receive a sharing in His life.

6. Jesus wants us to live the resurrected life.

7. Our life is new life in Him.

8. Sing: Glory be to the Father, and to the Son, and to the Holy Spirit.
As it was in the beginning, is now, and ever shall be, world without end. Amen.
9. Jesus says: I am the way, the truth and the life.

10. Outpour Your grace, oh Lord.

The Ascension

1. Go spread the Good News.

2. Luke 24:50-53

Then he took them out as far as the outskirts of Bethany, and raising his hands he blessed them. Now as he blessed them, he withdrew from them and was carried up to heaven. They worshipped him and then went back to Jerusalem full of joy; and they were continually in the Temple praising God.

3. We are His Apostles here and now.

4. Go, go, go.

5. His apostles were afraid.

6. Are we afraid of what people think?

7. Live your vocation.

8. Live in the moment.

9. Love!!!

10. God is love.

The Descent of Holy Spirit

1. Acts 2: 1-4

When Pentecost day came round, they had all met together, when suddenly there came from heaven a sound as of a violent wind which filled the entire house in which they were sitting; and there appeared to them tongues as of fire; these separated and came to rest on the head of each of them. They were all filled with the Holy Spirit and began to speak different languages as the Spirit gave them power to express themselves.

2. The Apostles were transformed from fear to fearlessness.

3. Thank You God for our priests.

4. Pray for the gifts of the Holy Spirit.


From the Holy Spirit Novena

Prayer for the Holy Spirit and His Gifts

Come Holy Spirit, come, come into our hearts, inflame all people with the fire of Your love.

Leader: Send forth Your Spirit and all will be reborn.
All: And You will renew the face of the earth.

We pray for the seven gifts of the Holy Spirit, we ask for perfection in our souls to make us holy, holy souls likened to God.

Dear Holy Spirit, we give ourselves to You soul and body. We ask You to give us the Spirit of Wisdom, Understanding, Counsel, Fortitude, Knowledge, Piety, and Fear of the Lord.


5. Sing: Come Holy Ghost

6. Sing: Come Holy Spirit

7. Sing: Veni Sancte Spiritus

8. From the Lectionary
Pentecost Sequence
Come, Holy Spirit, come!
And from your celestial home
Shed a ray of light divine!

Come, Father of the poor!
Come, source of all our store!
Come, within our bosoms shine!

You, of comforters the best;
You, the soul's most welcome guest;
Sweet refreshment here below;

9. Pentecost Sequence continues

In our Labor, rest most sweet;
Grateful coolness in the heat;
Solace in the midst of woe.

O most blessed Light divine,
Shine within these hearts of yours,
And our inmost being fill!

Where you are not, man has naught,
Nothing good in deed or thought,
Nothing free from taint of ill!


10. Pentecost Sequence continues

Heal our wounds, our strength renew;
On our dryness pour your dew;
Wash the stains of guilt away;

Bend the stubborn heart and will;
Melt the frozen, warm the chill;
Guide the steps that go astray.

On the faithful, who adore
And confess you, evermore
In your sev'nfold gift descend;

Give them virtue's sure reward;
Give them your salvation, Lord;
Give them joys that never end. Amen.
Alleluia.

The Assumption

1. Sing: See the Eyes That Look at Mary

2. Sing: Immaculate Mary

3. Consecrate our hearts to Jesus and Mary.

4. Consecrate our families to Jesus and Mary.

5. Consecrate our homes to Jesus and Mary.

6. Consecrate the world to Jesus and Mary.

7. Consecrate the Church to Jesus and Mary.

8. July 31, 1994

Words of Jesus to Members of Shepherds of Christ Associates:

"My beloved priest-companion, I intend to use the priestly newsletter, Shepherds of Christ, and the movement, Shepherds of Christ Associates, in a powerful way for the renewal of My Church and the world.

"I will use the newsletter and the chapters of Shepherds of Christ Associates as a powerful instrument for spreading devotion to My Heart and My Mother's Heart.

"I am calling many to become members of Shepherds of Christ Associates. To all of them I will give great blessings. I will use them as instruments to help bring about the triumph of the Immaculate Heart and the reign of My Sacred Heart. I will give great graces to the members of Shepherds of Christ Associates. I will call them to be deeply united to My Heart and to Mary's Heart as I lead them ever closer to My Father in the Holy Spirit."

- Message from Jesus to Father Edward J. Carter, S.J., Founder, as given on July 31, 1994,
feast of Saint Ignatius Loyola, Founder of the Society of Jesus (The Jesuits)


9. Consecration to Mary

Dear Mary, my holy mother, I love you so much and I give you my heart. Help me to love God. Help me to love my neighbor as a child of God. Help me to love myself as a child of God. Amen.

10. Consecration to Jesus

Dear Sacred Heart of Jesus, I love You so much and I give You my heart. Help me to love God. Help me to love my neighbor as a child of God. Help me to love myself as a child of God. Amen.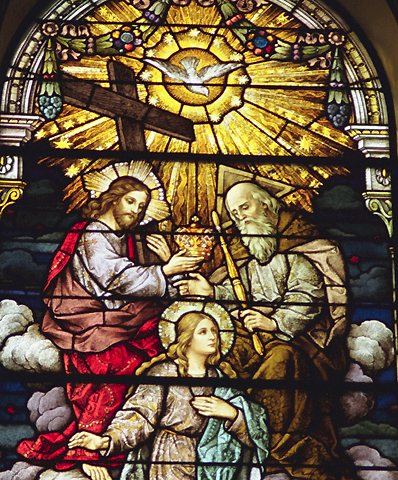 The Coronation
1. Sing: Hail Holy Queen
2. Promises of Our Lord to those devoted to His Sacred Heart:
1. I will give them all the graces necessary in their state of life.
2. I will establish peace in their homes.
3. The Promises of Our Lord continued
3. I will comfort them in all their afflictions.
4. I will be their refuge during life and above all in death.
4. The Promises of Our Lord continued
5. I will bestow a large blessing on all their undertakings.
5. The Promises of Our Lord continued
6. Sinners shall find in My Heart the source and the infinite ocean of mercy.
6. The Promises of Our Lord continued
7. Tepid souls shall grow fervent.
8. Fervent souls shall quickly mount to high perfection.
7. The Promises of Our Lord continued
9. I will bless every place where a picture of My Heart shall be set up and honored.
8. The Promises of Our Lord continued
10. I will give to priests the gift of touching the most hardened hearts.
9. The Promises of Our Lord continued
11. Those who promote this devotion shall have their names written in My Heart, never to be blotted out.
10. The Promises of Our Lord continued
12. I promise you in the excessive mercy of My Heart that My all-powerful love will grant to all those who communicate on the first Friday in nine consecutive months the grace of final penitence; they shall not die in My disgrace nor without receiving their sacraments; My divine Heart shall be their safe refuge in this last moment.
Sing: A Song from Jesus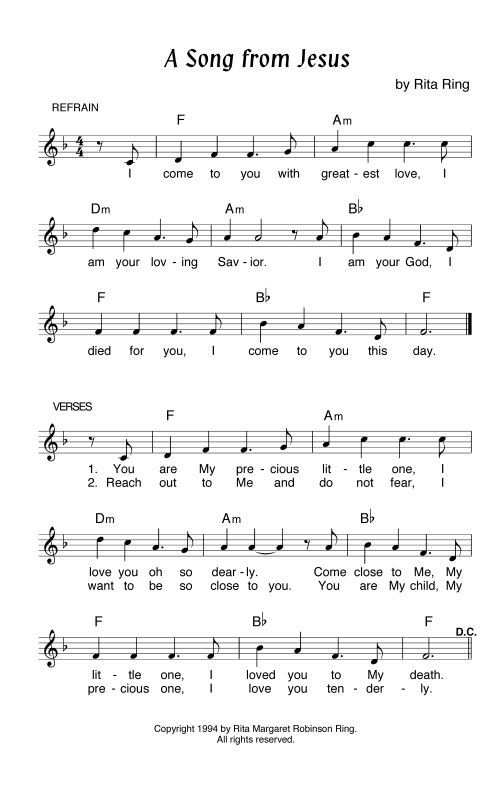 Luke 1: 46-55
And Mary said:

My soul proclaims
the greatness of the Lord
and my spirit rejoices
in God my Saviour;
because he has looked upon
the humiliation of his servant.
Yes, from now onwards
all generations will call me blessed,
for the Almighty
has done great things for me.
Holy is his name,
and his faithful love extends age after age
to those who fear him.
He has used the power of his arm,
he has routed the arrogant of heart.
He has pulled down princes
from their thrones
and raised high the lowly.
He has filled the starving with good things,
sent the rich away empty.
He has come to the help
of Israel his servant,
mindful of his faithful love
—according to the promise
he made to our ancestors—
of his mercy to Abraham
and to his descendants for ever.
5th Sunday of Lent
Ezekiel 37: 12-14

So, prophesy. Say to them, "The Lord Yahweh says this: I am now going to open your graves; I shall raise you from your graves, my people, and lead you back to the soil of Israel. And you will know that I am Yahweh, when I open your graves and raise you from your graves, my people, and put my spirit in you, and you revive, and I resettle you on your own soil. Then you will know that I, Yahweh, have spoken and done this–declares the Lord Yahweh." '

Psalm 130: 1-8

From the depths I call to you, Yahweh:
Lord, hear my cry.
Listen attentively
to the sound of my pleading!

If you kept a record of our sins,
Lord, who could stand their ground?
But with you is forgiveness,

I rely, my whole being relies,
Yahweh, on your promise.
My whole being hopes in the Lord,
more than watchmen for daybreak;
more than watchmen for daybreak

let Israel hope in Yahweh.
For with Yahweh is faithful love,
with him generous ransom;
and he will ransom Israel
from all its sins.

Romans 8: 8-11

and those who live by their natural inclinations can never be pleasing to God. You, however, live not by your natural inclinations, but by the Spirit, since the Spirit of God has made a home in you. Indeed, anyone who does not have the Spirit of Christ does not belong to him. But when Christ is in you, the body is dead because of sin but the spirit is alive because you have been justified; and if the Spirit of him who raised Jesus from the dead has made his home in you, then he who raised Christ Jesus from the dead will give life to your own mortal bodies through his Spirit living in you.

John 11: 1-45

There was a man named Lazarus of Bethany, the village of Mary and her sister, Martha, and he was ill. It was the same Mary, the sister of the sick man Lazarus, who anointed the Lord with ointment and wiped his feet with her hair. The sisters sent this message to Jesus, 'Lord, the man you love is ill.' On receiving the message, Jesus said, 'This sickness will not end in death, but it is for God's glory so that through it the Son of God may be glorified.'

Jesus loved Martha and her sister and Lazarus, yet when he heard that he was ill he stayed where he was for two more days before saying to the disciples, 'Let us go back to Judaea.' The disciples said, 'Rabbi, it is not long since the Jews were trying to stone you; are you going back there again?' Jesus replied:

Are there not twelve hours in the day?
No one who walks in the daytime stumbles,
having the light of this world to see by;
anyone who walks around at night stumbles,
having no light as a guide.

He said that and then added, 'Our friend Lazarus is at rest; I am going to wake him.' The disciples said to him, 'Lord, if he is at rest he will be saved.' Jesus was speaking of the death of Lazarus, but they thought that by 'rest' he meant 'sleep'; so Jesus put it plainly, 'Lazarus is dead; and for your sake I am glad I was not there because now you will believe. But let us go to him.' Then Thomas—known as the Twin—said to the other disciples, 'Let us also go to die with him.'

On arriving, Jesus found that Lazarus had been in the tomb for four days already. Bethany is only about two miles from Jerusalem, and many Jews had come to Martha and Mary to comfort them about their brother. When Martha heard that Jesus was coming she went to meet him. Mary remained sitting in the house. Martha said to Jesus, 'Lord, if you had been here, my brother would not have died, but even now I know that God will grant whatever you ask of him.' Jesus said to her, 'Your brother will rise again.' Martha said, 'I know he will rise again at the resurrection on the last day.' Jesus said:

I am the resurrection.
Anyone who believes in me, even though that person dies, will live,
and whoever lives and believes in me
will never die.
Do you believe this?

'Yes, Lord,' she said, 'I believe that you are the Christ, the Son of God, the one who was to come into this world.'

When she had said this, she went and called her sister Mary, saying in a low voice, 'The Master is here and wants to see you.' Hearing this, Mary got up quickly and went to him. Jesus had not yet come into the village; he was still at the place where Martha had met him. When the Jews who were in the house comforting Mary saw her get up so quickly and go out, they followed her, thinking that she was going to the tomb to weep there.

Mary went to Jesus, and as soon as she saw him she threw herself at his feet, saying, 'Lord, if you had been here, my brother would not have died.' At the sight of her tears, and those of the Jews who had come with her, Jesus was greatly distressed, and with a profound sigh he said, 'Where have you put him?' They said, 'Lord, come and see.' Jesus wept; and the Jews said, 'See how much he loved him!' But there were some who remarked, 'He opened the eyes of the blind man. Could he not have prevented this man's death?' Sighing again, Jesus reached the tomb: it was a cave with a stone to close the opening. Jesus said, 'Take the stone away.' Martha, the dead man's sister, said to him, 'Lord, by now he will smell; this is the fourth day since he died.' Jesus replied, 'Have I not told you that if you believe you will see the glory of God?' So they took the stone away. Then Jesus lifted up his eyes and said:

Father, I thank you for hearing my prayer.
I myself knew that you hear me always,
but I speak
for the sake of all these who are standing around me,
so that they may believe it was you who sent me.

When he had said this, he cried in a loud voice, 'Lazarus, come out!' The dead man came out, his feet and hands bound with strips of material, and a cloth over his face. Jesus said to them, 'Unbind him, let him go free.'

Many of the Jews who had come to visit Mary, and had seen what he did, believed in him,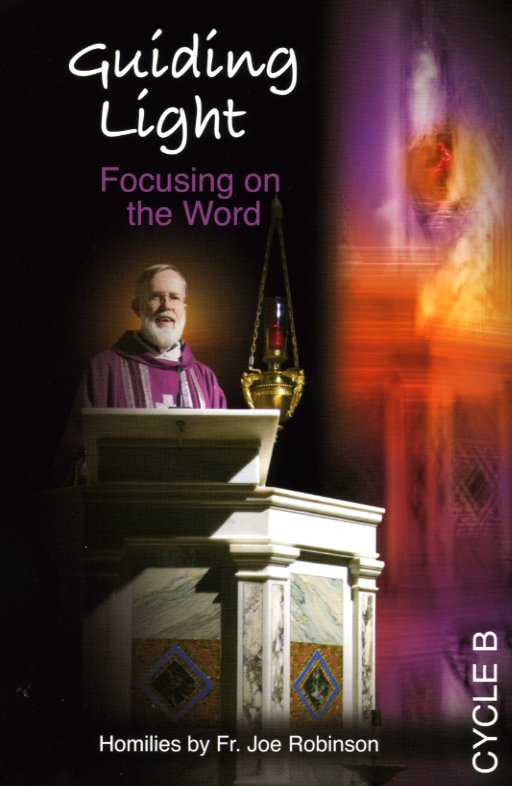 5th Sunday of Lent
April 2, 2006
(Ezekiel 37, 12-14; Romans 8, 8-11; John 11, 1-45) Jesus had recently raised his dead friend, Lazarus, back to life. The raising of Lazarus took place in Bethany, a village just a couple of miles outside of Jerusalem. Today's gospel takes place on Palm Sunday in Jerusalem. When they heard Jesus was coming to Jerusalem, many who were impressed with Jesus' miracles, especially the raising of Lazarus, and many who were there to celebrate Passover, gathered around him and escorted him into Jerusalem with palms, chanting "Hosanna to the Son of David." When Jesus' enemies saw this, they were filled with jealousy and said to one another: "We've lost! Look! The whole world has gone after him." This is where the events in today's gospel begins. The gospel tells us some Greeks who had come to worship at the Passover feast wanted to see Jesus. Jerusalem would swell with worshippers during the great feasts - especially the feast of Passover. People from distant places would often come several days ahead of time so they could find a place to stay. This request from foreigners, non-Jews, to see Jesus was a sign to him his hour had come. He had come to save all people and he knew that he had to die in order to reach all people. He knew his death would be the most tortuous form of death ever devised by human beings, yet he refers to it as his glorification. "The hour has come for the Son of Man to be glorified." He would be glorified in his faithfulness to his Father's work, he would be glorified in laying down his life for all of us whom he loves (greater love than this, no one has than that he lay down his life for his friends.) He would be glorified in his resurrection.
In calling it his glorification, Jesus was being brave with six days yet to go before his death, but we hear also his struggle in today's gospel. "I am troubled now," he said. "Yet what should I say? 'Father, save me from this hour'? But it was for this purpose that I came to this hour." That sounds very much like Jesus' prayer in the Garden of Gethsemani the night before he died. We hear of Jesus' struggle in today's second reading too: "he offered prayers and supplications with loud cries and tears to the one who was able to save him from death…"
When I was in Israel, visiting the Garden of Gethsemani, I could see how easy it would have been for Jesus to walk away that night. Jesus could have taken the steps going up the side of the Mount of Olives to Bethany and been with his friends, Martha, Mary and Lazarus, in less than an hour. He could have gotten some food and water and disappeared into the wilderness for a few days. The Roman soldiers would not have wasted their time to go after him. They had no quarrel with him. He could have quietly returned to Galilee to lead a simple life working in a carpentry shop somewhere and no one would have heard of him again. His apostles would have dispersed and all his healings and his teachings about God's love and salvation would have been quickly forgotten. But his mission was to save the world, not himself. He would have betrayed his Father, his mission and himself had he run away.
Like a seed planted in the ground, he had to die to what he was in order to live in a new way. He had to die to this life so he could fill the whole world with his presence and his grace.
This is the new covenant Jeremiah tells us about in today's first reading, a covenant written in our hearts. The covenant becomes a part of us because he becomes a part of us through his Holy Spirit and we become a part of him. That union is deepened each time we pray, each time we love unselfishly, each time we are faithful to our mission in life, each time we celebrate the Eucharist and participate in the blood of the new and eternal covenant.
Jesus had the option of taking what appeared to be the easy way out. Even then, his decision to stand by what he did and taught was hard. He warns us that sometimes it's hard for us, too, to do what we have to do. We just heard him say in the gospel: "Whoever loves his life loses it, and whoever hates his life in this world will preserve it for eternal life." This was literally true for many of Christ's followers. Many people had to give up their lives to remain faithful to Christ. Gratefully in this land today, we do not have to sacrifice our life for our faith, but to be faithful is not always the easiest path. Coming to Mass on Sunday, staying chaste, being honest, doing for others, forgiving injuries, loving our neighbor, especially the obnoxious ones, is not always easy.
Today's gospel is essentially a theological reflection on the cross, Jesus' cross and ours. Let us ask our Lord to help us remain faithful and know that all crosses are temporary, while the glory of union with Christ and following his lead is eternal.