If you can help, we need donations.

Please Pray for Fr. Joe & special intentions.

Fr. Mike, Special Intention.


Prayer for Grace for our Country

Dear Father united to Jesus in the Holy Sacrifice of the Mass, the Sacrifice of Calvary sacramentally made present, celebrated around the world, in the Holy Spirit. We offer up all we do united to the Mass. We unite in one mind and one heart as members of the mystical body of Christ, with Christ our head in the pure and holy Hearts of Jesus and Mary, through the powerful intercession of Mary with all the angels and saints and souls in purgatory, and we beg for the saving grace, for our country, the United States. Please help us. We further pray for unity to always do the will of God in love. We spread the Blood of Jesus on the leaders and people of the United States and cast the devil into hell. We consecrate our country to the Sacred Heart and Immaculate Heart and all our dioceses, and beg for an outpouring of the Holy Spirit. God help us. We pray for our families, the priests, the Church and the world. In the Name of Jesus please hear us, we pray. We pray for our president and leaders. We pray that we are united as one nation under God to work together in love as God wants.

A Prayer for Intimacy with the Lamb, the Bridegroom of the Soul

Oh Lamb of God, Who take away the sins of the world, come and act on my soul most intimately. I surrender myself, as I ask for the grace to let go, to just be as I exist in You and You act most intimately on my soul. You are the Initiator. I am the soul waiting Your favors as You act in me. I love You. I adore You. I worship You. Come and possess my soul with Your Divine Grace, as I experience You most intimately.
March 26, 2021

Sorrowful Mysteries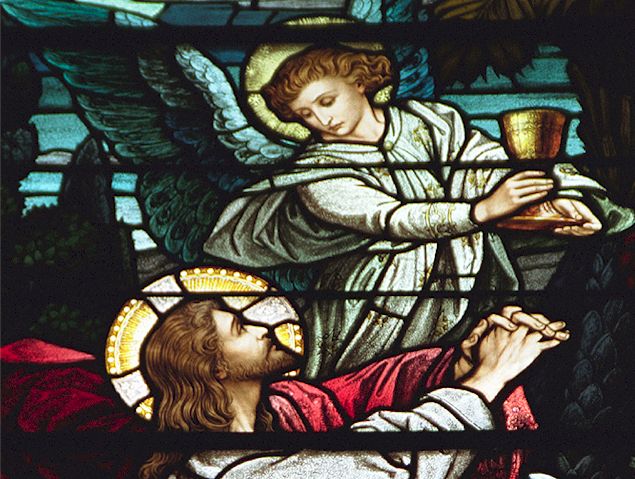 The Agony in the Garden
1. Mark 14: 32-44
They came to a plot of land called Gethsemane, and he said to his disciples, 'Stay here while I pray.' Then he took Peter and James and John with him. And he began to feel terror and anguish. And he said to them, 'My soul is sorrowful to the point of death. Wait here, and stay awake.' And going on a little further he threw himself on the ground and prayed that, if it were possible, this hour might pass him by. 'Abba, Father!' he said, 'For you everything is possible. Take this cup away from me. But let it be as you, not I, would have it.' He came back and found them sleeping, and he said to Peter, 'Simon, are you asleep? Had you not the strength to stay awake one hour? Stay awake and pray not to be put to the test. The spirit is willing enough, but human nature is weak.' Again he went away and prayed, saying the same words. And once more he came back and found them sleeping, their eyes were so heavy; and they could find no answer for him. He came back a third time and said to them, 'You can sleep on now and have your rest. It is all over. The hour has come. Now the Son of man is to be betrayed into the hands of sinners. Get up! Let us go! My betrayer is not far away.'

And at once, while he was still speaking, Judas, one of the Twelve, came up and with him a number of men armed with swords and clubs, sent by the chief priests and the scribes and the elders. Now the traitor had arranged a signal with them saying, 'The one I kiss, he is the man. Arrest him, and see he is well guarded when you lead him away.'
2. Jesus really came.
3. Jesus, the Son of God, took flesh.
4. Jesus' love for us is greater than we could ever understand.
5. Jesus knew in the Garden all He would endure in His Passion and death.
6. Jesus suffered for our sins.
7. We should tell Jesus how sorry we are for sinning.
8. God loved us into existence.
9. The Father, Son and Holy Spirit are one.
10. John 3: 16
For this is how God loved the world:
he gave his only Son,
so that everyone who believes in him
may not perish
but may have eternal life.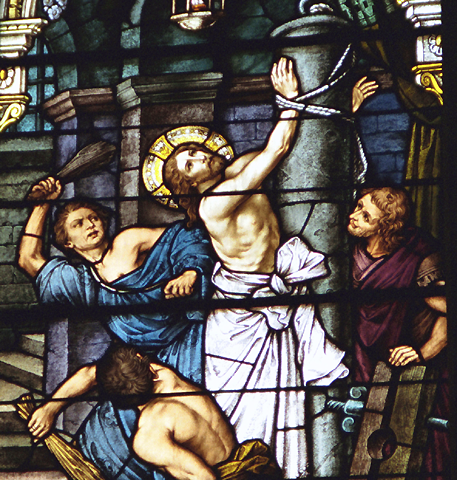 The Scourging at the Pillar
1. Matthew 27: 24-26
Then Pilate saw that he was making no impression, that in fact a riot was imminent. So he took some water, washed his hands in front of the crowd and said, 'I am innocent of this man's blood. It is your concern.' And the people, every one of them, shouted back, 'Let his blood be on us and on our children!' Then he released Barabbas for them. After having Jesus scourged he handed him over to be crucified.
2. Suffering is suffering.
3. We only need to look at Jesus in a picture at the pillar.
4. Jesus was beaten raw.
5. The men laughed as they beat Jesus.
6. Jesus' Heart is full of love.
7. Jesus suffered for those who do not quit sinning after all He suffered.
8. Jesus: I am the way, the truth, and the life.
9. Jesus stood in a puddle of His own blood at the pillar.
10. Jesus shed the saving blood.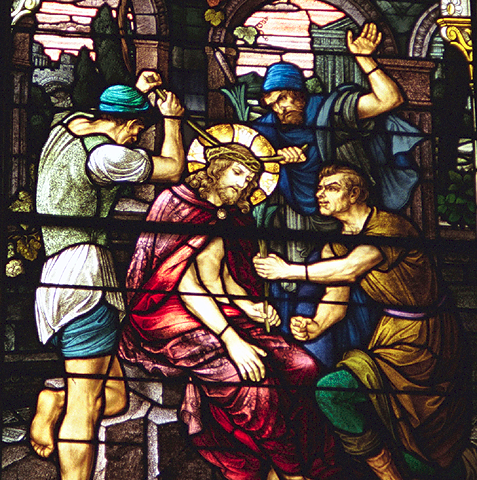 The Crowning with Thorns
1. Matthew 27: 27-31
Then the governor's soldiers took Jesus with them into the Praetorium and collected the whole cohort round him. And they stripped him and put a scarlet cloak round him, and having twisted some thorns into a crown they put this on his head and placed a reed in his right hand. To make fun of him they knelt to him saying, 'Hail, king of the Jews!' And they spat on him and took the reed and struck him on the head with it. And when they had finished making fun of him, they took off the cloak and dressed him in his own clothes and led him away to crucifixion.
2. Jesus is the King of Kings.
3. Sing: "Crown Him with many Crowns"
4. Jesus is Lord of Lords.
5. They mocked Jesus as King.
6. They gave Him a dirty purple garment and a scepter.
7. They spit on Jesus, mocking Him and laughing at Him.
8. They pounded thorns into His head.
9. They pounded Jesus on the head for pride and sins of the men done in their head.
10. Jesus was the innocent Lamb led to the slaughter.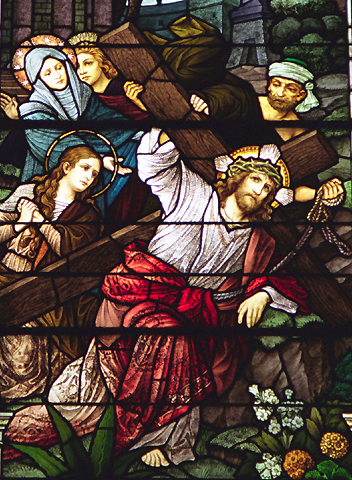 The Carrying of the Cross
1. Luke 23:26-29
As they were leading him away they seized on a man, Simon from Cyrene, who was coming in from the country, and made him shoulder the cross and carry it behind Jesus. Large numbers of people followed him, and women too, who mourned and lamented for him. But Jesus turned to them and said, 'Daughters of Jerusalem, do not weep for me; weep rather for yourselves and for your children. For look, the days are surely coming when people will say, "Blessed are those who are barren, the wombs that have never borne children, the breasts that have never suckled!"

2. They gave Jesus a heavy cross to carry.
3. They said Jesus blasphemed.
4. Jesus carried the heavy cross laden with the sins of the world.
5. Life is short.
6. God has a plan for us.
7. Jesus loved us so much He was willing to suffer and die for our sins.
8. Jesus loves us and wants us in heaven forever!!!!
9. Jesus fell 3 times and got up despite how beat-up He was for love of us.
10. Jesus suffered for every sin - can we even imagine this!!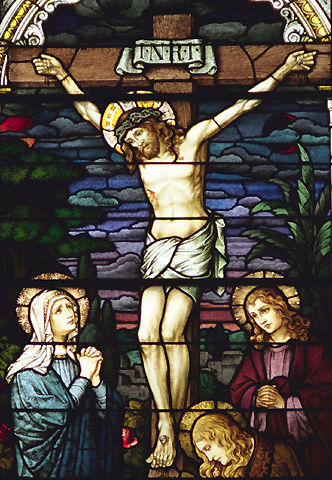 The Crucifixion
1. Mark 15: 24-38
Then they crucified him, and shared out his clothing, casting lots to decide what each should get. It was the third hour when they crucified him. The inscription giving the charge against him read, 'The King of the Jews'. And they crucified two bandits with him, one on his right and one on his left.

The passers–by jeered at him; they shook their heads and said, 'Aha! So you would destroy the Temple and rebuild it in three days! Then save yourself; come down from the cross!' The chief priests and the scribes mocked him among themselves in the same way with the words, 'He saved others, he cannot save himself. Let the Christ, the king of Israel, come down from the cross now, for us to see it and believe.' Even those who were crucified with him taunted him.

When the sixth hour came there was darkness over the whole land until the ninth hour. And at the ninth hour Jesus cried out in a loud voice, 'Eloi, eloi, lama sabachthani?' which means, 'My God, my God, why have you forsaken me?' When some of those who stood by heard this, they said, 'Listen, he is calling on Elijah.' Someone ran and soaked a sponge in vinegar and, putting it on a reed, gave it to him to drink saying, 'Wait! And see if Elijah will come to take him down.' But Jesus gave a loud cry and breathed his last. And the veil of the Sanctuary was torn in two from top to bottom.
2. The Mass is the sacrifice of Calvary, sacramentally made present.
3. Two thives were crucified next to Jesus.
4. Luke 23: 39-43
One of the criminals hanging there abused him: 'Are you not the Christ? Save yourself and us as well.' But the other spoke up and rebuked him. 'Have you no fear of God at all?' he said. 'You got the same sentence as he did, but in our case we deserved it: we are paying for what we did. But this man has done nothing wrong.' Then he said, 'Jesus, remember me when you come into your kingdom.' He answered him, 'In truth I tell you, today you will be with me in paradise.'
5. Jesus puts before us life or death.
5. So many have suffered, our suffering can bring down great grace if we suffer in love.
7. Sing: A Song from Jesus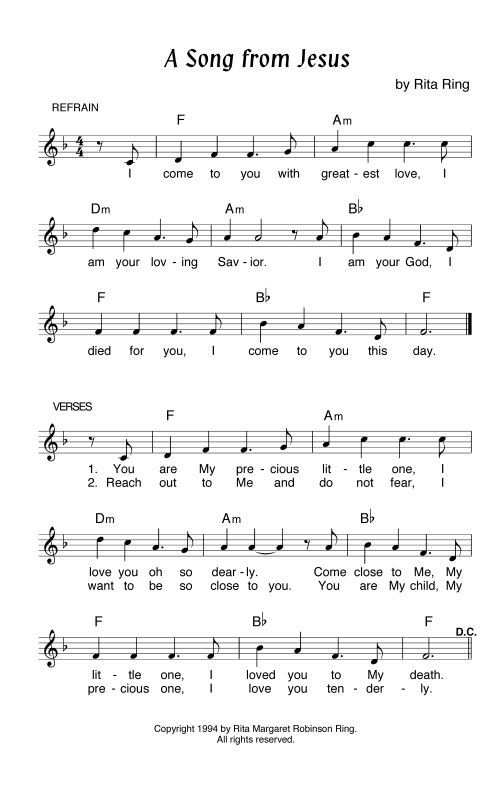 8: Sing: A Priest is a Gift from God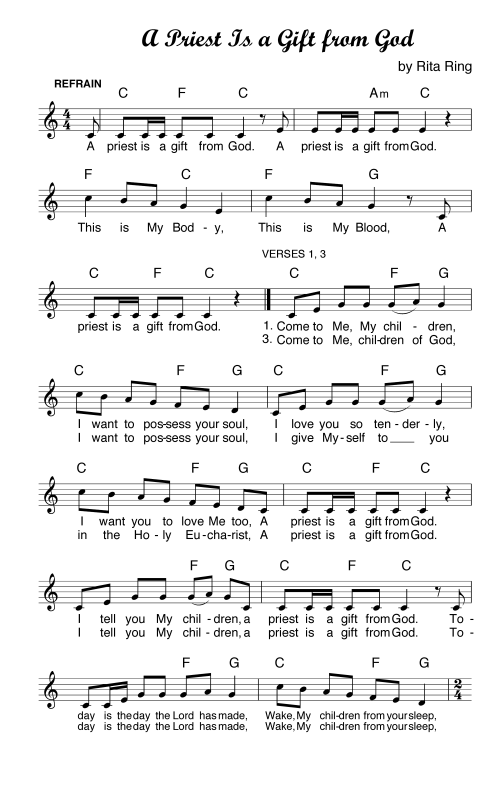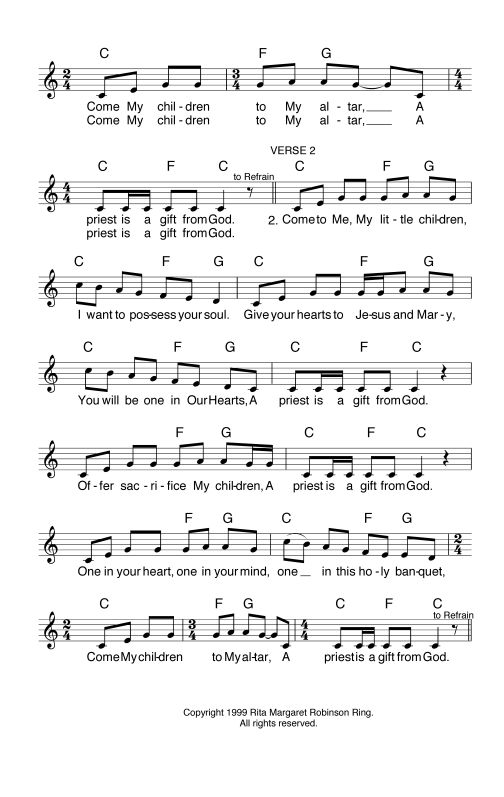 9. A Prayer before the Holy Sacrifice of the Mass
Let me be a holy sacrifice and unite with God in the sacrament of His greatest love.

I want to be one in Him in this act of love, where He gives Himself to me and I give myself as a sacrifice to Him. Let me be a holy sacrifice as I become one with Him in this my act of greatest love to Him.

Let me unite with Him more, that I may more deeply love Him. May I help make reparation to His adorable Heart and the heart of His Mother, Mary. With greatest love, I offer myself to You and pray that You will accept my sacrifice of greatest love. I give myself to You and unite in Your gift of Yourself to me. Come and possess my soul.

Cleanse me, strengthen me, heal me. Dear Holy Spirit act in the heart of Mary to make me more and more like Jesus.

Father, I offer this my sacrifice, myself united to Jesus in the Holy Spirit to You. Help me to love God more deeply in this act of my greatest love.

Give me the grace to grow in my knowledge, love and service of You and for this to be my greatest participation in the Mass. Give me the greatest graces to love You so deeply in this Mass, You who are so worthy of my love.

-Mass Book, December 27, 1995

Prayer for Union with Jesus
Come to me, Lord, and possess my soul. Come into my heart and permeate my soul. Help me to sit in silence with You and let You work in my heart.

I am Yours to possess. I am Yours to use. I want to be selfless and only exist in You. Help me to spoon out all that is me and be an empty vessel ready to be filled by You. Help me to die to myself and live only for You. Use me as You will. Let me never draw my attention back to myself. I only want to operate as You do, dwelling within me.

I am Yours, Lord. I want to have my life in You. I want to do the will of the Father. Give me the strength to put aside the world and let You operate my very being. Help me to act as You desire. Strengthen me against the distractions of the devil to take me from Your work.

When I worry, I have taken my focus off of You and placed it on myself. Help me not to give in to the promptings of others to change what in my heart You are making very clear to me. I worship You, I adore You and I love You. Come and dwell in me now.

-God's Blue Book, January 17, 1994

10. From Blue Book II - February 23, 1994 - I Died for You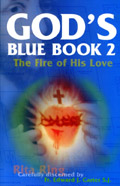 Jesus: I want this emotion in the letter I told you to write. I, Jesus, Son of God, talk to you with such emotion! I am He Who died a brutal death for love of you. I died for you! I love you this much, to give My Life! Yet you couldn't even write when I asked you. You must do exactly as I say. I do not want you ever to say no to Me!

I have such emotion! I am telling you how I died a brutal death and you, My child, did not write for Me! What more can I do? What more do they want? You put others before Me or you would do as I command. I want you to do as I tell you every moment.

I am the Lord. I am the Son of God. Such emotion I let you feel for My death. I died. I am a person. I was human and I died for you. Think of yourself giving your life for someone and they do not care. What can I do to shake you? What more can I say? I am here and I am loving you and pleading with you to listen to Me with this emotion that God is telling you. I am Jesus. I died for you. I gave My life for you and do you even listen, My little sweet one? You didn't want to write it for My children. When I give you a command, you write. When I say do, you do. Selflessness! I am pushing you because I need your total surrender. Do not ever deny My writing to My loved ones. You have a responsibility. I don't care where you are when I talk. I am God and I talk to you. I am so present to you.

Listen. I need your selflessness. I need your surrender. I need your life, given for love of Me and Me alone. I need you to be the light that shines on the hill, that does not go in and out but is constant in My love. I need your commitment. I need your attention at every moment. I am feeding you My words every moment on paper and in your hand. You must obey Me exactly as I command. No questions, only action. I want action. Now! You write when I say write. I don't care where you are. You worry not for others. I am giving you the mighty medicine. Would you tell the doctor to wait? I am God and I do not ever want to wait while you play a safe game with Me. When I say do something, I want you to do it. You are My beloved and I am filling you with fire.

I am pushing you to do that which I need done. Do not ever stop to look around. Keep your focus on Me and My commands for you. I am using you every moment. I must be able to count on your constant consent to do My will immediately! I am calling you to this work and I want you to comply. I love you ardently. I am so full of love for you. Focus on this and this alone. I am Who am. I am God, child. Do not ever hesitate. Do not doubt or think. You must act as I act in you or My work will not be done.

Be selfless about My commands. You will do My work. You will spread My words of love and create emotion with My songs and I will use you to bring My flock to My love. I love every soul! You must spread My love.

Note: (Meditating on the Crucifixion) Going to Mass at the seminary at 8:00 a.m. was rushed. He said to me, "Where are you going, child. Do you not feel My presence with you?" A calm came over me. Then He started lamenting how He died for us, how He is a true person and He loves us so much. He said, "I died for you."

R. He gave His life for us. He is the little lamb led to the slaughter out of love for us. He said, "I need you to do this work now and I am pushing you." He was so upset! He died for us. He loves us so much as to give His life.

He begged me to spread His love, to tell others how He, bloodied, bruised and beaten, gave us His life.

Jesus: I am God. I am God. I died. Spread My love now! Now! Now! Now! Now! I am begging you not to hold back! Read these letters now, read and learn about My love. I beckon you to speak of My love. Shout it from the high roof. Proclaim it in the cities. Jesus Christ died for love of you and He is risen! I am He Who is God and I died for you!

Listen and preach My love and emotion here. Priests will create little cities, little cities in each church to spread the light of Christ to this sick world. Each priest can create his own little city, a powerhouse of God's love. God has all the power. His power is endless. It never runs out. It is might. You have no power except through Him. Churches filled with the intimate love of Jesus will be powerhouses.

I am God, My little ones. God can do all things. I can make your cities light up the darkness. I am the Way, the Truth, the Life. I am the light of life. I am God! I can do all things. I want to act in you. You need to be in constant union with Me. My priests, you need to be selfless. My soul and yours are one. I want to act in you.

Hold not back. Pray the Prayer for Union with Me.
Sorrowful Mysteries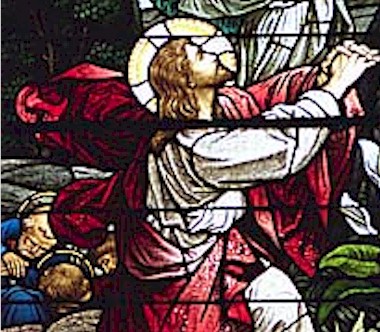 The Agony in the Garden
1. Jesus suffered, He knew full well what would happen to Him.
2. An Angel appeared to comfort Him.
3. The Apostles slept.
4. The Apostles didn't know His anguish.
5. Jesus sweat Blood, His anguish was so great.
6. Jesus saw before Him all the souls that would be lost because of their failure to be sorry for their sins.
7. Judas betrayed Jesus with a kiss.
8. Judas betrayed Jesus for 30 pieces of silver.
9. Jesus' greatest anguish was to His Sacred Heart.
10. Jesus' Heart is on fire in love for souls.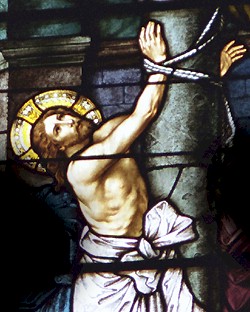 The Scouring at the Pillar
1. They punched, chained, abducted Jesus.
2. Think of how Jesus loved us to endure such treatment and He could have stopped all of it.
3. They tied Jesus to a pillar and beat Jesus - tearing His precious flesh.
4. Jesus, the Son of God, took flesh to save us from our sins.
5. Are you afraid?
Meditate on the Almighty God and how He loves us.
6. Jesus' love is beyond our understanding.
7. Mary knew from the prophesy of Simeon, Jesus would suffer much.
8. Jesus was condemned to death.
9. They released Barabbas but condemned Jesus to death.
10. Think of how Mary suffered.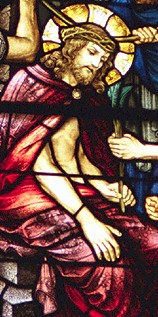 The Crowning with Thorns
1. Jesus is the King.
2. We must praise Him, honor Him, love Him.
3. Jesus is worthy of all our love!!!
4. Judas hung himself.
5. How many people today betray Jesus for power, riches, affections in the world.
6. They pounded in Jesus' head a big crown of thorns.
7. They mocked Jesus as King.
8. They gave Jesus a dirty purple robe and scepter.
9. They spit on Jesus, mocked Him,
pounded the thorns on His head.
10. Sing: A Song from Jesus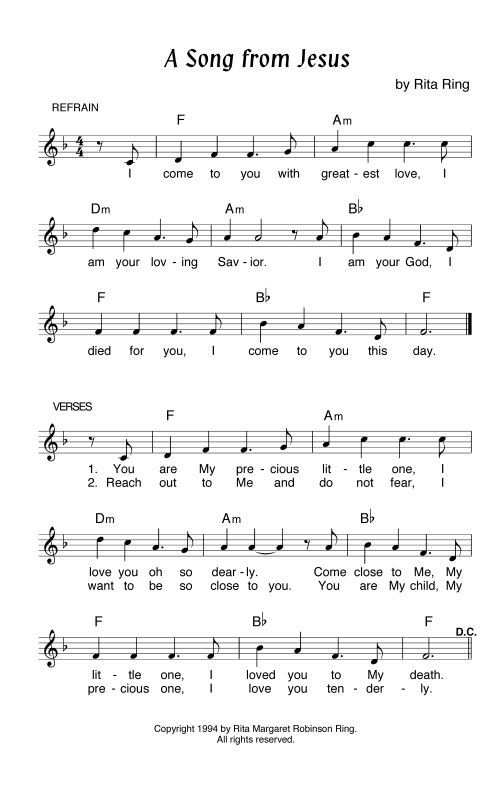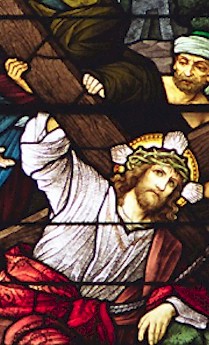 The Carrying of the Cross
1. Jesus: They gave Me a heavy cross laden with the sins of the world.
2. Jesus: I carried it and fell. I could hardly get up.
3. Jesus: My shoulder was breaking.
4. Jesus: I fell 2 more times!!
5. Jesus: I saw My mother, her face was red from crying.
6. Jesus: Her eyes red from crying.
7. Jesus: Veronica wiped My face. It was full of blood. I gave her an imprint of My face on her cloth.
8. Jesus: I love you so much - I died for you.
9. Jesus: I died for you!!
10. Jesus: I died for you!!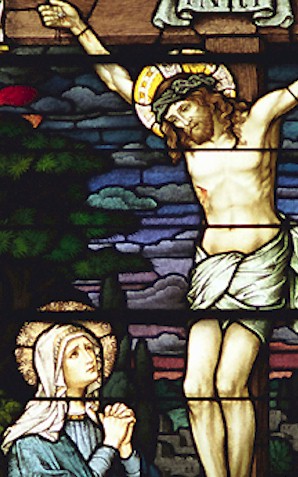 The Crucifixion
1. When they crowned Jesus - afterward they tore off the purple cloth that clung to Jesus' wounds.
2. They stripped Jesus of His garments to crucify Him.
3. Jesus: I died for you doing the Father's will.
Sin offends God.
4. Jesus: I showed you obedience.
5. Jesus: I died teaching you to do the Father's will in obedience.
6. Jesus: Give God what He asks for, why give Him less.
7. Jesus: Is your life doing what God wants or pleasing yourselves - year after year while the work I ask for is not what you do.
You do it your way - is this obedience??
8. Jesus: My body was a bloody, mangled mess. I endured it for you. Did you obey God?
Do you meditate on My Passion?
9. Jesus: How much time you spend doing things the way you want.
10. Jesus: I died for your sins.
I died for you - what more do you want?
Study the crucifix, kneel under it.
"What have I done for Christ?"
"What am I now doing for Christ?"
"What ought I to do for Christ?"
R. What did Christ ask of me today?
March 26, 2021
Jesus: I am your God.
I am with you now.
I am a God of miracles.

I love you so much.
Do not fear, obey God.
Give yourself to Me.
Trust in Me now and always.
I am a God of miracles.
Let go and trust in My Sacred Heart.
This is how you grow in holiness is to let go to Me, trust in Me.
I have the Plan.
The person whose goal is their own plan, to control is missing the surrender to God to live in obedience to God's will.

A person manipulating, controlling, making jealousy the reason they act, is not living in happiness, their god is themselves.
An empty well gives no water.
Love is not love until it gives.

Definition of Love

Love is the gift of self to promote the true good of those loved. He states the reception of love is the receiving of the gift of the other, so my good will be promoted.


Jesus: I am love.
A person basing their actions on envy and jealousy has made Satan their guide.
The more Satan acts in a person the deeper their habits become.

Like water flowing in a groove, the habit becomes the motive for their secret adverse actions.
Sin is forgiven when one asks to be forgiven with a firm purpose of amendment.
Mortal sin in confession.
The person envious and jealous hides the truth even to themselves most of the time.

One action leads to a chain of actions.
My Father has a Plan –

---

Operating to manipulate and control for selfish power causes a dark result.
Like ripples on a pond - a person can seek power - selfish power – and the dark ripples are adverse to the light, harmony and love.
Selfish, self-enclosure for envy and jealousy makes one's heart clogged and empty of love.
You were created to love –
So how can anyone lying to themselves about the truth of this darkness, change what they refuse to admit.

Suffering is suffering.
Life has suffering. Hurting others for jealousy, anger, envy is wrong and hurts many others - while trying to block My Father's Plan.

Why do anything if it's not God's will.
Mary is the perfect handmaid of the Lord.
Mary is Mother of love.
The intention of My Movement is to spread the love of Our Two Hearts.
This Movement is about the pure and perfect love of Our Two Hearts.
My Mother is the New Eve.
I am Jesus, the Son of God.
The person who loves me has a Spousal Union with Me.
I am the Divine Bridegroom.

The ripples Jesus speaks of works when one gives love.
Selfishness spreads darkness.
Happiness is found in admitting sins and asking for forgiveness with a firm purpose of amendment.
Happiness is living united to God.
To be one with God, one seeks love and service of what God wants.
Happiness is found in God,
not selfish self-enclosure.
Jesus went out.
Love goes out.
Love is truthful to others and self.
Love cares for justice in relationships, building a bridge.
Love is the opposite of selfishness.
Humility, the opposite of pride.

Mary shows her humility.

I am God, to grow in holiness one seeks to grow in virtue.
The deadly sins bring unhappiness, division and injustice.
Justice and peace kiss.

Judas betrayed me.
Secrets behind My back.
Betrayal of friends brings great unhappiness.

Mary on Feast of Annunciation

Jesus: I have blessed you.

Be grateful for My gifts.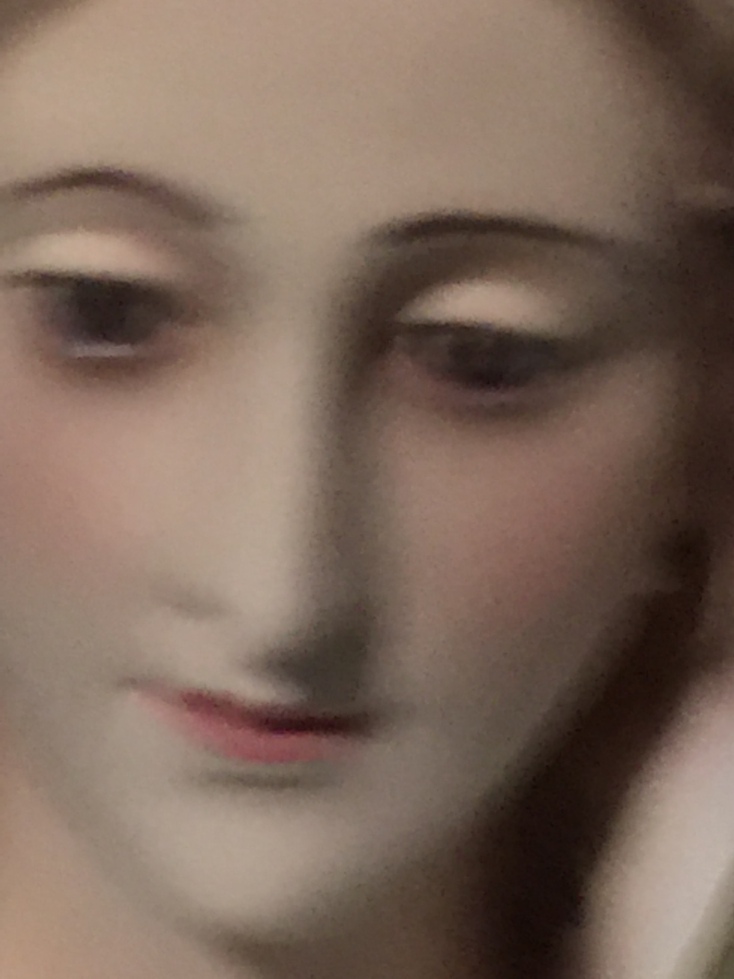 March 25, 2021
Mary: I stood beneath the cross of my Son.

I obeyed the Father's will.

R. Mary is the perfect handmaid of the Lord.

Mary loved the Father's will.

Mary always did the Father's will.

Jesus: Only in holiness can you resist temptation.
In giving into the deadly sins
You open a door to Satan.
The devil wants you to think you don't have to prepare to resist temptation by living virtuously.

Humility is a virtue.
Pride opens the door to Satan.

Everyone has a free will.


Birth of John the Baptist - June 24, 2012

HOMILY: ... Even 2500 years ago, people knew the importance of preparing for the future. It's still just as true today. If we do not learn this lesson when life is good, we'll learn the hard way when it's too late. This goes for education, investing, health and all kinds of important areas of life. John the Baptist's role in life was to insist on the need to prepare. He called people to repent and prepare for the coming of God's kingdom. His message is as important today as it ever was. There is a kind of new age theology that follows the attitude of the Grasshopper. It says don't worry. Everybody is going to be in heaven in the end (except for someone like Hitler). Although God wants all people to be saved, there are abundant passages in the Scriptures that warn us that we cannot take salvation for granted. Jesus, who came to save us and who revealed to us so clearly the love of God, warned us: "The door to heaven is narrow. Work hard to get in, because many will try to enter and will not be able." (

Luke 13:23) Jesus' message at the beginning of his ministry was the same message as John the Baptist: "repent and believe in the gospel." The word "believe" means more than saying, "I believe." It means putting our belief into action. Statistics keep coming out that fewer and fewer people are coming to Church, which is an indication that more and more people believe that worship of God is not all that important. I think it's the entitlement mentality. We feel entitled to be happy (even eternally), no matter what we do or how we live. That's not what the Scriptures tell us. I think the most important lesson we can learn from this feast of John the Baptist is to prepare. The fact you are here today is one good sign that you understand we need to prepare to meet our God. Amen.

R. 3:00 Friday. Nobody can love us like God.
How have we given ourselves in love to Jesus and given His love to others.

Love means we live to obey God and be likened to Jesus.
Jesus shows us His Heart.
Integrity - the Father watches to see how we do things - the way God wants.

Hiding how we secretly cut corners if no one is watching-we think – or we can get away with it - is wrong.

God is always watching to see if we are doing it the way He wants.
We don't fool God.

He watches how we do everything.
If we don't do something small He wants, why should He give us more to do.
Integrity - God is watching.