Fourth Sunday of Easter
April 29, 2012
INTRODUCTION –
(Acts 4:8-12; 1 John 3:1-2; John 10:11-18) Last week in my introduction to the first reading from the Acts of the Apostles I spoke about how Peter and John healed a crippled beggar in the Temple. The healed man jumped up and down and was walking around which caused a great amount of commotion in the Temple. Those who were in the Temple at the time wanted to know what happened and how it had happened. Peter's speech on that occasion was the first reading last week. Peter gave all the credit to the risen Jesus who had healed the man through the Apostles. Many of the Jewish religious leaders did not believe in the possibility of a resurrection. When they heard what was going on, they arrested Peter and John. They didn't want to hear any more about Jesus who was a threat to their position. Today we hear a portion of Peter's testimony before the Jewish court. Notice not only what Peter had to say about Jesus but also his boldness. The court didn't know what to do with Peter and John for all the people in Jerusalem were excited and happy about the healing of the man who had been lame for over 40 years. So the court officials warned the Apostles not to talk about Jesus any more. The Apostles were not intimidated for they were now filled with the Holy Spirit. (Acts 4:8-12)
HOMILY –
Two ladies from New York had always lived a pretty sheltered life. One day they decided to take a trip to England. While they were touring the countryside, the one said to the other: "Look at those white cows. I've never seen cows like that before." The other replied: "Maybe they are albino. Or perhaps a special British type of cow." The guy sitting behind them said: "Those cows are sheep." Sheep are not as common a sight in the U.S. as they are in other countries – especially in the Middle East. On a trip several years ago, we saw a lot of sheep in Israel. Once or twice our tour bus had to stop for about five minutes or so as a very large flock of sheep crossed the road with their shepherd. I know I've mentioned this before, but it was one of the most beautiful sights was as I was coming down Mt. Sinai. It took, I think, about eight hours to climb up and as we were coming down we saw a shepherdess with her little flock of sheep scattered on a nearby mountain trying to find bits and pieces of vegetation on the barren rocks. As we watched this peaceful scene as the sun was going down, she got out her shepherds' flute and started walking toward wherever she lived. As she played a little tune, the sheep all fell into line and followed her until they rounded a bend and were out of sight. Jesus says of the shepherd: "he walks ahead of them, and the sheep follow him." (Jn 10:4) Because sheep were a major part of Jewish life, culture and economy, Jesus' listeners could relate to what Jesus preached a lot more easily than we can.
What Jesus said about shepherds we would understand better by making comparisons with dedicated parents or security personnel such as the firemen and policemen and women who sacrificed their lives on 9/11 to save others.
One thing that will help us understand Jesus' parable of the good shepherd is to look back in the Old Testament to the Book of Ezekiel. God condemned the kings and priests at the time of the prophet Ezekiel (almost 600 years before Christ), because they were leading people away from God and not closer to God – which they should have done. Ezekiel compared the Jewish leaders to shepherds who had no concern for the sheep, the people, but they used the people only to enrich themselves. Ezekiel tells these wicked leaders: "Thus says the Lord God: I myself will look after and tend my sheep. In good pastures will I pasture them. I will give them rest, the lost I will seek out, the strayed I will bring back, the injured I will bind up, the sick I will heal shepherding them rightly." (Ezekiel 34:11) Jesus is the fulfillment of Ezekiel's prophecy. He continues to guide us to eternal life, if we will follow him. We have all gone through those times when we don't know where he's taking us, perhaps many times. That's why he tells us to trust him.
I am reminded of a little story. A holy man took a trip to a town with which he was unfamiliar. He took with him a lamp, a rooster and a donkey. When he could not find a place to stay in the town, he went into the nearby woods to sleep. He lit his lamp to read the Scriptures, but a strong wind blew the lamp over and it broke. So he said, "all that God does, he does well" and fell asleep. During the night, wild animals chased away the rooster and thieves stole the donkey. When he woke as the sun came up, they were gone, yet the holy man said, "all that God does, he does well." He then went back into the village to see if any rooms where he could stay had become available. When he got there he discovered enemy soldiers had been there during the night and killed everyone in the town. He also learned these enemy soldiers had traveled through the part of the woods where he was sleeping. Had his lamp not been broken, he would have been discovered. Had not the rooster been chased, it would have crowed, giving him away. Had not he donkey been stolen, it would have brayed. So once more the holy man declared: "All that God does, he does well." We just have to be careful not to say that every bad thing that happens is God's doing. People do bad things against God's wise plan or against God's laws out of ignorance or evil or for whatever reason. We have to remember what Paul said: "for those who love God, everything works out for the best." Amen.
Psalm 23
The good Shepherd
Psalm Of David

Yahweh is my shepherd, I lack nothing.
In grassy meadows he lets me lie

By tranquil streams he leads me
to restore my spirit.
He guides me in paths of saving justice
as befits his name.

Even were I to walk in a ravine as dark as death
I should fear no danger, for you are at my side.
Your staff and your crook are there to soothe me.

You prepare a table for me
under the eyes of my enemies;
you anoint my head with oil;
my cup brims over.

Kindness and faithful love pursue me
every day of my life.
I make my home in the house of Yahweh
for all time to come.
Sing: Like A Shepherd
Sing: Valleys of Green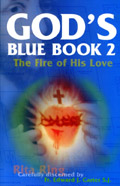 I Am The Good Shepherd
January 30, 1994 6:40 a.m.

Jesus: I teach, you listen. I am Jesus, the Son of God. Do you wander a barren desert in search of treasure? Have you found any on your way? Do you ever, on this earth, say, "Oh, now I possess the true treasure and my heart is at rest?"

Restless is your heart until you rest in Me. You search a barren desert, you find a would-be treasure in the field, you possess it for an instant and it is gone. The glow, the wanting, the yearning and then it is over. You seek, you find. You are soon bored. You seek a person, "Oh, this one will make my life happy." You avidly work to attain another's love. You receive, you have, you are bored. "Is that all there is?," you ask. Only the love of Jesus is long lasting. My love is all that is not momentary. You come to Me, you seek Me, you find peace. You know your search is not in vain. You know that your journey has begun to the true treasure. Your heart is ready for what God has to give you and you are not bored. You want more. The more you seek Me, the more you want Me. You crave union with God.

Oh, to know Me a little but not enough, to want to be close, but not be as close as you desire! I am the Good Shepherd. I hold you, I comfort you, I watch you fumble around. You little lambs, I watch you follow even when you do not know where you are going. I watch you on your feeble search for your goal. You wander, you bump into each other, you go to the end of the hill, you roll over. You are little sheep. I stand by your side. I lead you. I am ever present, but you get caught up in your limited vision and you look to those around you for your lead and then you say, "Oh, how did I get so far off course?"

I am the Good Shepherd. I lead. You must follow Me. If you watch the Good Shepherd, you are not lead astray. I love you and I guide you. You watch others and they know no more than you. They are led astray by those sheep around them. Who knows the way, the Shepherd or the sheep?

Keep your eyes on Jesus. Come and find your way in front of the tabernacle. Come and be alone with Me, all day in short periods of silence. Close your eyes at your work and bring your thoughts entirely back to Me. Make a Spiritual Communion.

The sheep that surround you today are very much off their course. They wander aimlessly about and many follow roads that are directly leading to sin. Do not look to your co-workers and your TV. You need Me on your journey each day. Stop often and be in union with Me. If you do not take time to be silent and alone, even at your work, your mind gets cluttered and you may be led astray.

You must be in constant union with Me. To pray to Me is good. You need a deliberate act of silence and time to be absolutely alone with Me. It may be three minutes at work, but those three minutes may save you in such a wayward world.

I am the Good Shepherd. I know Mine and they follow Me. You need My constant care. You need My constant direction. You need constant, uninterrupted periods of silence. At lunchtime you can go somewhere alone for three minutes and feed your soul. Feed your soul as you feed your body. If all you ate were breakfast, you would become crabby. You need this little break with complete silence. It is like eating a snack. It is like eating breakfast, lunch and dinner. Your world is so wayward. Take a few moments of silent time with Me throughout the day. It will keep your focus on Me and give Me a moment to charge you.

I am so loving to you. You need to operate from My love. This is your charge. This is your way. This is to keep you on your course. I am the Good Shepherd. You follow, I lead, not in the morning, then you go it alone all day. I lead all day. Your short periods of silence with Me will keep you on course. Come and be led by the Master. I am He Who loved you to My death. I am He Who does not let you go astray. I am He Whom you seek in this endless search for happiness. I am He Who is, your God, your one, true, love!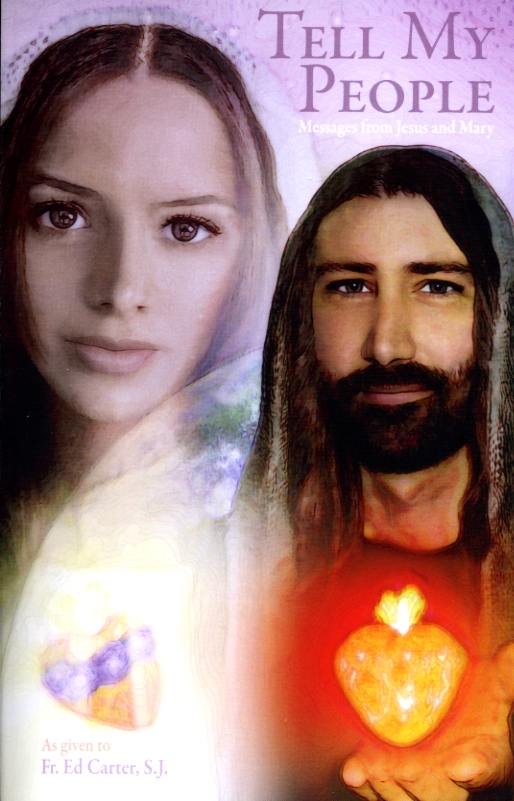 From Tell My People by Fr. Edward J. Carter, S.J.

"What I say to you in the dark, tell in the day-
light; what you hear in whispers, proclaim
from the housetops." (Matthew 10:27)


Jesus Has Come to Give Us Life

Jesus: "This is the day celebrating My Resurrection (Easter). The day of newness of life. I am Lord and Master. I am the Way, the Truth, and the Life. Tell My people to come to Me if they wish to experience life in abundance. I want to give all an ever greater share in the life of My Resurrection. Without Me you cannot be happy, nor have peace, nor have real joy. Tell My people to surrender to Me more and more. The more they do so, the more they will experience My love, wisdom, power, peace, joy, happiness, mercy, and goodness. Within My Heart My people will find these riches. I am Lord and Master! Please listen to My words."

Reflection: Through His life, death, and resurrection, Jesus has come to give us life, and to give us this life in abundance.

When we were baptized, we were incorporated into Christ and His Church. When we were baptized, we received the life of sanctifying grace. This life is a created sharing in the life of the Trinity. Truly, we are called to live a God-like existence according to the teaching and example of Jesus! It is our duty and our privilege to develop our life of grace—our Christ-life—through our participation in the Mass, through the reception of the sacraments, through prayer, and through all other good works. Indeed, we are called to love God and neighbor more and more.

What a glorious life has been given to us! In a spirit of thanksgiving, and together with Mary our Mother, let us always strive to know Christ more intimately, to love Him more ardently, and to follow Him more closely, so that He will always bring us to a closer union with the Father in the unity of the Holy Spirit.

Prayer:

Father, we are profoundly grateful for the life You have given to us through Jesus and in the Holy Spirit. Through the constant intercession of Mary our Mother, we ask for the grace to always be Your worthy sons and daughters.
July 31, 1994
Words of Jesus to Members of
Shepherds of Christ Associates:

"My beloved priest-companion, I intend to use the priestly newsletter, Shepherds of Christ, and the movement, Shepherds of Christ Associates, in a powerful way for the renewal of My Church and the world.

"I will use the newsletter and the chapters of Shepherds of Christ Associates as a powerful instrument for spreading devotion to My Heart and My Mother's Heart.

"I am calling many to become members of Shepherds of Christ Associates. To all of them I will give great blessings. I will use them as instruments to help bring about the triumph of the Immaculate Heart and the reign of My Sacred Heart. I will give great graces to the members of Shepherds of Christ Associates. I will call them to be deeply united to My Heart and to Mary's Heart as I lead them ever closer to My Father in the Holy Spirit."

- Message from Jesus to Father Edward J. Carter, S.J., Founder, as given on July 31, 1994,
feast of Saint Ignatius Loyola, Founder of the Society of Jesus (The Jesuits)
Given
October 29, 2016
R. Please spread blessed holy water
(You can also mix Jesus and Mary water
with your blessed Holy Water if you have it.)
in your yard, around your house,
in the state you live in.
And ask God to bless your state
Ask God to bless the United States
Pray all prayers through the intercession of
Our Lady of CLEAR – WATER.
Ask the Lady of CLEAR - WATER
to help with the blessed water.
Mary has appeared to me for 22 years,
in Ohio and Florida.