May 1, 2019 - Feast of St. Joseph the Worker

Happy Birthday Rosie





Prayer to St. Joseph

St. Joseph, guardian of Jesus and chaste spouse of Mary, you passed your life in perfect fulfillment of duty. You supported the Holy Family of Nazareth with the work of your hands. Kindly protect those who trustingly turn to you. You know their aspirations, their hardships, their hopes; and they turn to you because they know you will understand and protect them. You too have known trial, labor, and weariness. But, even amid the worries of material life, your soul was filled with deep peace and sang out in true joy through intimacy with the Son of God entrusted to you, and with Mary, His tender Mother. Amen. –(Pope John XXIII)






R. Feast of St. Joseph the Worker.

St. Joseph did the will of the heavenly Father.

St. Joseph is such an example of being a foster father to Jesus.

Fathers are to be examples of our heavenly Father –
Strong,
Loving,
Courageous,
Caring,
In the image and likeness of God.
We were created in the image and likeness of God.
Parents are to be models for children.

We have a responsibility to be good mothers and fathers to our children.



R. The family is to be united in deep love.

The family is the basic unit in society.

We see the holy family as our model.

Fr. Carter did a Priestly Newsletter on Work in the Priestly Newsletter Book 3
It was his last priestly Newsletter before his death.





Excerpt from the Priestly Newsletter 2000 Issue 4

Again, let us listen to the words of Pope John Paul II: "The Church considers it her duty to speak out on work from the viewpoint of its human value and of the moral order to which it belongs, and she sees this as one of her important tasks within the service that she renders to the evangelical message as a whole.

"At the same time she sees it as her particular duty to form a spirituality of work which will help all people to come closer, through work, to God, the creator and redeemer, to participate in his salvific plan for man and the world and to deepen their friendship with Christ in their lives by accepting, through faith, a living participation in his threefold mission as priest, prophet and king, as the Second Vatican Council so eloquently teaches."

3

"Whether it is engaged in independently or paid for by someone else, this labor comes immediately from the person. In a sense, the person stamps the things of nature with his seal and subdues them to his will. It is ordinarily by his labor that a man supports himself and his family, is joined to his fellow men and serves them, and is enabled to exercise genuine charity and be a partner in the work of bringing God's creation to perfection. Indeed, we hold that by offering his labor to God a man becomes associated with the redemptive work itself of Jesus Christ, who conferred an eminent dignity on labor when at Nazareth He worked with His own hands.

"From all these considerations there arise every man's duty to labor faithfully and also his right to work. It is the duty of society, moreover, according to the circumstances prevailing in it, and in keeping with its proper role, to help its citizens find opportunities for adequate employment. Finally, payment for labor must be such as to furnish a man with the means to cultivate his own material, social, cultural, and spiritual life worthily, and that of his dependents. What this payment should be will vary according to each man's assignment and productivity, the conditions of his place of employment, and the common good."

4
Fr. Edward Leen, C.S.Sp., speaks to us about Jesus and His work as a carpenter at Nazareth: "Not even after Joseph's death did the existence of Our Lord undergo much change, unless that it became more laborious. For the support of the family and its care of the poor devolved, then, entirely on His shoulders. He had to work hard in order to keep Himself and His Mother and to have something to give to others less favoured than themselves. Unremitting toil became His lot, and the soft hands of the boy became roughened and hardened with the constant pressure of the tools of His trade. Work could not have been plentiful in the confines of that narrow village and it is likely that He had, often, to go abroad to look for employment. He had to face rebuffs from those who needed not His services, and discourtesy and rudeness from those who employed Him. The Nazarenes were not a polite people. As He handed over to His grumbling clients the accomplished tasks, He had to hold forth His hand to receive His wages...There is something inexpressibly touching in this picture of God receiving from His creatures the wages He earned in their employment!...
"A monotonous life, one would say, but this would be a very superficial judgment; monotony consists in the dull repetition of acts, uninteresting, devoid of significance and all stamped with the character of sameness. But there is no monotony in the soul's relations with God. Each act in which it expresses its love for its Creator is fresh with the freshness of novelty; each communication of the love of the Creator to the creature comes with all the charm of a new revelation. Each step forward in the knowledge of God makes it seem to us as if we had never known Him before. And the external material acts which proceed from the soul enjoying this intimacy with the Lord partake of this quality of freshness and novelty. Although to the senses each little task of the day resembles in all respects that of the day before, yet, in reality, these tasks that recur are not the same. The newness and freshness given by a greater love in the doing far surpasses the newness given by a material change in the occupation. The love of God is never stationary. It grows with each act done in the fullness of actual charity possessed by the soul. Hence for the saint the task of today, which materially resembles the task of yesterday, is clothed with all the charm of novelty, for it is transmuted and transfigured by a greater love. All men naturally desire to be great. To achieve greatness it is not necessary to seek it afar or to ascend into the heights in its pursuit. It lies at our door and is within the reach of all. It is found by bringing a great love of God to bear on the doing of the most ordinary of life's tasks. Our Lord in His hidden life has shown how we may attain to greatness and perfection in the accomplishment of the humblest of life's duties."
5
As important as work is, it still is just a means to an end. In the Christian perspective, it is an expression of our love of God and neighbor.
Upon reflection, we can see the consequences of this. When work, for whatever reason, is interfering with our relationship with God and others, something is obviously wrong. For example, an upward-moving professional becomes so absorbed in his work, so taken with the idea of promotion and salary increase, that he becomes extremely narrow-minded. Concern for God and others is relegated to the far recesses of consciousness where it has little effect upon the person's thoughts and activities.

Even though we claim such an extreme situation does not describe our own, we nevertheless can fall prey to lesser faults. For instance, we diminish the time we should rightfully be spending with family members and friends. Perhaps we become so absorbed with our work that we claim we have little time for prayer. If we find ourselves in such circumstances, we must make an effort to confront ourselves with this question, "What is the God-given purpose of work?" Surely, if we are honest, we must say that our work should first be done for the love of God. If we work from this proper motive, we are acting for our own benefit also, for what is done for God and others promotes our own good also. And work done for God must be accomplished according to His will.

Much of our contemporary society places great emphasis on external success, the recognition of one's work, and the earning of more and more money -- and all of this, in a very secularistic manner with little regard for God and neighbor. In such an atmosphere, it is not easy to maintain the Christian perspective of work. In many ways we must go counter-culture. If we do so, we will be following One Who Himself was not afraid to go against certain cultural aspects of His own times. His name is Jesus.
Thomas Merton observes: "All Christian life is meant to be at the same time profoundly contemplative and rich in active work. This must not be mistaken for a kind of semipelagian productivism which is obsessed with visible results and enamoured of technological prowess. It is true that we are called to create a better world. But we are first of all called to a more exalted task: that of creating our own lives. In doing this, we act as co-workers with God. We take our place in the great work of mankind, since in effect the creation of our own destiny, in God, is impossible in pure isolation. Each one of us works out his own destiny in inseparable union with all those others with whom God has willed us to live. We share with one another the creative work of living in the world. And it is through our struggle with material reality, with nature, that we help one another create at the same time our own destiny and a new world for our descendants. This work of man, which is his peculiar and inescapable vocation, is a prolongation of the creative work of God Himself. Failure to measure up to this challenge and to meet this creative responsibility is to fail in that response to life which is required of us by the will of our Father and Creator."
6
His answer to them was, 'My Father still goes on working, and I am at work, too.' (Jn 5: 17)
Here are words of St. Paul: We urged you when we were with you not to let anyone eat who refused to work. Now we hear that there are some of you who are living lives without any discipline, doing no work themselves but interfering with other people's. In the Lord Jesus Christ, we urge and call on people of this kind to go on quietly working and earning the food that they eat. (2 Th. 3: 10-11)
St. Paul himself was no stranger to hard work: You remember, brothers, with what unsparing energy we used to work, slaving night and day so as not to be a burden on any one of you while we were proclaiming the gospel of God to you. (1 Th 2: 9)
3. Pope John Paul II, Encyclical Letter. On Human Work, United States Catholic Conference, No. 24.
4. The Documents of Vatican II, "The Pastoral Constitution on the Church in the Modern World", No. 68. America Press edition.
5. Edward Leen, C.S. Sp., In the Likeness of Christ, Sheed and Ward, pp. 126-128.
6. Thomas Merton, Love and Living, Harcourt Brace and Company, pp. 177-178.
Colossians 1: 15-20
He is the image of the unseen God,
the first–born of all creation,
for in him were created all things
in heaven and on earth:
everything visible
and everything invisible,
thrones, ruling forces,
sovereignties, powers—
all things were created through him
and for him.
He exists before all things
and in him all things hold together,
and he is the Head of the Body,
that is, the Church.

He is the Beginning,
the first–born from the dead,
so that he should be supreme in every way;
because God wanted all fullness
to be found in him
and through him
to reconcile all things to him,
everything in heaven
and everything on earth,
by making peace through his death
on the cross.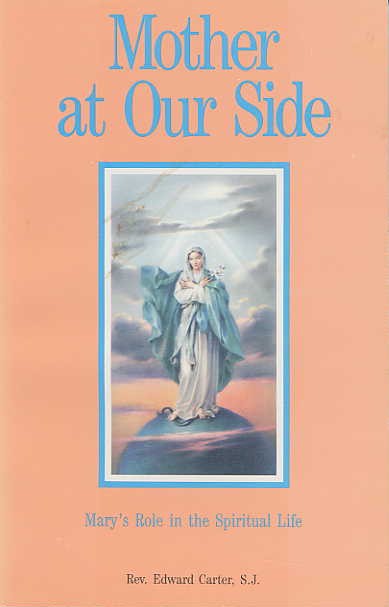 Excerpts from Mother at Our Side by Fr. Edward J. Carter, S.J.
sixteen
Adaptation In Christian Existence
... the angel of the Lord appeared to Joseph in a dream and said, "Rise, take the child and his mother, flee to Egypt, and stay there until I tell you. Herod is going to search for the child to destroy him!" Joseph rose and took the child and his mother by night and departed for Egypt He stayed there until the death of Herod, that what the Lord had said through the prophet might be fulfilled, "Out of Egypt I called my son." (Mt. 2:13-15).

As we meditate on this scene from the life of Jesus, Mary, and Joseph, various ideas can come and go. Here are those of a contemporary author, Isaias Powers:
"Mary and Joseph had placed themselves under obedience to the will of God. The flight into Egypt was part of His will, so they did it. They adapted to new circumstances as best they could. They got on with the job of a new daily routine, living faithfully to God and being true to themselves despite changed surroundings"...
36

All of us must make various adaptations along the path of life. We are members of a Pilgrim Church. Just as the total community which is Church makes adaptations as she progresses through time on way to the promised land–the heavenly Jerusalem–so must each of us adapt to life's changing situations. The changes can be considerable.
The various life stages–childhood, adolescence, young adulthood, middle-age, old age–present us with an ongoing challenge to change. What is appropriate activity for the child is not proper for the adolescent. The young adult must adapt in ways not common to the middle-aged. The changes the elderly must adapt to are not those of previous life stages. To properly meet these various challenges along life's journey is a demanding one. To shrink from the demands of the adaptations involved is to stunt our growth. To make the adaptations, despite the degree of pain, is to develop further that Christ-life of which Mary is the mother.
Personal relationships present us with additional challenges of adaptations. Death takes away a much beloved husband from a devoted wife. Only those who have experienced such a radical loss can fully appreciate the pains of adapting to life without the other. As the wife looks back over the life of the relationship, she will also easily recognize that the relationship with all its joy and suffering, with all its various fluctuations, continually challenged one's capacity to adapt.
Friendship also demands the ability to adapt to the evolving dynamics of a relationship. The partners of the friendship change over the years. Sometimes they both change for the better–and the adaptation required by both is basically a joyful experience. Sometimes one of the friends seems to regress. This puts a strain on the relationship. How should the other re-act?
The adaptation required in today's industrialized–technological culture sometimes seems overwhelming. It is easy to understand, consequently, why Alvin Tofler's book, Future Shock, was such a popular publication. He describes the phrase "future shock" as the dizzying sense of disorientation caused by the premature arrival of the future. In other words, the extremely fast-paced change which cuts across various aspects of modern-day life puts a significant strain on one's ability to adapt.
We can similarly consider the spiritual life itself. The spiritual life includes all the various aspects of existence within the human condition. The various challenges to adaptation mentioned above–and the many others not mentioned–are all aspects of our spiritual journey. As the spiritual life develops, we must try to be aware of the dynamics involved. We must try to be cognizant, through good spiritual reading and good spiritual direction of both the general and particularized pattern of spiritual growth.
We say "general pattern" because we all follow the same basic plan in the following of Christ. We say "particularized pattern" because each of us puts on Christ in a way which respects our personal uniqueness. This means there will always be some differences between Christians as they are increasingly assimilated to the one Christ.
Both the general and particularized patterns of following Christ obviously involve change and this change demands that we make adaptations as we progress along our spiritual journey. If we are to grow in the spiritual life, we must follow the lead of the Spirit. This Spirit-led growth will require various kinds of change and adaptation. Sometimes this can be pleasant; at other times, the process can be quite painful. Let us ask Mary and Joseph to assist us in the process, remembering that they, too, had to adapt to changing circumstances–for instance, the changes introduced into their lives by the flight into Egypt.
36.
Isaias Powers, Quiet Places with Mary, (Mystic: Twenty-Third Publications, 1986), p.38.
thirteen
St. Joseph
... the angel of the Lord appeared to Joseph in a dream and said, "Rise, take the child and his mother, flee to Egypt, and stay there until I tell you. Herod is going to search for the child to destroy him." Joseph rose and took the child and his mother by night and departed for Egypt. (Mt. 2:13-14).
Since St. Joseph is the Patron of the Universal Church, it is fitting that we place this chapter on Joseph immediately after our chapters on the Church and the Church's liturgy.
The above Scripture passage reminds us that Joseph was the protector of Jesus and Mary. Being the foster father of Jesus and the husband of Mary, Joseph had the extraordinary privilege and responsibility of taking care of them.
Because of his privileged position regarding Jesus and Mary, Joseph's role in Christianity is both powerful and diverse. Besides being Patron of the Universal Church, he also has many other titles. In the Litany of St. Joseph he is invoked as patron of workers, families, virgins, the sick, and the dying. In papal documents and by popular acclaim he has been hailed as patron of prayer and the interior life, of the poor, of those in authority, fathers, priests and religious, travelers, and because of his closeness to Our Lady, as patron of devotion to Mary.30
Let us ask Joseph—this man who enjoyed extraordinary intimacy with Christ and Our Blessed Mother—to aid us in coming closer to Jesus and Mary. Let us ask Joseph, patron of prayer and the interior life, to help us develop that spirit of silence and prayer which is so necessary if we wish to grow in union with Christ and Mary our Mother.
Joseph will aid us in focusing our attention more and more upon Jesus and Mary. He is a powerful intercessor who desires to help us live out our daily consecration to the Heart of Christ and to the Immaculate Heart of Mary. In Joseph we have a great model in what constitutes this gift of self. Each day he committed himself to Christ and the Blessed Virgin. His gift of self was extraordinary.
St. Teresa of Avila, one of the greatest teachers of the spiritual life, had an outstanding devotion to St. Joseph:
"I do not remember ever having asked anything of St. Joseph that he did not grant me, nor can I think without wonder of the graces God has given me through His intercession, nor of the dangers of soul or body from which he has delivered me."31
God wishes you to remain in the world for some time because He wants to use you to establish in the world the devotion to my Immaculate Heart. I promise salvation to those who embrace it, and their souls will be loved by God as flowers placed by myself to adorn His throne. (Our Lady of Fatima to Lucia.)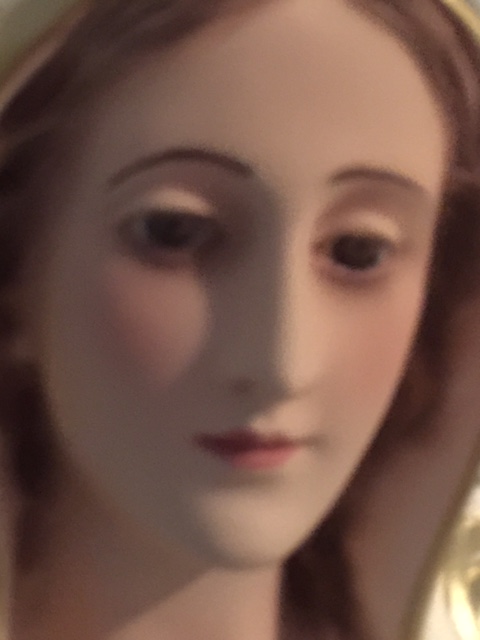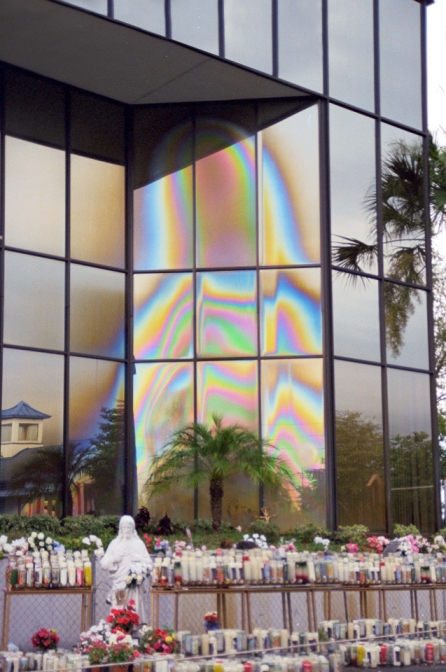 April 28, 2019

Mary: I am Mary, Your Mother. I am asking that all Consecrate their hearts to My Immaculate Heart and My Son Jesus' Sacred Heart.
Many have turned to evil ways and disobedience against God.

You must Consecrate the Churches and the World to My Immaculate Heart and Jesus' Sacred Heart.
Consecrate the Church to the Sacred Heart of Jesus and My Immaculate Heart.

Consecrate yourselves, the Church, the world, your homes to My Immaculate Heart and Jesus' Sacred Heart.

Spread the prayers Jesus gave Fr. Carter in all translations for the renewal of the Church and the world and Consecration to Our Two Hearts.
I am Mary your Mother, heed My warning.
Those who listen will be protected.

Those who help you do this will be blessed by your heavenly Father.

Remember my message of Fatima.

They did not listen.

Protection is needed for your families.

Listen to me, I am your Mother Mary.

Remember they were told to spread blood on the doorpost.

Jesus and I have given the Red Rosary Book, Blue Books, Apostles Manual, Rosary meditations, Fr. Carter's Books, Fr. Joe's Books for the priest, the people, for protection now and in the future.

Listen to Me.

Thank you for responding to my call.

All 5ths - Our Lady of Clearwater Florida


July 5, 2000


September 5, 2000


October 5, 2000


November 5, 2000


December 5, 2000

| | | | | |
| --- | --- | --- | --- | --- |
| January 5, 2001 | February 5, 2001 | March 5, 2001 | April 5, 2001 | May 5, 2001 |

| | | | | |
| --- | --- | --- | --- | --- |
| June 5, 2001 | July 5, 2001 | August 5, 2001 | September 5, 2001 | October 5, 2001 |

| | | | | |
| --- | --- | --- | --- | --- |
| November 5, 2001 | December 5, 2001 | January 5, 2002 | February 5, 2002 | March 5, 2002 |

| | | | | |
| --- | --- | --- | --- | --- |
| April 5, 2002 | May 5, 2002 | June 5, 2002 | July 5, 2002 | September 5, 2002 |

| | | | | |
| --- | --- | --- | --- | --- |
| October 5, 2002 | November 5, 2002 | January 5, 2003 | February 5, 2003 | March 5, 2003 |

| | | | | |
| --- | --- | --- | --- | --- |
| April 5, 2003 | May 5, 2003 | July 5, 2003 | August 5, 2003 | September 5, 2003 |

| | | | |
| --- | --- | --- | --- |
| October 5, 2003 | November 5, 2003 | December 5, 2003 | January 5, 2004 |

| | |
| --- | --- |
| February 5, 2004 | March 5, 2004 |