May 2, 2019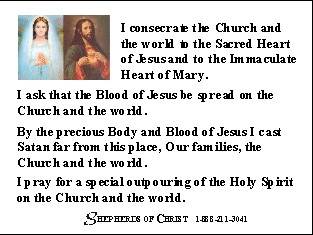 Given May 2, 2002
Mary speaks:
My children, consecrate your hearts
to the Sacred Heart of Jesus and
to my Immaculate Heart.
My children, listen to me.
I am your Heavenly Mother,
the Queen of Peace.
---
May 2, 2002
Mary speaks:
My dear children,
Do you want peace?
My children make Jesus
the King and Center of
your hearts.
My children make Jesus
the King of all places.
My children pray the prayers

My Son has given you.
My children pray the rosary,

My children listen to me
I appear to deliver this
message to you.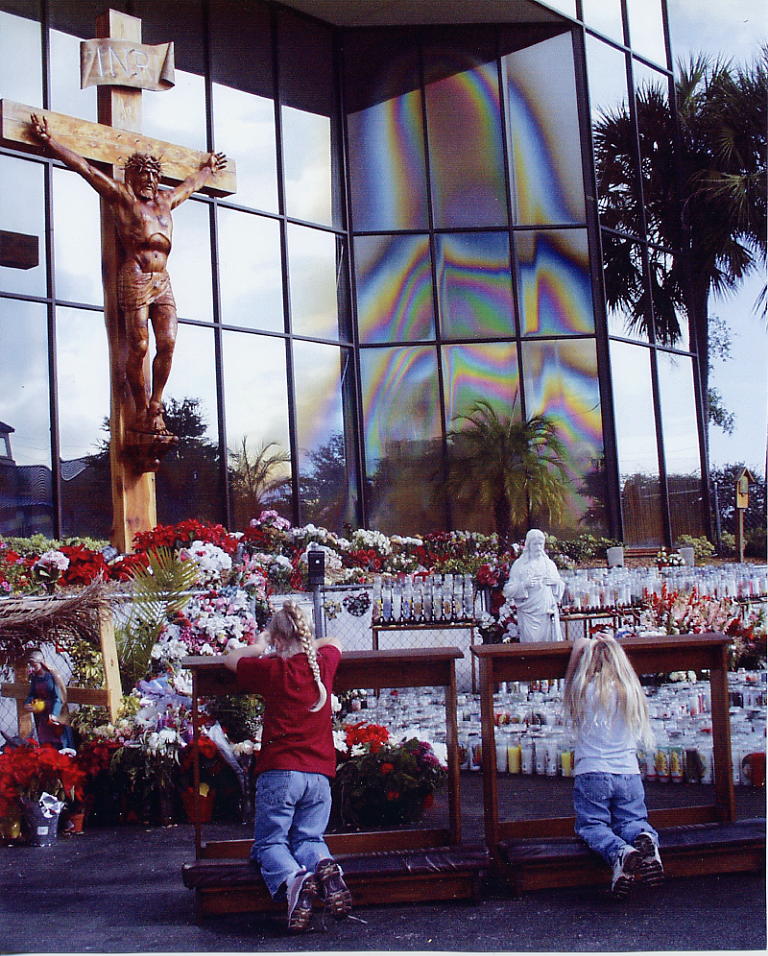 May 2, 2002 message continues
Mary speaks: My
children, please help
me.
I appear like this
September 5, 2001.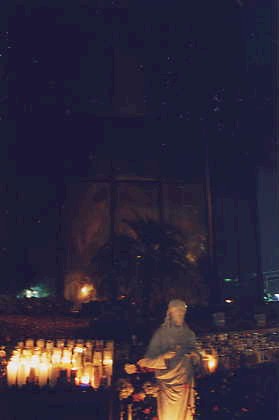 September 5, 2001
May 2, 2002 message continues
Mary speaks:
Read this Message of my Son
on January 13, 2002, then read
the message January 19, 1994 Sufferings
will befall the earth.
---
January 4, 2002 Rosary
(given for January 13, 2002)
China, Indiana
Song: Night Is Over

Jesus speaks: And so I call you My chosen ones to carry out this mission that I have given to you, for you are My apostles and I have scattered you all over. And I live in your heart and I speak through you for I have given to you My message and ask you to deliver this message that I give. And so I have trained you well through the rosaries for I do not want you to deviate but to be very directed in the message that I give which is this—that the Sacred Heart of Jesus will reign and the heart of My Mother will triumph and I have called you to help to bring the world into this oneness through your powerful prayers and I have called you to be a shepherd of Christ to help lead the strayed ones home to My Heart and to pray for My beloved priests I love so much and for the Church and the world.

And I ask for your love for I love each one of you in a special way and it is your special way of loving I want to receive—your touch, your care, your sweetness. Oh beloved child of My Father, you are indeed so very precious to Me. I love you, I love you. I love you.

Messenger: And I must say to this, to You my beloved God, I love You. Amen.

This is a song that Jesus wanted me to sing. There's a special message from Him that goes with this song that He comes to you today with His most tender love and He wants you to know how dearly He loves you. And that He is longing and wanting that love for He is truly with us with all His might and He wants me to sing this song as a message from Him to you.

Song: From the Day You Were Born

Jesus speaks: And the evil one will tell you so many things to get you focused on yourself, to get you to think negative things. And you must hear the words that I give to you, the sound of My voice, to know how precious you are to Me and how important you are to this mission and your daily life living in the ordinariness, doing the little tasks that I have asked you to do with love, being united as a body to the Mass, praying as My Shepherds of Christ. Oh how precious you truly are to Me and I am with you. And Satan wants you to think of the negative things. And I look at you with such love for you are so beautiful to Me My beloved spouse. And you think that people sometimes are looking at you and sizing you up and analyzing everything and if they are they shouldn't be. They should see the light of My love shine from your eyes as I do and praise your heavenly Father in heaven for you see every nook and cranny and you should see how I see you through My eyes.

end of excerpt from January 4, 2002 rosary
---


Sufferings Will Befall You
January 19, 1994 4:45 a.m.
very carefully discerned by Father Carter for publication
Jesus speaks: I write a message for the world. I write this message for you. I want to tell them to pray and not to underestimate what sufferings will befall them all. Pray constantly. You suffer this weather, you see the earthquakes and you still do not comprehend a power greater than yourself. I have all the power. I want men's minds and hearts to turn back to God. I want God first in their lives, but they are so blind. What do they need to shake them to such great power!

All things are under My control. There is not one thing that happens that I do not allow. You are so comfortable in such evilness. Why are you not on your knees asking, "Lord what is happening?" One suffering will come after another and you will, in your blindness, have to admit to My Might. My mother comes and people pay no heed. Spread these messages. Spread her messages. Do not think of what others think of you. They will know soon enough of their blindness. Do not spend a day without telling someone news about the Blessed Mother and why she comes. Tell all of My might and tell them to pray. Prayer is your weapon in a sick world. Open up the minds of your friends. What will rock these children off their rockers? If the earth moves under them, they still stay steadfast in their ways. So stubborn, indeed. They want to be blind because they do not want to change to the ways of God!

I am He Who comes to you this way. I am He Who wants you to pray constantly. I am He Who is calling out an alert for a change in your lives. I am He Who wants you to pray, yet you sit. You idle and hold on to such trivial things while the earth moves under your feet! I will rock the heavens. I will tell you of My might. Sit, you idle ones, but you will suffer for not praying. I am God. I am Jesus Christ, the Son of Man, and I am ever present in your midst. You are blind and look for idle pursuits.

You have become so comfortable in this evilness that you do not even sit up and take notice. "Oh, it is okay. I don't like it, but it is okay." Your children are being poisoned by the world, as if someone gives them constant poison, and you worry about your sports and what have you!

Where in the world do you think you are going? Man thinks he is here to stay. He spends his days making his life "better" he thinks: more things--more things, more money, better bodies, clean breath, better smelling feet--oh, such insane pursuits! Let's make these bodies so perfect! Our lives should reflect the perfect life! Our children run races for glory every day, not even knowing the Ten Commandments! You make every moment a pleasure in itself. Make yourselves happy. Eat, drink, be merry, be beautiful, be smart, be perfect. Forget God--who is He? We have a life going on here and we are going to enjoy every moment! This society is sick, sick, sick. What they are enjoying is destroying their souls. Children are not even aware that I exist and their lives are totally secular. They are so blind. Oh, America, I lament everything you do. It is senseless and without meaning!

The Son of Man is in your midst and you do not even know who He is. What more can I say. Spread My good news that Jesus is Lord and He is Coming, that you had better turn your lives back to Him now. Mary, My mother, is coming. The sun spins. What do they need? Such attachments to their sick ways! Pray constantly. Tell others about Me. Tell them to read the Bible and amend their ways. Tell them that I am God and that they need to turn their lives back to Me. Tell them to repent and pray. My mercy is great and I am waiting with open arms.

Pray, America, pray. You will soon know My might if you continue your foolish ways. Every soul who is fixed in Me is My messenger. Go to the highways and byways and tell all: Jesus is Lord and He wants you to amend your lives. He will rock the earth and you will know His might. Time is short. Repent and pray constantly. What do I do to shake you? This earth is very insecure, here today, gone tomorrow. The only things that remain are the things of God.

I am Jesus, Son of the Living God. Hear Me, America. Listen and be attentive! I do not come to give a message for one or two. This is My message for all. You will know My might in big proportions. I will rock you off your rockers. You must turn your lives to God. You are not here for fun and sin and whatever you are doing. Oh, little ones, you miss My tremendous love for you. You have missed all the good I have for you. You are stubborn and willful. You are silly and sick. Pray for your brothers. Pray, pray, pray, pray, pray, pray. Offer everything you do as a prayer and know I never ever leave you! I love you, My child. This message is an act of love!

I gave Myself that you might live. I am He Who comes to deliver this message to you and you are blind. Look beyond the cup and the drink. This is your miracle, that I am truly present in the Eucharist.

I am here. Open your eyes and see Me here in your midst. Come to Me all who labor and are heavily burdened and I will give you rest. I am your God and I comfort you on your way. I am waiting for you to come and be in union with Me.

You, My faithful ones, can no longer be silent. Don't worry. Speak out. Others need you!

end of January 19, 1994
---
May 2, 2002
Messenger: May is the month we especially want
to pray the rosary.
Here is our School Rosary Program.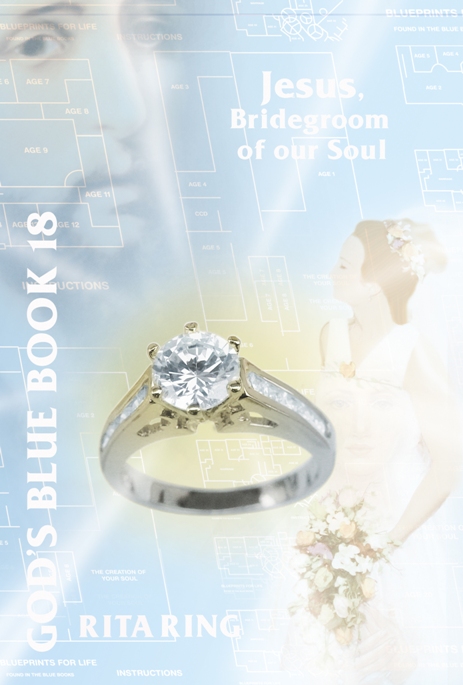 March 15, 1998

Joyful Mysteries
R.

I ask the Father in union with Your Son, Jesus, through the powerful intercession of Mary that You hear all the petitions that we prayed at the beginning of this prayer meeting and we offer all the prayers for this intention. I would like to pray for a retreat that my son is going on that all the boys' hearts be consecrated to the Hearts of Jesus and Mary and that the priest is filled with the Holy Spirit. I would like to consecrate the world to the Sacred Heart of Jesus and the Immaculate Heart of Mary and all of the people in it to the Sacred Heart. I ask the Holy Spirit to descend mightily on our Church, the Catholic Church, and to fill the hearts of the priests so that they will be open, that they will accept the writings that Father Carter gives to this world in the Priestly Newsletter and that we will be able to spread this to all the Churches as He has asked us to do. I pray for healing in body, mind and soul and generational healing for us and all of our families, that the Precious Blood of Jesus be spread on us, that we are protected from the evil one and all those we come in contact with, and that we are baptized in the Holy Spirit, that He spreads His grace mightily upon us that we proceed now fearlessly forward in order to bring about the Reign of the Sacred Heart.

We pray for all of the intentions of Our Lady on January 25th of 1997 and I pray especially for the Florida apostles at this moment as they are on the site today and they are doing the work as apostles before Our Lady Clothed with the Sun. I pray for all the intentions that are inside of your heart, all the special intentions that you hold right now and for unity amongst us, that we will be one and that we will lead the world into oneness, that the world will see that they will be brought out of darkness into His marvelous life.

The Annunciation

1.

R.

We are tending the flock. We are the Shepherds. Fr. Carter is the priest to help lead priests to the Sacred Heart of Jesus. Jesus is leading us to the mountain of God. Father Carter is on the front of the

Mass Book

holding up the "Light of the world." As I told Fr. Carter last night, in our culture, it is a very, very undisciplined culture as Americans. We are used to doing whatever we want, whenever we want to do it and that attitude doesn't have anything to do with the Kingdom of God, so we really have to fight this attitude which we pick up, for we are all Americans, we are spoiled. And that is what Jesus is working with – that we are charitable, loving towards each other, accommodate one another's imperfections and when we see a fault in a person instead of complaining, pray for him. I can tell you there are certain persons in this movement who pray when they have problems and God will answer their prayers. The Holy Spirit will guide me to handle the situation for them and they don't even have to say anything to me and I will call them, prompted to call them and speak with that person, and their problems get handled – and the people who don't pray, all their problems don't get handled, so I encourage everybody to pray, not that God will solve your problems through me, but God gives tremendous grace for people who turn to prayer to solve their problems.

Going back to the beginning: We are tending the flock and Fr. Carter is our priest. Jesus is leading us to the mountain of God. On the front of the

Mass Book

Father Carter is holding up the Host, which is the light of the world, so this is our center – the Eucharistic Heart of Jesus which will set the world on fire. Mary appears the Lady Clothed as the Sun in Florida to lead us to her Son and this is why she wants Jesus exposed behind her image there, the Lady clothed with the Sun to lead us to the light of the world. Behind her, her heart takes us deeply into His Heart so He would be right behind her - that would be so as to show she is leading us to Him. I saw the darkened face of Our Lady July the 5th of 1994 and March 5th, 1995. Two times her face was darkened like that. So, four years later, on March the 5th, 1998, I get the message in the rosary that they want Jesus to be exposed behind the "Woman Clothed as the Sun". I said something to somebody about the darkened face and they said, "it's like Our Lady of Guadalupe", and that's exactly the color it looked like, but I never put it together before until last week. So it was July the 5th the first time she appeared, the night apparition, and March the 5th she appeared, adorned, with this dark face with ridges down her face.

The Heart of Christ, the Eucharistic Heart of Jesus is like the Burning Bush on fire but cannot be consumed.

Reference Exodus 3: 2-8

R.

We are suffering today. And that's what will happen at the altar of sacrifice - the grace being poured out.

Reference Exodus 3: 13-15

Song:

A Voice Cries Out in the Wilderness

2.

Reference 1 Corinthians 10: 1-2, 5

3.

Luke 12: 49–51
'I have come to bring fire to the earth, and how I wish it were blazing already! There is a baptism I must still receive, and what constraint I am under until it is completed! 'Do you suppose that I am here to bring peace on earth? No, I tell you, but rather division.
4. Hail Mary
5. Hail Mary
6.
Reference Matthew 25: 31-34
7. Hail Mary
8. Hail Mary
9.
Matthew 25: 35-36
For I was hungry and you gave me food, I was thirsty and you gave me drink, I was a stranger and you made me welcome, lacking clothes and you clothed me, sick and you visited me, in prison and you came to see me."
10.
R.
And for six weeks He said that I should feed the hungry, feed the hungry, feed the hungry, and then He gave to us, all of us, the Blue Book messages to feed the hungry with. And then He has revealed the words to us and unveiled a lot of the scriptures that we will be able to comprehend the Word, and to feed this material to the people whereby they will be fed, through His Eucharist and through His Word.
Read the message to Fr. Carter, March 26, 1996
: "To him who has eyes to see, they will see - not with earthly vision, but with the eyes of faith, and to him who has ears to hear, he will hear with the fluttering of the Spirit moving within him."
Glory Be
Song:
A Voice Cries Out in the Wilderness
The Visitation
1.
R.
As it is written in the Book of the Prophet Isaiah speaking of John the Baptist.
Isaiah 40: 3-4
A voice cries, 'Prepare in the desert a way for Yahweh. Make a straight highway for our God across the wastelands. Let every valley be filled in, every mountain and hill be levelled,...
R.
There will not be any division for everyone will be living in oneness according to the Father's will.
Isaiah 40: 4-5
Let every valley be filled in, every mountain and hill be levelled, every cliff become a plateau, every escarpment a plain; then the glory of Yahweh will be revealed and all humanity will see it together, for the mouth of Yahweh has spoken.'
2.
Luke 13: 6, 8
...'A man had a fig tree planted in his vineyard, and he came looking for fruit on it but found none..."Sir," the man replied, "leave it one more year and give me time to dig round it and manure it: it may bear fruit next year; if not, then you can cut it down."'
3.
R.
Elizabeth was considered barren in her old age but she brought forth the child John, the one who prepared a way for God in the desert.
4.
Luke 2: 8
In the countryside close by there were shepherds out in the fields keeping guard over their sheep during the watches of the night.
5.
R.
We are the shepherds that are keeping a night watch over the flock. The Lady Clothed As the Sun appears on a building in Florida, and with it the Blessed Sacrament exposed behind her on this building, people will be led to the burning fire - the Eucharistic Heart of her Son, Jesus. He is the Light of the world!
6.
March 26th, 1996 - Message to Fr. Carter continues
Jesus:
I am the Way, the Truth, and the Life. I am the Almighty God. I say to the rocks to fall and they fall and to the grass, grow, and it grows, and to the sun, shine, and it shines. I give to you My love in these letters. Filled with My love, you will conquer this earth, not with weapons and powder or force, but with fires of My love. The fire will wipe out the hatred in the cold hearts and the earth will be covered with My celestial light. The earth will rock and I will appear in the heavens adorned in power and glory...
end of excerpt
R.
A Lady appeared, the Woman Clothed with the Sun, there appeared in the sky a woman clothed with the sun. The moon was under her feet and there were 12 stars above her head.
March 26, 1996 continues
Jesus:
...and the contrite hearts will be saved. I came to separate the sheep from the goats, the light from the darkness. I come and no one pays Me heed.
To you, My beloved son, Father Carter, I have sent you on a mission to spread this fire that will cover this earth. The hearts of men will turn from their sick and desolate ways to hearts gentle as a little lamb.
There will be one flock and one Shepherd and My staff will rule over all. Hearts consecrated to Our Hearts will lead the light across the earth. This light will be a light of intense brightness, brighter and hotter than any light from a flame. It will be the fire of God's love. The Spirit will move in the hearts of all consecrated to My Heart, and you will know how fire truly spreads, for the love of God is a fire. It is vibrant. It is encompassing. It is smoldering, burning deep within and speedily spreading on the outside. No fire on this earth can ever describe the burning embers that burn from the Sacred Heart of Jesus. No fire burns like the fires coming from My Heart and hearts filled with the love from the Sacred Heart of Jesus.
end of excerpt
7.
Exodus 3: 1-2
Moses was looking after the flock of his father-in-law Jethro, the priest of Midian; he led it to the far side of the desert and came to Horeb, the mountain of God. The angel of Yahweh appeared to him in a flame blazing from the middle of a bush. Moses looked; there was the bush blazing, but the bush was not being burnt up.
8.
R.
I know this. I know that my true home is found in the Sacred Heart of Jesus.
9.
Reference Luke 1: 76-79
10.
R.
He wants me to read this.
The Carpenter - June 12, 1994
Jesus:
You are he who goes to a carpenter to learn to make a cabinet. You know nothing. You do not have any idea of what you are to do. The carpenter knows exactly. He has a procedure whereby his plan will be accomplished. Every detail must be observed. He is the Master. You do not have the talent. You need talent to do woodwork. If you were given the talent and the directions, you could accomplish this task with such beauty.
I am the carpenter. You are he who needs to be taught. You lack the talent. You need the gifts of the Spirit to accomplish My task! You come to Me in total ignorance. You are open, the Spirit fills you with the gifts. You have everything you need to do My work. The Father created you to accomplish His tasks. You are perfect. You must come open. You must know the plan. The plan is His Will for you. If you do not follow the plan, the cabinet will not be built correctly.
I am the Master. I guide you. I love you. I give you all you need. I walk you through every move. If you try on your own, you have a problem. You know not the way to build cabinets. You know not the way to Me on your own. You must come to Me to be taught. To go it alone is to your own detriment. Oh, little one, it is so simple. You, in your will, want to work your own plans. You know not how to do it. Only I can teach you what you need to know. Oh, please come to Me. I have all you need. The Spirit fills you with the gifts to know, love and serve God. To go it alone is like trying to build the cabinet with no knowledge of woodworking. Oh, little ones, I love you. Come to Me. Let Me teach you. The Will of the Father is the happiness for your life.
I am Jesus Christ, Son of God. I am God. I, God, long to be with you and teach you. Go not off on your own. Come to Me. I love you so!
end of excerpt
Song:
A Song from Jesus
The Birth of Jesus
1.
R.
And so our mission is this – to help to bring Christ alive in the hearts of so many, that the Sacred Heart of Jesus will Reign in their hearts.
On December 17, 1991, I had the vision (on the front of the second Blue Book) and this is the message that I received.
December 17, 1991 His Burning Heart
R.
I was alone in All Saints Church after Mass and Communion, in front of the tabernacle, when I saw the Sacred Heart. It was red around the outside, then a layer of yellow and then the brightest light in the center. I felt heat and it looked like an open furnace.
I thought about it all day and it instantly gave me peace and warmth in my heart. This is the purpose of these letters—to draw hearts to the ardent on-fire love of Jesus. I received the following message that day:
"Open your heart to the fire of God's love. He is ablaze in your heart. He wants to dwell in you and love you and others through you. Love God, yourself and one another and experience the fire set aglow in your heart and experience the warmth of His love."
2.
R.
On January the 5th, 1997, I was awaken – Jesus woke me with this mumbling tone, which graduated to a firmness speaking: bare baby, bare flesh, laid bare, then proceeded with the following message.
January 5, 1997
Jesus:
Open yourself, Oh Jerusalem, your time is come you will be a light to the people in darkness, many will walk whence you come and the earth will be shakened and the light will come across a dark sky and enlighten their minds. Oh stiff-necked people, you are so stiff in your ways, let the spirit envelope you and lead you on your way.
A country of stiffs, a people of planning and prodding, of deliberating and wondering—you lack faith, Jerusalem, you lack faith in God.
Oh walk naked into the cold night, you are cold in your hearts and naked in your clothing—I cloth you with glory, I light your face with light, but you turn your cheeks to the darkness and stay stiff- necked in your hearts. Oh cold and dark hearts, reach for the light that you may know the glory that awaits the sinners and enlightens their minds.
end of excerpt
Luke 2: 34-35
...'Look, he is destined for the fall and for the rise of many in Israel, destined to be a sign that is opposed—and a sword will pierce your soul too — so that the secret thoughts of many may be laid bare.'
3.
R.
This day, this child will be born in the hearts of many as the Word is born and brought forth in their hearts. It is necessary that the seed be planted in their hearts. This is what we do in the Consecration.
4.
R.
With hope that this seed, that this Word will be brought forth in their hearts.
5.
Reference Luke 12: 49–51
6.
R.
The Child Jesus was born in a stable in Bethlehem and the angels sang, "peace on earth and good will to men", but what is peace on earth but living according to the Father's will. But before this happens there will be great division among men, division between those that are sheep and those that are goats, the ones that are living according to the Father's will, the ones that hear the voice of the Good Shepherd and follow Him, and the ones that are living according to their own will. This is our mission – to help set the earth on fire with the fire of His love. This will happen when the Word is planted in their hearts and they know God. Then they will not wander and go astray.
7.
Reference Matthew 24: 39-42
8.
R.
The directions are given in these messages to help to spread the fire of God's love across this earth, to help renew the Church and the World.
9.
January 18, 1997 - God the Father speaks:
I am using the Shepherds of Christ Movement to majorly carry out the plan begun at Fatima...I am the Father, these are My messages to bring about the reign of the Sacred Heart of Jesus and the triumph of Mary's Immaculate Heart.
Song:
A Voice Cries Out in the Wilderness
10.
Reference Luke 2: 15-20
Song:
Come Holy Spirit
The Presentation in the Temple
1.
Reference Luke 2: 22-24
2.
Reference Luke 2: 25-32
3.
Reference Luke 2: 33-38
4.
Jesus:
I speak to you, My beloved ones, for you do not comprehend the great gifts that I have given to you. The prophetess, Anna, how joyed she was to see the Child Jesus. I have given you the light to see Me in a way that I have not revealed before in human history and you treat My gifts with such irreverence. I am asking you to treasure the gifts that I have given to you, to put aside all of the division that you feel in your heart and to obey the messages that I give to you that will help spread the Good News to this world.
5.
Jesus:
I wish to speak to you about intimacy. I am God. I am the Almighty God. I am the Son of God and I speak to you, My beloved ones. I am teaching you about intimacy, about oneness. This is the role of the Shepherds of Christ Movement - to help bring all into one fold. I am the Good Shepherd, you are My flock.
6.
Jesus:
The flock is scattered and they will return to Me in one fold, majorly depending on the work that you do in the Shepherds of Christ Movement. I have set you aside to help to renew the Church and the world under the direction of your priest, Father Carter. You must pray for the priesthood of the Good Shepherds, for the Handmaids, and for this religious order that I wish to establish at some time – the Lay Apostles. I am forming you now, with these directions. It is in strict adherence to My directions that this will come about. You do not comprehend the importance of this mission that I give to you. This will help majorly to renew the Church and the world, to bring the world into oneness.
7.
R.
On January 20th and 21st of 1996 He gave me a realization of oneness and since then He has truly been teaching us weekly, bi-weekly, whatever it is about the big plan. The priests of this age do not know things that He is teaching. This will be a new earth in which men will know God as never before. We carry the message to unveil the scriptures. Father Carter, at this time, is writing the
Priestly Newsletter
. We must pray fervently that he receives all the grace to hear the words that Jesus wishes to tell him to lead the priests deeply into His Heart, for as it is now, as Jesus said this morning, "they speak from their lips and not from their hearts, but there will be a new order of priests and they will have the word of God planted deeply in their hearts."
8.
R.
Satan wants us stopped, but He says we focus too much on satan - yes indeed we do, but he keeps bothering us tremendously. But why is it he bothers us, is that we have this great mission. Are we not doing what God is telling us to do? He told me this morning that each and every apostle, and all of the people in the Shepherds of Christ, should have the third Blue Book sent to them, and that we must live according to the Blue Book messages, that this is what happened in another place, they did not pay attention to the messages that Jesus gave, and this is our fate today. If we do not pay attention to the messages in the third Blue Book, the devil will try to tear this movement apart through division between us. And what do we have to say about love of God, which is what we seek for He has revealed Himself most intimately to us, but in order to have union with Him, which is what we want, we must love Him and love one another. To be united, as we think in our hearts, only to Him and to exclude from others actually divides us from Him, for He is one with all and if we want the deep, deep union with Him, which is really all that we crave, then we must learn to love all, despite anything that happens, for if we do not, it divides us from Him.
9.
From Blue Book III
I Was Born an Innocent Baby - May 5, 1994
R.
The beginning is God-made-man, born of a virgin. He is held so lovingly in her arms. He is so perfect. She is filled with such love for Her beloved Son! The end of His life was her holding Him on her lap, His lifeless body in her arms after the world had done it's awful job on our beautiful Jesus, God-made-man!
Does this signify what this world is capable of, to take an innocent body and slaughter the baby in whatever way the world sees fit? Is this what this world is capable of? Does this world do this to our children? We are given this beautiful creation from God and look what the world does to God's creation!
But He rose to new life. He, God-made-man, was victorious. He rose and gave us new life. We, too, will rise to new life, despite the hatred of this world. Christ is victorious. The victory has been won. Death has no power over Him. Sin has no power over God. We will rise again. We will stand in glory if we stay fixed in Him. He is the victor. We are His chosen ones. It is in our commitment to follow Christ and His ways that we will be victorious. We will live forever!
end of excerpt
R.
And Simeon said that this child is destined for the rise and fall of many in Israel, and a sword too shall pierce your heart, oh, Mary. And this is how it is: we carry with us messages that penetrate the heart and soul and take the Word of God deeply into the hearts of men when we come to them with the seed that causes a change in their lives. We need God alive in our hearts.
10.
From Blue Book III
I Was Born an Innocent Baby - May 5, 1994 continues
Jesus:
In all your struggles, keep your eyes on Me, My chosen ones. Live in My love. Stay rooted in Me. You will never die. Though heaven and earth pass away, not one letter of the law will pass away. I come that you might have life and have it more abundantly, not as this world gives you life, but as I give you life. Die to the world and live in Me. I am your Savior. I come that you will live.
R.
...And He gave them manna from heaven and they knew His might and His light shone on each of them and they were His descendants. They were His heirs to the kingdom. Alleluia. Jesus is Lord...
R.
May 5, 1994 - after they didn't put out the message on the Farm.
Be at Odds with No Man - May 6, 1994
Jesus:
I cannot have division. It eats at My Heart. Make amends with your brothers. Do not live with division. Live in harmony. Do not prove yourself right, them wrong. Live by the Will of the Father.
Love him who is your brother. Despite your differences, respond in love. You must do My Will, but love your brothers. Be at odds with no man. If you are doing My Will, you do not have to justify yourself.
Do it, do not explain, always love one another, no matter any differences. Division, confusion and anger are created by Satan!
Do not leave anyone without a sense of love and goodwill. It will eat at you both as the worm eats the apple. Strive for love. Pray, when you are in conflict, to act only in love. I love you and I will help you.
end of excerpt
Song:
A Song from Jesus
The Finding of Jesus In the Temple
1.
R.
I see now more and more to see everything in terms of the Father's Holy Family, with our Mother Mary, and that we are all brothers and sisters in Christ and this is our mission: that we are one. This is our mission here that He will bring us to oneness. And so we go to Church and what happens at Church? The priest will get up and pray that the Holy Spirit fills the priest with great wisdom to preach the Word that the people will know God more intimately.
2.
R.
And so we look at the Commandments - these are the laws that God, our Father, gave to us that we would live by to be in the Holy Family. He said "obey thy mother and thy father". He means that we must obey our earthly father and our mother, but what about Our Father, God the Father, and Our Mother Mary?
3.
Reference Luke 2: 41-45
4.
Reference Luke 2: 46-49
5.
Reference Luke 2: 50-52
6.
R.
It is funny how we interpret the commandments and the Word of God so much on an earthly level, but He is opening the heavens to us and revealing to us that we will truly see. All through the month of June He started telling me, "you will see as never before" and I had really hardly seen anything, then on July the 5th Mary appeared and she started to come every day, and then I started to see, but to this day I am realizing more and more that what He meant too was, not that I would see as never before the Virgin Mary, but what he was saying is that we, in this prayer group, as He gives us these rosaries like this, we are seeing more and more. He is taking us deeper and deeper into His Heart and we are knowing God in Him. When you read the June part of the Blue Book, think of that, think how He kept saying, "you will see as never before", and He started talking about the blind men, and then He started to reveal
Rosaries from the Hearts of Jesus and Mary
the next month, which is how He has really unveiled the scriptures to us in a great way.
7. Hail Mary
8. Hail Mary
9. Hail Mary
10.
Excerpt from Blue Book III
You Were Blind, But Now You See - June 21, 1994
Jesus:
Oh, little blind one, do you now see? I will take care of My messages. You will speak as I said you would. Do you think I am teaching you this for no reason? You will sing My messages. I give you emotion, I cry out to you. Do not fear.
Anyone who reads one message knows you do not know this material. I am simple. I am direct. I am profound.
I am God, child. I talk to you. Do you believe Me? I am Jesus Christ, Son of God. You will preach My words for Me. Concentrate on your intimacy with Me. I wanted you here. Let each moment unfold.
Dear one, I am in control of your life. Let go entirely. Surrender totally to Me. I am God. I am your beloved, loving, loving Jesus. Oh, dear one, tell My dear ones of this love burning, smoldering, intense, ardent. Oh, sweet one, do not hold back. You have the messages to help so many be drawn to My most Sacred Heart. They need this message. I have entrusted it to you. I ask this of you this day, that you speak from your heart to every soul you meet. I will guide you. Love for Me, child. Do not hold back! You were blind, now you see.
Pray to the Holy Spirit, My beloved ones. Souls are at stake and time is, oh, so short! Oh, beloved, I intently love you and long to be united to your heart. Come to Me and be so close to Me here. I love you. I love you. I love you.
R.
(I saw rays off the moon, long ones, a double moon. One night in the big chapel I saw the same rays off all the candles.) ...
Jesus:
Little one, little one, you indeed are not perfect but despite your faults I still love you. Pray to know the truth. Pray to please Me. Pray for My strength. I am always with you. Focus on Me, intimately united to you at every moment in your heart. Satan constantly wants you to focus on your faults or promote your ego. Live only to love and serve Me. Live to draw others to heaven.
end of excerpt
These Messages Are Mine - June 17, 1994 11:16p.m.
Jesus:
My child, do not worry, fret or fume. I am handling My messages. They are Mine. They will see as never before that I am God and I am truly speaking to you here. I want My Will obeyed. I will see to the publishing of these messages. I cried bloody tears because of My sorrow to be ignored. I am God. I am speaking. Time in short. Souls will be lost because they do not know the love of God. I am God. All that matters is that My beloved ones get to heaven. Some of My people, My children, will lose their souls. This is the mighty medicine: I want My letters to circulate. I want My letters published. Why has My letter for Falmouth been held up? There are many souls that will suffer because of these delays. Nothing will draw a soul to heaven except My love. I am writing personal love letters to all My children. I want My messages published. I am your Jesus. I cry blood to see My children lose their souls. Do you know how this world is hurting?
end of excerpt
Where We Were Blind We Now See - June 8, 1994 6:15a.m.
Jesus:
You search, you look, you wander, you ache, you find nothing. Oh, little one, when do you learn? You go to man to ask the things of God. Pray to the Spirit, beg Him for His gifts. No man knows what God alone knows. You will wander. You will seek. You will find nothing of what you need to know. I will teach you My ways. I will support and comfort you. Creatures are as they are. They are imperfect, My little one. You must come to Me. I am truly here. It is your doubt that has caused you such anxiety. No one will confirm to you what I alone am telling you.
Where you were blind, My child, you now see. You learn your lessons. You are given trials. You suffer. But what lessons you learn that draw you close to Me!
end of excerpt
March 15, 1998
Jesus:
I come to you that I will lead you from the darkness into the light. It is through you that the world will majorly be brought into oneness. As the holy family of the Father, you must model your life after Me. I am your brother, Jesus Christ, the Son of God. You are to be brothers for one another that you will lay down your life for one another. This is what I ask of you.
God the Father: I am the Father, Mary is your Mother. Jesus is your Brother. I come to you and I ask you to unite as My holy family.