May 31st - Rita is doing a Prayer
Service Sunday at 12 Noon.
Please tune in to the radio
and pray with us.

Pray for Fr. Joe, Dan, Melanie, Mary, Sanja, Rita,
Jim, Rosie, Louie's family, Carol R. & Family –
Madonna, Christopher, a special couple,
all Shepherds of Christ intentions on lists.
Pray for China and the mailing.
Also pray for Urgent intention
Prayer for Grace for our Country

Dear Father united to Jesus in the Holy Sacrifice of the Mass, the Sacrifice of Calvary sacramentally made present, celebrated around the world, in the Holy Spirit. We offer up all we do united to the Mass. We unite in one mind and one heart as members of the mystical body of Christ, with Christ our head in the pure and holy Hearts of Jesus and Mary, through the powerful intercession of Mary with all the angels and saints and souls in purgatory, and we beg for the saving grace, for our country, the United States. Please help us. We further pray for unity to always do the will of God in love. We spread the Blood of Jesus on the leaders and people of the United States and cast the devil into hell. We consecrate our country to the Sacred Heart and Immaculate Heart and all our dioceses, and beg for an outpouring of the Holy Spirit. God help us. We pray for our families, the priests, the Church and the world. In the Name of Jesus please hear us, we pray. We pray for our president and leaders. We pray that we are united as one nation under God to work together in love as God wants.



May 30, 2020
R. Today Fr. Joe was ordained
56 years ago.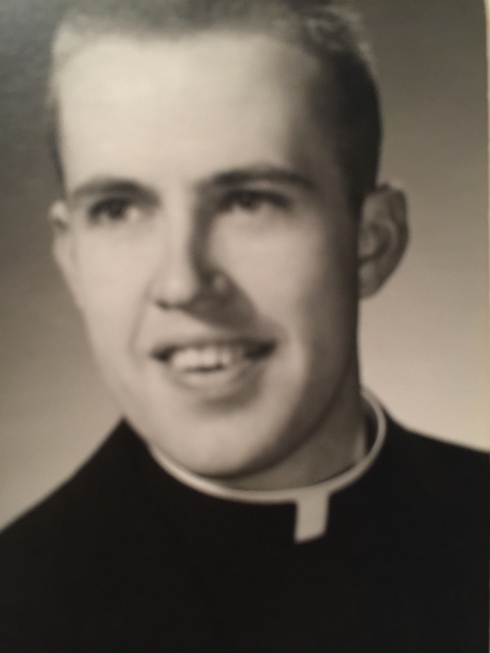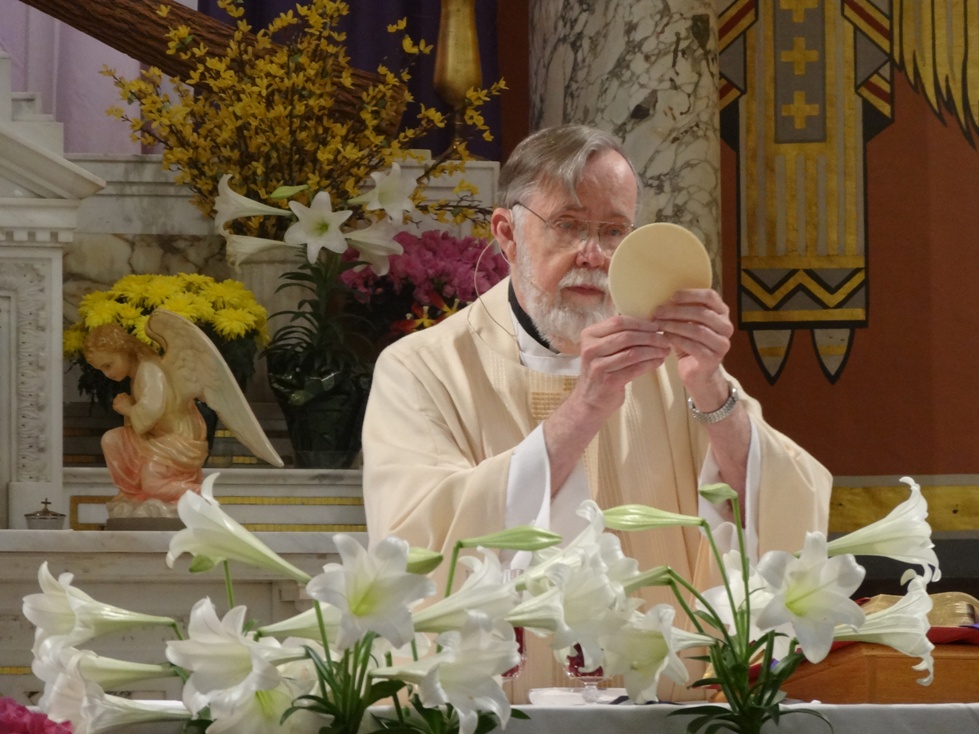 R. Fr. Joe is sick
please pray for him
today.
Written September 24, 2000

Messenger: Mary stood beneath the cross of her Son and she was in such anguish, of this I write.

She saw the anguish of her beloved Son. She watched, she heard Him sigh, breath, she endured the time, knowing the time was near for His death.

There was the intensity of waiting during the passion. Think of her anguish watching him as He hung on the cross.

Mary knew things from the prophecy of Simeon. She knew of a deep sorrow to pierce her heart.

Think of the anguish of her heart.

Think of Mary holding the lifeless body of Jesus under the cross. Meditate on the sufferings she endured.

Think of how she felt at the tomb where they laid her Son.

Pray for light to know more fully the heart of Mary in these sufferings.

Mary had such a deep connection in her heart to Jesus. They were so united.

Death by crucifixion was used to kill criminals. They crucified Jesus, the Son of God.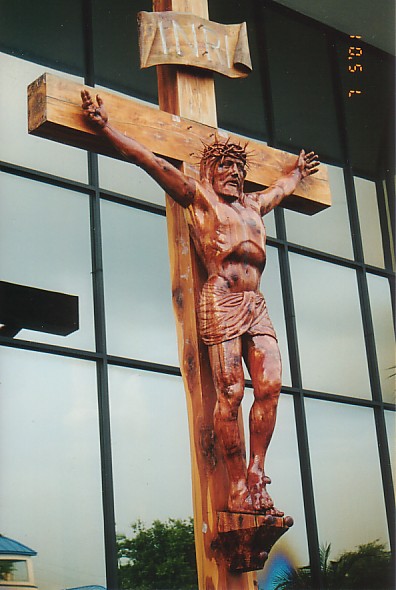 July 5, 2001
September 24, 2000 message continues

Messenger: It is painful to see injustices in the world.

We go through sufferings concerning injustices in the world. Mary cries out about the sins of her children. We identify with Jesus. He knew all the souls that would be lost despite His suffering.

Be with Jesus in the garden of Gethsemane and see the sins of the world. Pray for knowledge to know more about the souls being lost. We must pray more fervently. Beg for mercy from God for our sins and the sins of the world.

I could write forever of those moments of Mary as she stood beneath the cross or when she held the lifeless body of her Son in her lap.

She shared in His Passion. She stood and watched Him suffer. She did not take a pill to numb her pain, nor was there any mechanism used to dull it. Every moment was with full intensity as she watched His mutilated body be drained more and more of fluid and blood until He took His last breath, giving His life for His precious souls.

A person watching someone linger with cancer can identify with Mary as she watched her beloved Son die.

We will die.

We must keep our focus on the life hereafter.

A woman of beauty, our Mother Mary, God allowed Mary to suffer.
Luke 2:35

and a sword will pierce your soul too—so that the secret thoughts of many may be laid bare.'
~ The Seven Sorrows of Mary ~
| | |
| --- | --- |
| | 1. The Prophecy of Simeon |
---
| | |
| --- | --- |
| | 2. The Flight into Egypt |
---
| | |
| --- | --- |
| | 3. The Loss of the Child Jesus in the Temple |
---
| | |
| --- | --- |
| | 4. Jesus and Mary Meet on the Way to the Cross |
---
| | |
| --- | --- |
| | 5. Jesus Dies on the Cross |
---
| | |
| --- | --- |
| | 6. Jesus Is Taken Down from the Cross and Laid in Mary's Arms |
---
| | |
| --- | --- |
| | 7. The Burial of Jesus |
September 24, 2000 message continues

Messenger: Many times we try to alleviate suffering from our lives.

Suffering was a major part of the life of Mary.

Her heart was filled with such knowledge. She knew joy and suffering. She watched her Son die a pitiable death. Jesus is the Lamb of God.

We think we are so smart here. Do we really know the ways of our God? We think the way it is at present may go on and on. The flower eventually withers and fades and the beauty of the full blossoming flower goes with time. A flower, once an instrument of awe because of its beauty, may soon be thrown on a dung heap pile.

Our bodies may deteriorate and decay, but God promises eternal life to those who love and serve Him.

Be with Mary outside the tomb of Christ. Feel the emotion in Mary's heart.

Pray for sorrow for our sins and light to know God more and more.

Contemplate the joy of Mary to know Christ has risen.

She saw her little baby born in Bethlehem. Now she sees Him die on the cross. Christ her beloved Son, rose victorious. We receive a sharing in His Divine life through baptism.

The rosary is so beautiful. We meditate on the lives of Jesus and Mary.

We identify our lives with Theirs. We live His life, death and resurrection in our lives. We ask God to help us grow in a greater likeness to the New Adam and the New Eve.

Many times we take our health for granted. God can call us from this life at any moment.

end of September 24, 2000
R. MARY watched Him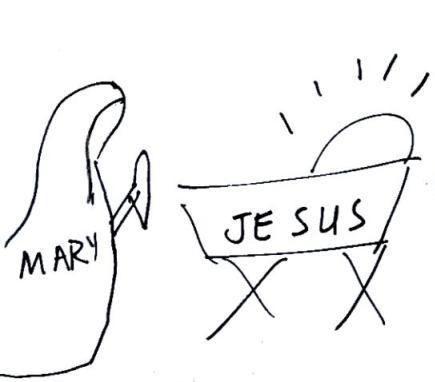 R. Mary watched Him in
Bethlehem
We adore Him in
China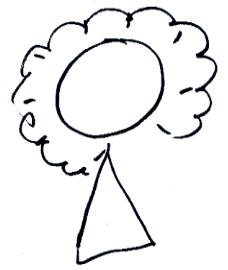 R. Mary watched Him
carry His cross.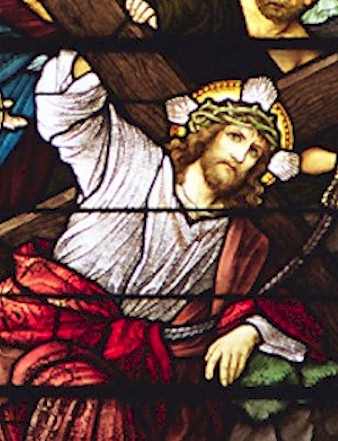 R. Mary watched Him
die.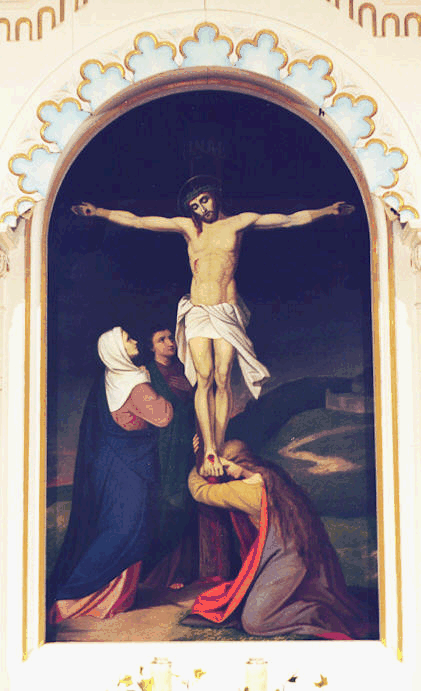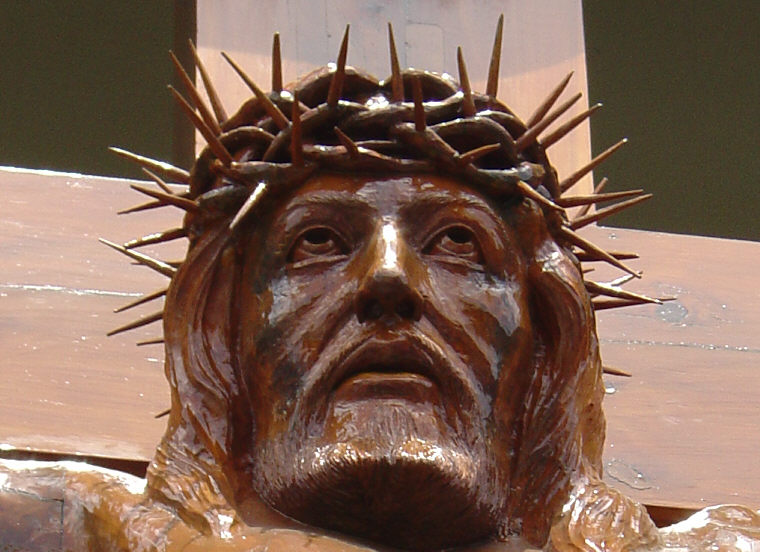 September 4, 2004
R. Mary held His lifeless body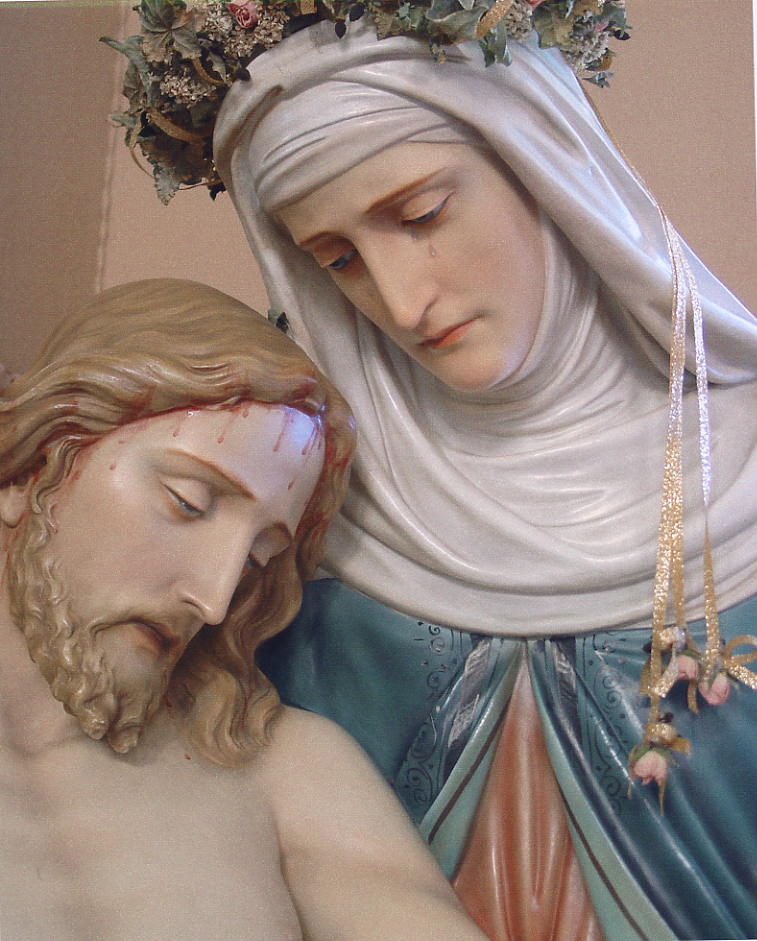 R. Mary cried outside Jesus'
tomb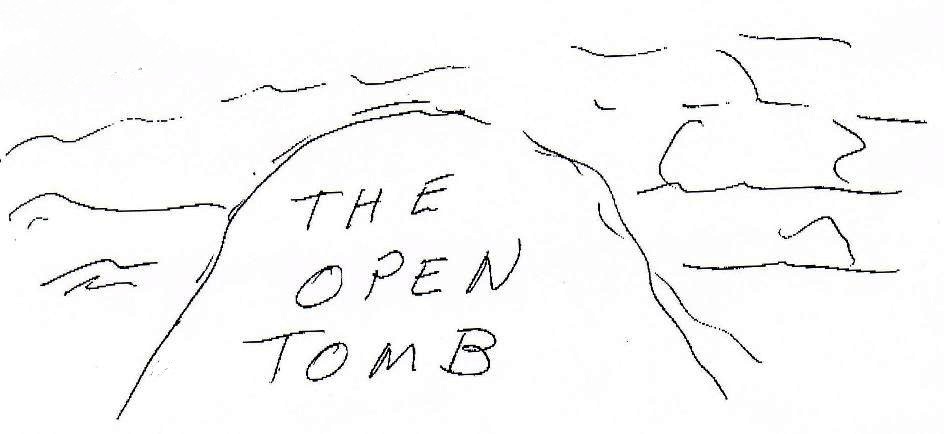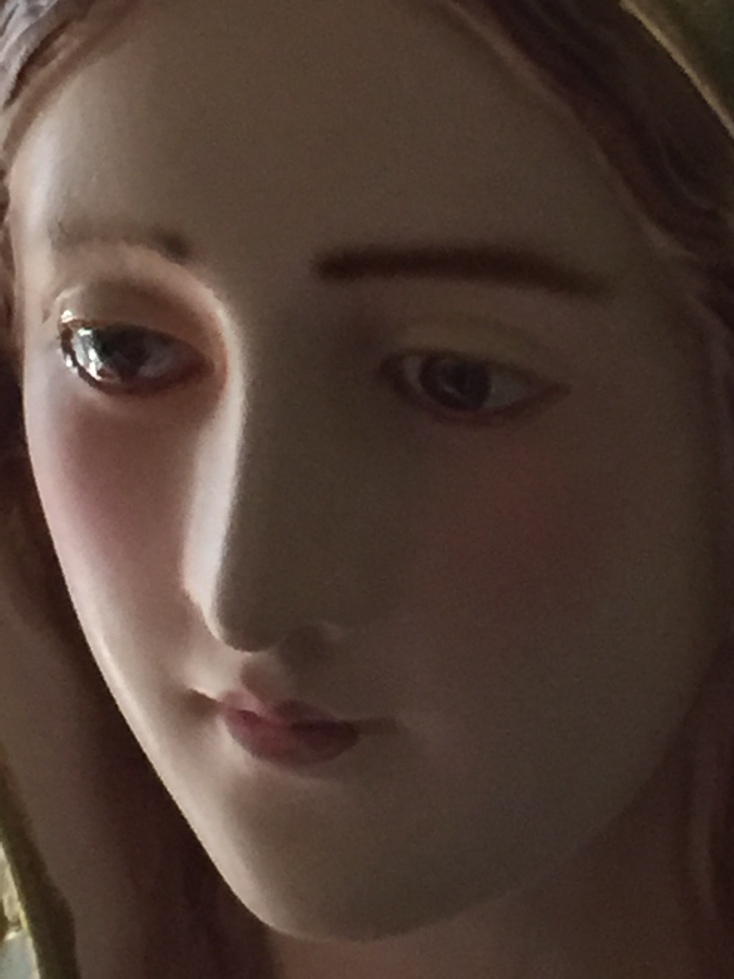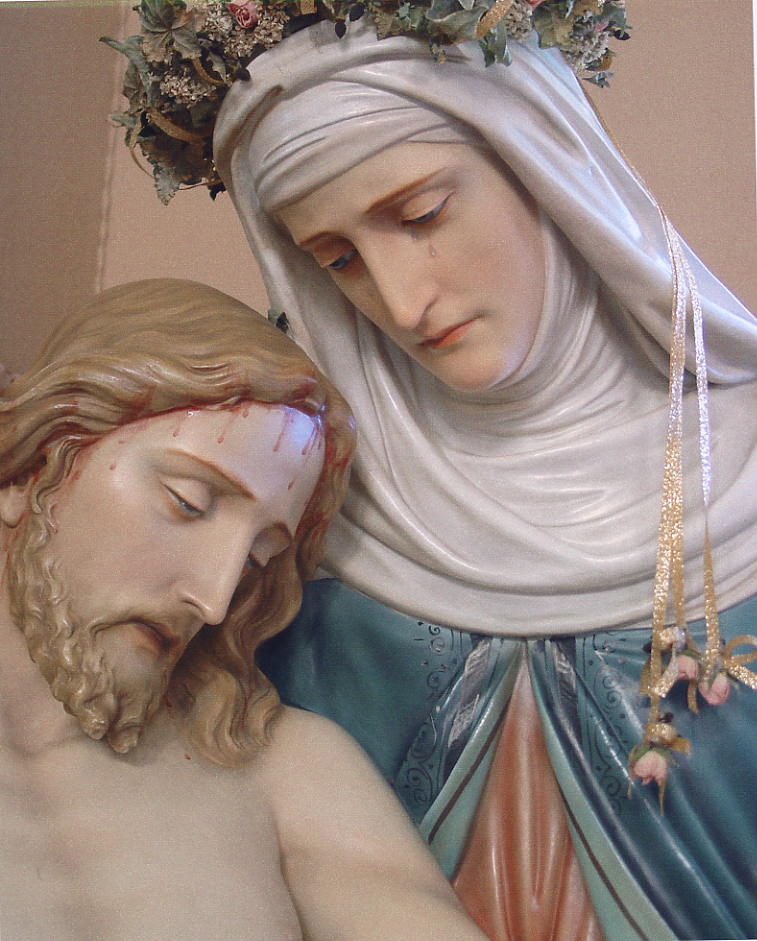 R. Mary's Message:
Mary stood under His cross –
Mary watched her Son
carry His cross.
Mary saw her Son crowned
with thorns.
Mary saw His beaten body –
Mary said "yes"
Jesus said "yes"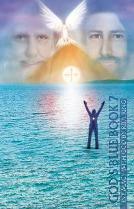 25 Years Ago
May 5, 1995
Consecrate Your Churches, Home, and Workplace to Our Hearts
Jesus: I want you to consecrate the human race to Sacred Heart of Jesus. I want to be enthroned in all homes, churches, and businesses.

June is the month of the Sacred Heart. I want to be king and center of all hearts. I will keep My promises given to St. Margaret Mary of Alacoque. I promise all this from My most Sacred Heart. Consecrate your chapter to the Sacred Heart of Jesus. Consecrate the church or room in which you hold your meeting.

Today is First Friday. I want you to circulate the message I gave to you on consecrating your homes to My Sacred Heart. Make booklets available for people to be able to consecrate their homes and businesses easily. Use the message I gave to you when you consecrated your home.

The Sacred Heart of Jesus will reign and the Immaculate Heart of Mary will triumph. Consecrate all homes and businesses to Our Two Hearts. Tell all to have displayed and honored, pictures of the Sacred Heart of Jesus and the Immaculate Heart of Mary. May and June are the months of Mary and the Sacred Heart of Jesus. Tell all to consecrate their homes to Our Two Hearts. I am the Sacred Heart of Jesus. On this day, the 5th of May, 1995, First Friday, I request that you spend the next two months encouraging all to do this consecration.

Gather your friends and say the prayers I have instructed you to say. Sing "To Jesus Heart All Burning" and "Immaculate Mary." May these Two Hearts of love give all members of the human race peace, joy and love in their hearts.

R. Jesus said He desires to be honored by men in the Blessed Sacrament.

Jesus: Circulate the Blue Book messages. They promote this devotion. How My Heart is filled with happiness by the souls who come to the tabernacle and sit with Me. I am Jesus Christ, I wait and long and thirst for My precious souls to come. The souls of men have turned cold. I want souls to come to daily communion and be with Me in front of the tabernacle.

Men's hearts have turned cold. They do not know what love really means. I want hearts that are filled with fire for love of God. Men's hearts have turned to stone.

You are to promote devotion to My most Sacred Heart. I want hearts that burn with love for My Heart. It is through Me that you will know the Father's love. I am the Way, I am the Truth, I am the Life.

Offer a holy hour for the indifference, ingratitude, and sacrileges committed against Jesus in the Blessed Sacrament, the Sacrament of His greatest love.

R. He promises great graces to those who give reparation to His Sacred Heart and who tell others about offering reparation to Him. end of May 5, 1995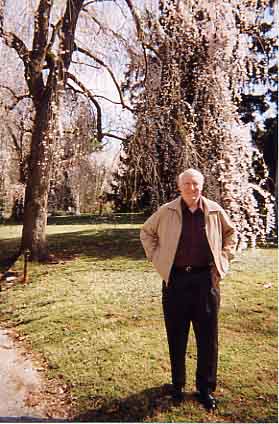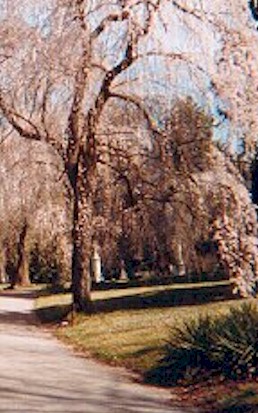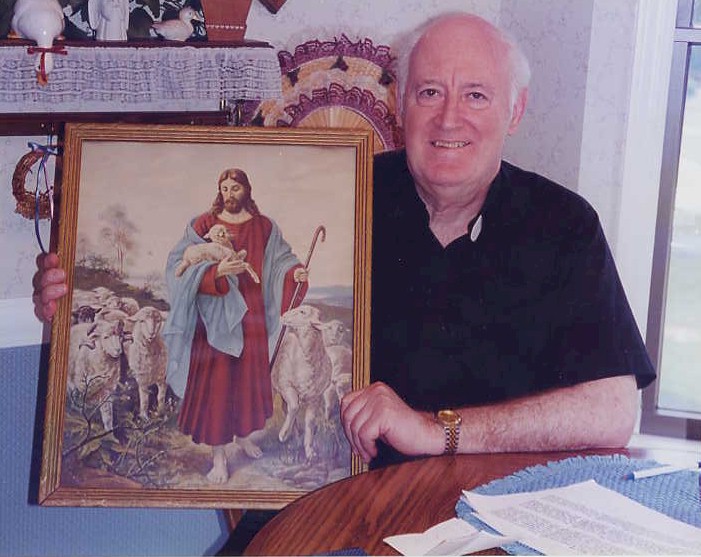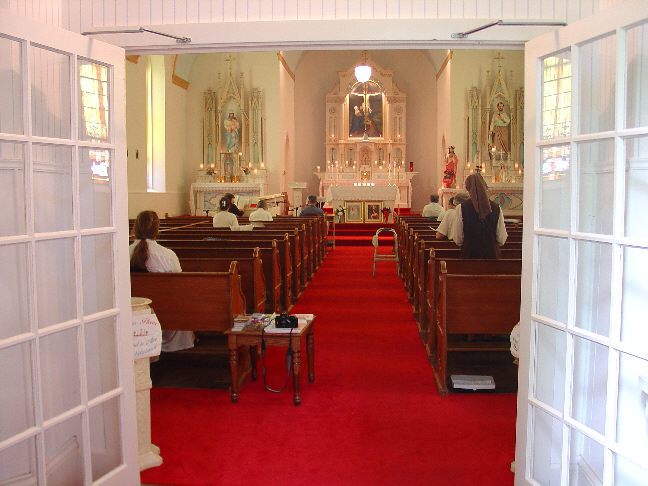 R. Mary's image head was destroyed –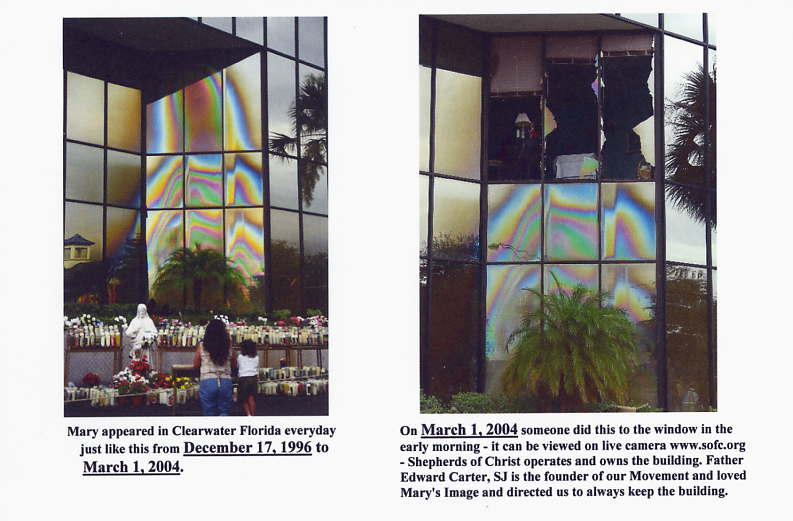 R. Dear Mary,
We are sorry for offending
you. Please help us as our
heavenly Mother through this
crisis. Please Mary help
your little ones.
Mary:
Many are so blind. Meditate
on the 7 sorrows.
I stood beneath the cross and
I cried for the little ones that
would be lost forever.
I am your Mother of love –
I stand with you in your
trials and I cry blood
for your little ones that
will lose their souls because
they turn away from the
cross and away from Jesus.
I love you my little
beautiful children. Jesus
loves you so much. Jesus died
for your sins. Thank God for
all His gifts to you. Pray
to my Spouse the Holy Spirit.
The Holy Spirit will strengthen you
and give you His gifts –
The Holy Spirit is my Spouse. He
works to sanctify your
hearts.
I love you –
I am Mary your heavenly
Mother.
R. Dear Mary,
We are sorry for offending
Jesus and for our sins.
Please take us to your
Immaculate Heart. We love
you Mary very much.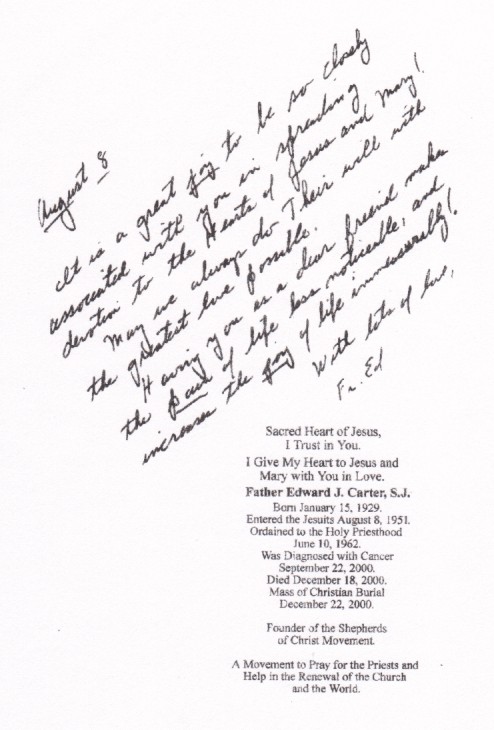 R. Dear Mary, we love you, our
heavenly Mother –
December 19, 1996
Mary: I am Mary, your Mother. I do not appear as I once appeared to you. I am asking you today to circulate my message given on a tape on the feast of Our Lady of Guadalupe, December 12, 1996.
R. Mary then appeared
"Our Lady of Clearwater"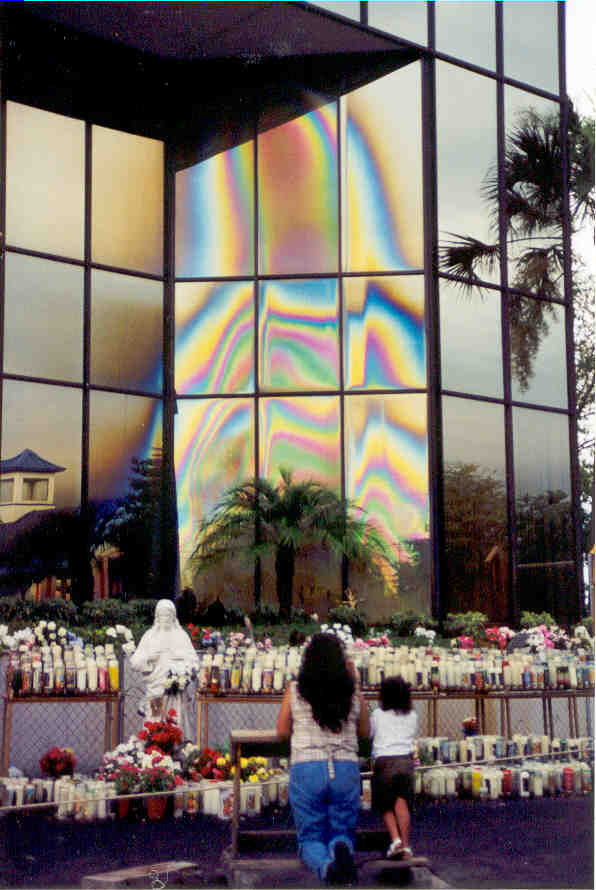 R. Mary then appeared pretty Mary.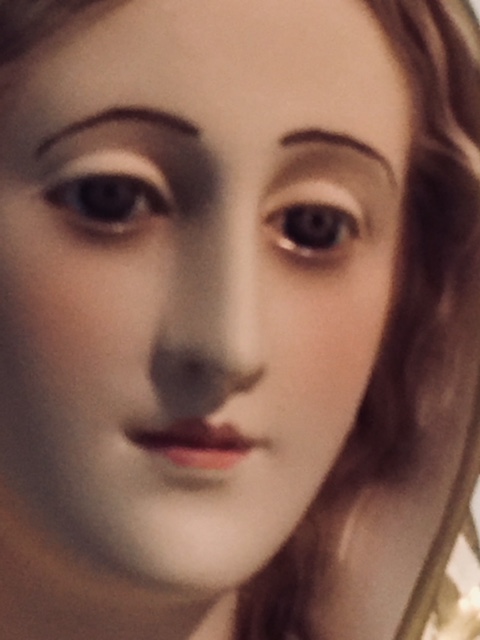 Mary: Children can make the
rosaries and learn at home how
to pray the rosary.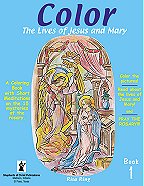 Click for Color Books

R. Jesus gave this message to Fr. Carter
in his own handwriting.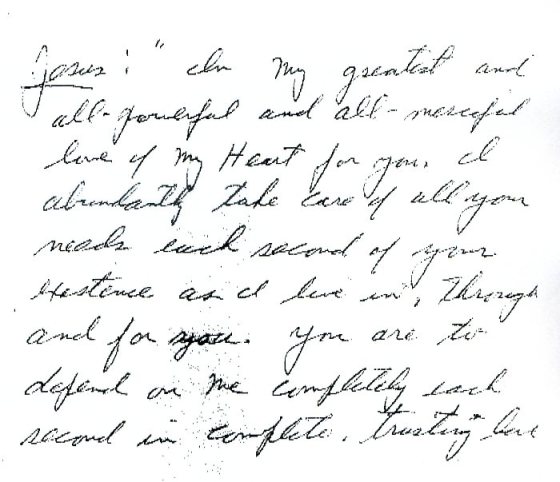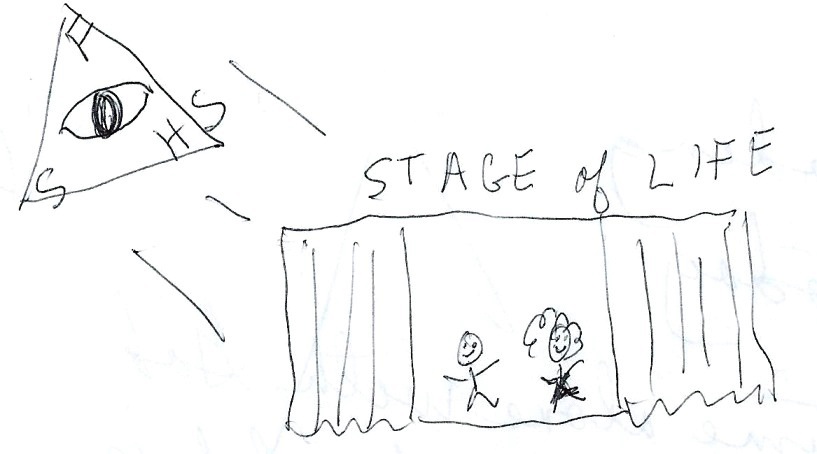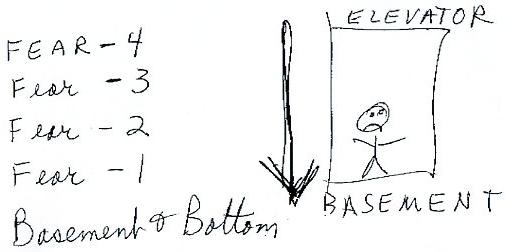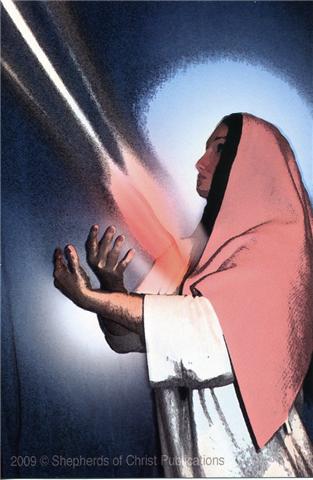 Sing:
Glory, Glory, Glory Lord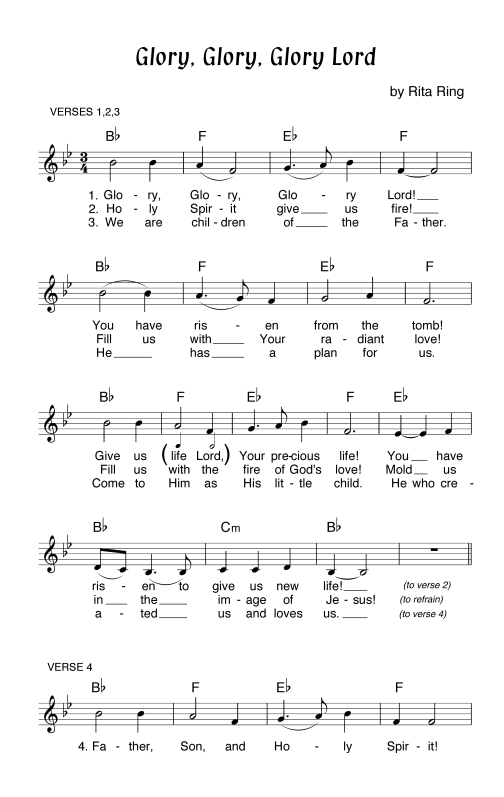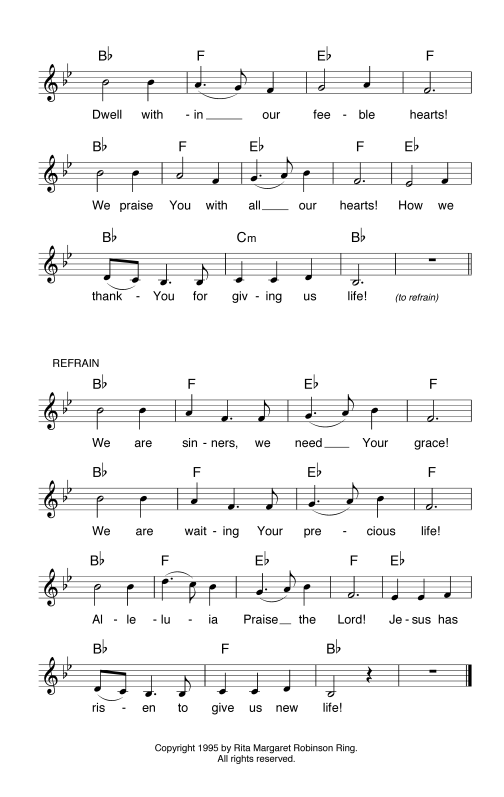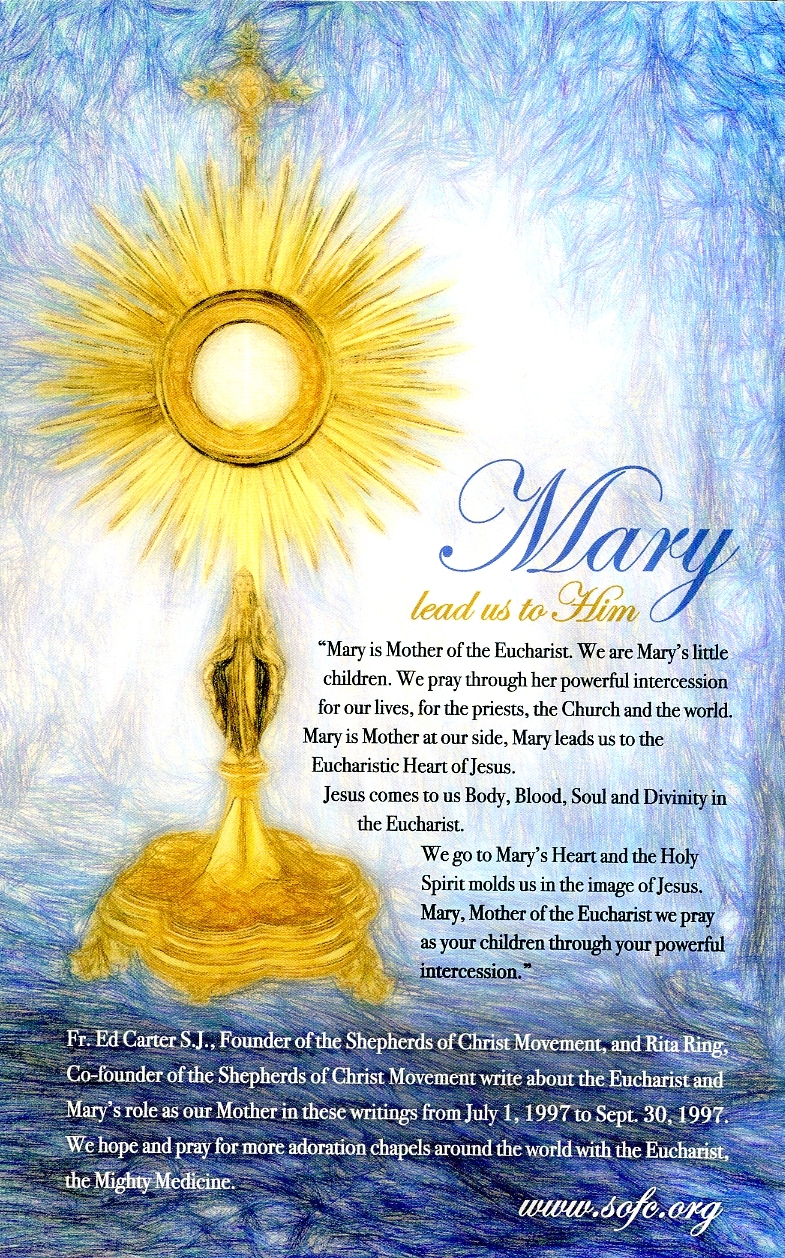 Pictures from May 5, 2002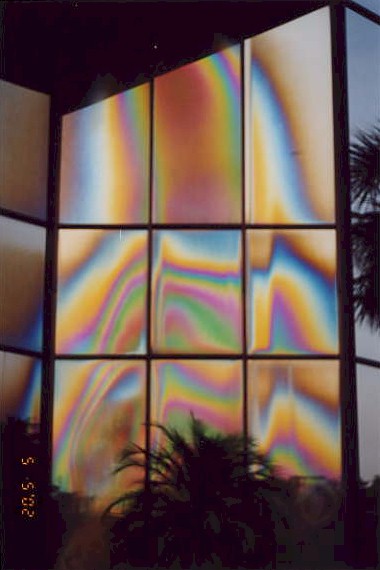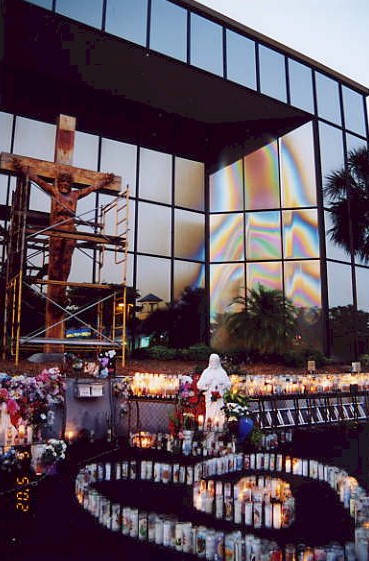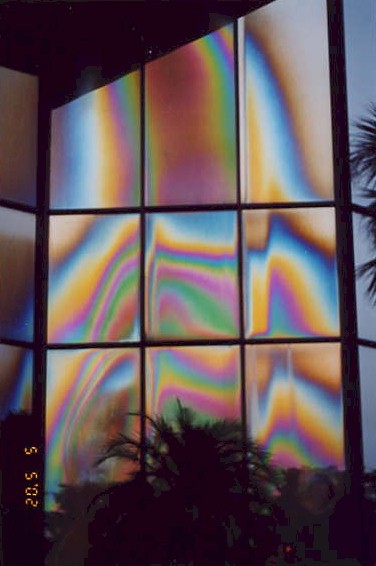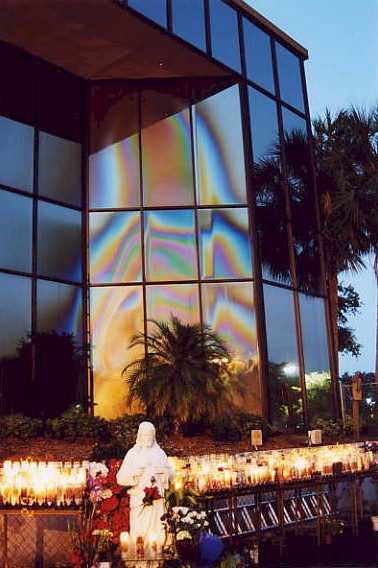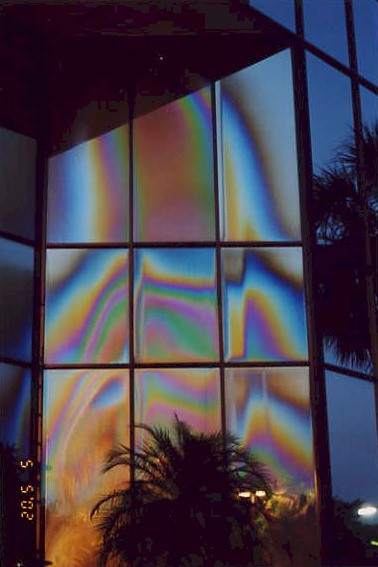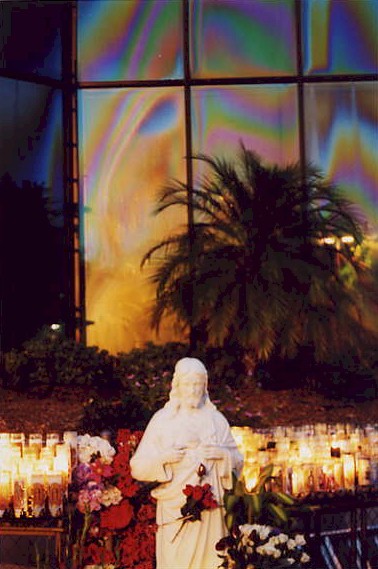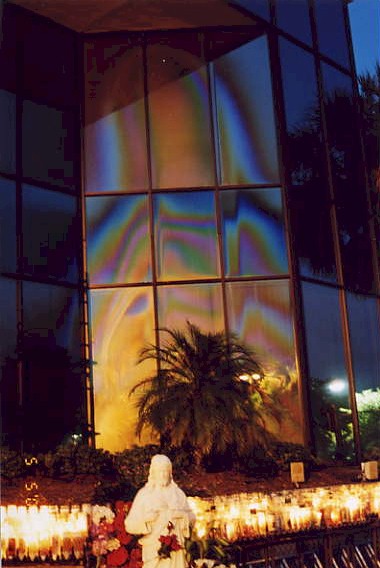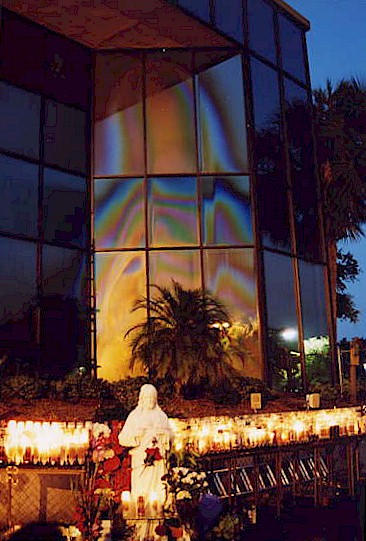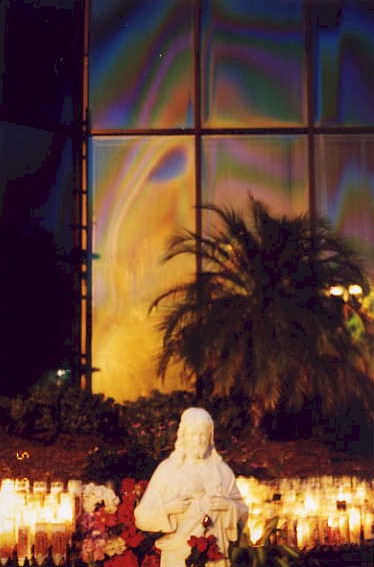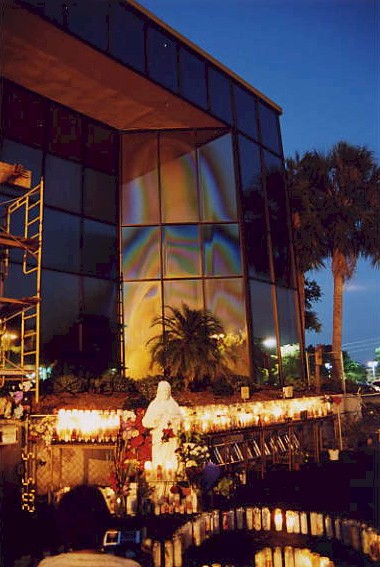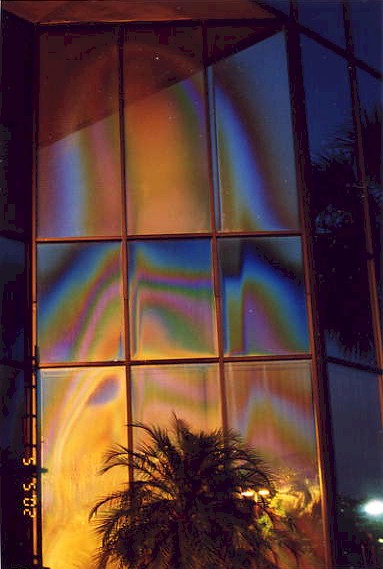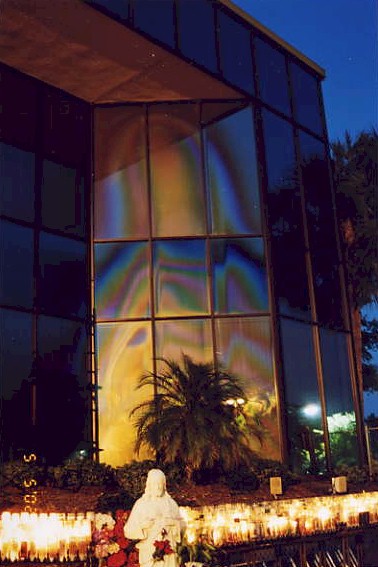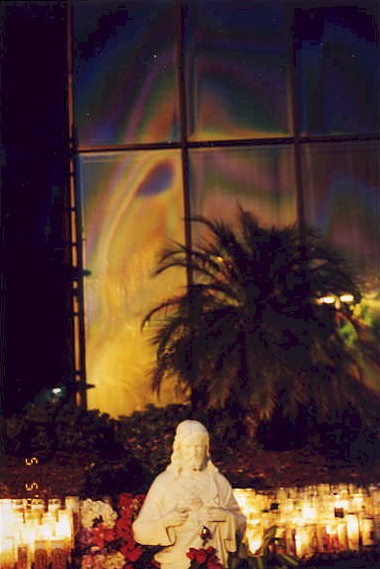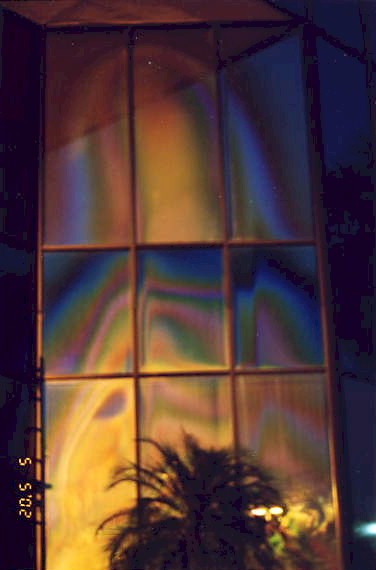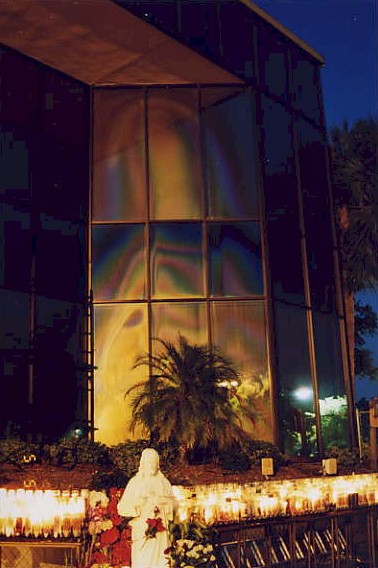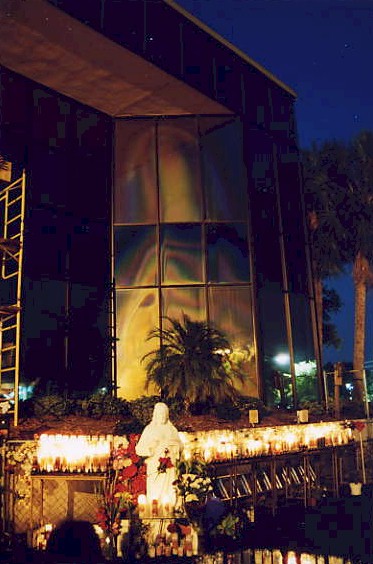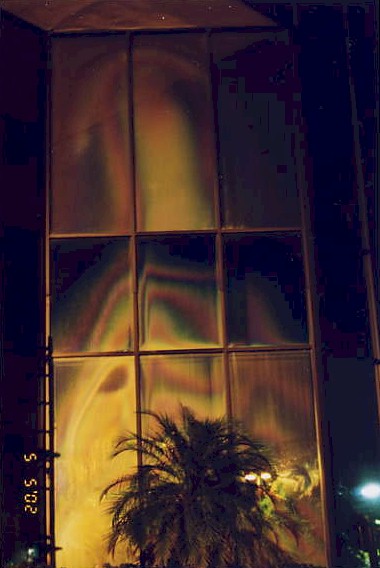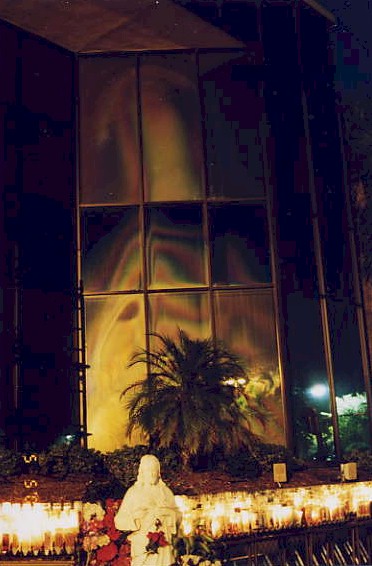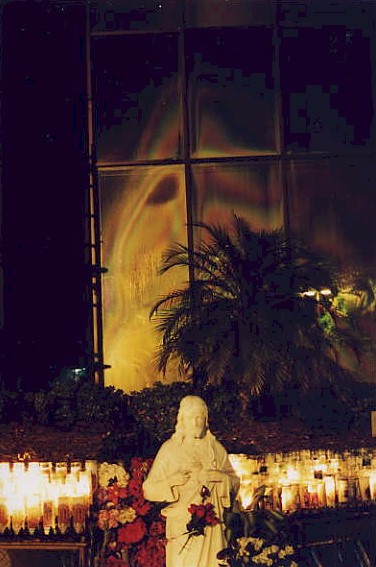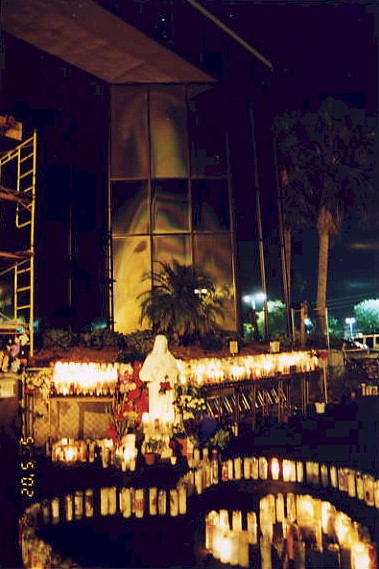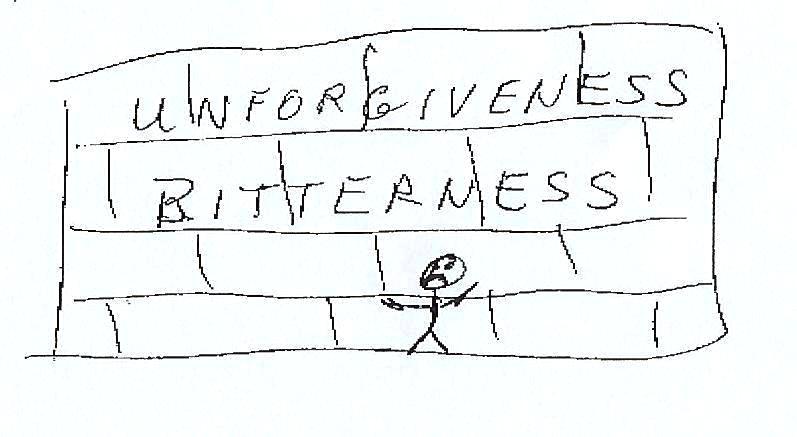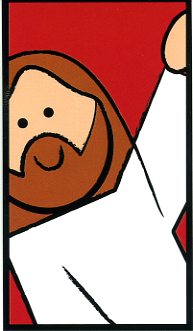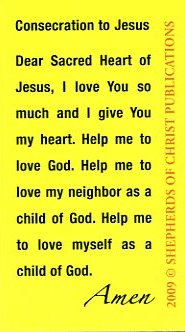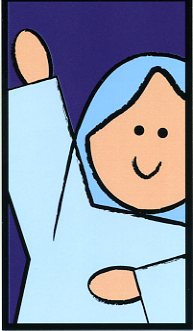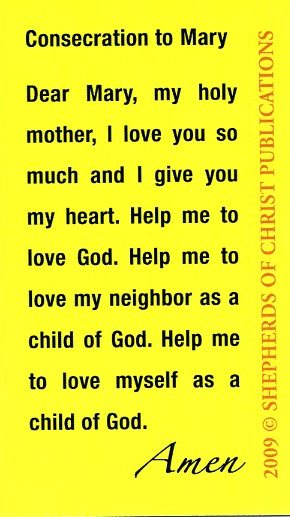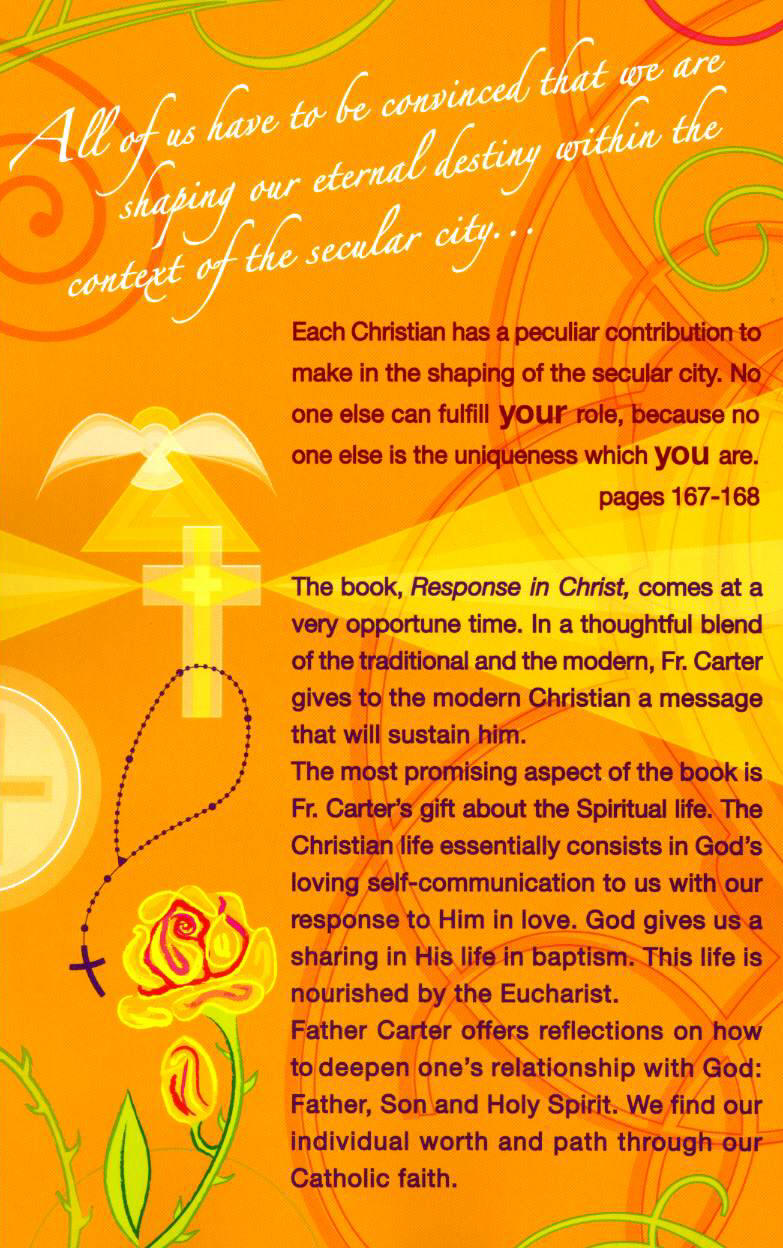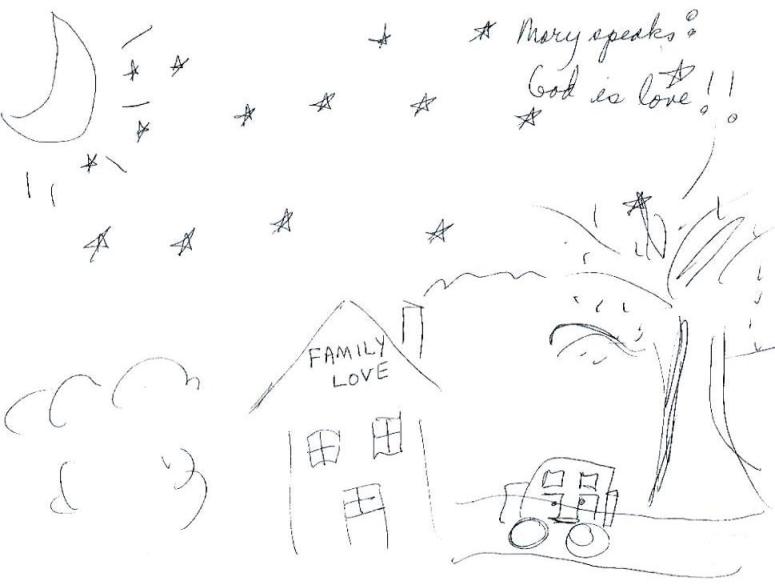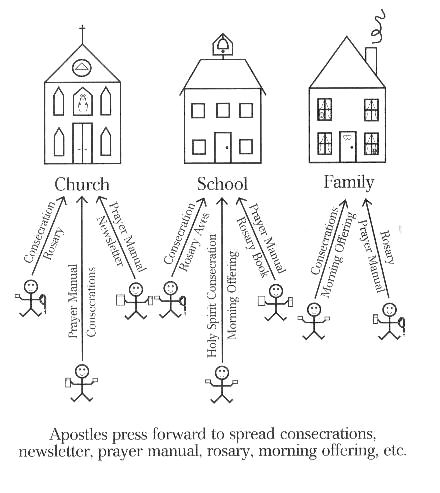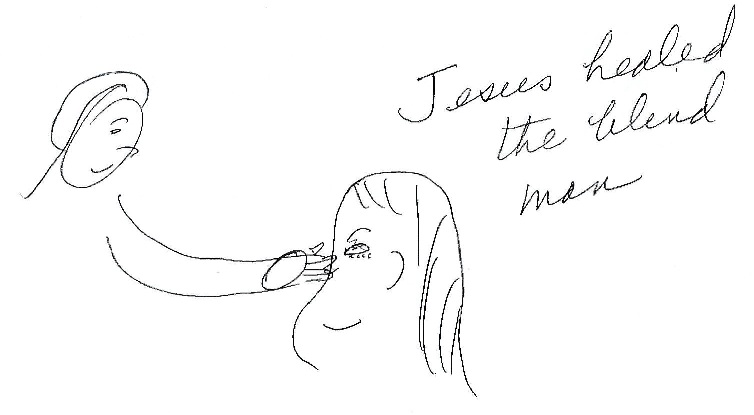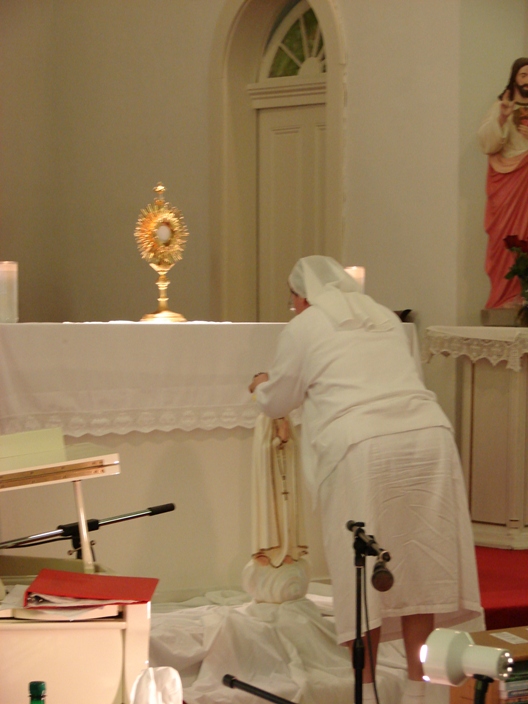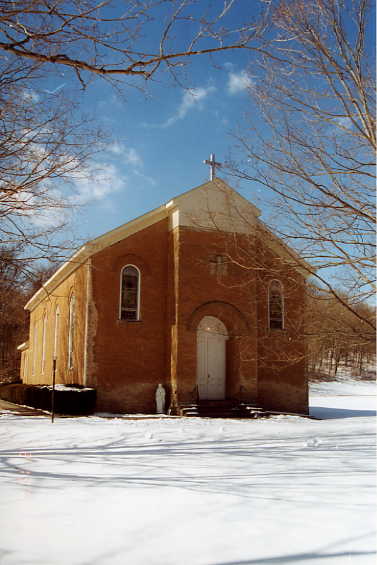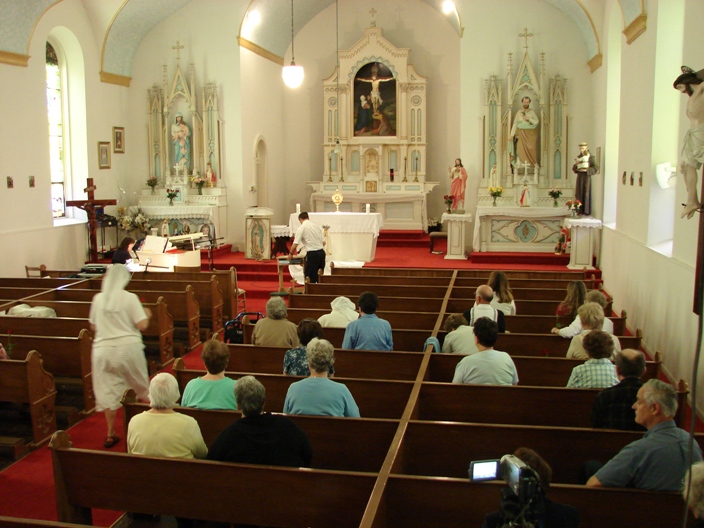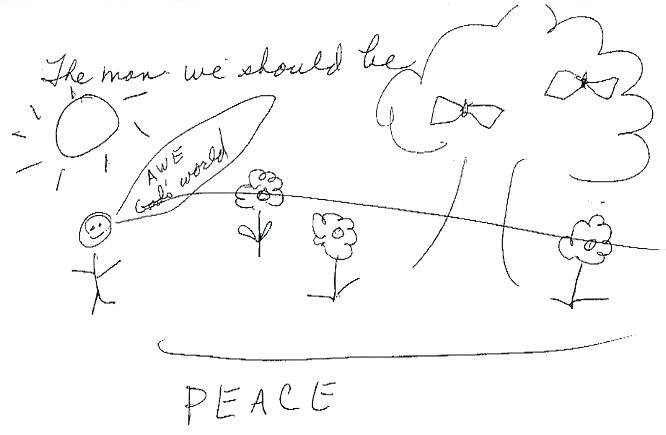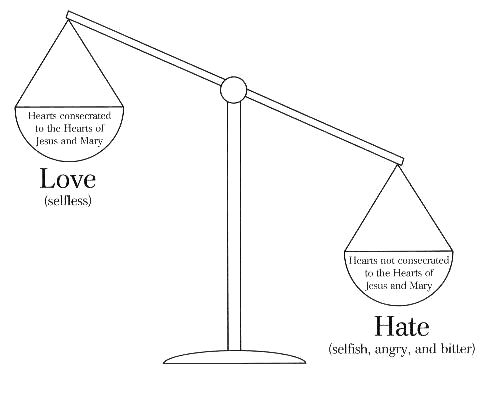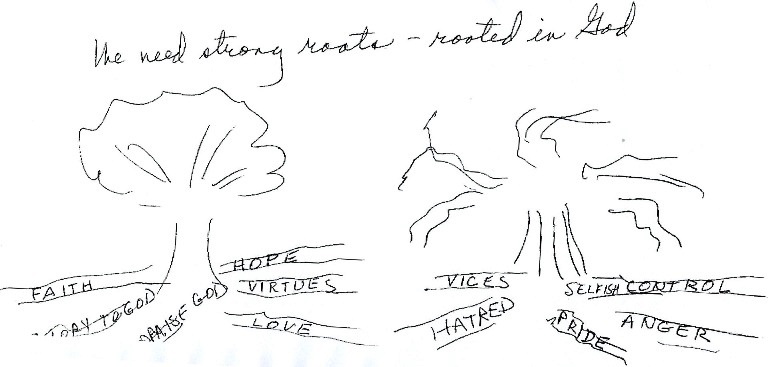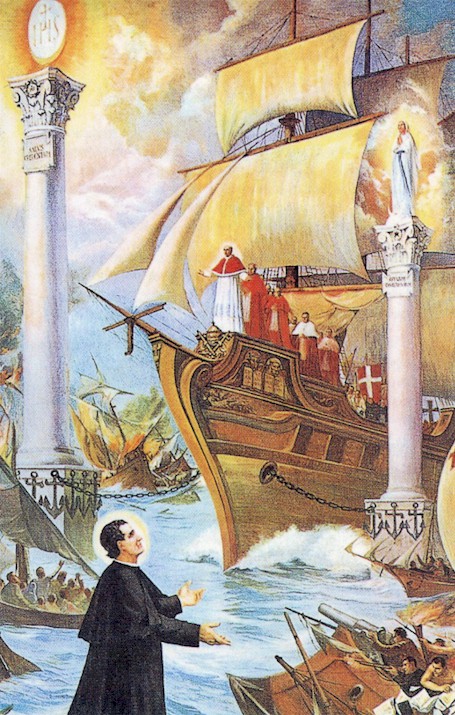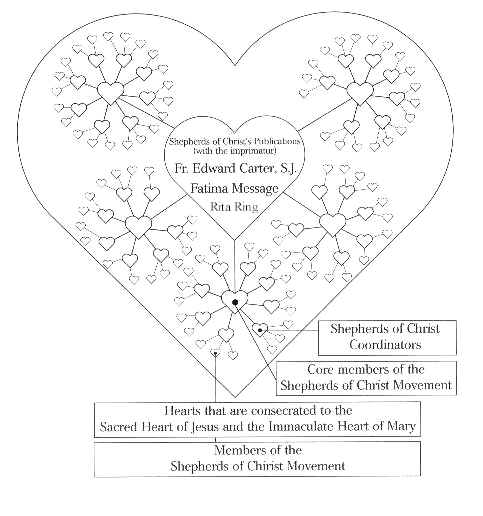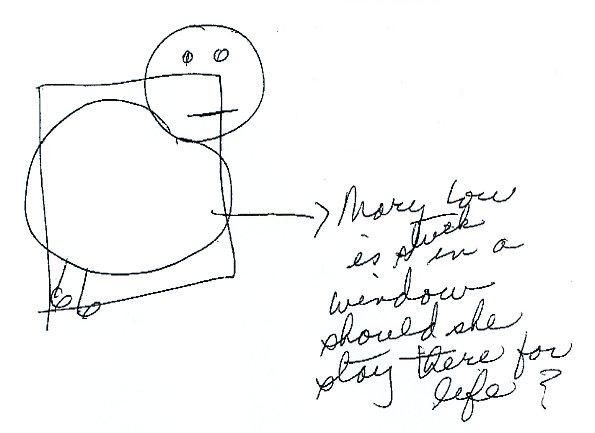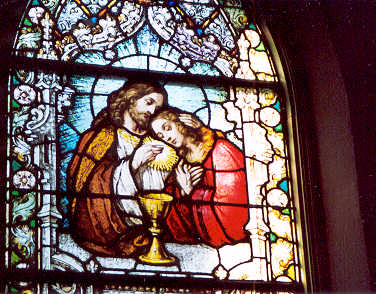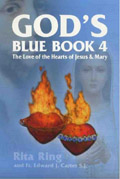 August 9, 1994

Cradled to Sleep by My Heart

Jesus speaks: Trust Me My child as a child who crawls
into their mother's arms. The child is not
afraid of being hurt. The baby is picked
up and then ceases to cry. Be as the baby
who is held and caressed by a loving
parent. The baby is totally at peace. They
know the touch of the parent. They totally
surrender into their arms.

There is no stiffening in their body, it
becomes a total release of self into the
arms of the loving mother.

Release child, total yielding into My
arms. I will tuck you forever in My
most Sacred Heart. My Heart is warm, My
Heart has the tender constant beat of
My love. This is your soothing balm, to
be cradled to sleep by the sound of
My beating Heart. You rest in Me in
total peace. Total surrender, total
letting go. Be as the baby at the breast.

I am the Good Shepherd, I know Mine
and they follow Me. I caress you so closely
in My Heart. My Mother places you so gently
in the very recesses of My Heart. Be at peace
My child.

This is peace, total surrender to God.
You constantly hear a soft beating of My Heart.
It is constantly lulling you to sleep. It never
stops, it is plugged into a source of undying
love. It never runs out, I am the almighty
God with a Heart on fire for love of you,
My precious one. Total surrender, total
yielding, total trust in the God who
died for you, Who gave His very life for love
of you.

I am the Good Shepherd, I fondle you in
My Heart. Total trust to Me. Be at such
peace.

I am He who ardently loves you, every
minute of the day. Come to Me My babies,
I call you to My loving Heart.

You need to have this total submission, a
total release of anything that holds you
back. Total trust in Me as a loving
shepherd.

Oh sweet one, surrender your all. Satan
constantly wants you to hold back. Release
yourselves into the recesses of My Heart. Be lost
in the fold of My love and be lulled to sleep
by the beats of My Heart.

I love you so much My sweet one. Never
hold back anything from Me.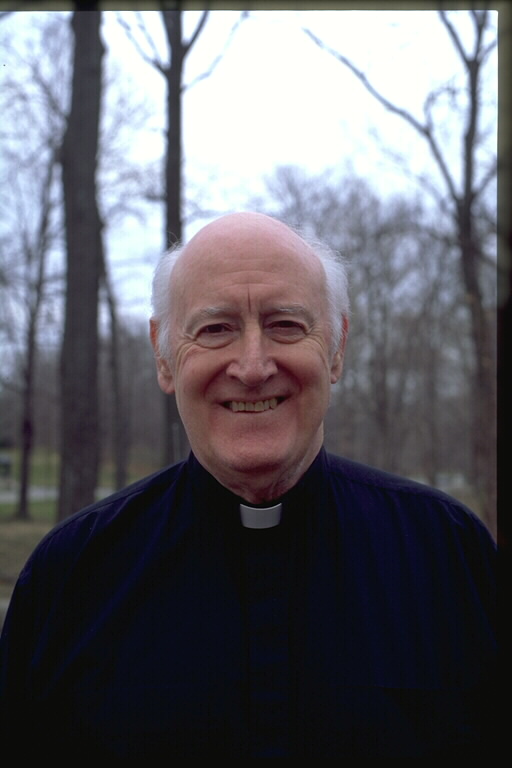 Written September 24, 2000

Messenger: I watched by his bed.

A book for those who help cancer patients, for their relatives and friends who need to cope with the suffering of losing a loved one.

It was a quiet day or so it seemed, the long months of watching John go "down hill" had come to an end.

I did not know that the end was indeed so near, but the story had been written in the days that went before, but I really never read the message given in the days that led up to that final page.

There were months of warnings, but I just lived every day coping with that day's events and when the final page was about to be written, I felt shocked, empty and afraid.

The days before were all telling the story, but like anyone in love with a family member, who wants to think that days of parting might be so soon? Oh, but they were so soon. As I look back now, I see I just didn't recognize them.

Every person can only do so much, but out of love those we love deeply and love us, sometimes, cover up their real conditions in an attempt to live life as usual.

Cancer is a mighty menace. It attacks the weak and the strong. It acts like an aggressive machine growing and growing inside someone's body and they may not notice the gradual sucking of their life from the other parts of the body until it almost leaves them dead.

I was a little girl of five years old when the deadly disease ate away the cells in my mother's body as it took over her body and she soon died.

But I am not here to make you feel sorry for me or to tell you about anything new, but to write of the dying and rising of my dear friend, Fr. Carter.

The signs were there, for in January he became very sick and even though he wanted to go to the Virgin Mary building to say a private Mass there, he could not go and the once held plane reservations were cancelled.

He remained sick and on February 5, 2000, when we opened the Rosary Factory in Clearwater, Florida at Mary's Image site, he did attend, but he didn't feel good and he continued trying really hard to serve us as a ministry.

Now, I don't know, in September after they opened him up and told us what they did, how he ever did all he did, being so sick. It was September 22, 2000, when they operated on him and it was January 22, 2000, when we were supposed to go to Clearwater, Florida, exactly eight months later.

Father Carter continued to keep a hectic schedule.

Jesus told him to write the lengthy spirituality newsletter in which he summed up a great deal about the spiritual life. We could all study it for our entire life.

As I write this, I don't know if he will ever tape record this 20 page newsletter or the next newsletter.

I do know this, the signs were there and Father worked really hard to continue doing all he did despite his sickness, weakness. His faith in the Movement never wavered. He had a burning desire to serve Jesus and help renew the priesthood, the Church and the world.

Father worked and worked because he loved us all so much and loved the world and he didn't complain, ever.

His faith in this Movement and the messages of Jesus is shown in his life given to this.

Father showed us the message of Jesus in his life. He lived in such union with Him. He offered Mass every day praying so fervently for souls and for all of us.

I see the signs especially on the trips. Mary was adorned in gold on the building July 5, 2000, during the evening prayer service.

end of September 24, 2000
May 4, 2020
Mary: Pray to the Holy Spirit.
Keep consecrating to the Sacred Heart and my
Immaculate Heart as I have told you.
Do not let up on your prayers –
China is the Eucharistic Center of the world.
I appear as Our Lady of Clearwater to
deliver these message from
God the Father –
25 years later May 5, 1995
26 years ago this was blocked May 4, 1994.
I am Mary your Mother –
Tell Sheila to read my message
from 2 days ago and this
message
and May 5, 1995
May 4, 1994
and do the rosary in today's
daily message from Blue Book 10.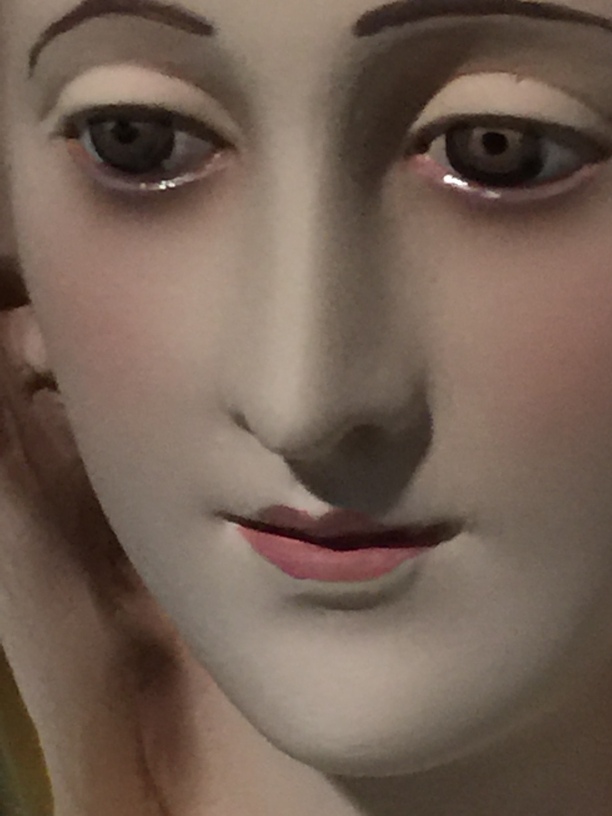 May 5, 2020


May 2, 2020
Mary:
What is important is praying to the Holy Spirit.
Come Holy Spirit Come and fill us with the fire
of Your love.
R. We love You God with all of our
hearts. Our Lady of Clearwater help us – we
pray during this retreat. We consecrate
the Church and the world to the Sacred Heart
and Immaculate Heart as far as we are able.
We consecrate ourselves to the Sacred Heart and
Immaculate Heart.
We consecrate our families to the Sacred Heart
and Immaculate Heart as far as we are able –
We consecrate our homes to the
Sacred Heart and Immaculate Heart.
We consecrate the United States to the Sacred Heart
and Immaculate Heart.
We consecrate the Shepherds of Christ Movement,
our Centers to the Sacred Heart and Immaculate Heart.
We consecrate all priests and hierarchy to the Sacred Heart
and Immaculate Heart as far as we are able.
We love You, God, thank You,
thank You.
Mary:
I want this said at all prayer
services, first, during this retreat.
Follow with Holy Spirit prayers at 6:20
The 6:20 Format.
I am Our Lady of Clearwater –
Pray fervently for the healing of this
virus and its extinction – pray through
my Immaculate Heart – pray to
the Father in the Name of Jesus –
Oh my children, satan is
strong and he wants to scare you.
Pray the rosary, consecrate your
family and homes – the family
that prays together, stays
together.
Pray, Pray, Pray, I am
Our Lady of Clearwater,
Pretty Mary, Mother of the Church,
Our Lady of Fatima in the Americas.
Pray to the Holy Spirit –
Pray as you have never prayed
before –
Do not fear – pray, my children.
I love you, I am your Mother,
Mary, I love you my precious
child.
Sing Veni Sancte Spiritus
Say Holy Spirit Sequence
From the Lectionary
Pentecost Sequence
Come, Holy Spirit, come!
And from your celestial home
Shed a ray of light divine!

Come, Father of the poor!
Come, source of all our store!
Come, within our bosoms shine!

You, of comforters the best;
You, the soul's most welcome guest;
Sweet refreshment here below;

In our Labor, rest most sweet;
Grateful coolness in the heat;
Solace in the midst of woe.

O most blessed Light divine,
Shine within these hearts of yours,
And our inmost being fill!

Where you are not, man has naught,
Nothing good in deed or thought,
Nothing free from taint of ill!

Heal our wounds, our strength renew;
On our dryness pour your dew;
Wash the stains of guilt away;

Bend the stubborn heart and will;
Melt the frozen, warm the chill;
Guide the steps that go astray.

On the faithful, who adore
And confess you, evermore
In your sev'nfold gift descend;

Give them virtue's sure reward;
Give them your salvation, Lord;
Give them joys that never end. Amen.
Alleluia.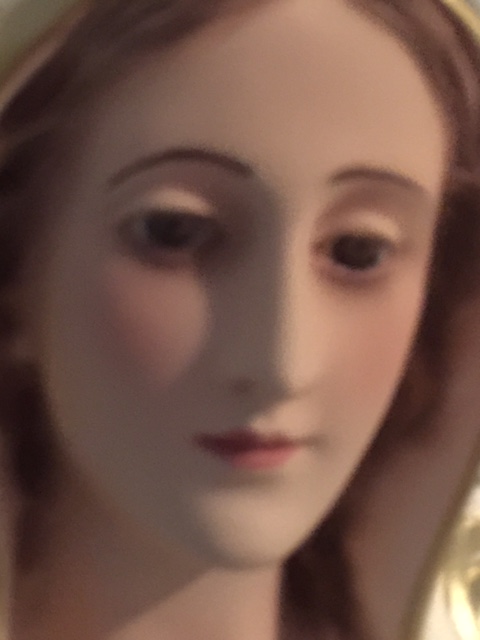 May 2, 2020 - First Saturday

R. Let the thoughts be positive.
My God help everything in my brain and body to work toward health.

God gave us a beautiful body.
The brain is the pilot. Let it be filled with light and healing energy.
God gave us this beautiful machine to operate through life.
Our eyes help us see.

Our brain helps direct the body.

Our ears give us hearing.

Our arms and legs help us live, maneuver.

Oh God thank You for all You have given us.

You gave us breath for our body.
You gave us organs to operate, so we can live.

You gave us cells to reproduce, a skeleton and nerves.

You gave us blood and a system to maintain life.
Oh God thank You for the peace we can have, the interior life, the brain to think,
the heart to love.

Oh God thank You for the world with such beauty, the sky, the rolling hills and mountains, lakes and streams, the ocean so wide and beautiful.

Oh God all the animals, fish, greenery and flowers.

So much beauty, God.

God is love.
God gives us each other to love, to know, to be with.

God gives us our family to love, to be with.

Oh my God, You are so good to me.

My God, Thank You.

I love Thee so.

God is love and in Him is no darkness.

God loved us into existence. God wants us with Him.

Pure and perfect love.

Thank You God for this day and all it brings.

I love You.