Please Pray for Fr. Joe & Bob


Prayer for Grace for our Country

Dear Father united to Jesus in the Holy Sacrifice of the Mass, the Sacrifice of Calvary sacramentally made present, celebrated around the world, in the Holy Spirit. We offer up all we do united to the Mass. We unite in one mind and one heart as members of the mystical body of Christ, with Christ our head in the pure and holy Hearts of Jesus and Mary, through the powerful intercession of Mary with all the angels and saints and souls in purgatory, and we beg for the saving grace, for our country, the United States. Please help us. We further pray for unity to always do the will of God in love. We spread the Blood of Jesus on the leaders and people of the United States and cast the devil into hell. We consecrate our country to the Sacred Heart and Immaculate Heart and all our dioceses, and beg for an outpouring of the Holy Spirit. God help us. We pray for our families, the priests, the Church and the world. In the Name of Jesus please hear us, we pray. We pray for our president and leaders. We pray that we are united as one nation under God to work together in love as God wants.
May 29, 2021
Mysteries of light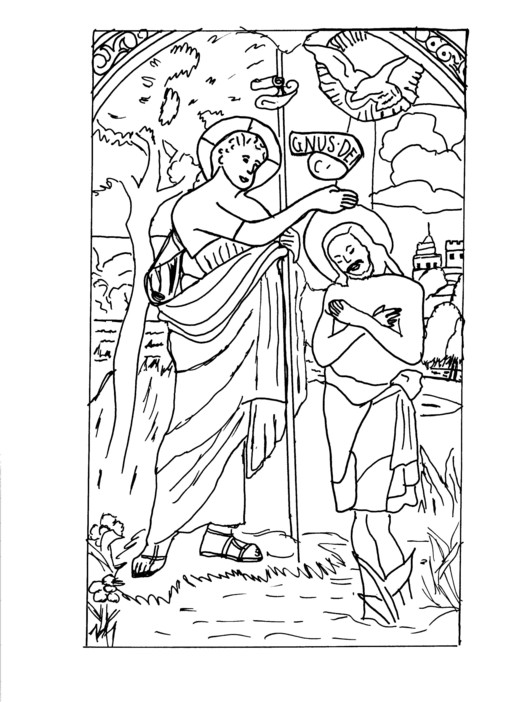 The Baptism of Jesus

1. Matthew 3: 13-17

Then Jesus appeared: he came from Galilee to the Jordan to be baptised by John. John tried to dissuade him, with the words, 'It is I who need baptism from you, and yet you come to me!' But Jesus replied, 'Leave it like this for the time being; it is fitting that we should, in this way, do all that uprightness demands.' Then John gave in to him. And when Jesus had been baptised he at once came up from the water, and suddenly the heavens opened and he saw the Spirit of God descending like a dove and coming down on him. And suddenly there was a voice from heaven, 'This is my Son, the Beloved; my favour rests on him.'

2. The heavens were thrown open and the voice of the Father was heard.

This is My beloved Son in whom I am well pleased.

3. Above the head of Jesus was the Holy Spirit.

4. The Trinity is 3 Persons in One God.

5. Excerpt from Response to God's Love by Fr. Edward Carter, S.J.

... In reference to Christianity, God himself is the ultimate mystery. Radically, God is completely other and transcendent, hidden from man in his inner life, unless he chooses to reveal himself. Let us briefly look at this inner life of God.

The Father, in a perfect act of self-expression, in a perfect act of knowing, generates his son. The Son, the Word, is, then, the immanent expression of God's fullness, the reflection of the Father. Likewise, from all eternity, the Father and the Son bring forth the Holy Spirit in a perfect act of loving.

At the destined moment in human history, God's self-expression, the Word, immersed himself into man's world. God's inner self-expression now had also become God's outer self-expression. Consequently, the mystery of God becomes the mystery of Christ. In Christ, God tells us about himself, about his inner life, about his plan of creation and redemption. He tells us how Father, Son, and Holy Spirit desire to dwell within us in the most intimate fashion, how they wish to share with us their own life through grace. All this he has accomplished and does accomplish through Christ.
6. In Baptism we receive a sharing in His life.
7. Our knowing and loving capacity is elevated in baptism.
8. We receive the supernatural virtues of faith, hope and love in Baptism.
9. God is light and in Him is no darkness.
10. Jesus is the way, the truth and the life.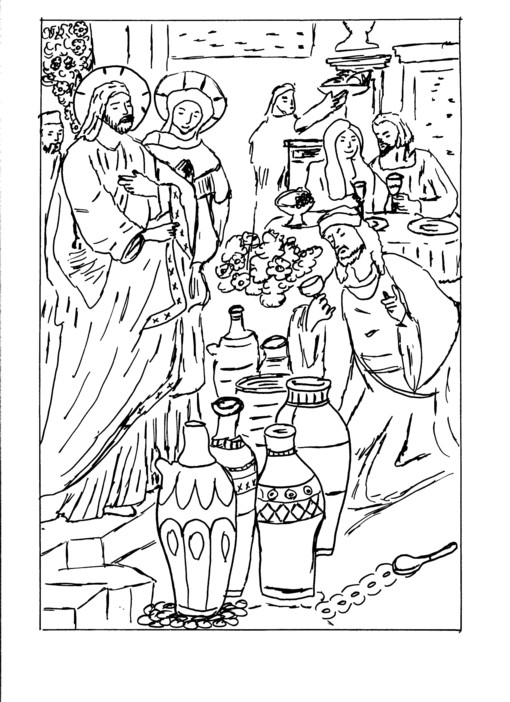 The Marriage at Cana
1. John 2: 1-10
On the third day there was a wedding at Cana in Galilee. The mother of Jesus was there, and Jesus and his disciples had also been invited. And they ran out of wine, since the wine provided for the feast had all been used, and the mother of Jesus said to him, 'They have no wine.' Jesus said, 'Woman, what do you want from me? My hour has not come yet.' His mother said to the servants, 'Do whatever he tells you.' There were six stone water jars standing there, meant for the ablutions that are customary among the Jews: each could hold twenty or thirty gallons. Jesus said to the servants, 'Fill the jars with water,' and they filled them to the brim. Then he said to them, 'Draw some out now and take it to the president of the feast.' They did this; the president tasted the water, and it had turned into wine. Having no idea where it came from—though the servants who had drawn the water knew—the president of the feast called the bridegroom and said, 'Everyone serves good wine first and the worse wine when the guests are well wined; but you have kept the best wine till now.'
2. Jesus changed water into wine.
3. God gives us the priest.
4. We are so gifted to be given the priest.
Song: A Priest is a Gift from God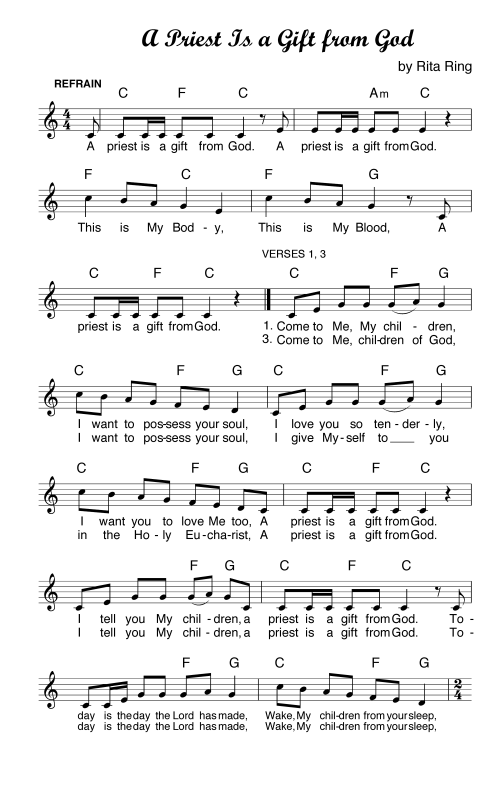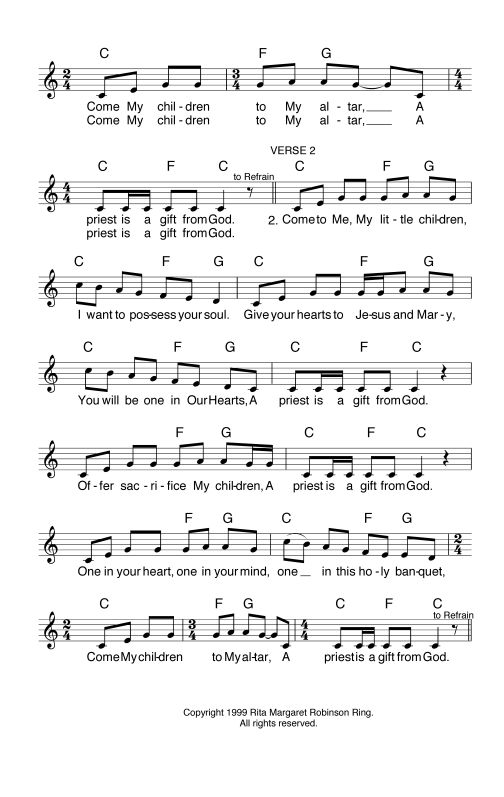 5. Jesus worked miracles on earth.
6. God the Father loves us so much.
7. God the Father created us in love.
8. God has a plan for us.
9. God is here with us now.
10. God watches out for us and loves us so much.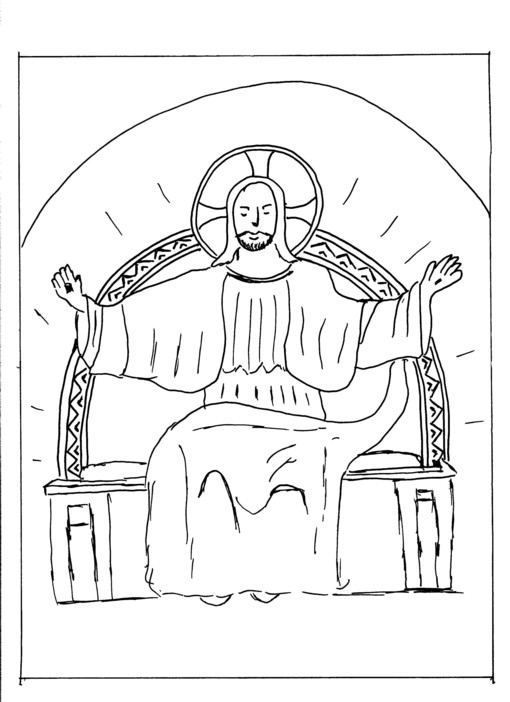 The Kingdom of God
1. Jesus is the King of heaven and earth.
2. God is love and the very hairs of our head are number.
3. God calls us to help build the Kingdom of God.
4. We give ourselves to God who deserves honor and glory and love.
5. God is a Supreme being.
6. God will not forget us.
7. God is Almighty.
8. God is all Powerful.
9. Matthew 5: 3-10
How blessed are the poor in spirit:
the kingdom of Heaven is theirs.
Blessed are the gentle:
they shall have the earth as inheritance.
Blessed are those who mourn:
they shall be comforted.
Blessed are those
who hunger and thirst for uprightness:
they shall have their fill.
Blessed are the merciful:
they shall have mercy shown them.
Blessed are the pure in heart:
they shall see God.
Blessed are the peacemakers:
they shall be recognised
as children of God.
Blessed are those who are persecuted
in the cause of uprightness:
the kingdom of Heaven is theirs.

10. Gifts of the Holy Spirit –
Wisdom, Understanding, Counsel,
Fortitude, Knowledge, Piety
and Fear of the Lord
and the fruits of the Holy Spirit –
charity, joy, peace, patience,
benignity (kindness), goodness,
long-suffering, mildness,
faith, modesty, continency,
and chastity.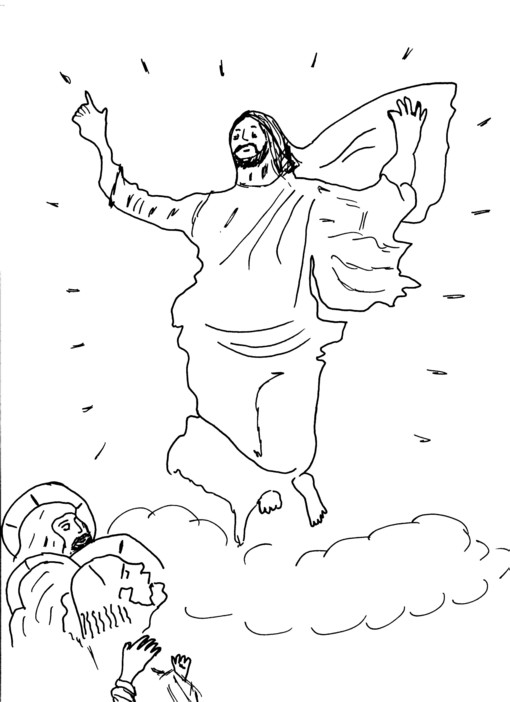 The Transfiguration
1. Mark 9: 2-8
Six days later, Jesus took with him Peter and James and John and led them up a high mountain on their own by themselves. There in their presence he was transfigured: his clothes became brilliantly white, whiter than any earthly bleacher could make them. Elijah appeared to them with Moses; and they were talking to Jesus. Then Peter spoke to Jesus, 'Rabbi,' he said, 'it is wonderful for us to be here; so let us make three shelters, one for you, one for Moses and one for Elijah.' He did not know what to say; they were so frightened. And a cloud came, covering them in shadow; and from the cloud there came a voice, 'This is my Son, the Beloved. Listen to him.' Then suddenly, when they looked round, they saw no one with them any more but only Jesus.
2. The voice of the Father was heard.
3. This is My beloved Son in whom I am well pleased listen to Him.
4. Jesus showed Himself transfigured.
5. Disciples listen. We need to listen to Jesus who taught us so much.
6. From the Baptism of Jesus to the Transfiguration - it is like bookends in Jesus' public life.
7. These are the Mysteries of light!!!!!
8. We can think of how God wants us to go to heaven and have the fullness of life.
9. God wants us with Him eternally in heaven.
10. Happiness is found in God.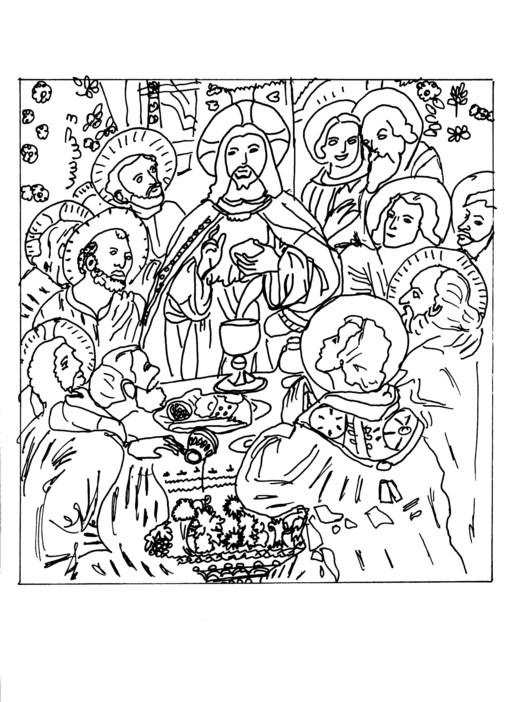 The Institution of the Eucharist
1. Luke 22: 14-20
When the time came he took his place at table, and the apostles with him. And he said to them, 'I have ardently longed to eat this Passover with you before I suffer; because, I tell you, I shall not eat it until it is fulfilled in the kingdom of God.' Then, taking a cup, he gave thanks and said, 'Take this and share it among you, because from now on, I tell you, I shall never again drink wine until the kingdom of God comes.'

Then he took bread, and when he had given thanks, he broke it and gave it to them, saying, 'This is my body given for you; do this in remembrance of me.' He did the same with the cup after supper, and said, 'This cup is the new covenant in my blood poured out for you.

2. July 31, 1994
Words of Jesus to Members of Shepherds of Christ Associates:

"My beloved priest-companion, I intend to use the priestly newsletter, Shepherds of Christ, and the movement, Shepherds of Christ Associates, in a powerful way for the renewal of My Church and the world.
"I will use the newsletter and the chapters of Shepherds of Christ Associates as a powerful instrument for spreading devotion to My Heart and My Mother's Heart.
"I am calling many to become members of Shepherds of Christ Associates. To all of them I will give great blessings. I will use them as instruments to help bring about the triumph of the Immaculate Heart and the reign of My Sacred Heart. I will give great graces to the members of Shepherds of Christ Associates. I will call them to be deeply united to My Heart and to Mary's Heart as I lead them ever closer to My Father in the Holy Spirit."

- Message from Jesus to Father Edward J. Carter, S.J., Founder, as given on July 31, 1994,
feast of Saint Ignatius Loyola, Founder of the Society of Jesus (The Jesuits)
3.
| | | | | | |
| --- | --- | --- | --- | --- | --- |
| English | Español | Français | Português | Italiano | Polska |
Prayer for Priests
Lord Jesus, Chief Shepherd of the Flock, we pray that in the great love and mercy of Your Sacred Heart You attend to all the needs of Your priest-shepherds throughout the world. We ask that You draw back to Your Heart all those priests who have seriously strayed from Your path, that You rekindle the desire for holiness in the hearts of those priests who have become lukewarm, and that You continue to give Your fervent priests the desire for the highest holiness. United with Your Heart and Mary's Heart, we ask that You take this petition to Your heavenly Father in the unity of the Holy Spirit. Amen"
Act of consecration to the Sacred Heart of Jesus and the Immaculate Heart of Mary.
Lord Jesus, Chief Shepherd of the flock, I consecrate myself to Your most Sacred Heart. From Your pierced Heart the Church was born, the Church You have called me, as a member of Shepherds of Christ Associates, to serve in a most special way. You reveal Your Heart as a symbol of Your love in all its aspects, including Your most special love for me, whom You have chosen as Your companion in this most important work. Help me to always love You in return. Help me to give myself entirely to You. Help me always to pour out my life in love of God and neighbor! Heart of Jesus, I place my trust in You!

Dear Blessed Virgin Mary, I consecrate myself to your maternal and Immaculate Heart, this Heart which is symbol of your life of love. You are the Mother of my Savior. You are also my Mother. You love me with a most special love as a member of Shepherds of Christ Associates, a movement created by your Son as a powerful instrument for the renewal of the Church and the world. In a return of love, I give myself entirely to your motherly love and protection. You followed Jesus perfectly. You are His first and perfect disciple. Teach me to imitate you in the putting on of Christ. Be my motherly intercessor so that, through your Immaculate Heart, I may be guided to an ever closer union with the pierced Heart of Jesus, Chief Shepherd of the flock.

4. Jesus is truly present in the Blessed Sacrament.

5.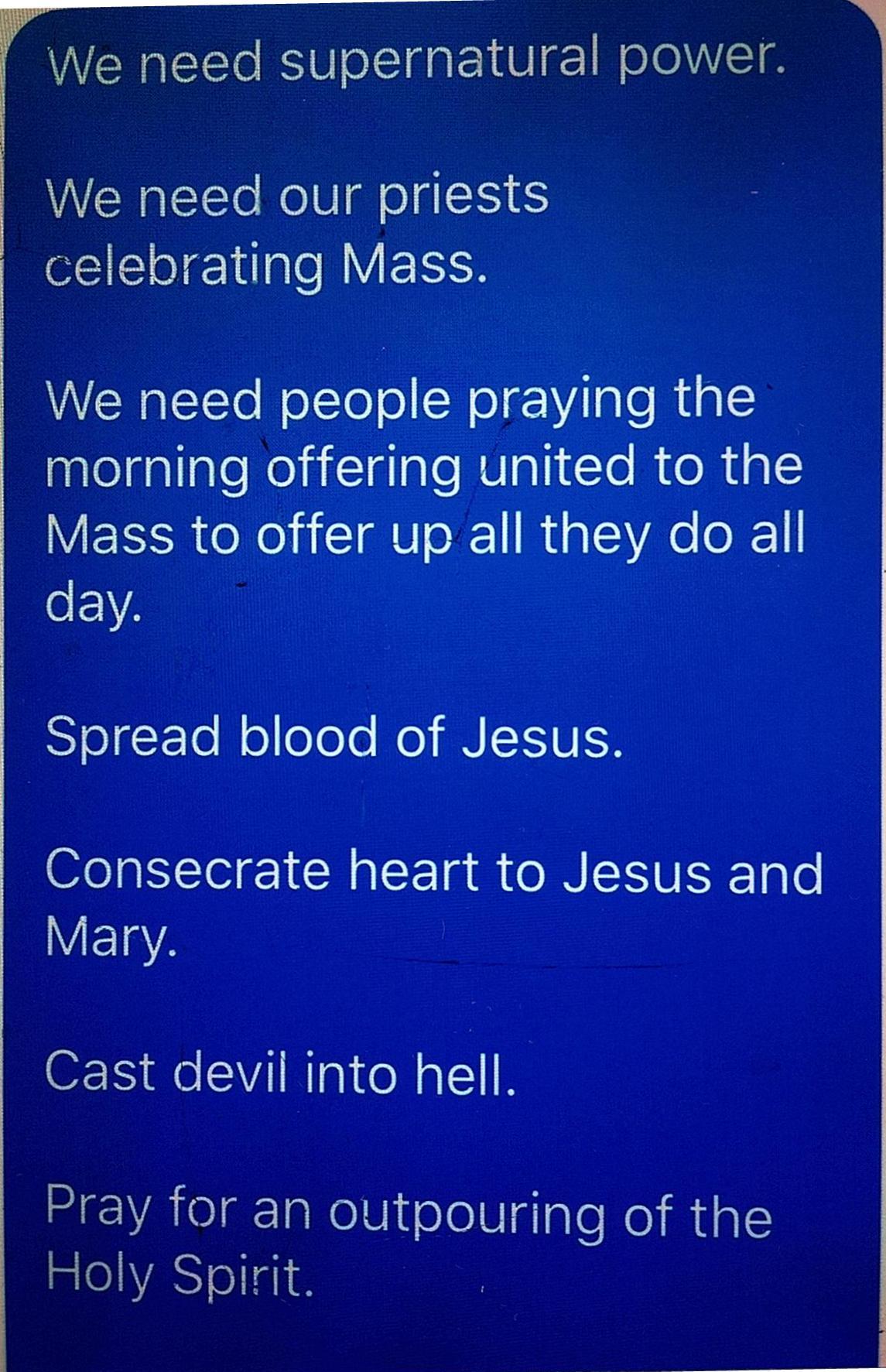 6. We pray for the priests, the Church and the world.
7. A Prayer before the Holy Sacrifice of the Mass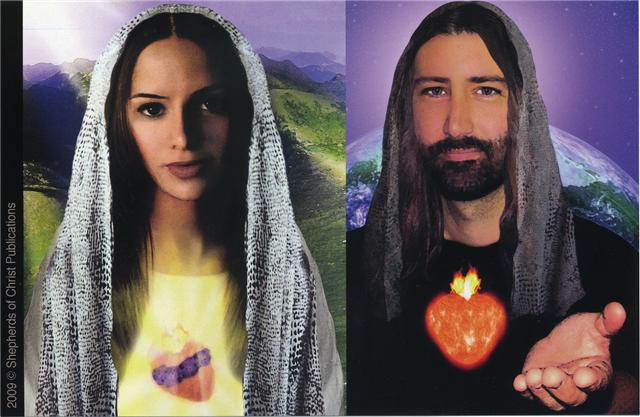 Let me be a holy sacrifice and unite with God in the sacrament of His greatest love.

I want to be one in Him in this act of love, where He gives Himself to me and I give myself as a sacrifice to Him. Let me be a holy sacrifice as I become one with Him in this my act of greatest love to Him.

Let me unite with Him more, that I may more deeply love Him. May I help make reparation to His adorable Heart and the heart of His Mother, Mary. With greatest love, I offer myself to You and pray that You will accept my sacrifice of greatest love. I give myself to You and unite in Your gift of Yourself to me. Come and possess my soul.

Cleanse me, strengthen me, heal me. Dear Holy Spirit act in the heart of Mary to make me more and more like Jesus.

Father, I offer this my sacrifice, myself united to Jesus in the Holy Spirit to You. Help me to love God more deeply in this act of my greatest love.

Give me the grace to grow in my knowledge, love and service of You and for this to be my greatest participation in the Mass. Give me the greatest graces to love You so deeply in this Mass, You who are so worthy of my love.

-Mass Book, December 27, 1995
8. From Blue Book III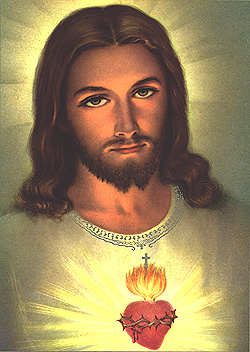 I Love You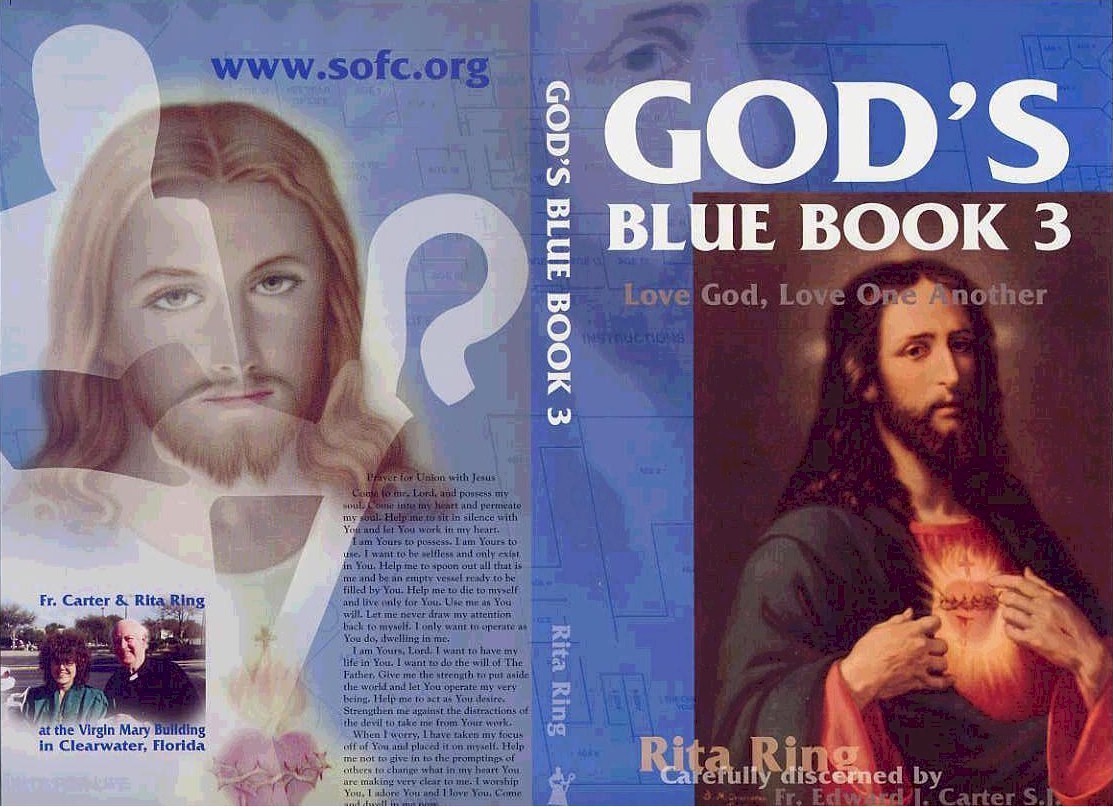 (Letter for Front of B.B. II)
April 13, 1994
Jesus: How, child, do I, Jesus, tell you I love you? You hold on to silly things, when God is in your midst and is ardently loving you. I am Jesus Christ, the Son of God. I am writing to each precious child this day. I am on fire for love of you. I remain in the Eucharist to be with you with My ardent love. I did not want to leave My beloved ones at the Last Supper. I love you so, My dear and ardently loved children. I remain with you this day in the Blessed Sacrament, the same Jesus Who died a brutal death on the cross.

Do you know I am truly present there? Do you know that God waits every day for you in the tabernacle? Do you comprehend even a minute amount of My love? You will never on earth know how I love you.

I, Jesus, truly the Son of God, came to earth a man and suffered a brutal death for love of you. I love you so much! I remain with you this day. I long for your love. I want you to come and be with Me in front of the tabernacle. I wait, I yearn for you to come and whisper your love to Me. I am a Person and I love you this day with such an ardent, on-fire love. No human could ever compare a speck to My love for you.

I wait, little ones, in the tabernacle. I wait for you to come and receive Me in Communion. I want you to want Me so much that you cannot wait to come and receive Me. I want to be the love, the Center of your life!

I am Jesus. I am the Son of God. I am writing to you this day. I want to possess your very soul and live in you. I have all you need, sweet ones. Oh, you are so blind! I long for your union with Me. I wrote the book on love. I instituted it, yet you go to the world for your love and do not even come to Me! Oh, I love you, little ones. Little ones, beloved of the Father, loved by the Holy Spirit, mothered by My very own mother, what more can I say? The rest is up to you!

I give you your will with such love and I want your love, freely given. I am God. What do you think you could ever need that I do not give you? I am the Savior of this world. I am Jesus, the Son of God. I am waiting for you. I am longing for you. I am yearning for you. I am God. I have all you ever will need!

Surrender this life to Me. Pray My prayer for union with Me. I want to possess your soul and operate from your very being. I am Jesus. I am the Son of God. I am the Sacred Heart of Jesus. I am Who am. I died and rose on the third day.

Harken to My call, harken to My pleading. Spend your days in love with Me. Nothing matters unless it is rooted in Me and rooted in My love. I am the Son of God. I am the Sacred Heart of Jesus. I love you with the tenderest love. I am waiting this day for you, My beloved one. Come to Me for I am the tenderest of all hearts. I am the Sacred Heart of Jesus.

9. Song: I love You Jesus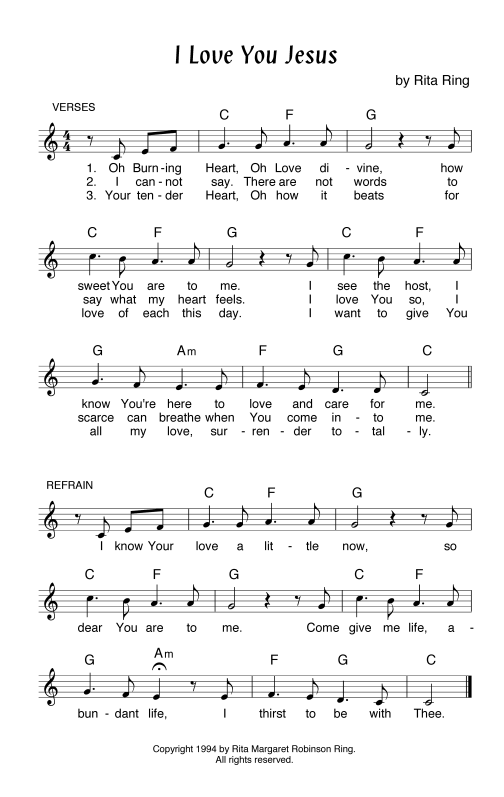 10. Song: A Song from Jesus