Please Pray for Fr. Joe & Bob


Prayer for Grace for our Country

Dear Father united to Jesus in the Holy Sacrifice of the Mass, the Sacrifice of Calvary sacramentally made present, celebrated around the world, in the Holy Spirit. We offer up all we do united to the Mass. We unite in one mind and one heart as members of the mystical body of Christ, with Christ our head in the pure and holy Hearts of Jesus and Mary, through the powerful intercession of Mary with all the angels and saints and souls in purgatory, and we beg for the saving grace, for our country, the United States. Please help us. We further pray for unity to always do the will of God in love. We spread the Blood of Jesus on the leaders and people of the United States and cast the devil into hell. We consecrate our country to the Sacred Heart and Immaculate Heart and all our dioceses, and beg for an outpouring of the Holy Spirit. God help us. We pray for our families, the priests, the Church and the world. In the Name of Jesus please hear us, we pray. We pray for our president and leaders. We pray that we are united as one nation under God to work together in love as God wants.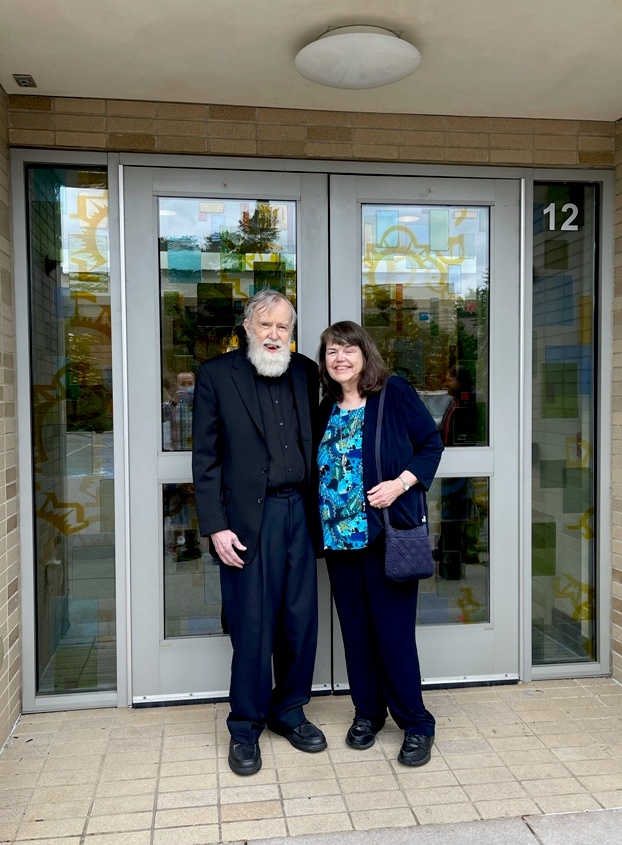 May 31, 2021 - Feast of the Visitation
Luke 1: 39-45
Mary set out at that time and went as quickly as she could into the hill country to a town in Judah. She went into Zechariah's house and greeted Elizabeth. Now it happened that as soon as Elizabeth heard Mary's greeting, the child leapt in her womb and Elizabeth was filled with the Holy Spirit. She gave a loud cry and said, 'Of all women you are the most blessed, and blessed is the fruit of your womb. Why should I be honoured with a visit from the mother of my Lord? Look, the moment your greeting reached my ears, the child in my womb leapt for joy. Yes, blessed is she who believed that the promise made her by the Lord would be fulfilled.'

R. Fr. Joe was a priest 57 years May 30th.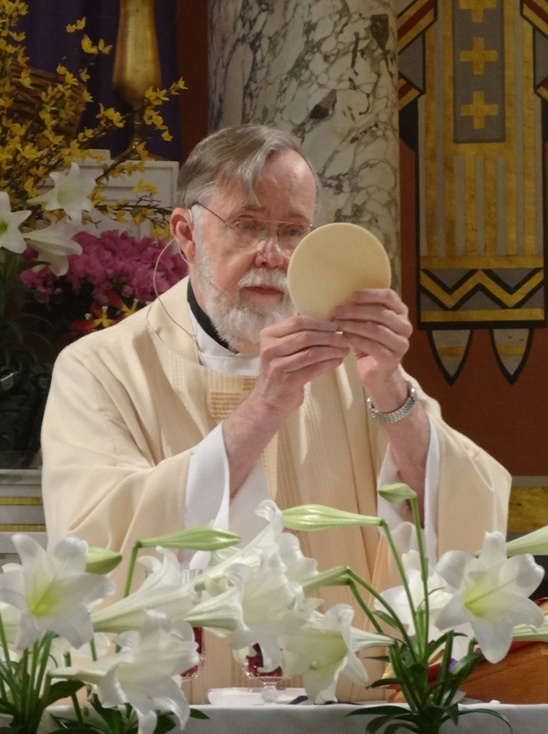 R. From Fr. Joe's new upcoming homily book.

Feast of the Epiphany

January 4, 2004

INTRODUCTION

– God's people had been living as slaves and exiles in Babylon for 50 years. But when the Persians conquered the Babylonians in 538 BC the king of Persia allowed the Jews to return home. The prophet enthusiastically proclaims this return: "Rise up in splendor, Jerusalem! Your light has come..." The prophet sees more than the Jews reclaiming their homeland. He sees Jerusalem prospering and becoming the spiritual center for all nations. The Church sees this passage fulfilled in Jesus, who is the light of the world, inviting all people to follow the light he brings. Unfortunately not all people choose to follow this light, but at the end of time, those who have followed Christ's light will enter into the new and eternal Jerusalem beautifully described at the end of the book of Revelation.

HOMILY

– Life is a journey. Some are just starting out. Some are discovering love for the first time. Some are beginning to find out that romantic love brings with it pain as well as joy. Some are busy with children and some look forward to those times when they get to enjoy their children's children (but not for too long!). Then there are those whose journey is coming toward its end, perhaps experiencing suffering and loneliness, perhaps experiencing peace and satisfaction. We're all traveling together, at one place or another in our journeys.

Our journey through life is like a conveyer belt that keeps on moving and the only way to get off of it is to die.

Our feast today reminds us that our relationship with God is a journey too. Some people are just getting started, some may be well along the way. Our journey toward God, though, is not like a conveyor belt. We have to put our own energy and movement into the process or that journey will stop. Unfortunately some people decide they've gone far enough, while others let themselves slide back or go off in another direction altogether.

We hear the story today of magi, a generic word for wise persons, priests, magicians, sorcerers, soothsayers or astrologers who were advisers to the kings of the Persians and the Medes. The Persians and Medes inhabited the area known today as Iran. Their journey would have taken them about 1000 miles from home.

The magi were drawn by a star and by the belief that this star indicated the birth of some special person. The star led them to Jerusalem where they were further guided by the Scriptures. They stand in marked contrast to the Jewish hierarchy who knew where the Messiah would be born, but didn't have the desire to go looking for this special person themselves. They also stand in marked contrast to King Herod, a brutal tyrant who saw everyone as a threat to his power. He probably thought he was going to be king forever, yet he was dead before Jesus was ten years old. The important message is the magi didn't give up. The important message for us too is not to give up in our search to know the Lord.

The biggest mistake we can make is to think we've reached our goal, that we know God well enough. I see this in the attitude of people who stop praying, who stop reading the Scriptures, who stop coming to Mass. I see this in modern culture's attempt to bring God or Jesus Christ down to a level that we can understand. Recent books or movies call Jesus gay or say he was married and had children or he didn't really die or his miracles weren't really miracles or Mary really wasn't a virgin. Instead of being inspired or trying to enter into this great mystery of God becoming human in order to lift us to new life, they want to pull Christ down and take all the mystery out of it.

We continually discover new mysteries in the natural universe, yet we somehow think we should be able to understand perfectly the one who created them all. And if it's too much effort to understand, we give up our search. Sometimes we hear successful people say they became successful because they "followed their star." They went where their heart led them. But their success also took a lot of faith, a lot of effort, and probably a lot of help along the way. The greatest journey of all, though, is not just to make of ourselves a success in this life, but to find the eternal love our hearts really seek and which we were created for, and that is God's love. Epiphany shows us God wants to reveal his love to us. Epiphany shows us we have to keep moving in his direction if we hope to find it.

Baptism of the Lord

January 11, 2004

INTRODUCTION

– Today's first reading is closely connected with Jesus' baptism. This first reading was written over 500 years before Christ. It is a mysterious passage in that scholars do not know who the prophet was writing about. But in hindsight, we can see how perfectly Jesus fulfilled this description of God's servant. The words that introduce our first reading are directly connected with the account of Jesus' baptism. In our first reading God introduces his servant in this way: "Here is my servant whom I uphold, my chosen one with whom I am well pleased." And it is on this servant that God has put his spirit. God's words at Jesus' baptism are almost exactly the same except for one word that is changed. At Jesus' baptism, God speaks of Jesus as his Son. And upon Jesus God the Father sends the Spirit. We have here something more than just an introduction of God's Son to the world and his being empowered by the Spirit. The words of the Father also gave direction to Jesus' future work. Jesus was being called for the victory of justice. He was to be a covenant of the people, a light for the nations as described in this servant passage from Isaiah.

HOMILY

– The baptism of John the Baptist was a baptism of repentance. Jesus was God's Son, human like us in every way, except he was without sin. Why would he present himself for baptism by John? If you are confused about the baptism of Jesus you are in good company. The early Church was confused and somewhat uncomfortable about it. St. Matthew reports John saying to Jesus "I ought to be baptized by you, yet you come to me." St. Luke, as we heard in today's gospel, hardly mentions the baptism itself. And St. John in his gospel makes only an indirect reference to it. Yet all the gospels as well as the Acts of the Apostles know that it happened, but they struggled to understand it.

Jesus did not have sin to repent of, so John's baptism had no relevance in this regard. One approach to understanding this event is to see it as a clarification of who Jesus is. He is God's Son, his beloved, with whom the Father is well pleased. There would be no question about Jesus' identity. Jesus' identity had already been revealed to us in Luke's gospel when the angel told Mary at the annunciation that she would conceive her child through the power of the Holy Spirit and he would be holy and would be called Son of God. Jesus' identity was also revealed when Jesus was lost in the temple for three days and when he was found he said to his parents: "why were you looking for me? Didn't you know I must be in my Father's house?" But his identity was hidden from everyone around them. It was only when Jesus was baptized and God announced to the world "This is my beloved Son" and the Spirit came down upon him that the world was to know who he was.

Our baptism gives us our identity too. It tells us: we are God's child, sharing God's life, beloved by the Father and called to live our lives in a way that is pleasing to our heavenly Father. So often we forget who we are and that we are God's beloved. The advertising media is constantly telling us we don't measure up, we're not worthwhile. We're not as beautiful, as shapely, as energetic, as stylish, as popular, as successful, as wonderful, as happy as we should be. But do not despair! The ads tell us the product they happen to be promoting will make everything better. It will solve our problems and make us over into someone worthwhile.

God has already made us someone worthwhile. He first made us in his image and likeness. More than that he has given us his life. He has made us his beloved son or daughter. Archbishop Tutu, the Anglican bishop from South Africa, says he always preaches one message to his people there. His message is simple and he repeats it over and over again. It is that "God loves you." "I tell them that," he says, "because the entire culture tells them that they are unlovable, and I have to give them the message of who they really are, because God loves them."

Through baptism we have been defined forever as God's children and the only one who can deface or destroy that dignity that has been given to us is we, ourselves.

But, Jesus' baptism not only clarified for all the world who Jesus was, but it also gave Jesus his mission. He was to be a covenant of the people and a light for the nations. Especially he was called to establish justice on the earth. Justice here means "righteousness," fidelity to God, goodness, living up to what we know God wants of us. Who we are should define how we live. If a person is a policeman, he or she is to work to uphold the law. If a person is a doctor, he or she has a concern about people's health. If a person is a teacher, he or she is oriented toward helping people grow in wisdom and knowledge. If we are God's child, we are called to live up to that dignity. And in trying to live up to that dignity, who better could we imitate than the perfect Son of God, with whom the Father was well pleased.

As we celebrate Jesus' baptism, may we at the same time celebrate our own. May we rejoice in God's gift of love and life given to us, and may we live up to thehigh dignity with which God has blessed us.